With the Calgary Stampede currently underway I thought it would be the perfect time for another installment in my WHAT TO WEAR TO series! Today I'm chatting about what I'm wearing this year and sharing my love for great vintage and authentic western style with a bohemian influence. If you don't live near Calgary, let me fill you in — the Calgary Stampede is a 10 day outdoor festival referred to as The Greatest Outdoor Show on Earth, celebrating the culture of the wild wild west. It's also one big excuse for the city to shut down and party, which I have to say Calgarians do quite well! And while my crazy stampeding days are long behind me, there are some fantastic Stampede events and parties (not to mention excellent networking) that takes place during these 10 days — and I like to look the part! I think there's an opportunity to dress really well at the Calgary Stampede and embrace the roots of traditional western style.
This post is also a collaboration with the lovely Dawn Bradley Hair who I worked with to create this gorgeous bohemian hairstyle. If you're looking for some textured, braided, perfectly undone hair inspiration, Dawn breaks down how to achieve the style in 10 easy steps!
---
Crochet Maxi Dress (similar, similar, similar) | Chambray Shirt | Suede Fringe Bag (similar) | Vintage Cowboy Boots (similar, similar, similar) | Vintage Turquoise Necklace (similar) | Silver Drop Necklace (similar) | Turquoise Ring (similar, similar) | Silver Layering Rings | Vintage Silver Stone Cuff (similar) | Bite Beauty Amuse Bouche Lipstick in Pickled Ginger*
---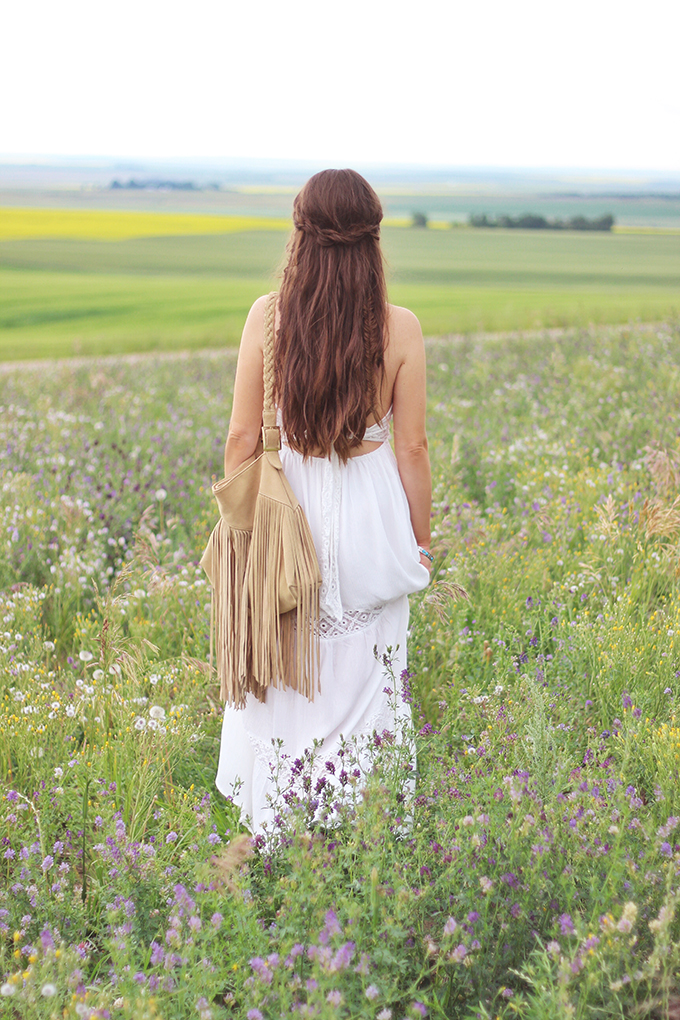 If you're new to JustineCelina (welcome!), you may not know that I grew up on an acreage in rural Alberta, about an hour east of Calgary — close to where we shot these photos! Despite my childhood on the prairies, I've never been a fan of country music, rodeos or anything of the sort. But looking back, I think my rural upbringing coupled with many hours spent watching old western movies (my late father loved them!) really solidified my appreciation of authentic western style elements. To me, the Calgary Stampede is a chance to dust off my vintage cowboy boots, suede, silver stone jewellery, turquoise, denim and flowy maxi dresses — and play dress up a bit! Today I'm going to show you how I combine my favourite western-influenced pieces with some summer wardrobe staples to create the look I've been wearing for 2016's Stampede festivities!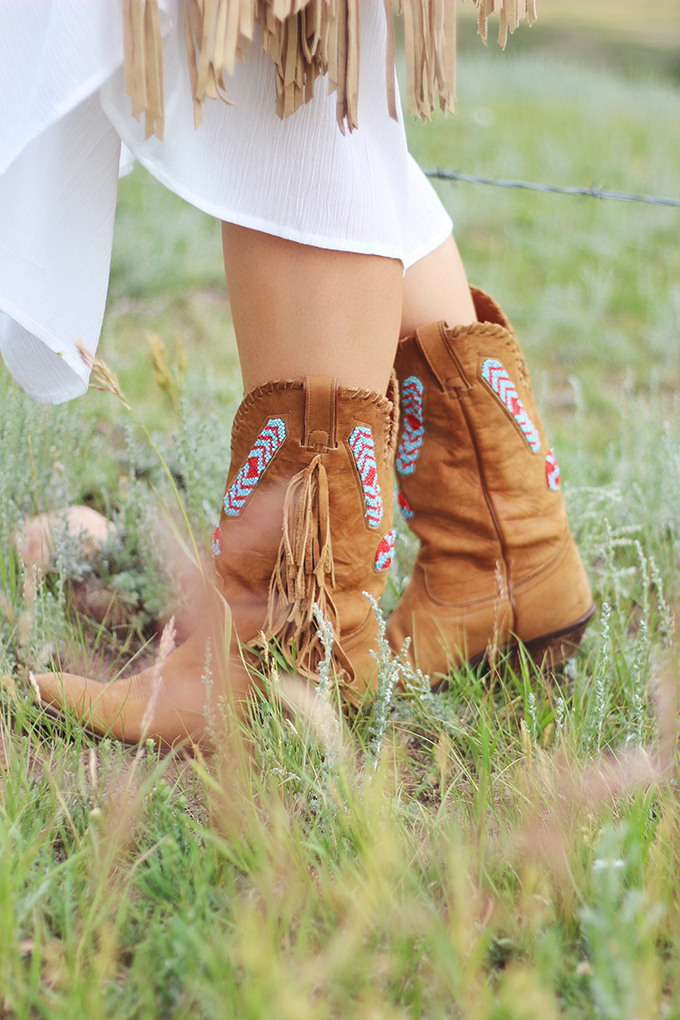 There's almost a stigma in Calgary about Stampede style. Since it's such a celebration, I feel like it's a bit of an excuse for girls to show some extra skin and to bust out their daisy dukes, plaid shirts, cowboy hats and boots — it's almost like Halloween with a western theme. While I'm all for people wearing that makes them feel best, I feel like we as a city can do so much better in the Stampede fashion department!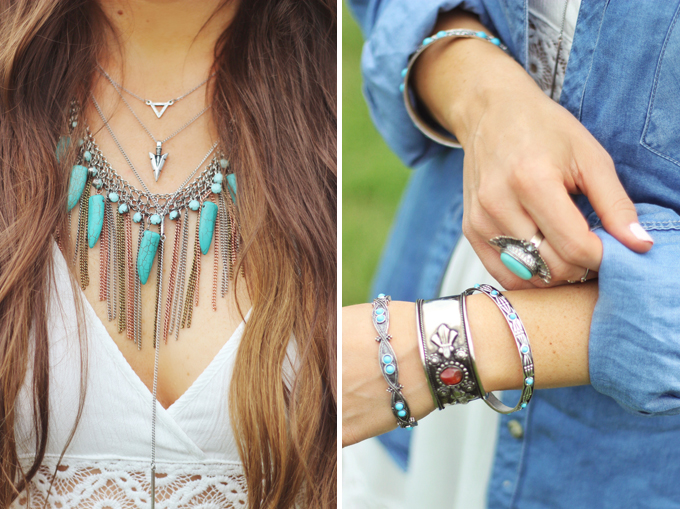 Did you know I wanted to start an online vintage store a few years ago? While I ended up going down a different road and not launching that business I've always had a major soft spot for great vintage — and I'm wearing a lot of my favourite items from my personal collection. I found these these gorgeous cowboy boots at an antique shop in Airdrie (but I've linked similar styles here, here and here) and almost all of my jewellery is vintage. I've amassed quite the collection over the years and absolutely love silver, turquoise and stone jewellery.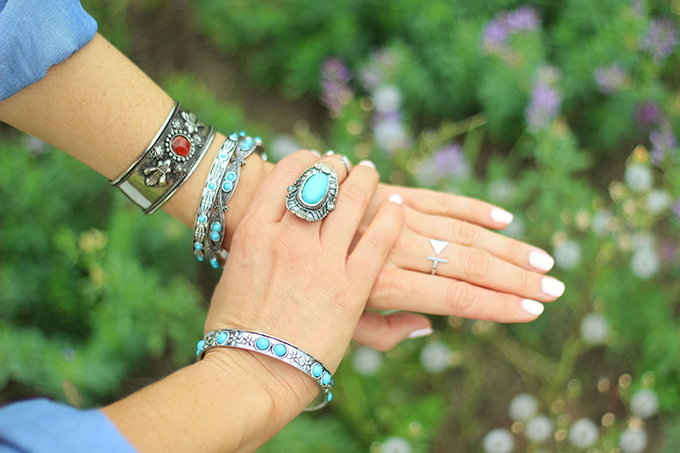 One of my favourite things about vintage items is the history each piece carries with it, or recalling stories about how I found each piece. My turquoise necklace (similar here) hails from a flea market in Mesa, Arizona — the holy grail for amazing natural stone jewellery and textiles. I layered it with a longer necklace (similar here) — I love to layer and stack jewellery in the summertime and I think the Stampede is one of the rare occasions when more is actually more. My cuff, bracelets and turquoise ring are all vintage as well, but you can find similar alternatives linked at the top and bottom of this post.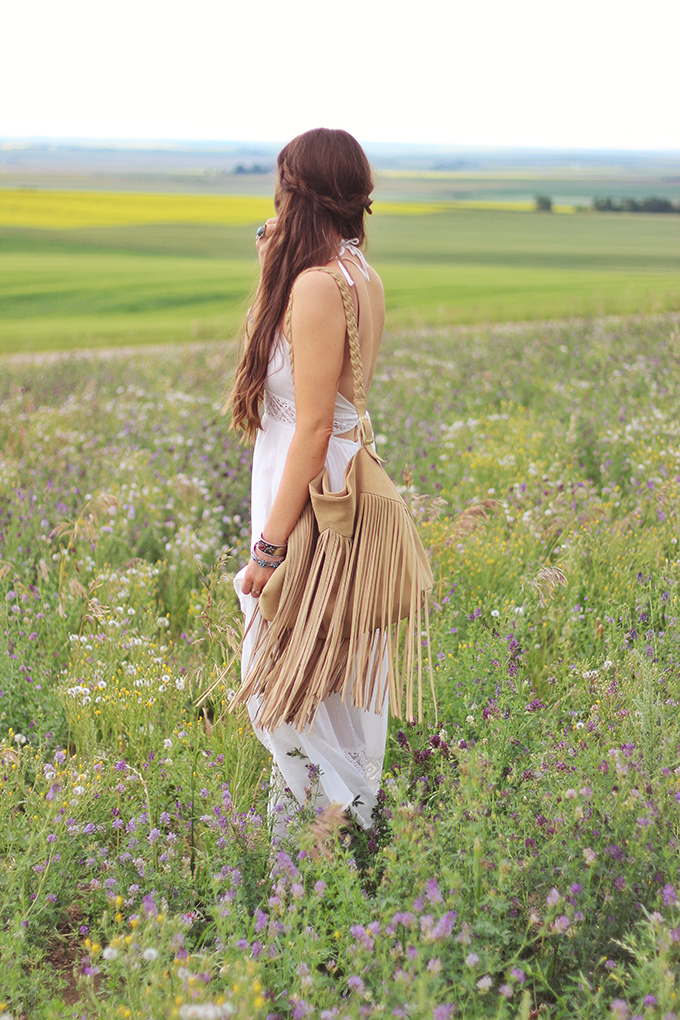 Can we talk about this absolutely stunning hairstyle Dawn created?! It was such a pleasure to work with her on this post and I love what she came up with. Collaborating with other creative professionals to make beautiful things truly makes my heart happy and Calgary is brimming with amazing creative talent! When chatting with Dawn about my vision for this post, my only request was something undone and bohemian — and Dawn did all the rest. If you love this style as much as I do, scroll down to the bottom of this post where Dawn breaks down how to achieve the style with step-by-step instructions!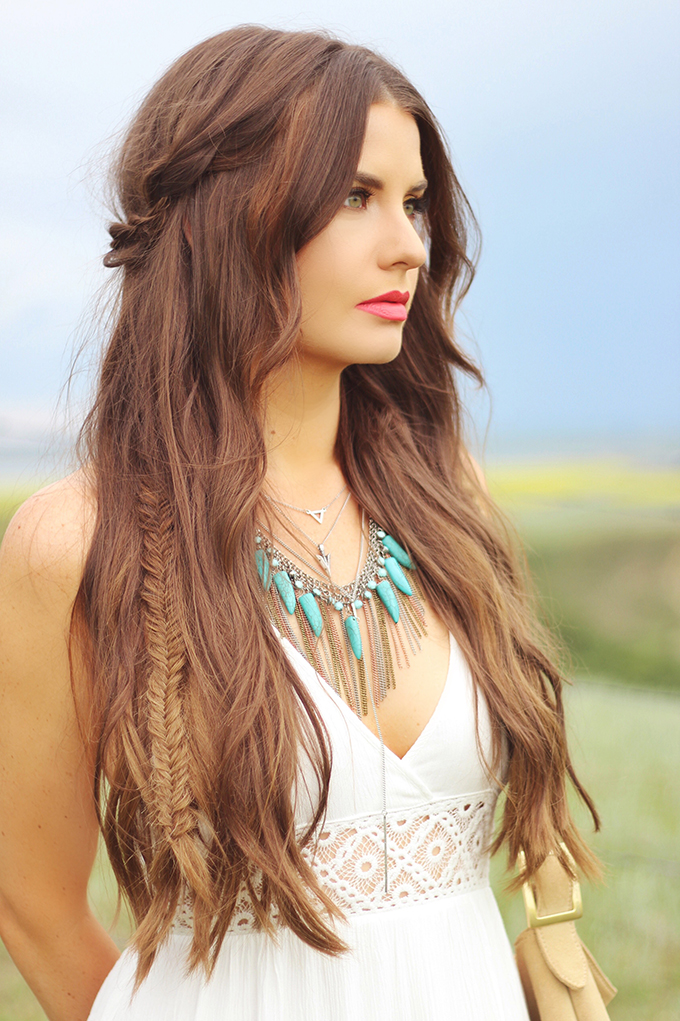 I'm also wearing my favourite summertime lip colour; a bright coral! This is Bite Beauty Amuse Bouche Lipstick in Pickled Ginger and I have a review of this shade along with two others if you'd like to learn more about it. I love the way that coral and turquoise compliment each other and think coral lipsticks flatter green eyes and golden summer skin especially well.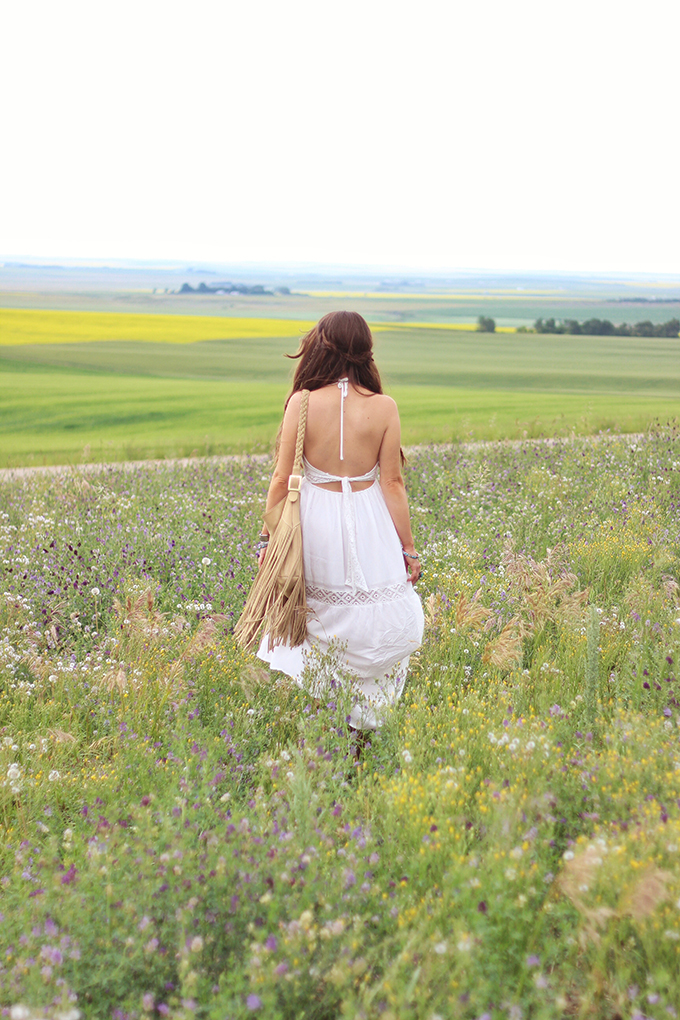 I'm also totally in love with this cotton, crochet maxi dress — it's my most favourite of all the flowy, white dresses I've owned (and believe me, there have been many!). Unfortunately it's now sold out online, but I've linked similar styles here, here and here. A white, flowy maxi dress is a great neutral summer wardrobe staple — it's easy to style, comfortable and appropriate for many different occasions. I love the low back on this one!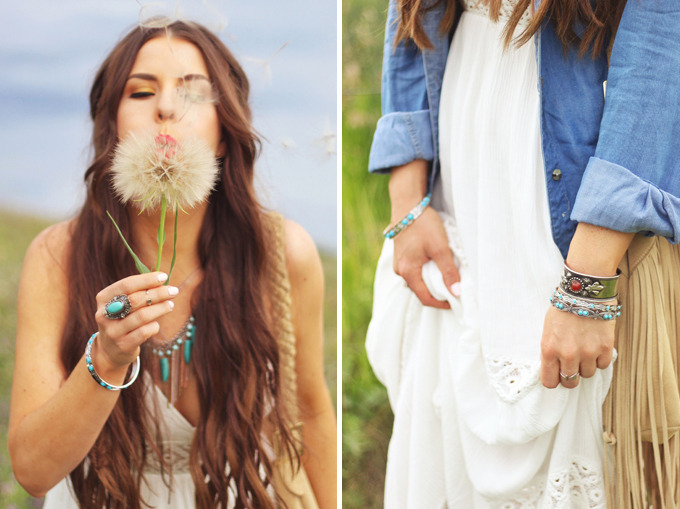 I've layered my maxi dress with a chambray shirt to add a western flair without going the route of a typical denim jacket and also to keep the silhouette more fluid. I think a simple chambray button down makes a perfect layering piece for effortless stampede style and dressing is light layers is my favourite way to navigate an outdoor festival with changing weather. When you don't want to wear it, you can just roll it up and throw it in your bag!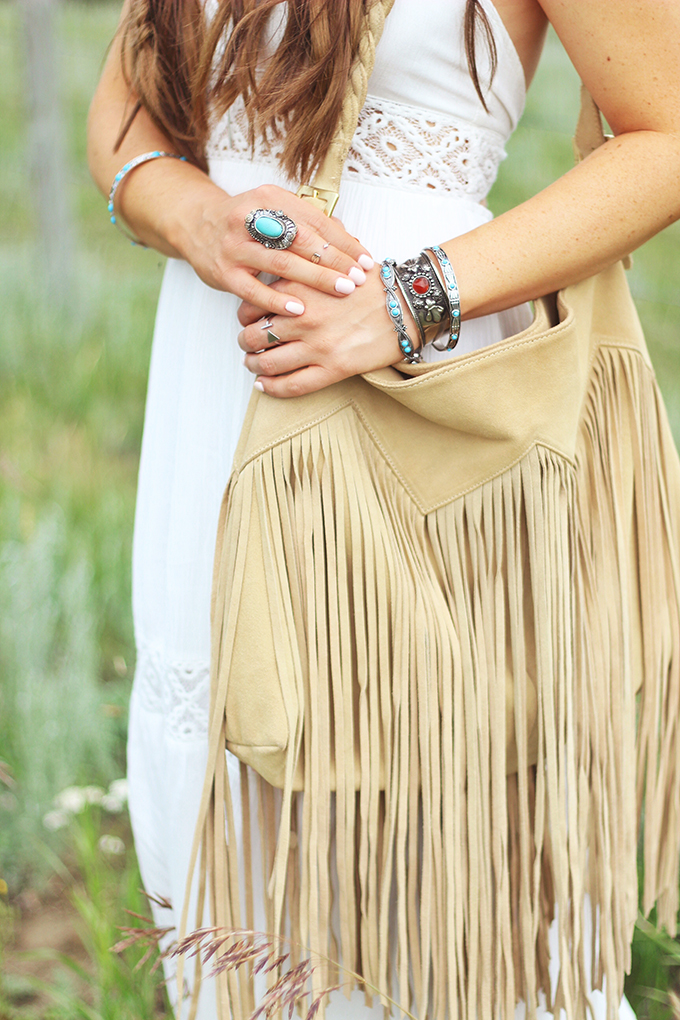 When I think of traditional western style it evokes memories of rich layers and textures. So, I paired my favourite suede fringe bag that I picked up in Chicago a few years ago (similar here) with this outfit. Suede is synonymous with western style and I love the movement and playful touch that fringe adds to this look. Plus, it's big enough for all your outdoor festival essentials!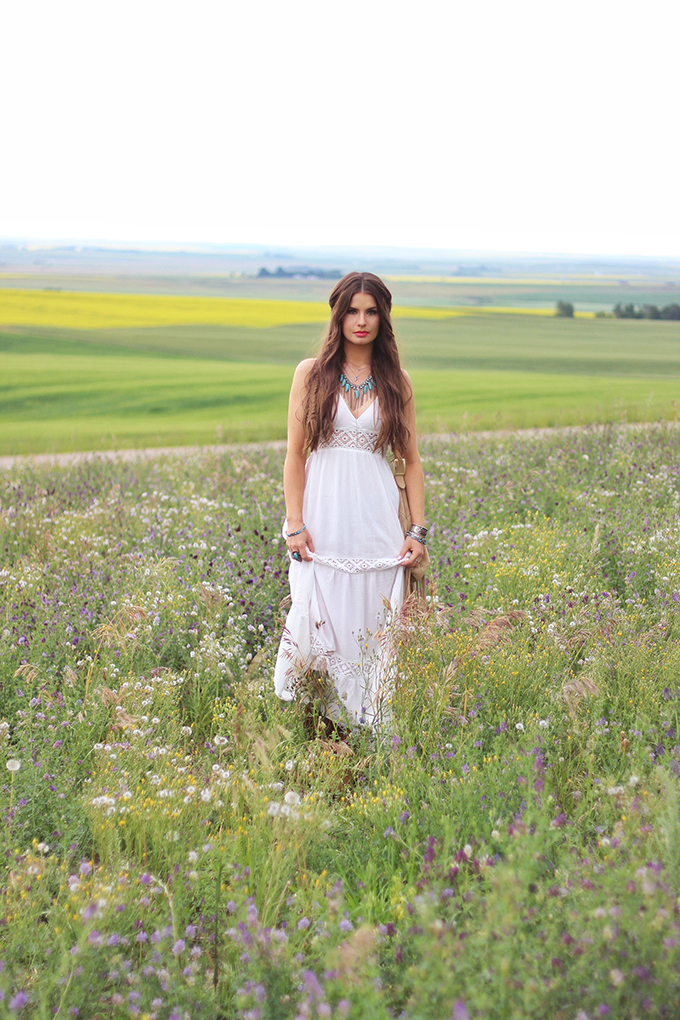 There was a storm blowing in while we were driving around searching for a spot to shoot these photos. We ended up not shooting where I originally planned because we stumbled on this amazing hill full of wildflowers instead! Sometimes you just have to roll it — I find that some of the best shoots happen when we keep an open mind and go with the flow. I know I say this all the time, but I think the prairies are such an underappreciated and beautiful part of our Canadian landscape. They truly embody the spirit of the west and it was so much fun to shoot these Stampede-inspired photos here!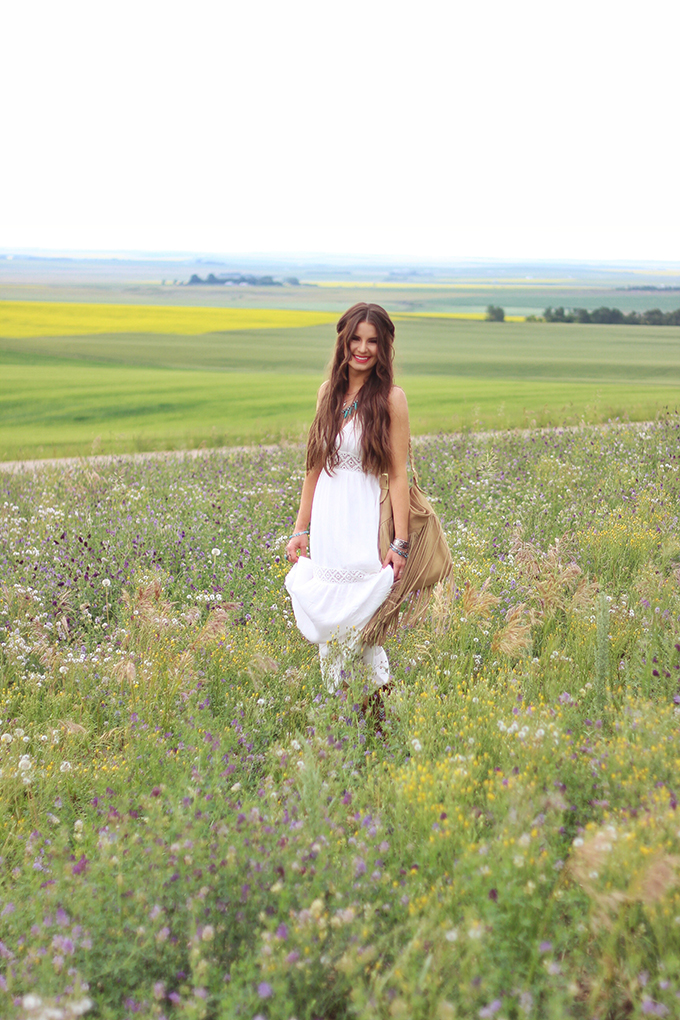 ---
HAIR HOW TO | BOHO WAVES WITH TWISTED CROWN AND TEXTURED BRAIDS
---
Curious how Dawn created this gorgeous bohemian look? Here's a simple, 10 step guide — taking you from wet hair to finished style!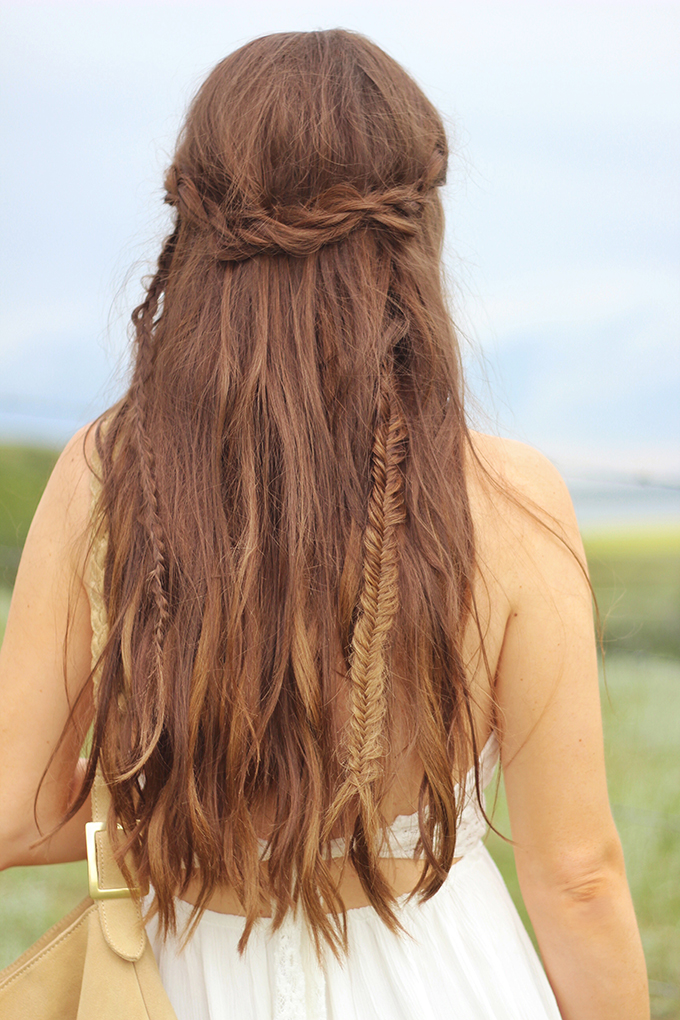 1) Starting with wet hair, apply a light hold gel to create grip.
2) Rough dry your hair until it's damp.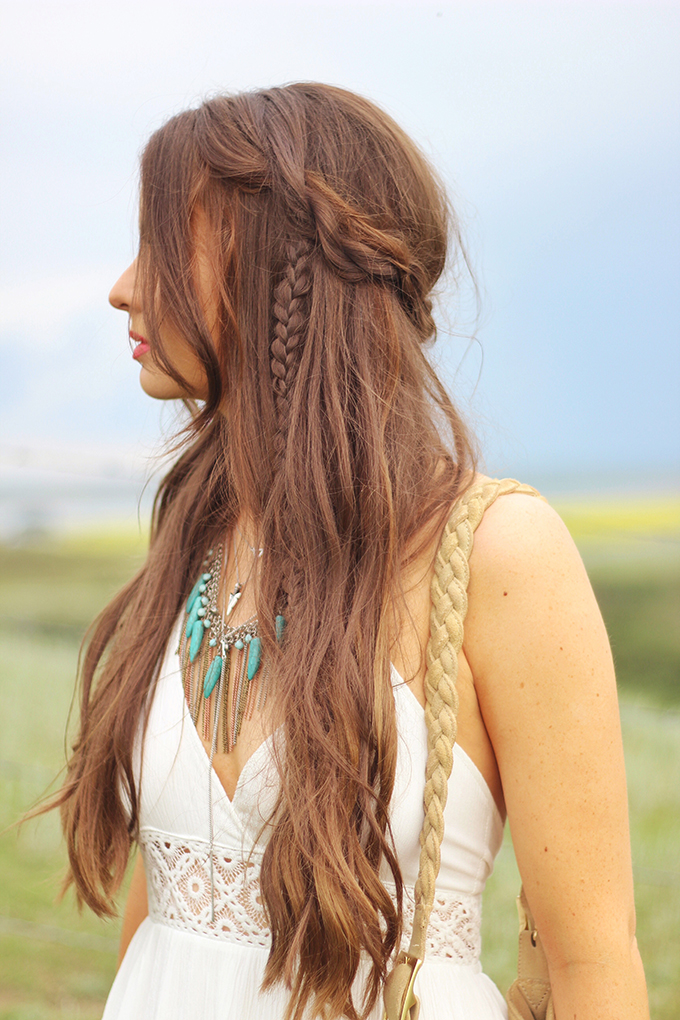 3) Finish the blowout with round brush to close the hair cuticle and add shape and shine.
4) Create beachy waves using a 1″ curling iron, leaving the ends of your hair out of the curls.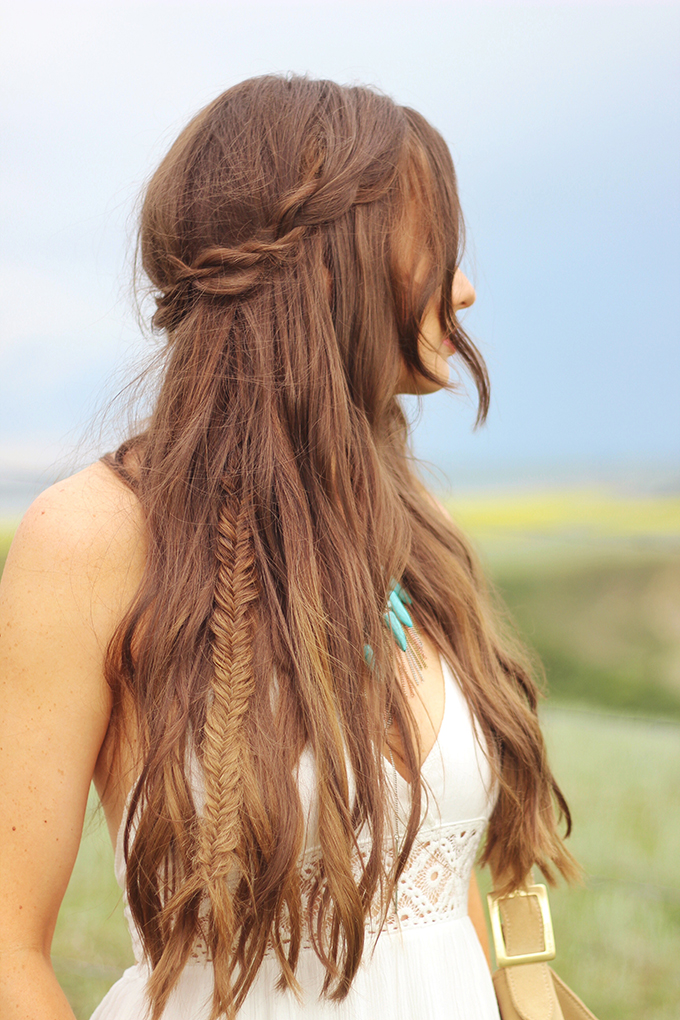 5) Clip in extensions for extra fullness or length. I'm wearing 3 wefts of Foxy Locks extensions below the occipital bone, on the occipital bone and just below the crown of the head. My extensions are the same length as my natural hair — Dawn cut them to blend in perfectly and I love the fullness and dimension they add! If you're curious about my haircare routine or extensions, hop over to this post.
6) Grab a 1/2″ section from behind one ear and create a fishtail braid.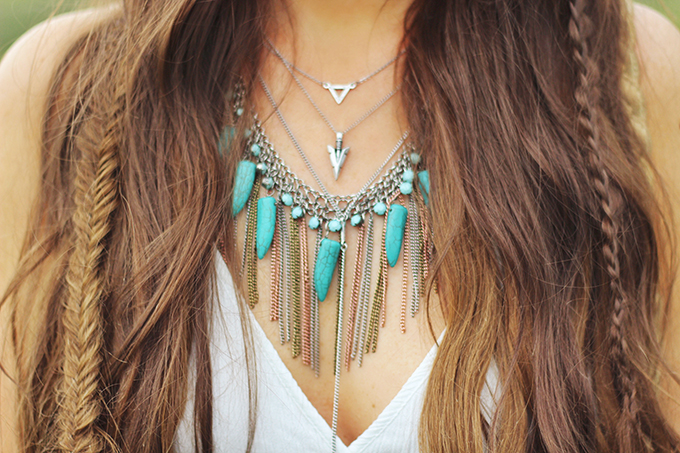 7) Secure the end of the braid by back combing. Add fullness to the braid by pulling it apart and using a texturizing powder.
8) On the other side, take another section an inch behind the temple and create a 3 strand braid. Repeat step 7 to create texture and hold.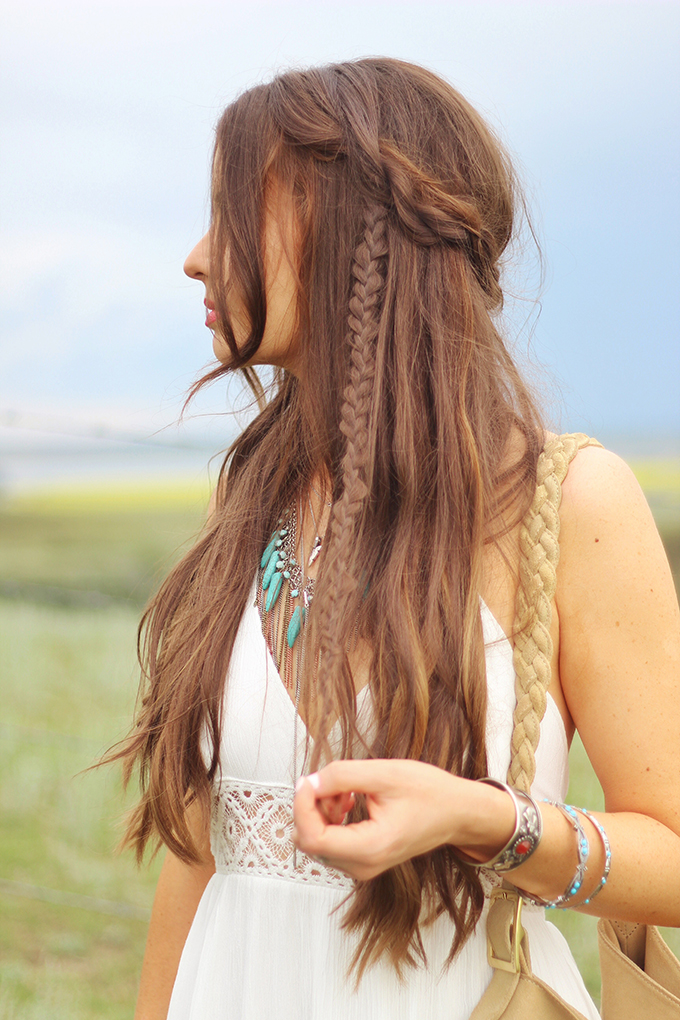 9) To create the twisted crown, grab pieces from each side of the part and use the rope braid technique to form a halo. Secure the twisted pieces with bobby pins.
10) To finish the style, use texturizing spray to add some extra grit and light hold.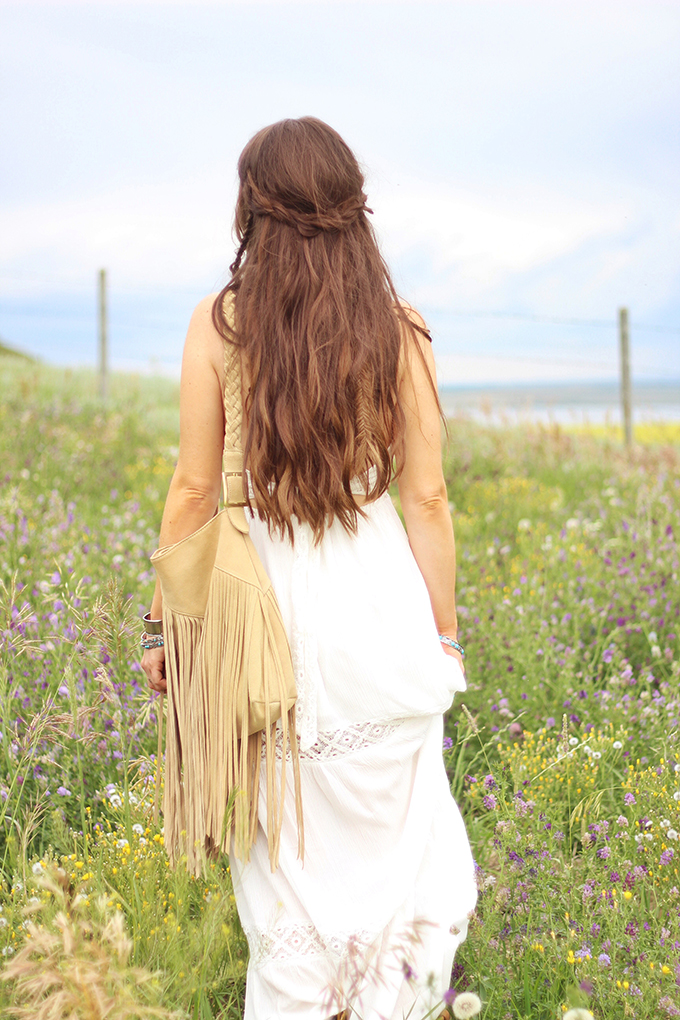 ---
SHOP THE LOOK
---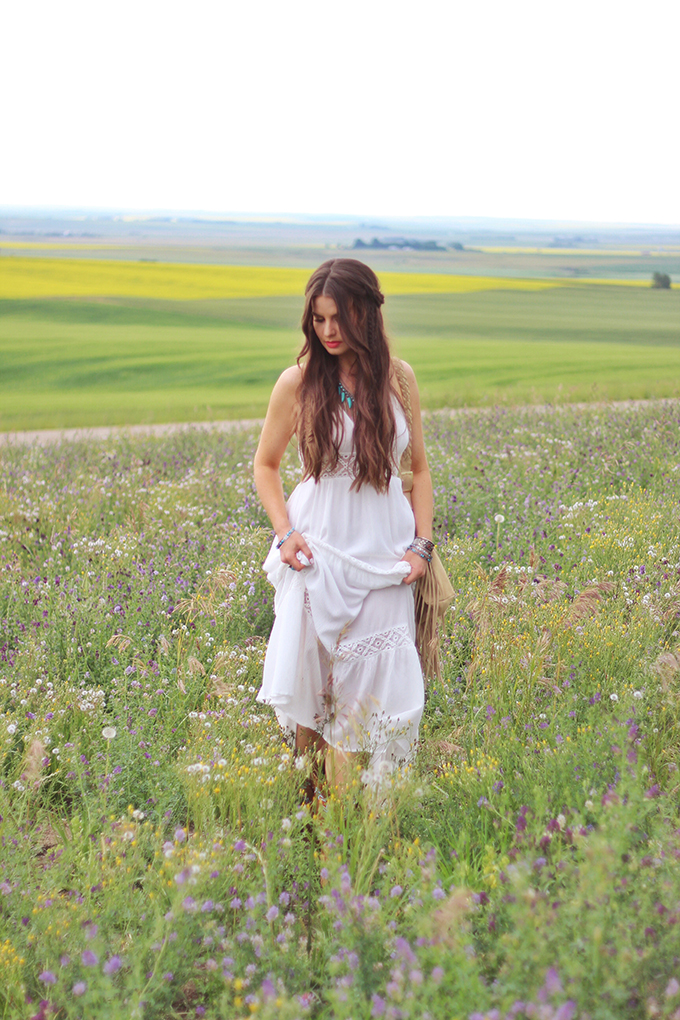 Crochet Maxi Dress (similar, similar, similar) | Chambray Shirt | Suede Fringe Bag (similar) | Vintage Cowboy Boots (similar, similar, similar) | Vintage Turquoise Necklace (similar) | Silver Drop Necklace (similar) | Turquoise Ring (similar, similar) | Silver Layering Rings | Vintage Silver Stone Cuff (similar) | Bite Beauty Amuse Bouche Lipstick in Pickled Ginger*
---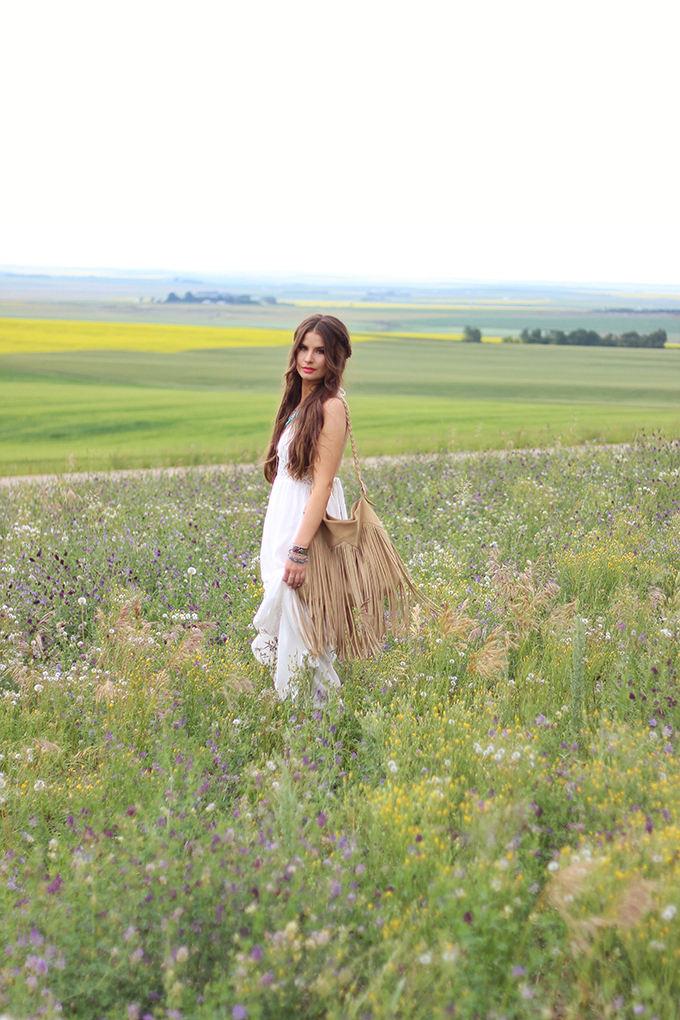 Are heading to the Calgary Stampede or any stampede events or parties this year? If you are, leave me a note and let me know what you're wearing! And, if you have any hair related content requests or questions for Dawn and I, please leave them for us below. Wishing you all a fun (and safe) week of Stampeding!
---
Disclaimer: Thank you to Dawn Bradley Hair for collaborating on this post with me and creating this gorgeous bohemian hairstyle. Products marked with * indicate press samples provided for editorial consideration with no obligation for feature or review. This post is not sponsored, and contains my genuine thoughts and recommendations. JustineCelina uses affiliate and referral links, which allow me to receive a small commission when you make a purchase through one of my links.
Save
Save
Save
Save
Save
Save
Save
Save
Save
Save
Save
Save
Save
Save
Save
Save
Save
Save
Save
Save
Save
Save
Save
Save
Save
Save
Save
Save
Save
Save
Save
Save
Save
Save
Save
Save
Save
Save
Save
Save
Save
Save
Save
Save
Save
Save
Save
Save
Save
Save
Save
Save
Save
Save
Save
Save
Save
Save
Save