---
Happy New Year and welcome back for my first beauty post of 2017! Today I'm recapping my favourite products from the last month of 2016 in my December Beauty Favourites. December was a very busy month for me both professionally and personally (it's the craziest time of year, isn't it?). I was testing new products and shades for my 2 last posts with Sephora Canada for 2016 — my 5 Festive Lipsticks to Try This Holiday Season (who did me proud and wore red lipstick on Christmas Day?!) and My Routine for Flawless Looking Skin. I didn't have much time to test other products, so most of my December Favourites are products I've mentioned in my beauty content over the last couple of months, or new shades from my favourite ranges! Although the list is small this month, I reached for these products almost daily and even packed most of them with me when we headed east to visit with family and friends over the holidays.
In December I fell in love with an chic, burgundy liquid lipstick, a new mascara that makes my lashes look voluminous and fluffy, a versatile (and ultra luxurious) eyeshadow palette, an intense gold pigment, a makeup setting spray perfect for special occasions and a suite of indulgent (and heavenly scented) body care products from L'Occitane. It's been awhile since we chatted Monthly Beauty Favourites — so kick back, relax and let's get into a few of my winter must haves!
---
DECEMBER 2016 BEAUTY FAVOURITES
---
C $26.00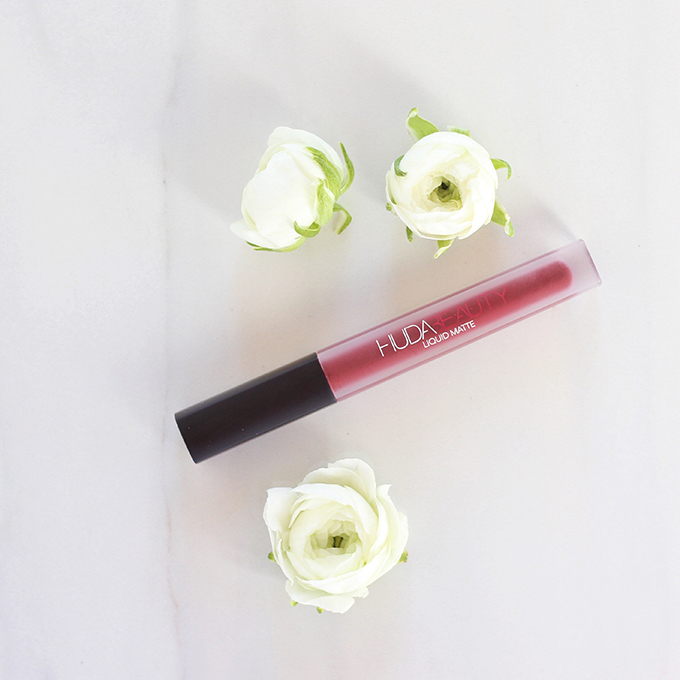 If you've been hanging around the JustineCelina beauty section recently, you'll likely have seen me mention (rave?) about the Huda's Beauty Liquid Matte Lipsticks. While researching my 5 Liquid Lipsticks to Try This Fall and 5 Festive Lipsticks to Try This Holiday Season posts I went on a mission to investigate some new liquid lipstick formulas and colours — and fell madly in love with this range. I also own Icon (it has to be one of my favourite lipsticks of 2016 and I reviewed it in last month's Beauty Favourites post) and Cheerleader (which I reviewed in my 5 Festive Lipsticks to Try This Holiday Season post). Famous was the wildcard of the 3 shades I picked up — and I wore it almost every time I was craving a dramatic lip in December, when I wasn't wearing a red. Described by the brand as 'an effortlessly chic burgundy', this is such an easy, flattering shade for winter months — you can see it in action in my Transitioning the Trends | Autumn to Winter post where I chat about more about the liquid lipstick trend.
One thing to note is that sometimes Famous can be a bit high maintenance in terms of application (whereas Icon and Cheerleader are both totally smooth and provide a flawless application). Famous requires a bit of extra effort because of the shade and thin nature of the formula — although I didn't have any issues on the day I took the lip swatch photo, you can see that it's a bit more sheer in the centre of my lips where I didn't layer it. Liquid lipsticks with a deep, purple base like this are notoriously difficult to formulate, so I personally don't mind having to work with this lipstick a bit because the shade is so gorgeous. However, I did want to give you the heads up that it's not totally opaque in one pass like the other Huda Beauty Liquid Matte Lipstick shades I've reviewed here at JustineCelina. It's still very comfortable and long wearing, despite the minor formula issues! It also layers well, like the other shades I own in this range.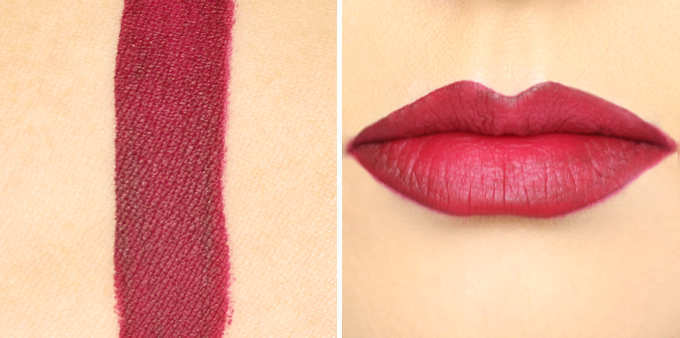 I'm wearing the Huda Beauty Liquid Matte Lipstick in Famous on my lips
---
C $37.00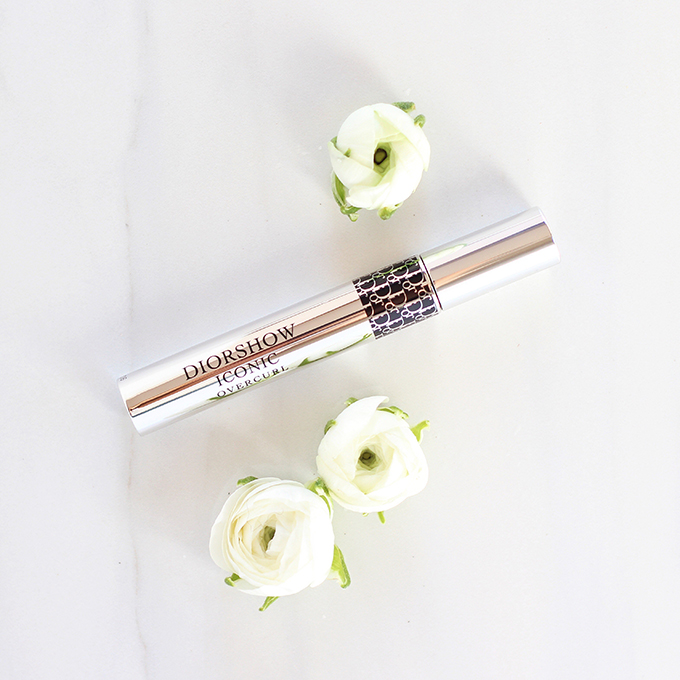 This mascara came of out left field in December and stole my heart! It's totally not what I typically like or look for in a mascara — I tend to favour plastic bristle wands and formulas that have more thickness to them. The Diorshow Iconic Overcurl Mascara features a curved, natural bristle brush with a thin, buildable formula that makes my lashes look full, fluttery and lengthened while remaining soft and touchable without flaking or irritating my ultra sensitive eyes. Although my lashes are natural curly, I do give them a bit of extra help with a lash curler because I have a few straight lashes on my outer corners and this mascara holds a curl beautifully. I wore this mascara for all my holiday parties and events — while it's too spendy for everyday wear, it's definitely my all-time-favourite luxury mascara. If you're looking to treat your lashes to the very best this year, you can't go wrong with this beautiful, classic mascara from Dior. I seriously think this is the best my lashes have ever looked!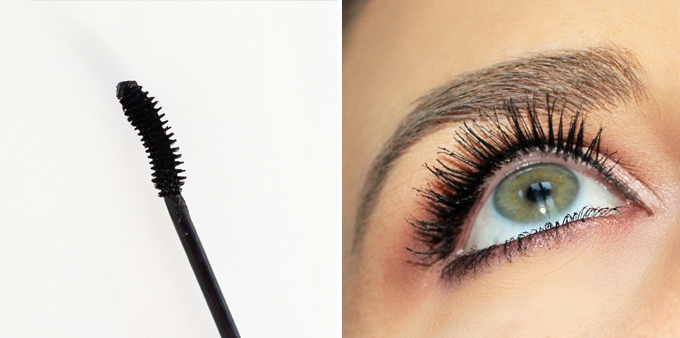 I'm wearing the Diorshow Iconic Overcurl Mascara on my top and bottom lashes

---
C $124.00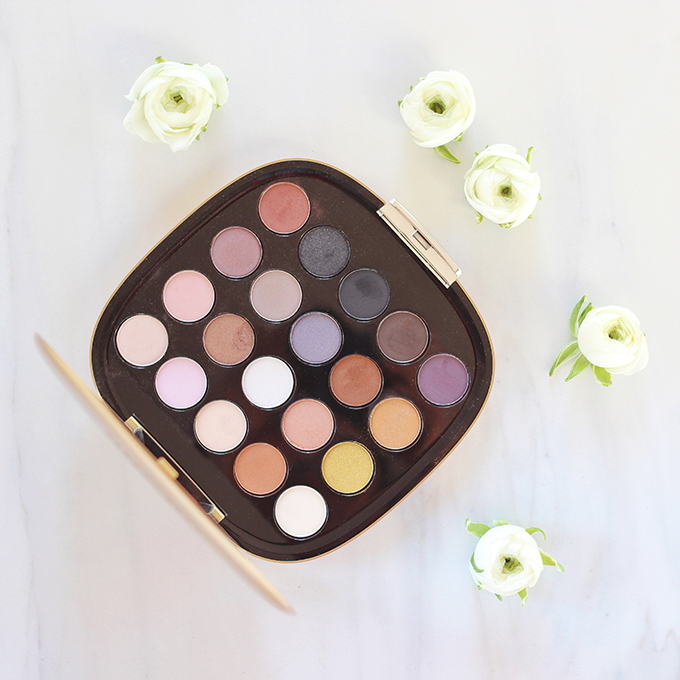 If this palette looks familiar, it's because I mentioned it in my Holiday 2016 Gift Guide for Beauty Lovers and have been plastering it all over my eyes (and the internet!) ever since — I also wore it in my Transitioning the Trends | Autumn to Winter and My Routine for Flawless Looking Skin posts. What can I say — it's an absolute stunner and the quality simply can't be beat! Across the board, these formulas are ultra creamy, pigment and generally just a dream to work with.
Everything about the Marc Jacobs Beauty About Last Night Style Eye Con No. 20 Eyeshadow Palette oozes luxury — from the sleek, metallic gold casing to the beautifully formulated array of shadows. I've worn Marc Jacobs shadows since they first hit the market a few years ago (which is funny, because I've never mentioned them here at JustineCelina!) and think this limited edition palette is worth the investment (although if you want it, you'll have to grab it soon, because it was limited edition for Holiday 2016!). If you're looking for a great, versatile eyeshadow palette to set you up for a gorgeous 2017, this is my pick.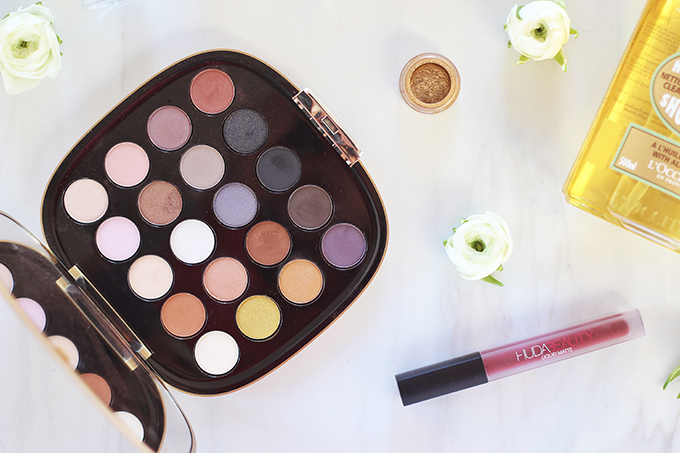 Although it may seem a bit unpractical to travel with, it's actually the only eyeshadow palette I packed for the holidays while I was out of town visiting family and friends. This palette is equipped with everything you need for simple daytime looks, intense smoky eyes and everything in between! I love the matte and shimmery highlight shades, as well as the darker shades (the black is incredible and I sometimes use it as a liner!) — the full spectrum of light, mid tone, deep, matte and shimmery shades ensure you don't need to reach for other palettes to create complete looks. I have a sneaking suspicion it will become one of my all-time-favourite palettes!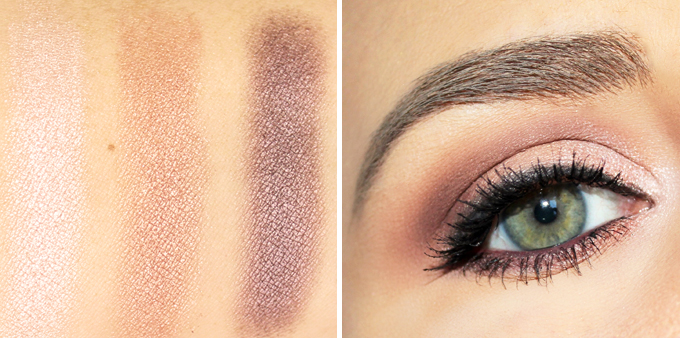 I'm wearing the Marc Jacobs Beauty About Last Night Style Eye Con No. 20 Eyeshadow Palette on my eyes

---
C $34.00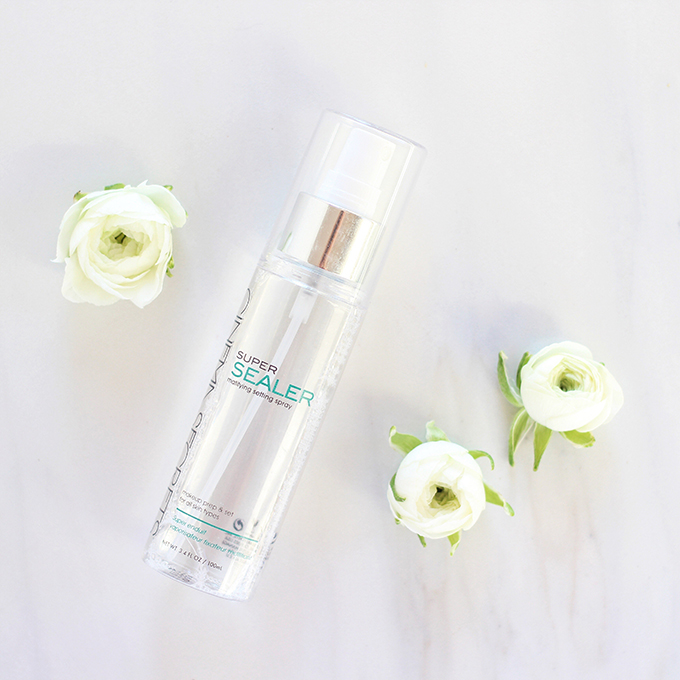 I mentioned the Cinema Secrets Super Sealer Mattifying Setting Spray in My Routine for Flawless Looking Skin and wore it every time I had a holiday event or party to attend last month. It's a fantastic makeup setting spray that also doubles as a primer — think of it like hairspray for your face (but in a non-sticky, gross way). I simply coat my face in a fine mist of spray and allow it to set — and boy, does it ever. In fact, this stuff sets your makeup to an almost waterproof state and was designed to be used in humid climates and under theatrical lights — so it's definitely not for everyday use, but it's perfect for special occasions! It works beautifully to keep my makeup looking fresh and relatively shine free throughout the day while prolonging its wear.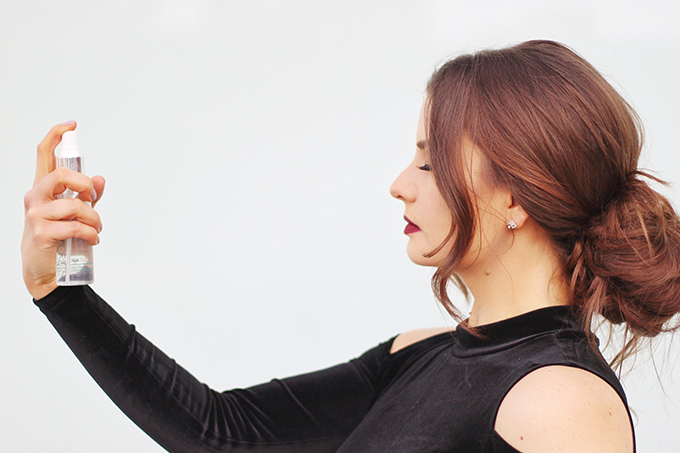 ---
C $72.00 for the kit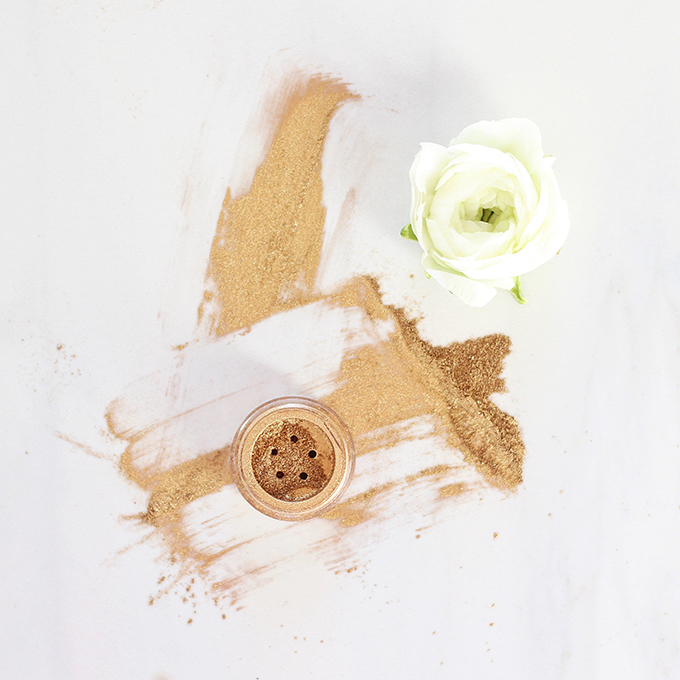 Remember back in my 5 Festive Lipsticks to Try This Holiday Season when I mentioned that the Metallic Gold Pigment from the PAT McGRATH LABS Lust 004 Lipstick Kit is stunning on the eyes? Well, I proceeded to wear it that way all month long. It's an ultra metallic, pure gold pigment — I've always found golds to be flattering on my green eyes because they really bring out the warm, golden tones. Golds tend to be universally flattering and they're my favourite eyeshadow shade to wear!
My favourite ways to use this pigment is to foil it by dampening my brush with a makeup setting spray (the Cinema Secrets Super Sealer Mattifying Setting Spray mentioned above works perfectly) and then dipping into the pigment and applying it all over the lid, or using it to bring light and dimension to the centre of my eye in a halo-style placement (where the inner and outer corners are darker than the centre). It's also gorgeous in the waterline — I'm wearing it that way in my Transitioning the Trends | Autumn to Winter post and it really opens up the eyes while adding a hint of sparkle! Although the Lust 004 Lipstick Kit appears to now be sold out online, many of the other PAT McGRATH kits feature this same gold pigment — so if you've been waiting to pull the trigger on any one of her sets, this may be the final piece of information you need. The quality of every item I've tried from the brand is outstanding — the lipsticks and gloss are incredible and the pigments and glitters are stunning! For a full review of the entire kit, be sure to check out my 5 Festive Lipsticks to Try This Holiday Season post.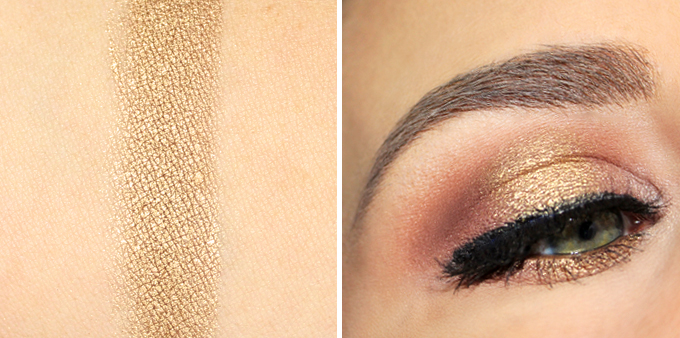 I'm wearing the Metallic Gold Pigment from the PAT McGRATH LABS Lust 004 Lipstick Kit in the centre of my top lid and on my waterline

---
C $78.00 (on sale!)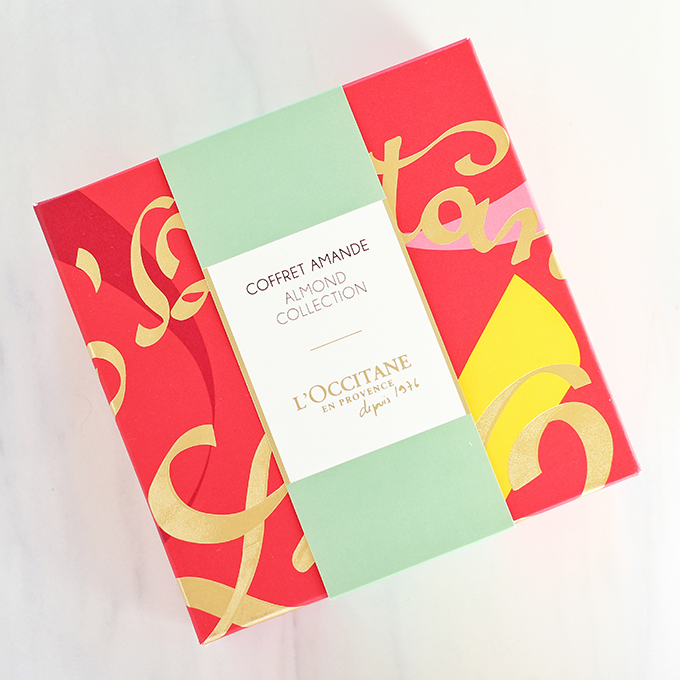 If you were following along with my Insta Stories last month you may remember me chatting about the L'Occitane Almond Collection (and I think a few of you may actually have received this set under the tree this year!). I've used and loved L'Occitane products for years, but because they're not new to me I've never actually spoken about them here at JustineCelina. So, when L'Occitane reached out in December to see if I'd like to sample a few products from the range, the Almond Collection was my first pick! The L'Occitane Cleansing And Softening Shower Oil With Almond Oil is a longtime winter favourite of mine when my wallet is feeling up for the splurge. Although I have ultra sensitive skin and tend to steer away from fragrance in anything that goes directly onto my skin, I'm more lenient with body products — and L'Occitane's Almond scent is absolutely heavenly. It's soft, creamy and comforting in a way that both lingers on the skin but also doesn't overpower your fragrance.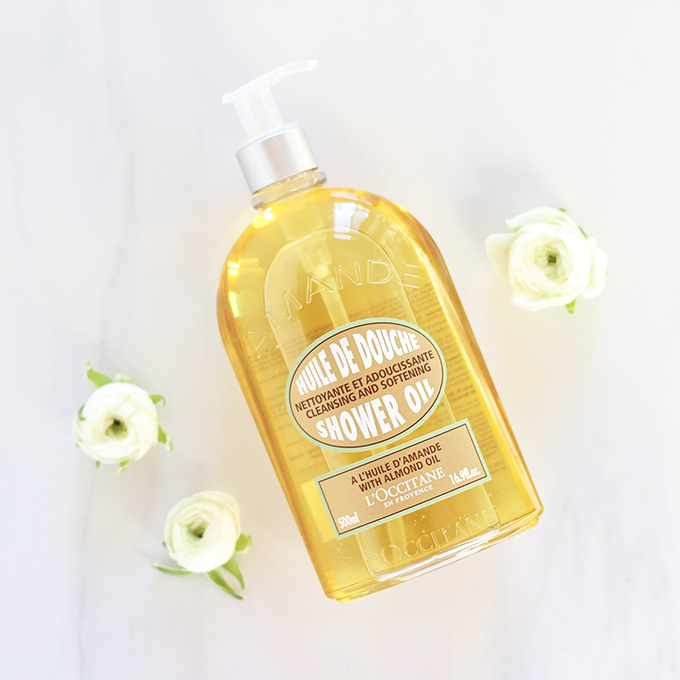 The Almond Collection is housed in a beautifully designed box and includes the L'Occitane Cleansing And Softening Shower Oil With Almond Oil (which currently lives in our shower — I use it as a body conditioner / shaving oil and it's a dream!), L'Occitane Almond Smoothing and Beautifying Milk Concentrate (which is beautifully formulated cream, currently residing in our guest bathroom for everyone to enjoy), Almond Delicious Hands (which is currently living in my bag) Almond Delicious Soap and Almond Supple Skin Oil. The Almond Collection as a whole is super hydrating and perfect for those of you looking to treat your skin during our frigid Alberta winters. Even though it's an incredible value at full price, it's now on sale if you were hoping to receive it as a gift (purchasing the shower oil and milk concentrate individually now cost more than the set itself) — so treat yourself!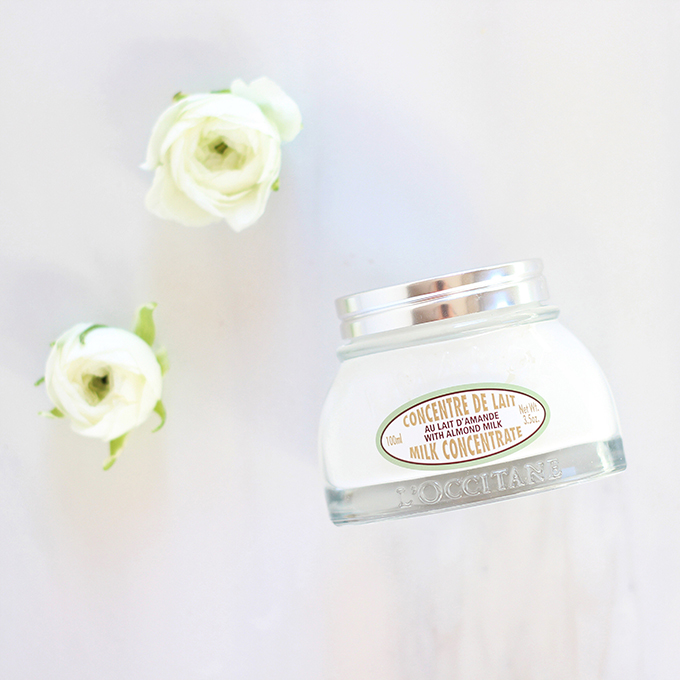 ---
What beauty products were you loving as 2016 drew to a close? I'm looking forward bringing lots of fresh beauty content to JustineCelina in 2017 and am currently planning for Q1, so if you have a request for anything makeup, skincare, haircare or education related please leave me a comment and let me know what you'd like to see! Wishing you all a beautiful 2017.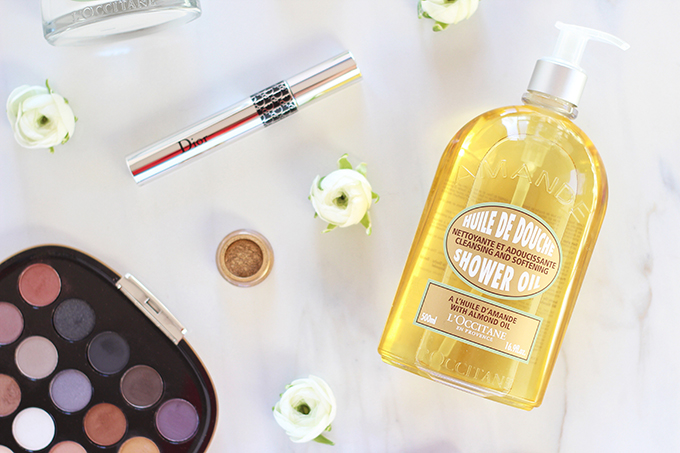 ---
Disclaimer: Thank you to Rebecca Dawn Design for the stunning blooms I used to style this post and for L'Occitane for gifting me with their beautiful Almond Collection. This post is not sponsored, and contains my genuine thoughts, ideas and recommendations. JustineCelina uses affiliate and referral links, which allow me to receive a small commission when you make a purchase through one of my links. Thank you for supporting the brands and businesses that support JustineCelina.com!