Shoe lovers, you're in for a treat today! I'm thrilled to bring you my SUMMER 2017 MEGA SHOE GUIDE — the largest SHOE GUIDE yet here at JustineCelina including 30 pairs (yes, really!) of on trend shoe options for Summer 2017. I think it's fair to say I'm a shoe girl! I love publishing shoe related content because it's so inclusive — everyone looks and feels great in a fantastic pair of shoes. Shoes are my favourite accessory; the right pair totally completes an outfit and gives me an extra spring in my step! And not to worry — there are lots of flat, comfortable styles included as well. As I mentioned back in January, I've been on a mission to rebuild my wardrobe with quality basics this year, and I definitely identified a hole in my shoe wardrobe in the flat department. It just so happens that flats are on trend this year!
Take a peek inside my summer shoe closet today as I break down seasonal trends with a selection of 30 of my favourite shoes! Today I'm chatting mules, espadrilles, embellishment, embroidered, tassels, fringe, sneakers, slides, flats, block heel, minimalist, wedges, pointed toe, flatforms, cork, pompoms (because… obviously!) and seasonal colour trends of yellow, orange, red and pink in this shoe packed mega guide. I've also linked tons of options in shoppable image carousels for you for an easy browsing (and shopping) experience. There's something for everyone — no matter your personal style, budget and preferences! If you're looking to pick up a few fresh pairs of shoes this season but aren't sure where to start, I've totally got you covered! Shall we, ladies?
---

---
SUMMER 2017 MEGA SHOE GUIDE | 30 PAIRS!
---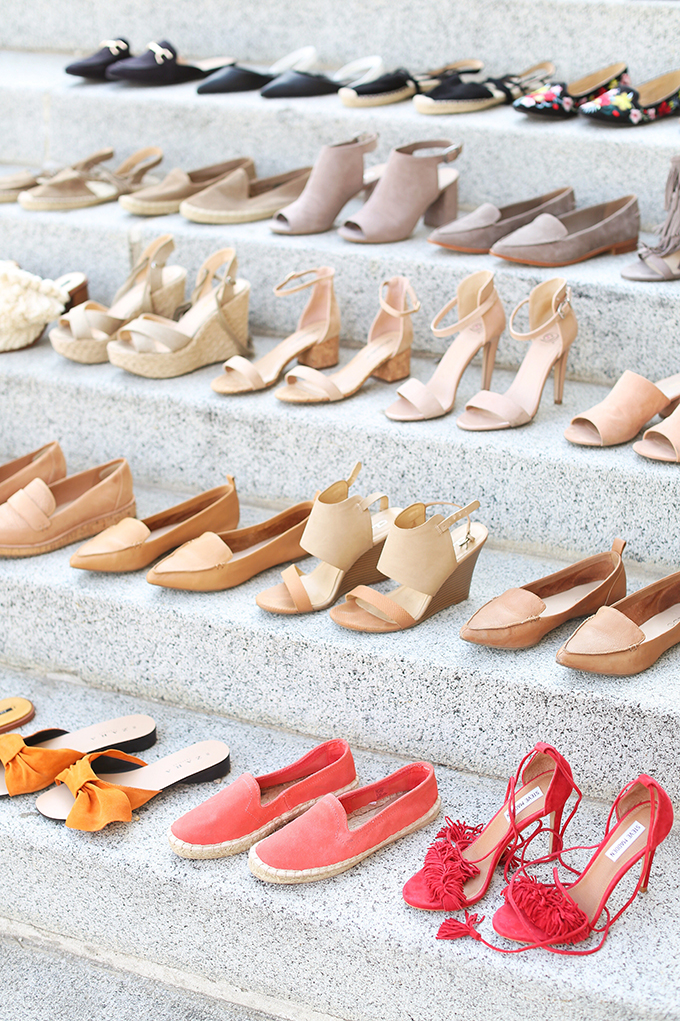 First, I feel that I should make a little disclaimer. Yes, I am totally aware that this is a lot of shoes. Some are new, some are old and some have carried over from seasons past — almost all I purchased at a discount. I'm an avid shoe lover and collector, a passionate fashion lover and I'm also a grown woman who's completely debt free and in control of her finances. Long before I started blogging (i.e.: since childhood!), I've loved and collected shoes. At your request, today I'm sprinkling in some smart shopping tips and tricks I've learned over the years to show you how to score the best deals — some of these shoes I snagged for up t0 73% off! I'm all about smart shopping.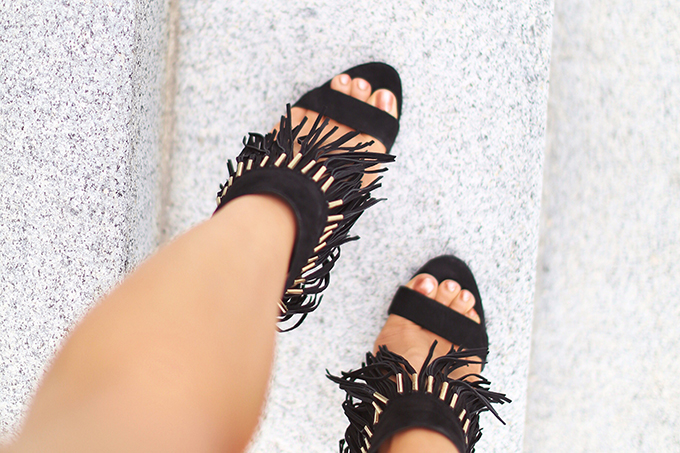 Having said all that — I've been planning this particular SHOE GUIDE since the beginning of the year! Many of you may have read that I've been on a mission to upgrade my wardrobe this year, fill in holes and and integrate quality items. For the first time in a long time I feel like I have all my bases (and then some!) covered and I hope you enjoy this Summer 2017 Mega Shoe Guide as much I enjoyed creating it for you!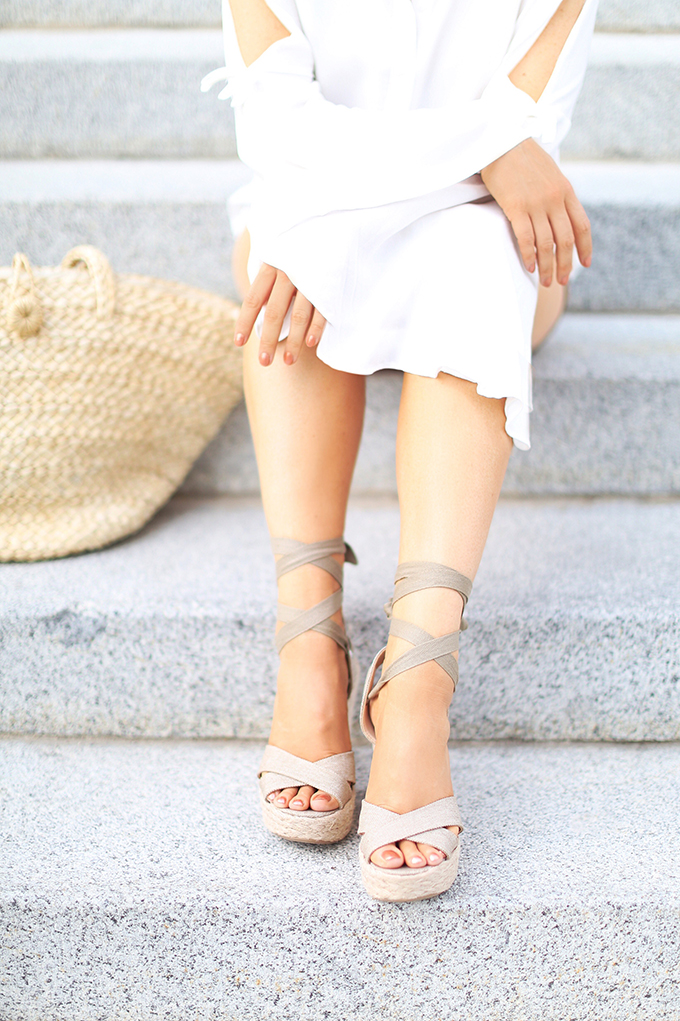 There's a lot to get through today, so we're going to jump right in! For your convenience, I've divided this post into sections by shoe style to make it easy to find what you're interested in. Below each shoe, I've also identified key trends. You'll find shoppable links sprinkled throughout this post, along with image carousels at the end of each section. Okay ladies… let's do this!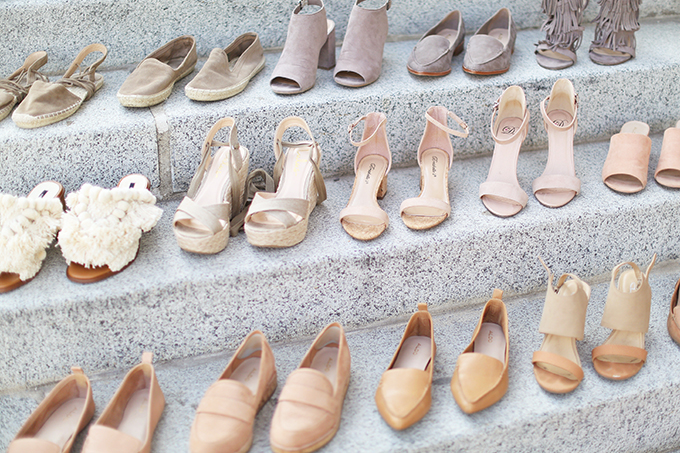 ---
TREND: ESPADRILLES
---
Espadrilles come in all shapes, sizes, heel heights and colours — and they're some of my favourite casual summer shoes! They're also a style I feel like doesn't really go out of style and I find so easy to wear. I've amassed quite the collection over the years (most of these I picked up during end of season sales last year at GAP — another one of my favourite ways to score shoes at a discount!) and rounded them all up to share with you today!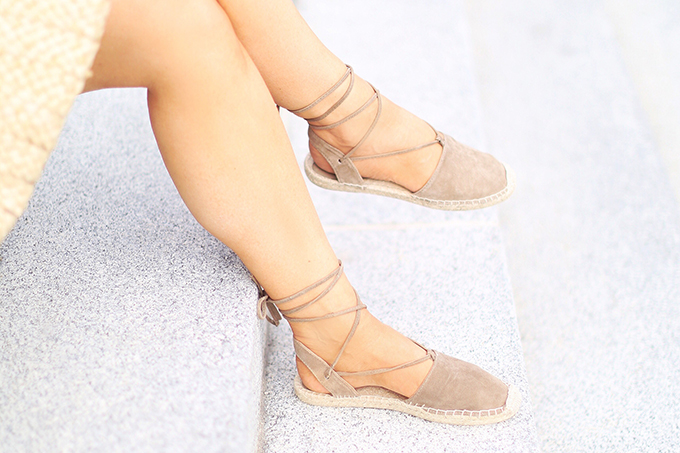 — Key Trends: Espadrilles, Lace Up, Flats —
If you're thinking, wow — those look so cute and comfortable, you're right! As I mentioned, I picked up the next 4 pairs of shoes during an end of season sale last year at GAP (I wrote about it in last summer's SHOE GUIDE) and they've been on my feet this summer as well. Espadrilles are a summer classic, so anytime you see then on clearance come August, snap them up! I love this pair so much — the jute footbed almost feels like you're barefoot and they're so versatile. My favourite way to style them is with flowy summer dresses and I've rounded up some similar styles for you below!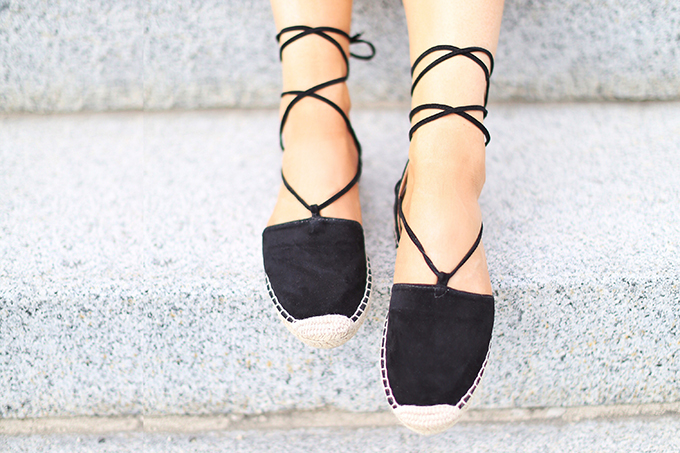 — Key Trends: Espadrilles, Lace Up, Flats —
As you'll see in this post, I'm a repeat shoe offender — if find a style that works for me, I pick it up in multiple colours! I really love the way these look in black as well and reach for them when my outfit needs a bit of grounding.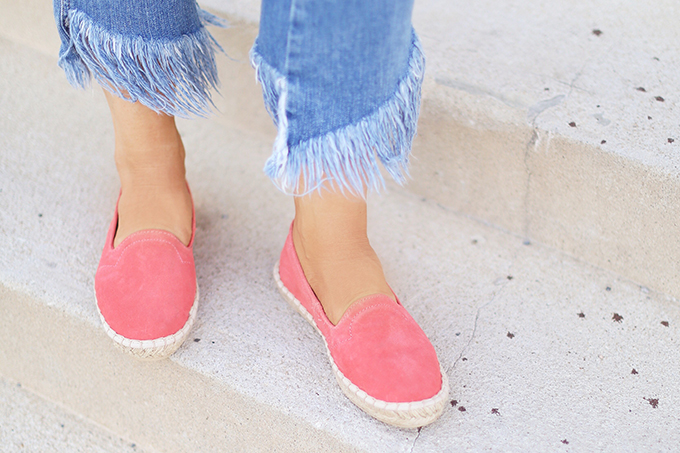 — Key Trends: Espadrilles, Flats, Pink —
A cousin of the pairs I mentioned above, I also picked up these simple flat espadrilles last season when they went on sale. With pink continuing to trend, I thought my closet could use a pop of coral footwear! This colour is surprisingly versatile and I love the fun vibe it adds to casual looks.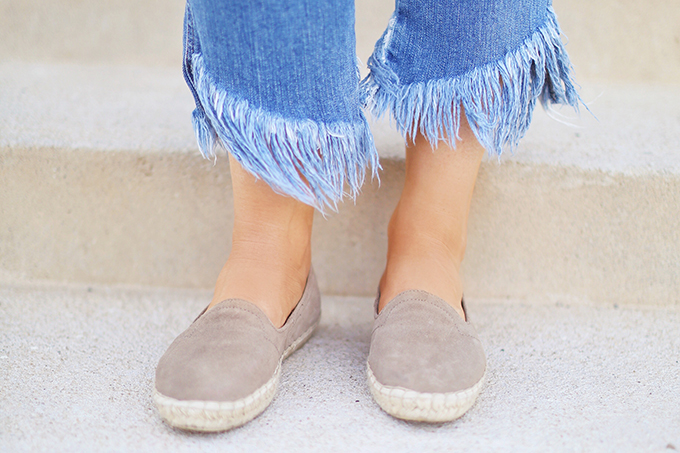 — Key Trends: Espadrilles, Flats —
And yes, I also picked them up in taupe. These are the first pair of shoes I throw on when I'm just running out the door — I don't even have to think about them!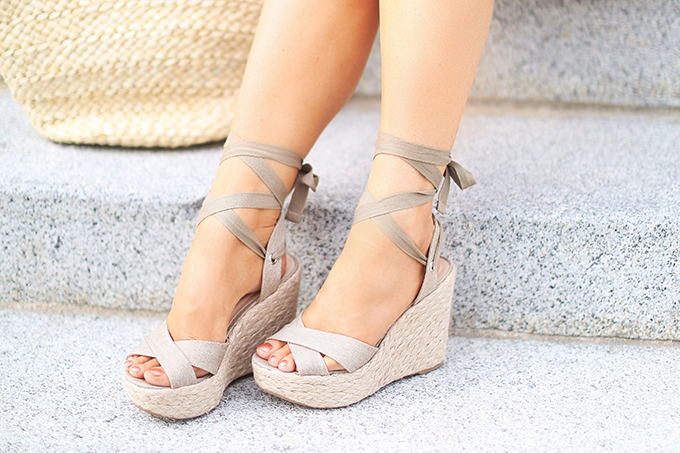 — Key Trends: Espadrilles, Lace Up, Wedges, Flatforms —
The Esme Natural Lace-Up Espadrille Wedges are just $30 at one of my favourite online retailers (especially for great quality, inexpensive shoes!), Lulus. If you're a fan of traditional espadrille styles and want to try a bit of extra lift courtesy of this flatform inspired style I can't recommend these sweet shoes enough. They go with everything! Be warned, these run big — so order a half size down.
---
SHOP ESPADRILLES
---

---
TREND: FRINGE & TEXTURE
---
I love some good texture in my wardrobe. This summer fringe, tassels or woven, textile inspired footwear are definitely taking statement shoes to the next level. If you've followed along with my sartorial adventures over the years, you'll know I love a good fringe or tasseled… well, anything! This season, my favourite fringed and textured shoes inject some playful movement and fun into my summer style.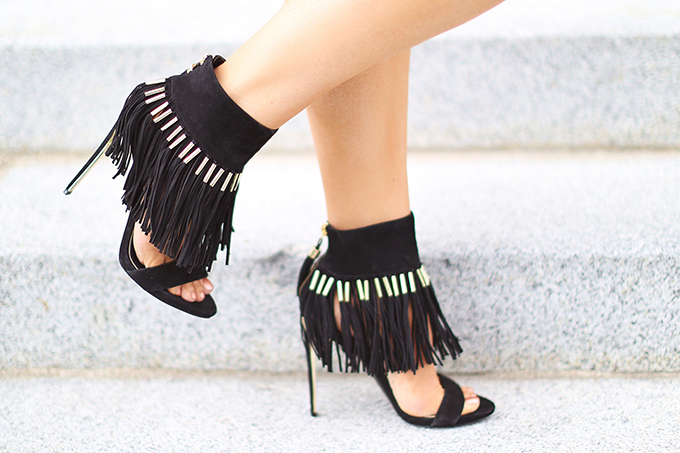 — Key Trends: Fringe / Texture —
Those of you who follow along with my Insta Stories may remember me spotting these at Marshall's last week during a random trip — they stopped me dead in my tracks! Wouldn't you know it, there was only one size left and it just happened to be mine. These boho chic statement sandals from Rachel Zoe (one of my long time style icons) originally retail for $149, Marshalls was offering them for $99 and I snagged them on clearance for $79. It was a shoe miracle! Although these are definitely cab to curb heels, I absolutely love them and can't wait to take them for a spin. They're little boho, a little glam and a lot of fun!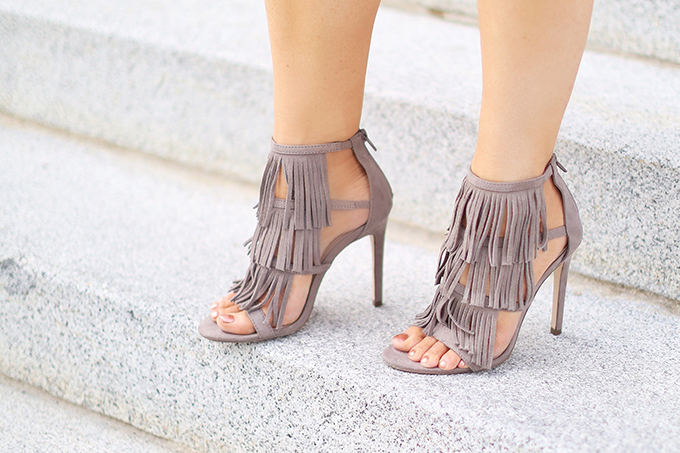 — Key Trends: Fringe / Texture —
I picked these neutral fringe sandals up at Forever 21 last season and wear them quite a bit. This warm grey seriously goes with everything, but still add some extra interest and texture to your outfit. Pick up a neutral fringed sandal to spice up your breezy summer neutrals and bohemian looks!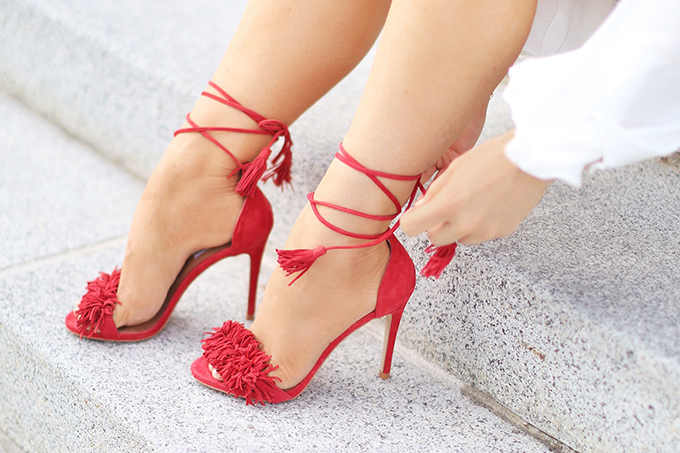 — Key Trends: Red, Fringe / Texture, Tassels, Lace Up —
Do these girls look familiar? If so, it's because I picked them up around this time last year and they've been on heavy rotation in my summer wardrobe ever since. These gorgeous red numbers are the Steve Madden's appropriately names SASSEY. Admittedly, they're not the most comfortable pair of sandals I own, but they're perfect for slipping into for a an event or night out. With red being such a huge color trend this season, add a festive flair to your closet with a pair of statement sandals that incorporate a handful of seasonal trends — red, fringe and tassel details!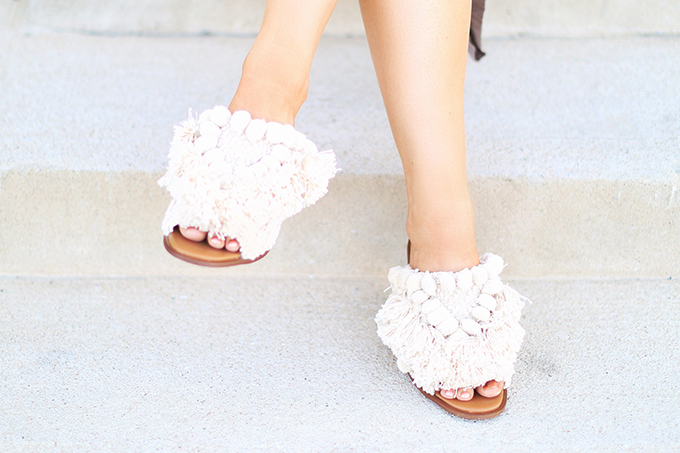 — Key Trends: Fringe / Texture, Mules, Slides, Block Heel, Pompoms —
People either love or hate these shoes — and I'm in the later camp! No matter where I wear these heavily textured statement slides from Zara, I'm always asked about them. They're also one of my most comfortable pairs of shoes in this entire post! I tend to reach for them when I have an outfit that needs some punch but I don't want to wear bold colour. They combine a handful of seasonal trends into one shoe while being simultaneously easy to wear. Since I picked these up in May they're no longer available, but I've scoured the internet for some similar options for you below!
---
SHOP FRINGE & TEXTURE

---

---
TREND: EMBROIDERY & EMBELLISHMENT
---
Here's a trend you're probably used to seeing me wearing — embroidery and embellishment! As a lover of more bohemian style, embroidered and embellished shoes fit integrate seamlessly l into my personal style. I love popping them on with an outfit that needs a little something extra! This summer, embroidered and embellished treatments are popping on on slides, flats and heeled sandals of all styles. Here are a couple that have been on rotation lately!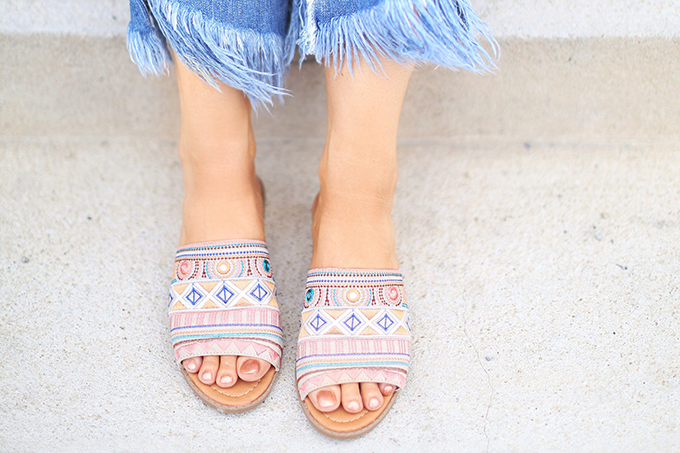 — Key Trends: Embroidery / Embellishment, Slides, Flats, Nude / Blush —
I'm totally crazy about this sweet, embroidered pair of slides! They're another recent purchase from Lulus and they're so versatile. As someone who's generally a fan of lighter neutrals at this time of year, I've been pairing these Kamala Beige Embroidered Sandals up with so many casual looks. I love the slight glitz they add to an outfit and am crazy about all the soft, pastel shades shades on these embellished sandals!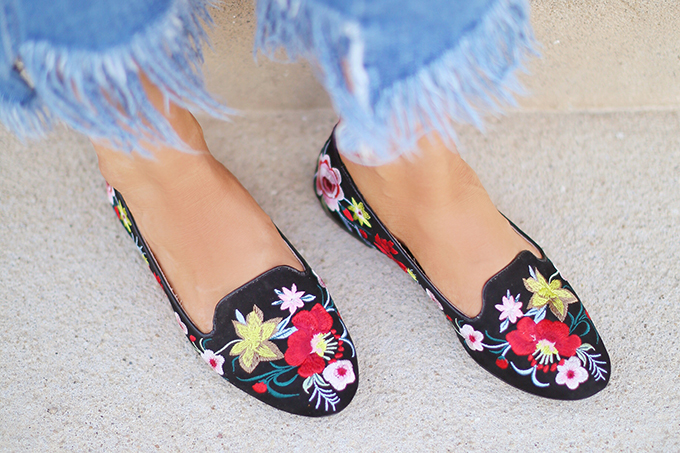 — Key Trends: Embroidery / Embellishment, Slides, Flats —

Who remembers these colourful embroidered numbers? If you've been following along lately, you may remember them from my first Spring 2017 Trend Guide. Embroidery is another detail that's always in my wardrobe, regardless of whether or not it's on trend — so when I spotted these Saffron Embroidered Slippers at TopShop earlier this season I snapped them up (and am now regretting not also grabbing them in nude!). While this particular pair is no longer available, I've linked some similar embroidered shoe options for you below.
---
SHOP EMBROIDERY & EMBELLISHMENT

---

---
TREND: SLIDES
---
If you're a flip flop or flat lover and want to inject some extra style into your look without sacrificing comfort, try a pair slides. Without a doubt, slides are Summer '17s most popular shoe — and I believe they're also one of the most versatile! As I mentioned, I was in desperate need of flat, comfortable, wear all day shoes and I was able to fill that gap in my wardrobe this summer — largely in part to slides. Slides can be flat, heeled, open toed or pointed toe (their unifying trait is their backless silhouette) and I've gathered my favourite styles for the summer months to share!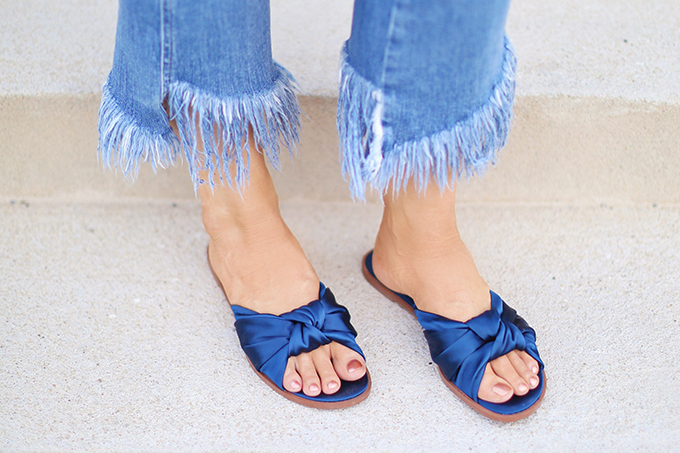 — Key Trends: Slides, Flats —
I spotted these Bow Satin Slides in store at Zara earlier this summer and immediately tried them on. They're so comfortable and I love the effortless, luxe vibe they lend to my outfits. Unfortunately there is only very limited sizing available online, but you may be able to still track them down in store (I saw them on clearance earlier this month!).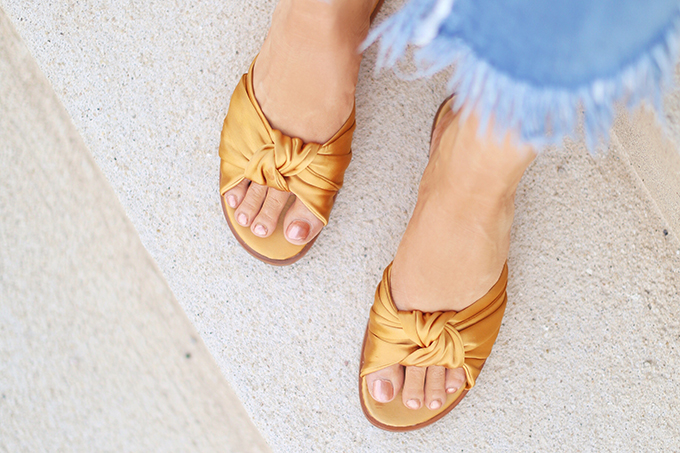 — Key Trends: Slides, Flats, Yellow —
And you know I also picked them up in this beautiful mustard yellow — which I personally think are more versatile (although the blue is gorgeous!) . You already know how much I love yellow, but I love mustard hues against summer skin and find these act as a neutral. Again, there is limited sizing available online — so try to track them down in store, or shop some similar alternatives below!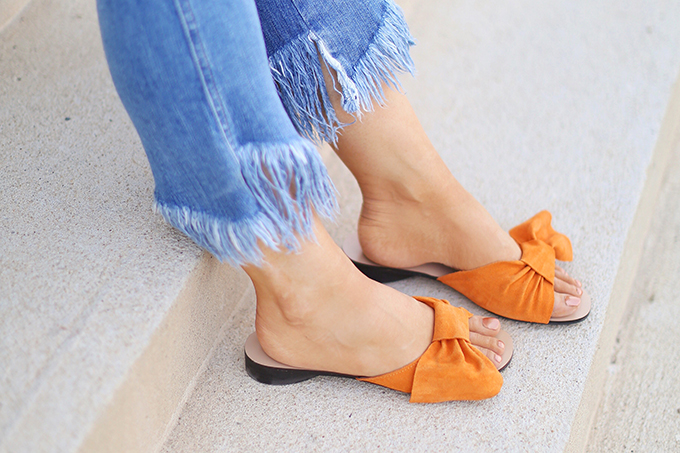 — Key Trends: Slides, Flats, Orange —
With orange being such a big seasonal trend, I definitely wanted to translate the shade into my summer footwear. I love these Split Suede Slides with Bow so much! They go with so many different looks and they're so dressy enough to wear in professional settings as well thanks to the suede and mini heel. I've slipped into them for a few meetings this season and they always get compliments!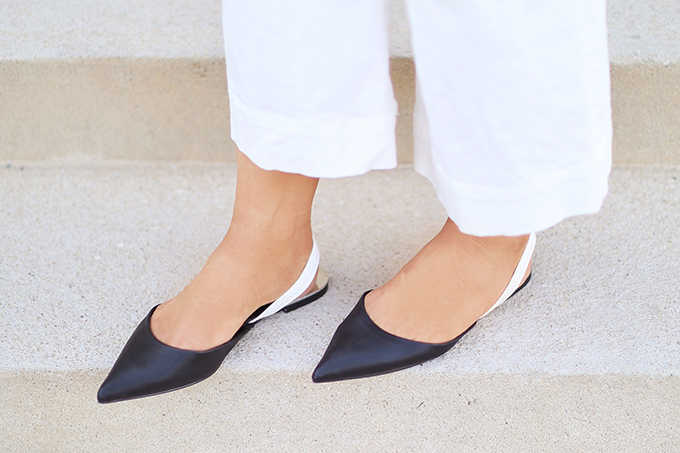 — Key Trends: Slides, Flats, Minimalist, Pointed Toe —
These ultra minimalistic Zara slides are so easy to slip into for daytime meetings! When I wear flats, I typically like a pointed tie to elongate the leg and I fell in love with this simple combination of black and white with the chrome foot bed. They're so sleek! I've linked some similar alternatives for you below as this pair is now sold out.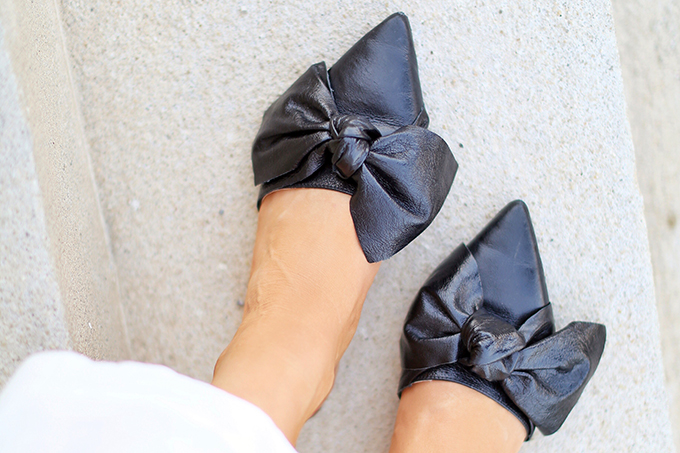 — Key Trends: Slides, Flats, Pointed Toe —
Probably the edgiest pair of shoes in this entire post, these pointed toe flats from Zara have been a staple in my professional, warm weather wardrobe since I picked them up last summer. Again, I love the polish the toe adds to an outfit, as well as the interest of the bow detail. They're so easy to slip into and great wear all day shoes!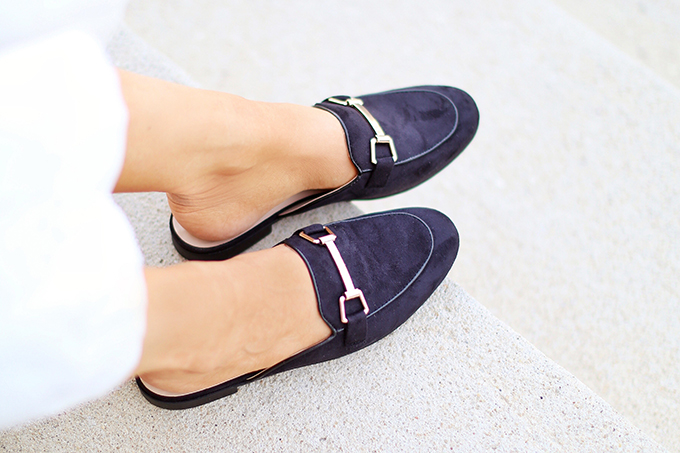 — Key Trends: Slides, Flats —
These casual slippers are a fantastic dupe for the infamous Gucci Princetown Slides — after lusting after Gucci's version for a few months, I saw these Eliza Black Suede Loafer Slides pop up at Lulus (for $29!) and grabbed them immediately! They're still pretty new and I haven't had a chance to wear them a lot, but the few times I have slipped them on I've loved the way they complete my outfit. If you're a fan of loafer inspired styles and are looking for a great staple pair of backless slides this summer, these are a great option!
---
SHOP SLIDES

---

---
TREND: WEDGES
---
I truly believe a classic pair of wedges never goes out of style, but before this summer I'd never been able to find my perfect pair. Enter the CL Chinese Laundry Baja Wedges I picked up at Sears earlier this season! I'm seriously considering picking up the other colours (there are tons and I've linked them all for you below!), because these are definitely my most worn pair of shoes this summer. They're extremely comfortable, wear all day shoes and they go with everything! If you're looking to purchase one pair of shoes this summer, make it the Baja Wedges!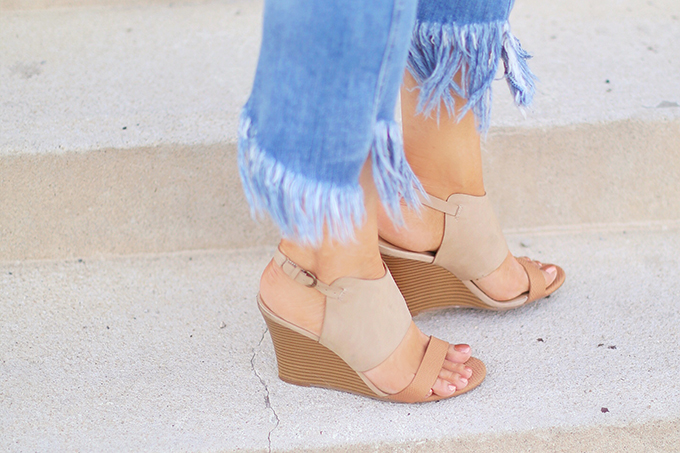 — Key Trends: Minimalist, Wedges —
---
SHOP WEDGES

---

---
TREND: MINIMALIST & 2 STRAP
---
As much as I love my statement shoes, minimalist, 2 strap styles are still going strong this summer and will always have a place in my summer wardrobe. These simple, elegant styles are my go to pairs for more formal occasions. Here are 2 of favourites!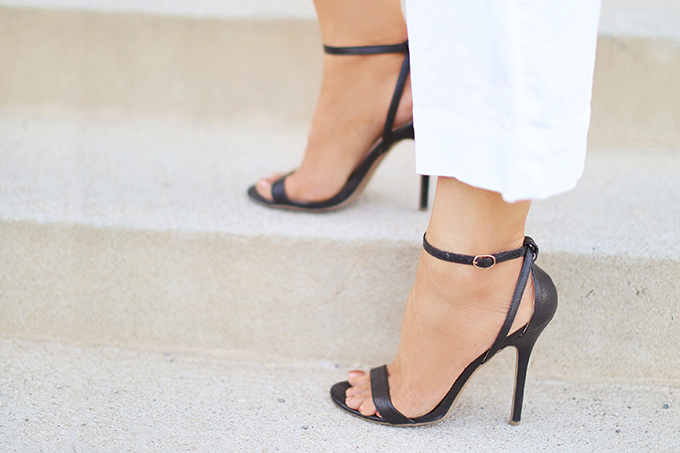 — Key Trends: Minimalist, 2 Strap —
Anytime I need a simple black pair of strappy sandals, I reach for these guys. I've owned them for about 4 years and they've held up surprisingly well. These minimalist, 2 strap sandals have been popular for years now and I think every woman could benefit from a black and a nude pair in her wardrobe.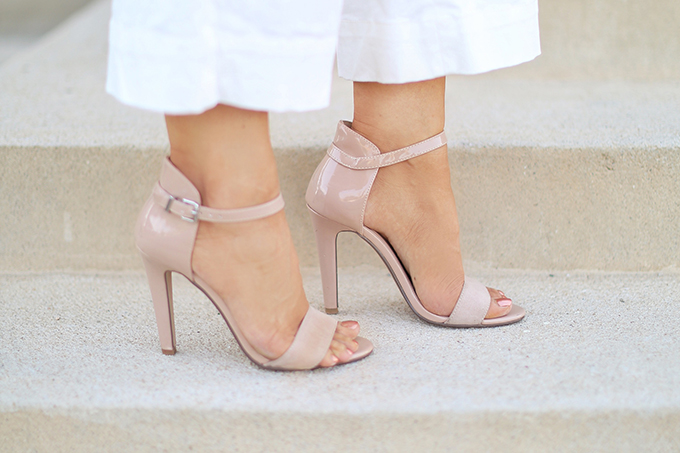 — Key Trends: Minimalist, 2 Strap —
Here's another classic pair of sandals I've owned for many seasons — they're my go to for weddings, or most formal occasions. I love the concealed heel (no blisters here!) and the juxtaposition of patent and nubuck. A minimalist of nude pair of 2 strap sandals is an absolutely must for me! Invest in a good pair and I guarantee you'll get tons of wear out of them!
---
SHOP MINIMALIST, 2 STRAP SANDALS

---

---
TREND: BLOCK HEELS & MULES
---
I've been wearing block heels for a couple of years now and they aren't going anywhere! There's a lot to love about block heeled shoes — they're comfortable, casual and help to balance more muscular calves. I've added several block heeled shoes to my summer wardrobe this season and can't wait to share them!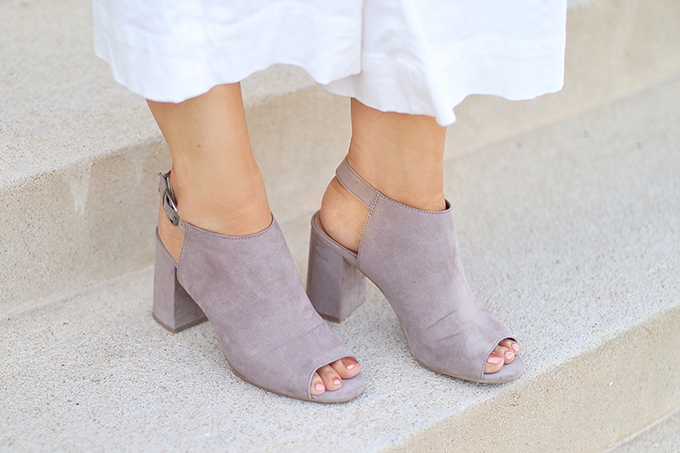 — Key Trends: Block Heel, Mules, Minimalist —
I found the CL Chinese Laundry Bestie Dress Sandals at Sears when I picked up my beloved Baja Wedges. I had just come from a meeting and was wearing a pair of extremely uncomfortable flats that were giving me a blister — so as soon as I got these into my car, I changed immediately! These are another extremely comfortable pair of shoes that I wear so often. They're a great foundational sandal from CL Chinese Laundry that offer incredible quality, versatility and comfort at a reasonable price. They also come in a handful of gorgeous colours, which I've included below!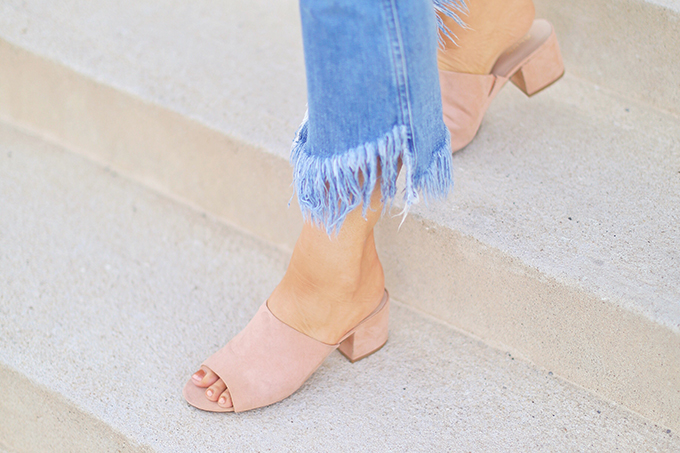 — Key Trends: Mules, Nude / Blush , Minimalist, Block Heel —
Another familiar face, I wore these blush slides in my latest Summer 2017 Trend Guide. If you despise wearing heels but like a little extra height, strike a balance with this season's it shoe — the low heel mule. The Aldo Zavaglia Mules are another pair of wear all day shoes that I personally find just as comfortable as flats. Millennial pink isn't going anywhere this season, and I'm sure by now I sound like a broken record — but if you're wardrobe is lacking this soft summer hue, consider pinking up a muted pink or blush accessory.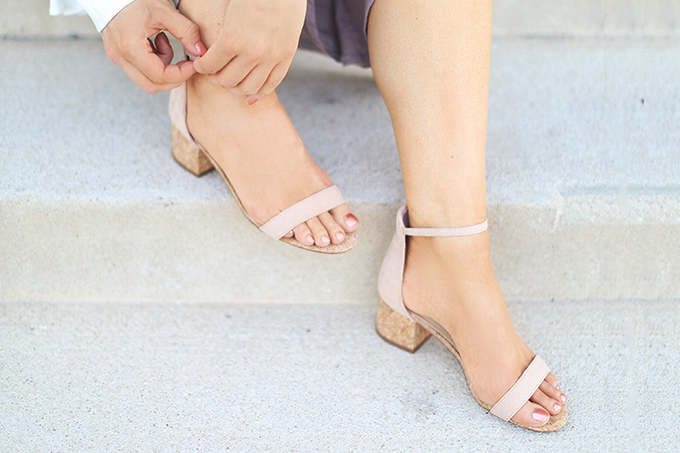 — Key Trends: Cork, Block Heel, Nude / Blush, Minimalist, 2 Strap —
As a lover of natural textures, when I saw cork popping up on summer footwear, it was a trend I knew I wanted to incorporate into my wardrobe! I picked up these June Natural Cork Ankle Strap Heels from Lulus recently as a more laid back alternative to the nude, 2 strap sandals I mentioned above. The low, block heel makes these super comfortable to walk in and I love the texture of the cork heel and foot bed!
---
SHOP BLOCK HEELS & MULES

---

---
TREND: FLATS
---
To be honest, I'm really glad that flat shoes are continuing to trend. I spent the majority of my 20's traipsing around in ridiculously high shoes (those of you who know me personally are probably nodding your heads!) — and while sky high heels still have a place in my wardrobe, flat shoes are a very welcome change. I've grown older, my style has become a bit more casual and so has fashion in general. This year, I've really focused on bringing a balanced selection of flat shoes into my wardrobe. Here are some of my favourites for Summer '17!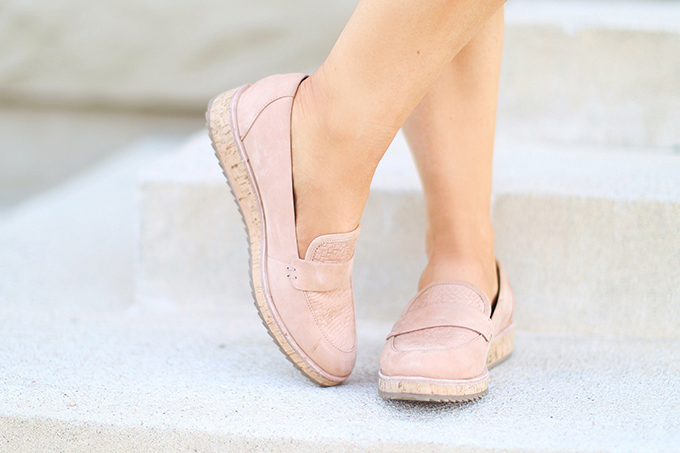 — Key Trends: Flats, Cork, Flatforms, Nude / Blush —
While we're chatting about cork, let's talk about the Aldo Calixtas I picked up during a 50% off sale (coincidentally, they're also 50% off right now)! I was looking to add some flat cork shoes to my wardrobe as well and love the bit of extra height this flatform base provides. Overall I love these shoes — they're fun and comfortable with quirky details, but be warned that they do run wide (I have pretty narrow feet and they're quite roomy on the sides!).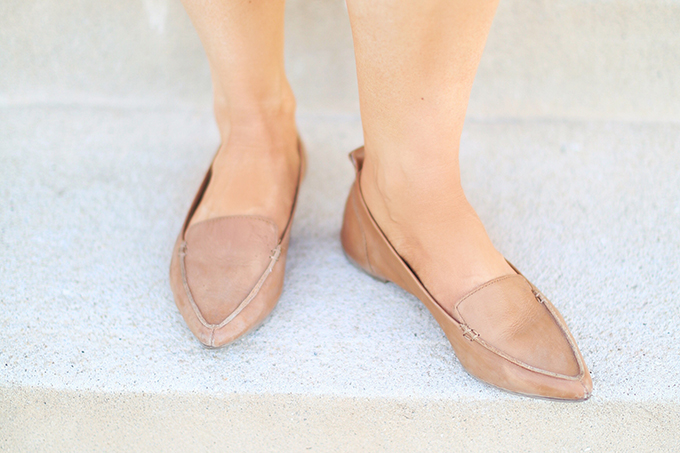 — Key Trends: Flats, Pointed Toe, Nude / Blush —
If you follow along with my FASHION content, this pair of shoes will look very familiar. I've raved about the Aldo Follonas since I first picked them up… back in January. I even put them in my Winter 2017 Shoe Guide | Basics! As I've mentioned several times, these chic loafers are truly a year round staple in my closet — I love the way the pointed toe elongates my leg, plus they're made of buttery soft leather that molds to your foot, making for the perfect wear-all-day shoe! They even traveled to Vancouver with me and they're pretty much all I wore the entire time. Back when I purchased this original pair, they were called the Bacovica's — and I was heartbroken that they sold out before I could snag the additional colours. Imagine my surprise when they popped up in 3 new shades this spring, renamed as the Follonas! So, I waited for a 50% off sale, signed up for a 15% off coupon by entering my email address and used eBates to score 8% cash back — making each pair only $21.60 (essentially I scored 3 pairs for 25% less than one full priced shoe!). My wardrobe was desperately in need of great flat shoes, and I definitely filled that gap with these beautiful loafers. I know so many of you have picked them up at my recommendation, as well!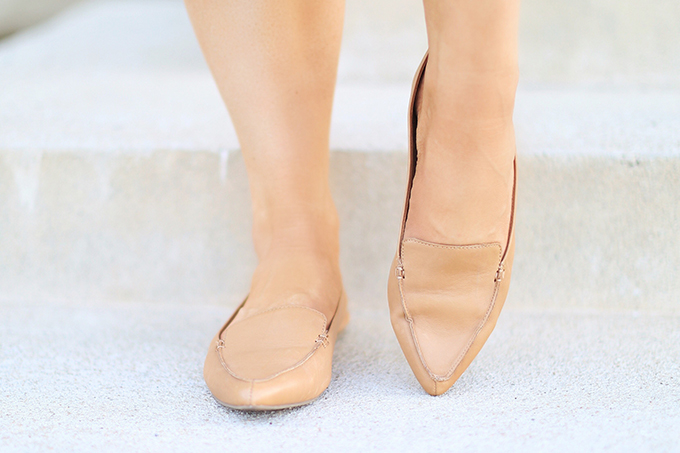 — Key Trends: Flats, Pointed Toe, Nude / Blush —
This is what the new Follona in Camel looks like. As you can see, it's subtly lighter and a bit more caramel toned than the original (I actually grabbed the Camel for a backup of the original, but love the slightly lighter hue — it's a true nude on my skintone). At the time I published this post, the Camel Follona's are 50% off again, so now's the time to snag my all time favourite pair of flats!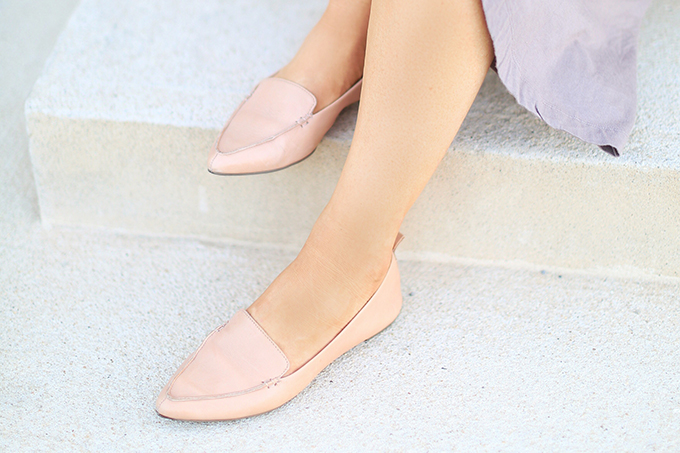 — Key Trends: Flats, Pointed Toe, Nude / Blush —
And this is the Follona in Blush. On lighter skintones this blush may act as more of a nude — but I love it on my skintone as well. With blush tones being such a huge trend lately, this pair has been getting a lot of wear over the past few months!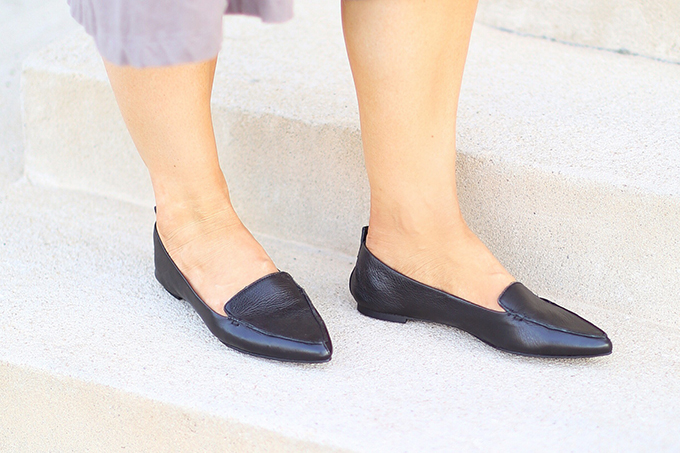 — Key Trends: Flats, Pointed Toe —
Last but not least, here's the Follona in black. Generally, I tend to prefer my lighter neutrals when it comes to footwear, but it was such a good deal and I loved these shoes too much to pass it up! The black leather has more of a sheen than the other pairs and lends a dressier vibe to an outfit. I'm happy to have them in the family!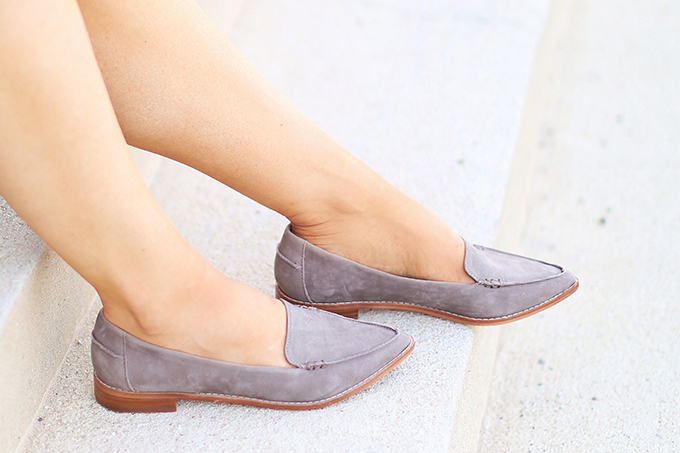 — Key Trends: Flats, Pointed Toe —
While I was browsing the Aldo sale, I stumbled on the Clarenceas — a close relative of the Follonas! I was missing a grey, pointed toe shoe and love stitched and the wooden details on this pair!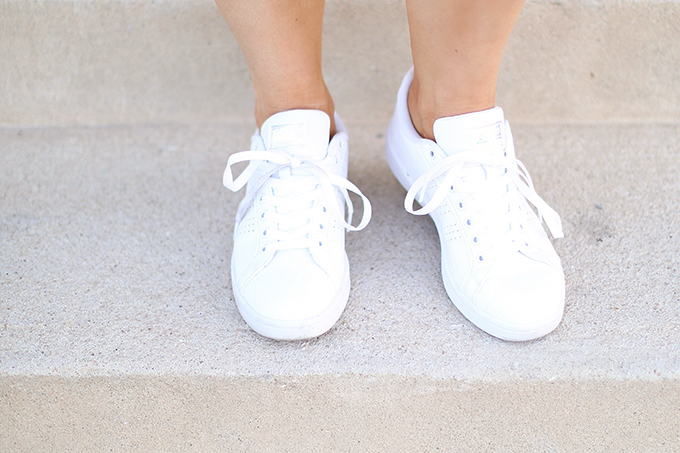 — Key Trends: Flats, Sneakers —
I never thought I'd see that day that I purchased a pair of white sneakers to wear for non-athletic purposes — but my friends, that day came back in the Spring when I found the adidas Cloudfoam Advantage Clean. These ultra comfortable sneakers really do feel like you're walking on a cloud thanks to a super padded insole– but what I love most about them is that they don't look overly sporty or have a huge visible brand (2 things that really turn me off of athletic wear!). I wear my Cloudfoams casually (hop over to this post to see what I work out in!) and I love the cool, slightly sporty vibe they add to my look. If you're looking to dive into the athleisure trend, pick up a pair of clean, white kicks! And if you're planning to pick up this exact pair, they run very large — I recommend sizing down.
---
SHOP FLATS
---

---
SHOP MY SUMMER 2017 SHOE WARDROBE
---

---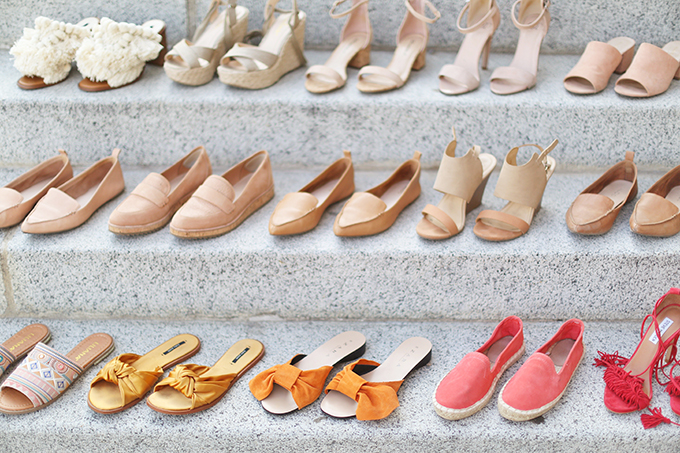 Wow — that was a shoe marathon! This post was definitely a labour of love but a lot of fun to put together (a big thank you to my Mom who helped me shoot this post for 4 hours!). I hope you enjoyed my Summer 2017 Mega Shoe Guide and are inspired to add a few new styles to your wardrobe this season. If you do end up picking up anything inspired by this post, I'd love to know! And if you have any questions for me about anything you saw here today just leave me a comment. Have a great week, ladies!
---
Disclaimer: Thank you to Sears Canada for the gift card I used to purchase my Baja Wedges and to Sport Chek for the giftcard I used to purchase my Adidas Cloudfoam sneakers. This post is not sponsored, and contains my genuine thoughts, ideas and recommendations. JustineCelina uses affiliate and referral links, which allow me to receive a small commission when you make a purchase through one of my links. Thank you for supporting the brands and businesses that support JustineCelina!