If you would have told me a year ago that I'd be creating a blog post about my fitness routine, I would have said you were crazy! Well my friends, that's exactly what's happening today — I'm sharing a workout routine that I'm proud to report I've been sticking with 6 days per week since February. As someone who's consistently prioritized almost everything over my fitness for years, I'm so excited to finally have found something that works for me. If you have 15 just free minutes most days and the desire to workout anywhere without any equipment, you can do these workouts too. Did anyone else resolve to work on their fitness this year? Since we're halfway into 2016, I thought it would be the perfect time to check in and share how I'm working towards my goals. I'm also chatting about my new HIIT training gear — because who doesn't like to sweat in style?
---
Nike Free TR Focus FlyKnit Women's Training Shoes | adidas Run Supernova X Women's Bra | Nike Balance Women's Tank | Under Armour Studio Mirror Block Women's Crop Tights
---
MY FITNESS ROUTINE
---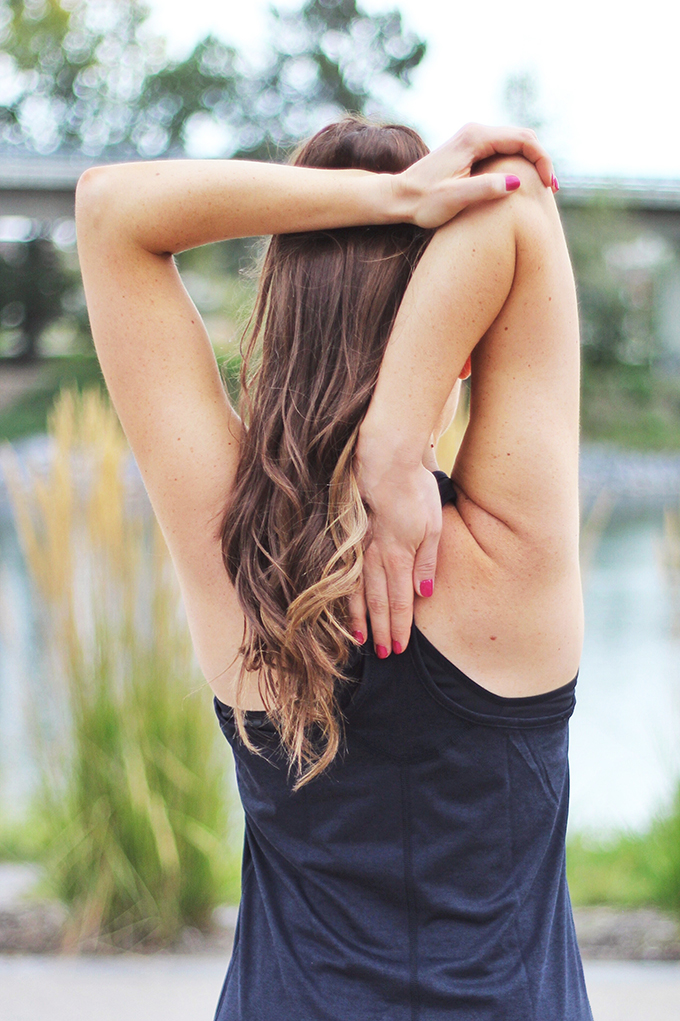 Do you think of YouTube as a place to watch cat videos, beauty tutorials, or catch up with your favourite vloggers? Well, YouTube also happens to be a great place to find real-time workouts! I remember the day I stumbled on Lucy Wyndham-Read's channel — an energetic personal trainer from England. I thought, you know… I actually could do this! I'm such a fan of Lucy's channel and her accessible approach to fitness that I had to share it with you. She has hundreds of videos featuring a variety of HIIT workouts suitable for every fitness level, that she does in real-time along with you. It's like having a free personal trainer that you can literally take anywhere — just grab your iPad and go!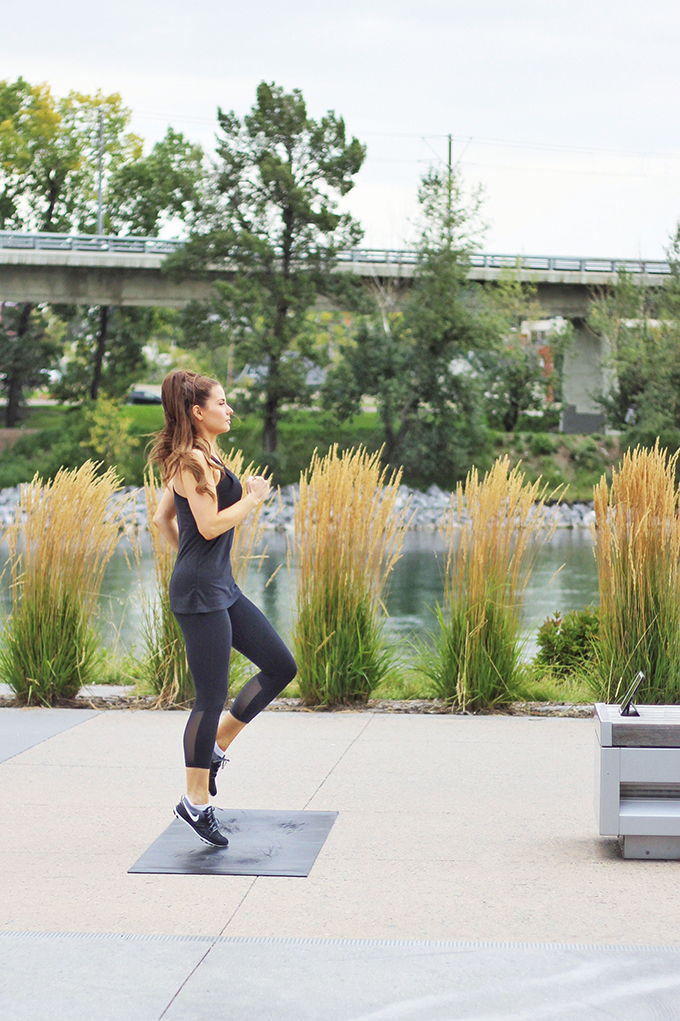 What is HIIT? High intensity interval training is basically slang for packing the maximum amount of exertion into a minimal time frame. Lucy's workouts are a combination of high intensity activity and toning exercises to sculpt long, lean muscles. In just 15 minutes I'm able to get a complete, full body workout in. I warm up, get my heart and my endorphins pumping, sweat, stretch and feel fantastic afterwards! I choose to do one 15 minute workout 6 days per week, usually taking a rest day on Saturday. You can also repeat a 15 minute workout 2 – 3 times per session, 3 times per week if that's more your speed.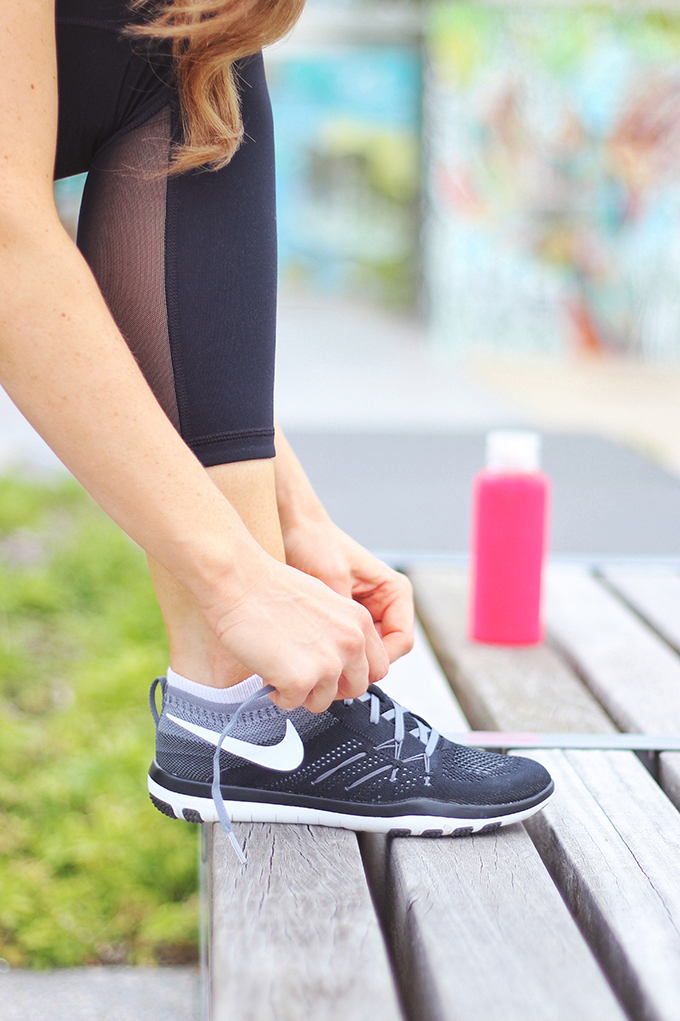 While I enjoy the physical benefits of a consistent working routine, I know the mental benefits are just as important. As a very busy person with a lot packed into my life, I now have a quiet refuge built into each morning where I know I can do something great for myself. Here's what a typical morning looks like: I wake up, make myself a coffee, then power through my inboxes and admin. I fit my workout in as soon as I'm done with those tasks. I find myself completing them a lot more efficiently, because I really looking forward to my HIIT workouts now! They break up my day perfectly and help me to transition from email and admin to my actual work, which I love. After my workout is complete I have a shower and get on with the rest of my day with a stronger body, a focused mind and a happy heart.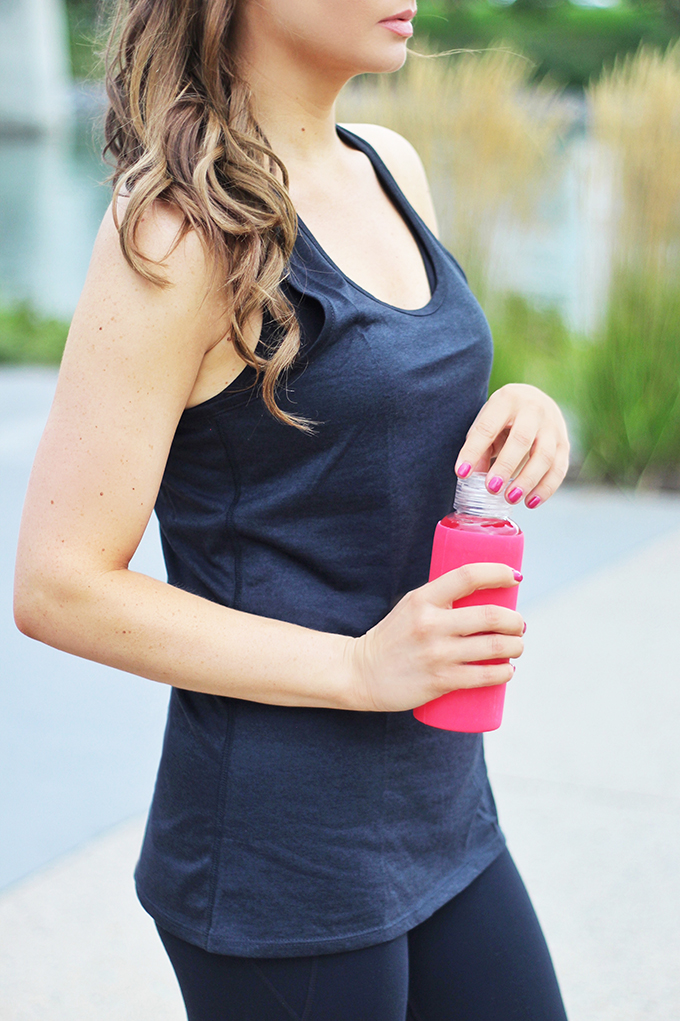 So, what do fashion lovers wear to sweat it out? Admittedly, since I workout at home or in a nearby park most of the time, my active wear was in desperate need of an upgrade. I obviously enjoy shopping for clothing, but I'm a bit out of my element when it comes to athletic gear! The staff at Sport Chek were very knowledgeable in helping me select the proper items to refresh my workout wardrobe based on the type of activity I'm doing. As someone who's not a fan of visible logos or overly sporty looking things, it can be challenging to find stylish active wear that also performs well. Does anyone else find most active wear obnoxious? I was impressed with the extensive selection of active wear available, but also with the variety of accessories like yoga mats and water bottles — Sport Chek has everything you need under one roof and I love that convenience when shopping for fitness essentials. It's funny, although I don't wear a ton of black in my regular wardrobe, I love it in active wear. It's sleek, flattering and know that sweat stains won't be a problem.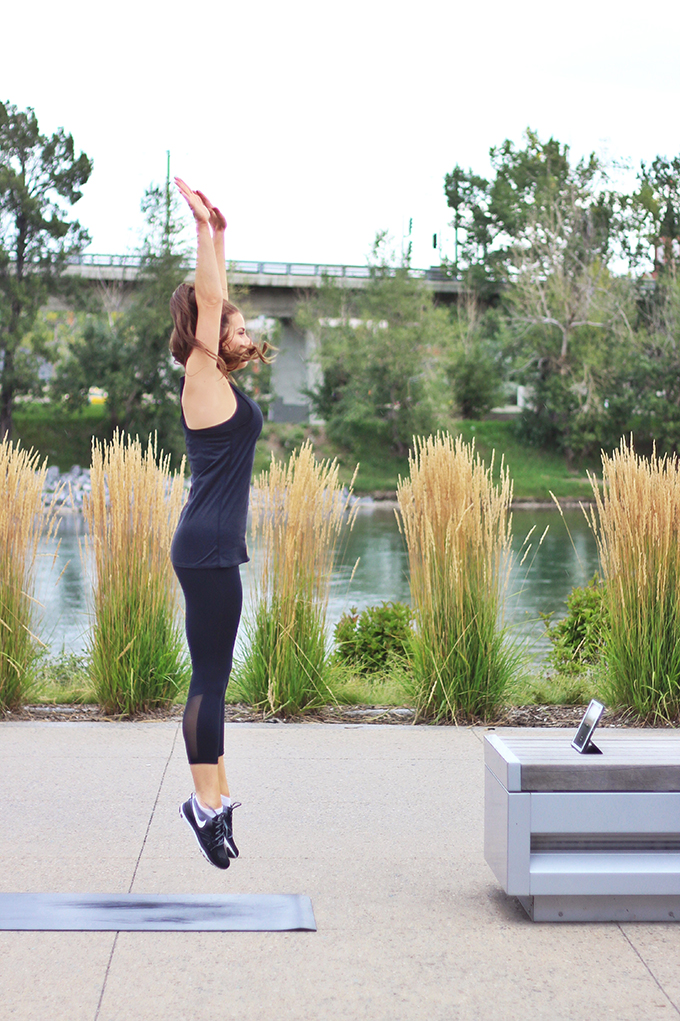 My HIIT essentials include a lightweight, flexible pair of training shoes, a supportive sports bra that keeps the girls in check, a breathable top and a comfortable pair of leggings that stay put while I'm moving through a workout. Although it's a superficial thing, I truly believe that looking the part in any area of your life can give you that extra boost of confidence. So, if you need an extra kick in the butt or some incentive to get back into a healthy routine this fall after an indulgent summer, here it is! The back to school season is a great time to get back on track with your fitness goals and Sport Chek's back to school promotion is too good not to share. From now until August 22, for each $100 you spend, you receive a $20 gift card for future purchases. I took the opportunity to invest in some more expensive items that I probably wouldn't have purchased otherwise, like my shoes and tights. They have a great selection of both casual and athletic wear and I love items that can serve double duty in my wardrobe! I'd totally wear these tights to grab a post-workout fresh juice or brunch with friends.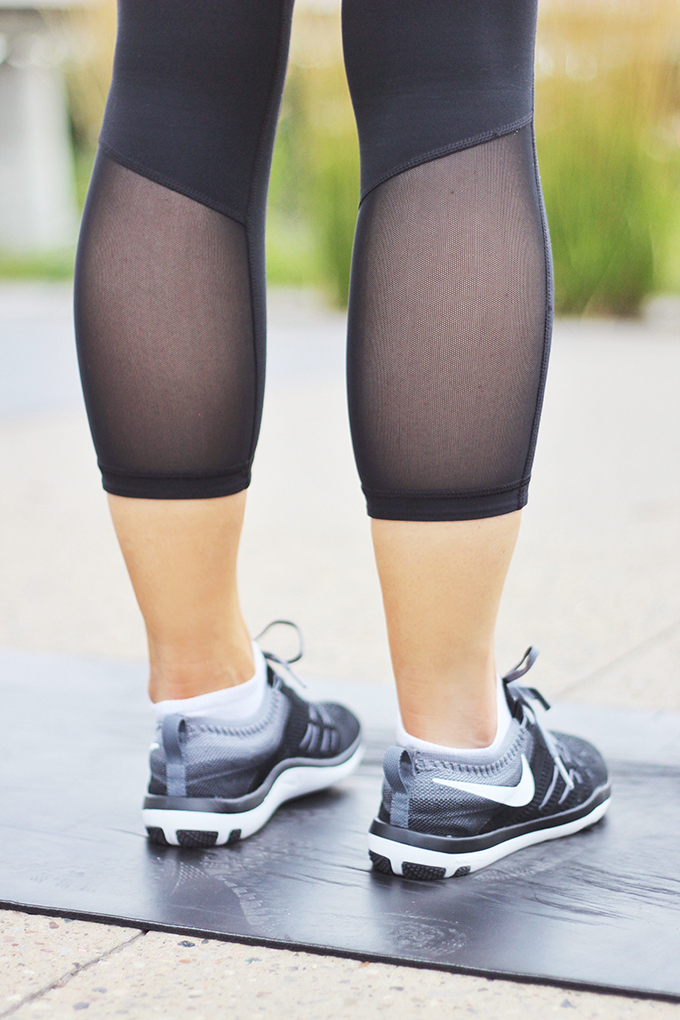 ---
SHOP WORKOUT ESSENTIALS
---
Nike Free TR Focus FlyKnit Women's Training Shoes | adidas Run Supernova X Women's Bra | Nike Balance Women's Tank | Under Armour Studio Mirror Block Women's Crop Tights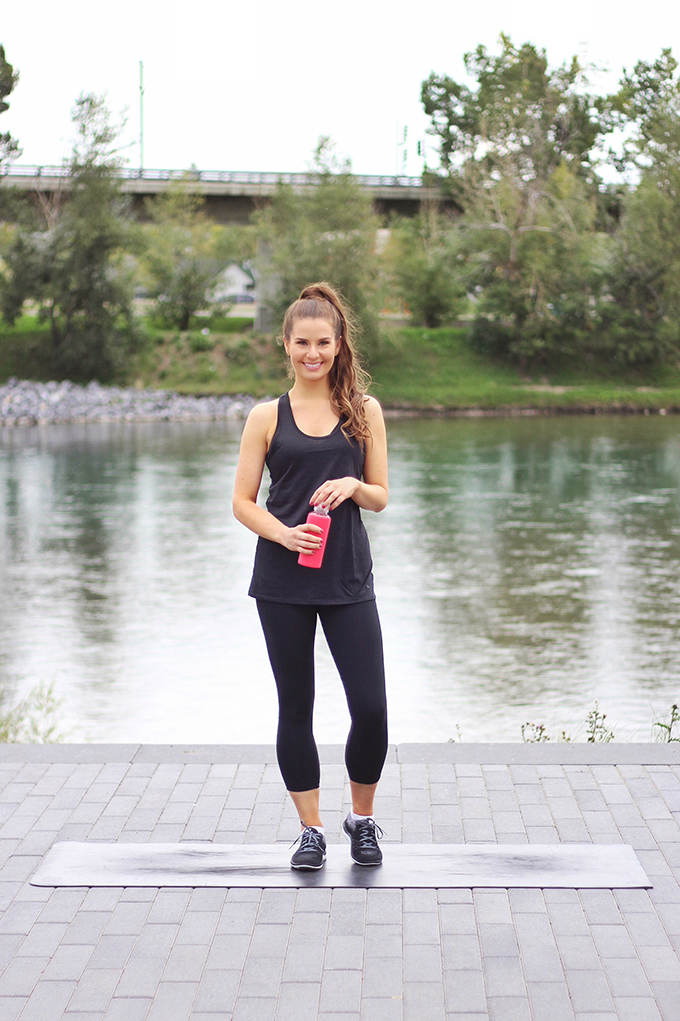 ---
Thanks for coming along with me to get a workout in today! Do you have any workouts or classes you love? Please leave me a comment and let me know what works for you in the fitness department — it's definitely addicting and I'd love to try some new things! Or, if you try some of Lucy's workout's I'd love to know how you like them. As always, If you have any questions about my HIIT workouts or my gear feel free to ask! And if you're looking for some healthy meal ideas to fuel your day, be sure to stop by my food section, where I create seasonal, dairy free, plant-based recipes.
---
Disclaimer: Thank you to Sport Chek for sponsoring this post. JustineCelina uses affiliate and referral links, which allow me to receive a small commission when you make a purchase through one of my links. Thank you for supporting the brands that support JustineCelina!

Save
Save
Save
Save
Save
Save
Save
Save
Save
Save
Save
Save
Save
Save
Save
Save
Save
Save
Save
Save
Save
Save
Save
Save
Save
Save
Save
Save
Save
Save
Save
Save
Save
Save
Save
Save
Save
Save
Save
Save
Save
Save
Save
Save
Save
Save
Save
Save
Save
Save
Save
Save
Save
Save
Save
Save
Save
Save
Save
Save
Save
Save
Save
Save
Save
Save
Save
Save
Save
Save
Save
Save
Save
Save
Save
Save
Save
Save
Save
Save