Wedding season has arrived! Every year, what to wear to spring weddings is something I'm asked about frequently — so today's post is another installment in my WHAT TO WEAR TO series. It's such a popular request, I wrote a post about it last year before I was able photograph my style content! Today I'm chatting about what I'm wearing to spring 2016 weddings when the weather is still a bit unpredictable (FYI, it snowed in Calgary last weekend and it was sprinkling when we photographed this post!). I may be a bit biased because of my love for flowers, but that I think floral print is perfect for spring weddings. It's colourful and fresh, and there are so many interpretations of it each spring. From soft subdued, to bold and colourful like I'm wearing here, you're sure to find a print that compliments your personal style. I've included links to my favourite floral print dresses this season for every body type (pssst, the dress I'm wearing is under $40!). I also chat about choosing accessories to compliment a statement dress, along with my special occasion hair and makeup tips.
---
Muiticolour Long Sleeve Flowery Floral Pastel Dress c/o SheIn | Vintage Glass Bead Clutch (similar) | Vince Camuto Court Ankle Strap Sandal in Beige (similar, similar) | Maybelline ColorSensational Vivids Lipstick in Hot Plum
---
WHAT TO WEAR TO | SPRING WEDDINGS
---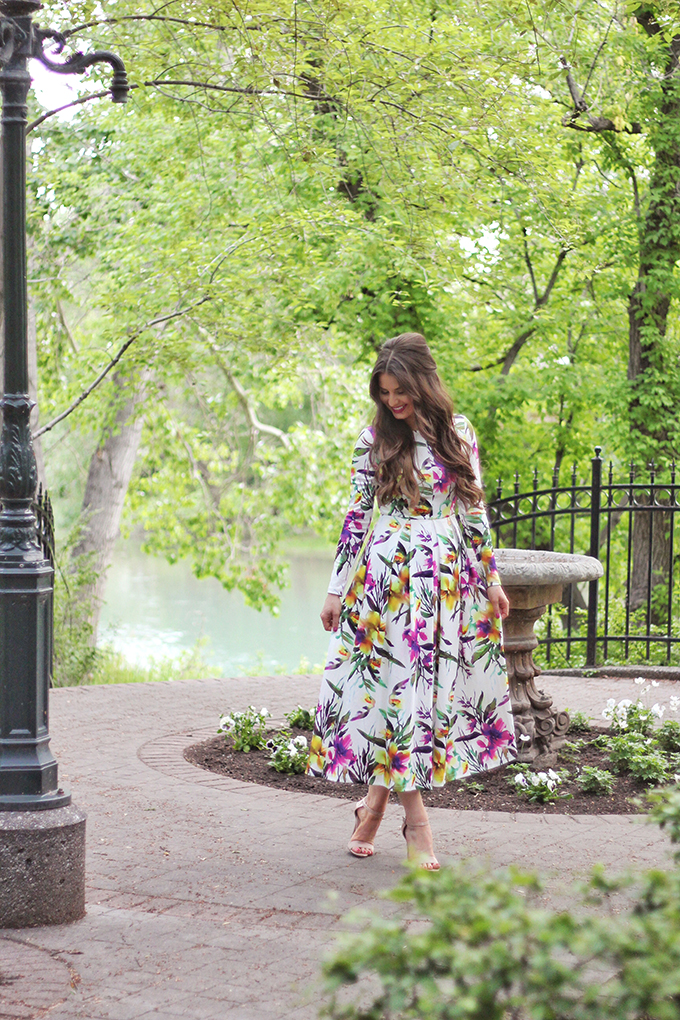 A floral print dress with a sleeve and longer hemline is a perfect option if you're unsure of the weather, or attending a more formal or traditional wedding. This Muiticolour Long Sleeve Flowery Floral Pastel Dress is modest, but still colourful and fun! I love the 50's vibe of the tea-length silhouette and the material is so thick and warm — a perfect dress to wear if there's a possibility of rain in the forecast.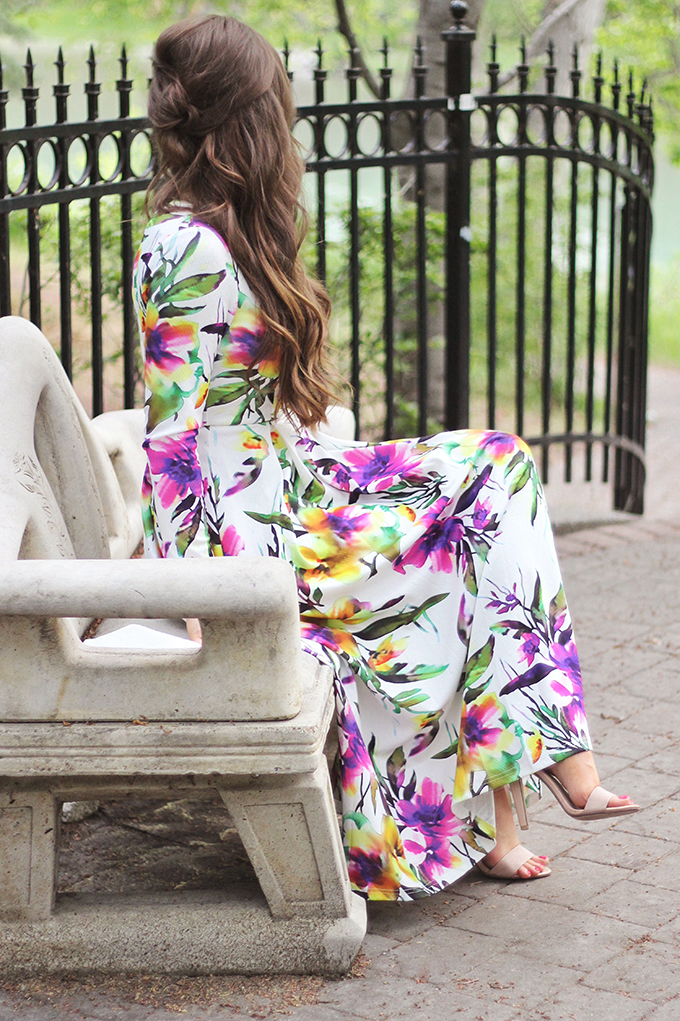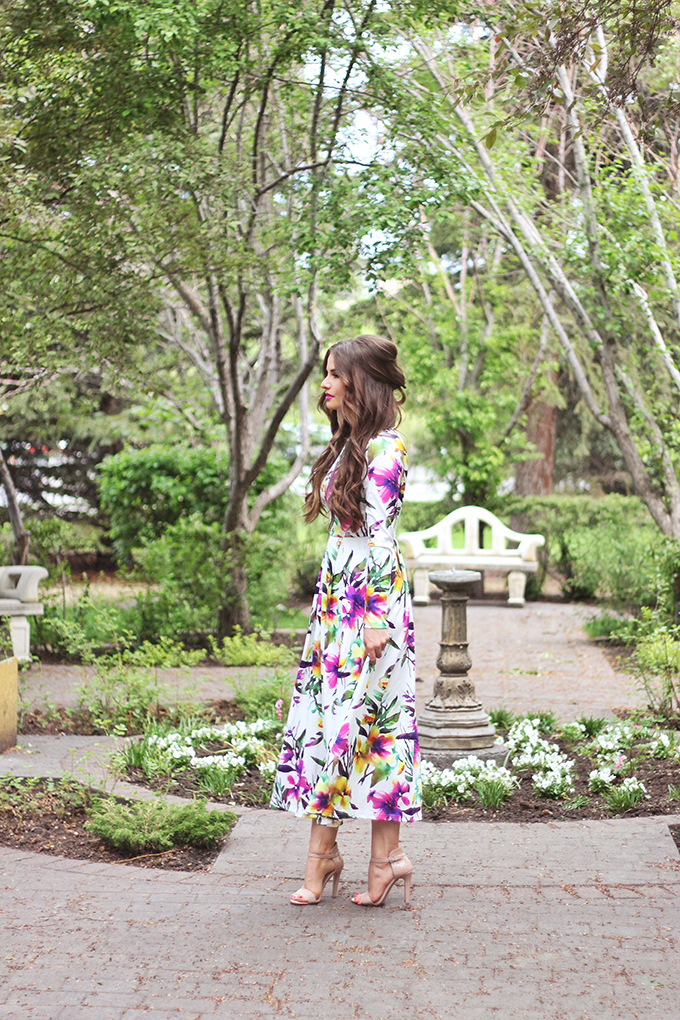 It's also lined (you don't have to worry about the white areas being sheer) and it's so comfortable because the material has a bit of stretch to it. This dress hugs me in all the right places while still having a full, structured skirt that hangs nicely because of the weight of the fabric. It's a bonus if I can be comfortable in pieces that I'm going to be wearing for long periods of time — because usually that isn't the case!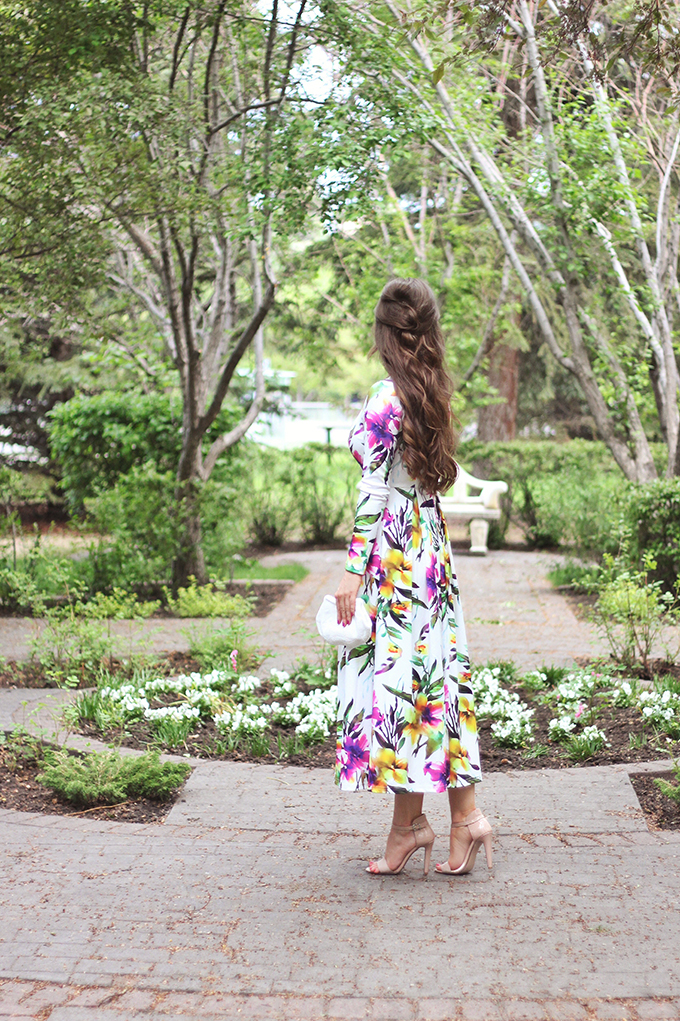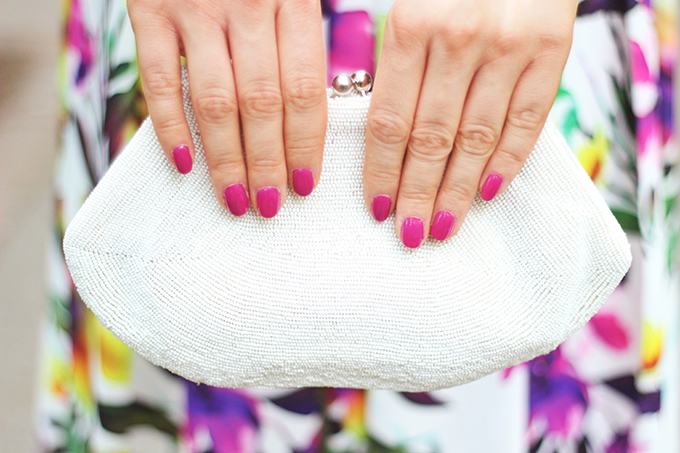 Since the dress definitely makes a statement on its own, I chose to pair it with neutral accessories. My clutch is vintage (circa 1920, so I reserve it only for special occasions) and it's hand-beaded with a million tiny glass beads! I've actually managed to find a similar one at Nordstrom with a very delicate beaded pattern. I love any occasion to dress up and I think weddings are the perfect opportunity to pull out your most treasured accessories and elevate your outfit with special pieces. My nude strappy sandals are really versatile and also really comfortable — I wear them often during the spring and summer and love their ability to pair with casual and formal looks. I'm also able to wear them all day and night without any blisters or discomfort, which is important for weddings (because no one wants to be the girl running around barefoot at the end of the night!).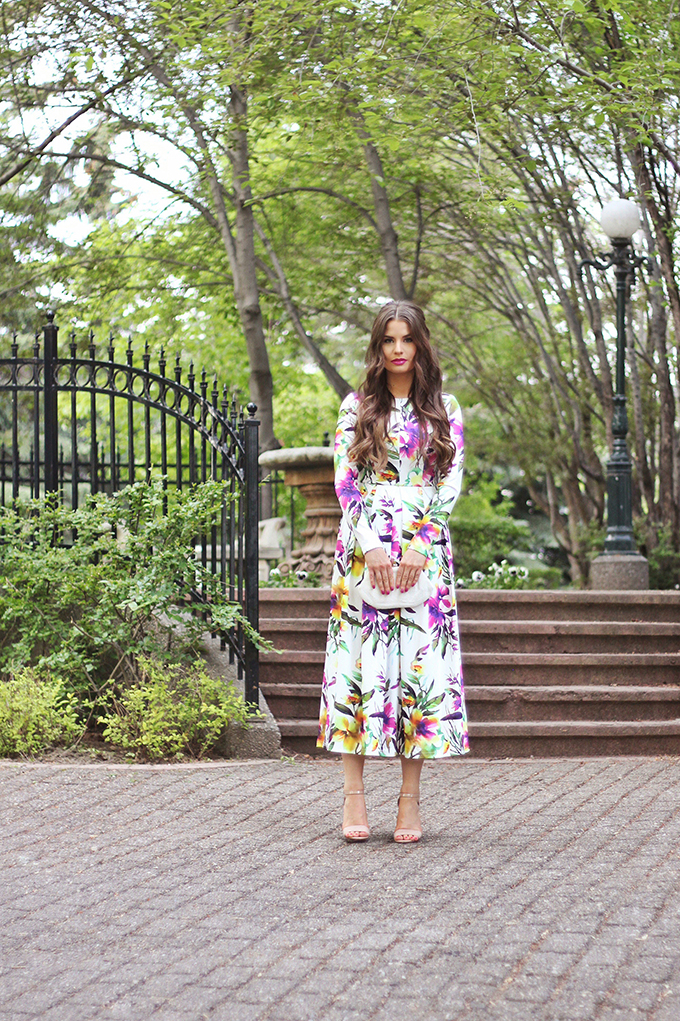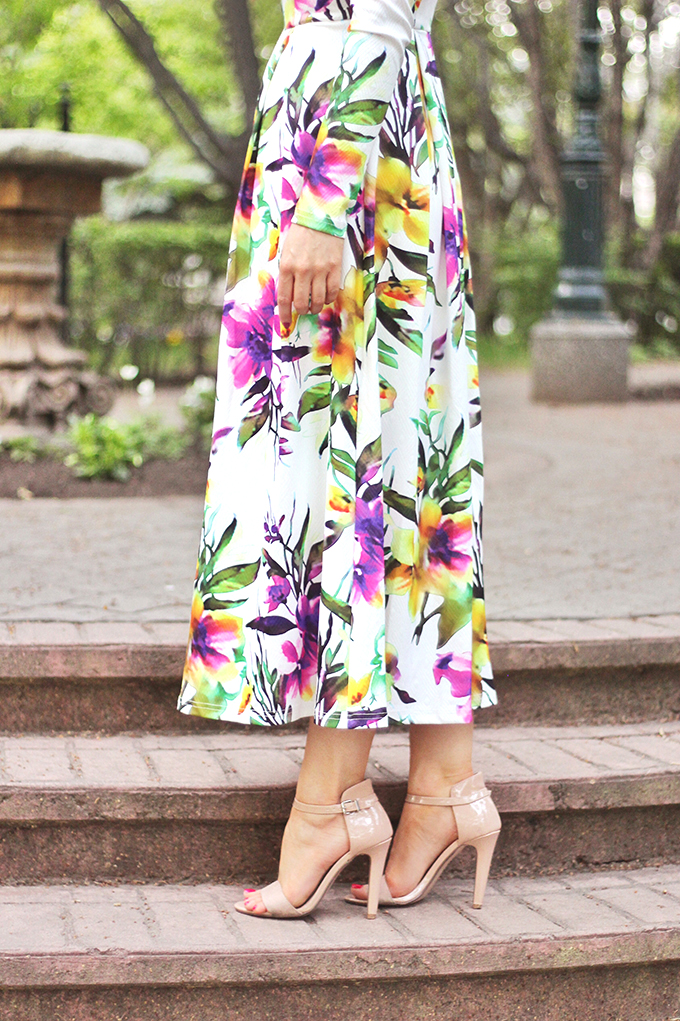 The colours of this print lend itself so well to a variety of lip colours, but I've been really into purple hues this spring, so I chose to pair it with a fuchsia shade. I'm wearing the Maybelline ColorSensational Vivids Lipstick in Hot Plum, which I mentioned in my 5 Unconventional Spring Lip Colours post. For weddings, I love long wearing products that I can apply and pretty much forget about — they're nothing worse than a high maintenance lip that you have to worry about while you're eating, drinking and being merry. The Maybelline ColorSensational Vivids Lipsticks are one of my favourite drugstore lipstick formulas — I know I can always count on them! Since my accessories are neutral, I wanted to have a little bit of fun with my lip colour and I love the way fuchsia shades compliment green eyes.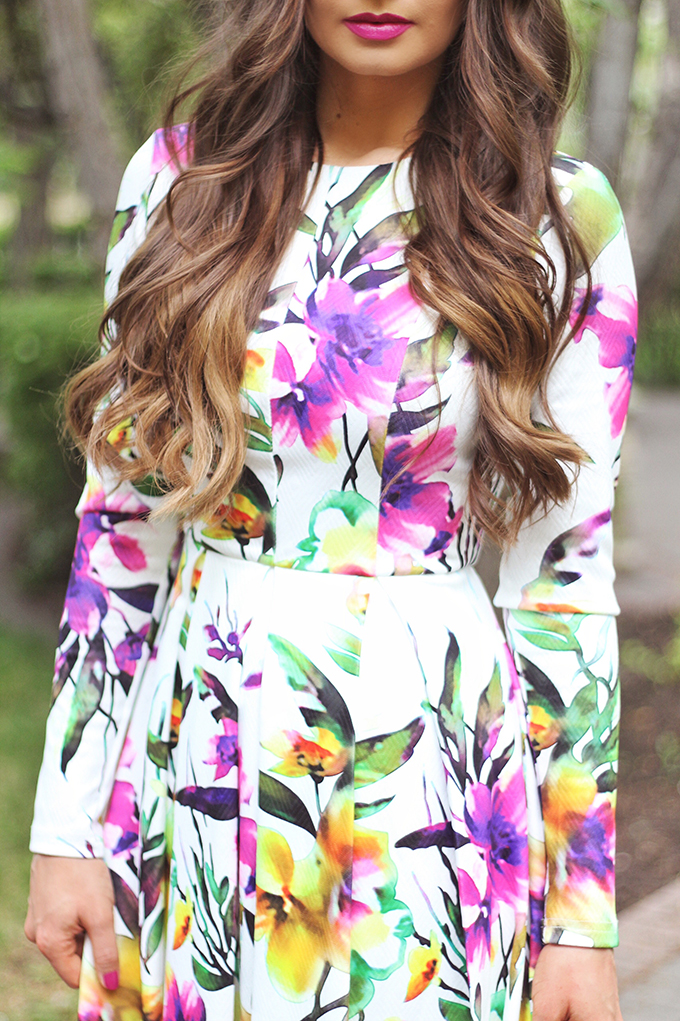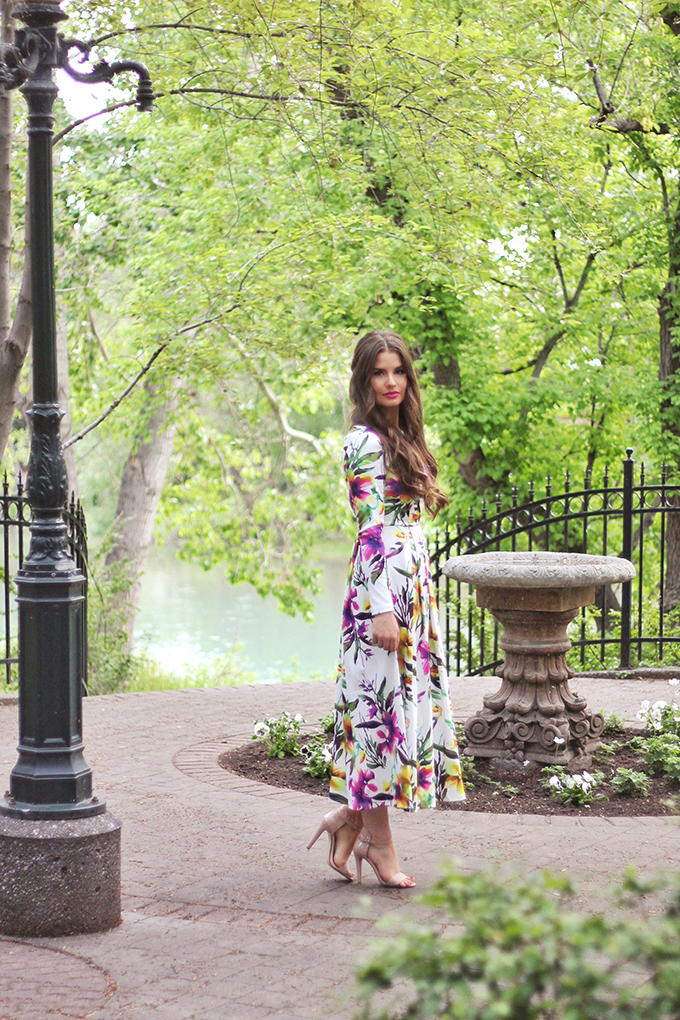 For weddings or special events, I usually do something different with my hair and love textured, bohemian styles. This half-up, undone knot is really easy to achieve and looks a lot more complicated than it actually is! First, I started by parting my hair in the center. Then, I curled everything (including my bangs) away from my face in varied sections with my favourite curling wand, the Sultra The Bombshell 1″ Curling Wand (you can purchase Sultra both on amazon.ca or at Target, which now ships to Canada). After I was finished curling, I added the Bumble and Bumble Prêt-à-Powder to my roots and roughed my hair up with my fingers to add some texture. Since my hair is so soft and fine, a texturing powder is a must — it makes my hair easier to work with and helps to add the grit my hair needs to hold a style.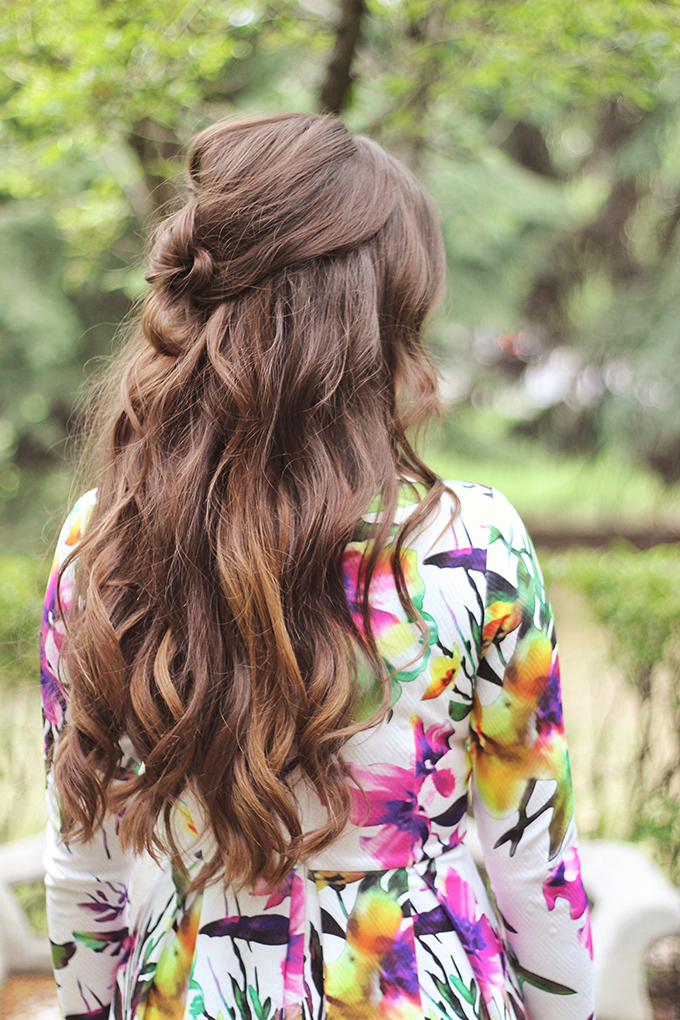 Then, I backcombed my crown and secured 2 bobby pins in a criss-cross shape underneath to create a bit of lift. Don't worry too much about them being perfectly placed because we're going to remove them later — for now they're just to anchor the knots. After my base was secure, I took 2 sections of new hair from from each side, tied them together in a knot and held those ends with my right hand. Then, I grabbed 2 more pieces from each side and added them to each section and knotted again. To finish the style I pinned everything in place to secure it, concealed the bobby pins and pulled the knots apart to make them voluminous and messy. Simple, right?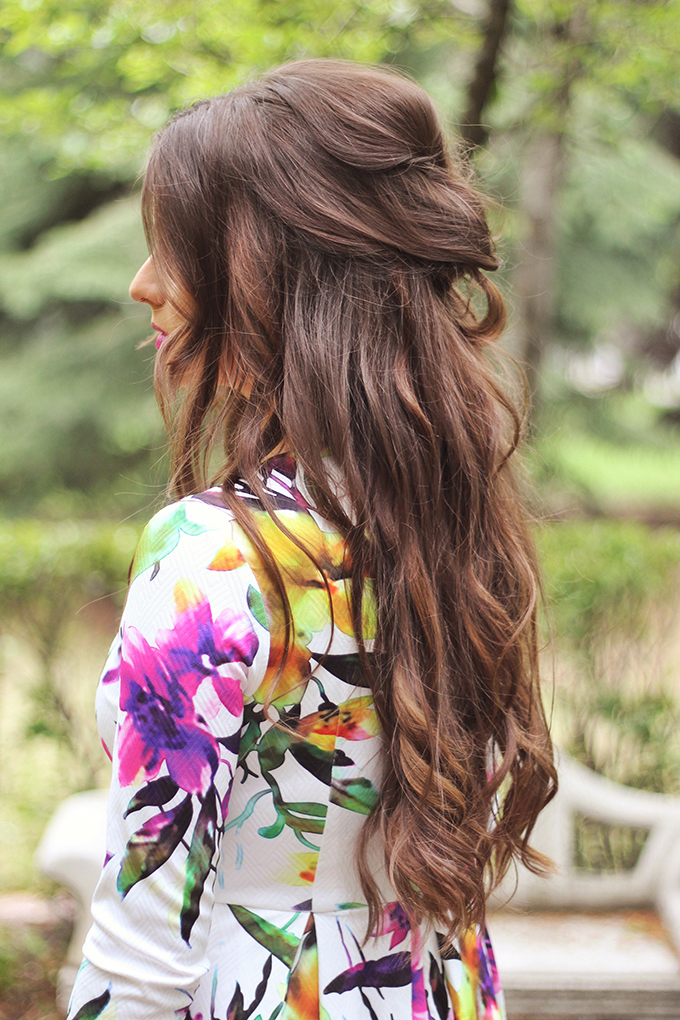 If you're curious about my haircare routine and favourite products or tools, I also have a Haircare 101 + My Tips for Long, Strong, Healthy Hair post where I cover everything hair related!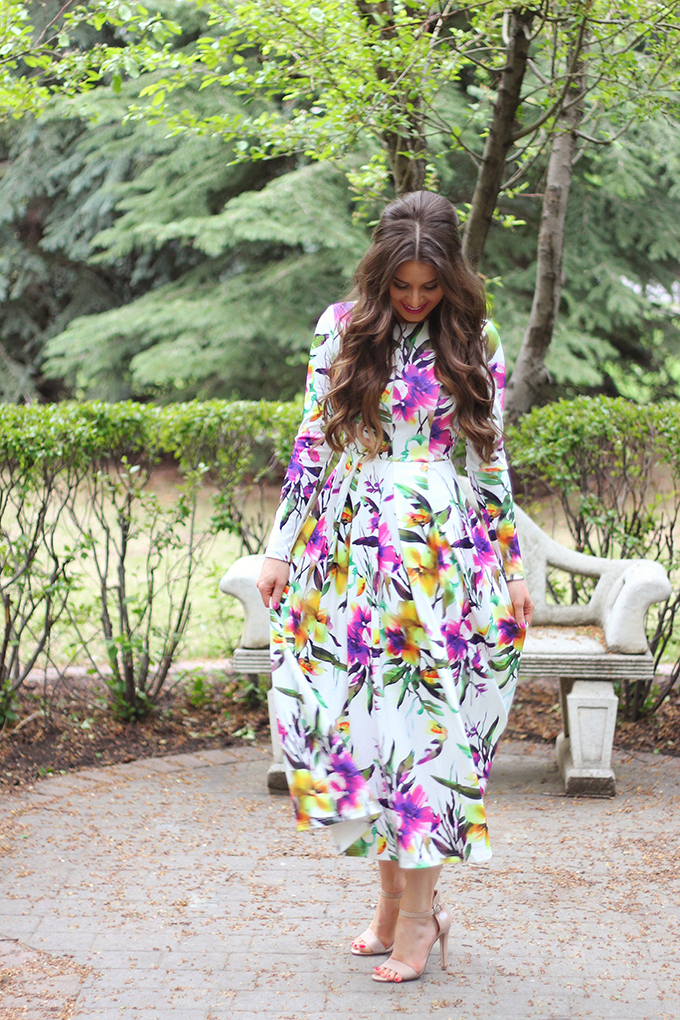 ---
SHOP THE LOOK
---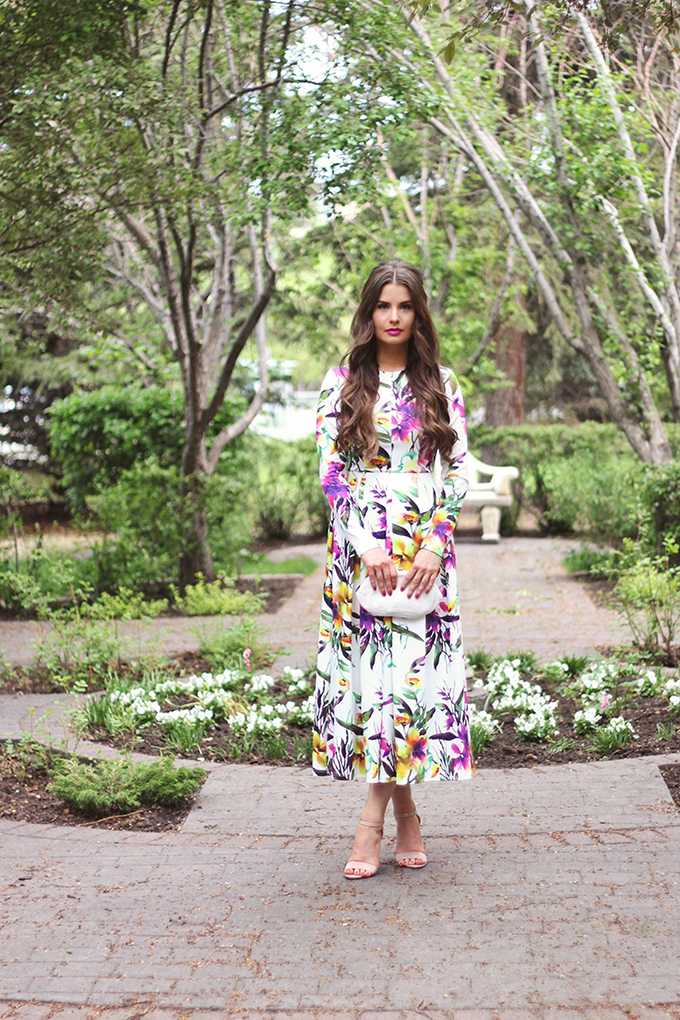 Muiticolour Long Sleeve Flowery Floral Pastel Dress c/o SheIn | Vintage Glass Bead Clutch (similar) | Nude Strappy Sandals (similar, similar) | Maybelline ColorSensational Vivids Lipstick in Hot Plum
---
If my dress isn't for you, I've also rounded up my favourite floral print dresses this spring at every price point! There's something for everyone, every body type (many are available in sizes 2 – 16, and in petite and plus sizes) and every weather situation. Each image below is linked!
---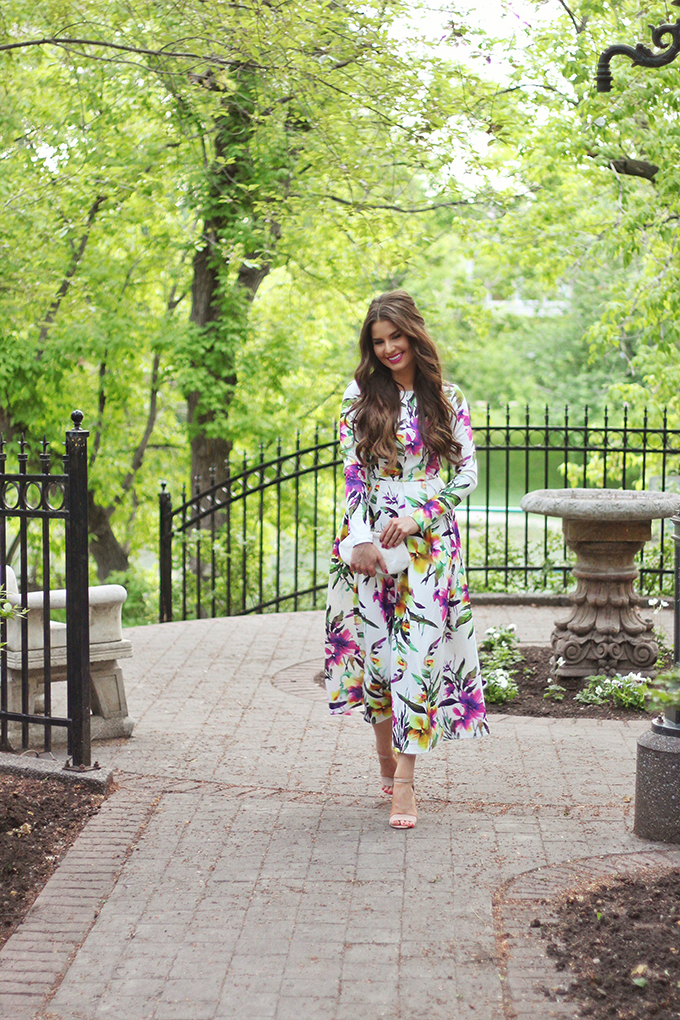 Are you attending any spring weddings this year? What are you wearing? I'd love to know! If you have any questions just leave me a comment and we can chat spring wedding wear, hair and makeup. I hope you all enjoy celebrating with friends and family this spring!
---
Thank you to The Calgary Bride for featuring this post.
---
Disclaimer: This post is not sponsored, and contains my genuine thoughts and recommendations. JustineCelina uses affiliate and referral links, which allow me to receive a small commission when you make a purchase through one of my links. Your purchases help to support JustineCelina.com!