When I asked a few months ago what kind of content you'd like to see more of here at JustineCelina, I got a resounding request for more shoes! Well, ask and you shall receive, my friends — I'm thrilled that you love shoes just as much as I do! Today I'm chatting about my favourite shoes this summer and shopping end of season sales to find the best deals. I'm also sharing a few tips to transition summer shoes into autumn! Did you know fall doesn't officially begin until September 22nd? That means there's almost one full month of summer left! When the sun is shining in Calgary, I'm planning to embrace it and wear my summer shoes for as long as possible! I'm also sharing a fun and easy DIY pompom sandal that's a great, inexpensive way to try the trend and customize it to suit your personal style. Now let's chat summer shoes, shall we ladies (and gents)?
---
SHOES OF SUMMER + END OF SEASON SALES
---
I love shoes. I also love a great deal. You with me? While I have no problem investing in good shoe, I also love finding great deals on trendy, seasonal items. Although most retailers are gearing up for fall, late August is actually the perfect time to shop end of season sales to find the best deals! I started using an app called Lyst earlier this summer and it makes the whole process of finding specific styles and monitoring sales so much simpler. If you're a fashion girl who loves to shop, I think you'll love it too!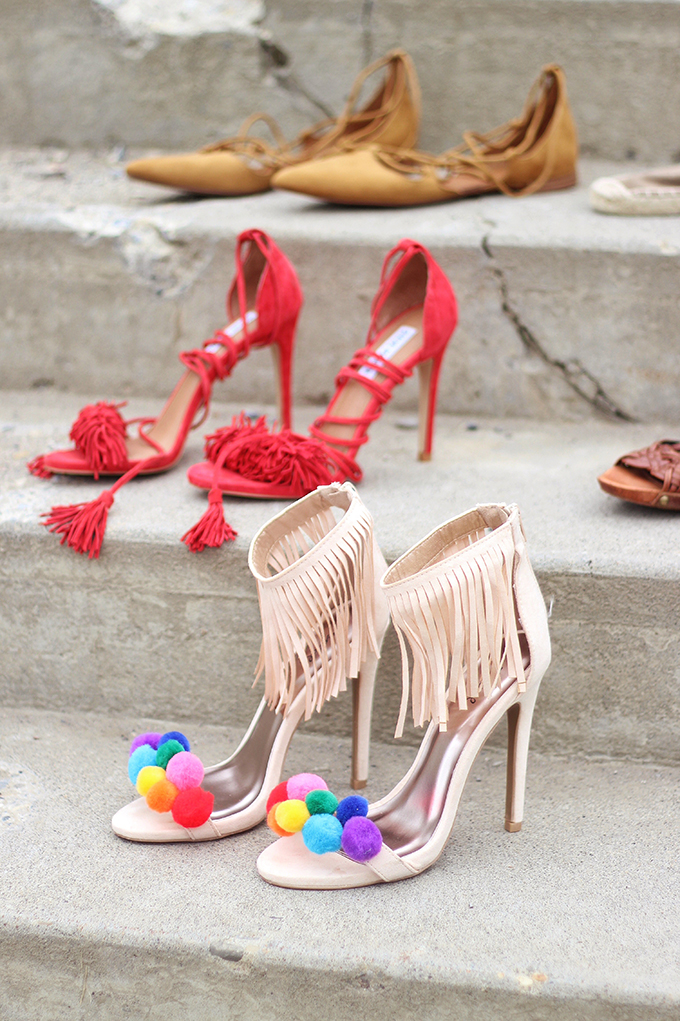 Through Lyst, you can shop so many retailers in one location and save items you're eyeing — the app automatically notifies you when your saved items go on sale. And over time, it gets to know what you like so its suggestions become more and more relevant (and increasingly dangerous!). Plus, you can place orders from multiple retailers in one spot, with one invoice. I mean, how great is that? It makes shopping online even that much more convenient!
I wanted to share Lyst with you today because it's how I've been monitoring sales on some of the shoes I'm going to be mentioning in this post. Most of my favourite summer shoes are heavily discounted right now, or have sold out. But rather than scouring the internet for hours looking for similar items to link for you, I've can find similar styles from multiple retailers and price points through Lyst. Hallelujah!
---
THE POMPOM SANDAL
---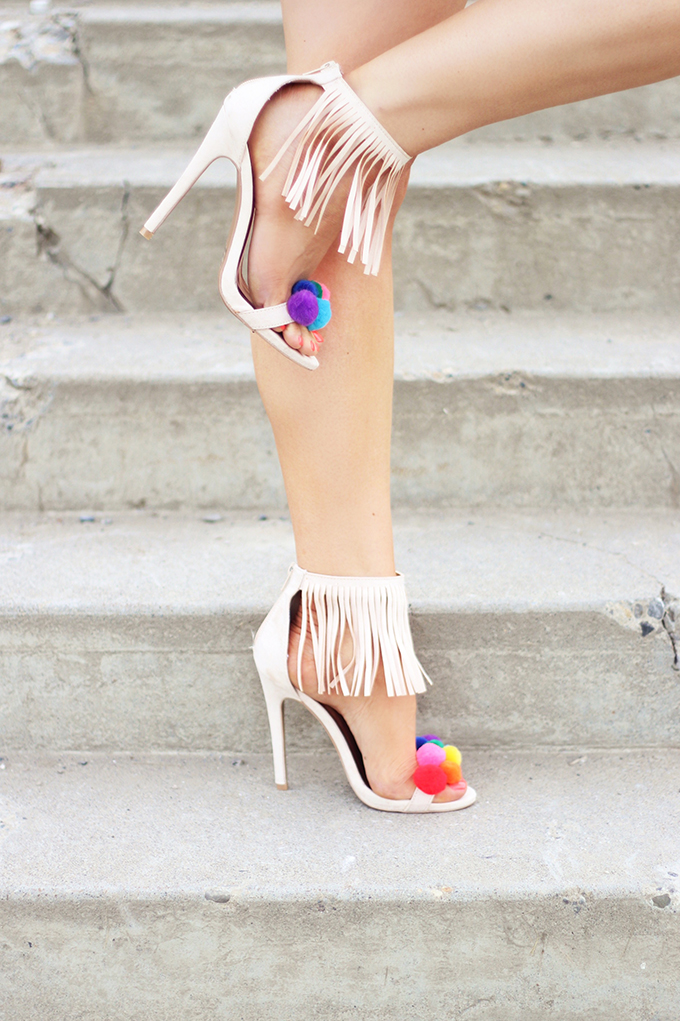 Let's kick thing off with a bang! Pompoms are the trend that stole my heart this summer (read more about my pompom obsession). I think life is way too short not to have a little fun with fashion, so I decided to make my own pompom sandals to test drive the trend — and I've had so many compliments and questions about these shoes! I used an old pair of sandals I didn't wear often, so this DIY cost me less than $15 and half an hour of my time. I photographed the process of making them, so if you're interested I can create a step-by-step tutorial for you! And if you're not into DIY, I've linked the best of the pompom trend for you below.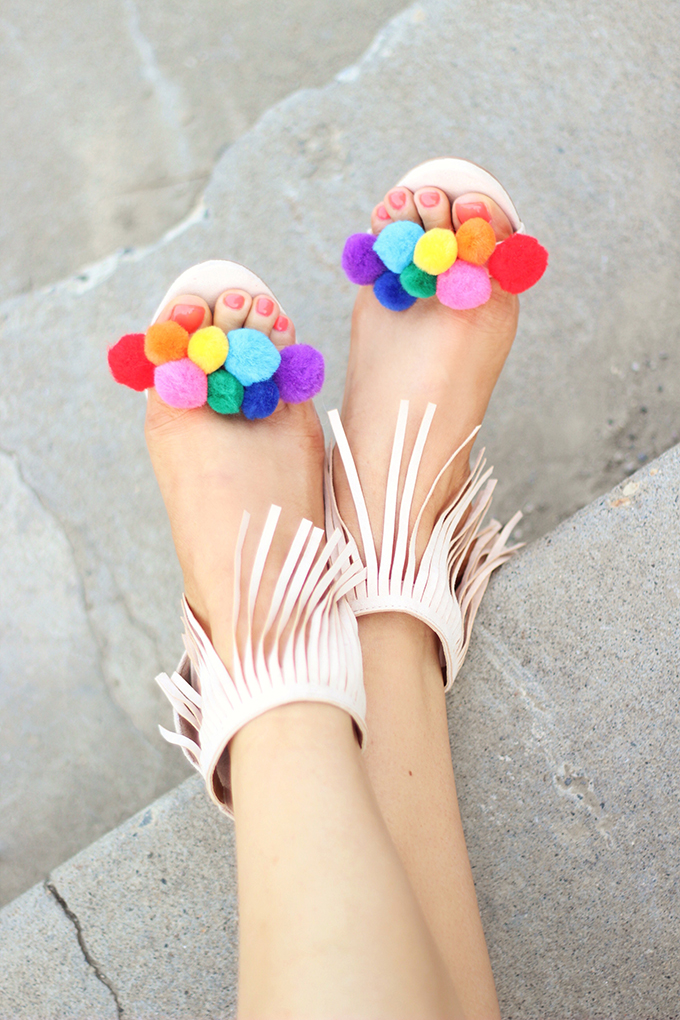 Transition Pompom Sandals into Autumn
While these are very summery shoes, I'd wear them into September and October paired with darker pieces — think black denim, darker accessories or a deep, vampy lip. They'll add a fun and festive pop of colour to any fall look!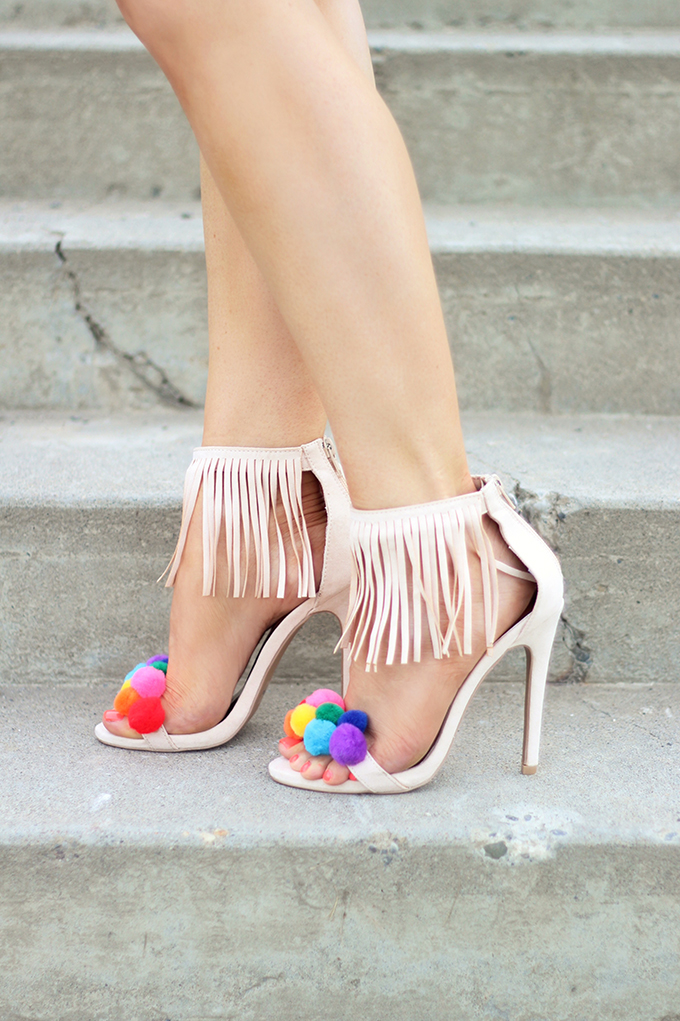 ---
THE ESPADRILLE
---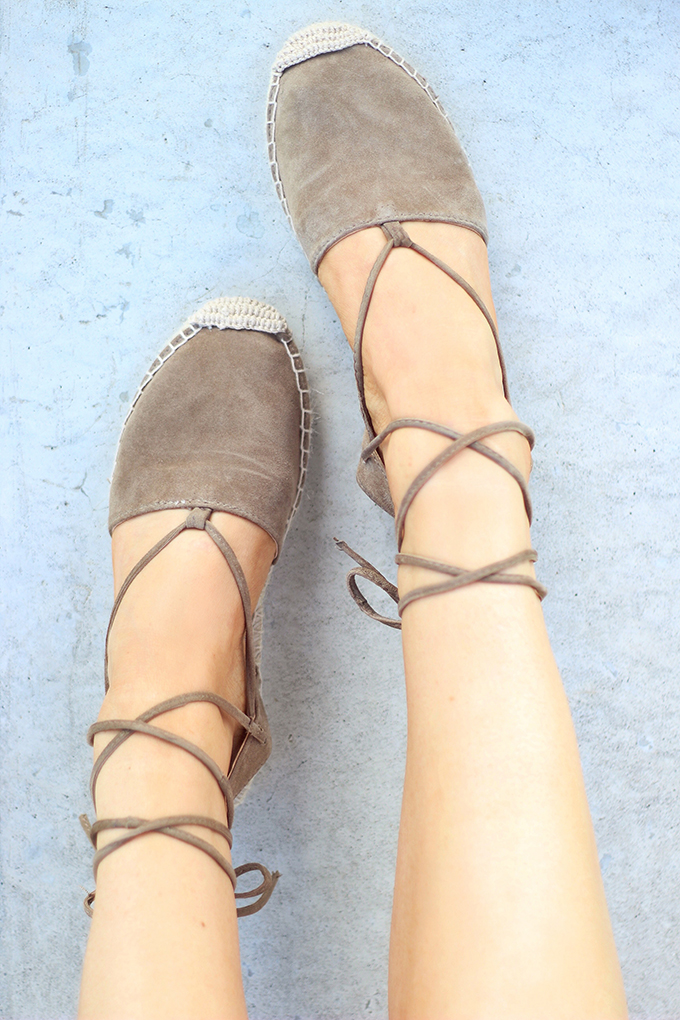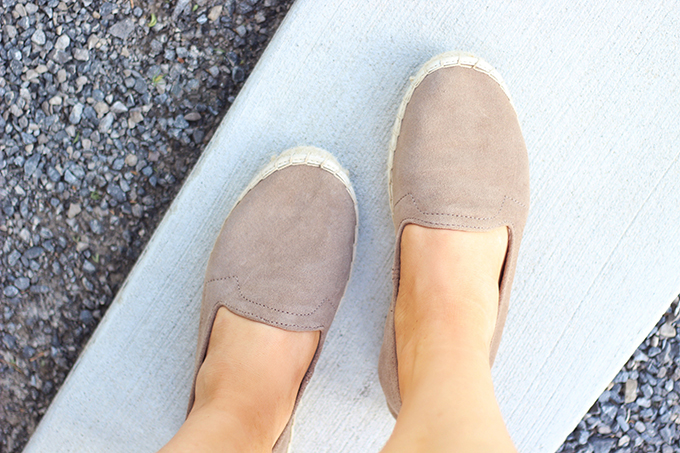 Espadrilles are everywhere this summer and I fell in love with GAP's interpretation of the trend! In fact, I love them so much I also grabbed the lace up style in black. And I have the plain flat version in both oak and coral! They, by far, are the most worn flats in my summer wardrobe and I love the tactile feeling of walking on the jute footbed — it's a similar sensation to walking barefoot. These shoes are currently on sale for $24.99, so grab them while you can.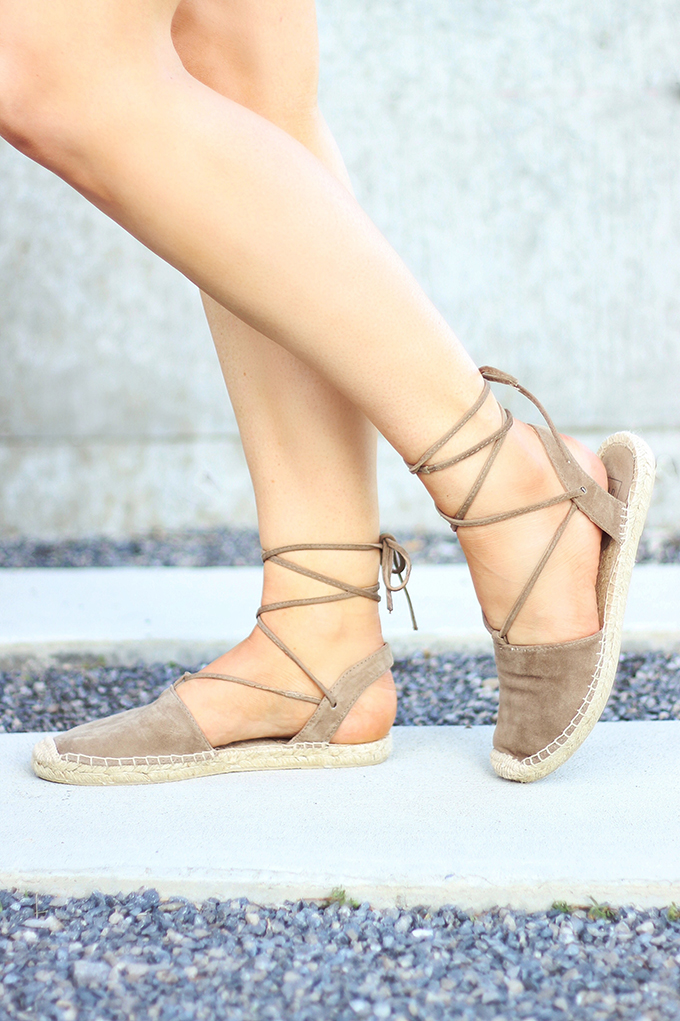 Transition Espadrilles into Autumn
Throw both styles of my favourite espadrille on with distressed or patchwork denim, a loose knit and a hat. They add a natural, casual vibe to any autumn outfit!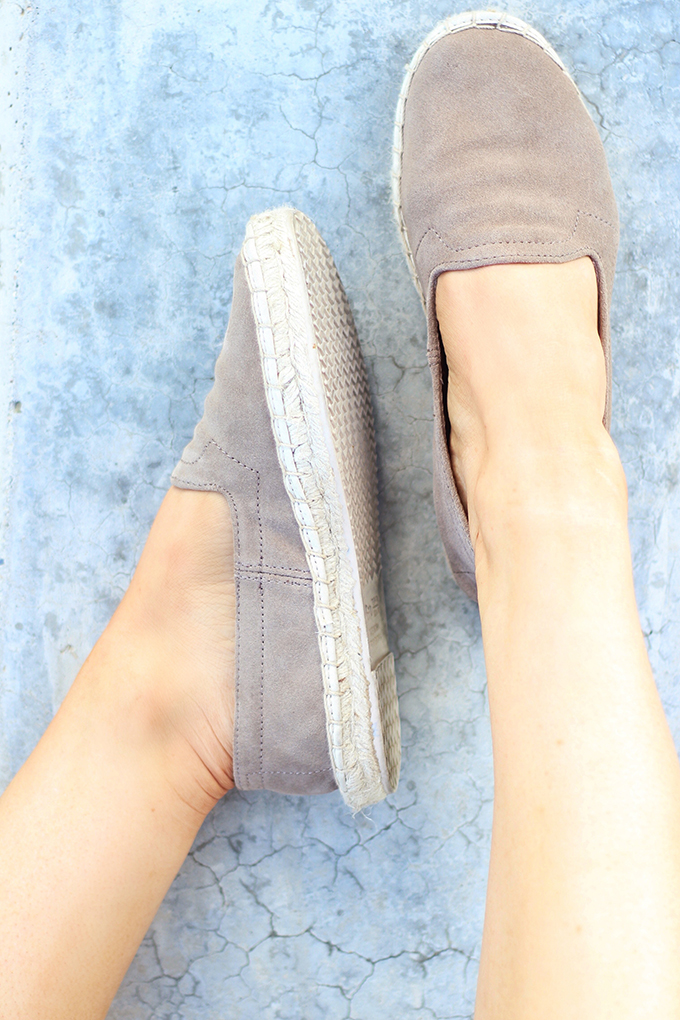 ---
THAT 70'S SHOE
---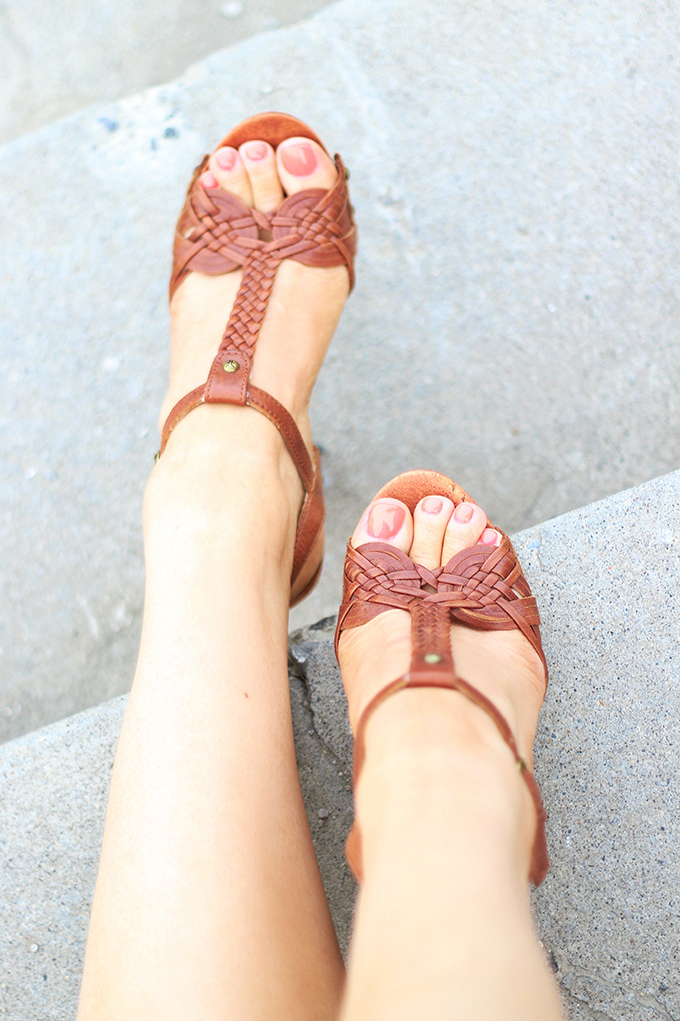 If you've been with me for any length of time, you'll know that I love anything with a vintage 60's / 70's vibe — in fact I've mentioned many times that I think I was born in the wrong decade. 70's revival was hot this summer and 70's styles continue to dominate fall 2016 fashion. These sandals are a very old pair from Frye (gotta love those investment shoes!), but the combination of warm, woven leather with the wooden sole is perfectly on trend.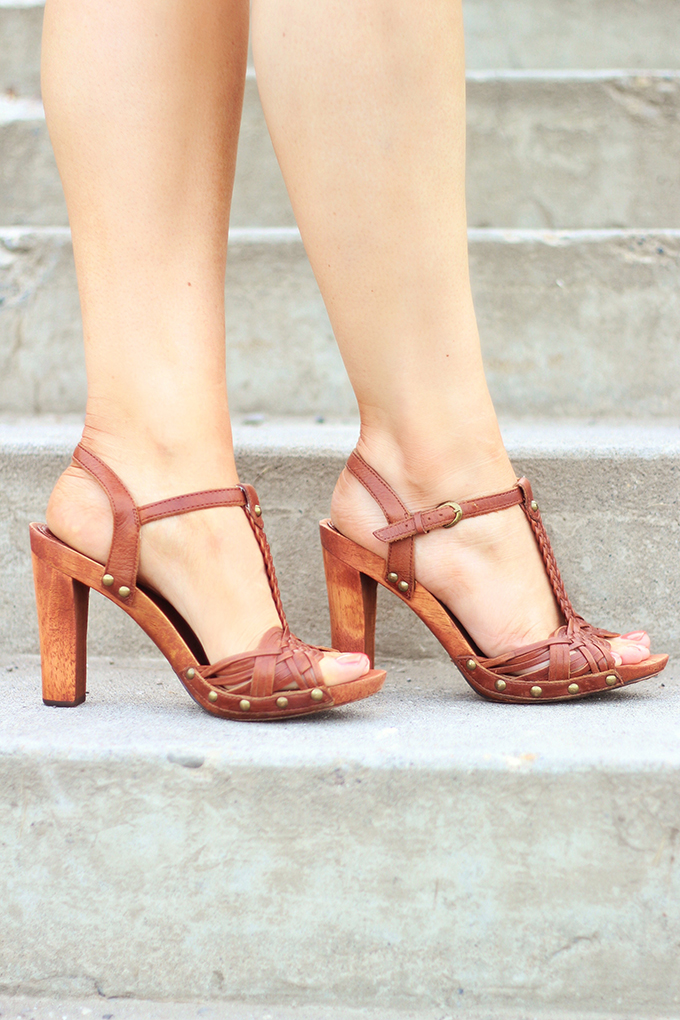 Transition 70's shoes into autumn
Pair these groovy wooden platforms with opaque, coloured tights, a shift dress and a longline coat as temperatures drop.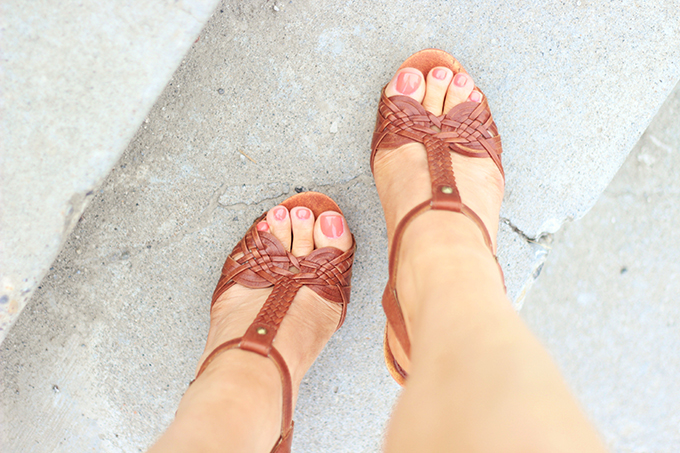 ---
THE FRINGED, TASSELED STATEMENT SANDAL
---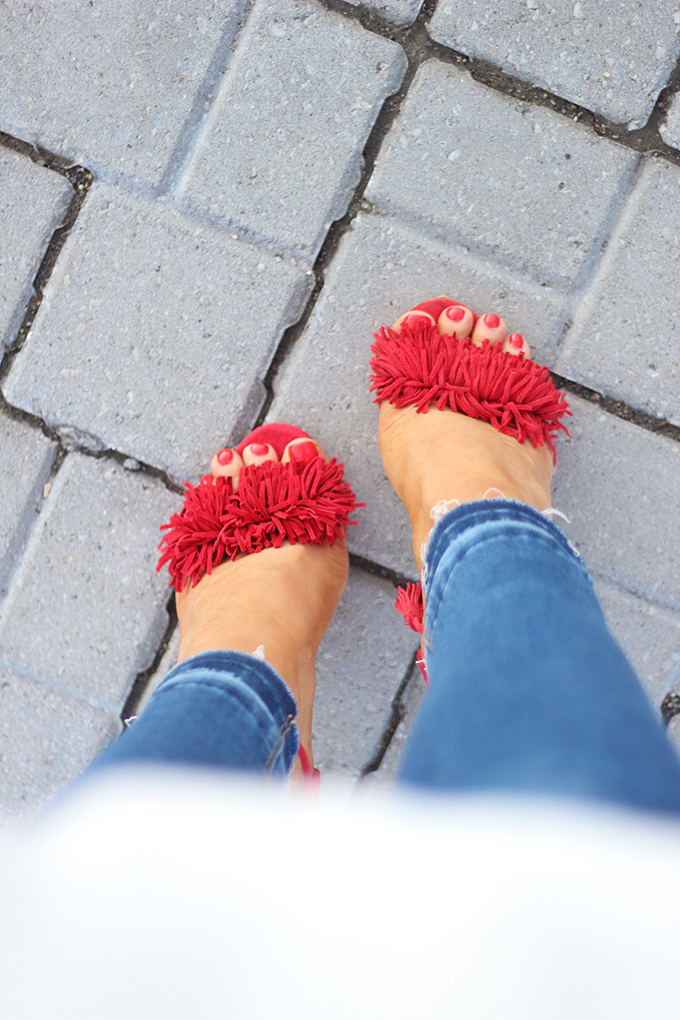 Are you sick of hearing me talk about tassels and fringe yet? I've mentioned both trends and this pair of shoes many times here at JustineCelina, but these red beauties from Steve Madden take the cake for my most worn and loved heels this summer. Unfortunately they're now sold out on the Steve Madden site, but if you don't mind purchasing from a third party, I've managed to track them down on Amazon. There are also many interpretations of this style linked below.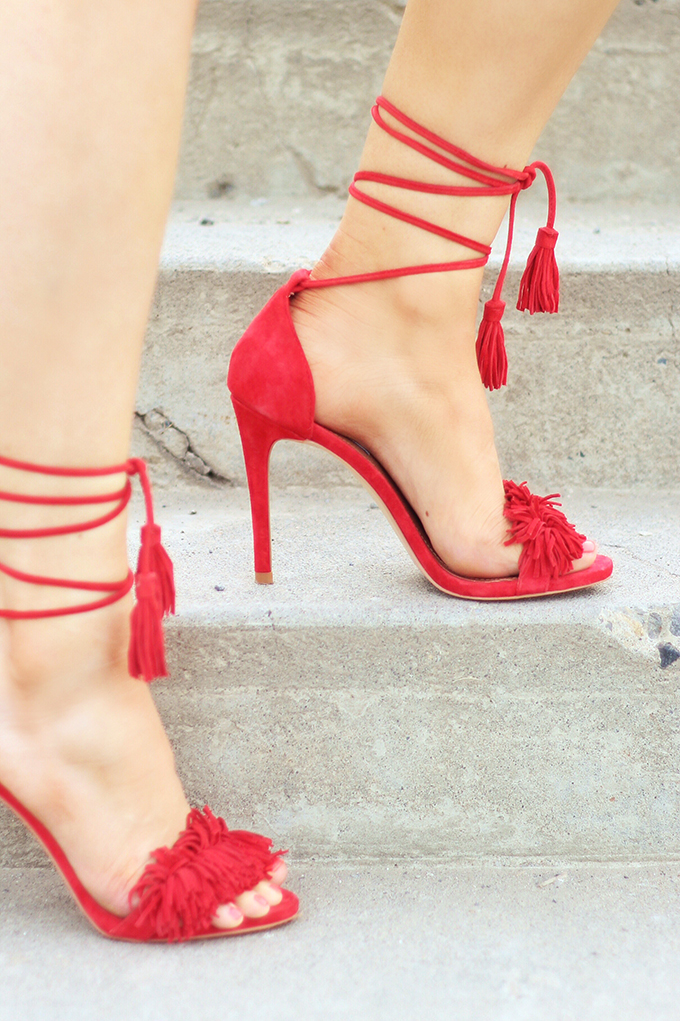 Transition Fringed, Tasseled Sandals into Autumn
This cherry red sandal would wear well into early autumn paired with deeper neutrals and earth tones.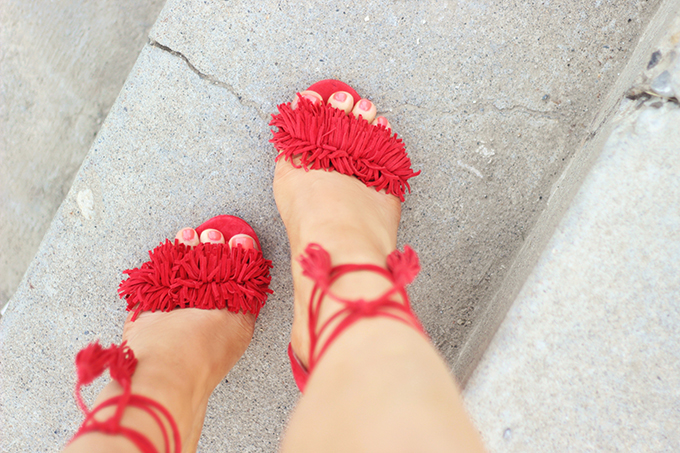 ---
THE POINTED TOE, LACE UP FLAT
---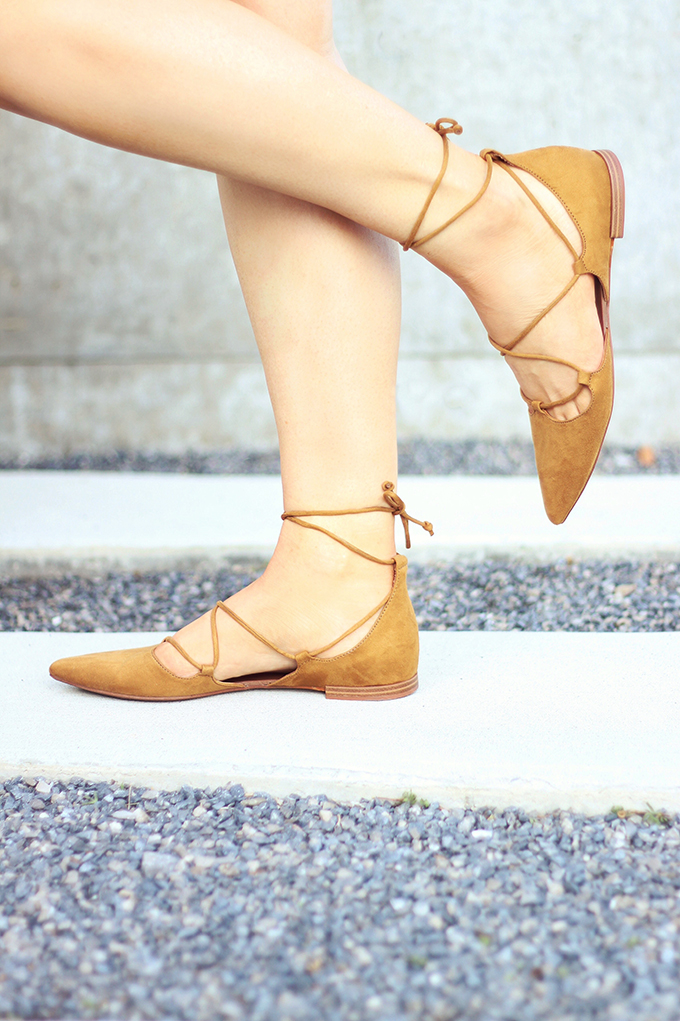 Lace up details have been having a major moment in fashion (and especially on shoes!) for quite some time. I love the chic, lace up details on these versatile flats I picked up earlier this summer during the Zara sale. The pointed toe and sleek, elegant lines are quite elongating to the leg, even though they're a flat (win, win). If you're looking to try the lace up trend in footwear, pick up a neutral pair of pointed toe flats. I guarantee they'll transcend seasons!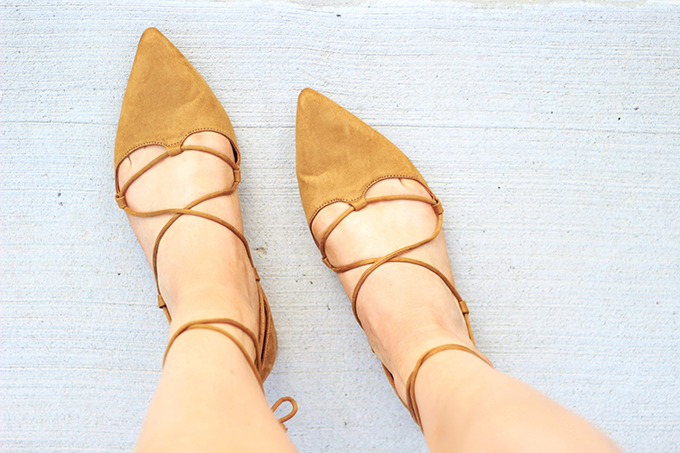 Transition Pointed Toe, Lace Up Flats into Autumn
These chic flats will add polished touch to your fall 9-5 or casual wear — you can literally throw them on with just about anything! The rich, brown hue coordinates well with fall earthtones.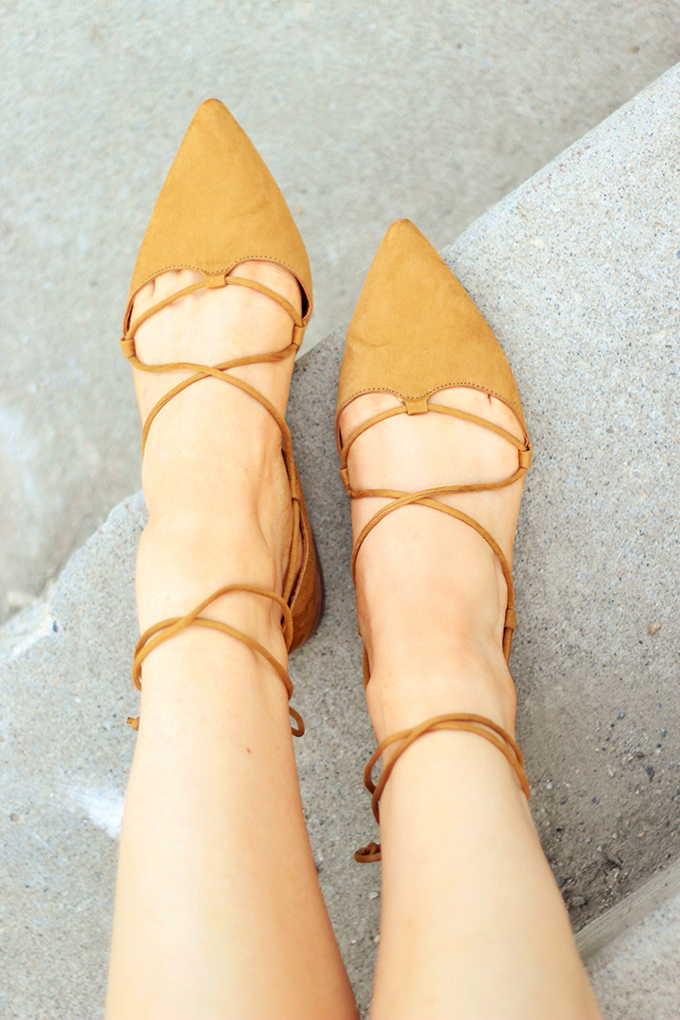 ---
What shoes have you been loving this summer? Any styles in particular you're looking forward to transitioning into autumn? If you decide to pick up any shoes at these end of season sales, let me know (I love to shop vicariously through you!). Enjoy your Sunday, everyone!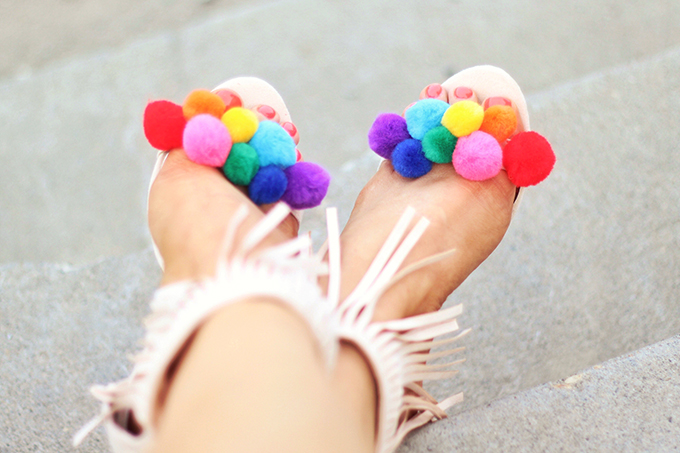 ---
Disclaimer: Thank you to Lyst for sponsoring this post. JustineCelina uses affiliate and referral links, which allow me to receive a small commission when you make a purchase through one of my links. Thank you for supporting the brands that support JustineCelina!
Save
Save
Save
Save
Save
Save
Save
Save
Save
Save
Save
Save
Save
Save
Save
Save
Save
Save
Save
Save
Save
Save
Save
Save
Save
Save
Save
Save
Save
Save
Save
Save
Save
Save
Save
Save
Save
Save
Save
Save
Save
Save
Save
Save
Save
Save
Save
Save
Save
Save
Save
Save
Save
Save
Save
Save
Save