Welcome back for another SUMMER 2017 TREND GUIDE, everyone! It's been a beautiful summer here in Calgary and personally, I'm not even close to being ready for fall. I said the same thing last summer, but fall doesn't officially arrive for over a month and I'm in absolutely no rush to get there. So while the fashion industry (and many fellow bloggers ) are gearing up for autumn, here at JustineCelina I'm planning to enjoy summer for as long as possible! You can expect one more SUMMER 2017 TREND GUIDE later this month, along with a new post in my WHAT TO WEAR TO series — this time, I'm styling a look for late summer weddings.
But let's not get ahead of ourselves! My goal through publishing these TREND GUIDES is to keep you (and myself!) up to speed on the latest trends while also staying true to my personal style. And I'm sure by now, you must understand my love of white, stripes and oversized straw bags! Although this look features a lot of the same trends as my Spring 2017 Trend Guide | Casual Chic (which I styled for more professional settings), this is a look I'd typically reserve for weekends. And if I'm honest, I've repeated this exact outfit several times already this summer! Hang onto summer a little longer today as I chat about how to style breezy stripes, summer whites, embellished straw bags (I actually DIYed this one!), straw, rattan and jute accessories, espadrilles and boho braids in this relaxed weekend look!
---

---
SUMMER 2017 TREND GUIDE | WEEKEND WEAR
---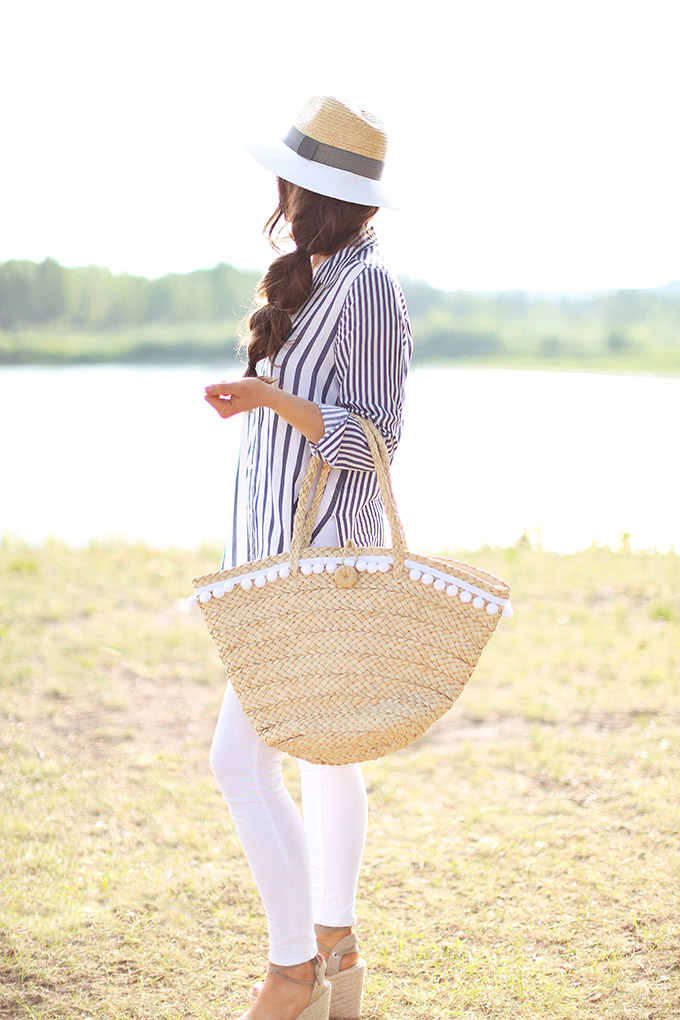 I love the dreamy, hazy watercolour quality of these photos — we actually shot them on a whim at the Whyndamm/ Carseland Provincial Park before our saskatoon berry picking adventure (and yes, I changed my shoes!). It's a beautiful area just south of the town I grew up in! That warm, pastel pink cast isn't a filter, it's the product of the late evening sun passing through the smoke from the BC forest fires — and then though my new camera and lens, dropped down to a f 1.2 aperture. The fires are a sad situation, but at least it's made for some really interesting lightning conditions to shoot in this summer (hey — I like to look on the bright side!).
---
TREND: Breezy Stripes
---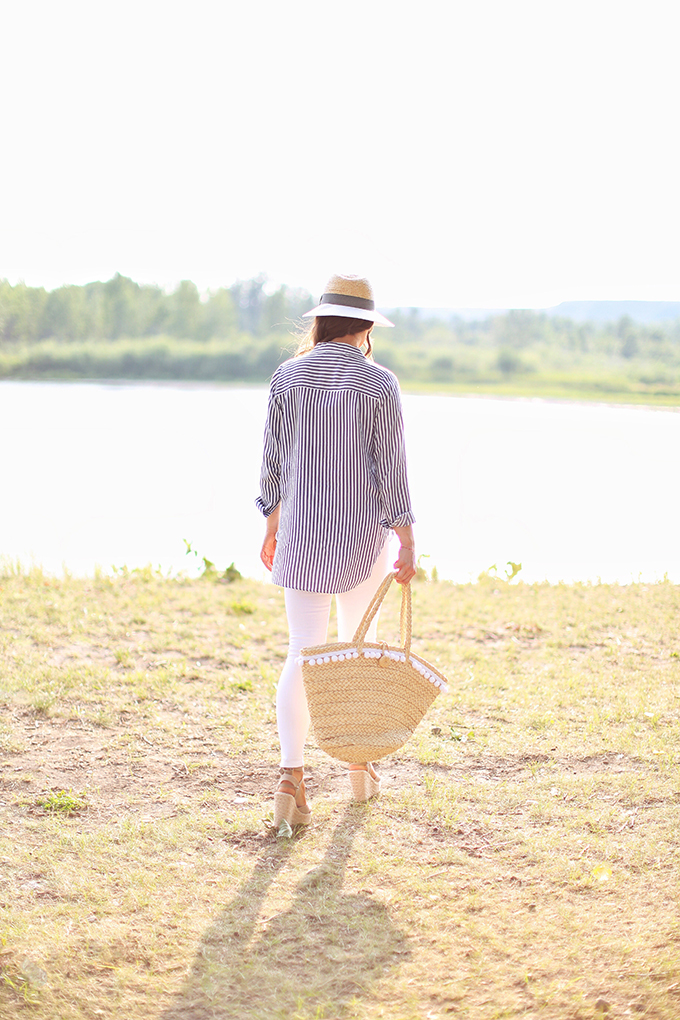 Breezy, button down striped shirts are such a staple for me, year round. I snapped this one up at Zara earlier this summer without even trying it on — I just knew it would be perfect! Vertical stripes can be incredibly flattering, especially paired with a longline, flowing silhouette and this easy button down has been on major repeat this summer — it looks great with denim, shorts and also knotted up with long skirts! Stripes are a pattern I've always loved — they just happen to be particularly on trend this summer . Plus, there are so many different ways to wear them (check out my Spring 2017 Trend Guide | Casual Chic to see how I styled this summer's palazzo style striped trousers!).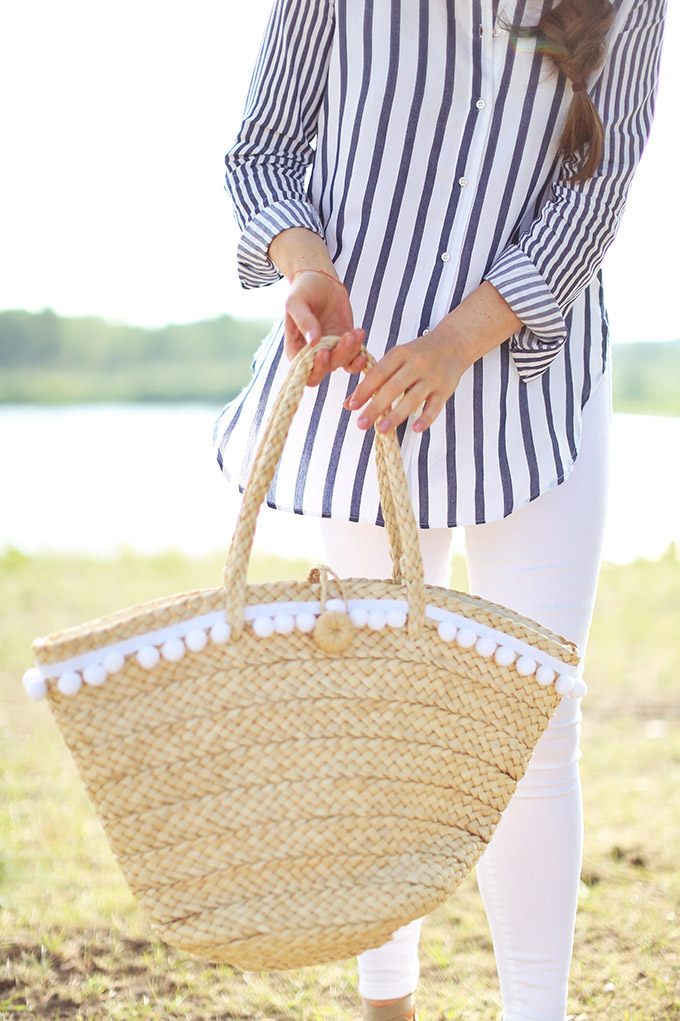 ---
TREND: Summer Whites
---
These jeans are ancient (I mean seriously… like 7 years old!) and I end up living in them each spring and summer. I say, once you find a great (ie: not see through!) pair of white skinnies that fit like a glove, hang onto them!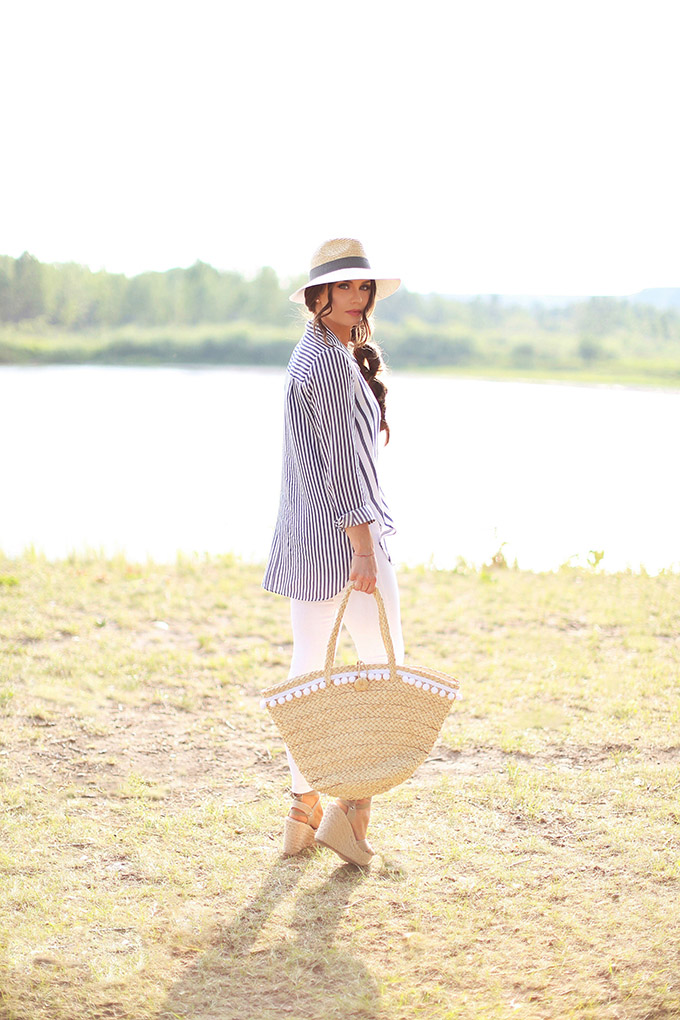 I think a classic pair of white skinny jeans without any distressing are a great wardrobe staple for warmer weather and a well made, high quality pair are completely worth investing in. I've linked some almost identical options for you below!

---
TREND: Embellished Straw Bags
---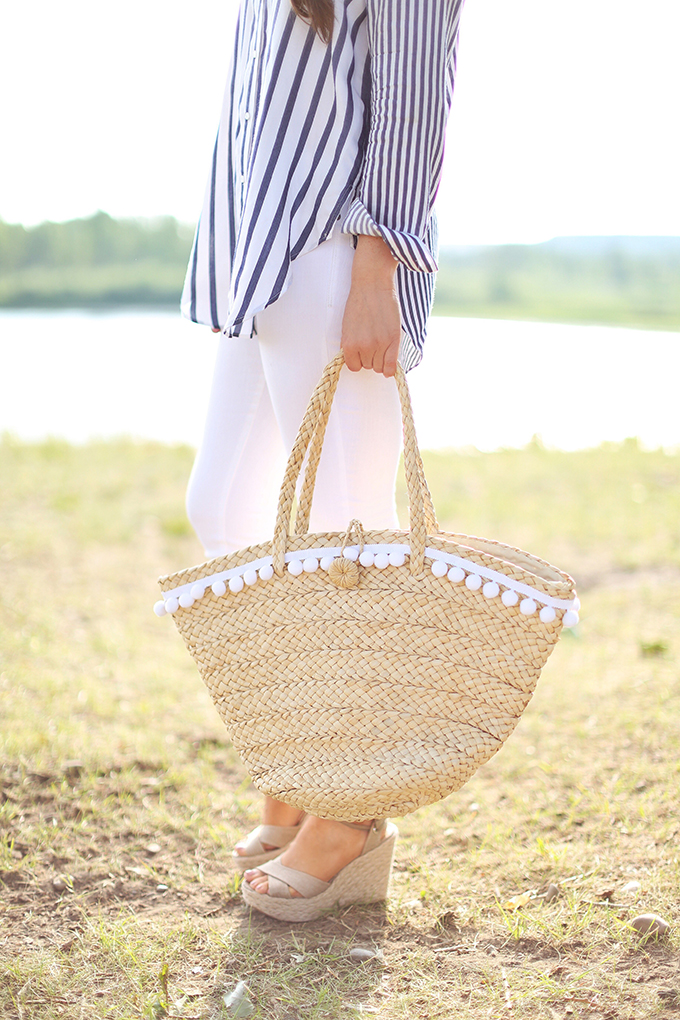 If you follow along via Insta Stories, you've seen how much I've been wearing this darling straw tote lately! I actually made it — the straw tote is ancient Joe Fresh but I loved the structure and the size, so I refreshed it with a pompom fringe left over from a charity DIY project last summer (anyone remember my mid century modern pompom lamp?! Yes, I still have a pompom problem.). I've been wearing this guy everywhere — to daytime events and meetings (it has enough room for my laptop!) and every weekend no matter what I'm up to — I use it as a purse and a shopping bag for the farmers market. Oversized straw totes are such a versatile staple for the summer. I considered shooting a DIY post, but it's honestly so easy to replicate — all you need is a straw bag (check out your local thrift stores), some pompom fringe (any fabric store can hook you up) and a needle and thread.
If DIY isn't your thing, I've rounded up a gorgeous selection of embellished straw totes for you below — I love them so much, I'm considering picking up another!

---
TREND: Straw, Rattan and Jute Accessories
---
If you've hung around JustineCelina for any length of time, you'll understand my love of natural textures. So naturally, I'm elated that straw, rattan and jute is popping up in accessories everywhere this summer.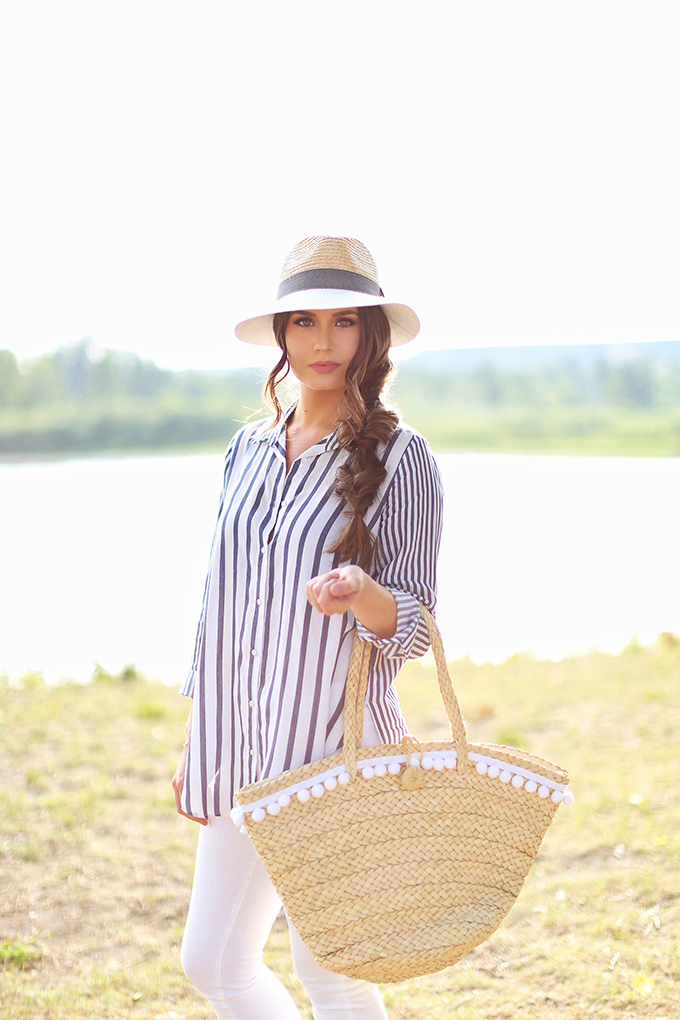 My hat, bag and shoes all feature natural, woven textures and these accessories have been some of my most worn all summer. I consider these textures to be pretty timeless, so if you love this trend — snag a straw, rattan or jute accessory as part of an end of season sale (or thrift hunt!) to carry you through the rest of this summer and into many, many more! Natural, neutral textures are so laid back, easy to wear and coordinate with pretty much everything in my summer wardrobe.

---
TREND: Espadrilles
---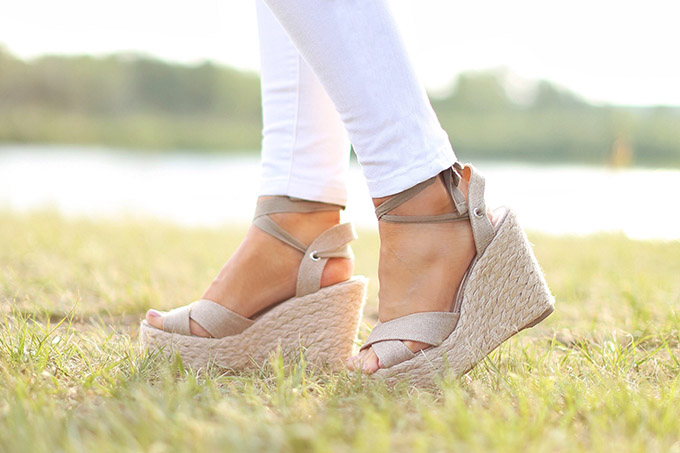 These girls may look familiar if you checked out my Summer 2017 Mega Shoe Guide — and I've been wearing them everywhere lately! They're so comfortable despite their height and I love the natural braided textures and lace up details. This Esme Natural Lace-Up Espadrille Wedges are still available at Lulu's if you'd like to pick them up — espadrilles never go out of style and these are my favourite wedge pair ever (can't beat the price, either!). If you're a fan of traditional espadrille styles and want to try a bit of extra lift courtesy of this flatform inspired style I can't recommend these sweet shoes enough. They make your legs look a million miles long, everyone loves them and go with everything! If you are planning to grab a pair, be warned — these run big, so order a half size down.
---
TREND: Boho Braids
---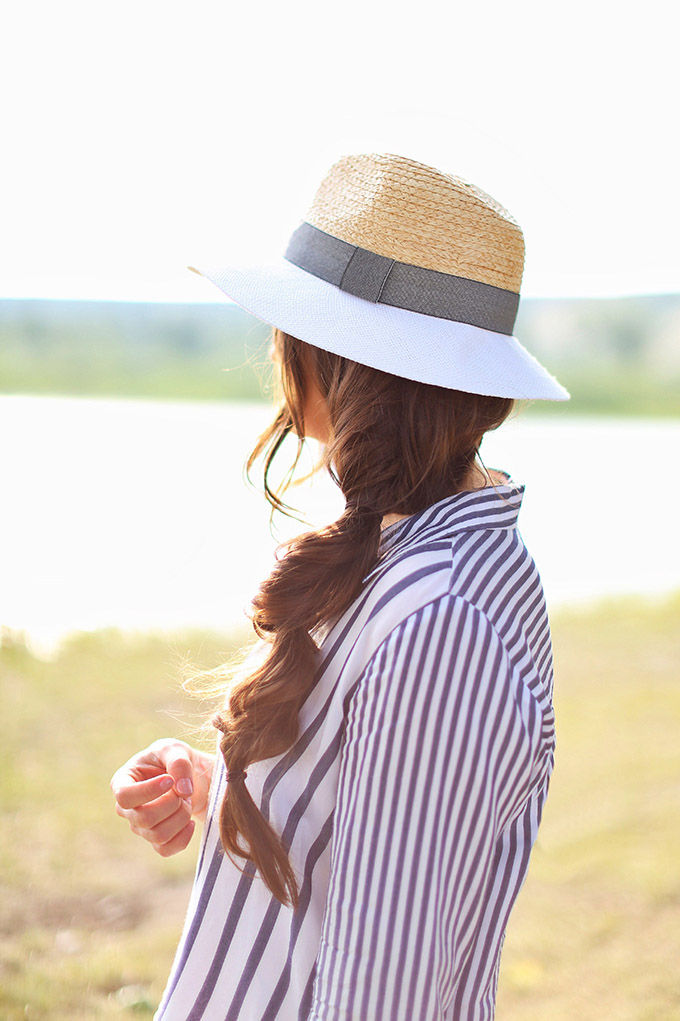 You'll usually find me in a hat with my hair in some kind of braid on weekends. Sometimes I go up to 4 days without washing (long haired gals, you feel me?) and on this particular day I wanted to keep my hair out of my and my face out of the sun, even though I'm wearing SPF 50 (have you ever listened to me ramble about the importance of sun protection? If not, please check out these posts!). This hairstyle was actually created by securing my hair in a pony tail with a small elastic, then turning it inside out, 3 times. It's way less time consuming than a braid and I love the unique, voluminous texture!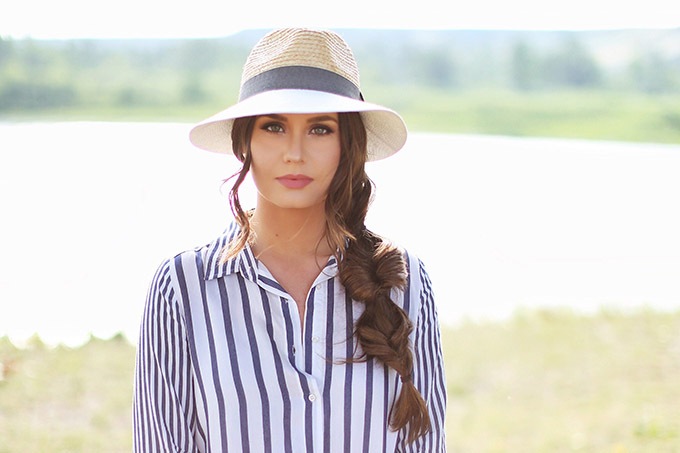 ---
SHOP THE POST
---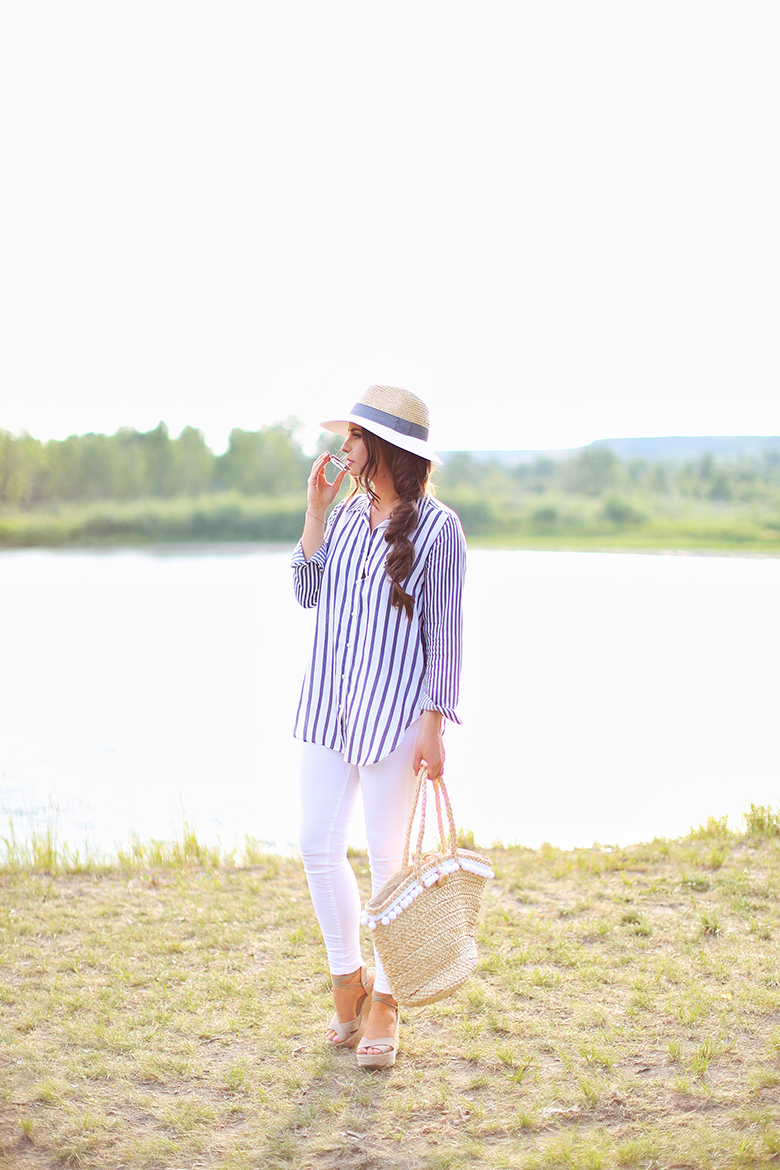 ---
What are some of your easy, weekend staples this summer? Give me light as air top, some skinny jeans, cute, comfortable shoes, an oversized bag and a great pair of shades (oh, and maybe a hat to disguise my unwashed mane!) — and I'm all set.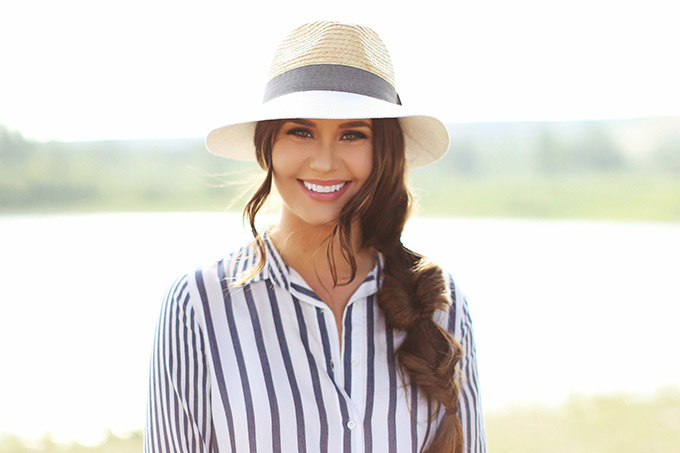 What are you guys up to this weekend? We're actually spending the weekend painting again, so unfortunately I won't be outside enjoying this beautiful weather (sometimes I have to keep reminding myself that this will all be worth it!). But we're out of town for the last two weekends of August visiting family and friends so at least I have that to look forward to! I'm starting a brand new DWELL series (hop over to this post to learn more about what I have planned) here at JustineCelina over the coming months to document the process, along with our finished space!
---
Disclaimer: This post is not sponsored and contains my genuine thoughts, ideas and recommendations. JustineCelina uses affiliate and referral links, which allow me to receive a small commission when you make a purchase through one of my links. Thank you for supporting the brands and businesses that support JustineCelina.com!