Fall is quickly becoming my favourite time of year — a fresh start signified by changing leaves, crisp morning air, and my favourite time for fashion! Every September I do a big wardrobe purge and refresh, and choose a some new key pieces to incorporate into my personal style. Since I was doing some online shopping this week, I thought it would be fun to chat about the season's biggest trends, how to wear them, and give you my tips on how to transition your wardrobe from summer into fall. So, grab your favourite latte and let's talk fall fashion!
---
1. Mural Cape Blazer | 2. Villa View Rust Red Embroidered Kimono Top | 3. JOA Road West Tan Fringe Coat | 4. Blank NYC Skinny Classique Distressed Dark Blue Skinny Jeans |
5. Hats Off to You Burgundy Fedora Hat (on sale!) | 6. Leather Court Shoe | 7. Jack Rogers 'Bailee' Ankle Bootie
---
TREND 1 | THE CAPE BLAZER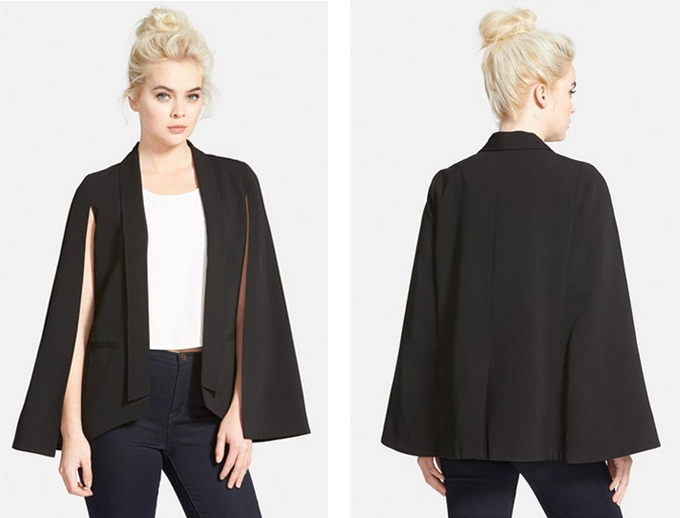 $107.90 CAD
At first I wasn't so sure about the cape blazer trend, but I've decided to fully embrace it! I think this blazer would look so chic over top of a flowy dress or pencil skirt, and add a formal touch. It would also be great over a cocktail dress for autumn weddings or holiday parties. I love the sleek lines and simple silhouette of this blazer from Nordstorm, and think I'll get a lot of wear out of it throughout the seasons.
---
TREND 2 | INDIAN SUMMER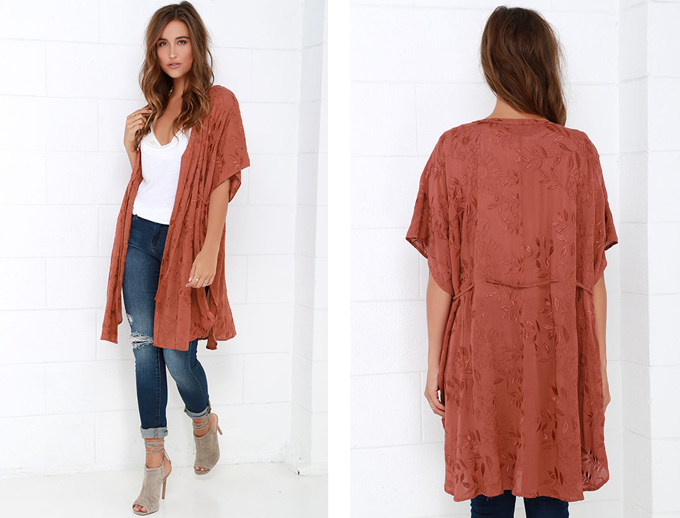 $69.00 CAD
For those of you who want to hang onto summer as long as possible, try a kimono in a colour and print inspired by the changing fall leaves, like this rust beauty from Lulu*s. I live in kimonos from spring through fall — the key is layering in autumn months. Try wearing this over top of a light sweater or a knit shift dress with a chunky scarf to add effortless texture to your look.
---
TREND 3 | FRINGE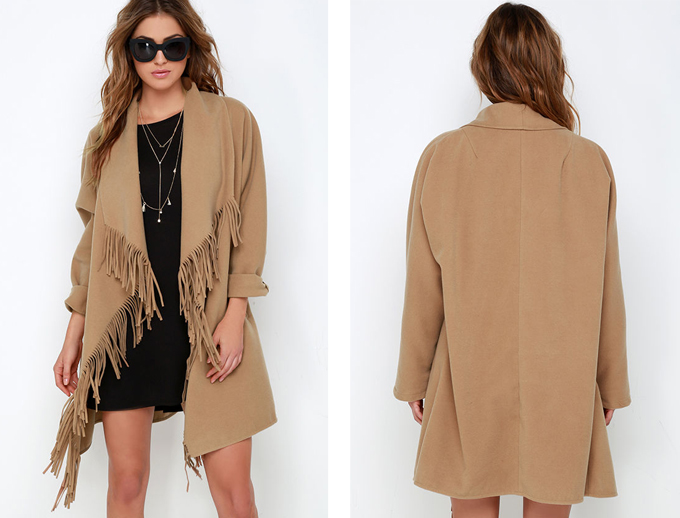 $127.00 CAD
Every fall we see a resurgence of utility and military inspired styles, but combined with fringe, I think this coat is so unique. My obsession with fringe is still going strong, and I think this will be my go-to coat this fall. The neutral colour makes is really easy to style, while the fringe adds a fun and flirty element. Update: I purchased this coat, and I absolutely love it! If you're interested in how I styled it, check out my Fall Style Staples post.
---
TREND 4 | DISTRESSED (NOT DESTROYED) DENIM
$79.00 CAD
I've been on the hunt for the perfect pair of distressed jeans for a while, and I think I've finally found them. This pair by Blank NYC combines tasteful rips and tears with a darker wash — making them totally appropriate for transitioning from casual Fridays to cocktails.
---
TREND 5 | FALL FEDORAS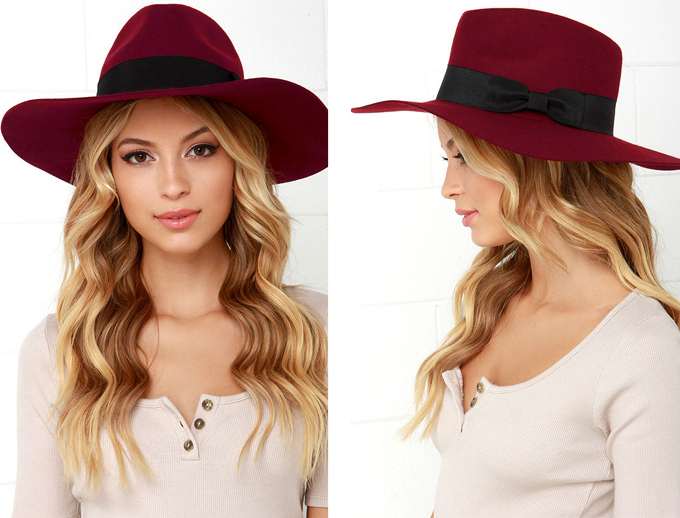 $29.00 CAD (on sale!)
Fedoras are here to stay, and this burgundy number from Lulu*s really caught my eye. The rich, warm tone of this hat keeps it from feeling too summery, and it pairs well with a neutral fall palette and a variety of textures and patterns. Plus, it's great for days when you just don't feel like dealing with your hair, but still want to look put together.
---
TREND 6 | SLEEK CHIC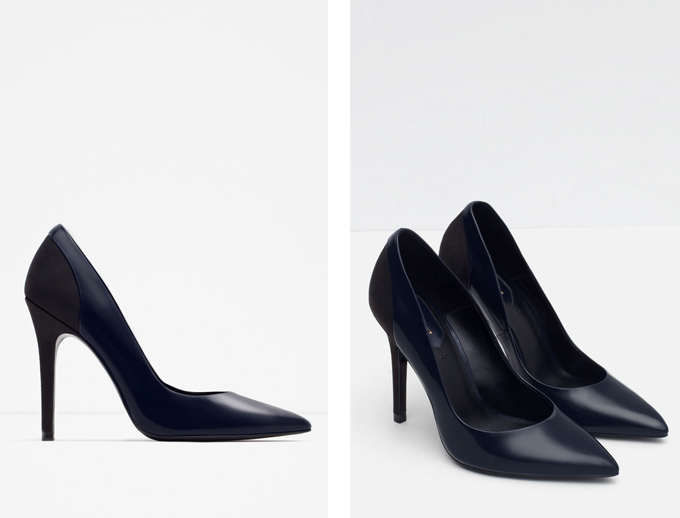 $89.90 CAD
There's nothing sexier or more sophisticated than a classic pair of leather pumps, and I've been drooling over these ones from Zara. I've mentioned this before, but I think Zara makes the best quality shoes you can buy for a reasonable price. I love everything about these pumps — from the sleek lines, to the deep navy blue hue. These would be great shoes to wear to the office, or to dress up a more casual outfit.
---
TREND 7 | OLIVE EVERYTHING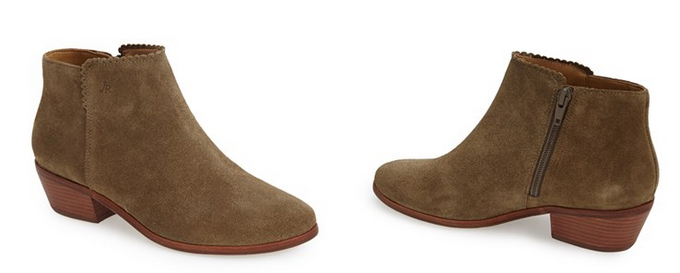 $176.99 CAD
I'm really into olive this season, and have been seeing it everywhere! I love olive because it works as a neutral, but has more interest than tan and khaki tones. My olive pick also incorporates another big trend this fall — suede. These little booties are cute, comfortable and versatile, and I see myself wearing them with just about anything. I like to wear as much suede as possible before the snow flies in Calgary (which could be anytime now, haha)!
---
What are your favourite fall trends this season? I can't wait to place a few orders and get these beauties into my closet and on my body! If you purchase some new pieces this fall, leave a comment for me below and let me know what you got!
---
Disclaimer: This post is not sponsored, and contains my genuine thoughts and recommendations. JustineCelina uses affiliate and referral links, which allow me to receive a small commission when you make a purchase through one of my links. Your purchases help to support JustineCelina.com!