---
Despite best laid plans, April always seems to be our busiest month. Although I'm committed to my goal of 5+ blog posts monthly in 2019 (read more about my goals and what I've been working on BTS), things have been quiet here at JustineCelina since mid-month — and for good reason! Between tax season (I went to art school, but thankfully Adam is an accountant!), tail ends of client projects, Easter and a lot of planning for upcoming partnerships, the past 2 weeks have been incredibly busy. I had a few posts scheduled, but it was a much more productive use of time to prioritize the business side of things while staying on top of my health and wellness (I've also still managed 3+ workout per week!). There were a lot of late nights and early mornings this month with ultra chill, relaxing, ambient tunes streaming through my speakers — and I've channeled them all into my April 2019 Soundtrack!
Without a doubt, this is definitely the chillest playlist I've ever published. I'm constantly listening to music while I work away — reading, writing, editing, planning, designing, photographing, conceptualizing (and list goes on!). This is why I gravitate towards music that encourages creative thought with minimal lyrics — and I discovered tons of new Spotify playlists to help keep my mind calm and focused. I've pulled my favourite tracks into this mellow, feel-good, 55 track playlist — if you've got a massive to-do list to tackle and are looking for some inspiring tunes to decorate your time, this soundtrack is for you!
---
APRIL 2019 SOUNDTRACK
---
---
NEED MORE FRESH TUNES? CHECK OUT MY LATEST PLAYLISTS
---
March 2019 Soundtrack (or listen on Spotify)
February 2019 Soundtrack (or listen on Spotify)
January 2019 Soundtrack (or listen on Spotify)
Best of 2018 Soundtrack (or listen on Spotify)
December 2018 Soundtrack (or listen on Spotify)
Or, browse the MUSIC archives here at JustineCelina for 4 years of monthly playlists!
---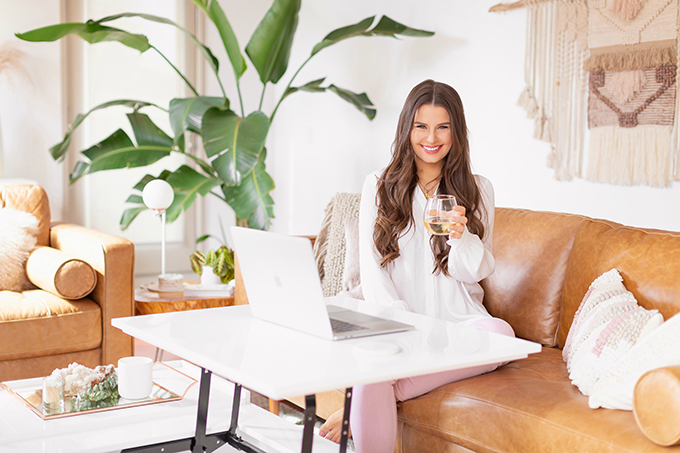 Believe it or not, this month's album cover is actually a self portrait — I set up my tripod and self timer to capture some more casual HOME based content after I finished shooting my All About Pampas Grass post. I decided to pour myself a glass of wine, bust out my laptop and plow through my inbox in the Living Room, which I rarely do. This shot was completely spontaneous, but I actually love the way this set of images worked out (3 day old hair and all!). There was a lot of time spent behind the computer with unwashed hair this month, haha. Cheers!
What have you guys been listening to lately? Leave me your recommendations in the comments, I'd love to hear from you! Do you use Spotify? If you do, feel free to drop some links to your playlists, or playlists / artists you think I'd enjoy. Have a beautiful day, friends!
---
Disclaimer: This post is not sponsored, and contains my genuine thoughts, ideas and recommendations. JustineCelina uses affiliate and referral links, which allow me to receive a small commission when you make a purchase through one of my links. Thank you for supporting the brands and businesses that support JustineCelina!