---
It's sunflower season — and I'm absolutely elated! Whether you've followed along for just a couple of weeks or a couple of years, you'll know how much I adore sunflowers. From bringing them into our home, to incorporating them into my FLOWER content, to road-tripping to see fields of these sunny blooms, sunflowers have graced the pages of JustineCelina many times! If you're reading this post, there's a good chance you love these sunny, quintessentially summer blooms just as much as I do. Last year, my Mom, little sister and I headed north to visit Bowden Sunmaze & Eagle Creek Farms for an unconventional girls night, to catch a glimpse of their renowned sunflower fields at sunset — and it was an absolutely beautiful evening. Each summer, I looking forward visiting when they reopen for the season! 
If you've always wanted to visit a Sunflower Field or U-Pick Flower Field but aren't sure what to expect, this post is for you! I'm thrilled to bring you along on our trip to Bowden Sunmaze & Eagle Creek Farms as I detail everything you've ever wanted to know about visiting a sunflower field and flower u-pick — from location, to cost, to activities, to the best times to visit, to my best sunflower field photography tips! Craving a little adventure as we transition into autumn and want to see these stunning Alberta Sunflower Fields for yourself? Be sure to visit their website and socials for the latest updates regarding the current season. If you're looking for a family-friendly outdoor activity, or are simply yearning for a cheerful digital escape, join us as we visit Alberta's Bowden SunMaze on a gorgeous midsummer evening! 
---
A GUIDE TO BOWDEN SUNMAZE & EAGLE CREEK FARMS
---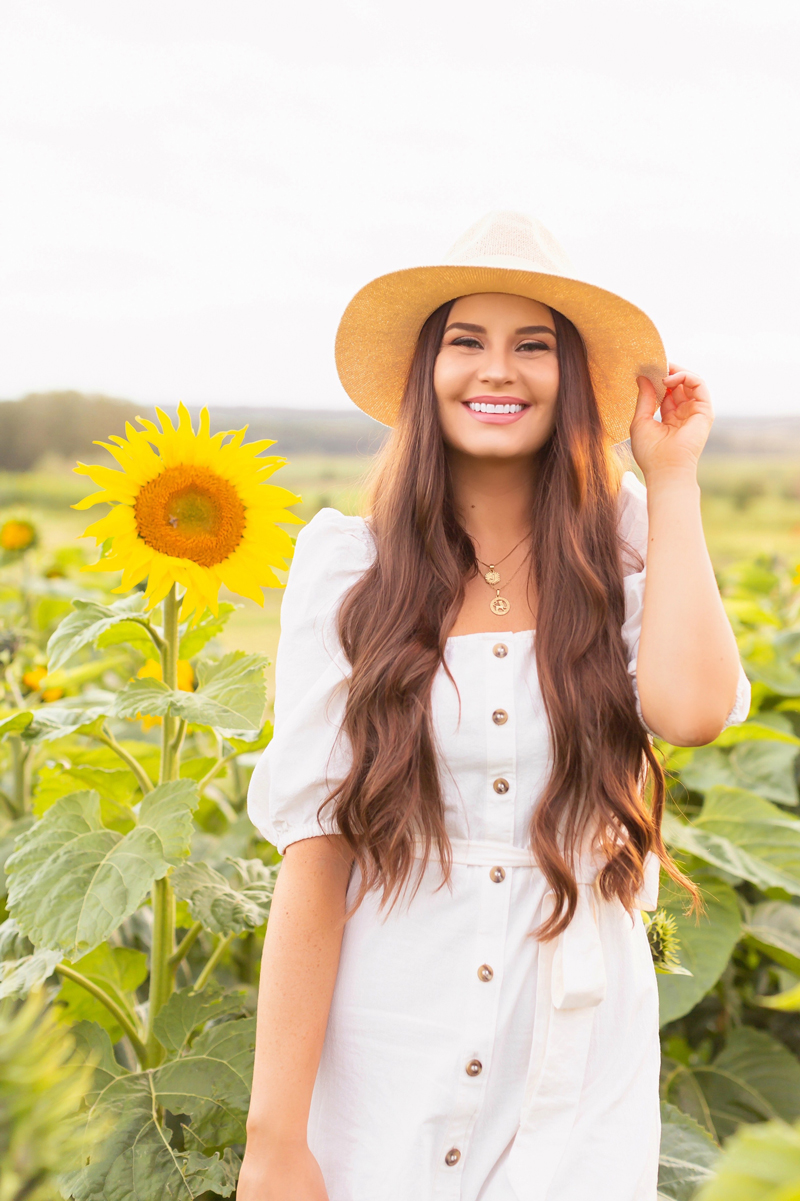 As a born and raised Alberta girl, I've always enjoyed our stunning natural landscapes and outdoor adventures — but I can't recall a summer in recent memory that I've spent so much time outside! This summer I've really embraced the simple things in life and am incredible grateful to live in such a beautiful province.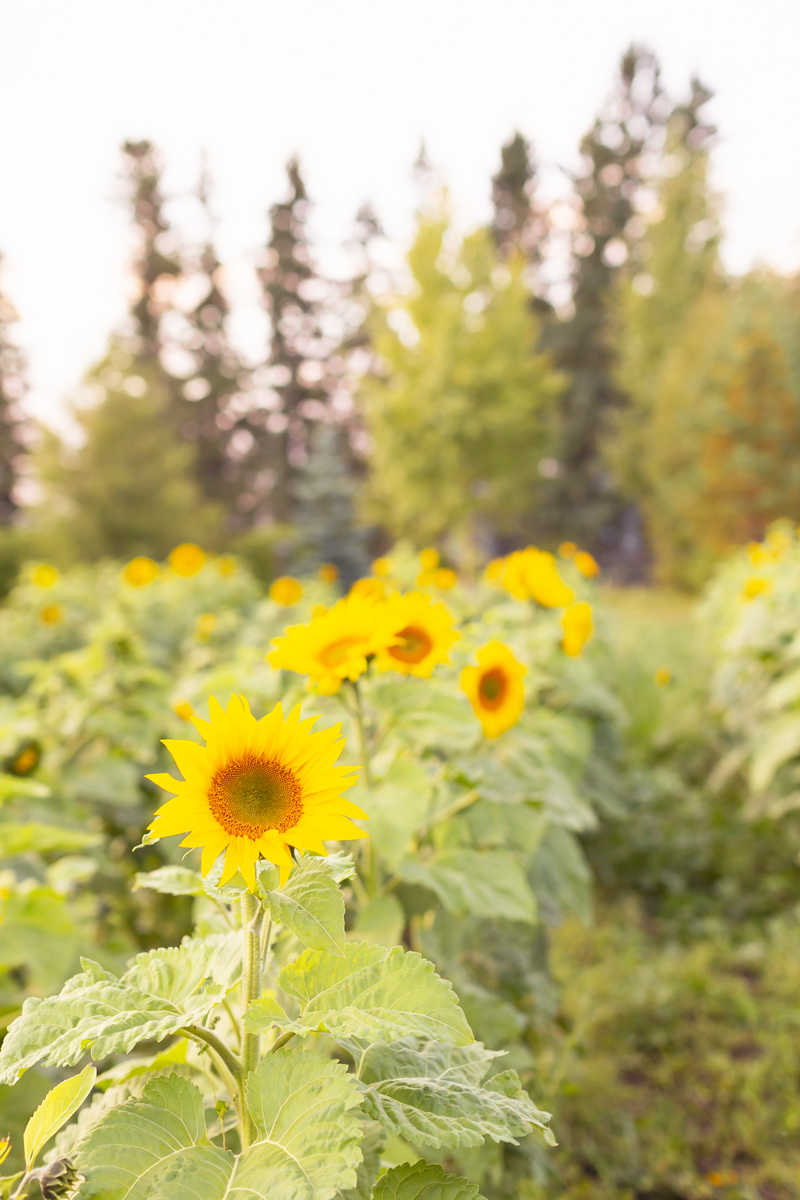 Supporting local has always been important to me, but recently, it's something I've focused on more than ever. There's so much beauty (and fantastic local businesses) to discover right here in Alberta — and I've had the best time exploring and capturing it all through fresh eyes this summer and fall. I hope you've also enjoyed this shift in my content!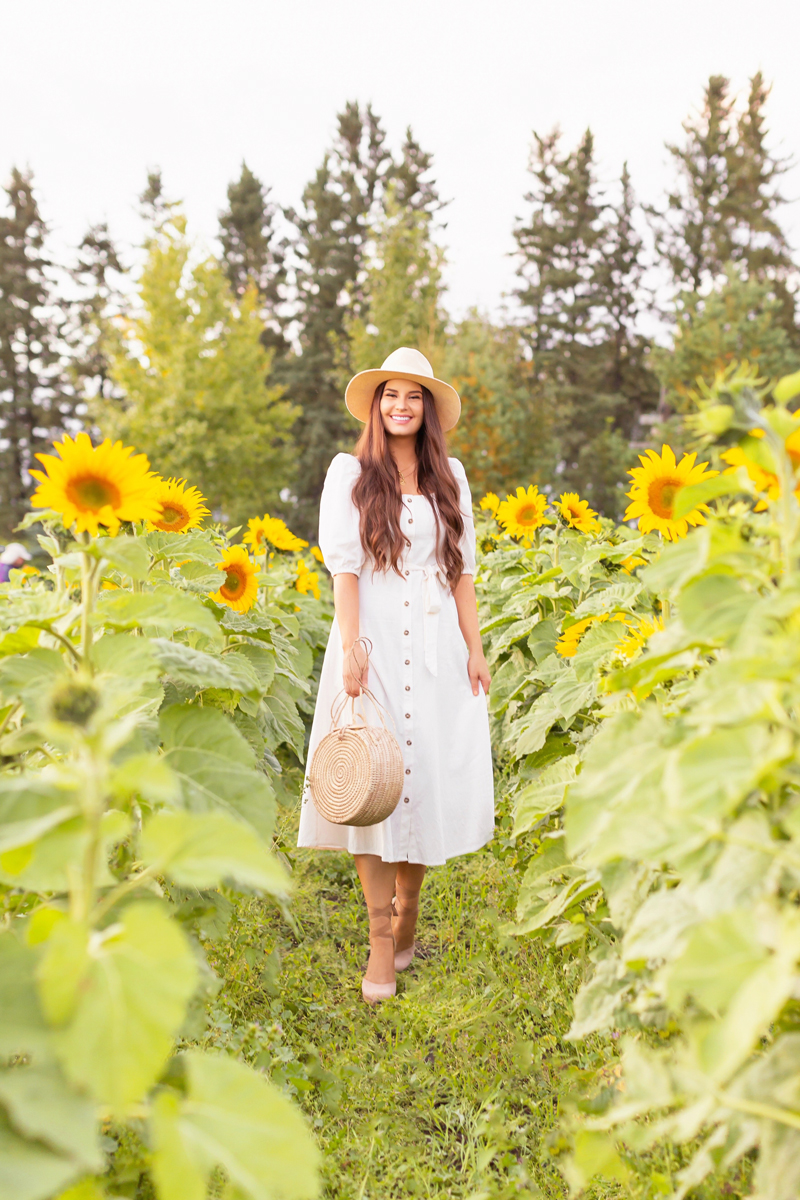 That said, I hope you find my Guide to Bowden SunMaze & Eagle Creek Farms helpful and informative. I'm kicking things off with the Bowden SunMaze Sunflower Fields — detailing the ticket purchasing process, cost, location, safety restrictions and farm activities, before moving on to our Eagle Creek Farms Flower U-Pick experience. You'll also find a Pinterest friendly graphic at the footer for easy reference if you'd like to bookmark this post for later!  
---
BOWDEN SUNMAZE SUNFLOWER FIELDS
---
Have you seen photos of this elusive sunflower field popping up all over Instagram lately and wondered if it's worth the trip? A couple of years ago before I'd seen them it in person, I had the same question!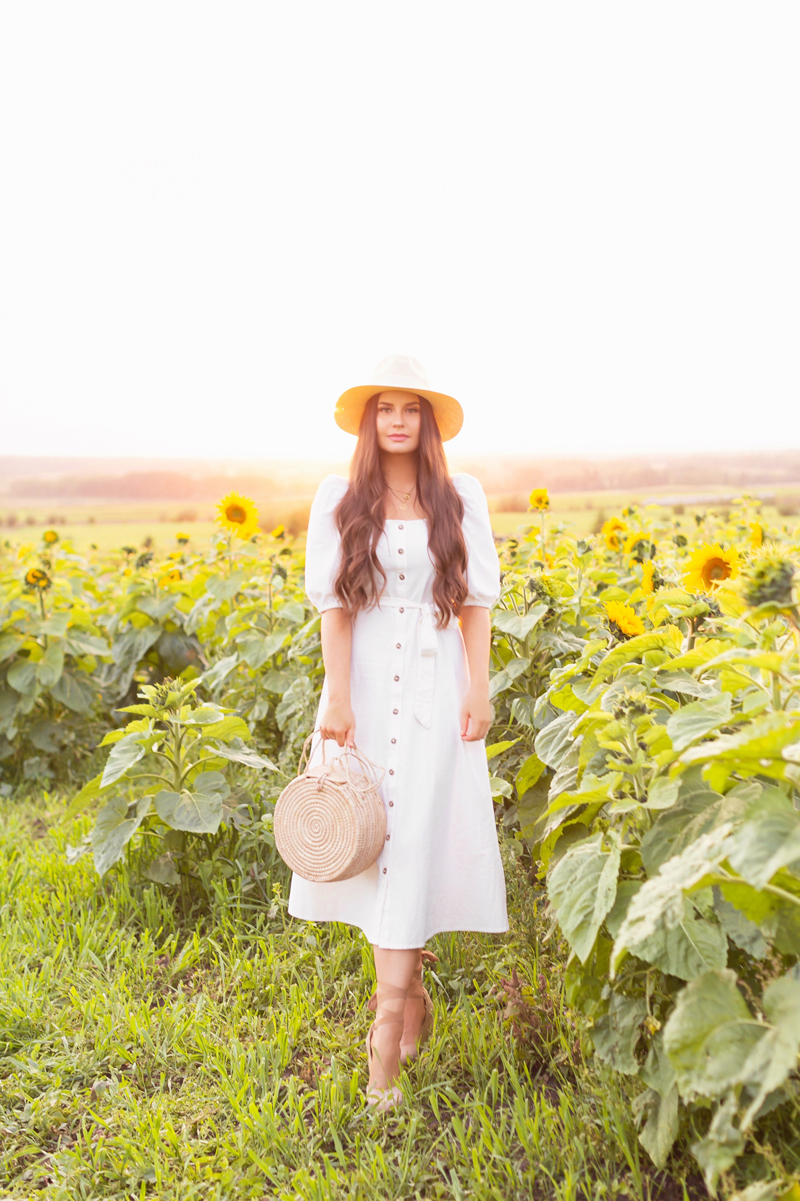 After having visited Bowden SunMaze & Eagle Creek Farms a few times now, I can assure you it is! Personally I've always loved Sunflowers (it must be a Leo thing!), but Bowden SunMaze is a magical experience for the entire family. I'm excited to share our  Sunflower Field experience with you!
---
HOW TO PURCHASE TICKETS
---
Eagle Creek Farms has reintroduced their in-person ticket purchasing system — simply purchase your ticket when you arrive!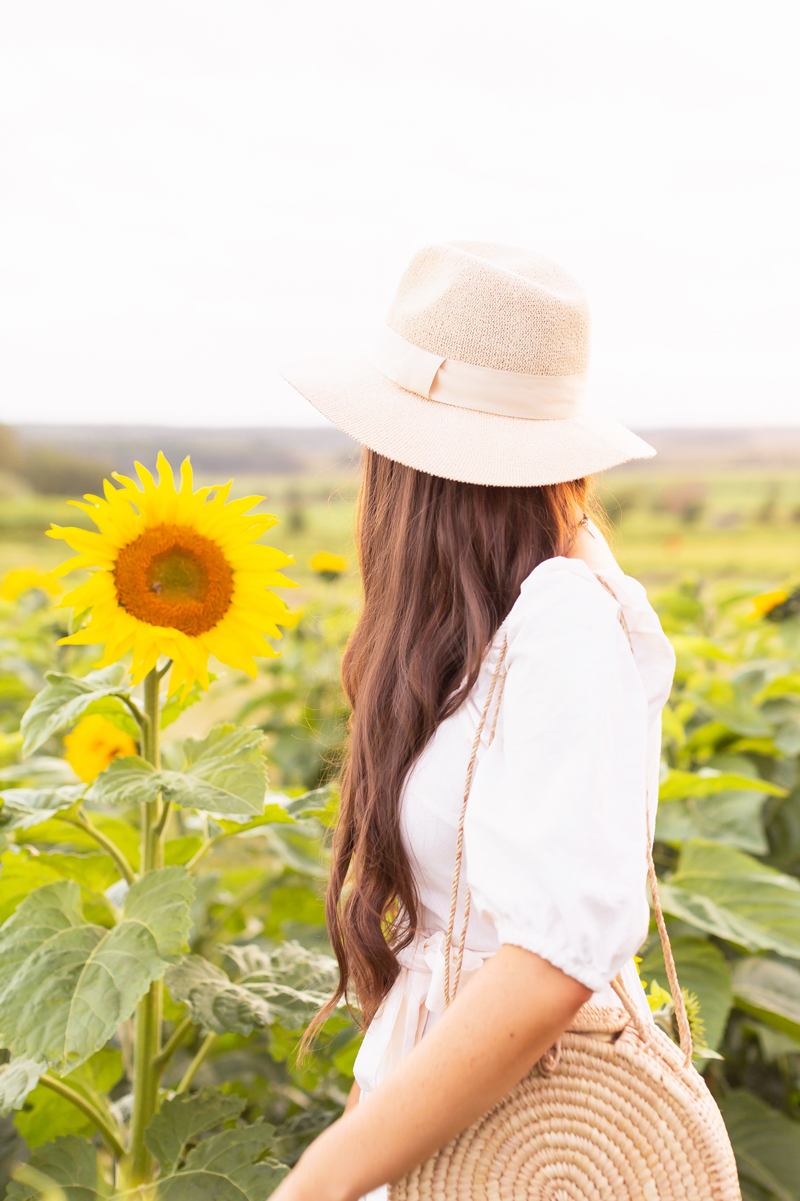 ---
WHEN IS BOWDEN SUNMAZE OPEN IN 2022?
---
Bowden SunMaze experienced hail damage this year and are anticipating a full bloom of their first patch during the first week of September. That said, be sure to check their Facebook page before you plan your trip for the most up-to-date information.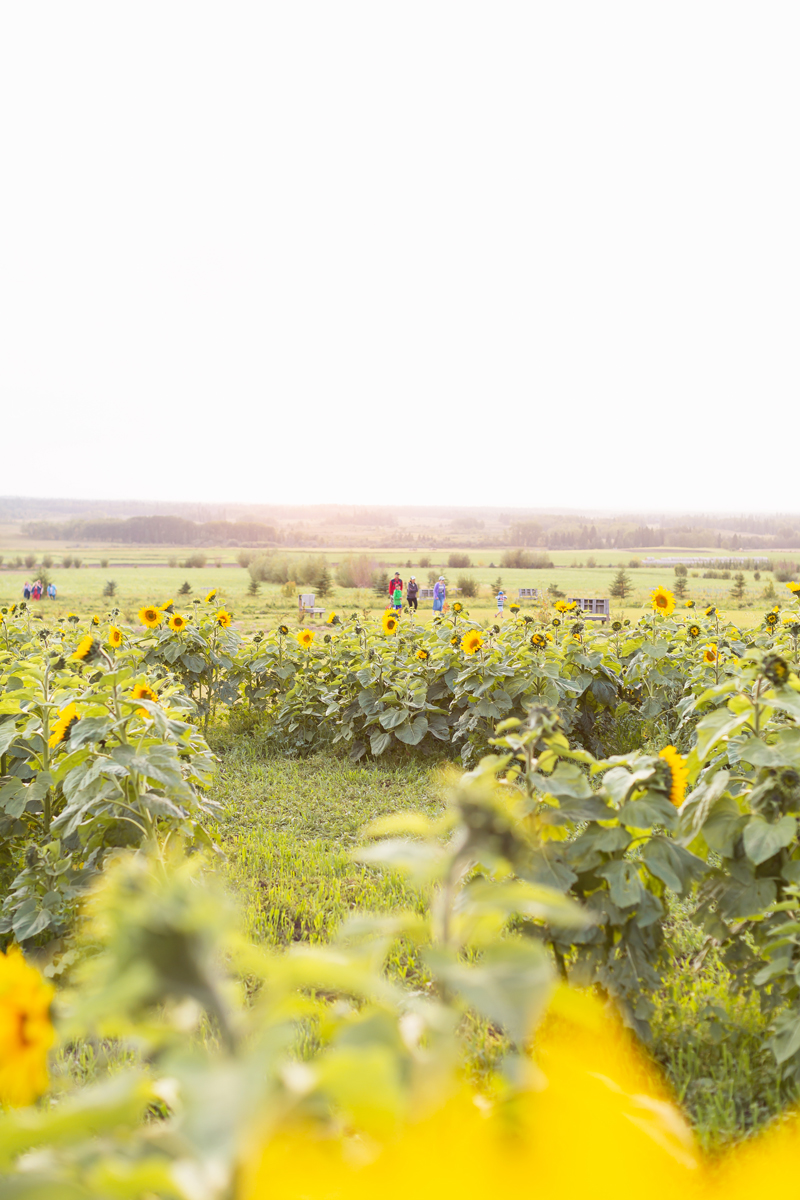 ---
COST
---
The cost of a trip to Bowden SunMaze is very reasonable. For the 2022 season, adult tickets are $11+fees , children's tickets (4 and up) are $7+fees, with free admittance for children 4 and under. If you'd like to pick some flowers while you're there, head down to the Eagle Creek Farms  Flower U-Pick section for additional information about cost per stem.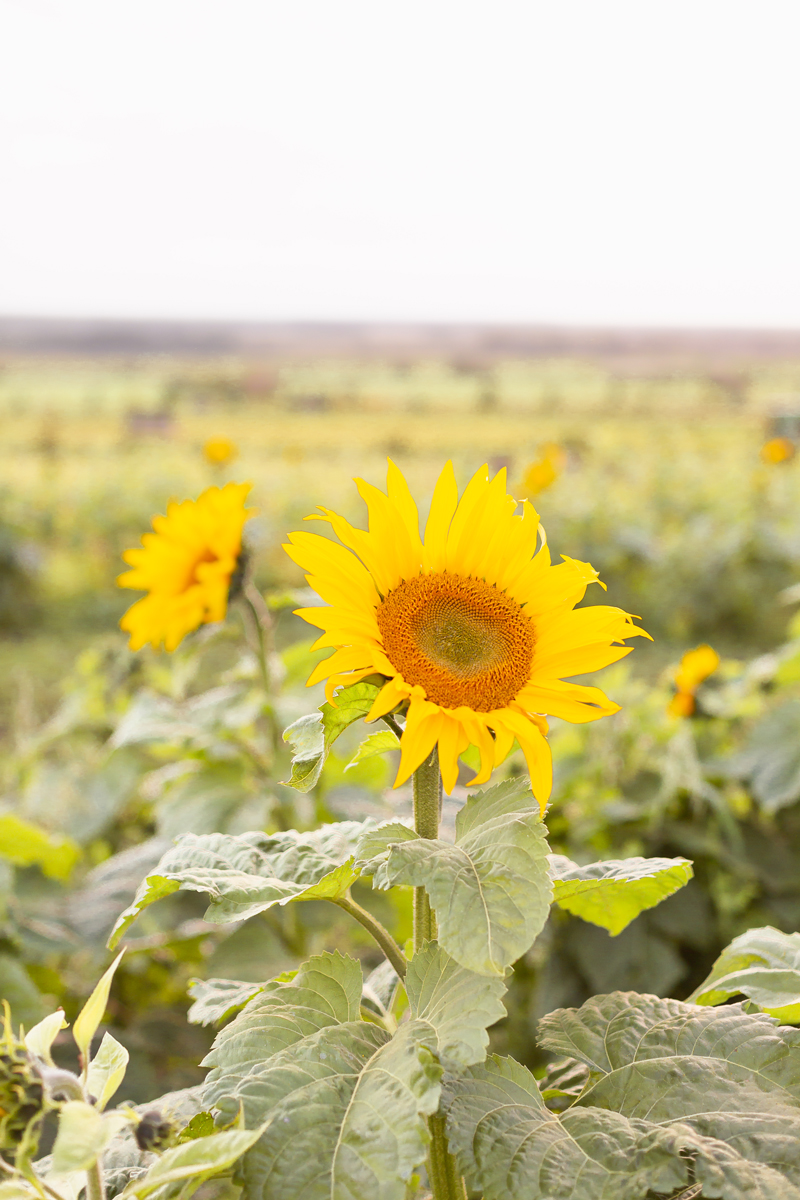 ---
THE BEST TIME TO VISIT
---
Bowden SunMaze typically offers tickets beginning at 1:30pm. After admission, you're permitted to stay on the farm as long as you like to fully enjoy your experience. 
This year, Bowden SunMaze and Eagle Creek Farms is planning to be open beginning the first week of September, with an increasing amount of sunflowers blooming further into the season.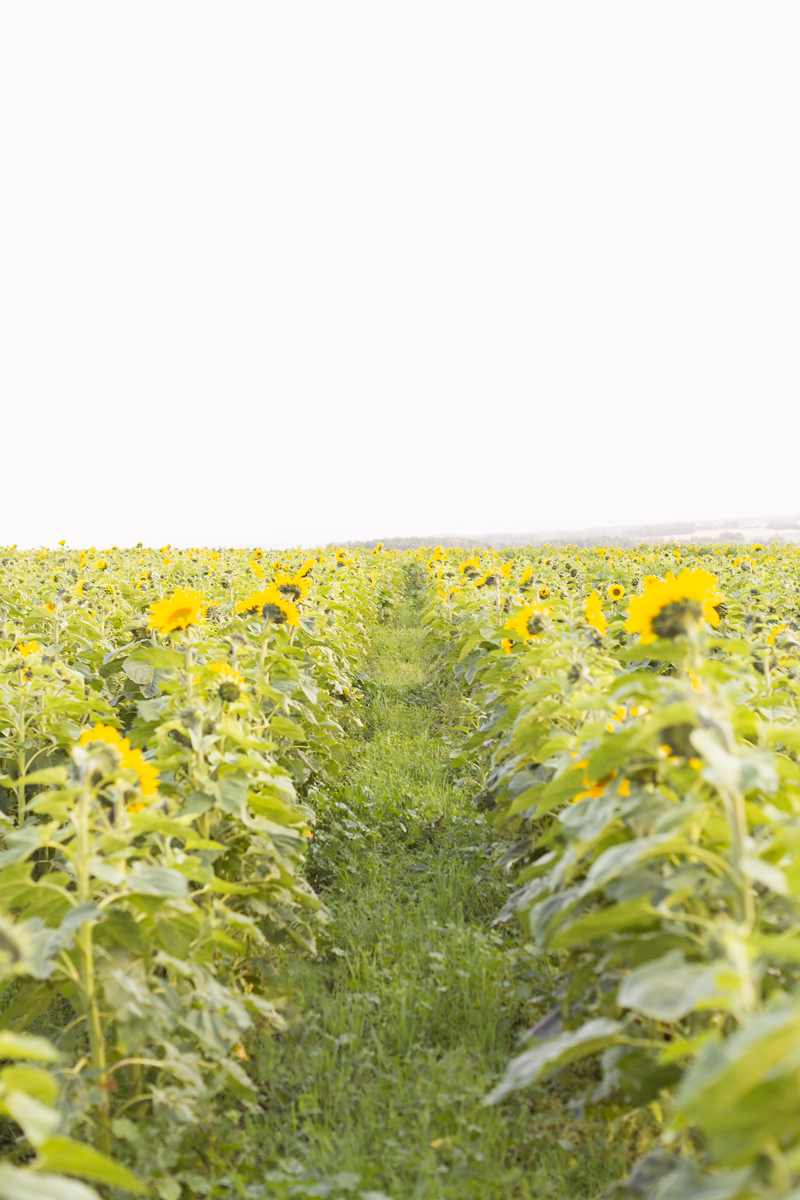 Every year, Bowden SunMaze plants different successions of Sunflowers and updates their social media accounts with visual updates on which patches are in bloom. The staff will also provide you with bloom updates upon arrival, as the fields change day to day. Currently, Bowden SunMaze boasts over 100,000 Sunflowers, including a giant Sunflower patch! There are Sunflowers as far as the eye can see.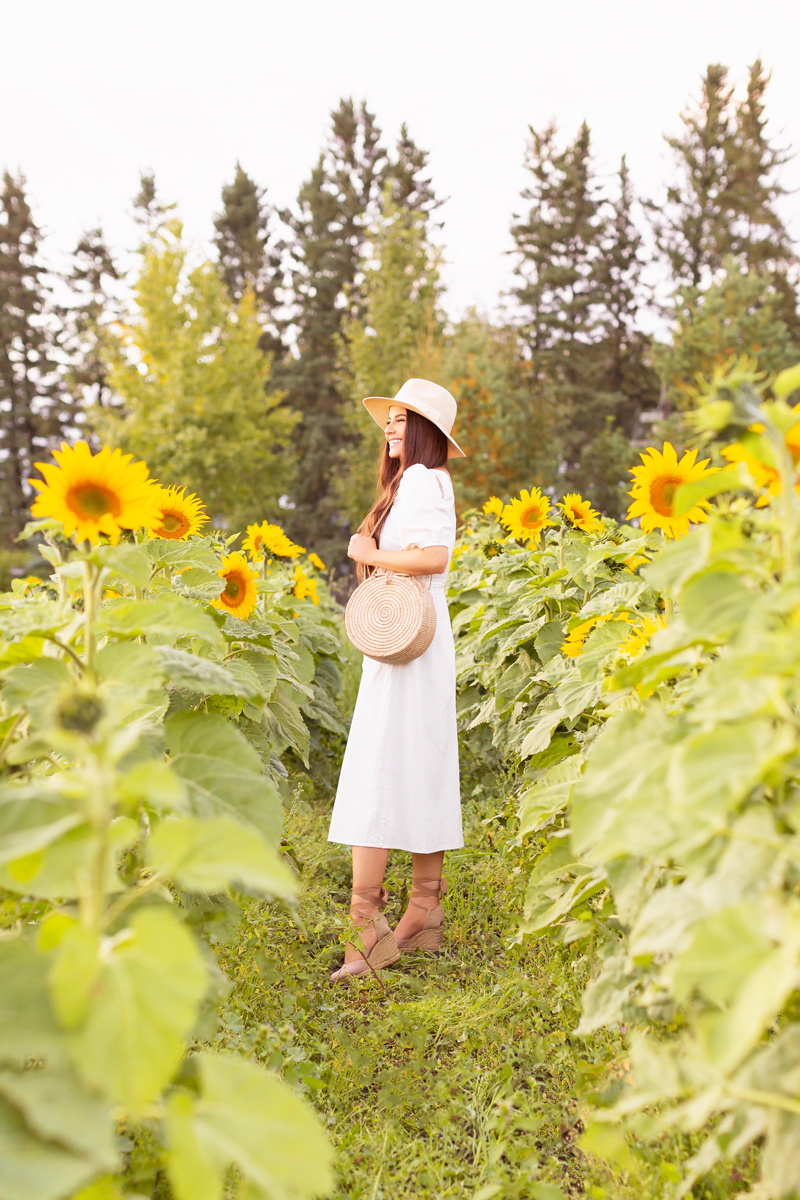 ---
LOCATION & GETTING THERE
---
Bowden SunMaze is located approximately an hour and a half north from inner city Calgary, just northwest of the town of Bowden on the Queen Elizabeth II Highway (grab the map here). It's a lovely, scenic drive — especially at this time of year, when the leaves are changing!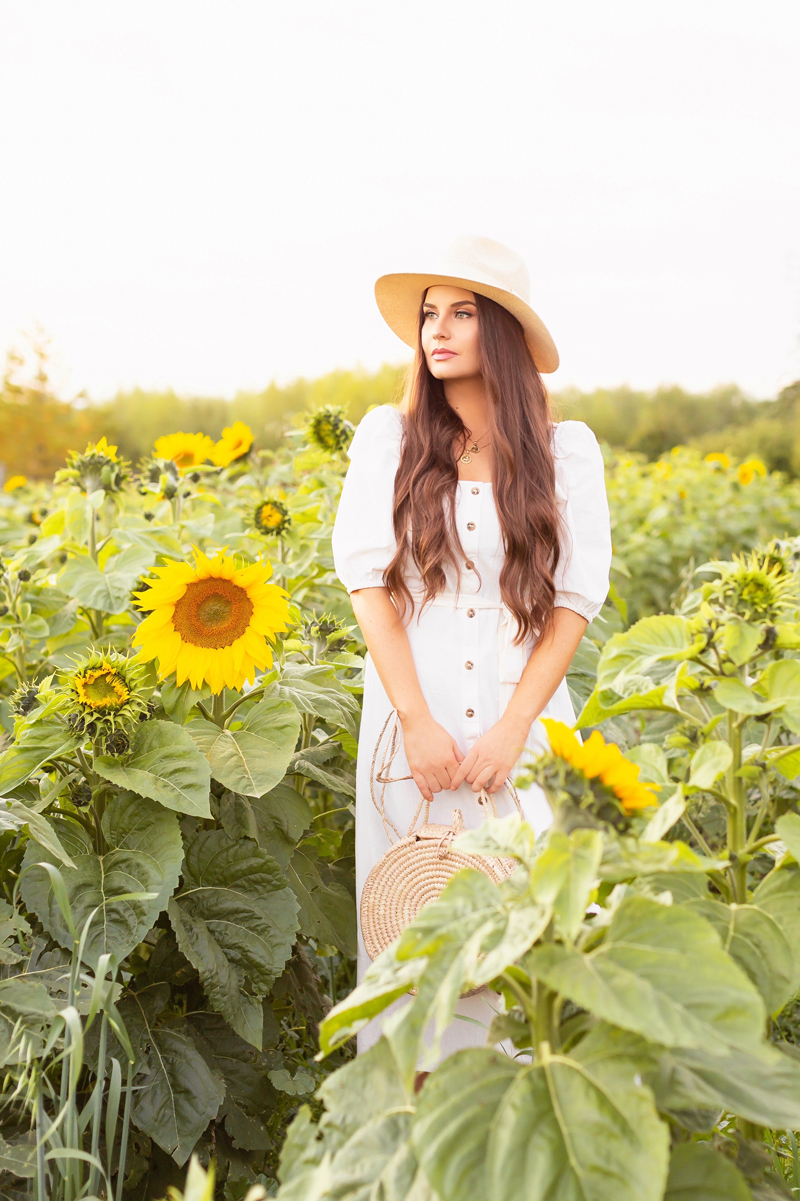 ---
ACTIVITIES
---
Bowden SunMaze & Eagle Creek Farms offers a variety of family friendly activities. While the main attraction are their Sunflower Fields, visitors can also enjoy the Flower and Vegetable U-Pick (although their vegetable U-Pick is now closed for the season due to overwhelming demand), a small Petting Zoo and a collection of farm-fresh vegetables and local preserves available for purchase.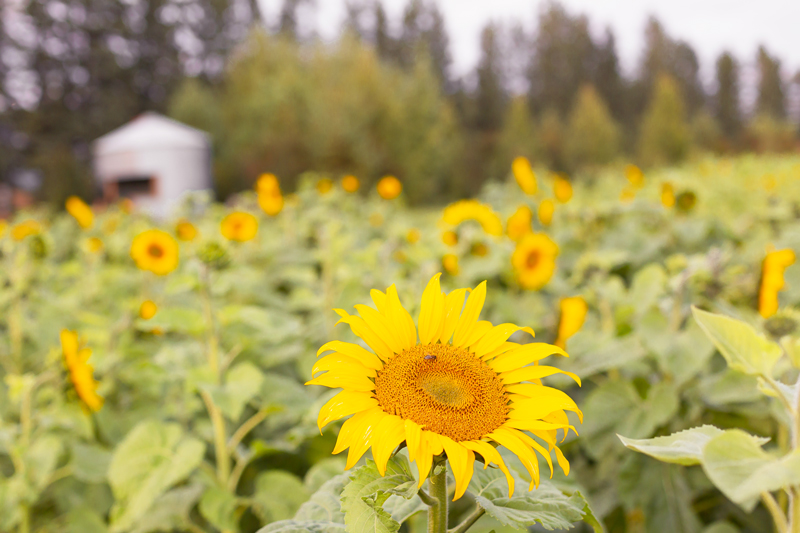 ---
SUNFLOWER FIELD PHOTOGRAPHY TIPS
---
Did you know Sunflowers follow the sun's movement? As they grow, their leaves turn toward the sun to maximize their ability to photosynthesize — but mature sunflowers eventually stop tracking the sun's movement and permanently face east. This is why in the photos you see, the is sun is setting in the west, with the sunflowers facing east (towards the camera) — which makes for the perfect sunset photoshoot!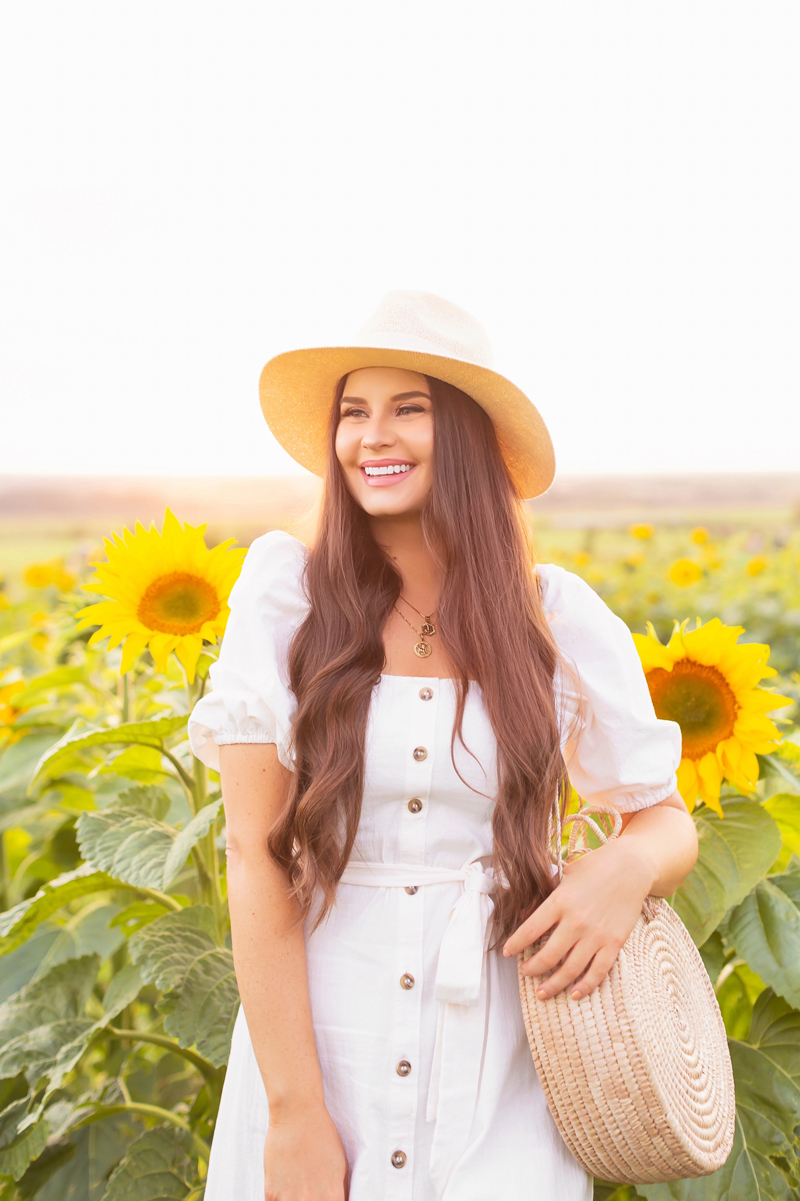 I personally love to see Bowden SunMaze at sunset, which is when these photos were taken. Golden Hour (just before the set sets) is my favourite time to see the Sunflower Fields and snap photos. We typically we shoot backlit (with the sun setting behind the subject) for an ultra dreamy golden glow, like you see here! I find this technique especially flattering for portraits.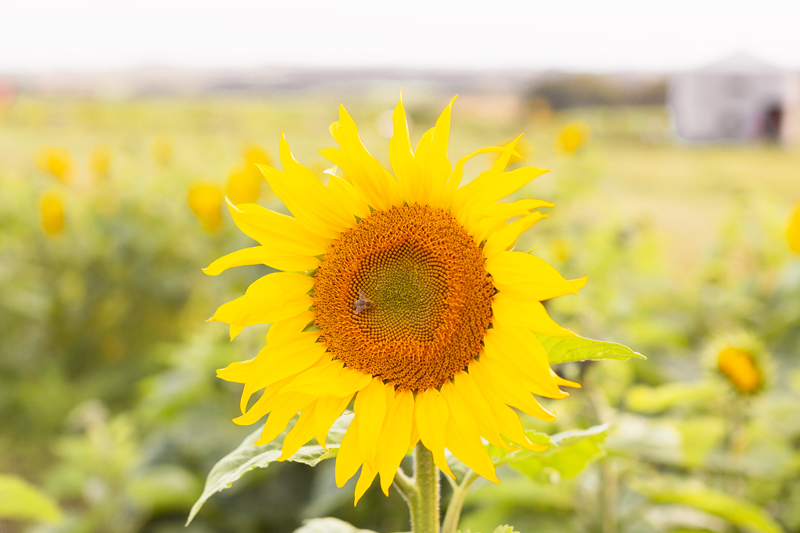 The farm remains open half an hour after sunset, so you can also experiment with snapping photos during Blue Hour (just after the sun dips below the horizon), which is when a few of these photos were taken. The light is soft and tranquil during Blue Hour — you may even find a bee sleeping on a Sunflower! 
---
EAGLE CREEK FARMS FLOWER U-PICK 
---
Since I often incorporate FLOWERS into my content here at JustineCelina and am passionate about supporting both local growers and florists, I've scoured the Alberta prairies (and the internet!) for information about a flower u-pick farms near Calgary with no luck — that is, until 2020!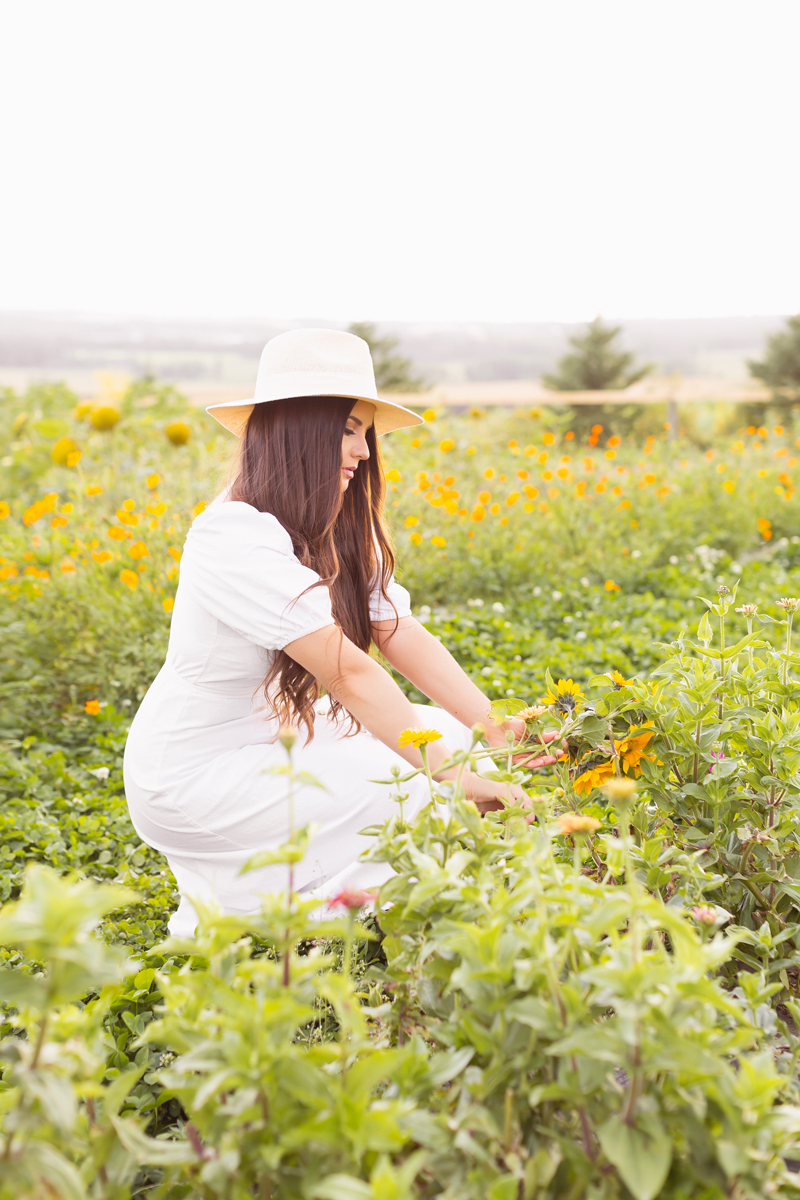 After spotting a brief mention about Flower U-Picking on the Eagle Creek Farms website (with no photos!) I went without expectations, but was excited to see what they had to offer. We actually visited the Flower U-Pick Fields first (since they closed first) and I spent half an hour or so strolling up and down the rows of blooms, creating this lovely autumnal bouquet! It was bit picked over so late in the season (again, check their Facebook page for current updates before your visit), but the blooms were still abundant and the pricing is very reasonable. I'll get into specifics below!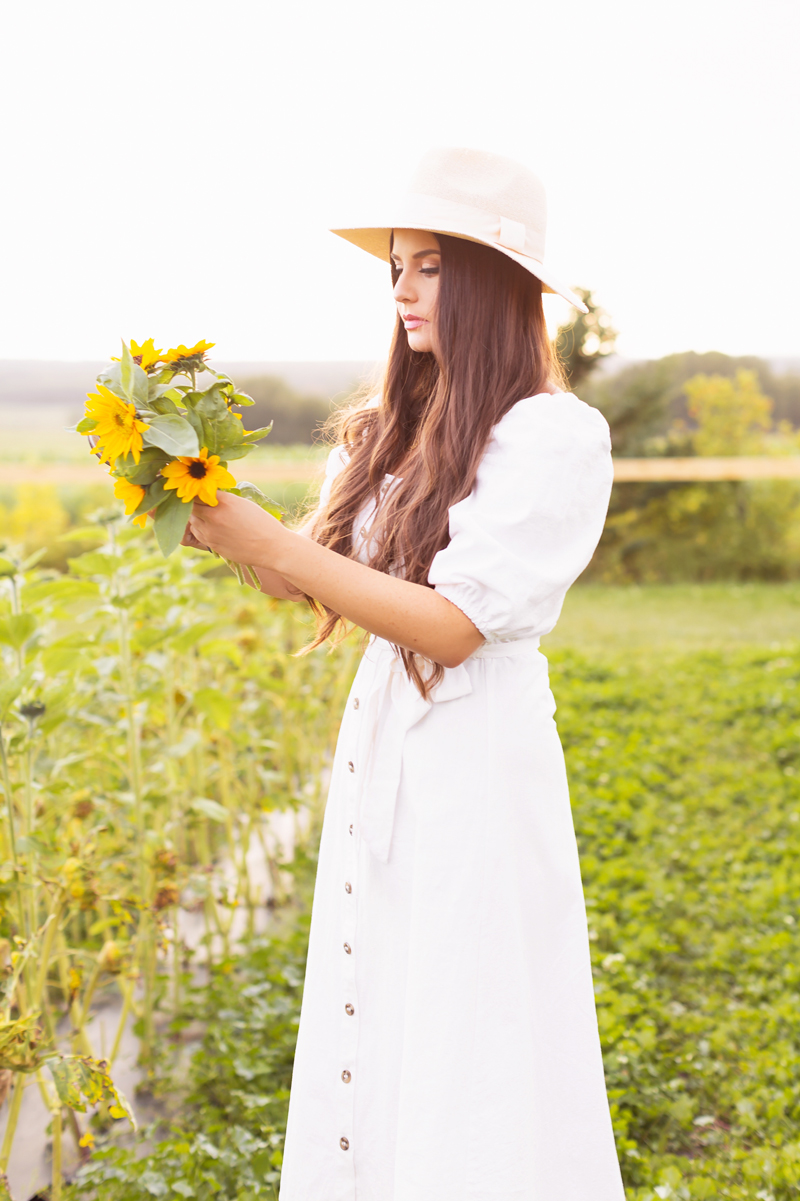 ---
TICKET PURCHASING & COST
---
Admission to the Eagle Creek Farms Flower U-Pick is included in your ticket purchase. That said, the cost of the flowers you pick isn't.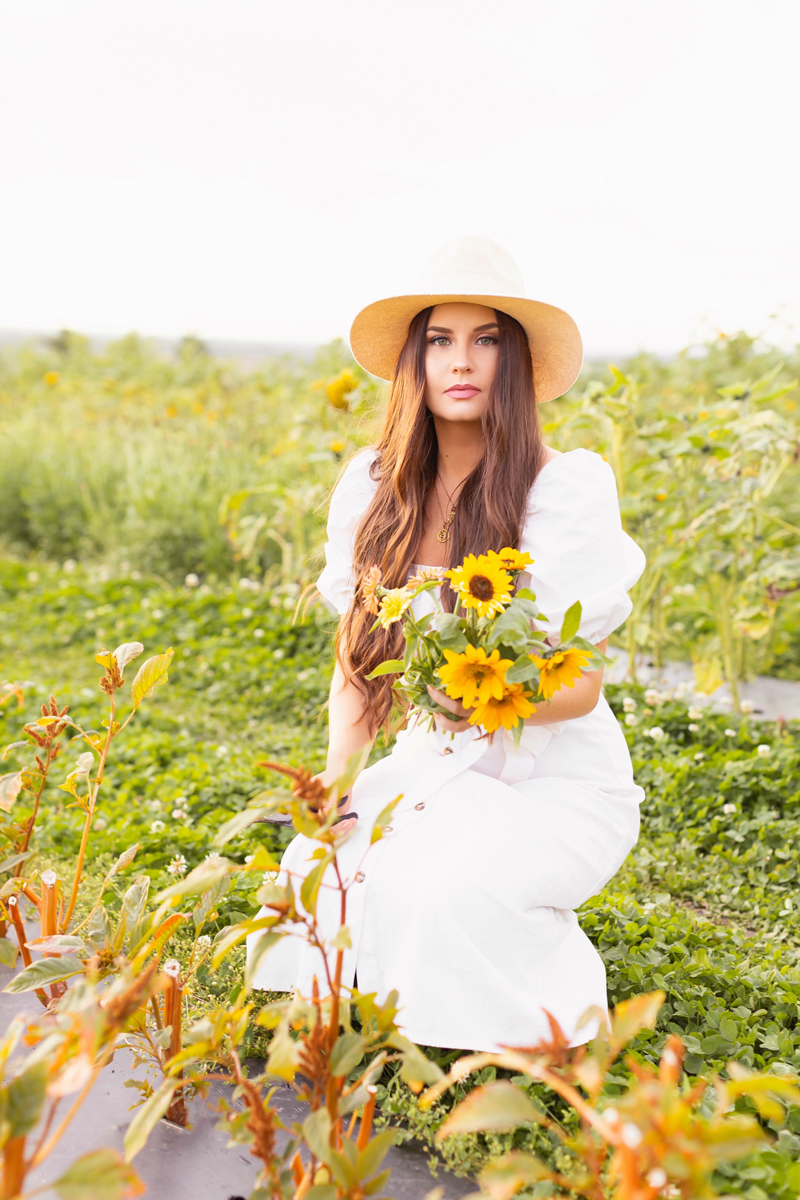 Are you surprised to discover that pulled together this bouquet for just $18? Surely I thought it would have been more expensive, but I was pleased to discover very reasonable per stem pricing — Sunflowers at $1.50 per stem, other flowers at $1.00 per stem and Ornamental Grasses were just $0.75 per stem!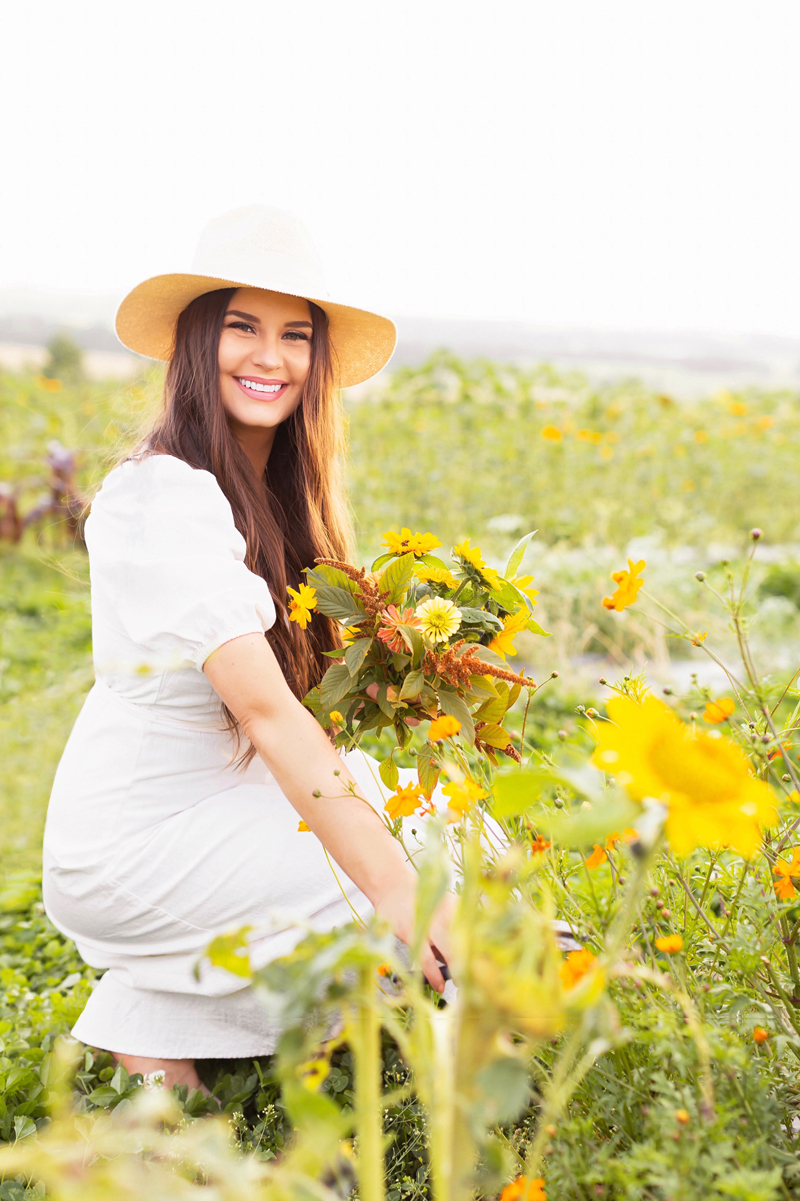 I opted for small Sunflowers and blooms, as I knew I would be cutting them up to create my free, floral tech wallpapers — but there were larger Sunflowers and other larger flowers (like Gladiolas) in bloom as well. I was so surprised to find a few harder to source varieties of flowers growing in the Eagle Creek Farm's Flower U-Pick as well! My bouquet contains a couple of different varieties of Sunflowers, Zinnas and Surfur Cosmos, Red Amaranth and Witch Grass — and I received several compliments as I picked away!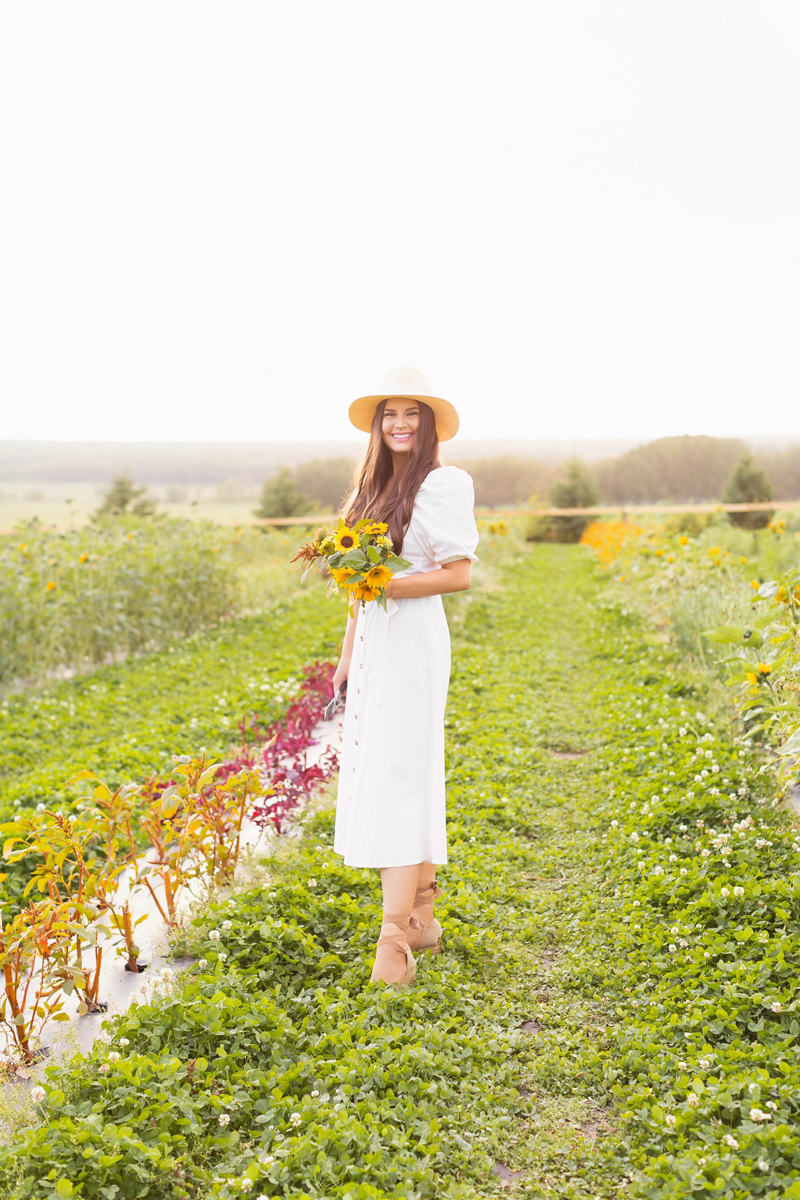 ---
FLOWER U-PICK PROCESS
---
Eagle Creek Farms U-Pick Fields are located on a different part of the farm than the SunMaze (where flower picking isn't permitted). When you check in at the outdoor kiosk, the staff will direct you to the part of the farm you'd like to visit. Everything located is within a 10 minute walk and there are traffic controls set up around the farm to help manage crowds.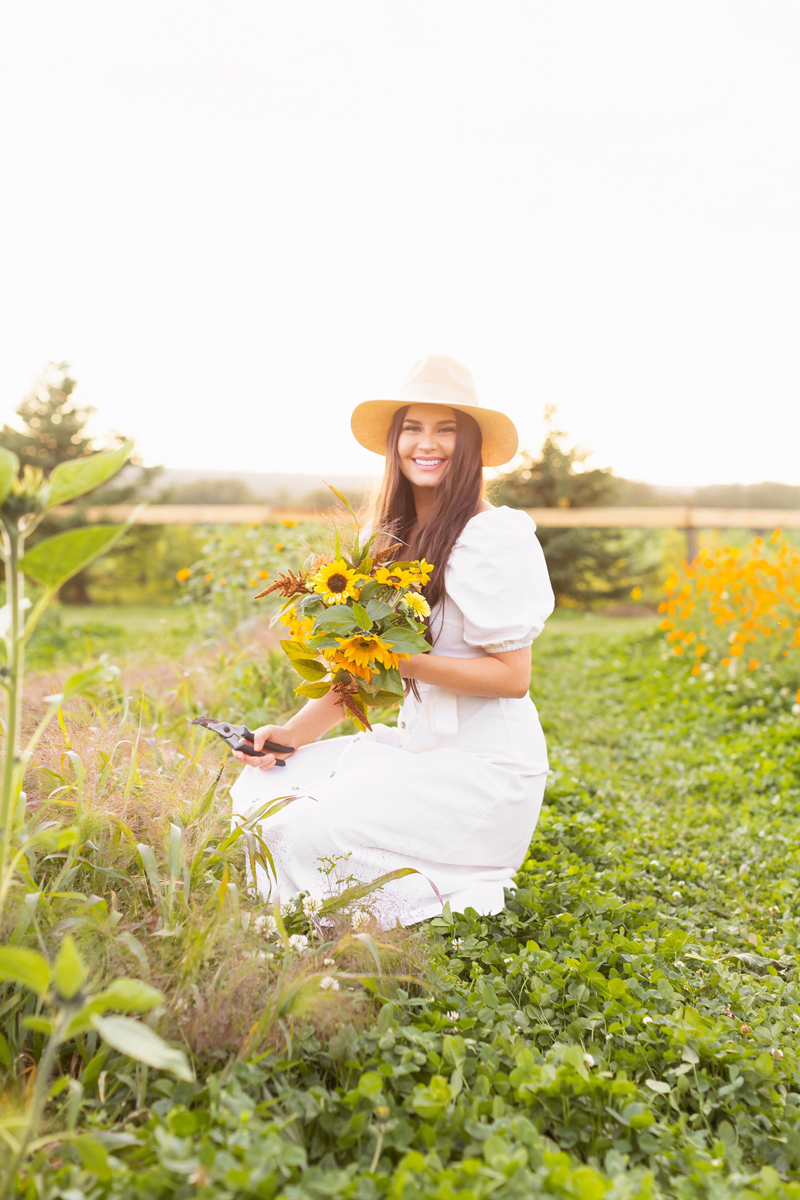 From there, you'll find clippers and plastic bags ready for use upon entering the Flower U-Pick fields. I actually brought my own clippers and a bucket (which they filled with water for me at checkout) to ensure the flowers could survive the trip home, since I picked some more delicate varieties. However, if you're not as prepared as I was, not to worry — you can use the tools provided and a member of their team will wrap your flowers at checkout (complete with a soaked paper towel base) to ensure they travel well!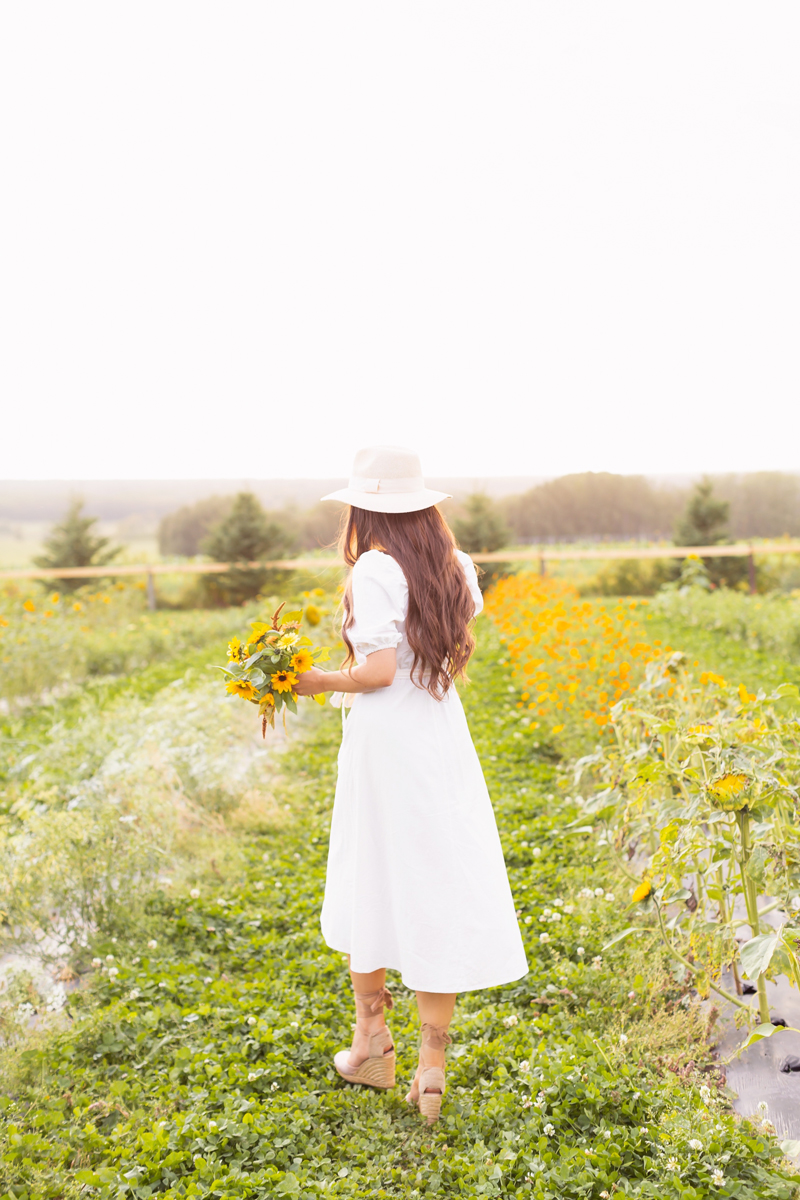 If you're a fellow flower lover, I highly recommend taking a stroll through the Eagle Creek Farms Flower U-Pick fields if you're making the trip to Bowden SunMaze — even if it's just to take in their beauty! My first flower U-Picking experience was a memorable one and an activity I hope the farm will continue to offer to years to come. 
---
PIN MY GUIDE TO BOWDEN SUNMAZE & EAGLE CREEK FARMS
---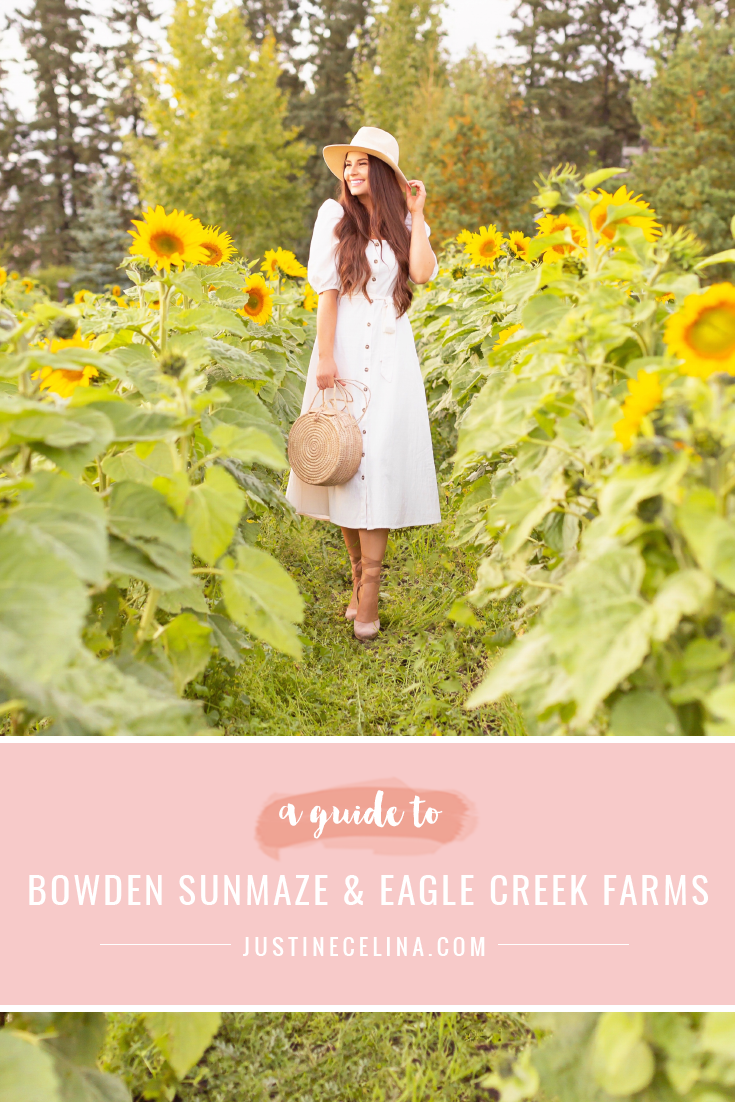 ---
MORE CHEERFUL SUNFLOWER CONTENT
---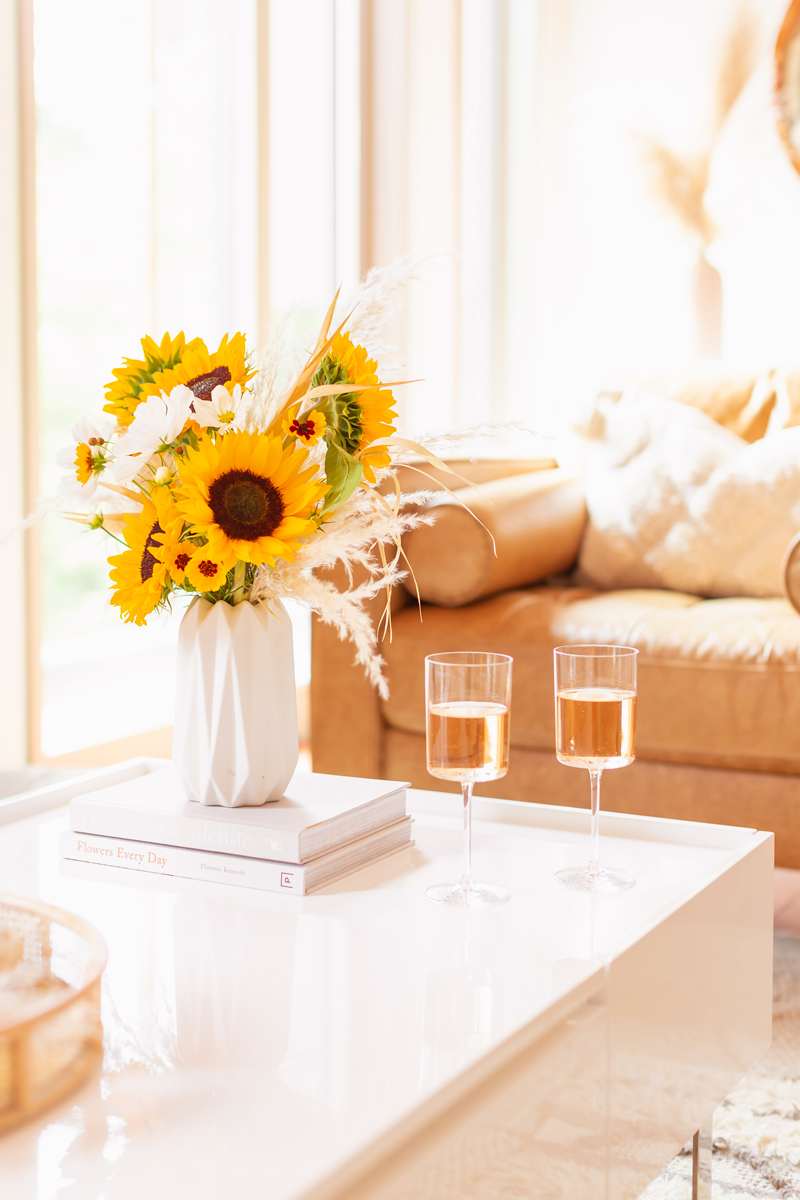 Digital Blooms September 2020 | Free Desktop Wallpaper
Digital Blooms October 2020 | Free Desktop Wallpaper (featuring the flowers from this U-Pick!)
Transitional Summer Meets Autumn Decor 
Digital Blooms September 2019 | Free Desktop Wallpaper
---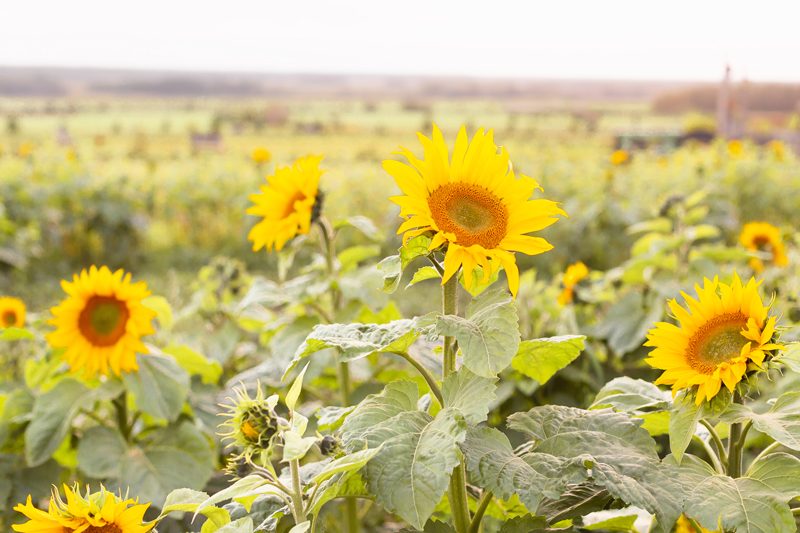 Thanks for joining us for A Guide to Bowden Sunmaze & Eagle Creek Farms, sunflower lovers! I hope you found this post informative and uplifting, whether you're a local planning to make the trip, or have simply stopped by for a relaxing digital escape. If you're not an Albertan, I encourage you to do some research about Sunflower Fields in your area and how you can support local farmers during this challenging time. Every little bit helps and I'm looking for fresh ways to support my local economy — especially when in involves gorgeous seasonal flowers! 
As always, if you have any questions about something I haven't addressed, feel free to leave me a comment! And if this post inspired you to visit Bowden Sunmaze & Eagle Creek Farms, please let me know — I absolutely love hearing about your adventures. You can leave me a comment or tag me in your photos on Instagram, Twitter or Facebook. Happy sunflowering, beautiful people! 
---
Disclaimer: This post is not sponsored, and contains my genuine thoughts, ideas and recommendations. JustineCelina uses affiliate and referral links, which allow me to receive a small commission when you make a purchase through one of my links. Thank you for supporting the brands and businesses that support JustineCelina.com!