---
With the first official day of spring behind us and temperatures soaring into the teens here in Calgary, I couldn't be happier to bring you my first Spring 2019 TREND GUIDE! The sun is out, the skies are blue and the snow is starting to melt — which means it's time begin rotating our seasonal wardrobes, transitioning winter out (byyyyyyyye!) as we ease into spring styles. That said, March weather is extremely unpredictable in Calgary — for example, over the course of the next week, temperatures range between a sunny 14°C degrees and a snowy -1°C! Dressing the part can be a bit of a daunting task when all we want to do is pack away our coats, knits and endless layers to embrace a fresh season!
These in-between months where we have the opportunity to blend the best of 2 seasons are actually some of my favourite to dress for — and that's exactly how this experimental, bohemian look came to life! If you're craving spring trends and colours but still faced with the bipolar nature of transitional weather, this post is for you. Today I'm chatting about how you can start integrating some of Spring 2019's hottest trends into your wardrobe right now, juxtaposed with cold weather style staples to create a versatile winter-meets-spring outfit formula. Saddle up for a free-spirited, transitional take on faux fur, florals, western boots, flat-brimmed hats and Pantone's Spring / Summer 2019 Colour Trend Report as we watch the  sun rise over the rolling fields near my childhood home in rural Alberta!

---
PRE SPRING 2019 TREND GUIDE | BOHEMIAN RHAPSODY
---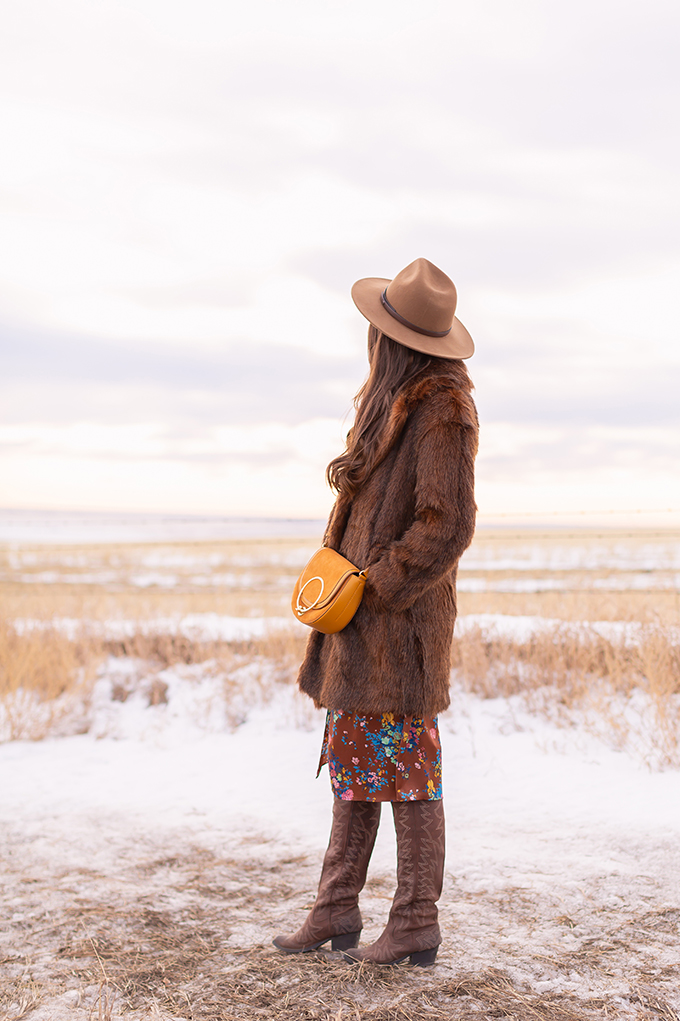 Something about faux fur, florals and a splash of mustard feel just right for this transitional weather! To satisfy my spring fever, I've discovered a few ways to incorporate spring trends and winter staples into my transitional wardrobe over the years — and today I'm sharing them with you!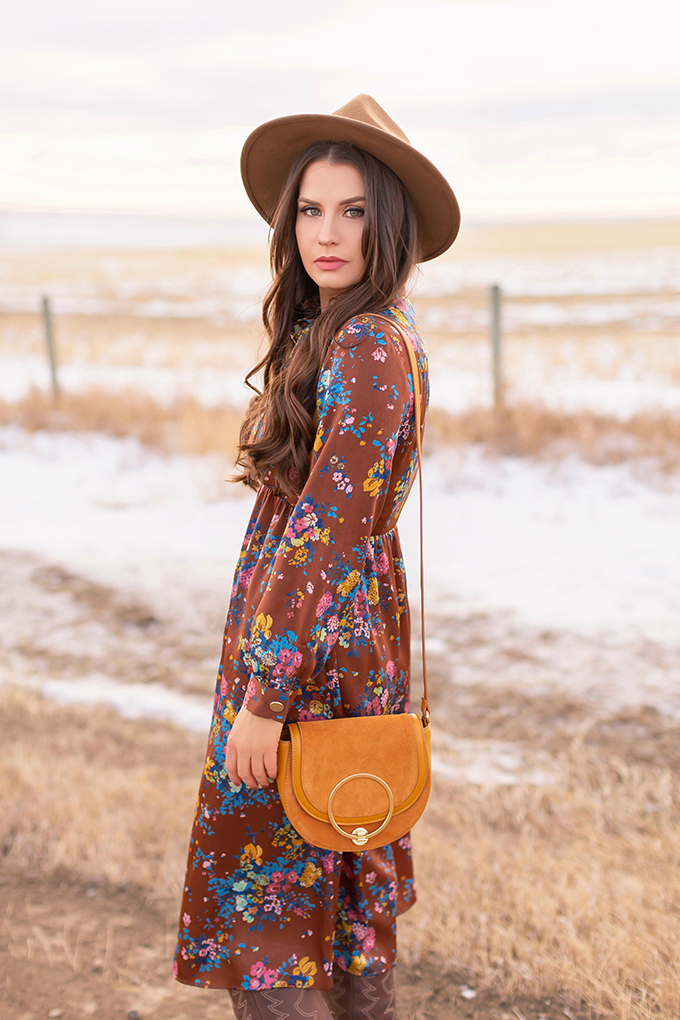 ---
TREND: TOFFEE
---
Pantone's Toffee is a huge colour trend as we transition into spring — and one of my personal favourite shades of brown! This look was inspired by all things Toffee while incorporating a handful of seasonal trends — colourful florals, faux fur, western inspiration and mustard (another major colour trend looking ahead to spring!) while playing with proportion and texture. Beginning with this darling satin floral dress that I nabbed during the Zara sale, I pulled out all my toffee brown coats, footwear and accessories — and this bohemian, winter-meets-spring is the result.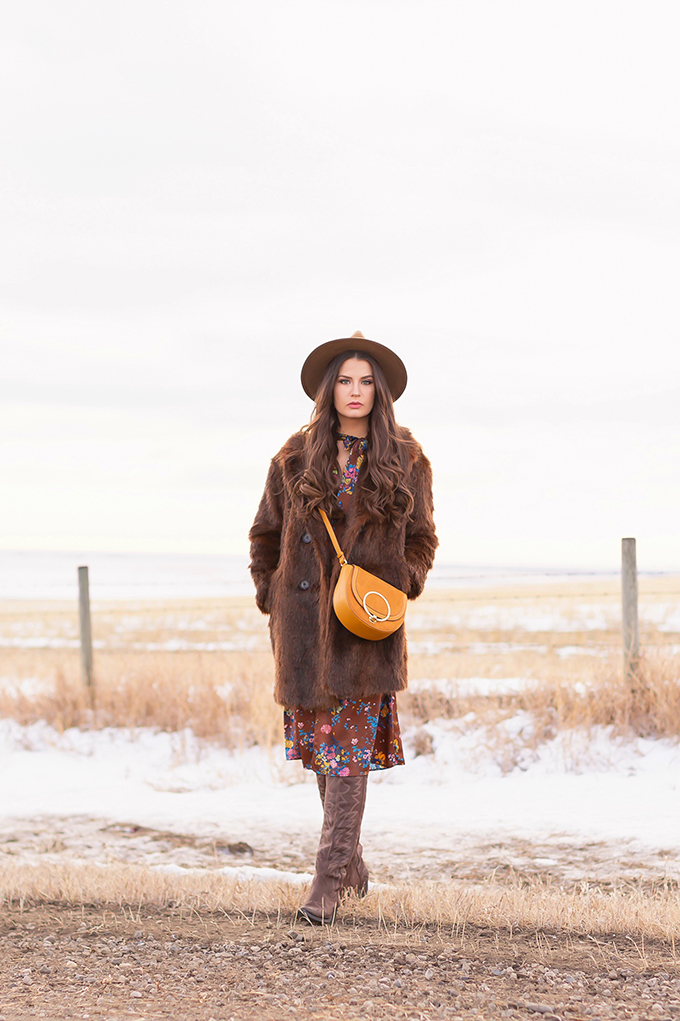 Monochromatic dressing is something I experiment with often in my personal style — and this look is the perfect example of how you can pull together a tonal outfit while blending seasonal wardrobes. While I wouldn't have normally thought to pair these items together during the winter to spring transition, the colours in this dress, along with Pantone's Spring / Summer 2019 Colour Trend Report pushed me outside of my comfort zone. I love looking to Pantone to inspire my personal style, my home and my work — no matter the season!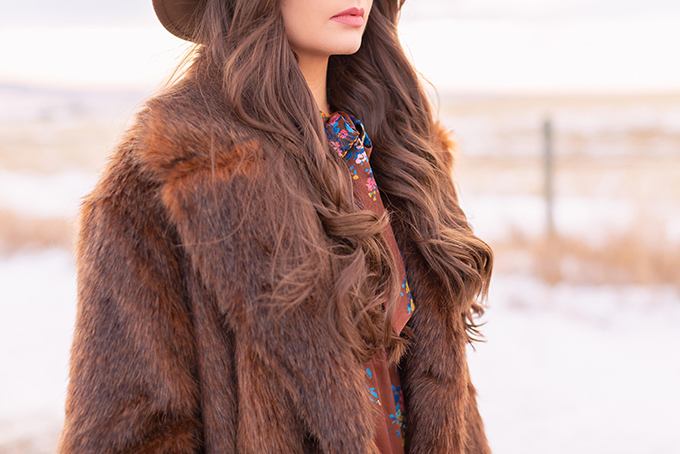 If you're also craving Toffee hues, I've curated a selection of my favourite rich brown transitional pieces for you below.

---
TREND: FAUX FUR
---
Whether you've just recently joined me here at JustineCelina or have been following along with my FASHION content for years, you've undoubtedly witnessed my penchant for faux fur. Although definitely a wintery texture, there's something so fresh and the juxtaposition of spring-inspired florals alongside faux fur — and this playful combination has become a new transitional staple for me!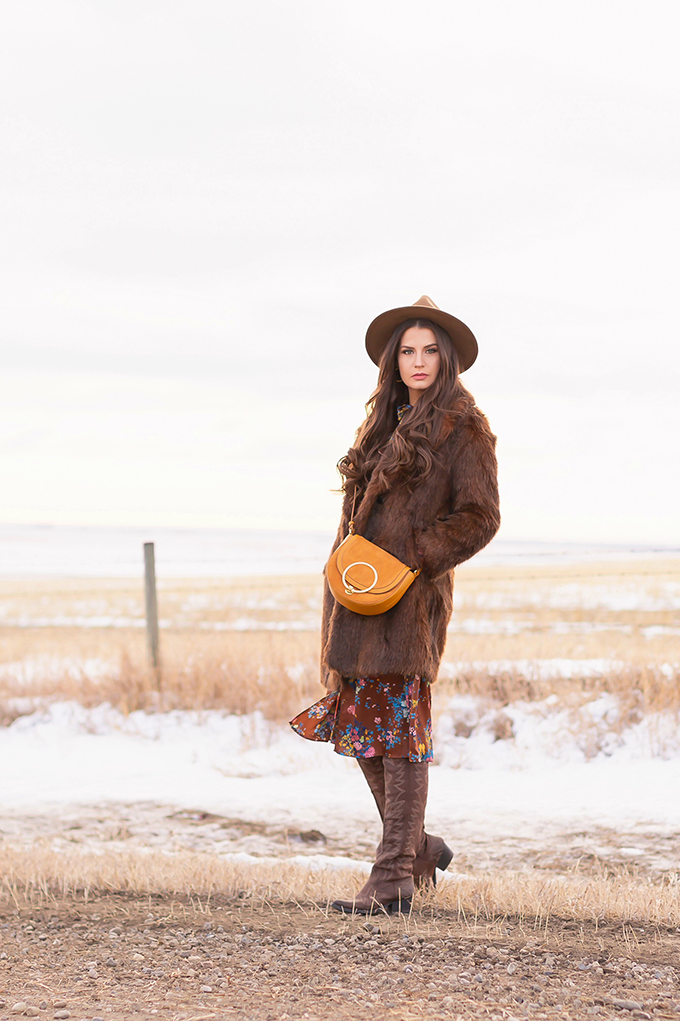 So ladies, don't pack away your faux furs just yet! Instead, try pairing them up with some of your more spring-inspired dresses, skirts and bags. You may just find a few new combinations that work perfectly for early spring weather!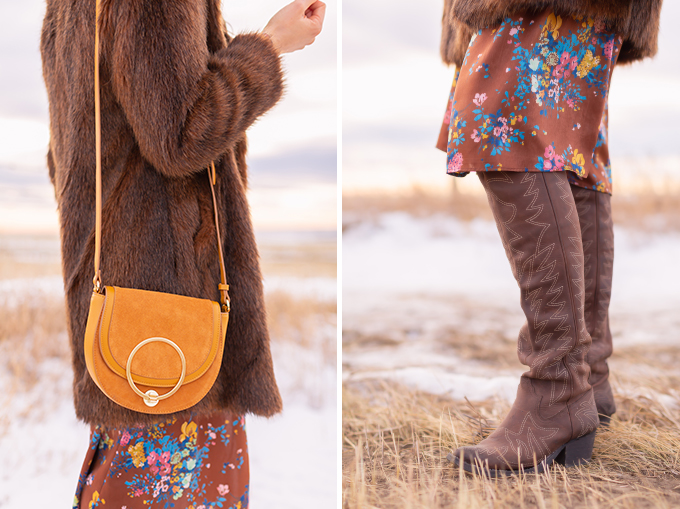 If you love a great sale, now is also the perfect time to snag winter outerwear on clearance (I scored this extremely realistic toffee-coloured stunner in the Zara sale earlier this year!). Faux fur coats are a classic that will never go out of style and they're so versatile! If you're in the market, I've rounded up a few of my favourite faux fur jackets for your below.

---
TREND: FLORALS
---
Florals for spring? Groundbreaking! Year after year, we see a resurgence of florals trickling in to our favourite retailers — but this spring, there's truly a floral print for everyone!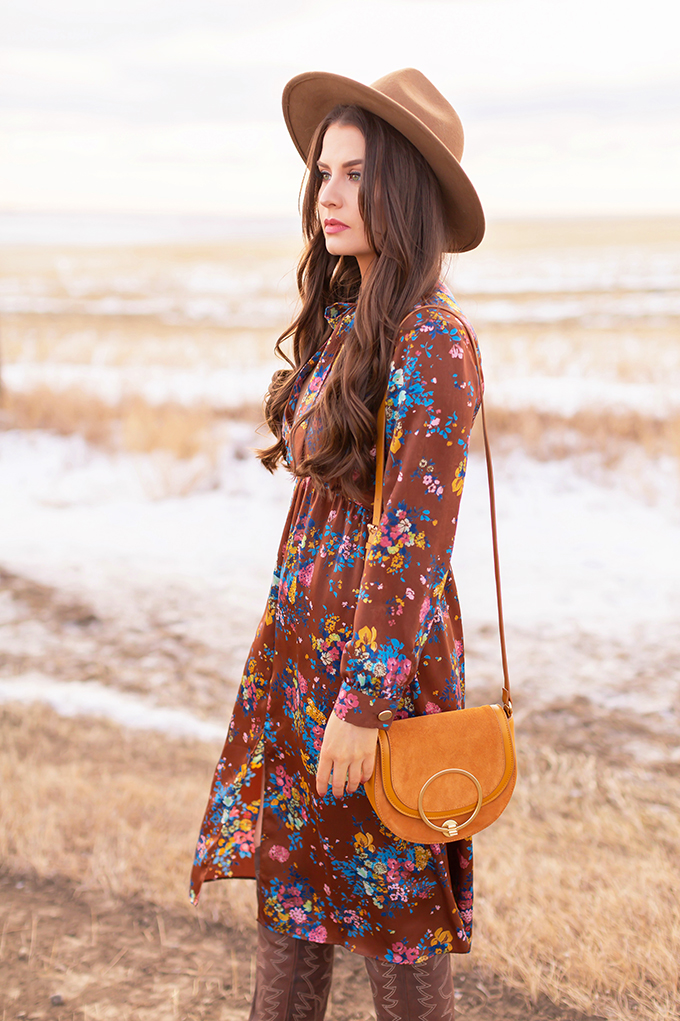 Whether you prefer your florals colourful, tonal, oversized, ditzy, graphic, watercolour-inspired or mixed with other patterns, you'll find it in stores this season. As someone who's very inspired by colour, I opted for this darling satin floral dress that features a healthy dose of Toffee and a handful of other hues from the Pantone Spring / Summer 2019 Fashion Colour Trend Report — including Living Coral (2019's Colour of the Year), Mango Mojito and Princess Blue. I loved the mixture of earthtoned brown juxtaposed with bright, spring inspired hues in this dress and thought it would be perfect for transitional months paired with OTK boots.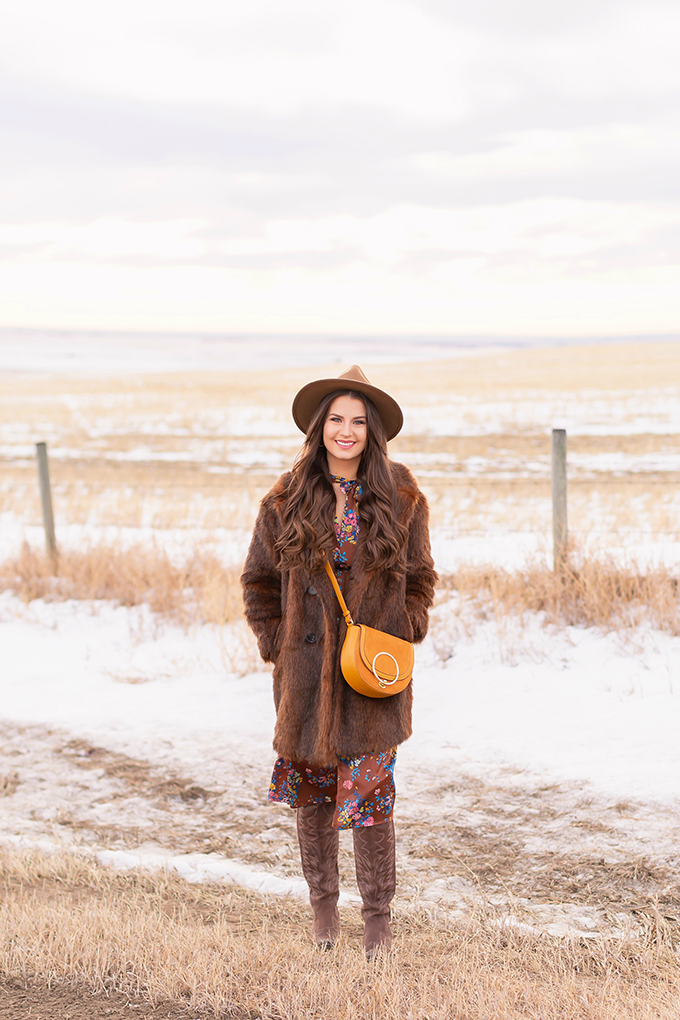 Are you ready to bloom? You can expect a new post in my PATTERN PLAY series dedicated to florals later this spring where I'll be sharing some tips on selecting the right floral for your frame. Until then, you can shop some of my favourite floral print dresses of the season below, or check out all the different ways I've worn florals over the years!

---
TREND: WESTERN BOOTS
Western boots are bigger than ever for SS19 — and this born and raised Alberta girl couldn't be happier about it! My inner bohemian loves western-inspired footwear and it's always had a place in my wardrobe, regardless of whether or not it's particularly on-trend. But, it just so happens that western-inspired boots are everywhere right now — which makes finding your perfect pair easier than ever!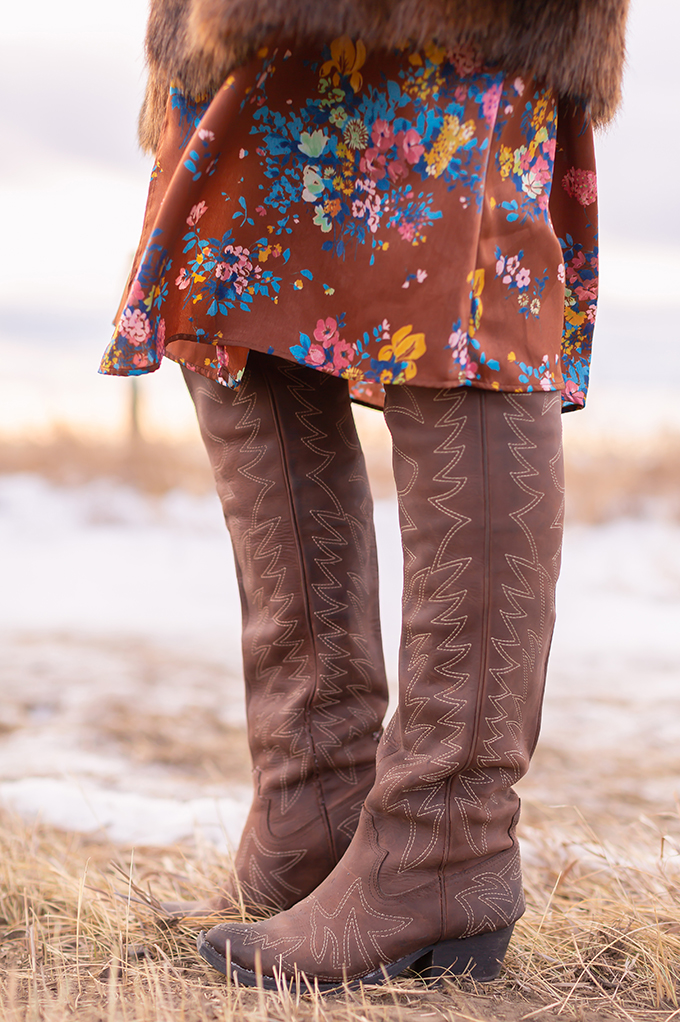 If you've resisted the trend for the past couple of years because you weren't sure if it had longevity, fear not — western inspired footwear is here to stay. And I love any excuse to wear my beloved over-the-knee western boots (although I typically reserve them for warmer weather), which I selected to finish off this look. These OTK stunners work perfectly to add bohemian vibe to this outfit — and they also offer extra leg coverage ideal for transitional weather! I've owned this pair for nearly a decade (do they look familiar?) and love pairing them up with new-in items in my wardrobe each season. As always, this look is a mixture of high, low, old and new!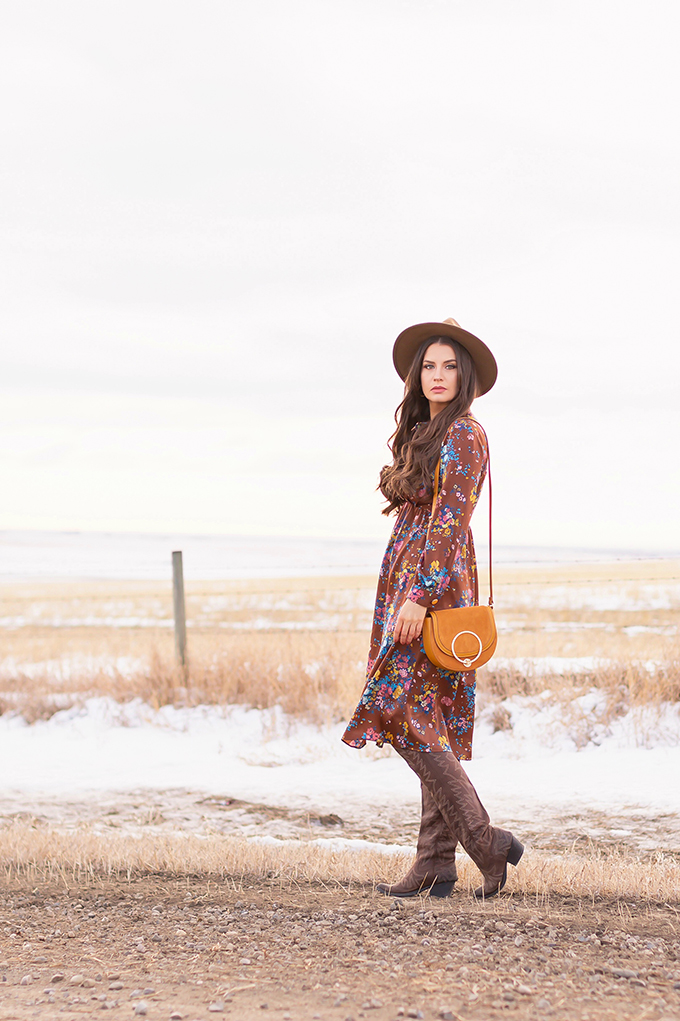 Are you looking to invest in a pair of western-inspired boots? From statement making to understated, there are so many options to choose from — and I find most western boots surprisingly versatile! To ensure you're able to wear them season after season and with a large variety of your wardrobe, opt for a quality, low heel pair in a neutral shade. I've linked some of my current favourites below, along with look-alikes of the pair I'm wearing.

---
TREND: FLAT BRIMMED HATS
---
There's one particular hat style that abounds for SS19 — the flat-brimmed hat! Longtime readers will know I love my hats, but flat-brimmed styles have always been one of my personal favourites to wear — and I also think they're one of the easiest to pull off!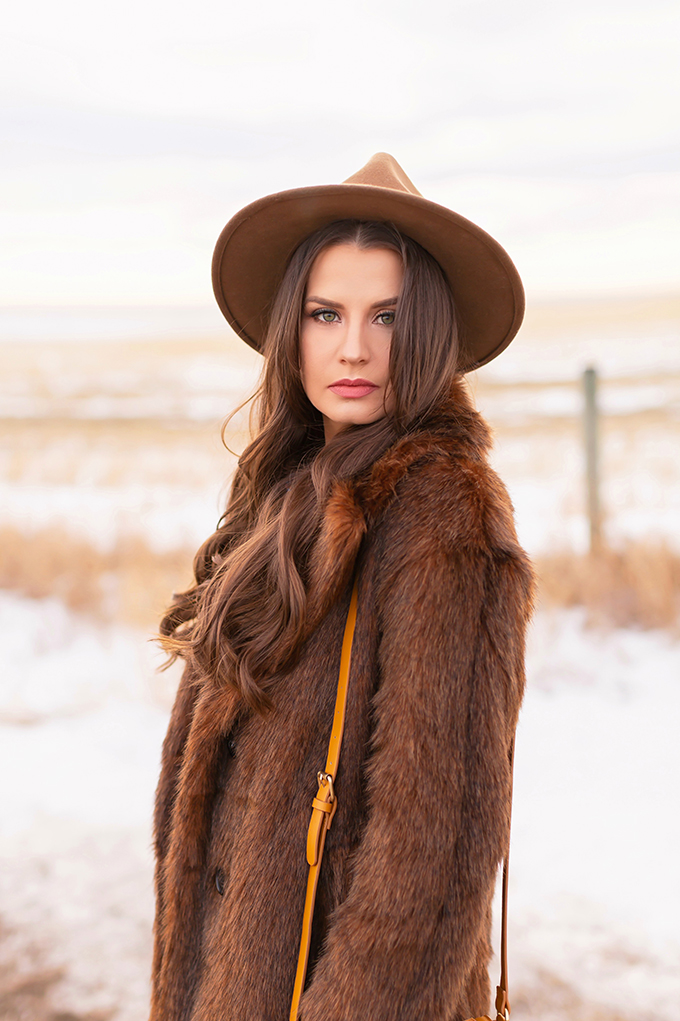 To tie this look together, I selected a wide brimmed toffee hat which you've seen me wear many times on these pages. I love the cool, western vibe flat-brimmed hats add to any look and find myself reaching for them often during transitional seasons! I'm all about juxtaposition in my personal style — and styling more feminine pieces (like my dress) with more masculine or unexpected pieces (like my boots and hat) always add that signature flair unique to my personal style.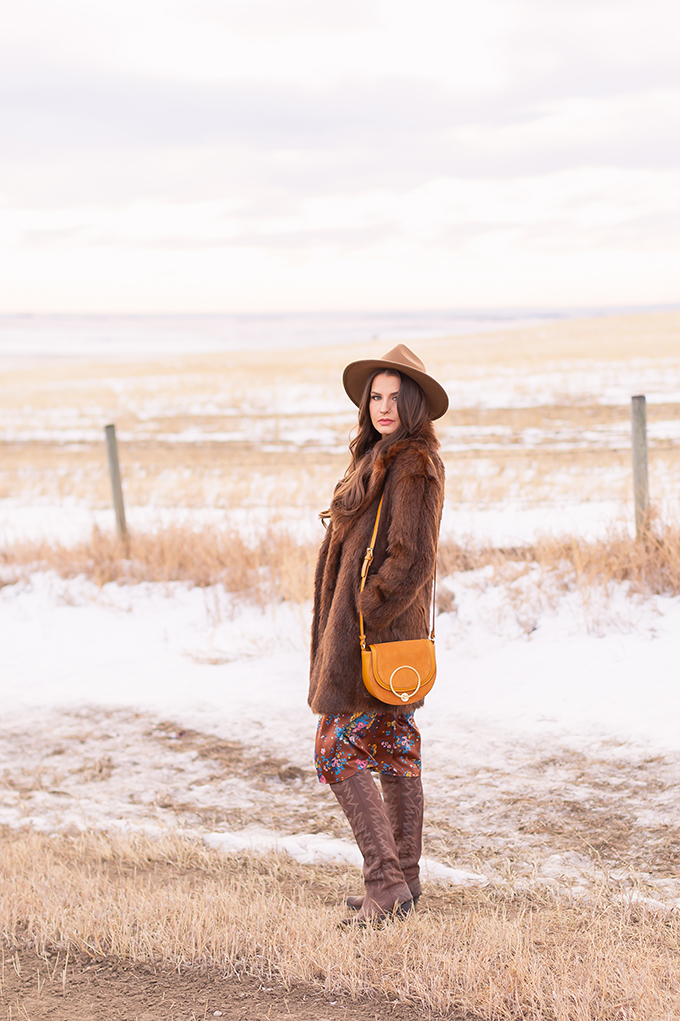 The next time you feel like your outfit is missing something, try throwing on a flat-brimmed hat! Not only do they stylishly conceal an unwashed mane, they're also a great way to breathe new life into your existing wardrobe. I've curated a selection of my favourite flat-brimmed hats for you below!

---
TREND: MUSTARD
---
Although mustard is a colour the typically associate with autumn, it's without a doubt the colour of SS19! Yellow hues have always been one of my personal favourite to wear, but I know not everyone feels the same way. Whether you're a yellow lover or could never find a hue that works for you, I encourage you to experiment with mustard this spring! I like to think of it like a neutral yellow — it's so much easier to wear (and to style) than it's sunny counterparts.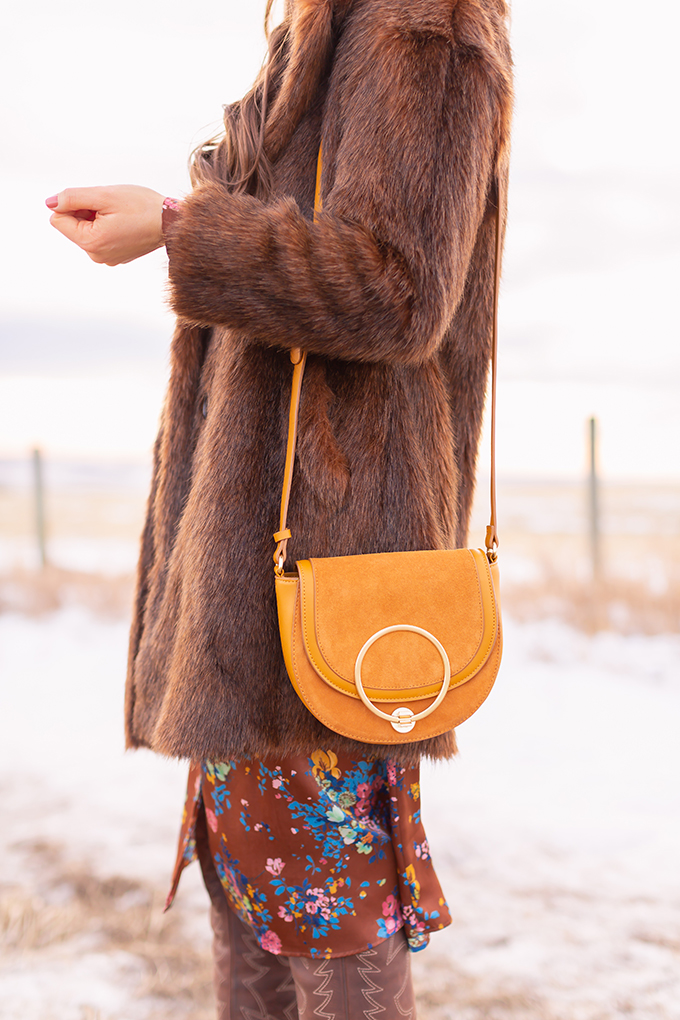 Whether you already own a couple of mustard pieces or are looking to add this cheerful hue to your seasonal wardrobe, a splash of mustard will go a long way in re-energizing your personal style this spring! To demonstrate the trend, I selected my mustard cross-body bag (which I originally debuted in my Autumn 2017 Lookbook) to complete this look. Initially I gravitated towards my blush saddle bag — but then I realized I wore this hat, these boots and that bag in my What to Wear to | The Calgary Stampede, Part 2 post this summer and it was time to switch it up.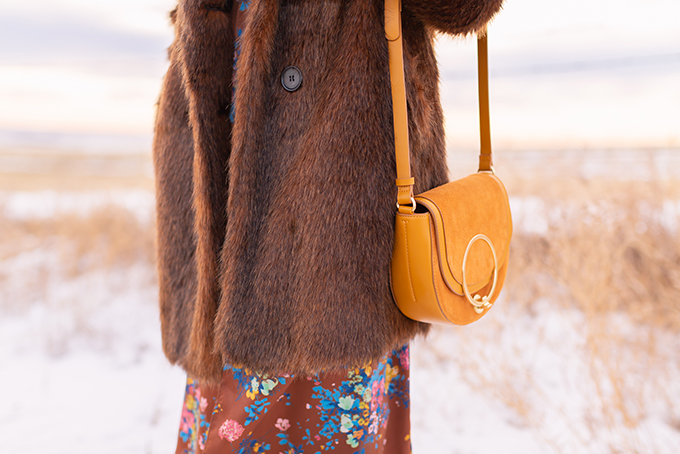 I love looking to Pantone to inspire me to experiment with my colour stories — and I love the way my mustard bag compliments the sunny blooms in my dress! Shop my favourite mustard pieces of the moment below.

---
SHOP THE LOOK
---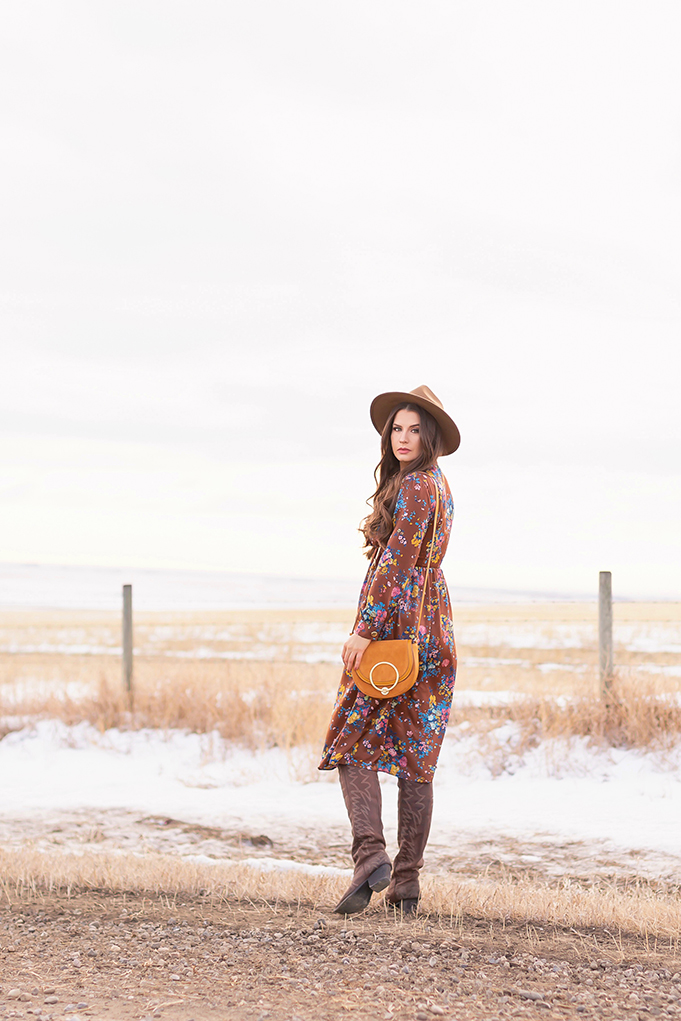 ---
RE-ENERGIZE YOUR SPRING WARDROBE
---
Transitional Staple Staples | Winter to Spring 2019

Spring Trend Guide | Lavender Love
Spring Trend Guide | Check Yourself
Spring Trend Guide | Casual Chic
Spring Trend Guide | Gingham Style
---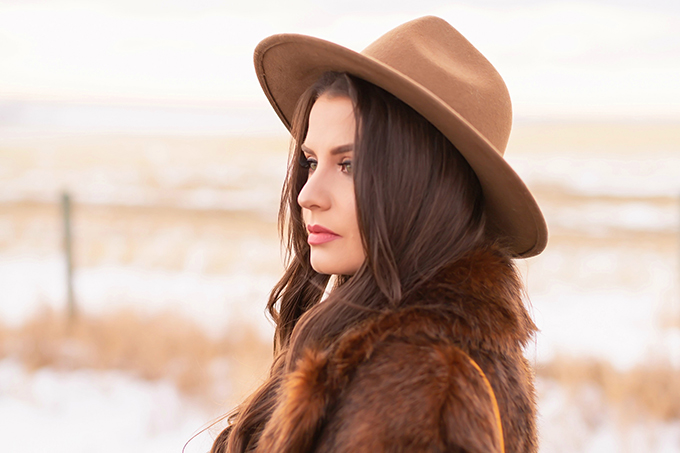 Thanks for stopping by for my first TREND GUIDE of Spring 2019! I hope you enjoyed this experimental, bohemian look and it's inspired you to have fun with your wardrobe as temperatures start to rise. I really love transitional dressing for any setting and the opportunity it provides to combine our favourite winter and spring pieces in new ways!
If you're looking for even more sartorial inspiration, you can also follow along with my JustineCelina Fashion board on Pinterest. And if you want a sneak peek at what I'm wearing before it trickles onto these pages, as well as some exclusive fashion content you won't see here, come join me over on Instagram. I'd love you have you!
---
Disclaimer: This post is not sponsored and contains my genuine thoughts, ideas and recommendations. JustineCelina uses affiliate and referral links, which allow me to receive a small commission when you make a purchase through one of my links. Thank you for supporting the brands and businesses that support JustineCelina!