---
This June, it's all about lilacs here at JustineCelina! Today Rebecca Dawn Design and I are continuing to share the lilac love and showing you how to create your own DIY Foraged Lilac Arrangement at home. Not only are these little purple blossoms gorgeous, they're also free — making it simple and accessible to create a no-cost arrangement in your home this summer.
Bring the outside in to preserve your lilacs a little while longer and add splash of purple to your space while enjoying their timeless beauty and intoxicating scent! We also share our urban foraging and lilac care tips, along with design inspiration for this modest bouquet that celebrates the stunning textures and tones of June's blossoming plants. If you want to learn more about lilacs, you'll love this post!
---
DIY | FORAGED LILAC ARRANGEMENT
---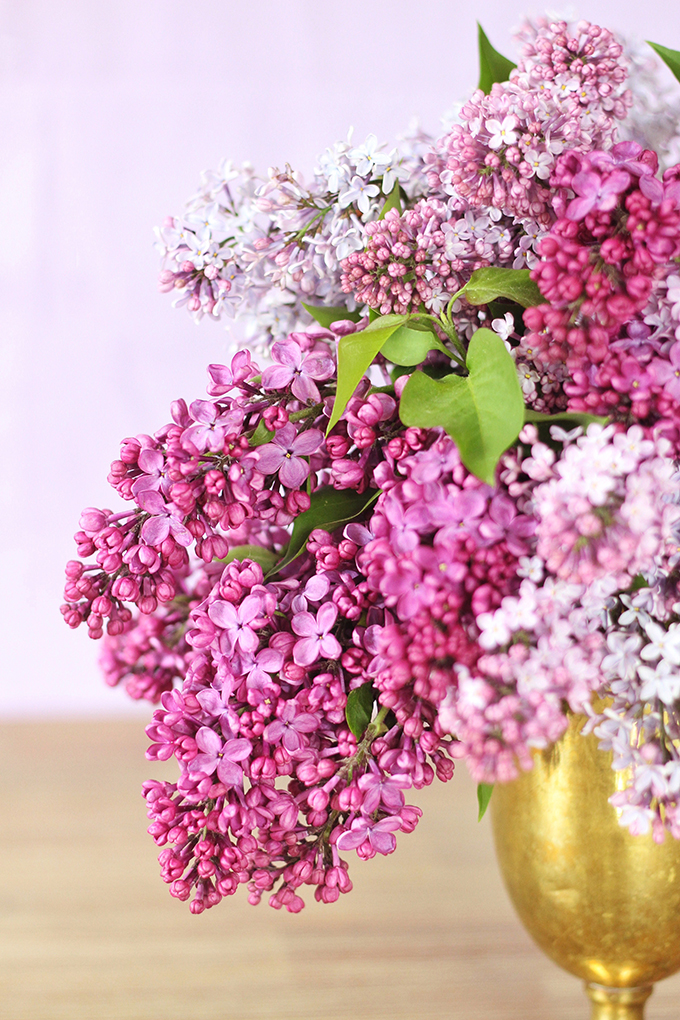 Budding lilacs have always signified the beginning of summer for me! I've loved them since my childhood, so this June I wanted to feature them at JustineCelina to welcome warmer months. Did you know there are more than 1000 varieties of lilac bushes and trees, with blossoms ranging in shade from rich purple, to lavender, to white? Believe it or not, lilacs belong to the Oleaceae plant family (the same family as olive trees!). And in the language of flowers, purple lilacs symbolize first love. How sweet!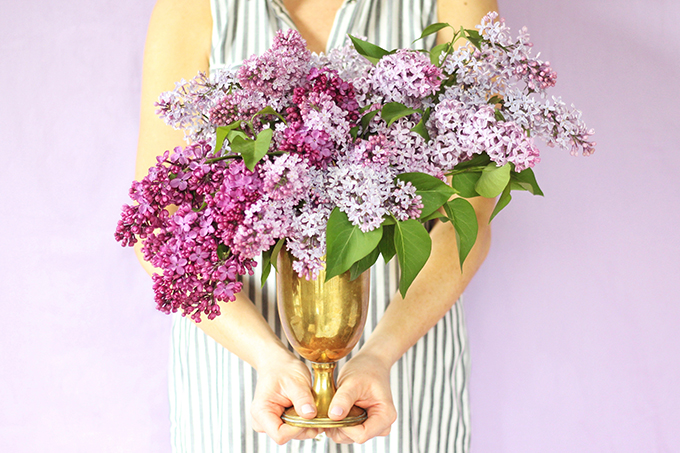 Lilac flowers are edible and make a beautiful garnish for summer salads, stirfrys or desserts. They're also fantastic in cocktails or simple syrups! On the palette, lilacs are citrusy and floral with notes of lemon. Purple lilacs are remarked for their distinct, heady scent and are most fragrant on warm, sunny days — which is why you probably associate the beginning of summertime with lilacs.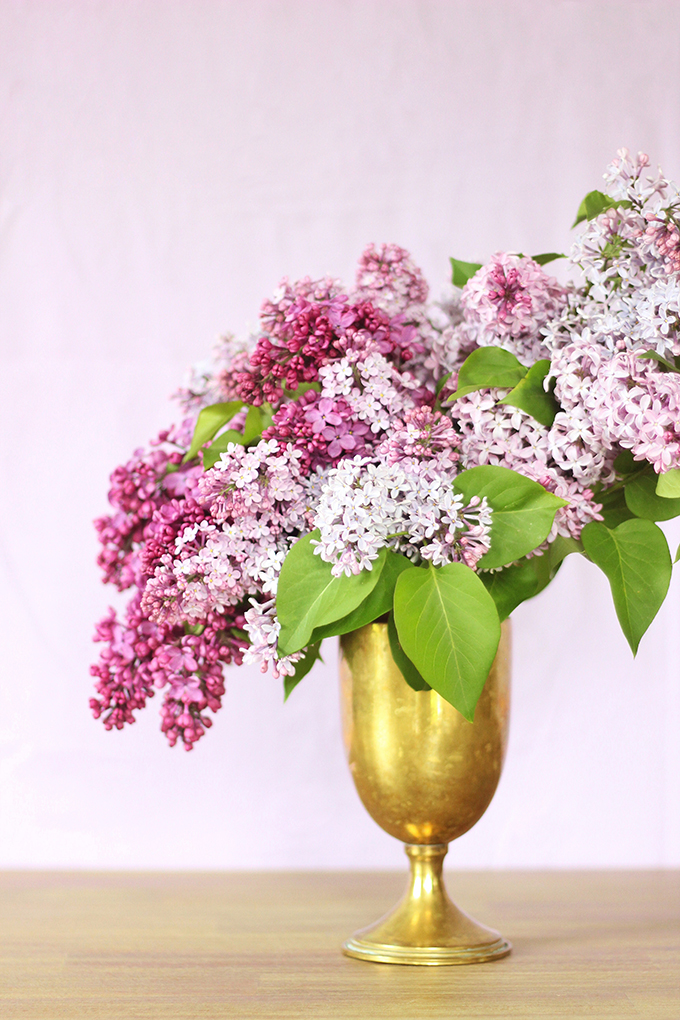 Rebecca and I both live in inner-city Calgary and there are so many varieties of lilacs popping up at this time of year! Whether you have your own lilac tree, or can forage your lilacs from a friend of neighbour, these blossoming branches make a stunning arrangement. When foraging in urban areas, be sure to abide by local laws and be mindful of private property.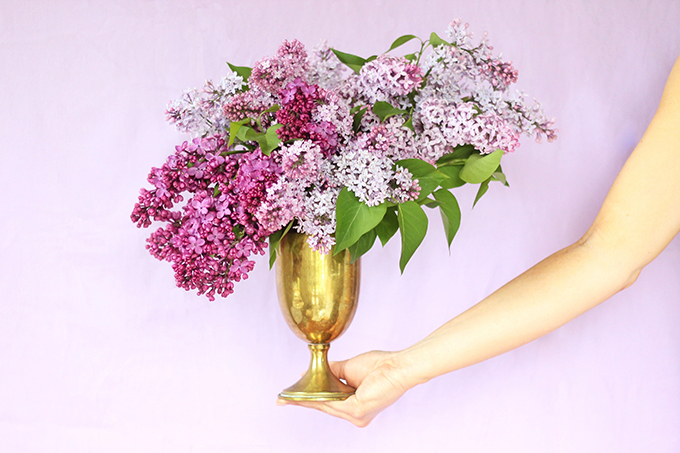 For this simple DIY foraged lilac arrangement, Rebecca and I looked for lilacs in a variety of shades and stages of bloom. Rebecca combined lilacs from a few different trees in this lush, purple arrangement with minimal greenery. The result is a texture-rich, purple arrangement that transitions from rich purple to pale lavender for a tonal, ombre effect. Lilac arrangements make a gorgeous, no-cost centrepiece for a summer dinner party, or a fragrant addition to your living room coffee table!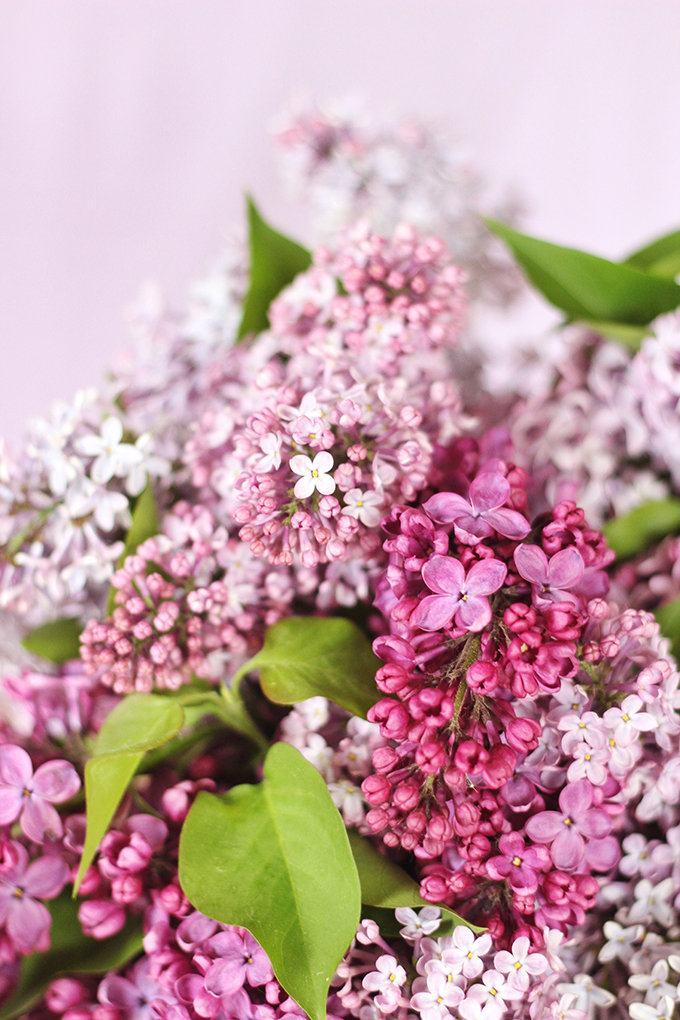 ---
HOW TO FORAGE AND CARE FOR LILACS
---
While Rebecca's expert foraging and care tips are great for lilacs, you can also use them for any flowering branch!
1. The best time to forage lilacs is the early morning, when the flowers are fully hydrated.
2. Use a sharp, clean knife to trim the branches a few inches longer than the final length you would like. Always cut just above a leaf, bud or branch junction.
3. Immediately place the cut end of the branches in a bucket or other container filled with warm water.
4. Once you get the lilacs home, fill a clean vase with warm water and a floral preservative, preparing the mixture according to instructions on the floral preservative label.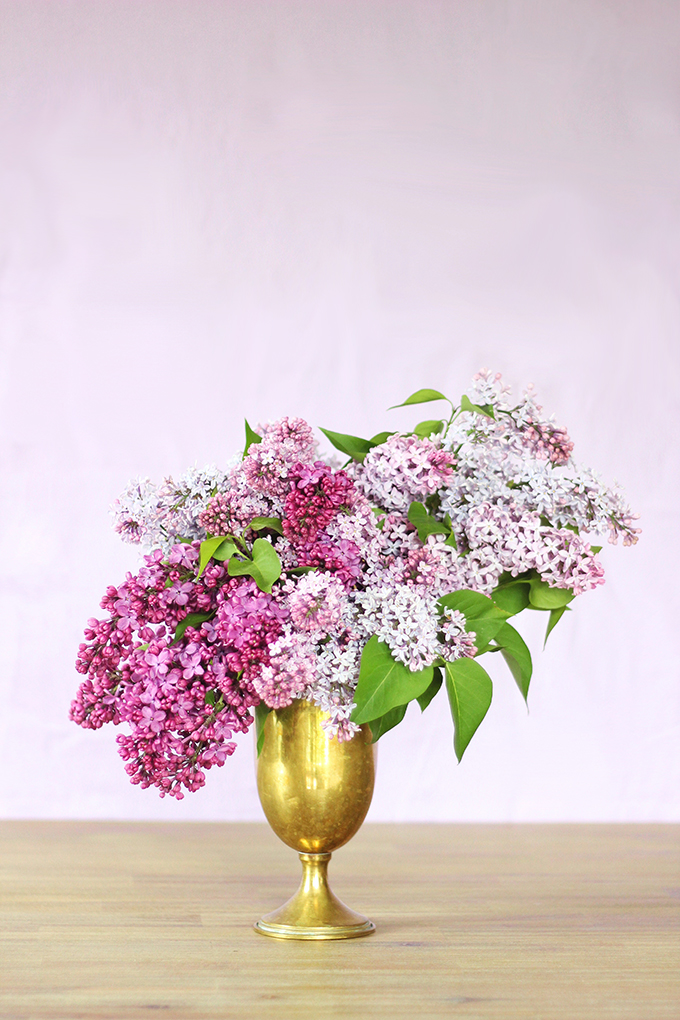 5. While the branches are still submerged in the bucket of water, cut any leaves or small stems off the portion off of the lilac branch that will be below the waterline in your arrangement. This will ensure the cut surface is not exposed to air and extend the life of the blossoms.
6. Use a diagonal cut to remove at least 1/2″ of each branch before arranging them.
7. Transfer the lilacs quickly into the prepared, water-filled vase.
8. Replace the preservative-and-water solution whenever the water in the vase appears cloudy, which indicates bacterial activity. Each time you replace the water, trim off at least 1/2″ of stem from the bottom of each flower stem to prolong the life of your lilacs.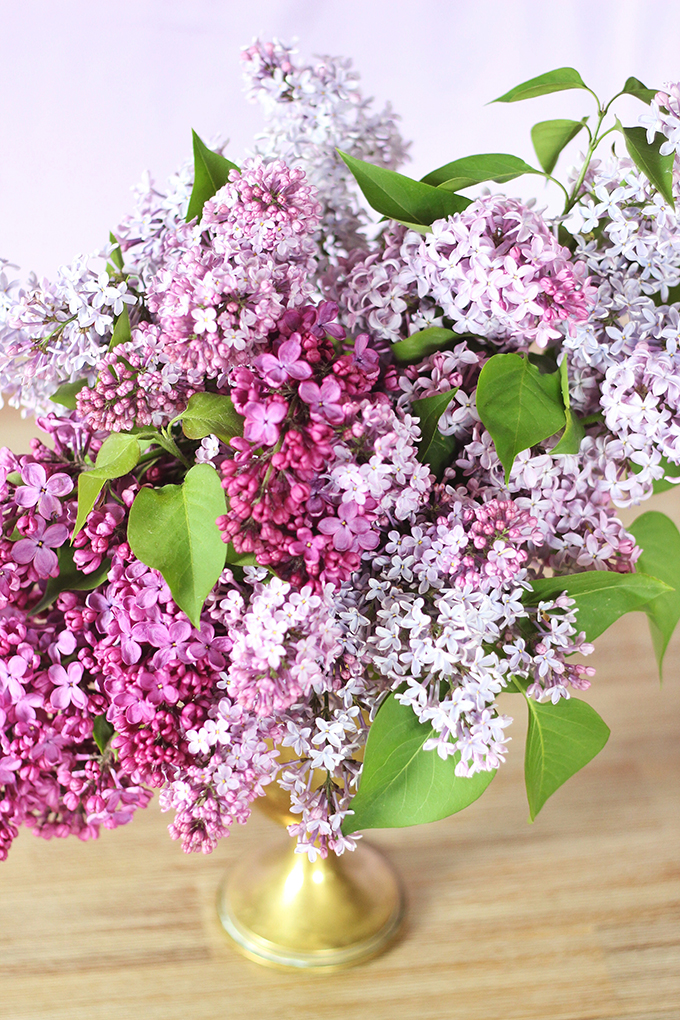 ---
I hope you enjoyed the third post in our Flower Education Series and were inspired to create your own foraged arrangement this summer! I always learn so much about flowers working with Rebecca on these posts. If you have any flower related questions or ideas, feel free to leave us a comment and we'll do our best to accommodate your request in an upcoming post. And if you'd like to learn more about other spring and summer flowers, be sure to check out the other posts in this series!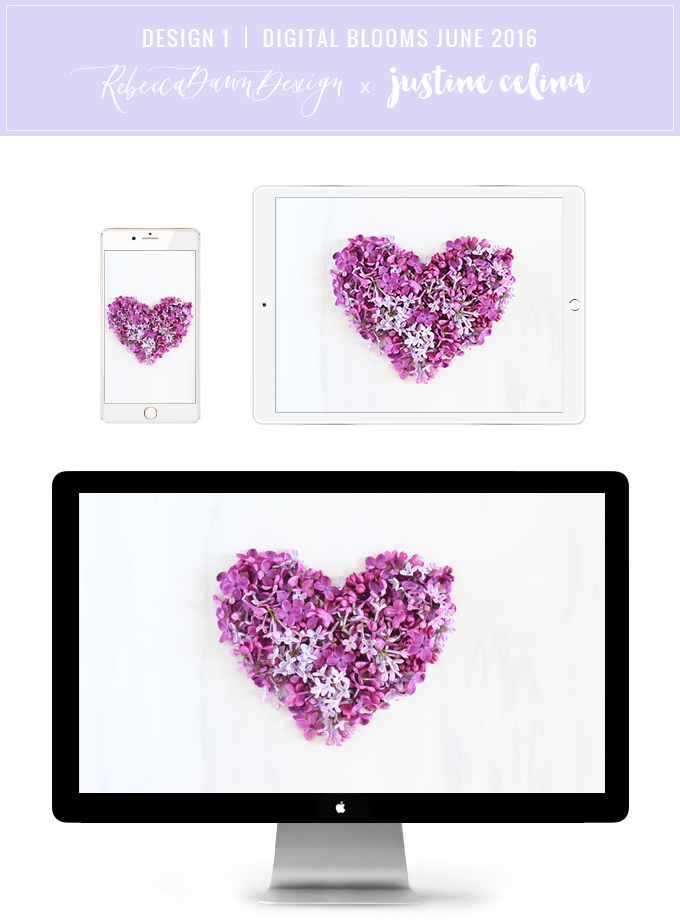 ---
Craving more lilacs? You can download 3 free wallpapers for your digital devices inspired by these gorgeous purple blossoms in our June edition of Digital Blooms!
---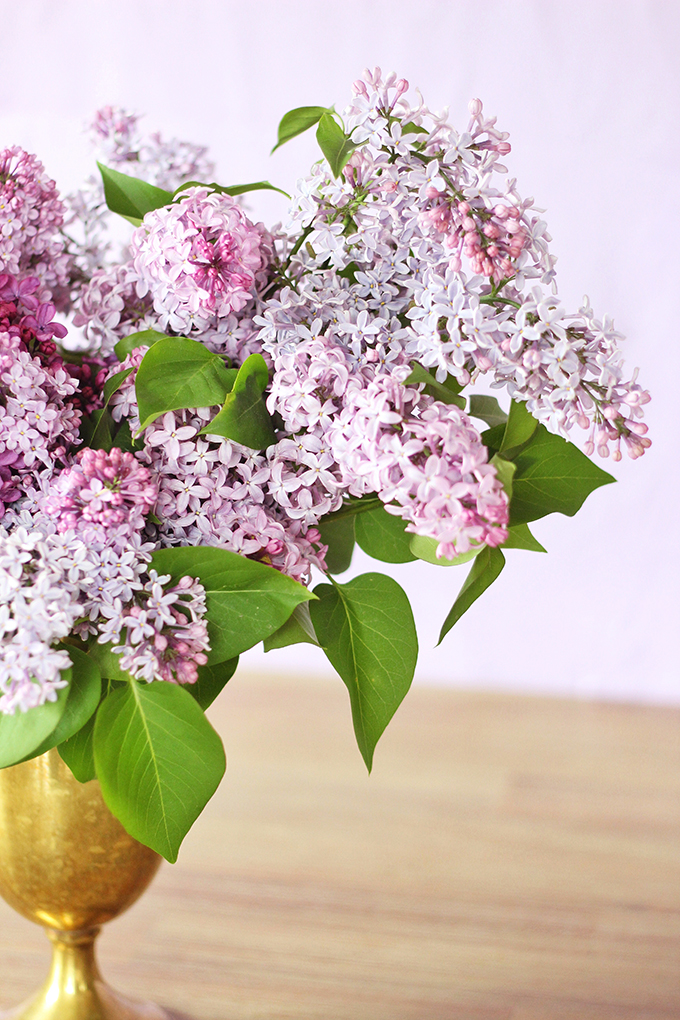 ---
Disclaimer: Thank you to Rebecca Dawn Design for partnering with me to create this post. This post is not sponsored, and contains my genuine thoughts, ideas and recommendations.