---
My love for the season has definitely translated into my September Beauty Favourites! Last month my favourite products were rich and earthtoned across the board. I'm sure I'm not the only one who can't wait for fall to roll around so I can incorporate some deeper, richer hues into my beauty routine — give me all the autumnal reds, berries, browns and golds, please!
I discovered some luxurious, comfortable lipsticks in on-trend shades for fall 2016, a stunning duochrome eyeshadow that's one of the most unique shades I've ever worn, used some of my favourite lip liners all over my lips as matte lipsticks, rekindled my love for Becca's Shimmering Skin Perfectors and totally used up my favourite Hourglass Ambient Lighting Powder. Stay tuned for some fantastic fall beauty recommendations and an introduction to the Fall 2016 Pantone Fashion Trend Report — you're going to be hearing a lot about it over the next couple of months here at JustineCelina!
---
SEPTEMBER 2016 BEAUTY FAVOURITES
---
CND $26.00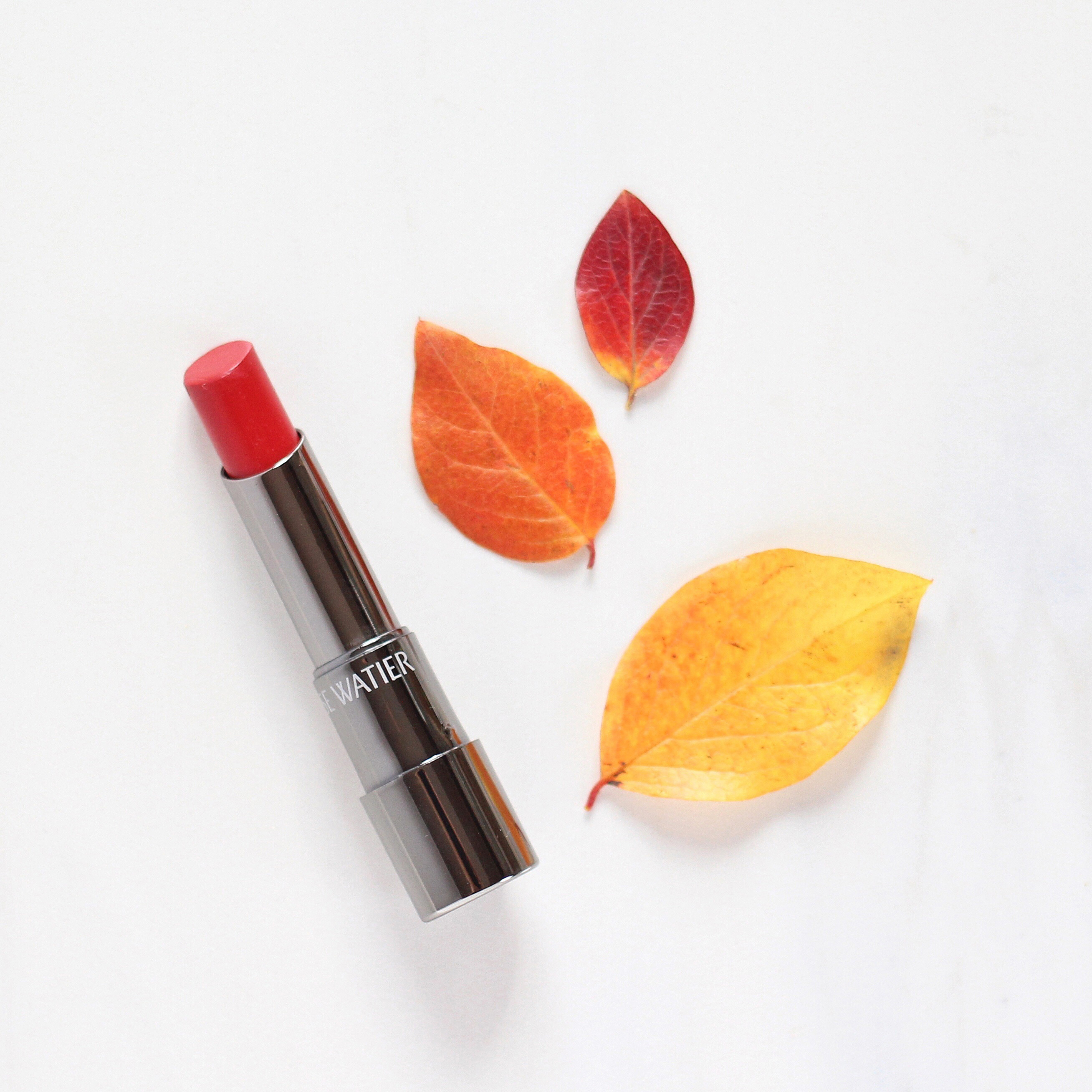 Red is a huge colour trend in fall fashion this year and it's a shade that translates seamlessly to beauty. According to the the Fall 2016 Pantone Fashion Trend Report (have you been following along over on Instagram stories where I've been chatting about it for the last few days?) the Lise Watier Rouge Fondant Supreme Lipstick in Marilyn is very on trend this season! It's a bang on colour match for Aurora Red — which Pantone describes as a bold red that's warm, sensual and immediately pleasing to the eye. That about sums it up, don't you think? This is a very confident, very wearable red and I think it would look fantastic on just about anyone!
I fell head over heels for the Lise Watier Rouge Fondant Supreme Lipsticks in September. They're an ultra luxurious, ultra cushiony formula that glides onto the lips like butter. I'm sure you can tell by the swatch just how hydrating and nourishing these lipsticks are — they're such a treat on my drier-than-usual September pout! They're also paraben free and loaded with antioxidants. The formula of the Rouge Fondant Supreme Lipsticks remind me most of my beloved Bourjois Color Boost Lipsticks (just without the SPF) or the now discontinued Bite Beauty Luminous Creme Lipsticks — both of which are some of my all time favourites. Wear time is average for a traditional lipstick — about 3-4 hours before I need to reapply. If you're looking to treat yourself or someone special to a truly beautiful lipstick this autumn, you can't go wrong with either of my picks from Canadian brand Lise Watier.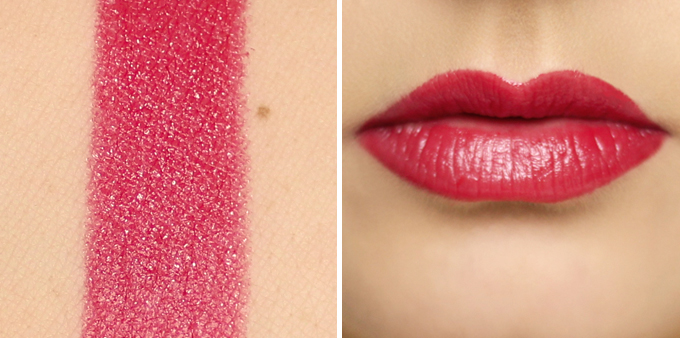 I'm wearing the Lise Watier Rouge Fondant Supreme Lipstick in Marilyn
---
CND $26.00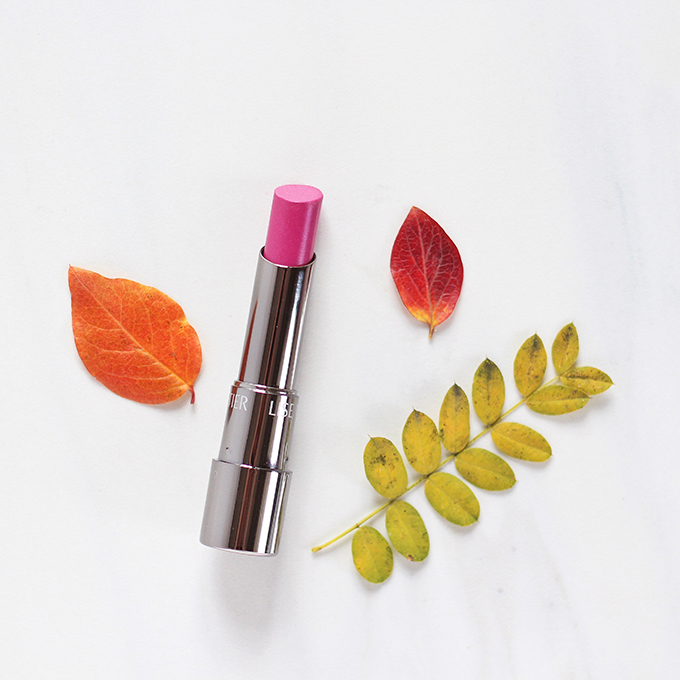 Stella is another stunning shade from the Lise Watier Rouge Fondant Supreme Lipstick range that I fell in love with in September. It's a brightened berry shade with a pink undertone — and it coordinates well with autumn's earthtones. The formula is consistent across the Rouge Fondant Supreme Lipstick shades that I've tried in both pigmentation and wear time. If you're a berry lover that's looking for something a little bit brighter and lighter for early autumn, give Stella a shot! I personally love reds and berries with green eyes, but both shades from the Lise Watier Rouge Fondant Supreme Lipstick range I mentioned this month would be flattering on a variety of skintones.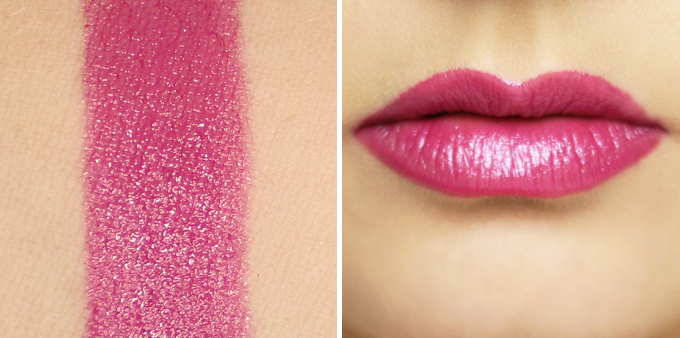 I'm wearing the Lise Watier Rouge Fondant Supreme Lipstick in Stella
---
USD $12.00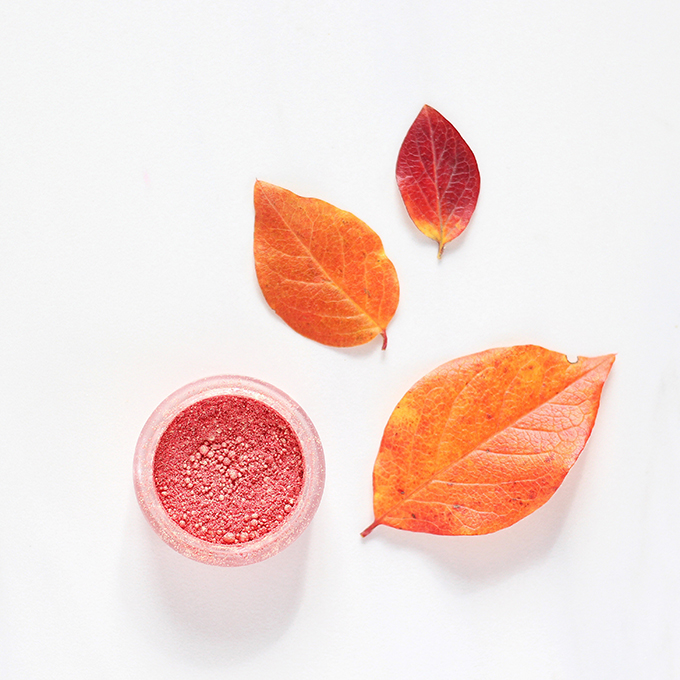 This is one of the prettiest shadows I've ever put on my eyes! I receive so many compliments on my eyes when I wear this pigment — not on my makeup, which I think is interesting. The MakeupGeek pigment in Hologram is a duochrome shade that reflects orange, pink, green and gold depending on the lighting and the way you move. It's a totally unique pigment that ends up looking golden pink with a mostly green reflect on me. I also love to layer black liquid liner over it to make a custom forest green shade, like I'm wearing below. If you'd like to see it in action, I'm also wearing it in this recent style post.
One thing to note: the packaging on the pigment I received snapped on first use. I think she's repackaged these pigments since I purchased mine, but in reading the the reviews on the Makeup Geek site I discovered that the flawed packaging was consistent issue. If you're going to purchase this gorgeous pigment, I would suggest emailing customer service first to ensure they've resolved the packaging.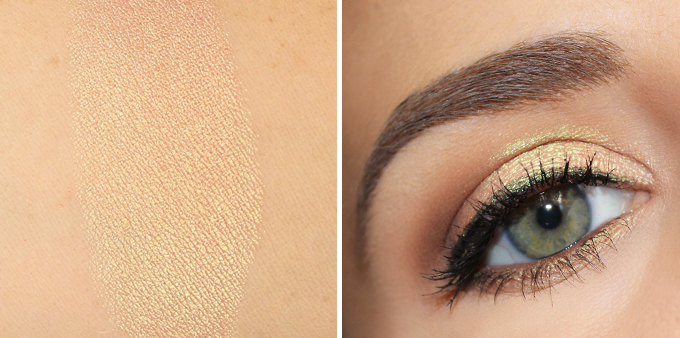 I'm wearing the MakeupGeek Duochrome Pigment in Hologram in the centre of my upper lids
---
CND $11.01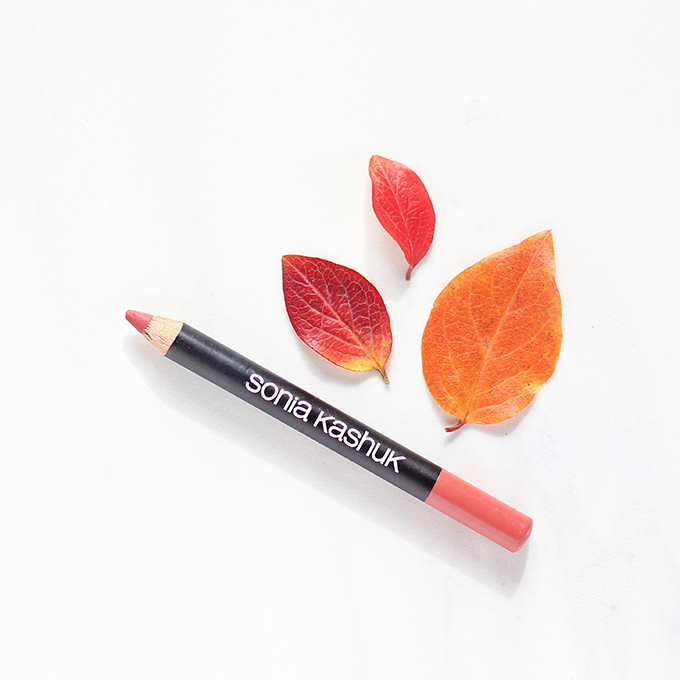 Although Sonia Kashuk products are no longer sold in Canada (they were exclusive to Canadian Targets… don't get me started on that one!), you can still order them online or find them at Target in the US. So, I did want to mention the Sonia Kashuk Lip Definer in Rosewood which I've been wearing a lot this past month to line and completely fill in my lips for a matte lipstick effect (that's one of my favourite tricks!). It's such a gorgeous, flattering hue that falls somewhere between a marsala and a burgundy — and it's perfect for the season. It wears for a solid 6 hours on me and is comfortable and velvety on the lips. Once again, I'm also wearing it in this recent style post.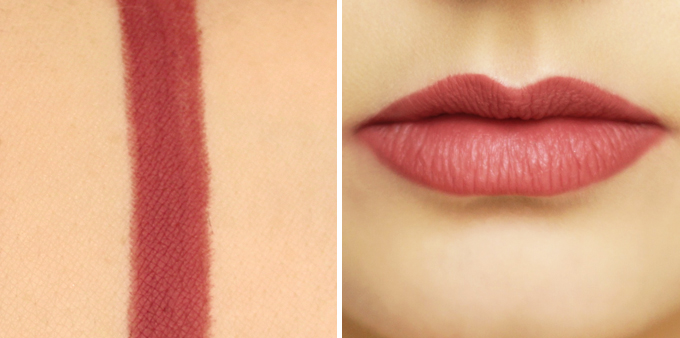 I'm wearing the Sonia Kashuk Lip Definer in Rosewood all over my lips as a matte lipstick
---
CND $5.00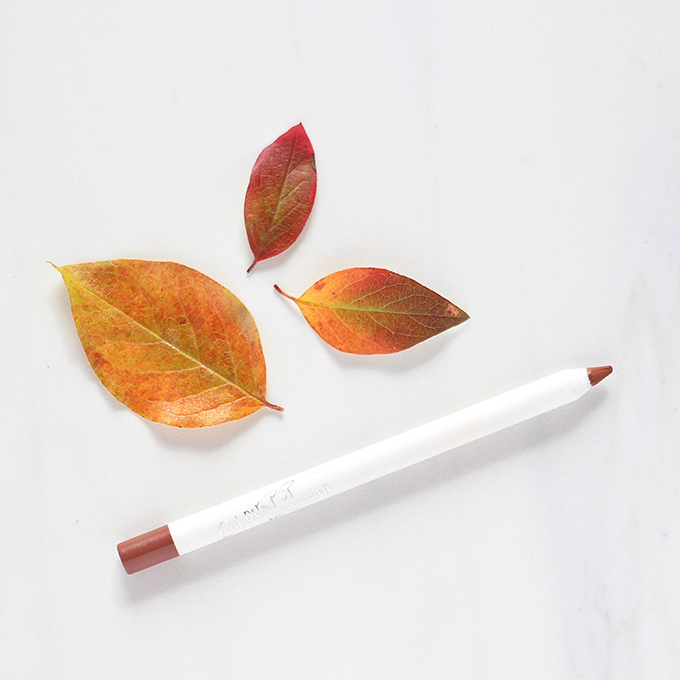 Brown lips — you either love 'em or you hate 'em. Personally, I think most people can find a brown to suit their skintone and compliment their features. In September, I found my perfect matte brown lip in Colourpop's Taurus Lip Pencil — which they describe as a mid-tone yellow brown. I don't find that it pulls yellow on me, but I adore this shade. I love to line my lips and and then completely fill them in with this pencil. I prefer to wear Taurus a little bit more sheerly in the centre of my lips so my own natural lip colour peeks through — I find it more flattering that way. If you're looking for a true brown lip liner that's inexpensive, pigmented and creamy, throw Taurus in the cart during your next Colourpop order! Colourpop lip pencils are some of my favourite on the market regardless of pricepoint and I've mentioned them many times here at JustineCelina — you truly can't go wrong with any shade from the range.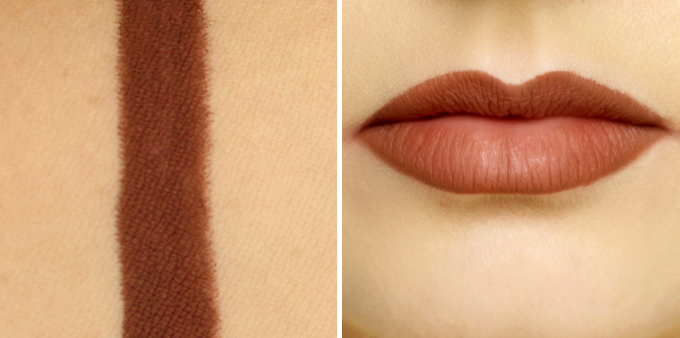 I'm wearing the Colourpop Taurus Lip Pencil all over my lips as a matte lipstick
---
CND $70.00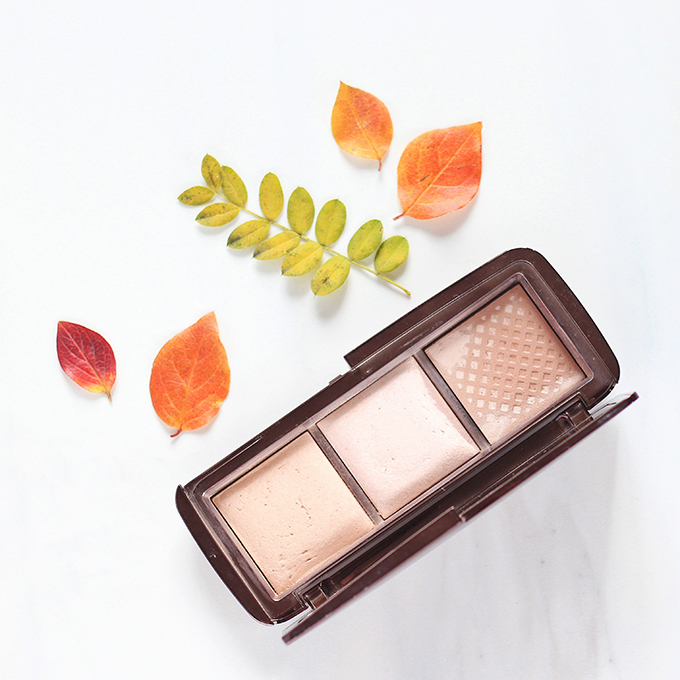 As you can see, I've been loving the Hourglass Ambient Lighting Palette lately! Specifically, Dim Light (which you can also purchase separately in a larger size) has been on heavy rotation for the last few months. Have you been following along with my Instagram Stories? I often share beauty tips as I'm getting ready, or products I'm testing or loving! I mentioned this palette last week when I was getting ready for an event and a few of you actually went out and bought it afterwards. Since I did totally use up Dim Light last month I thought I'd share how I've been using the palette with you! The Hourglass Ambient Lighting Palette is a staple in my beauty routine and honestly I don't feel like I can get away without it. While this is a spendy item, I do believe there's nothing else like it on the market so the cost is justified.
The Hourglass Ambient Lighting Powders can be used in many different ways — they're ultra smooth finishing powders that capture, diffuse, and soften the way light reflects on skin. Sounds pretty amazing, right?! They make you look airbrushed in real life (I've received that comment on more than a few occasions) and give the skin a soft focus effect. I use my favourite shade in this palette, Dim Light, with a big fluffy brush once I have my all my makeup on to swirl everything together and make it look blended and cohesive. I use the middle shade, Incandescent Light, as a subtle, daytime appropriate highlighter. And I use the soft bronze shade, Radiant Light (also sold separately) as a subtle bronzer to add warmth the the perimeter of my face. Radiant Light also makes a fantastic transition shade for almost any eye look! If you want to get a more thorough idea of how it looks on the skin, I'm also wearing it in my Pre Fall Transitional Style post (I'm wearing most of my September favourites there!).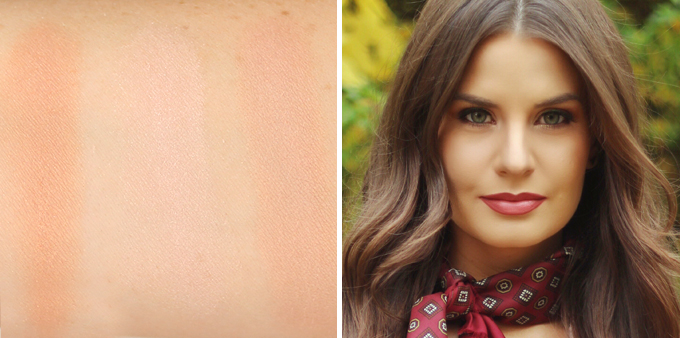 Shades left to right: Radiant Light, Incandescent Light, Dim Light. I'm wearing the HOURGLASS Ambient Lighting Palette as mentioned above.

---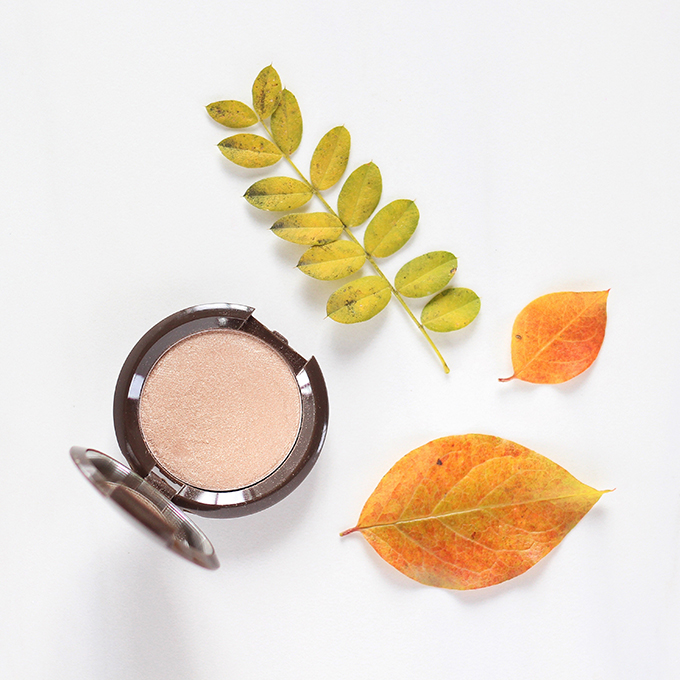 I'm totally obsessed with Becca's Shimmering Skin Perfectors (hightlighters) and I've mentioned them many times here at JustineCelina. One shade I haven't actually mention yet is Opal — my current obsession this autumn. A little bit cooler and deeper than some of Becca's other popular shades and I seem to gravitate towards it during the fall as things cool off. It's very neutral verging on cool — Becca describes it as a golden opal pearl. Cooler toned highlighters aren't something I usually like, but for some reason Opal is a shade that works beautifully on my skintone when I want something totally neutral (FYI — I'm a MAC NC 25 – 30). If you're wondering about the mini size — I actually picked this one up as part of a Sephora Beauty Insider point perk with a purchase (awhile ago, now). I've been using it so much recently and haven't even put a dent in it! The Becca highlighters are definitely worth the splurge — they're extremely pigmented so you only need the tiniest amount. They last forever and they also make fantastic eyeshadows! I'm also wearing Opal in my Pre Fall Transitional Style post.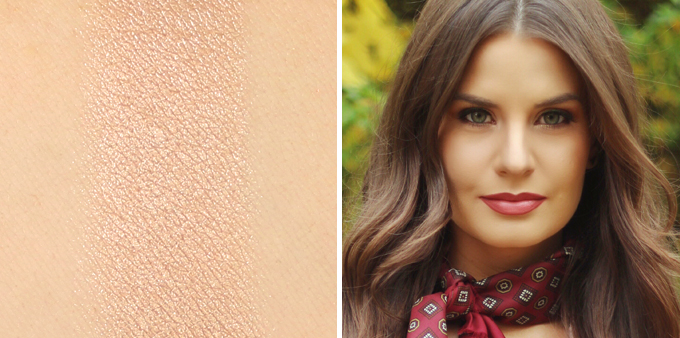 I'm wearing the BECCA Shimmering Skin Perfector Pressed in Opal lightly on the tops of my cheekbones, tip of my nose and cupid's bow
---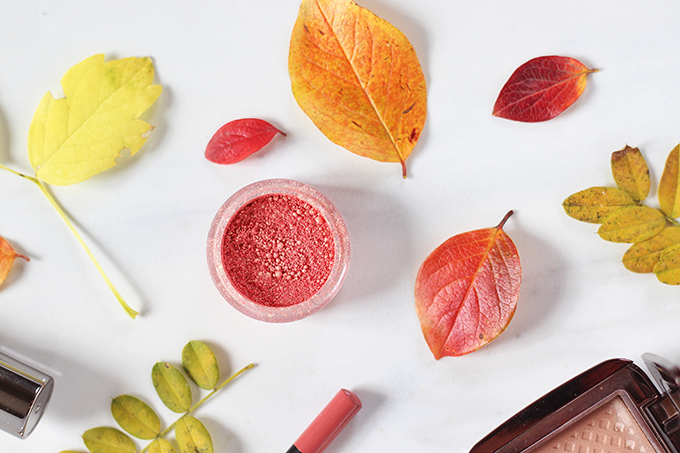 What are your favourite beauty products this autumn? If there's a lipstick, lipliner, eyeshadow, highlighter — or anything else you've been loving just leave me a comment and we can chat beauty! I'm so excited for what's to come in the beauty department here at JustineCelina this year and I can't wait to share it with you. Have a fantastic day, everyone!
---
Disclaimer: Products marked with * indicate press samples provided for editorial consideration with no obligation for feature or review. This post is not sponsored, and contains my genuine thoughts and recommendations. JustineCelina uses affiliate and referral links, which allow me to receive a small commission when you make a purchase through one of my links. Thank you for supporting the brands that JustineCelina.com!