---
Happy Autumn Equinox, everyone! Today I'm saying farewell to summer and welcoming fall with the second installment in my PATTERN PLAY series, dedicated to one of my favourite prints — stripes! Remember when I mentioned that I took some time to get re-inspired style content wise this summer and was planning to bring you more comprehensive, multi outfit posts to JustineCelina? Well, this is the first of many! I'm kicking things off today by rounding up all the different ways I wore stripes this summer, highlighting key stripe trends and colours I'll be wearing into autumn as well as sharing shoppable links for my transitional striped wardrobe (plus my AW18 wishlist!).
When I look back on all the content we captured this summer, one thing is very apparent — I wore a lot of stripes! These past few months I really took my commitment to getting back to a way of living and working in a way that nurtures my passions seriously — which included lots of time spent outdoors with friends and family. I also switched things up and shot more style content in the moment whenever possible! I wore stripes from the prairies, to farmers markets, to berry pick, to mountain lakes and just about everywhere in between. They're such a versatile print that can be worn in both personal and professional settings, ranging from classic and understated to bright and bold — a true chameleon print! If you're a stripe lover or are looking for some fresh styling ideas to incorporate stripes into your autumn wardrobe, join me today for a crash course in all things striped!

---
PATTERN PLAY | STRIPES
---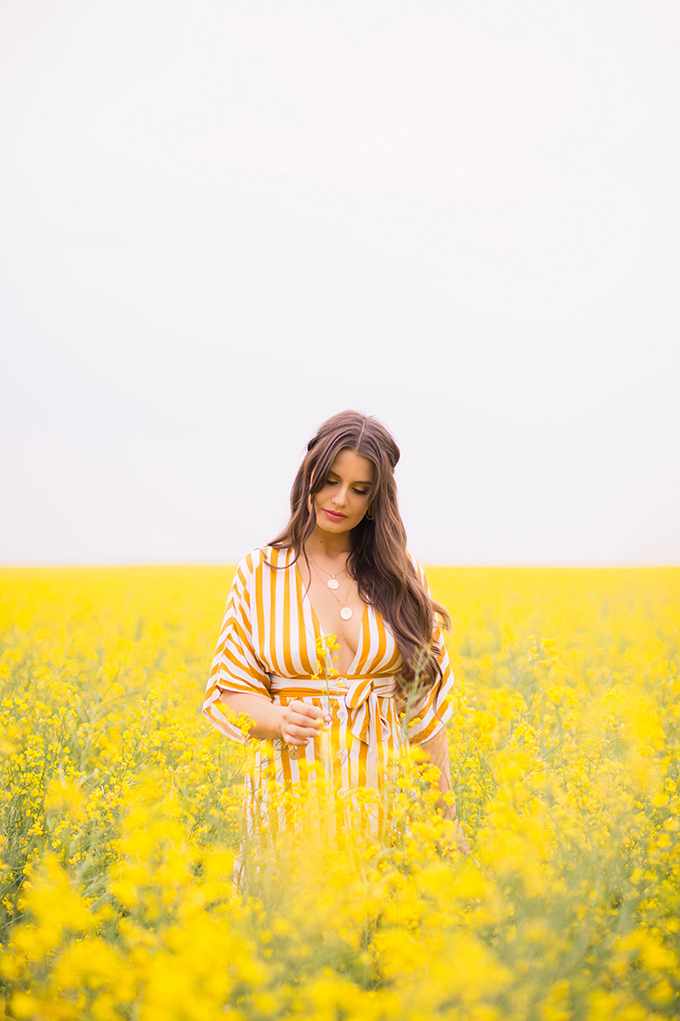 I had a major love affair with dresses this summer! Year after year, season after season, dresses are something I love to wear — but especially during the summer, they're such a breeze to just throw on. Many of you were really suprised over on Instagram when I revealed that this mustard, plunging striped dress was actually an under $30 Forever 21 find! Although it's very low, I figure you only live once — and my window of opportunity to go braless with loose, low necklines certainly won't last forever, so I may as well embrace it!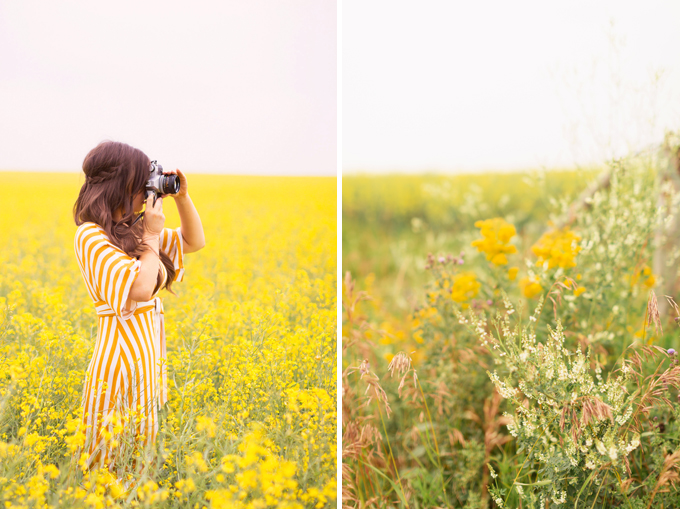 On this particular day we headed down to The Saskatoon Farm in Foothills, Alberta in search of fresh saskatoons and canola. We only ended up with about a third of a bucket full of berries, which would have just been enough for the Summer Bounty Salad with Saskatoon Cider Vinaigrette I wanted them for — but we also ended up finding wild saskatoon bushes growing alongside a nearby field of canola! We pulled over to take our annual canola photos and ended up foraging a full bucket full of wild saskatoons. It was a lovely afternoon — and so quintessentially Albertan!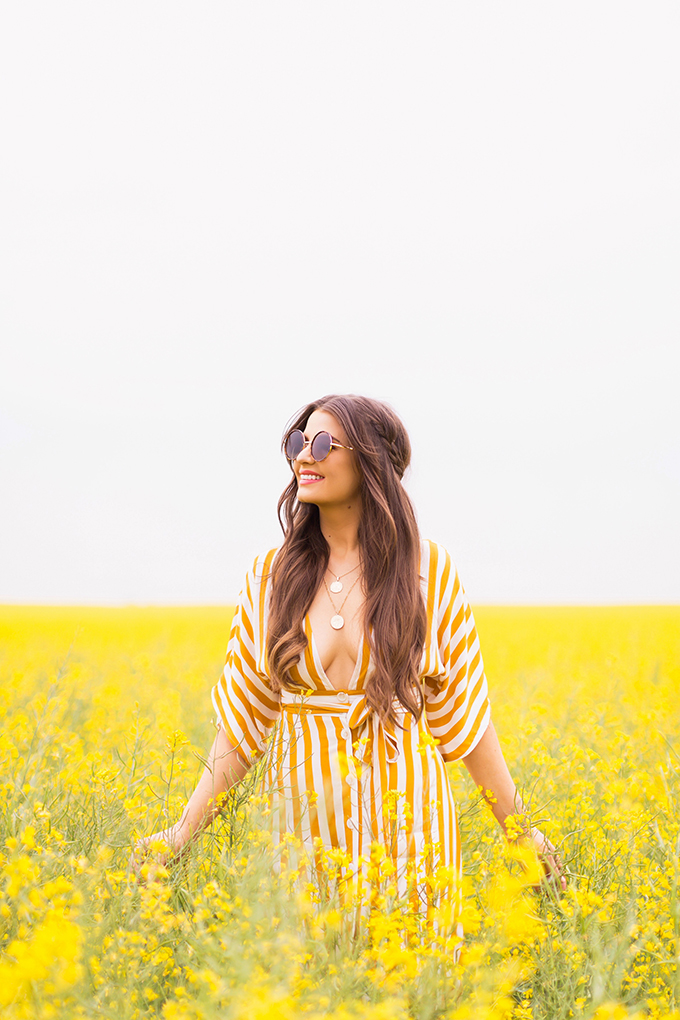 My love of stripes and mustard was strong this summer — and they're both trends that we see also transitioning into AW18. I'm currently planning a COLOUR CRUSH series dedicated to mustard, which is a massive colour this season. Personally I've always loved wearing yellow hues, so I'm happy to see them in abundance this autumn. You can't go wrong with stripes set in any 70's inspired (another huge trend and one I'm very fond of) hue as we transition into fall!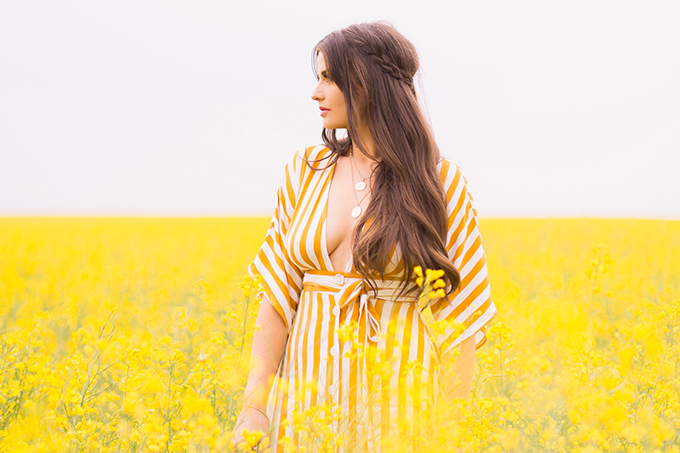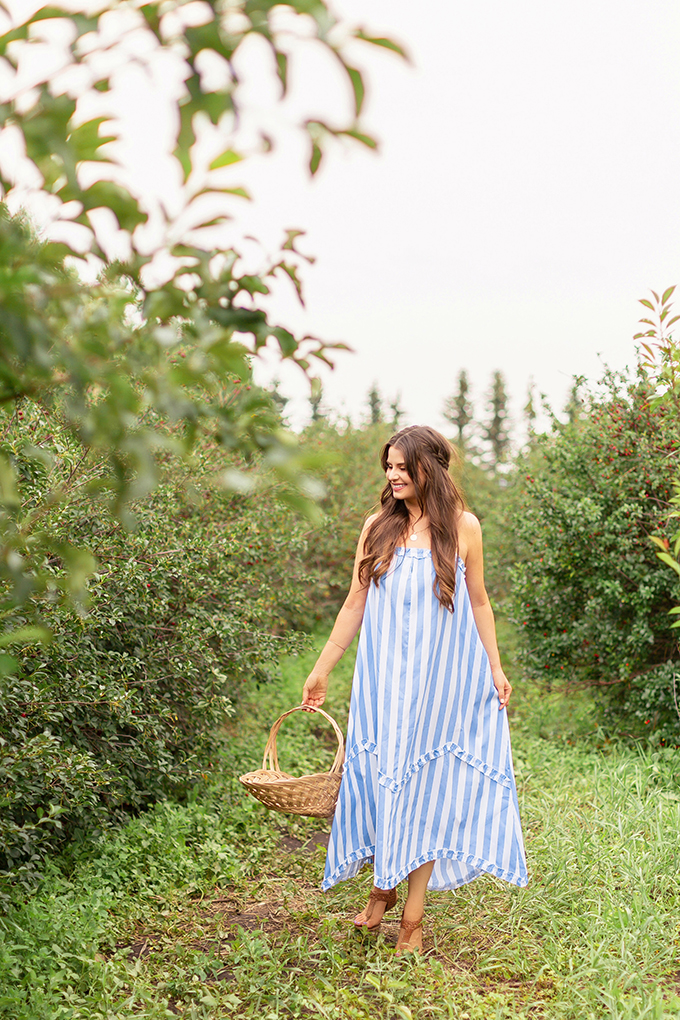 Another look from our saskatoon / canola roadtrip south of the city! This is what I actually wore for our berry picking adventures at The Saskatoon Farm  — a dreamy, white and blue striped maxi that's as light as air. By now you probably know I'm a huge fan of maxi and midi dresses year round (in fact, this past winter I even published a post about how to style them for winter!), but I wore this particular dress so much over the summer.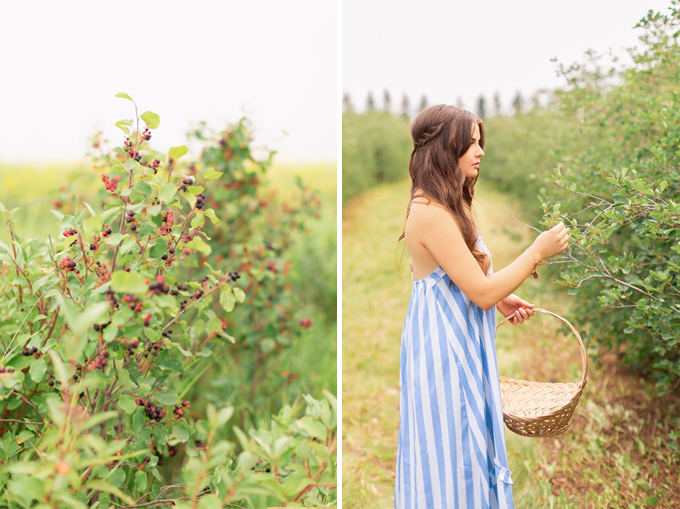 While white and blue stripes aren't very autumnal, they're a personal favourite of mine for the summer and spring. They're definitely a very classic stripe, no matter the iteration. Last summer, I also wore blue and white stripes to sasktoon pick and we shot this look afterwards! And way back in Spring 2016 after I first started blogging, I also incorporated blue and white stripes into my spring wardrobe (I still wear and love that top!). Now is a great time to shop for warm weather classics because they're extremely discounted — so if you're lusting after my dreamy blue and white striped maxi, I've linked up as many similar options as I can find for you below!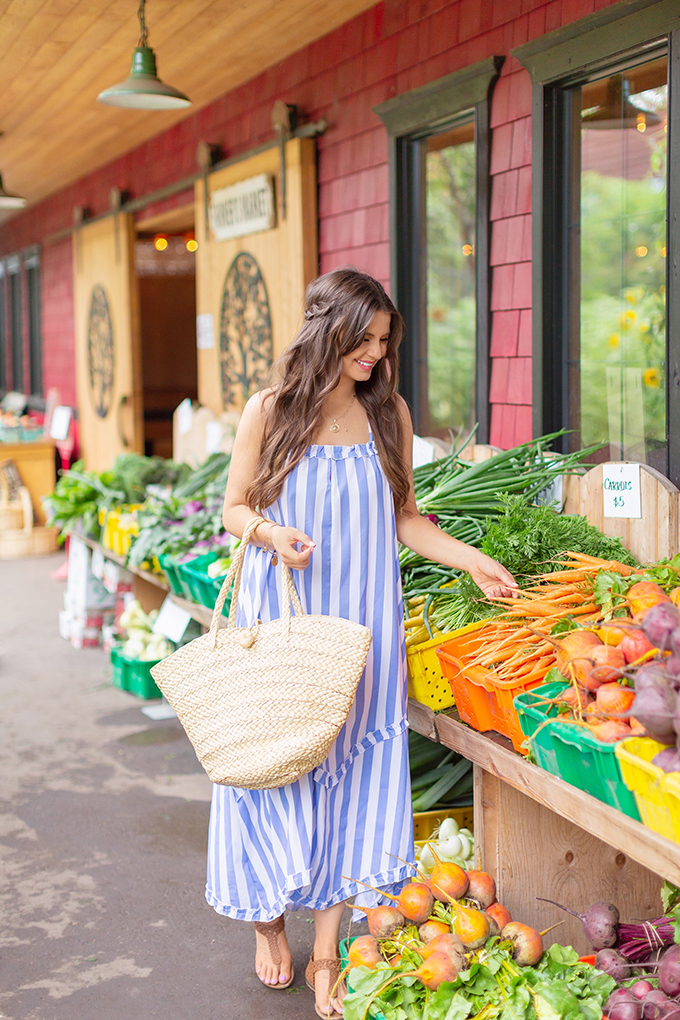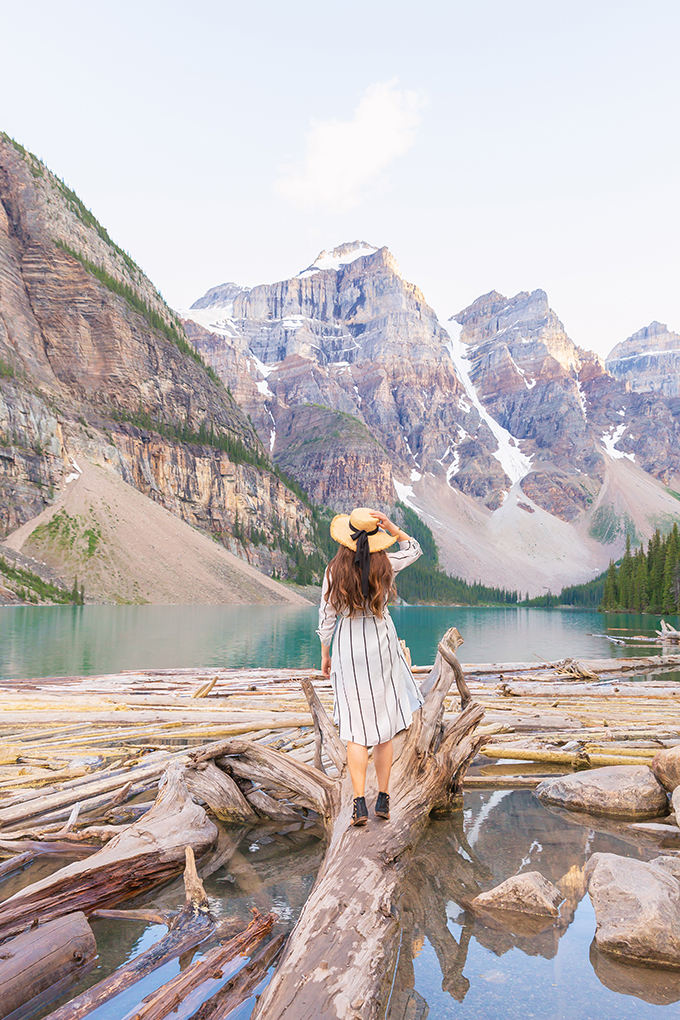 I also wore a black and white striped, button down dress when I visited Moraine Lake with my little sister for our annual girls day. Although we went to take in the scenery, I asked her to snap a quick pic with me in frame as well! I've owned this shirt dress for a few years and don't usually wear it as a dress, but as a layering piece. Here I'm actually wearing it over a shorter, sleeveless dress where I've belted it at the waist, but I also wear it completely open over warm weather outfits to add some extra interest — like a cardigan!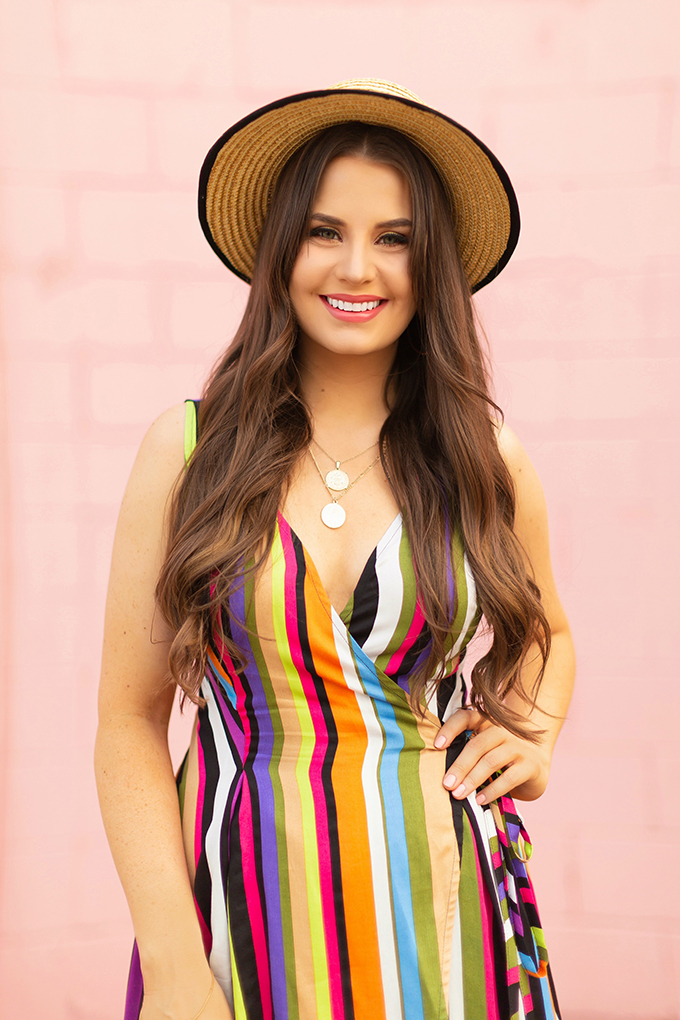 And last but certainly not least in my stripe roundup is the absolutely stunning Petra Stripe Dress (unfortunately now sold out) from 3rd Floor Studio! If I we're a dress, I'd be this dress. In fact, when Shoshannah (the owner) first reached out back in the spring, this was the dress that immediately caught my eye. As soon as I saw it I knew it had to be mine! I now own 3 of 3rd Floor Studio's beautiful frocks, 2 of which were gifted and this one, which I purchased myself.

Rainbow brights and bold, colourful stripes were both massive summer trends that aren't going anywhere as we transition into fall. In fact, most of the striped pieces I'm lusting over for AW18 (which I've linked up for you below, along with similar dress alternatives) incorporate one or both of them! Keep your eyes peeled for even more colourful stripes making an appearance at JustineCelina this autumn, where I'll be showing you how I'm styling them for a fresh new season and colder temperatures!

---
SHOP MY FAVOURITE STRIPED PIECES
---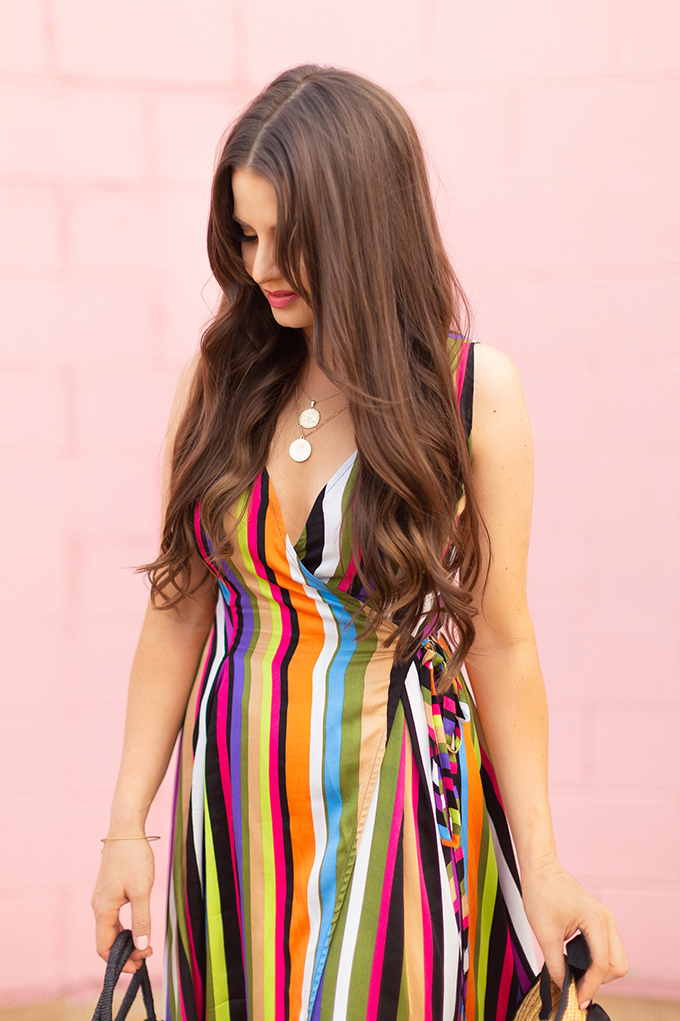 ---
MORE TRANSITIONAL STYLE CONTENT
---
The Accessory Edit | Natural Material Bags
What to Wear to | A Horse Race
Transitional Shoe Guide | Summer to Autumn 2018
Falling Back | Refreshing Old Staples for a New Season
---
Thanks for spending your Sunday with me to bid summer adieu and chat stripes! Will you be incorporating stripes or any of the other trends I mentioned today into your wardrobe this autumn? As a lover of bold colours and patterns, I personally couldn't be more excited to continue wearing rainbow and 70's inspired stripes into AW18.
We're currently planning and shooting as much autumn style content as possible before the leaves fall and the snow starts to fly (Calgarians know how incredibly short this season truly is!), so if you have a request, just let me know! Wishing you all a happy, healthy and wonderful autumn. There are so many exciting things happening here at JustineCelina that I can't wait to share with you!
---
Disclaimer: This post is not sponsored, and contains my genuine thoughts, ideas and recommendations. JustineCelina uses affiliate and referral links, which allow me to receive a small commission when you make a purchase through one of my links. Thank you for supporting the brands and businesses that support JustineCelina!