---
Like the final, fleeting month of summer, my August 2018 Soundtrack is short n' sweet! August was full of a lot of BTS hustle (I have so many exciting projects, collaborations and fresh content to share with you this autumn!), but also a lot of time outdoors enjoying our beautiful weather, wildfire smoke and all! If you follow along with my RECIPES here at JustineCelina, you may remember that I mentioned we found a patch of saskatoon bushes growing wild next to a field of canola earlier this summer — well, this is the field of canola! While typically we shoot our annual canola photos in the field behind my childhood home in rural Alberta, this summer they planted a different crop, so we headed south in search of blooming yellow fields and hit the jackpot!

While the canola crops have since been harvested, they always bloom around my birthday in early August and it's my favourite time of year! I thought this image was the perfect album cover for my August Soundtrack — inspired by carefree summer days, roadtrips, outdoor adventures and the mesmerizing beauty of our natural landscape. This eclectic, 2.5 hour playlist is a mashup of nearly every different genre and mood, but some highlights include Yoke Lore's Good Pain, RAC's Mission 3 (Hk), Wild Nothing's Letting Go, ayokay and Nightly's Sleepless Nights, Andrew Rothchild's Routine, Death Cab for Cutie's entire new album Thank You For Today, Penguin Cafe's Ricercar, G-Easy & Kehlani's Good Life, Akasha System's No Reality, Gus Glasser's Heaven, Sweep's don't let it stress and Those Who Ride With Giant's The Promise of the Setting Sun. If you're in the mood to discover some fresh, feel good tunes, crank this playlist up and enjoy summer 2018's last long weekend!
---
AUGUST 2018 SOUNDTRACK
---
---
NEED MORE FRESH TUNES? CHECK OUT MY LATEST PLAYLISTS
---
July 2018 Soundtrack (or listen on Spotify)
June 2018 Soundtrack (or listen on Spotify)
May 2018 Soundtrack (or listen on Spotify)
April 2018 Soundtrack (or listen on Spotify)
March 2018 Soundtrack (or listen on Spotify)
Or, browse the MUSIC archives here at JustineCelina for 3.5 years of monthly playlists!
---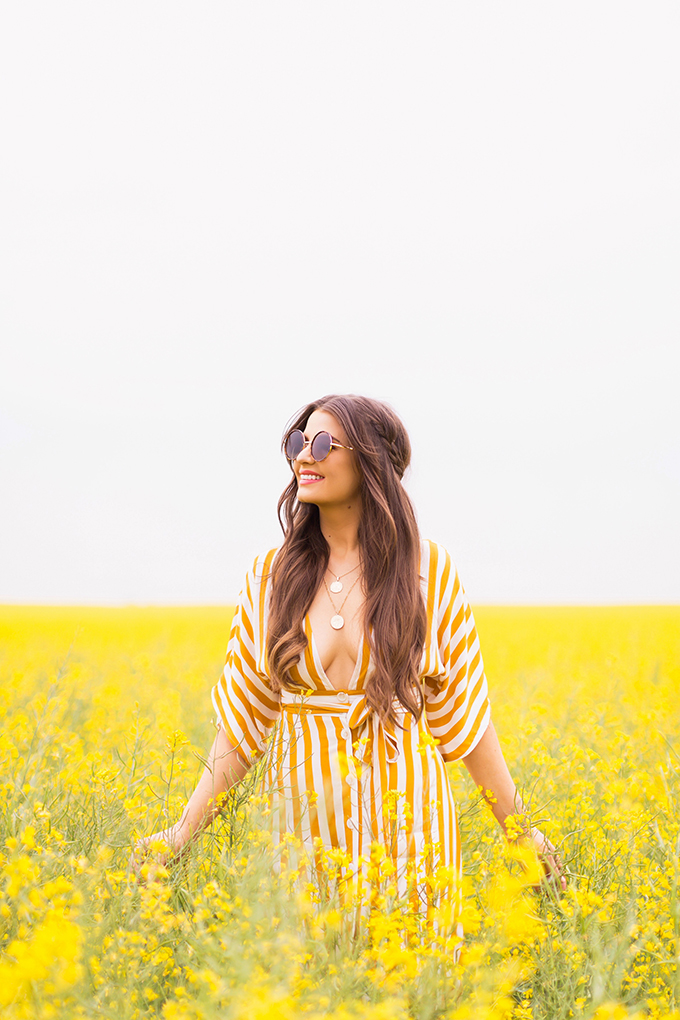 Fields of canola are one of my favourite summer memories. I'll never forget the day we found this gorgeous field with wild saskatoons growing alongside it and foraged buckets! Be sure to check out my Summer Bounty Salad with Saskatoon Cider Vinaigrette or Wild Saskatoon Berry Crumble recipes if you're also saskatoon crazy. Enjoy your long weekend!
What have you guys been listening to lately? Leave me your recommendations in the comments, I'd love to hear from you! Do you use Spotify? If you do, feel free to drop some links to your playlists, or playlists / artists you think I'd enjoy. I love to discover new music!
---
Disclaimer: This post is not sponsored, and contains my genuine thoughts, ideas and recommendations. JustineCelina uses affiliate and referral links, which allow me to receive a small commission when you make a purchase through one of my links. Thank you for supporting the brands and businesses that support JustineCelina!