---
Another summer month has flown by, which means it's time for a fresh Monthly Soundtrack! July was packed full of events, weekend trips to the prairies, mountains and farmer's markets and lots of time spent enjoying this gorgeous weather with family and friends. And my July 2018 Soundtrack has been the background music to all of our summer adventures! This laid-back, feel good, easy going playlist features 3 hours of chill, electronic, ambient, instrumental, alternative, folk and bluegrass — a versatile collection of my favourite summer jams that you can throw on whether your road-tripping, enjoying the great outdoors or simply enjoying a quiet night in with a delicious glass of wine!
I discovered tons of new artists this month (as well as a new Spotify generated playlist called Boho + Chill!), but Wit Blu's Burgundy, Richard Houghten's Millions of Birds, WMD's Coniferae, Joakim Karud's Recover, Ruuth's All About, Vacationeer's Being Here, Illenium + Thoreau's Where'd U Go, Milton Breech's Painted Skies, steezy prime + ozone.'s Baths, Pink Skies Gettin' Old, Shook's Bicycle Ride, Chromak's Sunshower, Cloudy Retro's East End and Tep No's Who We Are were a handful of my favourite tracks. What have you guys been listening to this summer?
---
JULY 2018 SOUNDTRACK
---
---
NEED MORE FRESH TUNES? CHECK OUT MY LATEST PLAYLISTS
---
June 2018 Soundtrack (or listen on Spotify)
May 2018 Soundtrack (or listen on Spotify)
April 2018 Soundtrack (or listen on Spotify)
March 2018 Soundtrack (or listen on Spotify)
February 2018 Soundtrack (or listen on Spotify)
Or, browse the MUSIC archives here at JustineCelina for 3.5 years of monthly playlists!
---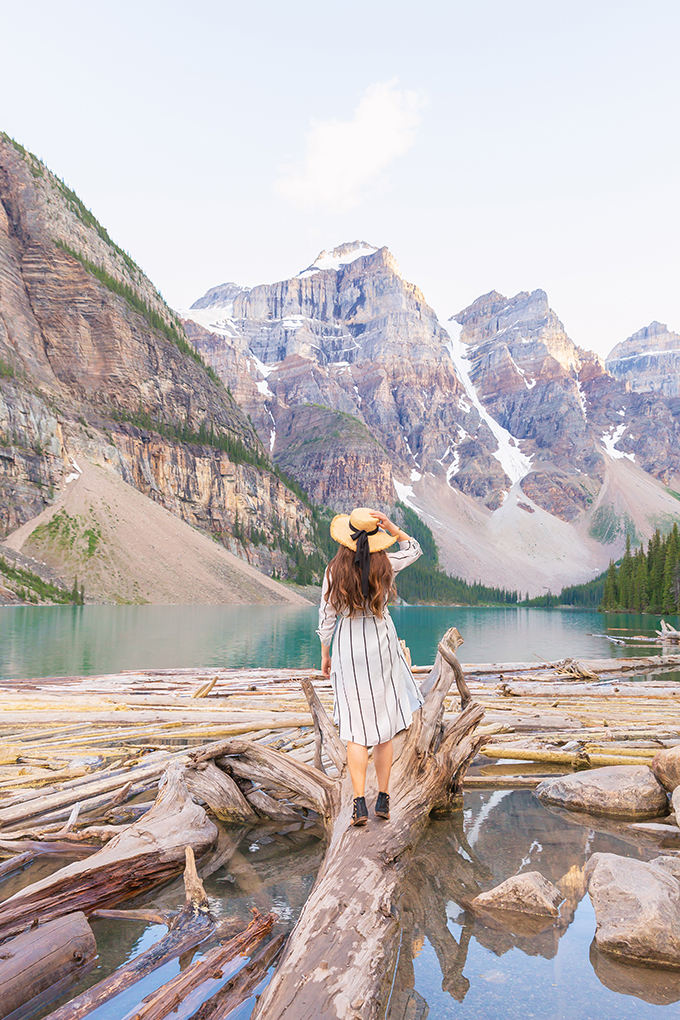 This month's album cover was taken at Alberta's pristine Morraine Lake, which I visited earlier this month with my little sister for our annual girls day in the mountains! Isn't she a great photographer? We captured a few images just as the sun was setting and the water was like glass — it was so beautiful! If you're visiting Alberta this summer or are a local, I highly recommend taking the drive out to the Lake Louise / Moraine Lake area to spend the day exploring. Be sure to leave me a comment if you're looking for recommendations!
What have you guys been listening to lately? Leave me your recommendations in the comments, I'd love to hear from you! Do you use Spotify? If you do, feel free to drop some links to your playlists, or playlists / artists you think I'd enjoy. I love to discover new music!
---
Disclaimer: This post is not sponsored, and contains my genuine thoughts, ideas and recommendations. JustineCelina uses affiliate and referral links, which allow me to receive a small commission when you make a purchase through one of my links. Thank you for supporting the brands and businesses that support JustineCelina!