---
While I'm all for embracing the crisp, snowy aesthetic of our Canadian winters, towards the end of January I find myself craving some serious colour! One of my favourite things about fresh flowers is their ability to infuse any space with their radiant energy and a cheerful pops of colour — so I thought it was the perfect time to share the inspiration behind this Eclectic Globally Inspired Arrangement Rebecca created for our Cozy Girls Night In (it's awesome to have a friend that's also a brilliant flower designer!).
This eclectic arrangement is a true melting pot of colour, texture and origin — showcasing blooms and greenery from Australia, South Africa, South America and Madagascar united with seasonal Snowberries foraged near Fernie, British Columbia for a unique, global flair! If you'd like to dip your toes into flower arranging, are interested in care tips or flower identification, Rebecca Dawn Design and I have you covered this weekend. You know the drill — pour yourself a glass of wine, turn on the fireplace and get ready to learn more about some unconventional, international blooms and flower arranging cornerstones in the January installment of our FLOWER ARRANGING series!
---
AN ECLECTIC GLOBALLY INSPIRED ARRANGEMENT
---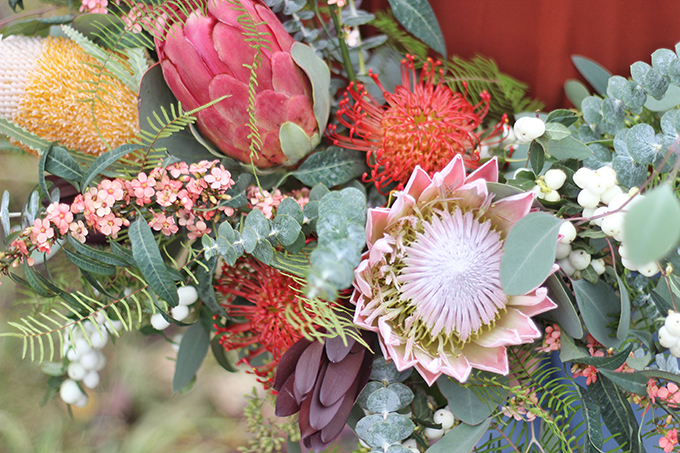 If this is your first flower post here at JustineCelina, welcome! Today Rebecca and I are here to share some basic flower arranging principles that can be adapted to any arrangement or bouquet. I like to think of arrangements like a recipe — with list of ingredients and simple instructions. Thinking about flower arranging in this way makes it more accessible and I've learned so much in working with Rebecca while keeping this flower 'recipe' in mind.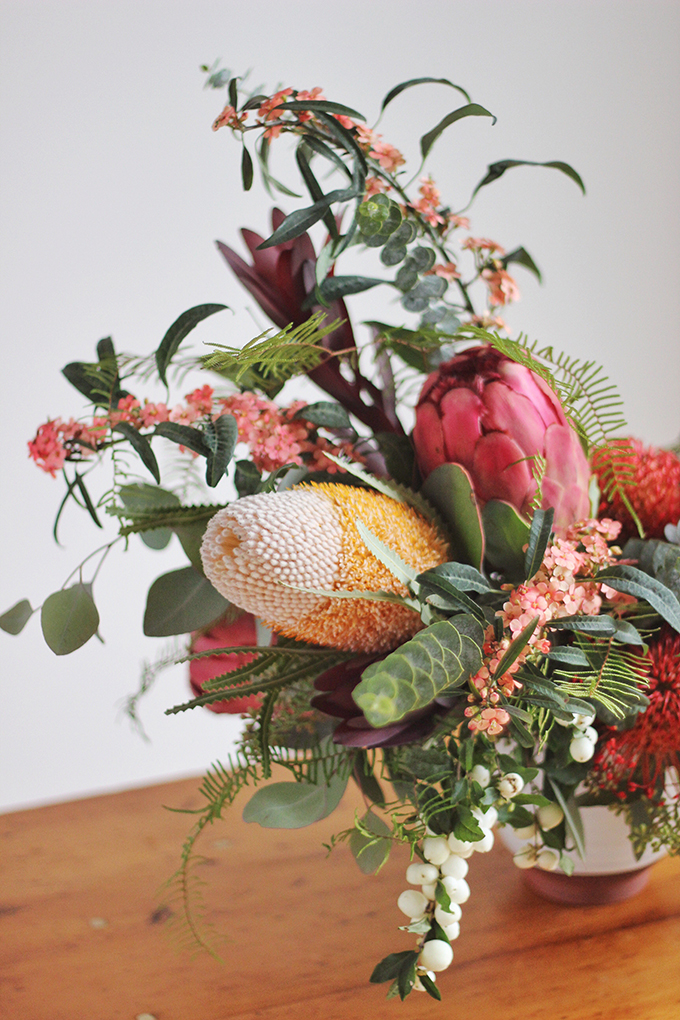 Flowers for an arrangement or bouquet are always divided into categories: primary flowers, secondary flowers and foliage or greenery. For this arrangement, we really wanted to experiment and create something unique with unconventional, exotic blooms — so we drew our inspiration globally! As we were planning this post, Rebecca remarked on how amazing it is that we can source blooms from around the world and combine them into a single creation — and the vision for our 'melting pot' arrangement was born!
---
OUR JANUARY ARRANGEMENT INGREDIENTS
---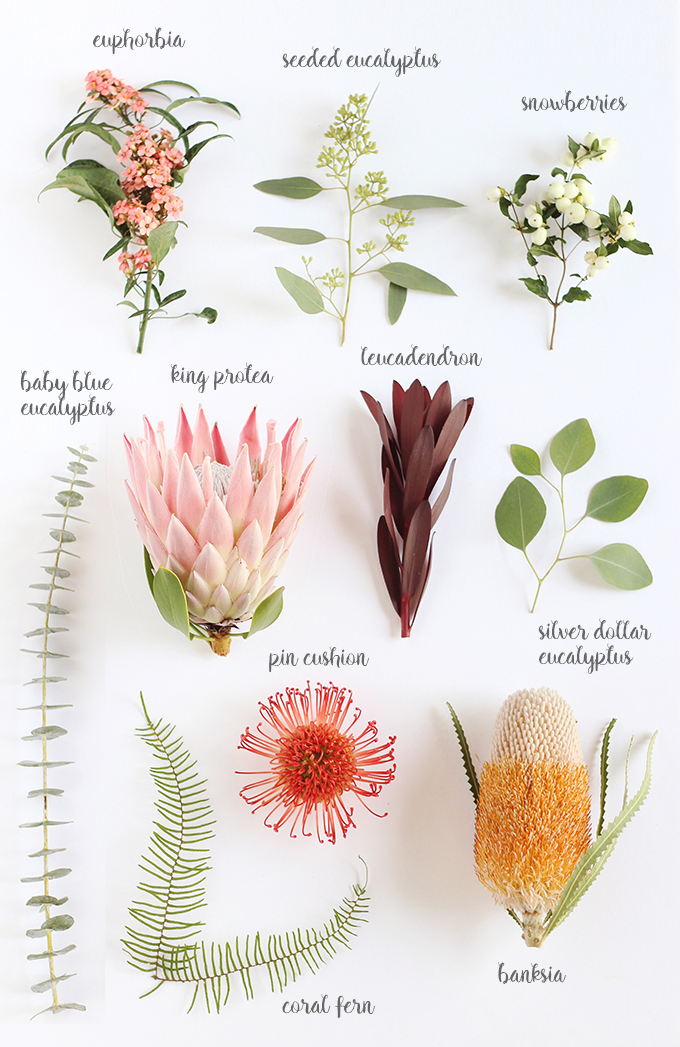 ---
 — Ingredients left to right, top to bottom —
---
1. Euphorbia
Native to Madagascar

2. Seeded Eucalyptus
Native to Australia
3. Snowberries
Foraged near Fernie, British Columbia!

4. Baby Blue Eucalyptus
Native to Australia
5. King & Queen Protea
Native to South Africa
6. Leucadendron
Native to South Africa
7. Silver Dollar Eucalyptus
Native to Australia
8. Pin Cushion
Native to South America
9. Coral Fern
Native to Australia

10. Banksia
Native to South Africa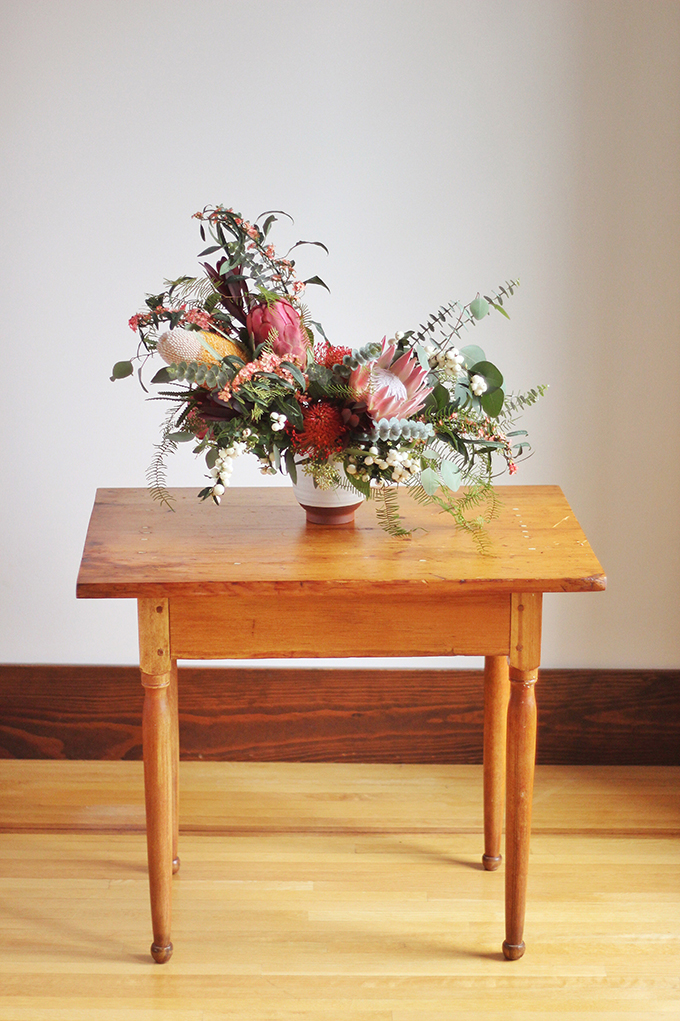 ---
PRIMARY FLOWERS
---
We have some substantial flowers to act as our focal point in this globally inspired arrangement! Rebecca selected King and Queen Proteas and Bankias hailing from South Africa, along with Pin Cusions native to South America to be the stars of the show.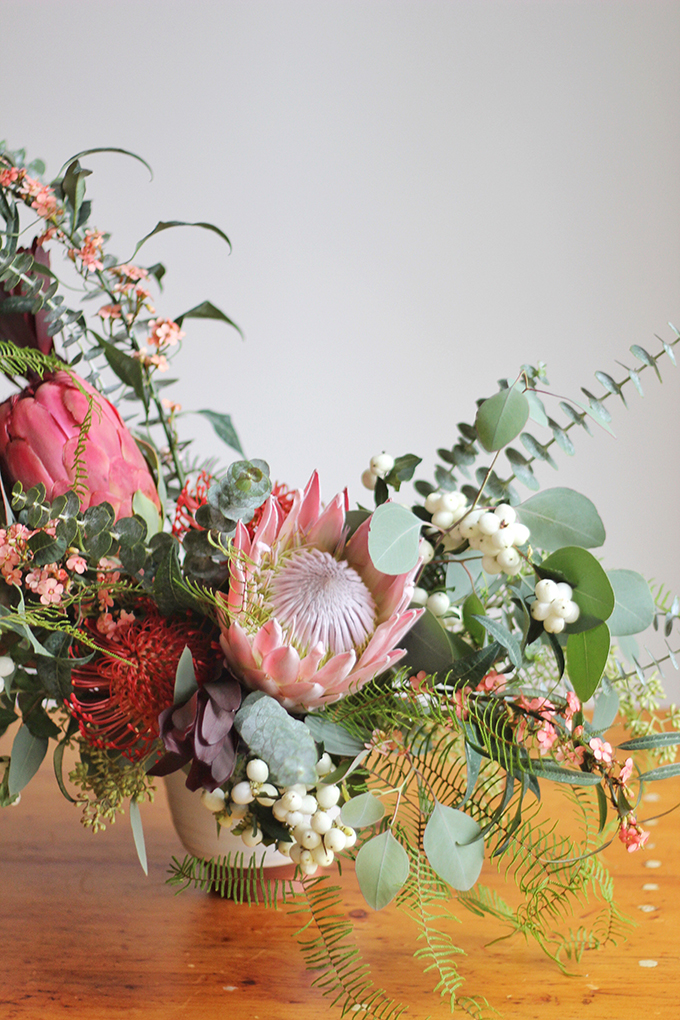 ---
SECONDARY FLOWERS & BERRIES
---
Secondary flowers compliment the primary flowers in an arrangement — they're typically smaller, adding interest and diversity in both colour and texture. Our secondary flowers in January's arrangement are a diverse selection of flowering branches and berries, with local Snowberries Rebecca foraged near Fernie BC, contrasted with exotic Euphorbia.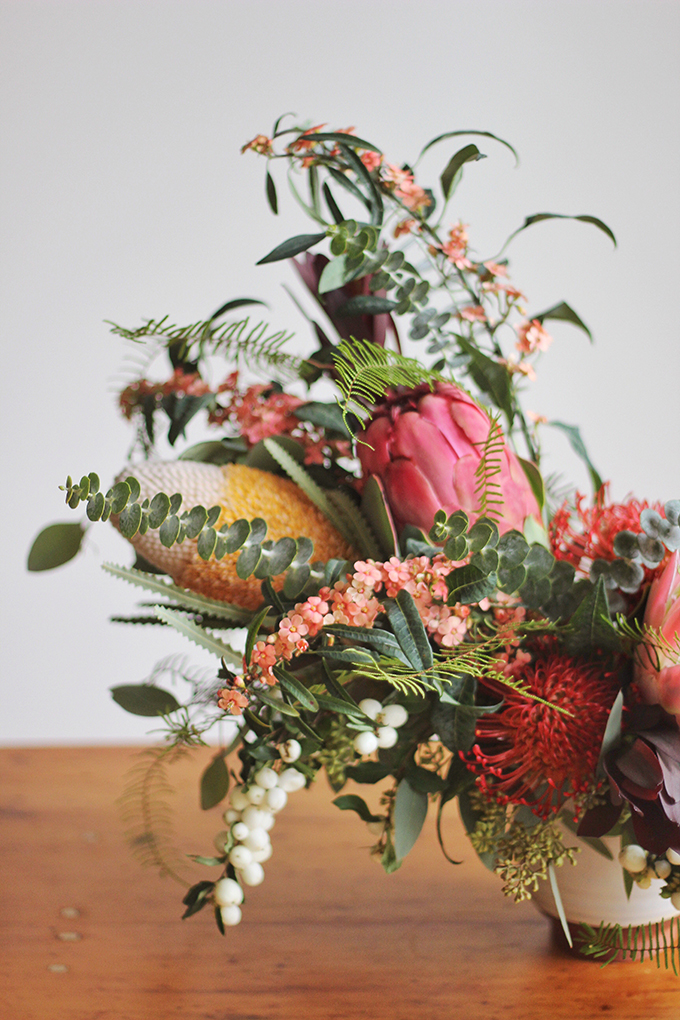 ---
GREENERY
---
Greenery completes an arrangement, adding an organic, lively energy. In this eclectic arrangement Rebecca chose to add multiple varieties of 'natures neutral' as Pantone coined it — including Silver Dollar Eucalyptus, Baby Blue Eucalyptus, Seeded Eucalyptus, Leucadendron and Coral Fern.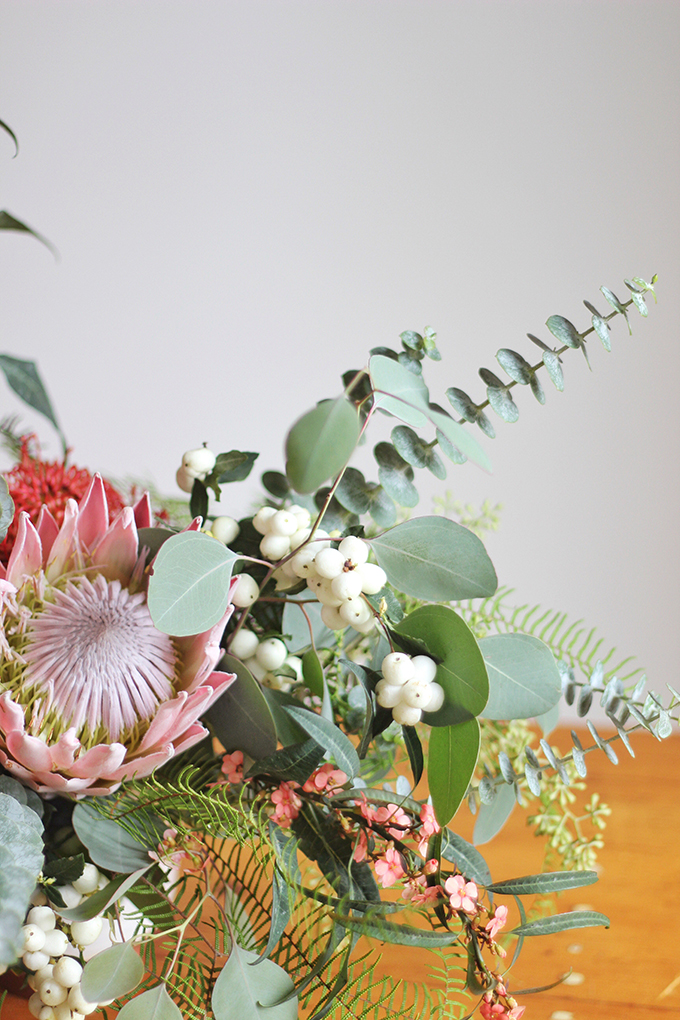 ---
FLOWER ARRANGING CORNERSTONES
---
1. Prep Your Flowers
Conditioning your flowers before arranging them is the most important step you can take to prolong the life of your arrangement! Prep your flowers by giving them a fresh cut at a 45 degree angle and removing any foliage that may fall below the water line — any leaves in the water will create bacteria that will shorten the life of your flowers.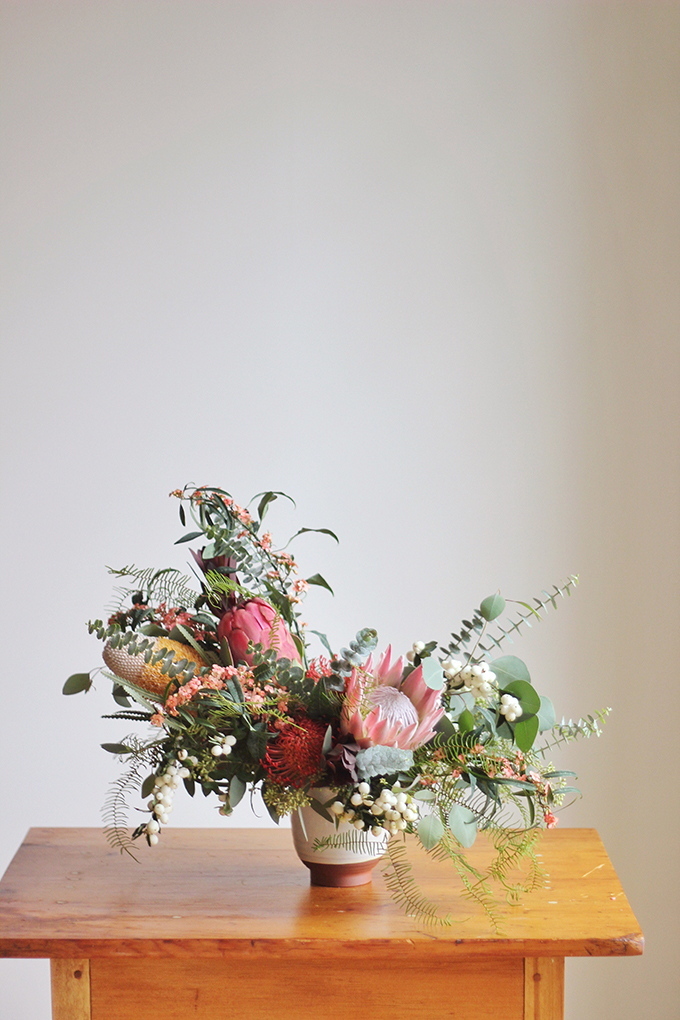 2. Prep Your Vase
Then, choose your vessel (the vase or whatever item you're going to use to contain your arrangement). The terracotta vase Rebecca selected for this arrangement is from Plant, a local Calgary boutique. Fill your clean vase with warm water and a floral preservative, preparing the mixture according to instructions on the packet. You can also tape off the vase with floral tape to create additional structure for your arrangement, like we did in this post.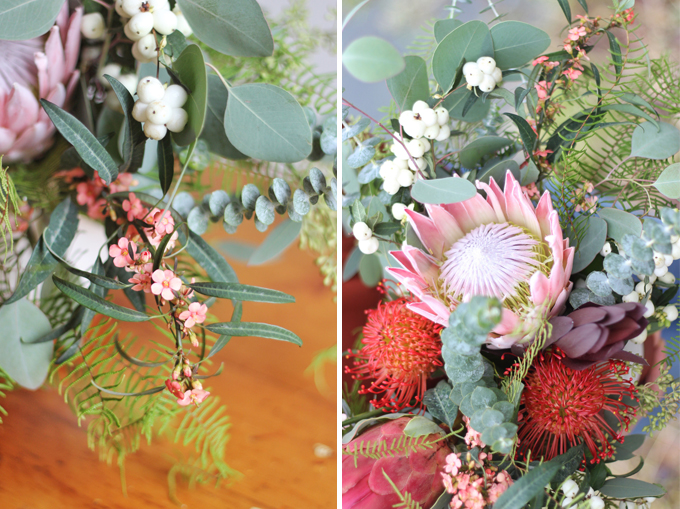 3. Measure Twice, Cut Once
Hold flowers and foliage up to your vessel to measure them — gauging height, size and testing out how you would like individual stems in your base layer to lie. Use their natural forms as guides for placement in the vase.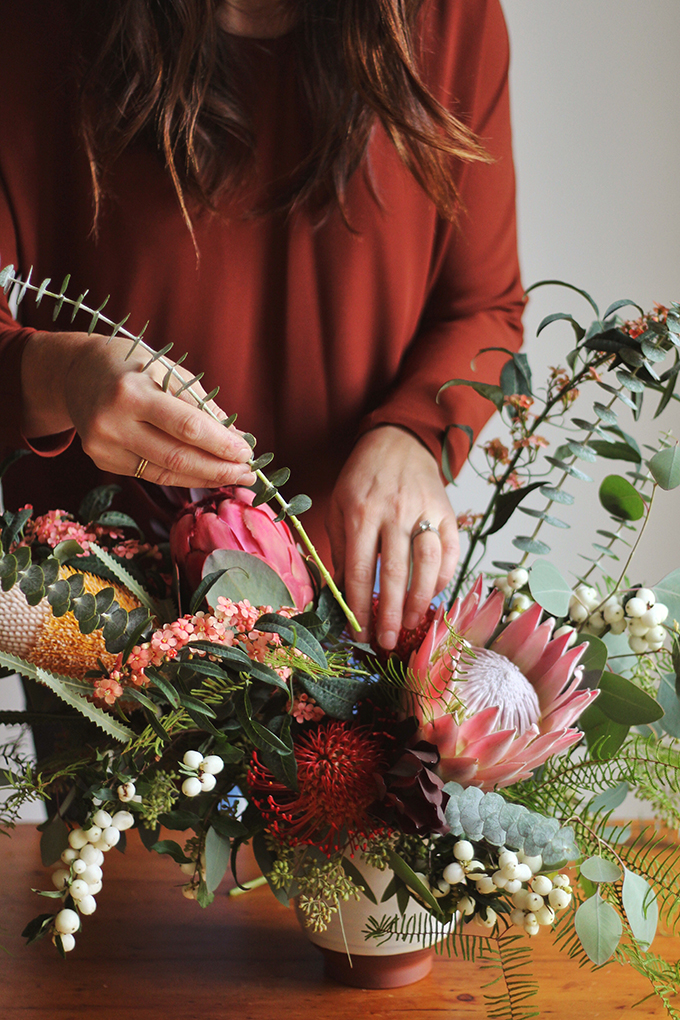 4. Build Your Foundation with Foliage
Begin mapping the shape of you arrangement by placing your foliage around the edges of the vase and crossing the stems — almost like you're constructing a nest. When you've finished, the base should be sturdy and able to withstand the impact of many additional flower stems. To keep your arrangement feeling natural, it's helpful to establish a singular high point and a few low points to balance out the shape. Rebecca built the foundation for this charming arrangement with Silver Dollar Eucalyptus, Baby Blue Eucalyptus, Seeded Eucalyptus, Leucadendron and Coral Fern — experimenting with placement and texture to build a strong foundation for our substantial primary flowers.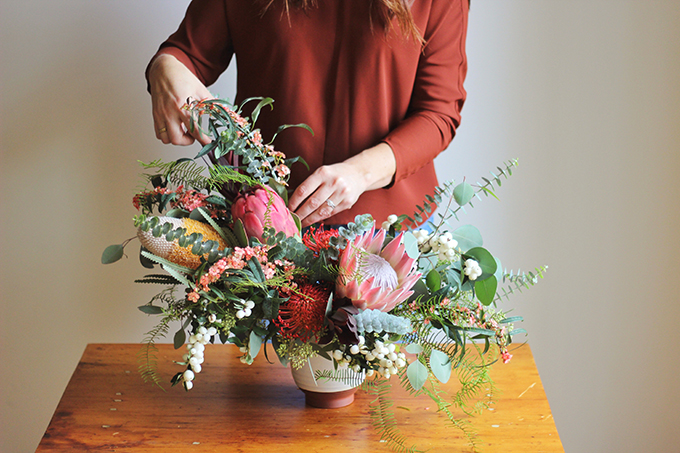 5. Add Primary Flowers
Begin adding the largest and sturdiest flowers that you have chosen as your primary flowers — in this arrangement they're hearty King and Queen Proteas, followed by the Bankias and Pin Cusions. Rebecca recommends choosing 3-5 primary flowers and either scattering or clustering them in the arrangement to create balance. Keep the arrangement interesting by selecting plants that bloom at different angles and different heights — we think things look best when they're a little undone!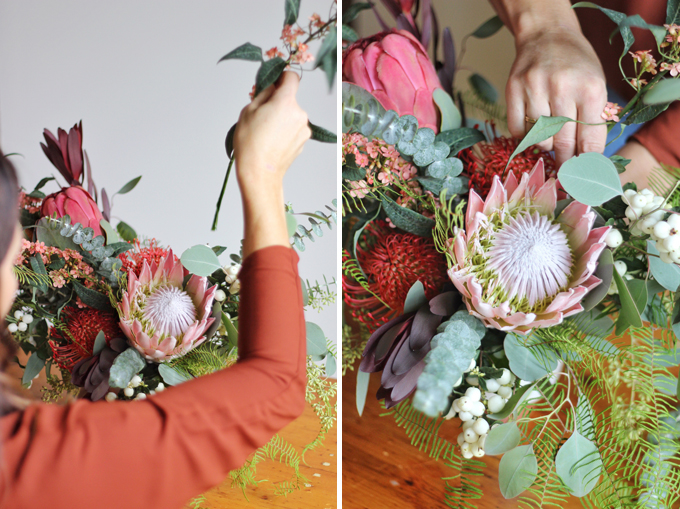 6. Add Secondary Flowers & Branches
Next, add your secondary flowers to begin filling in any holes in your arrangement. Rebecca always adds the most delicate flowers last, so the heavier blooms don't squish or damage them. She added depth and texture here with our local Snowberries contrasted with exotic Euphorbia.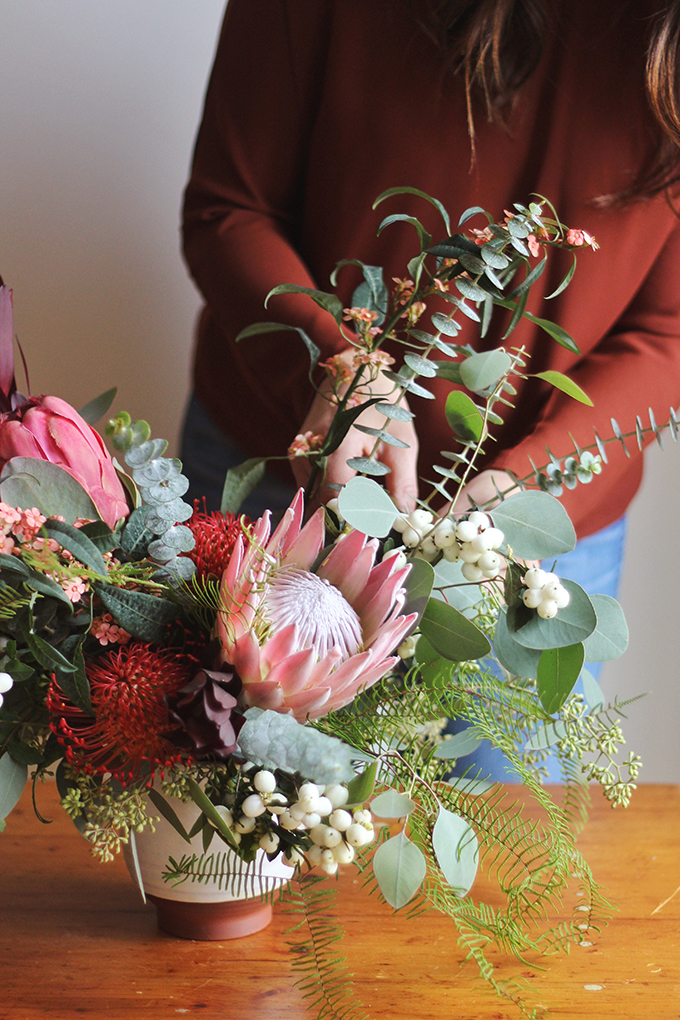 7. Inspect & Adjust
When you think you're almost finished, step back and view the arrangement from different angles to get a better look at the whole picture. Do a final check for stems that may not be securely placed or need another trim.
Congratulations — you've created your very own flower arrangement!
---
ARRANGEMENT CARE & MAINTENANCE
---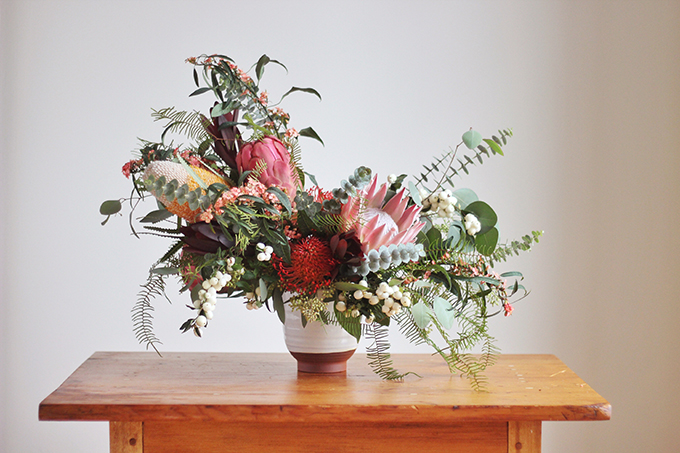 To maximize the life of your arrangement, replace the preservative-and-water solution whenever the water in the vase appears cloudy, which indicates bacterial activity. Each time you replace the water, trim off at least 1/2″ of stem from the bottom of each flower stem to prolong the life of your blooms.
---
MORE FROM OUR FLOWER ARRANGING SERIES
---
How to Make An Asymmetrical Holiday Wreath
DIY Floating Spring Centrepiece
How to Make a Summer Flower Arrangement
---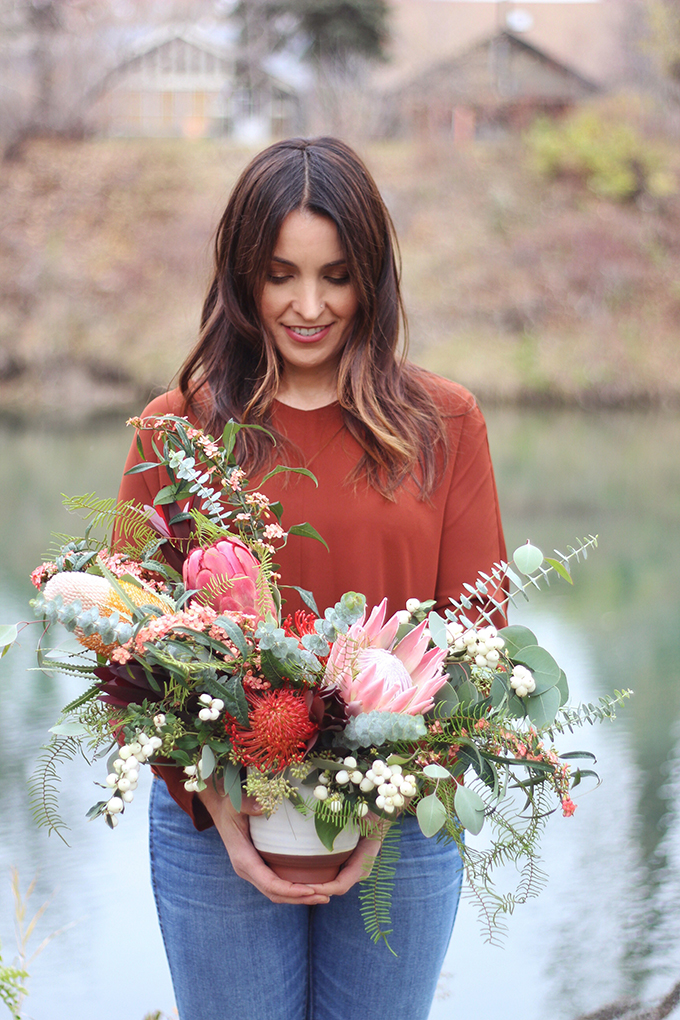 Thanks for stopping by to learn more about flowers this weekend — we hope you enjoyed it! If our post inspired you or you use Rebecca's tips to create your own arrangement, we'd love it if you tagged us on social media to show us your work! As always, if you have a flower question or content requests, be sure to leave us a comment. Have a lovely Sunday, everyone.

---
Disclaimer: This post is not sponsored, and contains our genuine thoughts, ideas and recommendations. JustineCelina uses affiliate and referral links, which allow me to receive a small commission when you make a purchase through one of my links. Thank you for supporting the brands and businesses that support JustineCelina.com!