---
Today's Monthly Beauty Favourites is a bit different from the norm — believe it or not, there's no makeup included! With my finger injury derailing the past couple of weeks, to be completely honest, putting on makeup when I didn't need to wasn't high on my priority list. Since I spent half of April laying low and healing up, as you can imagine it was pretty low key beauty wise! For the first part of the month, I immersed myself in fragrance for my Spring / Summer 2017 Fragrance Edit and was in final testing stages for the Marc Jacobs Beauty Le Marc Liquid Lip Crème post I published mid month. Other than that, experimenting with new beauty products when everything took at least twice as long to do with an injured finger just didn't interest me — so I took some much needed, makeup free downtime. It was refreshing!
For a completely different change of pace, my April 2017 Beauty Favourites posts is short and sweet with just 3 products included — but they're 3 products I used almost daily this past month. Learn more about an indulgent, natural, vegan lotion, a stunning new fragrance (those of you who've been following along with my Insta Stories recently may already know what I'm talking about!) and a great eyelash curler. And not to worry — my makeup loving little soul is already into some incredible new beauty products this month that you'll be hearing all about in my May Beauty Favourites!
---
APRIL 2017 BEAUTY FAVORITES
---
CDN $27.50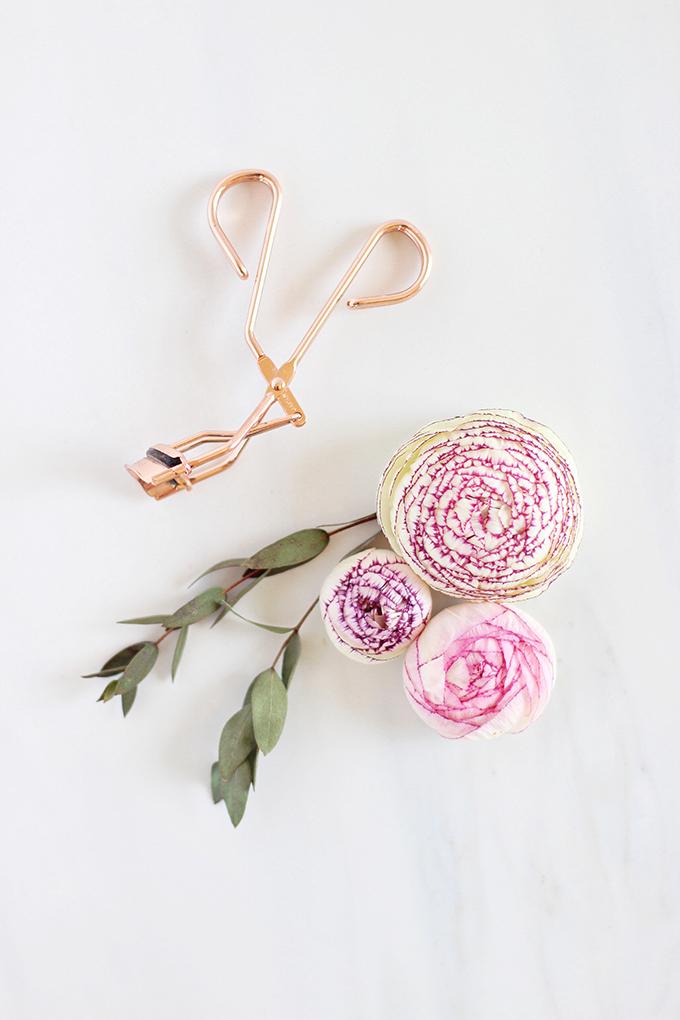 I firmly believe everyone needs a good eyelash curler in their beauty arsenal. Prior to me picking up the Tweezerman ProCurl Eyelash Curler in Rose Gold, I had been using my old faithful eyelash curler for about 10 years! It was made of plastic and one day it just snapped — so I was eager to replace it. Even though my eyelashes have a pretty decent natural curl, I have some longer, straight lashes towards my outer corners and love the lifted, awake appearance that curling my lashes provides.
I swung into my local Sephora to pick an eyelash curler up, not having done any research prior. The eyelash curler section was pretty cleared out and this was one of the only lash curlers left. What can I say, the rose gold drew me in! I love pretty much everything about this eyelash curler — it's easy to use, durable and fits my eye shape perfectly while providing a soft lift to my lashline without pulling on my lashes. If you're in the market for a great lash curler, look no further than the Tweezerman ProCurl Eyelash Curler in Rose Gold!
---
CDN $85.00 – 105.00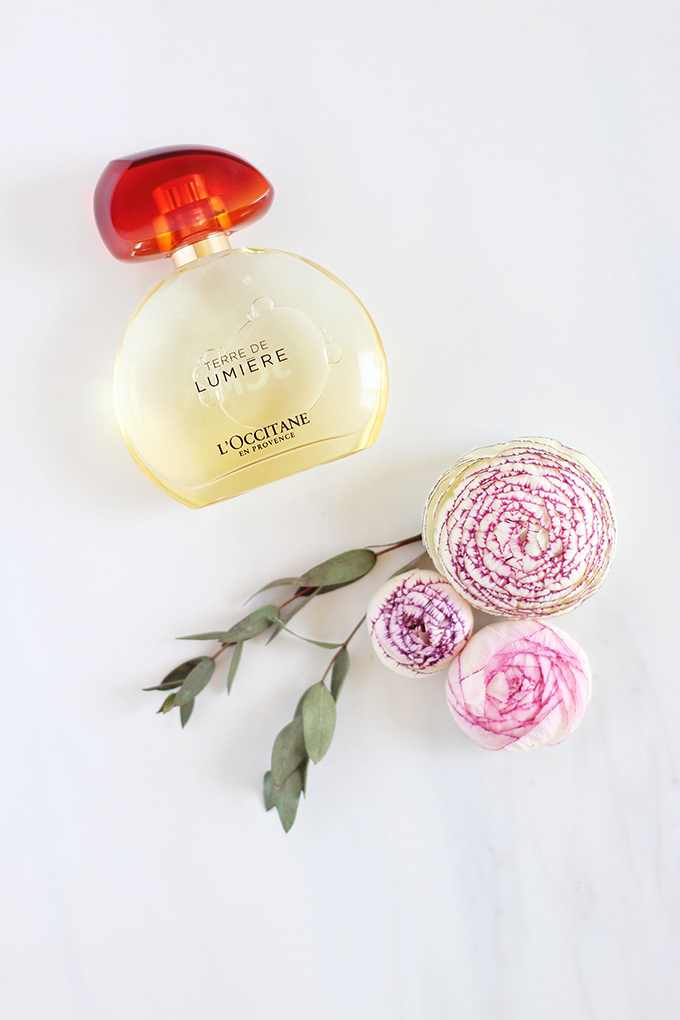 A fragrance inspired by the warm, fleeting moments of golden hour?! Sign me up. Seriously — I've fallen completely head over heels for this warm, gourmand fragrance from L'Occitane this past month. A mystery package arrived on my doorstep a couple of days after I hurt my finger — I was so surprised to find this beautiful fragrance, sent over by my friends at L'Occitane (you've heard me mention L'Occitane many times previously here at JustineCelina!). I immediately opened it up, devoured the literature and spritzed some on — this radiant fragrance completely lifted my spirits (they even monogrammed it… how cool is that?)! I did a first impressions over on my Insta Stories last month and have been wearing it every day since. The most pronounced notes are lavender, honey and amber with just a kiss of pepper and citrus. It's warm, rich and sensual with a carefree vibe — and it's perfect for this time of year.

Terre de Lumière reminds me of a perfect blend of 2 of my favourite seasonal scents — Mon Guerlain and REPLICA's Beach Walk (if you like, you can read more about them in my Spring / Summer 2017 Fragrance Edit). It shares quite a few similarities with Mon Guerlain; both are gourmand, aromatic fragrances with lavendar and sweet (vanilla and honey) notes — although Mon Guerlain is more sophisticated. Both fragrances also source their lavender from Provence, France. It seems there's definitely a bit of a seasonal fragrance trend happening at the moment! But what I love about Terre de Lumière is that it also has a lightheartedness to it which reminds me of Beach Walk — a fragrance inspired by a warm summer day on a sandy beach on the French Riviera, circa 1972. It's like summer in a bottle! Terre de Lumière also shares a few notes with Beach Walk; pink peppercorns, bergamot and citrus. Overall it's a truly stunning fragrance that I know will be on heavy rotation as we transition into summer! I see myself reaching for it often when I want something more polished and evening appropriate than Beach Walk, but not as precious as Mon Guerlain.
Notes:
Pink peppercorns, bergamot, ambrette seeds, lavender, honey, bitter almond oil.
---
CDN $29.95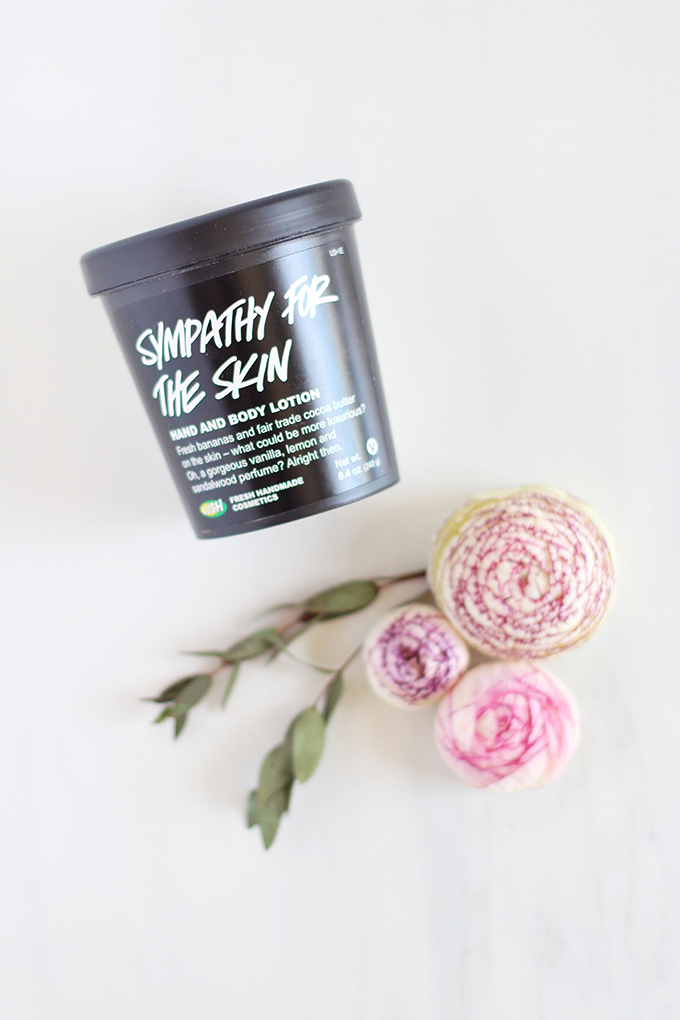 A couple of months ago, my friends at LUSH kindly sent some products over for consideration. I also did an unboxing over on Insta Stories when I received the package (that's the quickest way for me to chat with you guys about what's new before it going into testing… often for months!). I was very candid about the fact that while I love what LUSH stands for, I hadn't used their products since college (read: quite some time!). A lot has changed in that time frame and I was excited to reacquaint myself with the brand.
I've worked my way through a few products, but the standout is their Sympathy for the Skin Hand and Body Lotion. You're probably sick of hearing me say that I have extremely sensitive, hyper reactive skin — I have to be really careful about what I use and am a very harsh critic on skincare. I'm also very sensitive to fragrance, so I was a bit hesitant to try LUSH products, although the fragrance comes from naturally occurring ingredients (ie: isn't added!). Well — I fell deeply in love with this luxurious body lotion this spring! It smells like a delicious bowl of banana nice cream and a little goes a long way. At first I was a bit taken back by the price for the size, but I used this pot almost everyday for a month and a half over most of my body before using it up.
Sympathy for the Skin is made with cocoa butter, almond oil, vanilla and organic bananas to moisturize the skin and impart a subtle, creamy scent that lingers. If you're a lover of natural products looking for a good body moisturizer, indulge your senses with this vegan offering from LUSH. It's like a cashmere sweater for your skin — and a special treat I plan to pick up whenever I'm in need of some pampering!
---
SHOP MY APRIL 2017 BEAUTY FAVORITES
---

---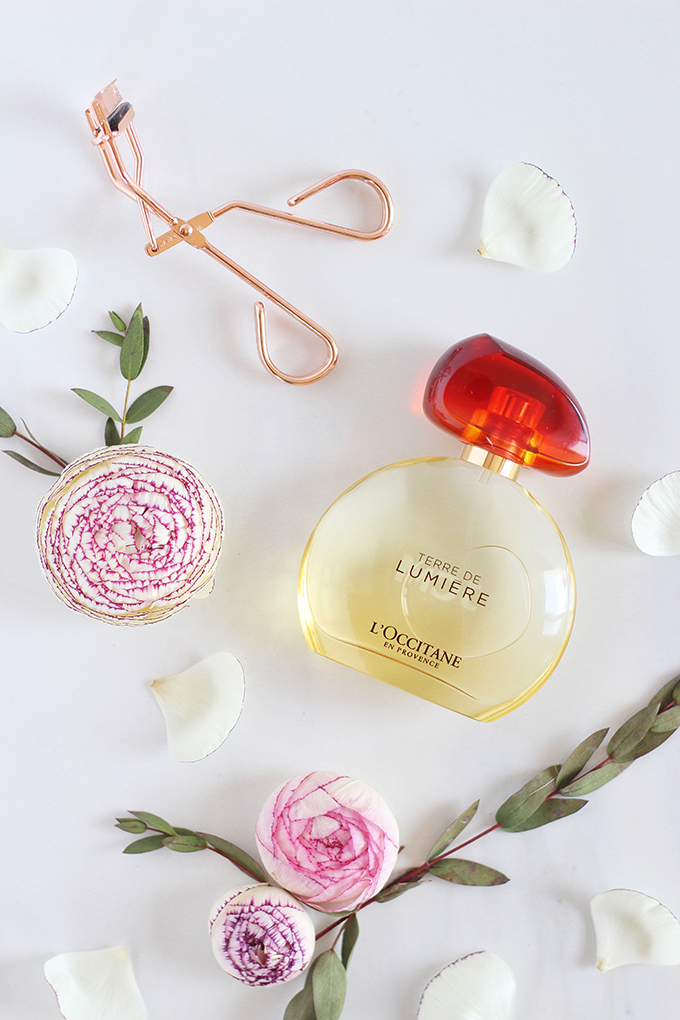 What have you been loving this past month? I'd love to live vicariously through what you discovered beauty wise in April and really enjoy your recommendations! I'm very excited to bring you some fresh beauty content later this month, including a brand new series here at JustineCelina (any guesses as to what it is)? I'm still taking requests for upcoming beauty content through summer, so your suggestions are always welcome (seriously — don't be shy, I take reader requests often!). Now that spring is finally upon us, enjoy the rest of this beautiful week, everyone! I'll be bringing you along to a fun rosé launch tomorrow via Insta Stories — and it's the last day of my detox so I can actually indulge this time! Cheers, friends.
---
Disclaimer: Products marked with * indicate press samples provided for editorial consideration with no obligation for feature or review. Thank you Rebecca Dawn Design for the beautiful blooms I used to style this post. This post is not sponsored and contains my genuine thoughts, ideas and recommendations. JustineCelina uses affiliate and referral links, which allow me to receive a small commission when you make a purchase through one of my links. Thank you for supporting the brands and businesses that support JustineCelina.com!