Don't you just love limited edition holiday beauty releases? It's that magical time of year when brands really seem to step up their game and create so many exclusive products, and value-packed offerings. If you've been with me for awhile, you'll know that I really love Bite Beauty — a Canadian lip-exclusive brand who's products are made with natural, food grade ingredients that are actually good for your lips. I've mentioned previously that Bite's Luminous Crème Lipsticks are my all time favourite lipsticks — every year I love to pick up these mini duos. They last me until the next year! Today I'm reviewing all 12 shades from the Mix n' Mingle range for Holiday 2015. If you're in the market for some great new lipsticks, or looking for gift ideas, you've come to the right place!
---
BRAND & FORMULA OVERVIEW
---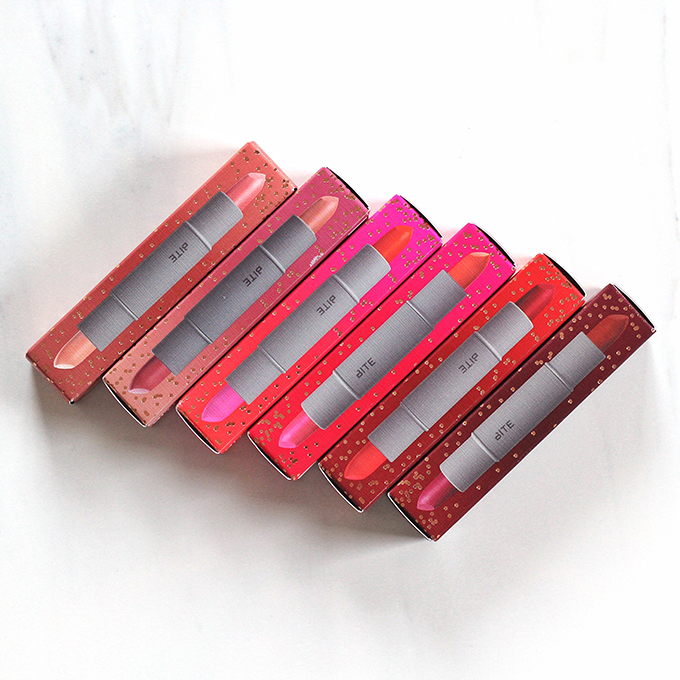 I fell in love with BITE Beauty products in 2015. The concept behind this Canadian brand is super cool — all of their products are made with natural and food-grade ingredients, don't contain petrochemicals and are certified gluten-free. So technically, you could eat these lipstick (they actually taste a bit fruity)! I like to use natural beauty products when I can, and I get tons of use out my BITE products. This formula contains an antioxidant called Resveratrol (also found in red wine!), which fights free radicals and helps to reduce signs of the aging on the lips over time.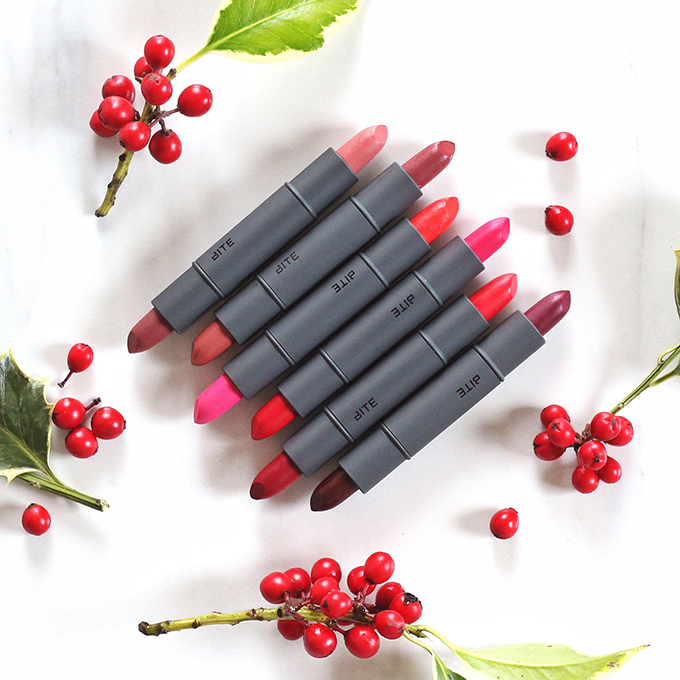 Of all the lipsticks I've ever mentioned here at JustineCelina, Bite Beauty's Luminous Crème formula is one of my favourites from any brand and price point — it's ultra smooth with intense colour payoff that's creamy, super pigmented and luxurious. It literally feels like you're slathering butter on your lips (in the best way possible)! Each of these shades are comfortable and nourishing on the lips — especially during our chilly Alberta winters.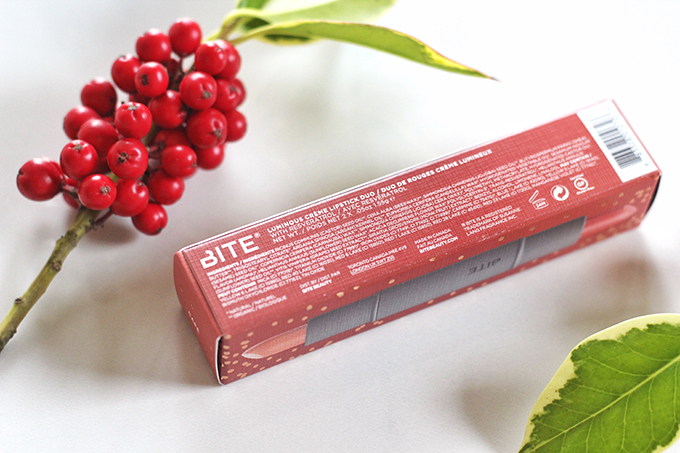 Bite's Luminous Crème Lipsticks are a lightly glossy formula that wears for about 4-6 hours on me, depending on the shade. For C $17.00, you receive two 0.5 oz mini lipsticks — the lipsticks are smaller than your typical full size variety and therefore a fraction of the cost. They're also travel friendly, and perfect to keep in your bag for easy, on-the-go application. They're a great option if you're wanting to try something from the brand, or branch out and try a couple statement shades with minimal commitment!
---
Beautiful, flattering nudes.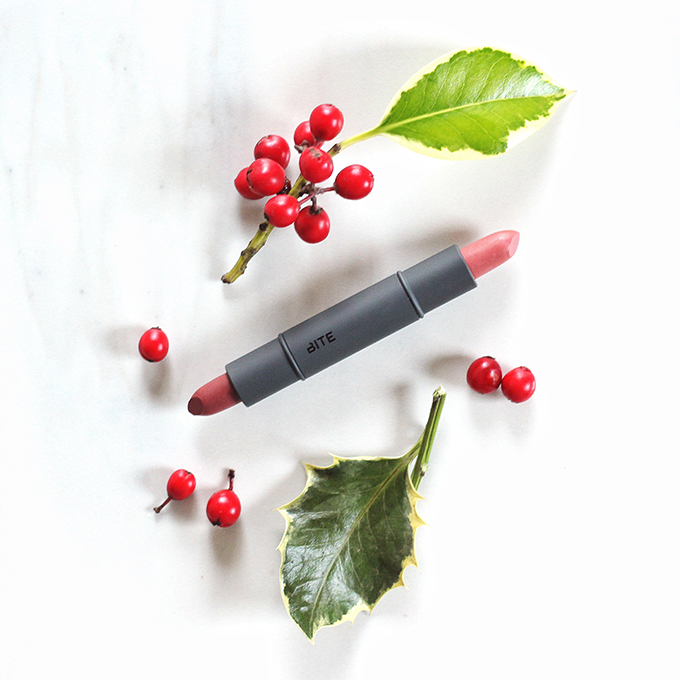 Café is a classic, peachy pink nude. This shade in particular is extremely soft and creamy — it's very thick and offers fully opaque colour in a single swipe. I can see this nude flattering very fair to tan skin tones. If you're looking for a nude lipstick that isn't too nude, try Café.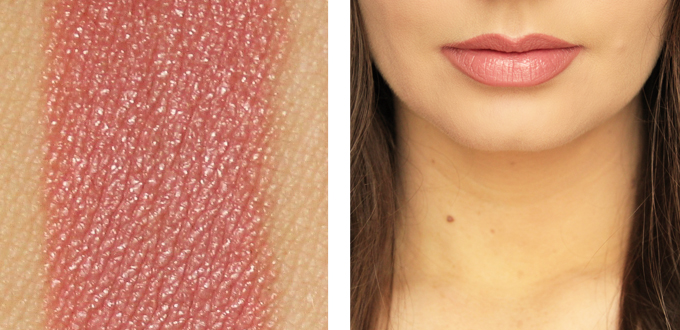 I mentioned this duo in my Best in Beauty | November post — I've been loving Pepper. It's a dusty rose that's almost exactly the same colour as my lips, just intensified. The lipstick has a bit of sheerness to it, which I actually really like — it's the perfect no fuss colour that goes with everything.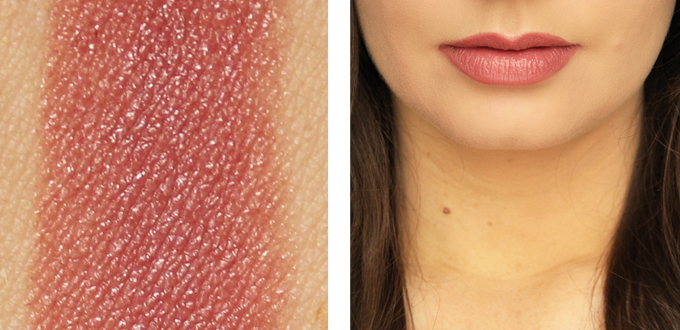 Note: these duos have been selling out online, so if you really love Pepper, but the duo is sold out, you can purchase the full size lipstick here.
---
On-trend, deeper winter neutrals.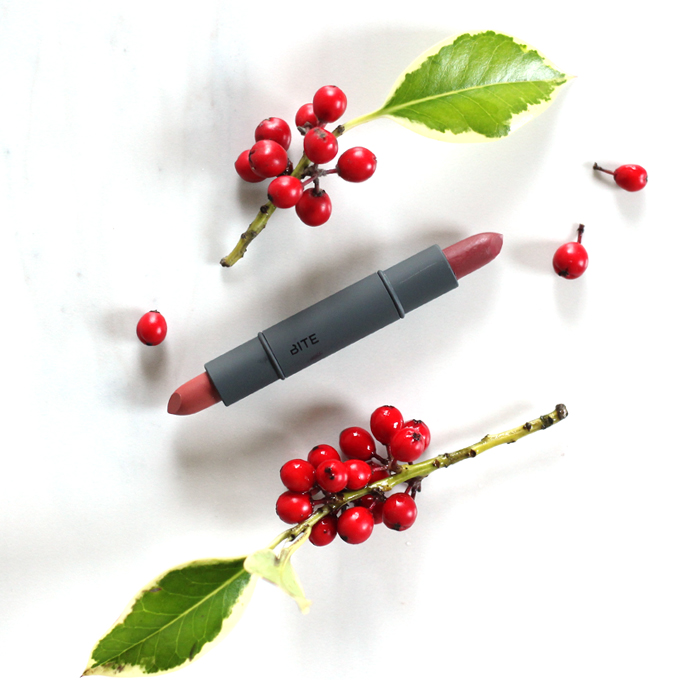 Latte is a mid-toned, neutral nude with brown undertones. It's a little deeper, and more brown than Café. If you're not a fan of super nude lips, or have a deeper skintone, Latte would be a great option for you.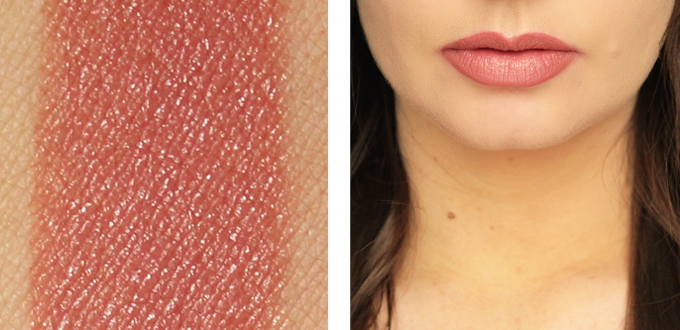 Cortado is a gorgeous, deeper pinky brown. It's a rich, rosy hue that would look beautiful on so many complexions. This is a perfect option when you want a neutral lip, but don't want to go nude.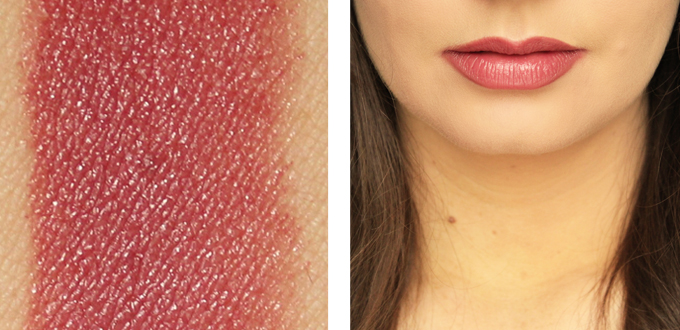 ---
Bright, bold statement shades.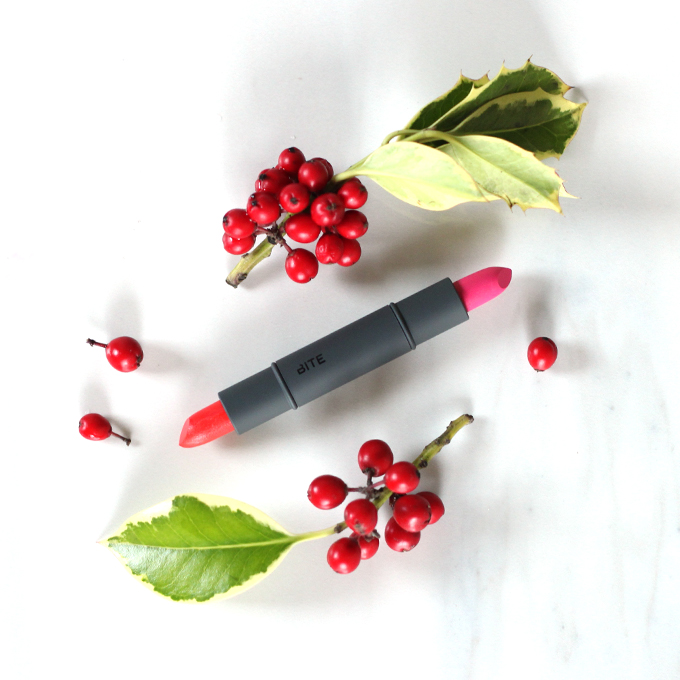 Confection is such a fun shade! My initial reaction was that this is a classic Barbie pink — a bright, mid-toned pink with cool undertones. It has a lot of violet in it, and I think it's the most unique shade of the range.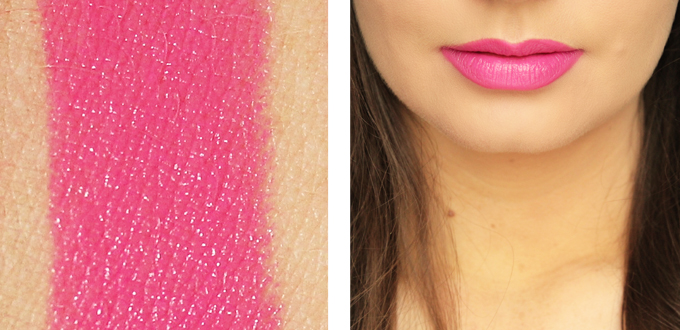 Marmalade is an amazing, bright orange red. This shade was super thick and opaque, and delivered intense colour in a very light swipe. It's my personal favourite shade of the bunch! If you're iffy about oranges, this would be a good one to try.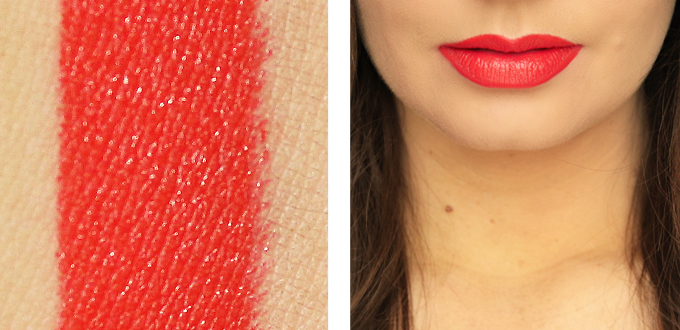 ---
Classic, wearable pinks and reds.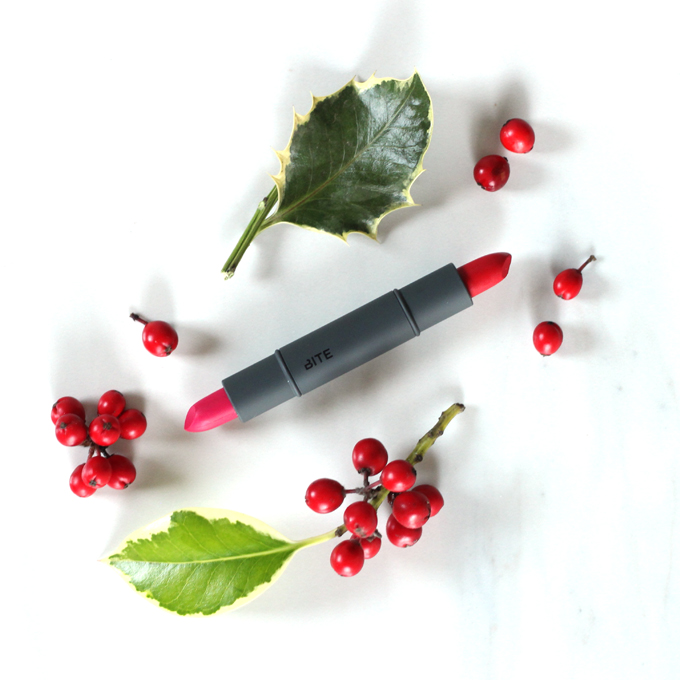 Pomegranate is a beautiful, classic cherry red. It's a very luxurious shade, and a red that I think absolutely everyone could wear. It also makes your teeth look really white!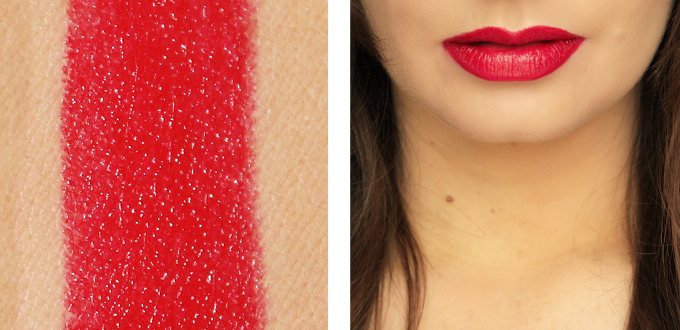 Note: these duos have been selling out online, so if you really love Pomegranate, but the duo is sold out, you can purchase the full size lipstick here.
Palomino is a rich, vibrant magenta. There is some warmth to it — so if you tend to prefer reds to pinks, this would be a nice option for you. Another shade that does wonders for your smile!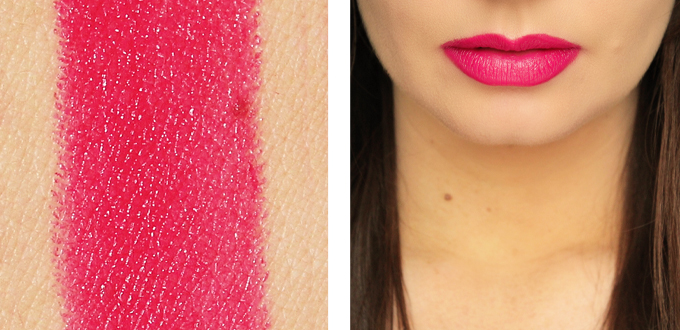 Note: these duos have been selling out online, so if you really love Palomino, but the duo is sold out, you can purchase the full size lipstick here.
---
The quintessential holiday duo for red lovers.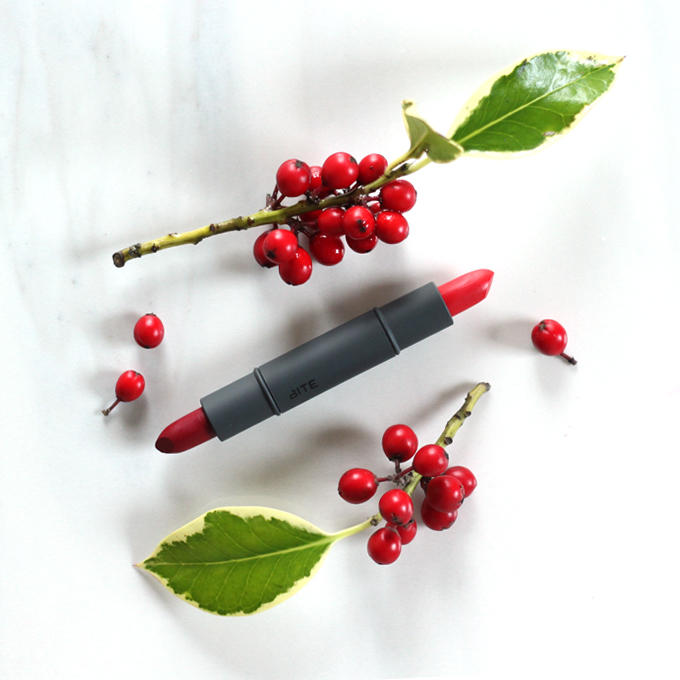 Holly is a mid-toned tomato red. It pulls neutral to warm, with slight orange undertones. If you prefer warmer reds, this one is for you! Holly is lighter, and brighter, than Pomegranate.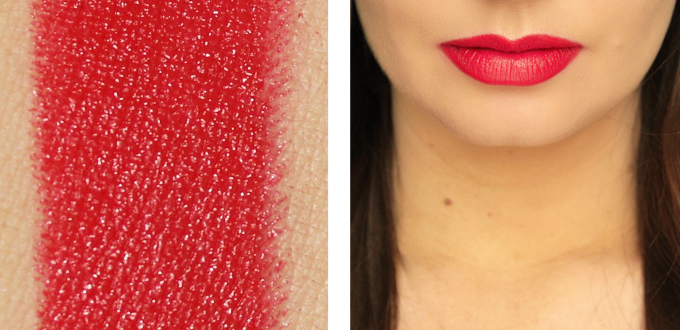 Tannin is a deep, rich wine red. It's the exact colour of a glass of Pinot Noir! If you're looking to venture into deeper lip colours but want to stick with reds, try Tannin.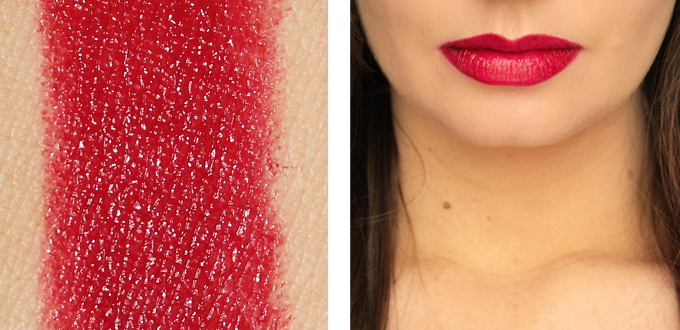 Note: these duos have been selling out online, so if you really love Tannin, but the duo is sold out, you can purchase the full size lipstick here.
---
Deep, wearable shades for the daring.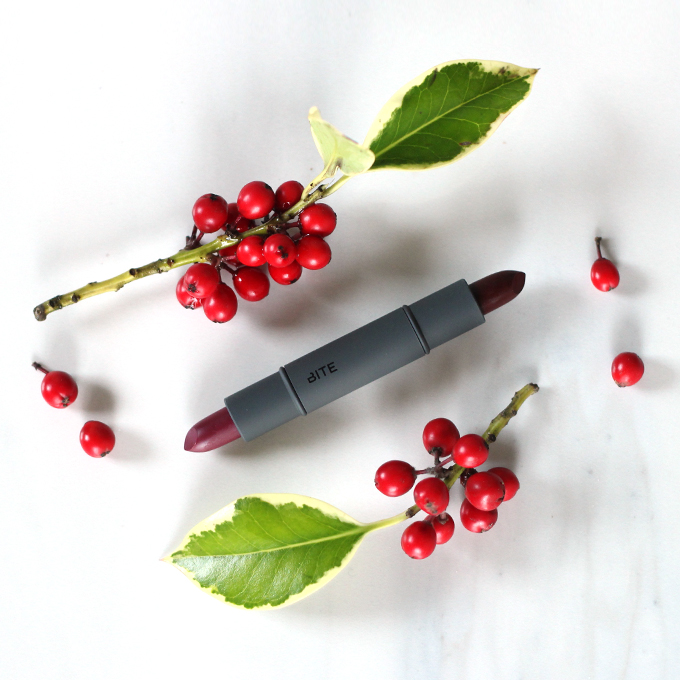 Scarlet is a deep burgundy with a red base. This shade has a bit of sheerness to it, so you can build it up to be fully opaque, or go with a lighter application and wear it as more of a stain. I'm also wearing it more sheerly in this photo if you'd like to see how it looks in completely different light (sunset on a winter day).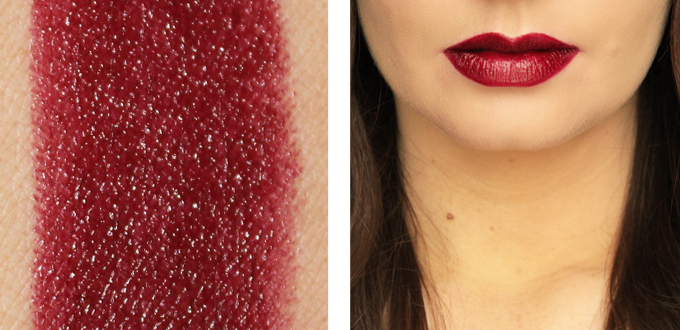 Mullberry is a vampy plum shade with purple undertones. It's quite similar to Bite's Aubergine, but in a glossier formula. This shade is also more sheer than the others, and perfect for layering.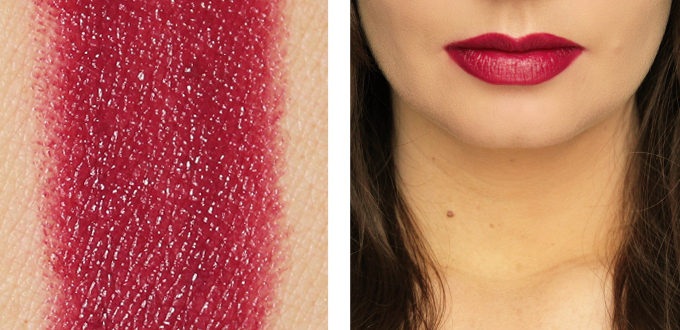 Both Scarlet and Mullberry appear lighter on the lips than they do in the bullet.
Note: these duos have been selling out online, so if you really love Mullberry, but the duo is sold out, you can purchase the full size lipstick here.
---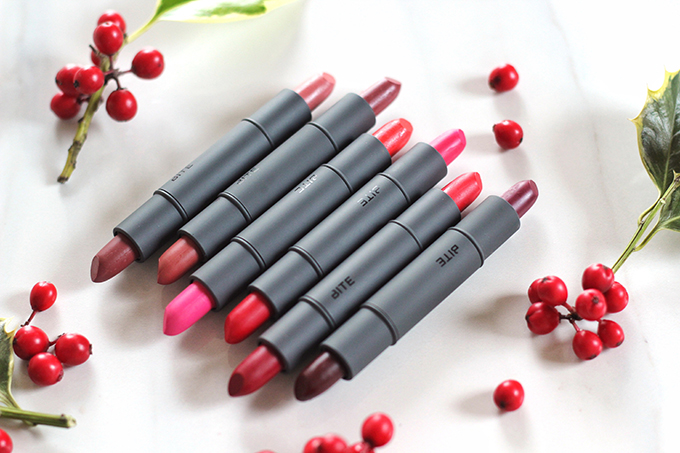 Keep in mind that these shades will look totally different on different skin tones. For reference, I have light / medium skin with warm, yellow undertones — I'm a MAC NC 30.
---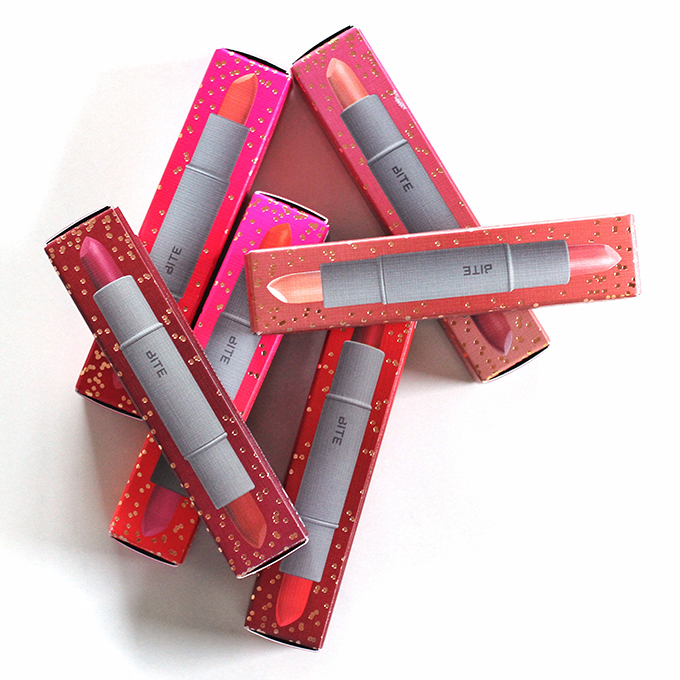 What are your favourite shades? Will you be picking any of these duos up? If you do, please let me know how you like them! I've recommended Bite Beauty products to so many people, and everyone loves them just as much as I do!
---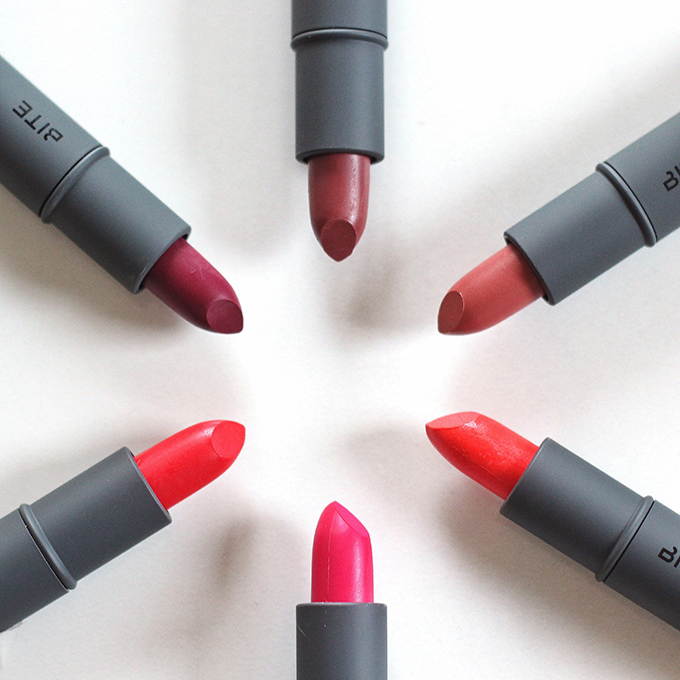 Availability note: these duos have been selling out online, but it looks like they'll continue to be restocked. You can always sign up to receive an email notification when they've been restocked. There are still lots left in-store!
---
Disclaimer: This post is not sponsored, and contains my genuine thoughts and recommendations. JustineCelina uses affiliate and referral links, which allow me to receive a small commission when you make a purchase through one of my links. Your purchases help to support JustineCelina.com!