---
Hello, friends. How's everyone doing? It's certainly been a very transformative couple of weeks since my last post — and possibly, the most transformative of my lifetime. Given the state of the world, it simply didn't feel right proceeding with regularly scheduled programming earlier this month. So last week, in solidarity with the Black Lives Matter anti-racism movement, I (like many other creators) muted my own content to create space to learn, unlearn, explore, amplify melanated voices and actively engage with anti-racism work. Rather than sharing my own content, I used this time to deep dive into some difficult topics, educate myself, reflect and process, have important conversations and create space for a very important discussion to take place. I amplified Black voices and the work of Black creators, artists and activists, as well as my learnings, on my Instagram Stories while pausing my social feed and blog posts. I can't recall a period of time where I've ever learned or absorbed so much information — and I felt called to summarize it all for you here at JustineCelina in June 2020's edition of DIGITAL BLOOMS.
June 2020's Digital Blooms were created in solidarity with the Black Lives Matter civil rights uprising, using multi-coloured flowers foraged from blooming trees to form a raised fist signifying unity, diversity, support, strength and the power of change. Flowers have always brought me great joy, which was part of the reason I created my DIGITAL BLOOMS series nearly 5 years ago — a way to preserve nature's seasonal beauty and offer each of you a piece of joy, too. My free floral tech wallpapers are often inspired by colour trends and current events — and it simply didn't feel right to not translate the huge shift we're collectively experiencing into this month's edition. Although I'll never be fully educated on the topic of anti-racism, I didn't want that to stop me from using my platforms to take a stand against injustice and encourage you to do the same. Click through to download June 2020's tech wallpaper absolutely free — let it serve as a reminder of the unity our world is fighting for, as well as your and allyship and commitment to do the work necessary to end racism. JustineCelina stands for justice, freedom, oneness, love and equality. Silence is simply no longer an option — Black Lives Matter.
---
All ad revenue generated from this post will be donated to Black Lives Matter
---
WHAT I LEARNED DURING A WEEK OF MUTING MY CONTENT TO LISTEN, LEARN, UNLEARN AND AMPLIFY BLACK VOICES
---
"Let me hold the door for you. I may have never walked in your shoes, but I can see your soles are worn, your strength is torn under the weight of a story I have never lived before. Let me hold the door for you. After all you've walked through, it's the least I can do." ~ Morgan Harper Nichols
Authenticity and integrity are the cornerstones of JustineCelina — and as a content creator, I strive to do my due dilligence on every topic I choose to cover on these pages. Racism isn't a topic that would typically fall under my umbrella of lifestyle based content and at first I felt uncomfortable speaking up — but I've realized this fight for equality isn't about me.

Rewind to June 1st and my heart was so heavy with the gravity of the events that had occurred over the past couple of weeks. I cried many tears that weekend — and as a white, Canadian woman I struggled with what to say, what to do and how to help. But, I knew I couldn't stand idly by any longer and committed to learning how to be an ally.

I spent the better part of the last couple of weeks educating myself, taking action and compiling a plethora of resources for those who may be feeling the same way. Becoming more aware of white privellege, systemic racism and the hidden cultural biases that exist within society (and myself) has definitely not been easy, but it's been necessary. I've always prided myself on being open minded, socially conscious and inclusive — but was I actively anti-racist? The honest answer is that I could learn to do better.

I know (or at least I hope) that if you're reading this post, you don't consider yourself a racist person. But are you actively anti-racist? Personally, I had to spend a lot of time learning what exactly it means to be anti-racist to answer that question. Over the past 2 weeks, I soaked up information from Black activists, Black creators, Black journalists and the Black community at large like a sponge — and I wanted to use June 2020's Digital Blooms to take a stand and share those resources with you.
I realize this isn't my revolution to lead, but I also realize that given my privilege I can use my platform to amplify the voices of those I've learned from to inspire you to educate yourself, do your research, make your own informed decisions and engage in anti-racism work that resonates with you.
"When we identify where our privilege intersects with somebody else's oppression, we'll find out opportunities to make real change." ~ Ijeoma Oluo
In addition to the resources I've listed below, here are some general action items for anyone wondering where to start:

• Start by having conversations about racism with those around you. Over the past 2 weeks I've talked with my partner, my brother on the ground in New York City, my family in rural Alberta and my 88 year old grandmother. These are difficult but important conversations.
• Take action. Sign the change.org Justice for George Floyd petition or another related petition that aligns with a cause you're passionate about. I've signed several petitions over the past couple of weeks and it takes less than 30 seconds. I've linked a great resource for this and other action items below.
• I understand this is a challenging time financially, but please consider donating if you're able to. I've included some options below and I'll also be donating all ad revenue generated from this post to Black Lives Matter.

• Get involved in your community and engage with anti-racism work in your city. Calgary specific information is included in BLM Highlights on Instagram Stories.
There is so much more work to be done and I have a lot to learn, but this post marks the start of a journey that I'm committed to leading with my heart. And I'm extending you an invitation, if you'd like to come along! Consider JustineCelina a safe environment to continue to learn, share and take action together (respectful discussion is encouraged, but hate will absolutely not be tolerated). Equality is something I'm very passionate about — and moving forward, I will continue hold myself and the brands I work with accountable when it comes to diversity, inclusivity and being actively anti-racist.
As always, I'm so grateful to inspire you in any small way — and today is no different. So without further ado, here are at list of resources that I've found helpful and inspiring in my quest to educate myself. This process is uncomfortable, but I'm learning how to do the work. And I hope you'll join me!
---
GENERAL ANTI-RACISM & BLACK LIVES MATTER RESOURCES
---
Black Lives Matter | Ways You Can Help
Black Lives Matter Canada | Ways You Can Help
Anti-Racism Resources for White People
List of Bail Funds for Protestors 
---
SUMMARIES OF MY LEARNINGS THROUGH INSTAGRAM
---
Instagram is where most of the resources I found helpful in educating myself are located. Even if you don't have the app, you can simply click the links below (even on desktop) to view my Stories, which will auto-play in sequence.
I encourage you to engage with these resources by clicking on the images featured in each slide to learn more and support the original creator.
Instagram Summary | BLM Highlight 1
Instagram Summary | BLM Highlight 2
Instagram Summary | BLM Highlight 3
Instagram Summary | BLM Highlight 4
Note: These will be continuously updated
---
HOW TO DOWNLOAD JUNE 2020's DIGITAL BLOOMS
---
Desktop (iOS)
Click on the image you want to download and it will open in a new window. Right click and select 'Save Image As' or 'Set as Desktop Wallpaper'. If you selected the 'Save Image As' option, then just locate the image you saved, right click, and then select 'Set Desktop Picture'.
Phone / Tablet (iOS)
Click on the image you want to download and it will open in a new window. Then, click on the up arrow icon at the bottom of the screen, and select 'Save Image'. Navigate to 'Settings', then 'Wallpaper', then 'Choose a New Wallpaper' and select the image you downloaded from your photos. You'll be able to scroll across the image by dragging your finger across the screen and you can resize or crop it to your liking to display different sections of the design.
---
USAGE
---
These images are for personal use as digital device wallpapers only and cannot be used in any other way without express permission from JustineCelina. I'm relying on the honour system here, but you guys are good people, right? 😉  You can still share the love — if you know someone who would enjoy these wallpapers, please send them our way by sharing the link to this post.
---
DIGITAL BLOOMS JUNE 2020 x BLACK LIVES MATTER | FREE DESKTOP WALLPAPER
---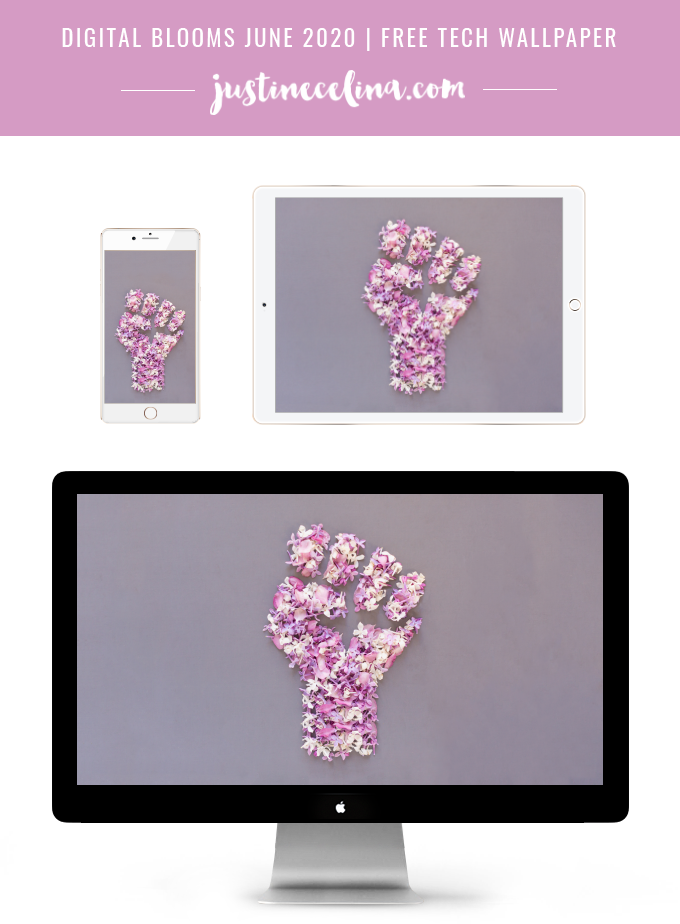 ---
— To download, simply click the image below and follow the How to Download steps —
---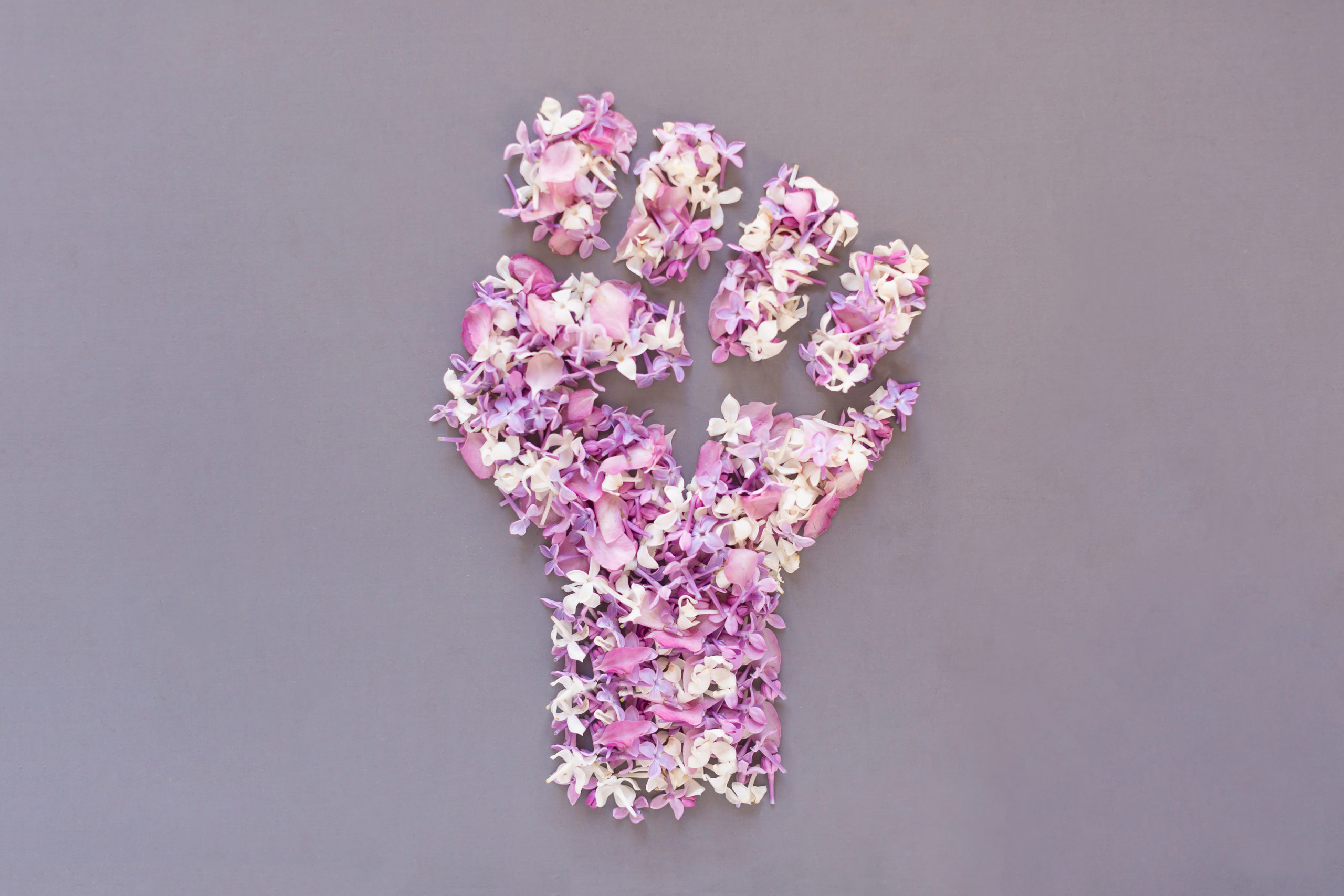 ---
BROWSE THE DIGITAL BLOOMS ARCHIVES
---
Simply click right here (or the image below) and you'll be taken to the archive page to browse thumbnails of each month. Happy tech wallpaper shopping!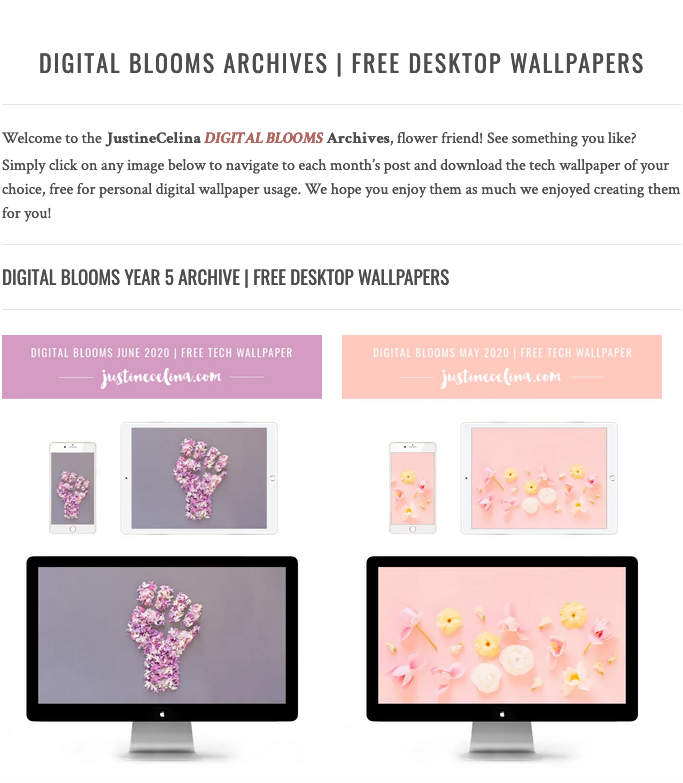 ---
Friends, thank you for stopping by to download June 2020's DIGITAL BLOOMS today — and thank you for your open mindedness and willingness to go on this journey with me. 2020 has been a very challenging year, but I feel everything that's occurred was necessary to finally create lasting change and dismantle systems that are simply no longer working. I hope you'll join me in actively working towards a brighter future and recognizing that it's better to show up imperfectly than not at all — our collective voice is powerful and is being heard. And I'm willing to start the conversation!
While I never thought I'd be writing a post about navigating the largest civil rights movement in history during a global pandemic, here we are. And I want to thank you all so much for being here with me. I realize this isn't the type of content you come to JustineCelina for, however, this issue is simply too close to my heart not to speak up about, in hopes that I inspire you to take action, too. If this post resonated with you and you downloaded June 2020's very special edition of DIGITAL BLOOMS, please use #justinecelinadigitalblooms on social media and tag me — I always love to see them in action and highlight my favourites on Insta Stories! Sending love and light to each and every one of you. Stay safe, friends!
---
Disclaimer: This post is not sponsored, and contains my genuine thoughts, ideas and recommendations. All ad revenue generated from this post will be donated to Black Lives Matter. All copyright of these images is retained by JustineCelina.com. If you're interested in licensing these images for other personal or commercial purposes, please contact me.