The canola is in full bloom here on the Alberta prairies where I've spent the better part of the past week on a bit of a 'workcation' — and I couldn't resist slipping out to capture another set of golden hour images! As a blogger and content creator, I review my photo archives often, and the images we captured during last year's completely impromptu (and a little tipsy!) canola shoot were some of my favourite of the entire year. So last night we decided to resurrect those happy, sunshiny memories! I put on a different dress and we headed up the gravel road to a different field with different camera a different lens — almost exactly 1 year later.
I'm wearing a few of my favourite things in this post — a flowy, white cotton dress, a turban style headband, an Amuse Bouche lipstick, oversized, round sunnies and some vintage jewellery. I'm also sharing some thoughts on creativity, inspiration, balance and the grind of modern day life in this introspective post. I invite you to hit pause for a little while, bathe in this beautiful golden light and breathe in the warm, canola scented air with me on this peaceful summer evening in the prairies!
---

---
FLOWERCHILD
---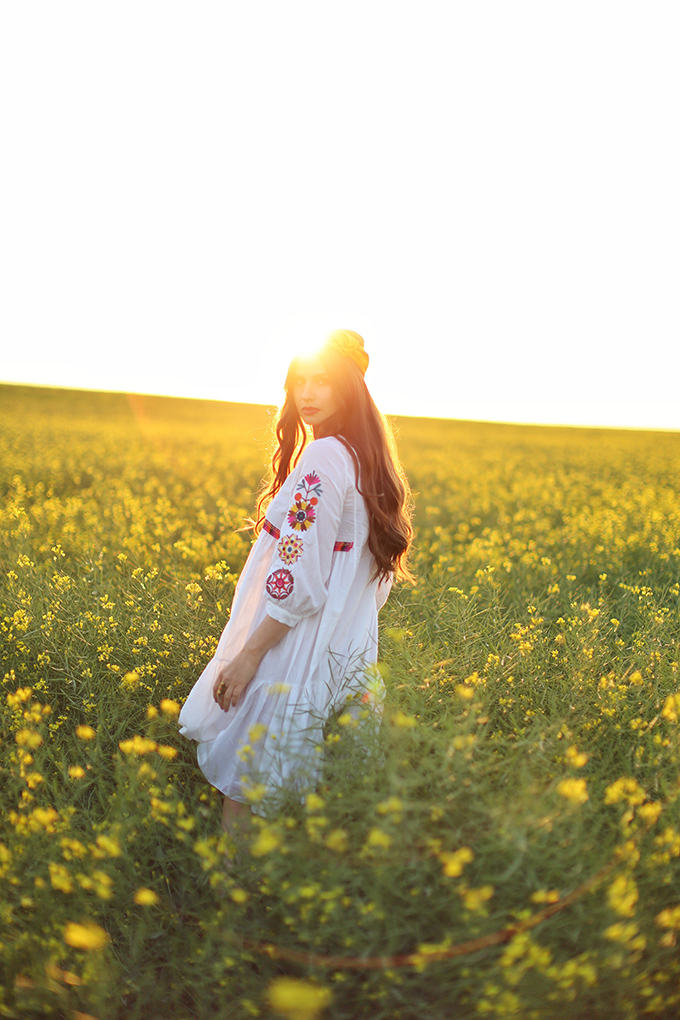 If you've read JustineCelina for any length of time, you've probably heard me mention the prairies. I grew up on an acreage east of Calgary in small town Alberta — and although I made some great memories and lifelong friends here, I couldn't wait to leave. I moved back to Calgary at the age of 17 (seriously 2 weeks after graduating high school), found a job at a hair salon and embarked on the next chapter of my life. Even though I had many more conventional post secondary education options available to me, I attended the Alberta College of Art and Design in the fall, where I worked towards a degree in Visual Communication. I've never really considered myself a small town person, but now I wouldn't trade the experience of growing up here for the world. I've only recently come to realize the many ways these dirt roads and rolling fields have shaped me. Truly, this is my happy place — a place where my soul feels grounded, inspired and free.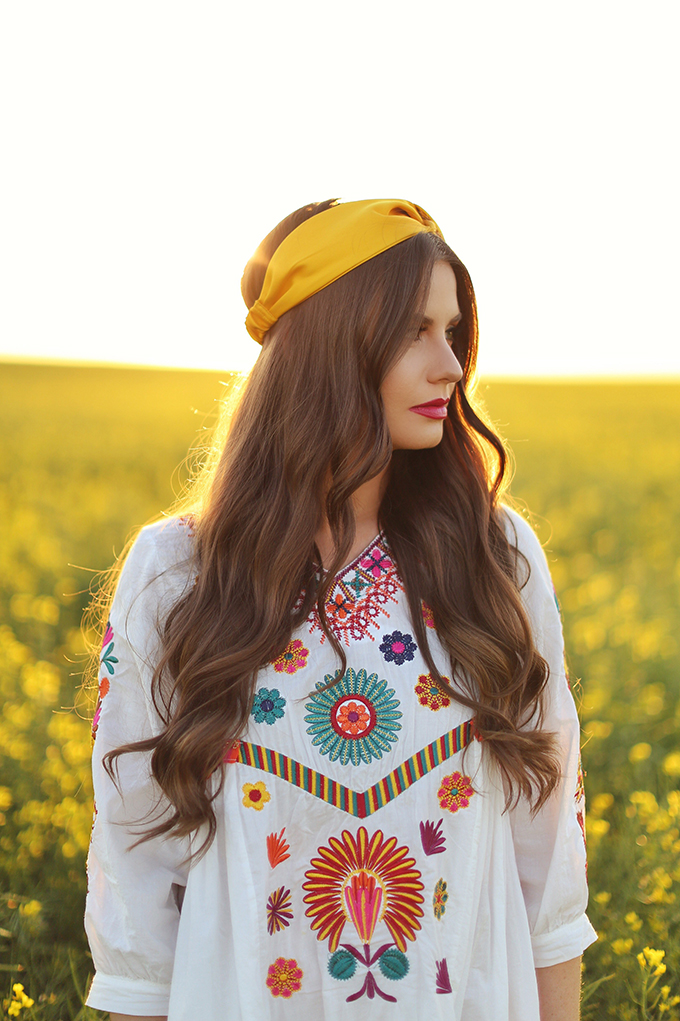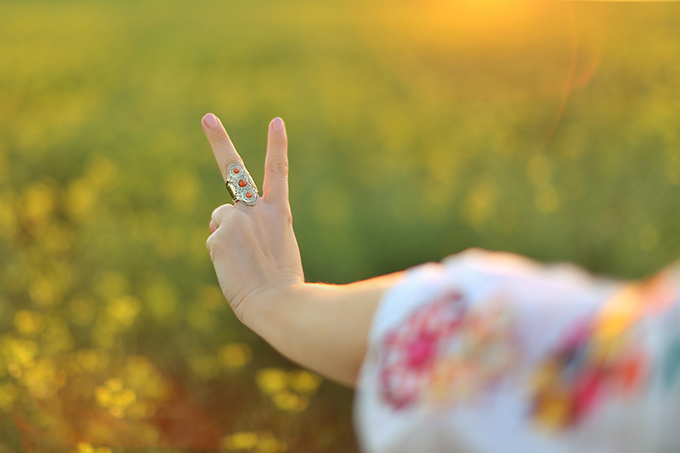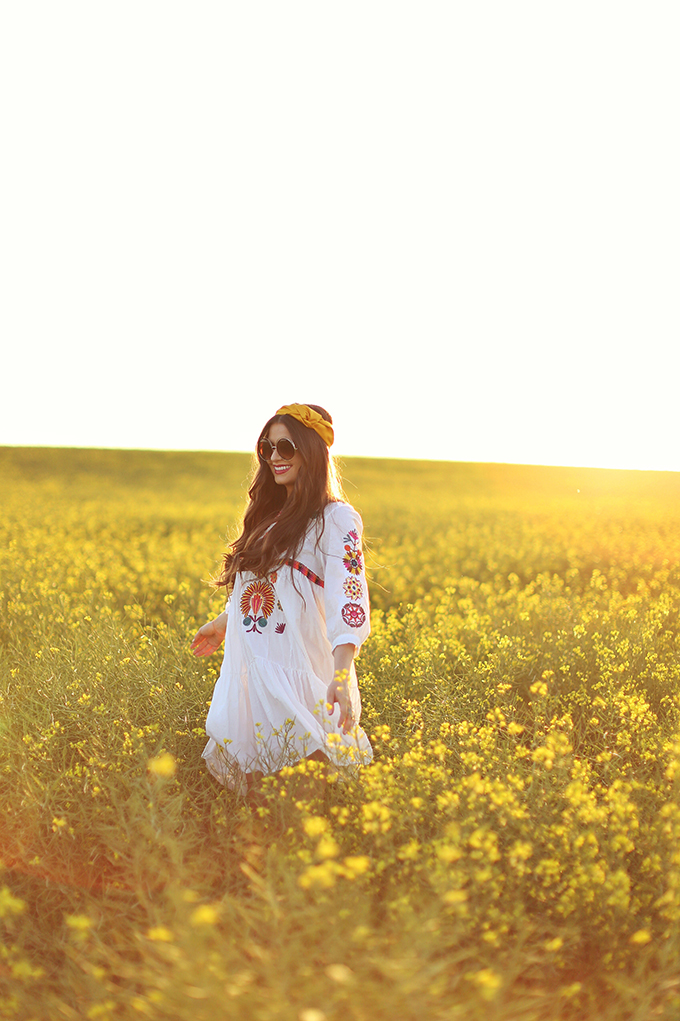 Coming home, especially during the summer, has become a bit of a creative sanctuary for me. As someone who's made a living the past 10 years by producing creative work for others, I've also come to realize that while I'm very fortunate to be able to do what I love, this lifestyle lends itself to burnout. Us passionate creative types tend to overwork ourselves and burnout is something I've experienced during my 30+ trips around the sun more times than I care to remember. Since making an effort to cultivate more balance in my life this year, I'm happy to say that I believe I've put those days behind me — at least for now.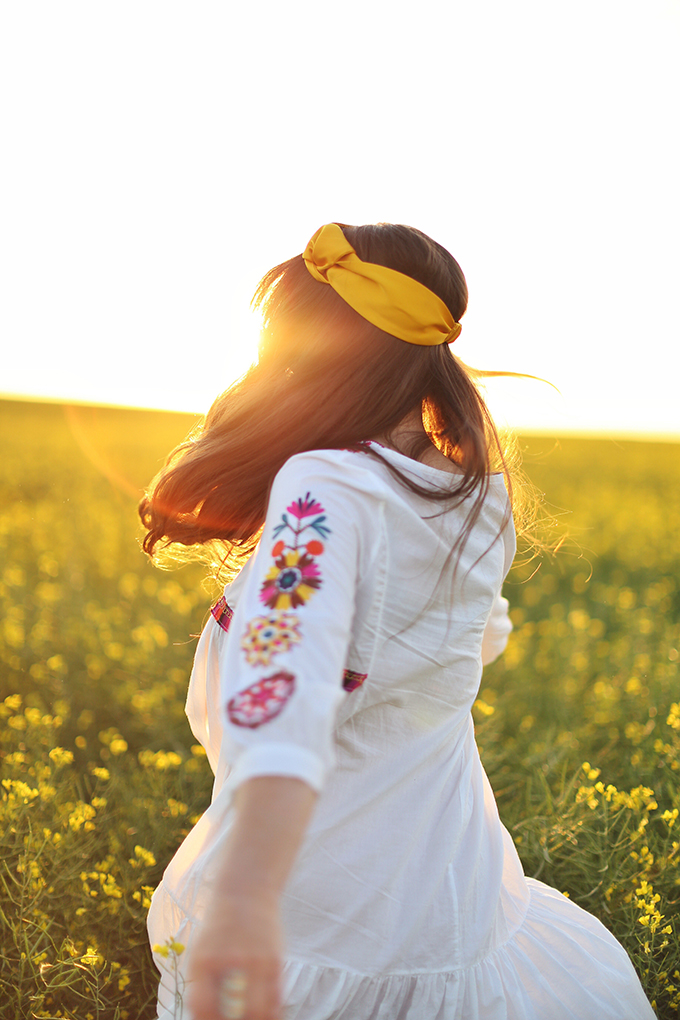 I've become pretty good at learning how to feed my creativity — but it's a fine balance figuring out how to fuel the spark and simultaneously keep it from burning out. And to be honest, sometimes it's exhausting. Whenever I feel like my day to day grind is getting a bit out of control, I get in my car and drive an hour east of the city to this beautiful place. And I can feel the stressors and tensions of everyday life melt away with every passing kilometer.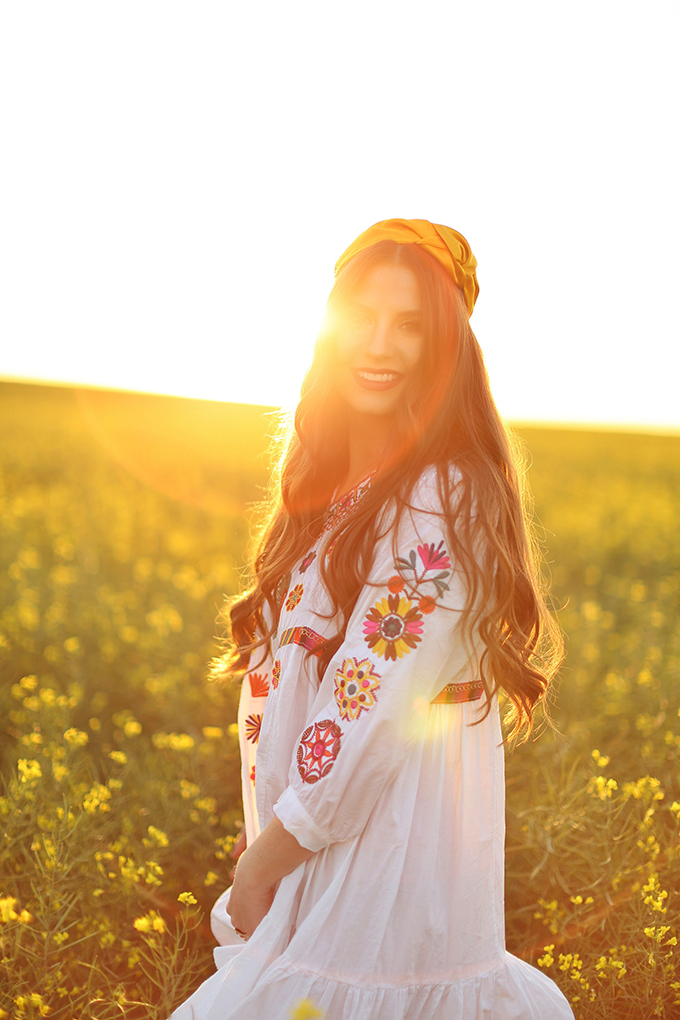 This year, my family is undertaking a few renovations at my childhood home during their time off. It's an old craftsman bungalow they moved out to a basement they poured themselves before restoring it and building a few additions — and it's been a work in progress for the past 15 years. My Mom loves to putter away on various projects around the house, so she doesn't mind. We moved out to this acreage from Calgary when I was 12 — and I thought the world was going to end. To give you some perspective, I wore makeup and took the bus to the mall when I was 12. We actually lived in an old school bus my parents converted into a motorhome for the summer where we bathed in a teepee until the water was functioning in our new home. At the time, I (along with many other people, I'm sure) thought they were absolutely insane. The first day of grade 7 I hopped on a yellow school bus where kids were wearing cowboy hats and Wranglers — it was complete and utter culture shock.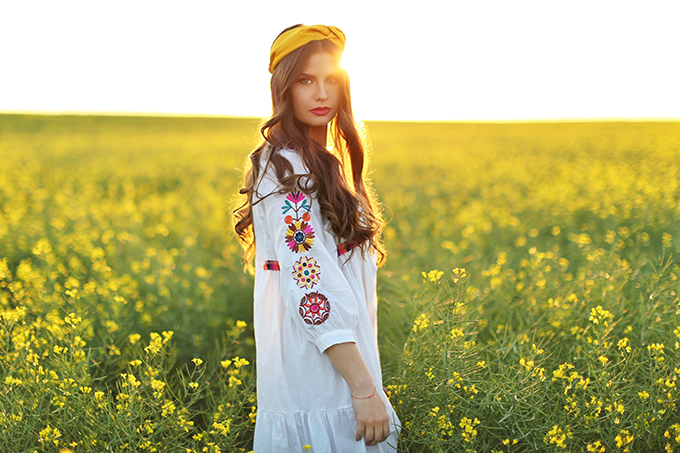 Earlier today as I was writing this post, Mom found an old newspaper from the day I was born while clearing out their bedroom. Tucked inside was a beautiful poem created by a woman she used to work with when I was born. Honestly, I'm a bit taken back by how accurately it describes me and how much it resonates with me at this particular time in my life. I've always been a spiritual person and truly believe in synchronicity — I don't think it's a coincidence that we found this treasured keepsake during my summer visit. Maybe I'm just feeling a bit sentimental and nostalgic — but it's something I feel that I needed to see. A knowing smile from the universe.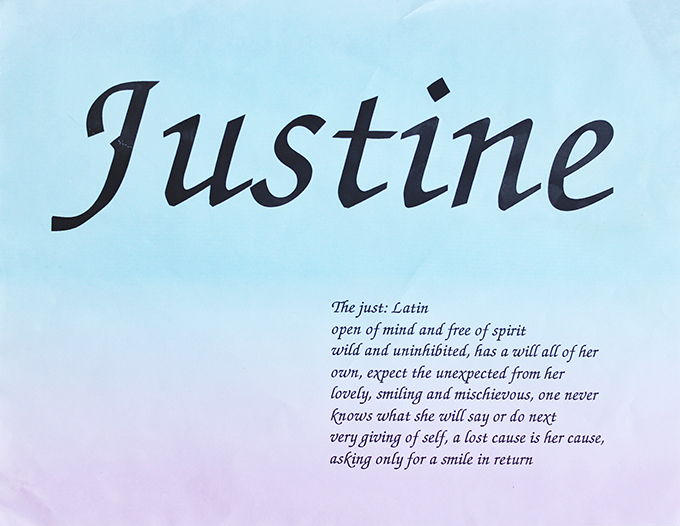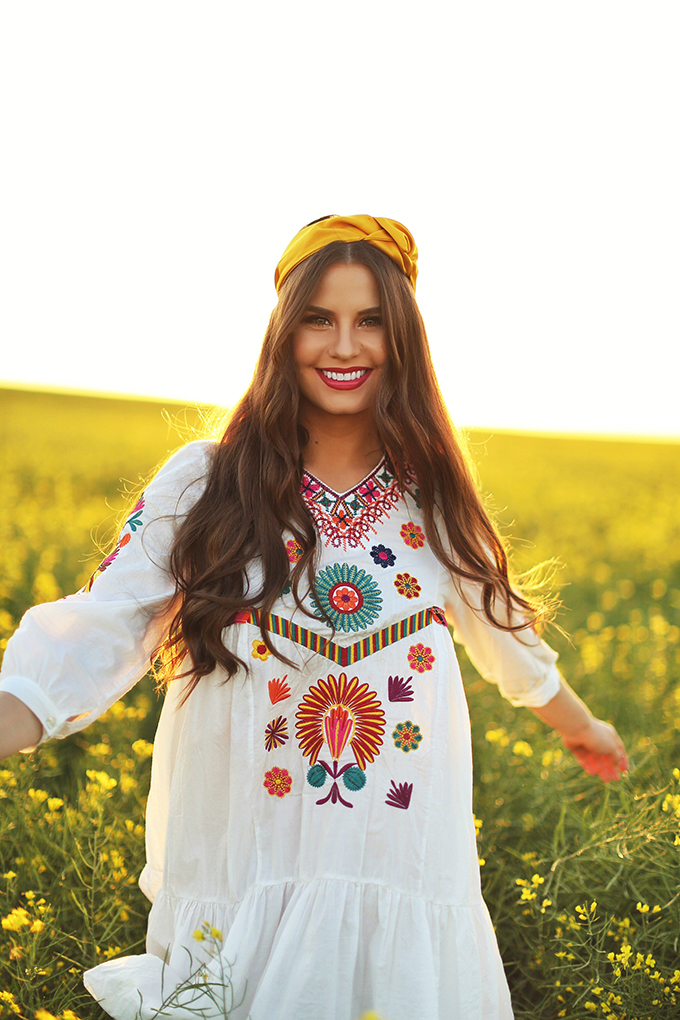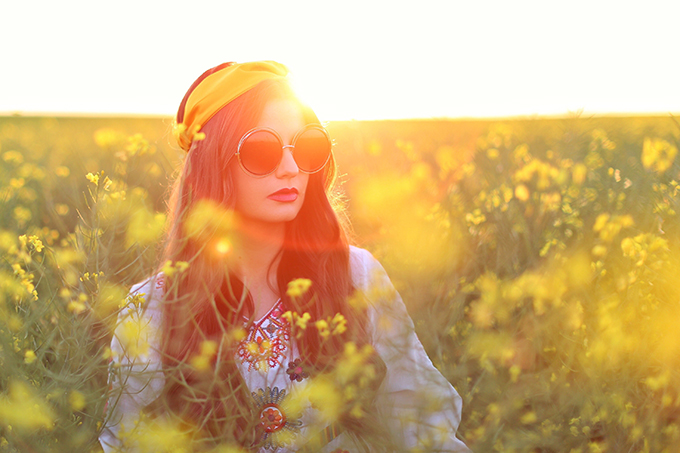 During my time out here, Mom has been puttering away on her various projects around the house, and I've been puttering away on my various creative projects. She's just in other room if I need a hand (if you didn't know, she takes all the photos you see here at JustineCelina that I'm in and therefore can't take myself). In the evenings we make dinner for my family, I recipe test, we drink wine (or my upcoming Watermelon Frosé Margaritas!) and capture content together. If you've never seen canola in real life, I hope these photos do it justice. I absolutely love these little yellow flowers and find their fleeting nature almost intoxicating — in just a few days they'll lose their petals and ready for harvest. I'm so grateful we were able to play around in this gorgeous golden light with my new camera and lens in a field just down the road from my childhood home, making new memories. I'm also grateful that through JustineCelina that I'm able to share all these different threads of the fabric of my life with all of you.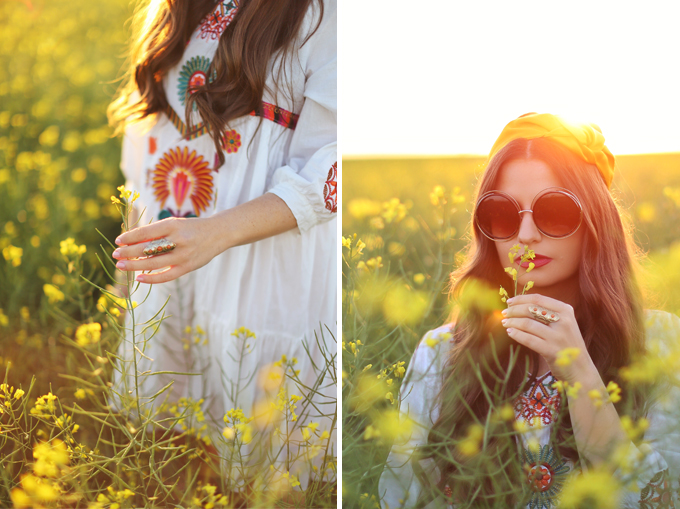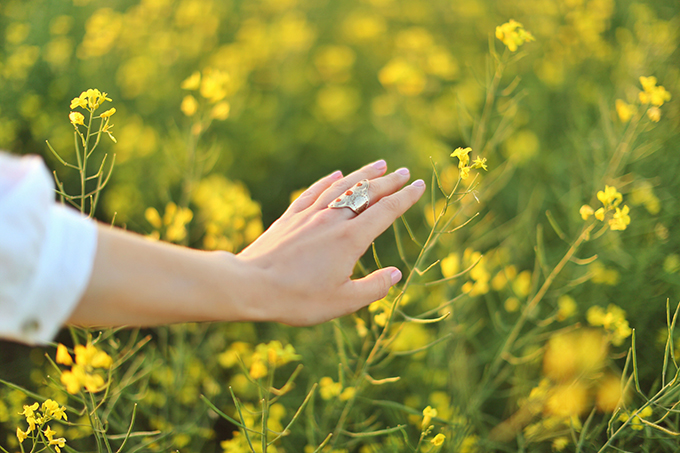 For those of you here for the FASHION, I suppose I should get on with what I'm wearing! Each summer I tend to gravitate to embroidery and this season it just happens to be on trend. I've actually owned this dress since last summer and wore it to various Stampede festivities this year paired with my vintage boots and a denim jacket. I love it because it is the outfit — it's so easy to throw on and to style. Statement dresses are some of my favourite things to wear in the height of summer, especially when they're so flowy and breathable. This exact style is no longer available (however this same embroidered design on a blue and white striped fabric is — and it's under $40!), but I've also linked lots of similar alternatives for you below.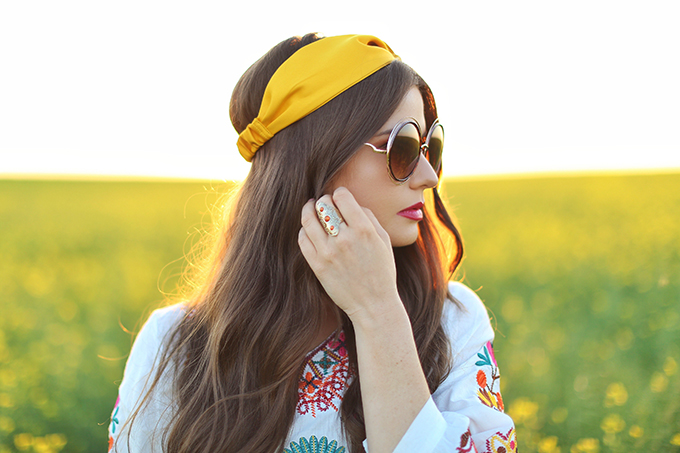 You've probably seen these sunnies around. They're an amazing dupe for the Chloe Carlinas that I managed to track down at Forever 21 of all places earlier this spring. They sold out pretty quickly, but I've linked the real deals they're modeled after for you here and below. My lip is Bite Beauty's Amuse Bouche lipstick Beetroot — my all time favourite formula, but a shade I typically reserve for the colder months. My headband is from Zara and my ring is vintage.
---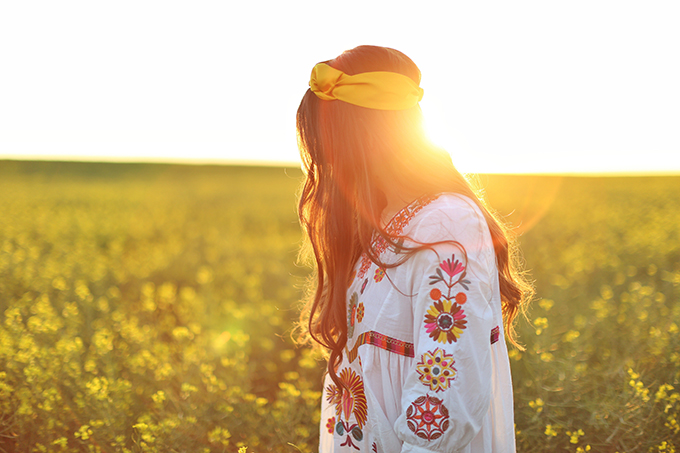 ---
SHOP THE POST
---

---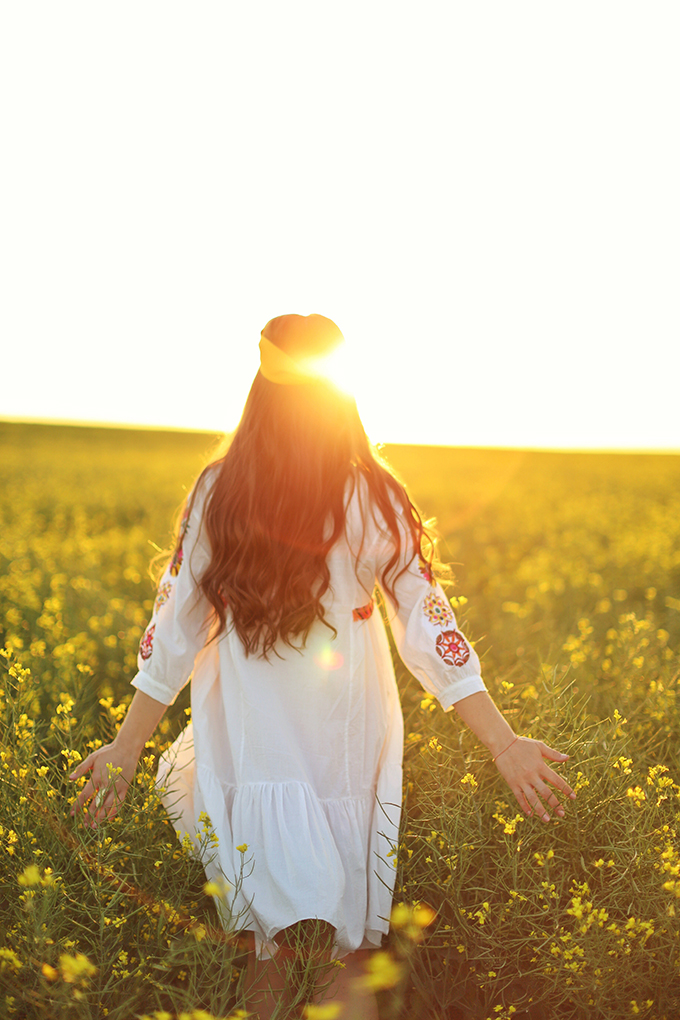 I hope you enjoyed coming along to the canola fields near my childhood home in rural Alberta with me in this reflective post! I'm curious — what's your happy place? I'm packed up to head back to the city bright and early tomorrow morning feeling refreshed and inspired. Wishing you all a happy, healthy, beautiful rest of your summer — I hope you're all able to find a little bit of peace, joy and tranquility wherever you are!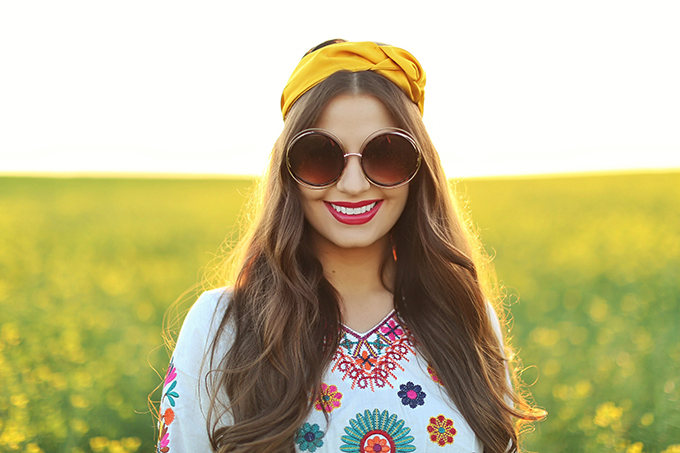 ---
Disclaimer: This post is not sponsored and contains my genuine thoughts, ideas and recommendations. JustineCelina uses affiliate and referral links, which allow me to receive a small commission when you make a purchase through one of my links. Thank you for supporting the brands and businesses that support JustineCelina.com!