---
Music lovers, I'm back today with a fresh Monthly Soundtrack for your listening pleasure! My November 2019 Soundtrack is a laid back, easy listening playlist brimming with 2 hours of eclectic and inspiring tunes spanning genres that have been fuelling my creative endeavours this month! I'm also still on a bit of a jazz kick — there's something about cold weather and the approaching holiday season makes jazz sound so good (especially in front of the fireplace with a glass of your favourite libation!). As 2019 winds down I've been busy finishing up various projects while gearing up for the holiday season — and I've had this playlist on heavy rotation. It makes for great thinking, creating, writing, relaxing and entertaining music!
While I discovered tons of new artists and albums this month, Bahari's Gameboy, boxboy's i should probably get moving, The Hails Stay, Handsome Ghost's Blood Stutter, the Savior Adore remix of Japanese Wallpaper's Fooling Around, Akira The Don and Jordan Peterson's Clean Up Your Room, Kasbo and Lizzy Land's I Get You, Verzache's I Don't Wanna Be Nothin', UTAH and Jacob Steele's I Found You, Saavan's Remember, Houses Fast Talk, Boojie Belgique's Everytime, Maggie Rogers Love You For a Long Time, Andrew Applepie's 11:11, Luna Shadow's practice, EXES With Fire, Handbook's Forgiveness, Blonde Maze's The Kite, Saib's Yoko, Kays and Akacia's Dirty Heaven were my most played tracks. Thanks for stopping by to listen — and enjoy your Saturday, friends!
---
NOVEMBER 2019 SOUNDTRACK
---
---
NEED MORE FRESH TUNES? CHECK OUT MY LATEST PLAYLISTS
---
October 2019 Soundtrack (or listen on Spotify)
September 2019 Soundtrack (or listen on Spotify)
August 2019 Soundtrack (or listen on Spotify)
July 2019 Soundtrack (or listen on Spotify)
June 2019 Soundtrack (or listen on Spotify)
Or, browse the MUSIC archives here at JustineCelina for 4.5 years of monthly playlists!
---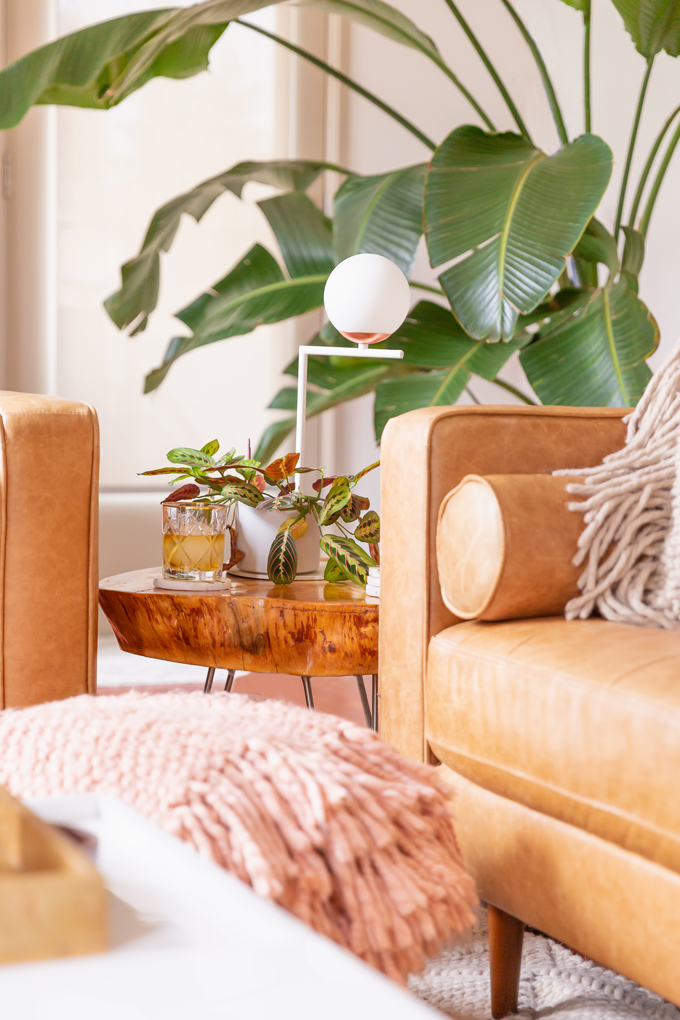 Thanks for listening, friends! I hope you enjoy this ultra chill, easy listening playlist and that it helps to inspire you during these busy final days of 2019. Coincidentally, we're actually off the the opening of a new jazz club tonight — and the dress code is roaring 20's. It should be a lovely evening — if you're interested in coming along, tune into Stories tonight!

This month's album cover features a snippet of our fall decor — and Adam's favourite place to enjoy a glass of scotch after a long day! If you're interested in any of the pieces or details featured, be sure to hop over to my How to Transition your Decor into Fall post. We're picking up our real Christmas tree tomorrow and I'm so excited to share some fresh holiday decor inspiration with you in early December!
---
What have you guys been listening to lately? Leave me your recommendations in the comments, I'd love to hear from you! Do you use Spotify? If you do, feel free to drop some links to your playlists, or playlists / artists you think I'd enjoy. Thanks for swinging by for my November 2019 Soundtrack!
---
Disclaimer: This post is not sponsored, and contains my genuine thoughts, ideas and recommendations. JustineCelina uses affiliate and referral links, which allow me to receive a small commission when you make a purchase through one of my links. Thank you for supporting the brands and businesses that support JustineCelina!