---
In search of some fresh tunes as we transition into spring? I'm back with another Monthly Soundtrack for your listening pleasure today — featuring my usual eclectic melange of genres and artists with a chill, easy-listening vibe. Much like love month, my February 2020 Soundtrack is short n' sweet with just shy of a hour and a half of my most recent musical discoveries. There was a lot of behind the scenes work happening here at JustineCelina this month as I got back into a content creation rhythm after vacation — and this 23 track playlist is what kept me feeling inspired and motivated!
Because of the curated nature of this month's soundtrack, nearly ever song featured this month has been on heavy rotation. That said, blackbear's me & ur ghost, Lane 8's Just, Tim Legend's Late Pickup Station, everything from Tycho's Outer Sunset, Attom & Frye's Way You Move, Austeria's The Shimmering, SUMif's Collide, Billie Eilish's No Time To Die, Arizona Zervas ROXANNE and Bombay Bicycle Club's Eat Sleep Wake (Nothing But You) were on repeat for days! Whether you stream my February 2020 Soundtrack directly from the embedded player in this post or come join me on Spotify, I hope you enjoy it!
---
FEBRUARY 2020 SOUNDTRACK
---
---
NEED MORE FRESH TUNES? CHECK OUT MY LATEST PLAYLISTS
---
January 2020 Soundtrack (or listen on Spotify)
2019 Soundtrack (or listen on Spotify)
December 2019 Soundtrack (or listen on Spotify)
November 2019 Soundtrack (or listen on Spotify)
October 2019 Soundtrack (or listen on Spotify)
Or, browse the MUSIC archives here at JustineCelina for nearly 5 years of monthly playlists!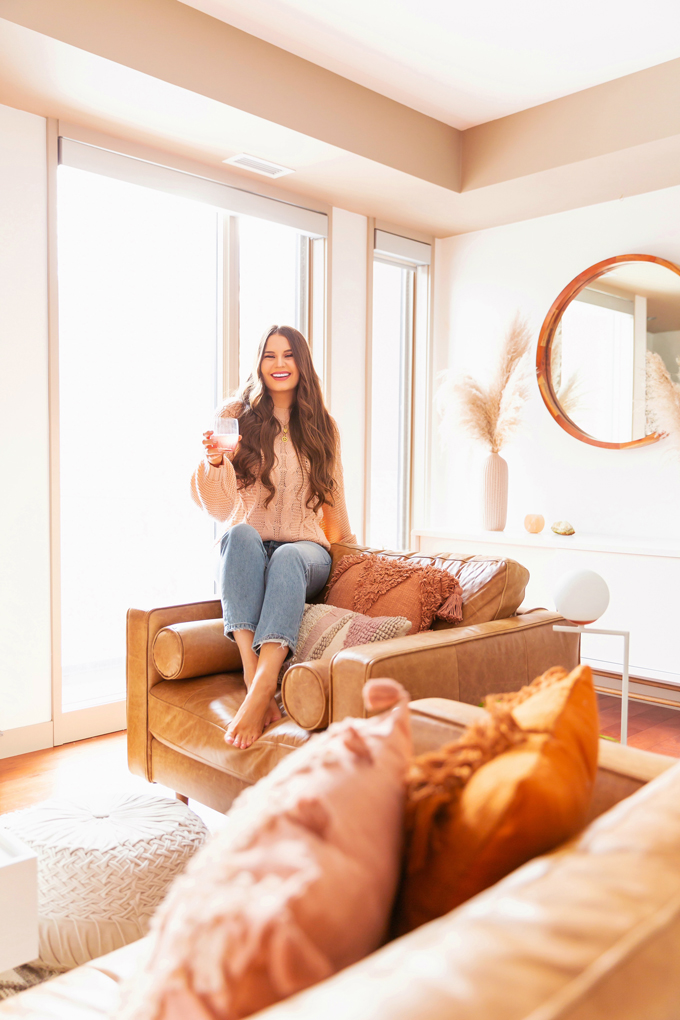 ---
Thanks for listening, friends! As always, I hope you enjoyed this month's soundtrack and discovered some new artists or tracks you enjoy. We're actually catching 2 live shows next month and I'm ridiculously excited about it! In college and the following few years I went to live shows almost weekly and a few festivals each summer — and I really miss it. Here's to making an effort to experience more live music in 2020. What have you been listening to lately? If you have a recommendation for me, I'd love for you to drop it in the comments!

I shot this month's album cover on Valentine's Day! I was gearing up for a cozy night in — complete with a great bottle of rosé (which I had already dipped into!), Thai from our favourite local restaurant and this soundtrack streaming through the speakers. If you notice a few new pillows it's because I've been freshening things up a bit around here for spring! I can't wait to share the updates we've made to our Living Room — stay tuned for that post coming in March!
---
What have you guys been listening to lately? Leave me your recommendations in the comments, I'd love to hear from you! Do you use Spotify? If you do, feel free to drop some links to your playlists, or playlists / artists you think I'd enjoy. Thanks for swinging by for my February 2020 Soundtrack!
---
Disclaimer: This post is not sponsored, and contains my genuine thoughts, ideas and recommendations. JustineCelina uses affiliate and referral links, which allow me to receive a small commission when you make a purchase through one of my links. Thank you for supporting the brands and businesses that support JustineCelina!