---
It's the height of summer here on the Alberta prairies — and I'm thrilled to bring you another recipe roundup to celebrate the very best ingredients this season has to offer! Summer is my absolute favourite time of year to take a trip to the farmers market or our Country Garden in search of gorgeous produce, herbs and flowers to inspire my culinary creations. My hope is that this post featuring 20+ Healthy Plant Based Summer Recipes also inspires you to do the same, while supporting your local markets, growers and farmers whenever possible! So, I've scoured my extensive RECIPE archives to compile this fresh and seasonal summer recipe roundup to include my (and your!) most loved, most made and most featured summer recipes in one convenient location, categorized by meal type and diet for easy browsing reference.
As always, this seasonal recipe round-up features my all-time-favourite summer recipes across culinary categories, from breakfast through happy hour — with lots of snacks, treats, smoothies and juices! My flexitarian recipes are simple, seasonal, free of dairy, gluten and refined sugar and packed full of  fresh, nourishing ingredients — the majority are also vegan or vegetarian (although there is one pesceratian recipe in this roundup!). These whole food dishes are also budget friendly, with many yielding large batches (perfect for families, summer meal prep or batch cooking!). From my kitchen to yours, I hope this roundup of tested-till-perfect, plant based eats and drinks inspires you enjoy and experiment with summer's bountiful fruits, vegetables, herbs and blooms! Cheers to our most delicious summer yet!
---
20+ HEALTHY PLANT BASED SUMMER RECIPES
---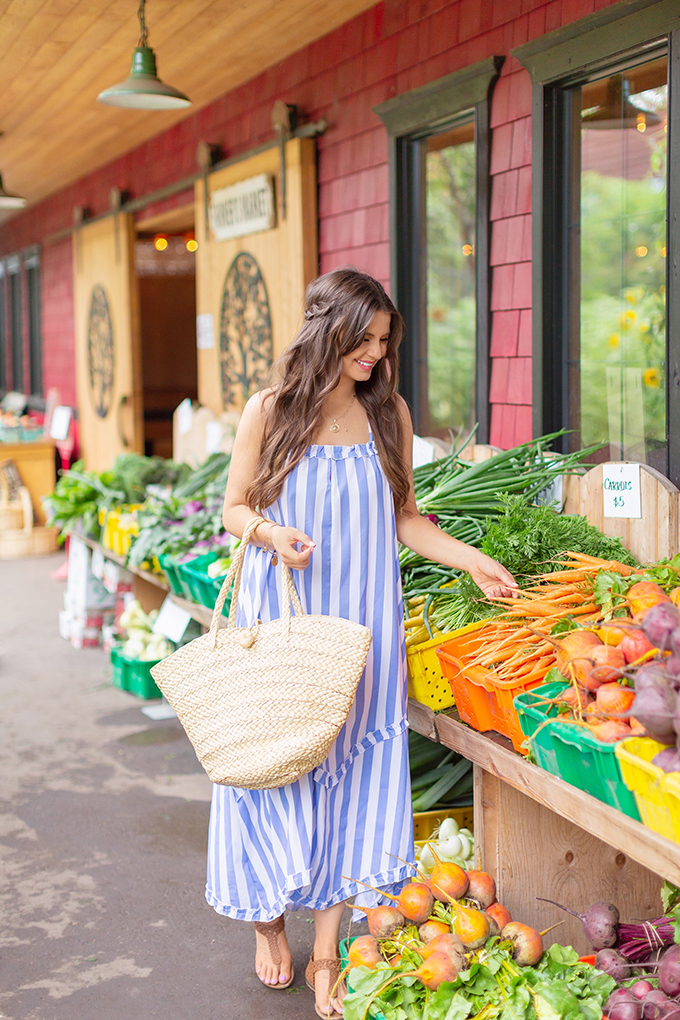 As always, I have so much summer recipe goodness to share that I'm going to jump right in! If you're familiar with my typical recipe roundup format, I've organized this post by course or category for easy browsing. I've included a photo, summary and link to each recipe — and also indicated which category each recipe falls into: Vegan, Vegetarian, Gluten Free, Refined Sugar Free and Freezer Friendly.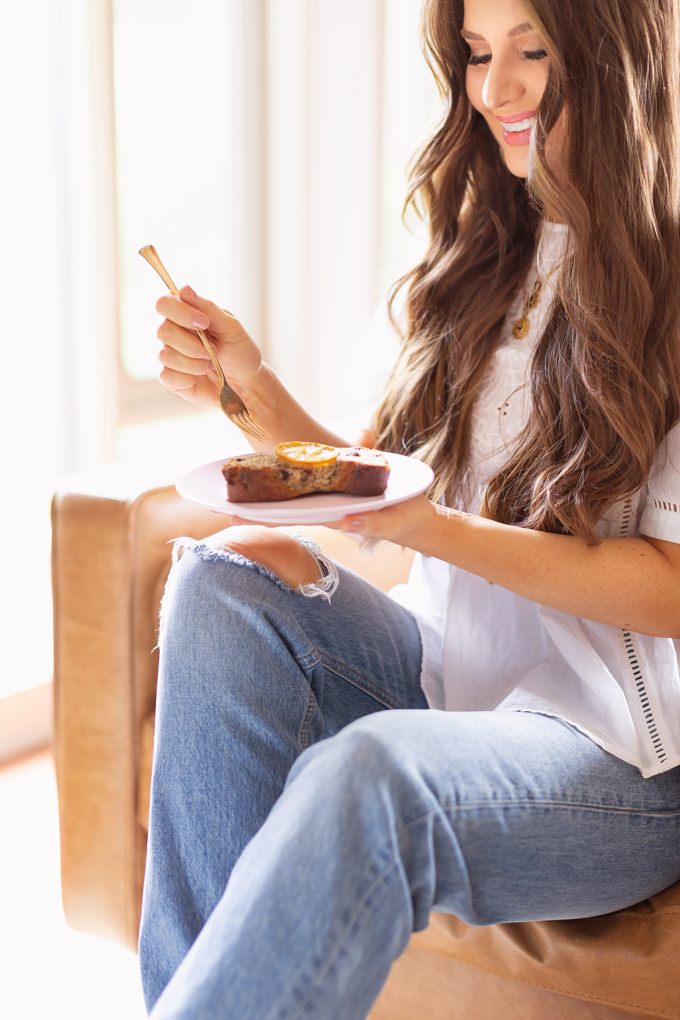 You'll also find a Pinterest friendly graphic at the footer for easy reference if you'd like to bookmark this roundup for later. Here's to finding fresh ways to enjoy spring's bountiful produce this season  —  I hope you enjoy my 20+ Healthy Plant Based Summer Recipes roundup!
---
SMOOTHIES & JUICES
---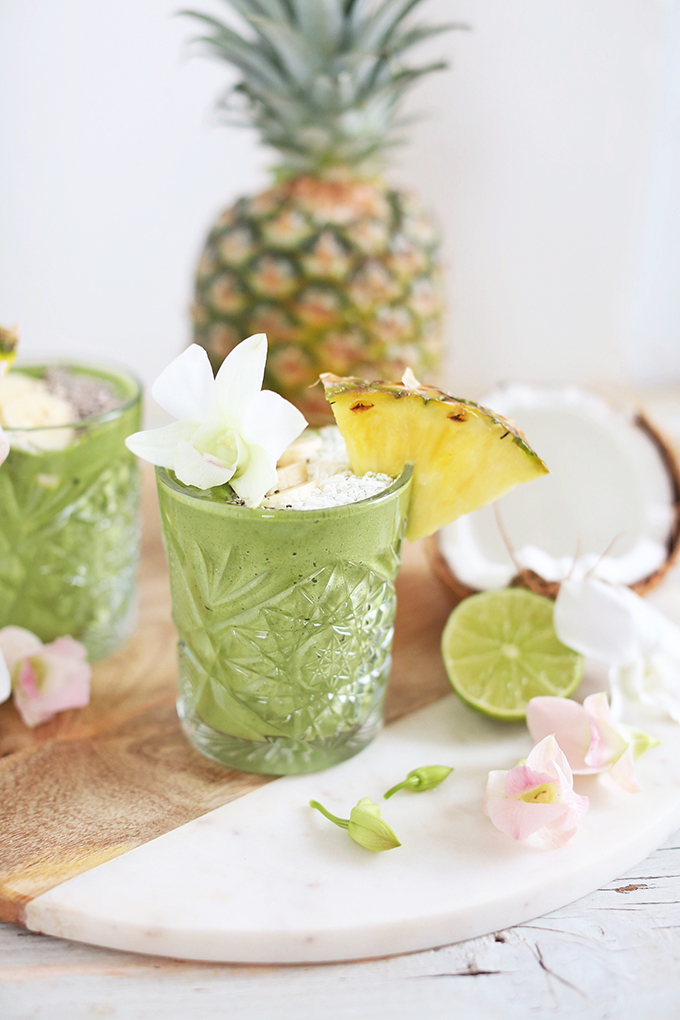 Vegan, Vegetarian, Gluten Free, Refined Sugar Free
My Tropical Zinger Green Smoothie combines island-inspired flavours of creamy banana, sweet pineapple, zingy satsuma, hearty pear, bright lime, healing ginger and hydrating coconut water — plus a mega dose of nutritious spinach and omega rich chia seeds (I promise you can't taste the spinach at all!). This tropical elixir is packed full of vitamins, potassium, iron and protein. It's also a great way to persuade your littles to eat their fruits and vegetables! Whip up a Tropical Zinger Green Smoothie anytime you're craving a taste of the tropics — it's refreshing, revitalizing and reminiscent of a super charged pinã colada (no white sandy beach required!).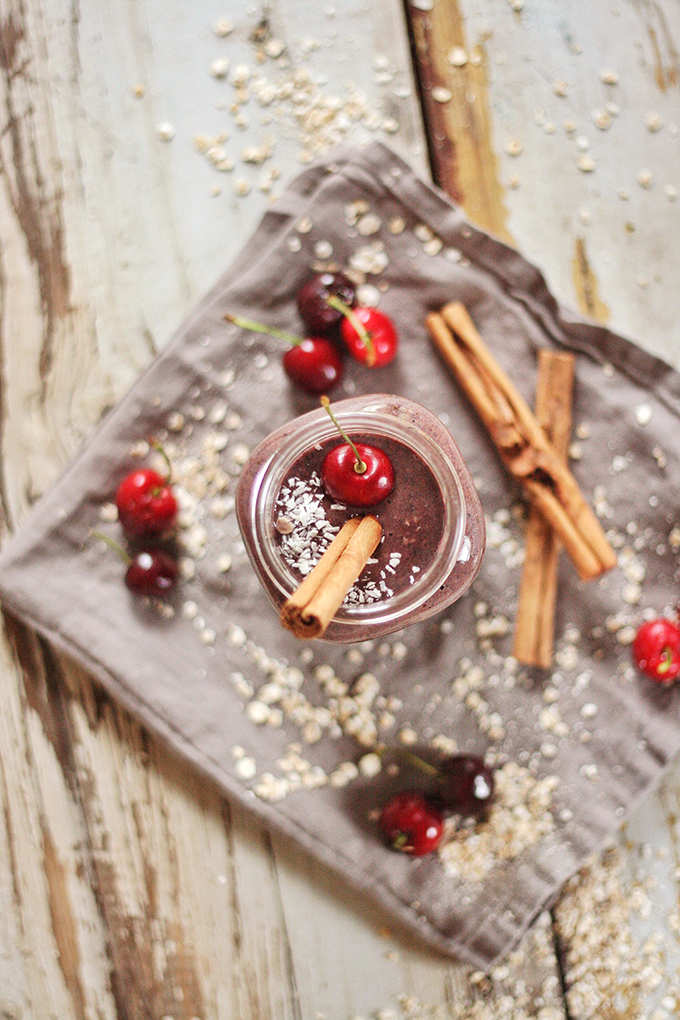 Vegan, Vegetarian, Gluten Free, Refined Sugar Free
My Cherry Crumble Smoothie is inspired by one of my favourite summer desserts with a 'free from' twist — cherry crumble! I incorporated cherries into a healthy, nutrition packed smoothie that you can enjoy anytime of day (even though it tastes like a dessert!). My Cherry Crumble Smoothie also contains an unexpected superfood vegetable that makes it naturally sweet and decadent tasting — just like real cherry crumble.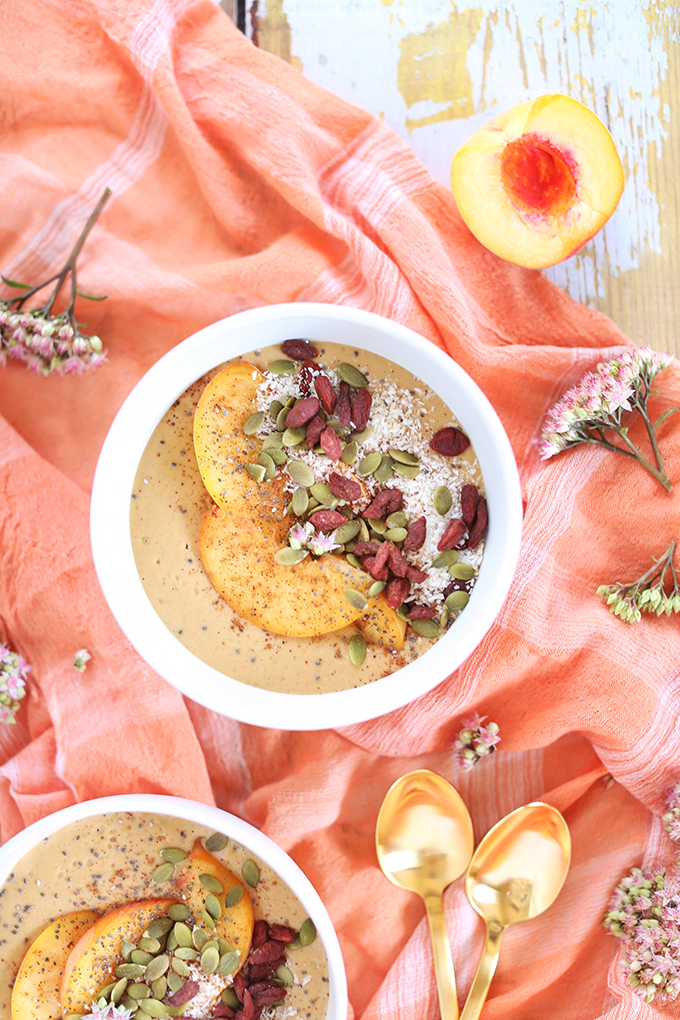 Vegan, Gluten Free, Refined Sugar Free
My Superfood Peach Pie Smoothie Bowls is a simple, seasonal breakfast bowl inspired by the classic late summer pie and brimming with powerhouse ingredients, plant based protein, antioxidants and healing, autumnal spices. The best part? If you, too are experiencing peach overload, this recipe actually gives variations for frozen and fresh peaches. I even snuck a vegetable in there! Try my Superfood Peach Pie Smoothie Bowls while those juicy Okanagan peaches are at peak ripeness or freeze them now and indulge in a peach pie inspired smoothie bowl anytime you want to treat yourself to a quick, nourishing breakfast this autumn. As always, it's free of dairy, gluten and refined sugar — and absolutely delish!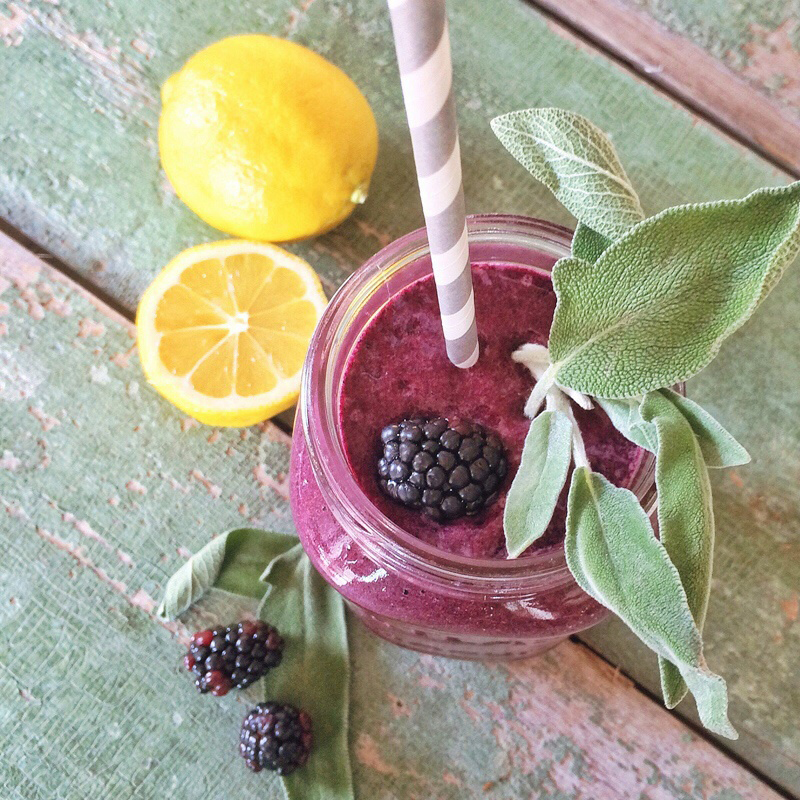 Vegan, Gluten Free, Refined Sugar Free
I took inspiration from one of my favourite blackberry sage teas to come up with this sweet and savoury Blackberry Sage Smoothie recipe! It's bursting with luscious berry flavours, complimented by an earthy hint of sage. A splash of lemon makes this smoothie bright and refreshing, plus it's loaded with antioxidants and anti-aging ingredients. Enjoy this smoothie whenever you're craving something savory, sweet and unique!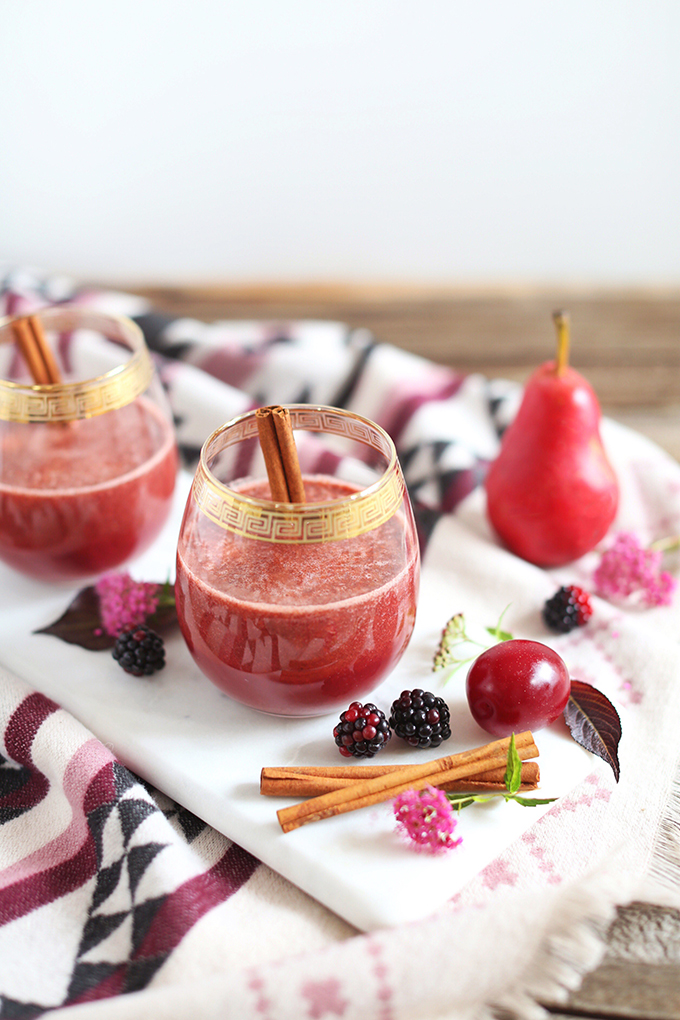 Vegan, Gluten Free, Refined Sugar Free
My Radiant Red Juice is a beautiful, summer-meets-fall elixir celebrating the best produce our bountiful Canadian landscape has to offer during this transitional time of year. This comforting, vivacious juice is comprised of heirloom apples, red plums, red pears, blackberries, carrots, ginger, lime and a kiss of cinnamon. It's a nutritional, crimson powerhouse is loaded with a mega dose of vitamins, antioxidants, phytonutrients and flavonoids to help to promote a healthy immune system and a radiant complexion!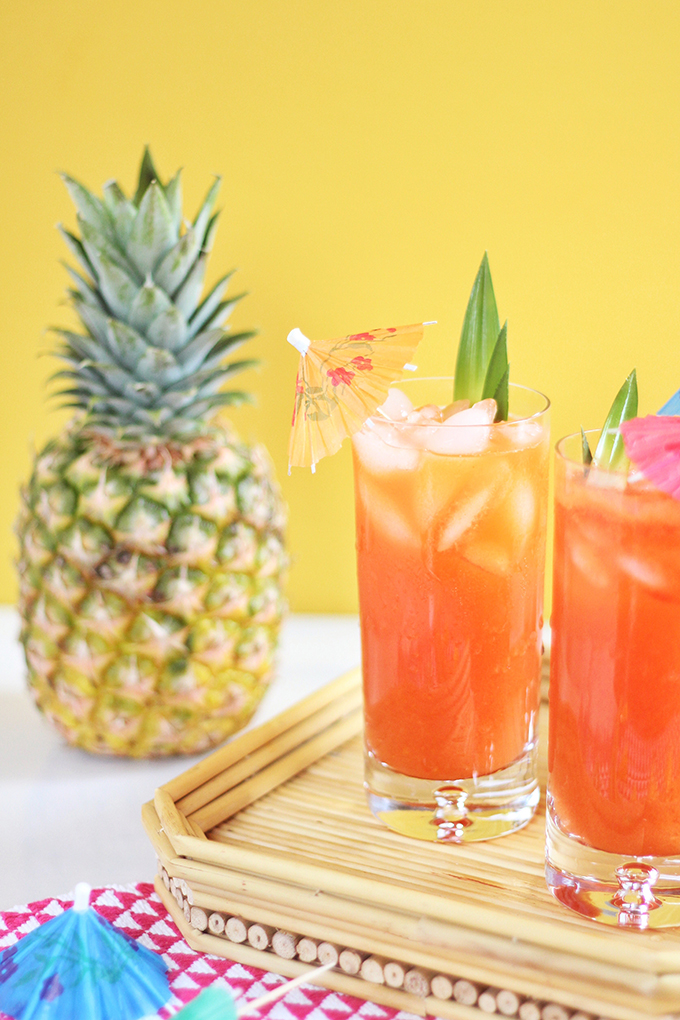 Vegan, Gluten Free, Refined Sugar Free
My Tropical Pineapple Turmeric Cooler is a blend of sweet pineapple, powerhouse carrot, hydrating watermelon, spicy ginger and healing turmeric, rounded out with a bright splash of lemon. I've been enjoying it lately post-morning workout, but it's a versatile recipe that can be enjoyed anytime of the day or night when you need a fresh, sunny pick-me-up! The invigorating ingredient deck always gives me tons of energy to fuel the rest of my morning and it also aids in digestion. Whip up a batch in the A.M. for a tropical kick-start, or enjoy it with a little Caribbean rum on a hot summer night (go on, put some rum in your fresh juice — I'm not gonna judge you!).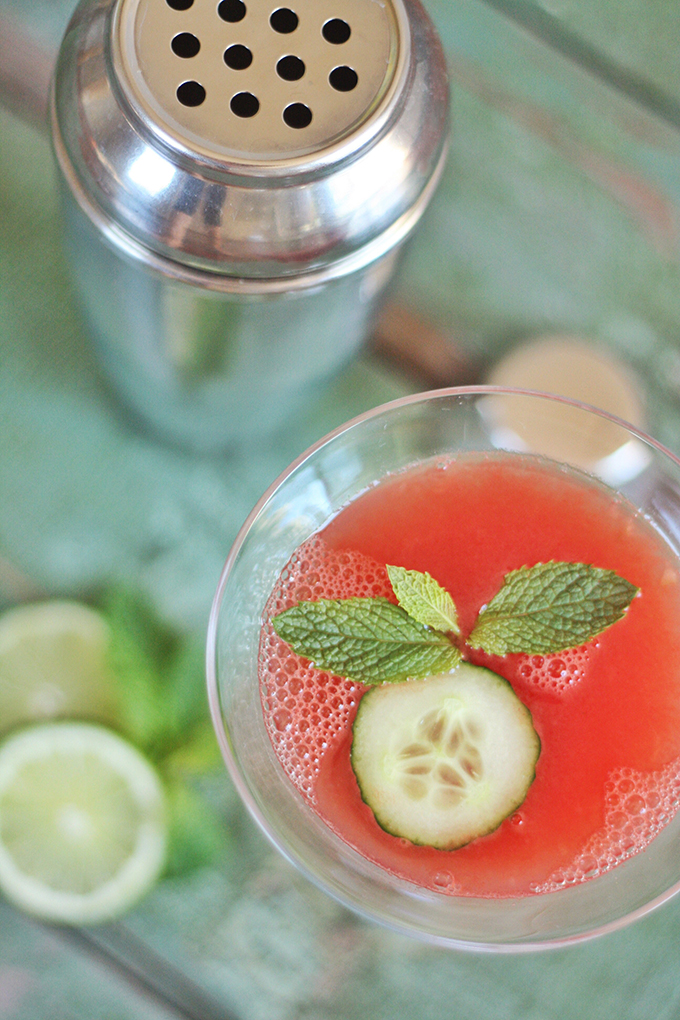 Vegan, Gluten Free, Refined Sugar Free
All you need are 4 ingredients to make my Detoxifying Watermelon Mint Limeade — a simple, ultra refreshing juice recipe that involves a whole lotta watermelon! I love to indulge in a big glass of this juice after a workout to rehydrate and nourish with healthy dose of vitamins. Also, how gorgeous is this colour combination?
---
BREAKFAST
---

Vegan, Gluten Free, Refined Sugar Free
My Protein Packed Cherry Almond Granola is made with plant based pantry staples! In fact, I bet you have most of these ingredients kicking around your kitchen right now. A nutritious, antioxidant rich blend of oats, almonds, pepitas, shredded coconut, cocoa nibs, dried cherries and a plant based vanilla protein powder (it may seem crazy, but it adds tons of extra protein and natural sweetness to this granola!) combine with coconut oil, organic Canadian maple syrup, a kiss of cinnamon and a dash of salt to create a versatile granola that can be enjoyed in your breakfast bowls, smoothie bowls, parfaits and alone as a snack all summer long. Oh, and did I mention it comes together in 20 minutes?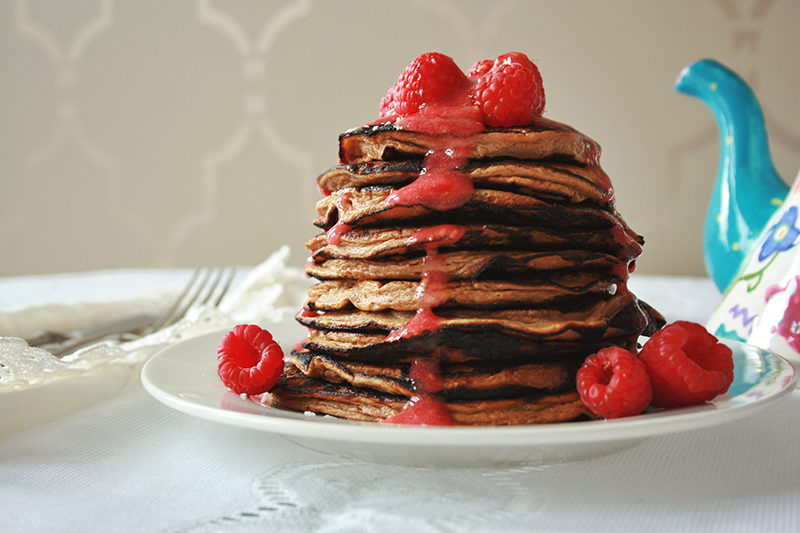 Vegetarian, Gluten Free, Refined Sugar Free
Are you looking for a quick and nourishing summer brunch idea this? I've got you covered! These drool-worthy Banana Maca Pancakes are made with just 3 main ingredients, packed full of nutrition and protein, plus they're dairy free, gluten free and vegetarian. Topped with my fresh Raspberry Maple Syrup, they're always a hit!
---
BAKING & TREATS
---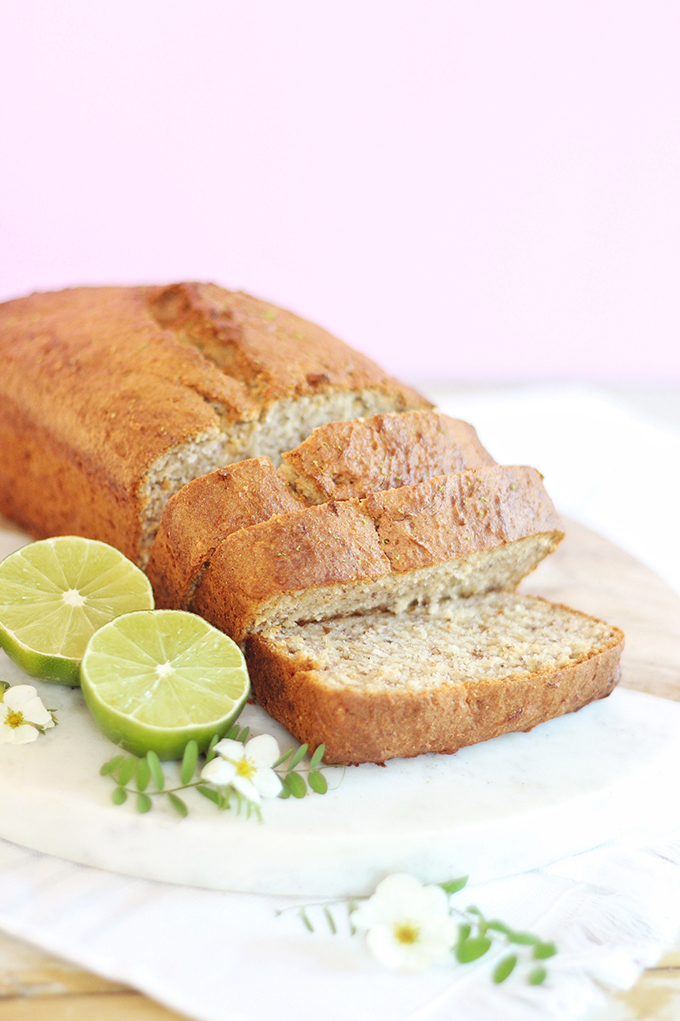 Vegetarian, Gluten Free, Refined Sugar Free, Freezer Friendly

Welcome the day with a cup of coffee and a slice of light and fluffy banana bread with a tropical twist! My ultra clean, ultra simple Allergy Free Aloha Breakfast Bread is full of healthier, natural substitutions and free of dairy, gluten and refined sugar — perfect for those of us with food allergies, intolerances or sensitivities. This tropical banana bread combines a crisp, caramel coloured exterior with a light, airy centre and the intoxicating flavours and aromas of coconut and lime. If you're looking for a fresh answer to summer baking and have a bunch of frozen bananas you need to use up (is anyone else's freezer at max capacity during the summer?), I've got you covered! This mellow, coconut-centric, lime kissed loaf will transport you to azure waters and white sand beaches!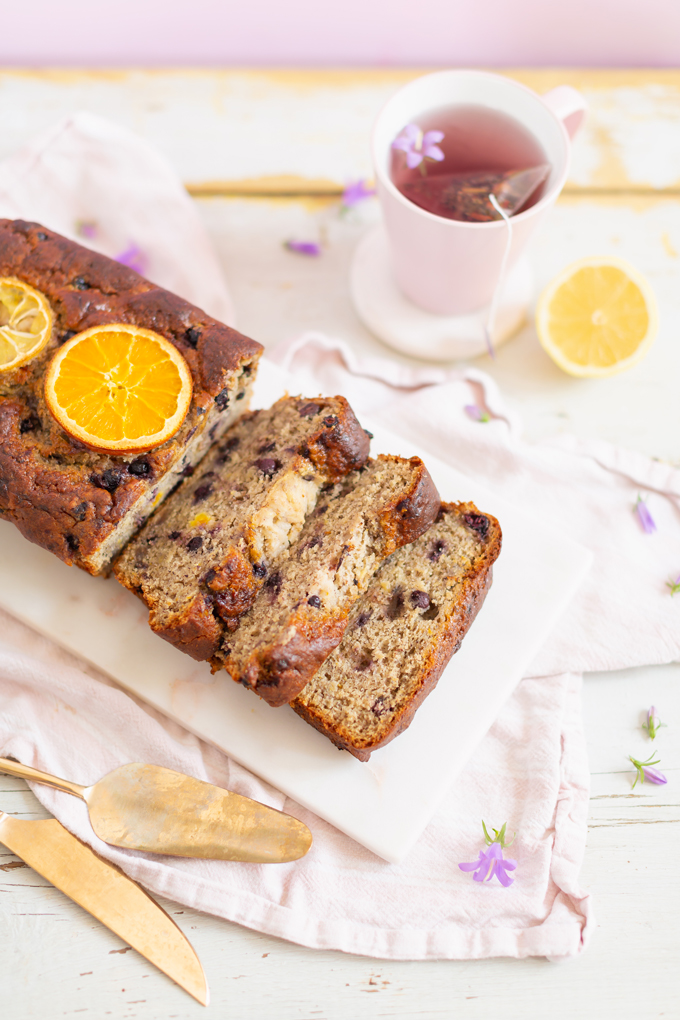 Vegetarian, Gluten Free, Refined Sugar Free, Freezer Friendly
My Gluten Free Saskatoon Citrus Banana Bread is free of dairy, gluten and refined sugar and full of healthier, natural substitutions — perfect for those of us with food allergies, intolerances or sensitivities. An inspired melange of bananas, saskatoons and fresh orange and lemon juices combine with plant-based baking staples of coconut, maple and just a splash of bourbon (it's my newest baking secret ingredient!) to create a bright, nourishing banana bread combining the best of summer and winter with a cheerful, citrusy twist! It makes for a fantastic breakfast, snack or clean dessert anytime you're craving a berry-forward banana bread, year round. If you have an abundance of seasonal berries and a freezer full of bananas on hands, it's time get them defrosting, pour yourself a cup of coffee, haul out your mixing bowls and throw on your apron — this recipe is for you! I've also included baking instructions for a muffin variation, if you prefer.

Vegetarian, Gluten Free, Refined Sugar Free, Freezer Friendly
Enjoy the bounty of our beautiful Canadian prairies with my Wild Saskatoon Berry Crumble — a simple, 9 ingredient recipe with a wholesome, plant based spin. It's free of dairy, gluten and refined sugar — and bursting with decadent berry flavour! Freshly picked saskatoons are bathed in bright lemon juice then naturally sweetened with rich, caramel laden coconut sugar and sprinkled with a hearty topping including quick oats, homemade oat flour, more coconut sugar, Himalayan pink salt, cinnamon, chopped almonds and coconut oil. This vibrant, crowd pleasing dessert that accommodates food allergies and sensitivities without compromising those classic crumble characteristics we all know and love (I promise, no one will know it's a 'free from' dessert!). It's a no fuss summer dessert that's ideal for entertaining and can be on your table in 45 minutes!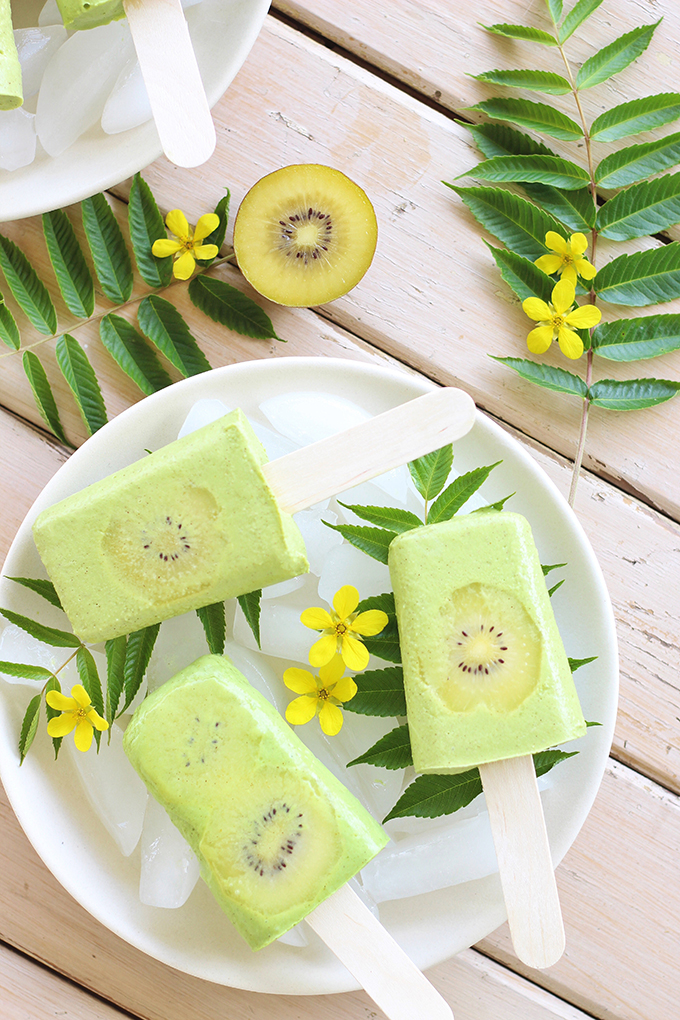 Vegan, Gluten Free, Refined Sugar Free
My Golden Kiwi Piña Colada Popsicles are a nourishing summer treat made with freshly blended tropical fruit, nutritious greens and decadent coconut cream. These popsicles are all-natural, vegan and free of refined sugar and gluten. Although they taste like a tropical cocktail, they're made with just 5 ingredients and they're fun, quick and easy to prepare! They're picky eater tested and kid approved, making them family friendly and a perfect sweet indulgence for hot summer days. These cheerful summer popsicles are packed full of so many amazing vitamins and nutrients — largely in part to the gorgeous, golden kiwis used in this recipe. If you like piña coladas… well, then you'll love this clean twist on a tropical classic!
---
SALADS & BOWLS
---

Vegan, Gluten Free, Refined Sugar Free
Put those garden greens to good use with  my Vegan Kale Salad with Gluten Free Croutons! This nutritious, protein packed, plant based spin on a classic eats like a meal — and I promise no one will know it's vegan (in a blind taste test, it was praised by meat eaters!). The best part? There's no marinating or planning ahead and it can be on your table in 15 minutes.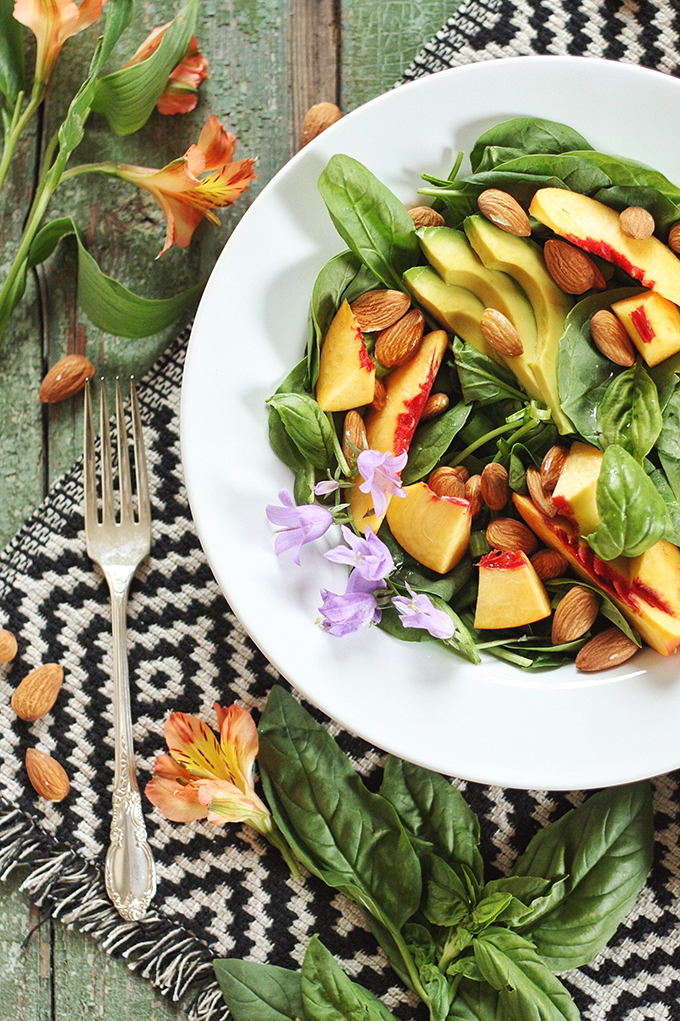 Vegan, Gluten Free, Refined Sugar Free
My Nectarine Basil Salad with Pineapple Balsamic Vinaigrette combines a delicious summer with an inventive and nutrition packed flavour profile! A bed of spinach displays an inspired ménage of nectarines, almonds, avocados, fresh basil and edible flowers with a tropical scratch made vinaigrette.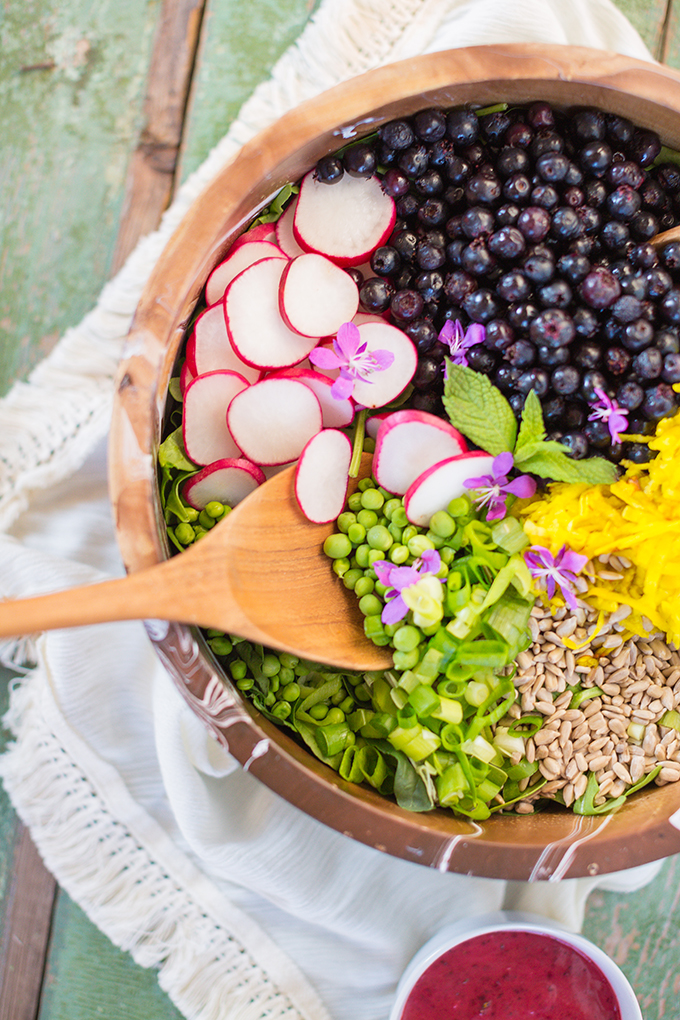 Vegan, Gluten Free, Refined Sugar Free
My Summer Bounty Salad with Saskatoon Cider Vinaigrette is inspired by the abundant seasonal produce and herbs available at our local markets (and in the wild!) at the height of summer! This colourful, local, ultra fresh salad can be on your table in 15 minutes and is brimming with incredible, heart-healthy, antioxidant-rich superfoods and nutrients.
---
ENTREES
---

Vegan, Gluten Free, Refined Sugar Free
Eat the rainbow this summer with my Mediterranean Rainbow Buddha Bowl is inspired by the vibrancy of Mediterranean culture, sun drenched days and fresh, colourful ingredients! These festive, nutrition packed Buddha bowls are an explosion of plant based flavours, textures and colours sure to leave you feeling fully satisfied, but never stuffed. An unconventional medley of quinoa, chick peas, cucumbers, pickled beets and carrots, olives and medjool dates are topped with zingy Lemon Za'atar Vinaigrette, a generous dollop of Sabra Greek Olive Hummus and a kiss of fresh mint. The best part? These jubilant Buddha bowls can be on your table in less than 30 minutes!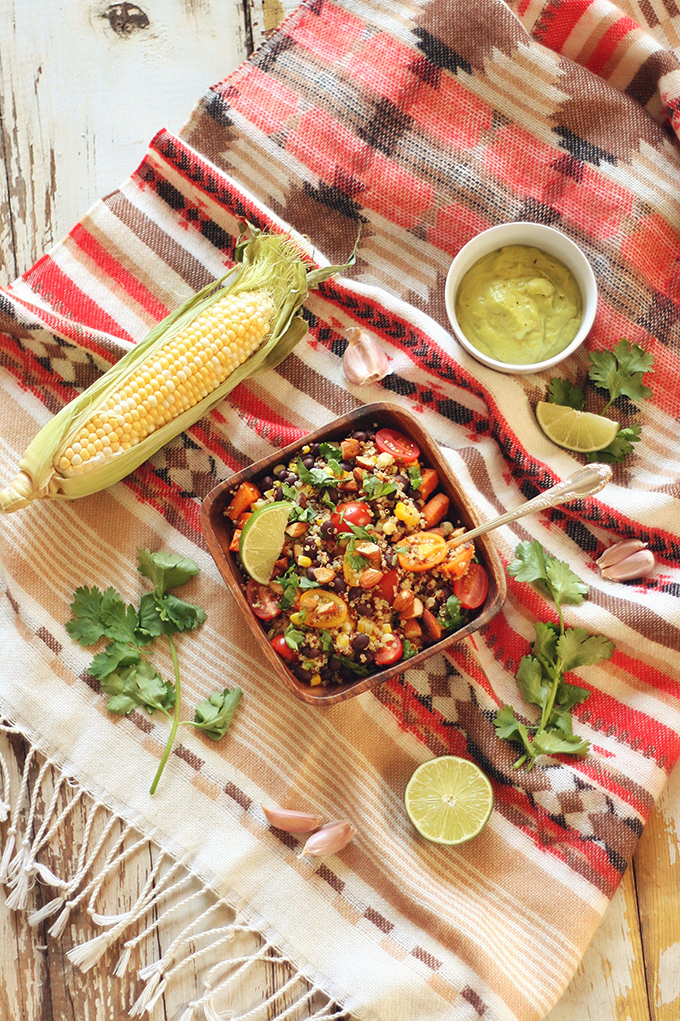 Vegan, Gluten Free, Refined Sugar Free
My Vegan Southwest Quinoa Bowls are a classic summer bowl full of fresh, seasonal vegetables and nourishing ingredients like sweet potato, corn, cherry tomatoes and avocado. It's rich in omegas, vitamins and nutrients — and it's totally clean, but oh so delicious! The Creamy Avocado Lime Dressing in this recipe adds richness and depth to the dish while providing a dose of of heart-healthy fat. My Vegan Southwest Quinoa Bowls are brimming with plant-based protein sources like quinoa, black beans, and almonds — ideal for people like myself who eat mostly vegan.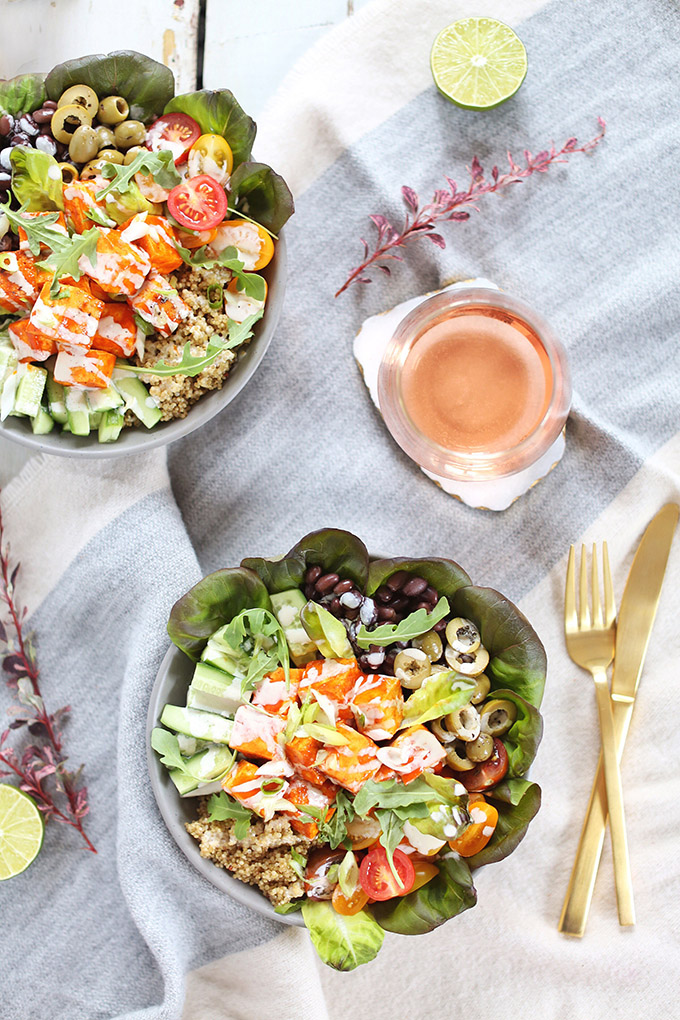 Vegan, Gluten Free, Refined Sugar Free
My Vegan Fiesta Buffalo Tofu Bowls with Tahini Lime Crema are a healthy, plant based, 30-minute meal alternative to the pub food that my delicate stomach can absolutely not handle anymore. Seriously though — if chicken wings, a plate of loaded nachos and a burrito had a vegan love child, this would be it! These festive, protein rich bowls are brimming with Alberta grown, seasonal produce remixed with JustineCelina kitchen staples like quinoa, black beans, olives, Buffalo Tofu (a completely addictive, plant based alternative to hot wings!) and Tahini Lime Crema — a versatile sauce we always have in our fridge that's good on just about anything. This, my friends, is the ultimate vegan comfort food at its finest!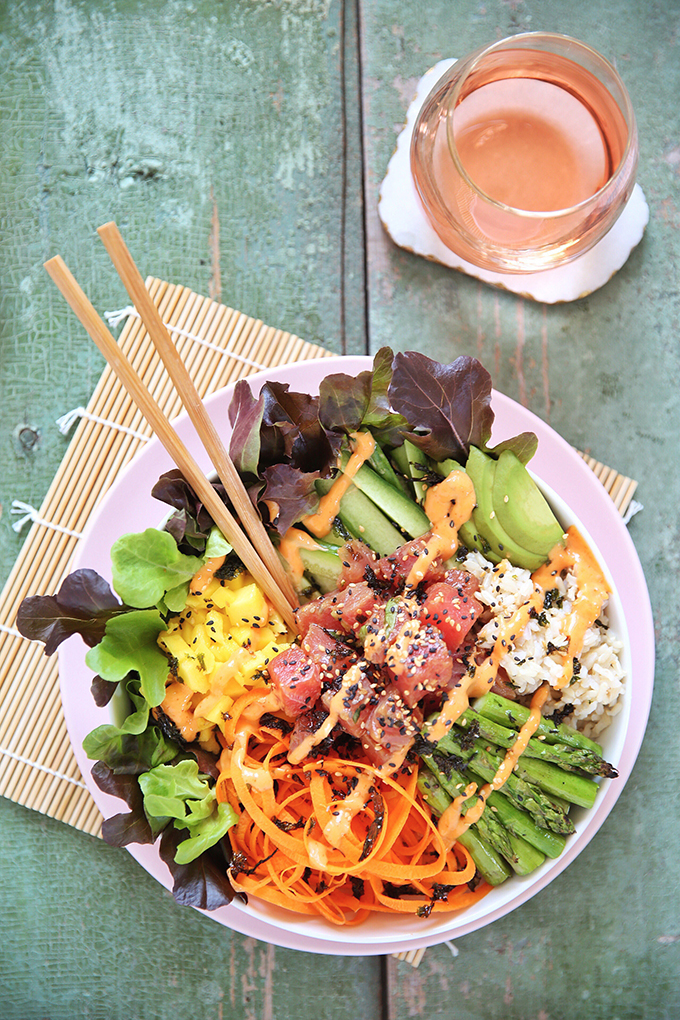 Pescatarian, Gluten Free, Refined Sugar Free
My Ahi Tuna Poke Bowls with Citrus Ponzu & Sriracha Aioli are an explosion of traditional Japanese flavours infused with a west coast vibe and all the fixings — a mashup of sustainable, sashimi grade ahi tuna (with a vegan option in this recipe), avocado, carrot, cucumber, mango and grilled asparagus adorn a bed of organic brown rice and tender greens, topped with a scratch made, Gluten Free Citrus Ponzu, drizzled with Sriracha Garlic Aioli and garnished with roasted sesame seeds, nori and scallions.
---
COCKTAILS
---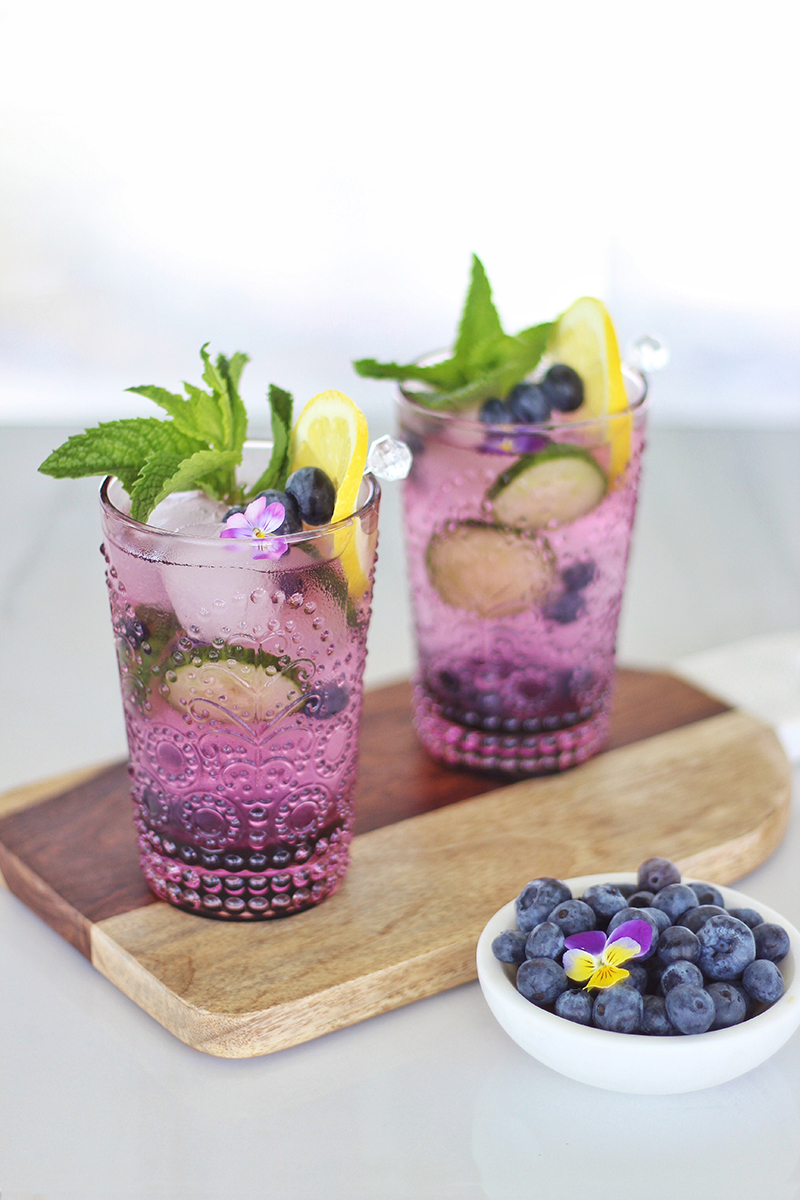 Vegan, Gluten Free, Refined Sugar Free
My Blueberry Lemon and Cucumber Gin Mojitos combine sweet blueberries with refreshing lemon, cucumber and mint with a healthy dose of gin and a splash of soda water for just the right amount of sparkle. These late summer sipper are free of refined sugars and made with all natural ingredients — so the next time you're craving a cooling summer cocktail, indulge yourself with a fresh twist on the classic mojito!

Vegan, Gluten Free, Refined Sugar Free
My Green Jalapeño Margaritas feature a freshly pressed green juice base of cucumbers, lemons, limes and jalapeños, shaken over ice with naturally sweet agave nectar and healthy splash of Don Julio Reposado tequila, then strained into a salted-rimmed glass. They're a health-conscious twist on the traditional margarita — and a fantastic way to get some extra greens in! If you're looking for a refreshing summer cocktail with a twist, you'll love these better-for-you Green Jalapeño Margaritas!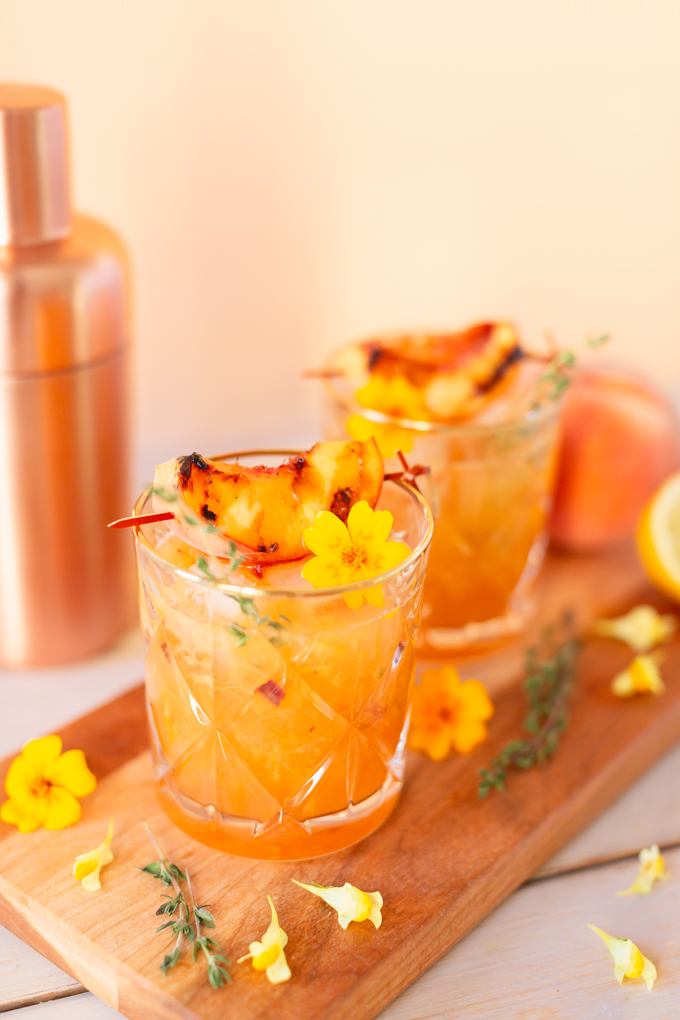 Vegan, Gluten Free, Refined Sugar Free
This late summer sip juxtaposes the essence of juicy peaches with a smoky grilled edge, infused with spicy autumnal warmth to create the ultimate transitional cocktail that's equal parts sweet 'n spicy. Get your grill on and imbibe this simple but sassy cocktail sure to impress both bourbon lovers and bourbon skeptics! As always, my Smoked Peach Maple Bourbon Smash is free of dairy, gluten and refined sugar — and brimming with better-for-you ingredients, because I believe in balance in all areas of life. Grilled Okanagan peaches, Smoked Maple Bourbon, 100% pure Canadian maple syrup, fresh thyme, spicy ginger beer, fresh lemon juice, a splash of soda water and a dash of bitters are shaken to perfection and served over ice.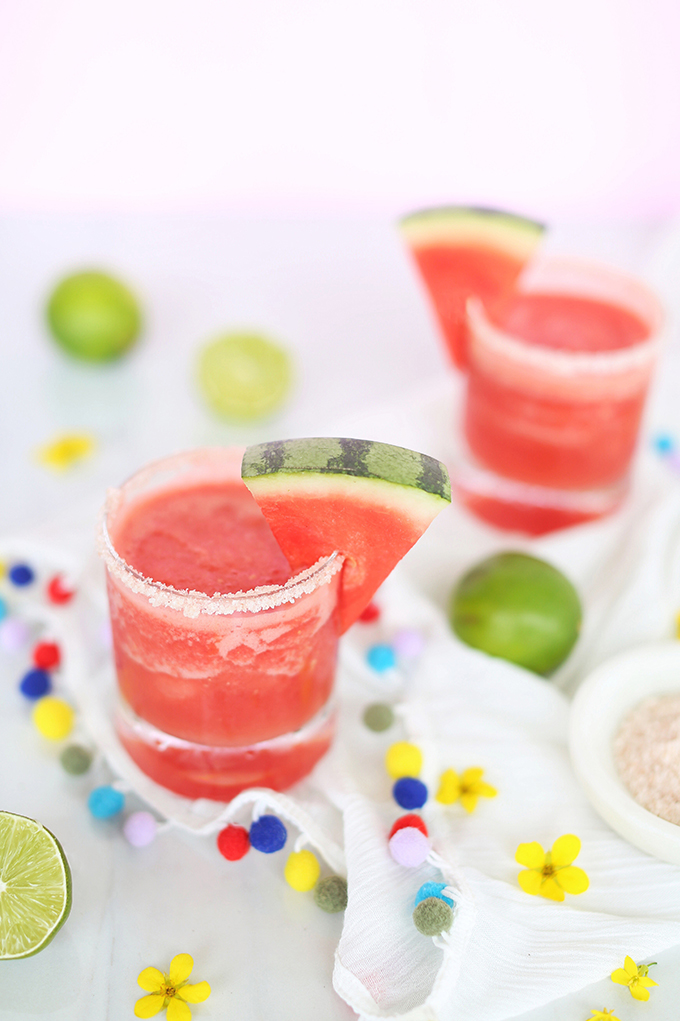 Vegan, Gluten Free, Refined Sugar Free
My Watermelon Frosé Margarita is an icy sangria 2.0 with an attitude, and tequila on her breath! She's made with just 5 ingredients blended over frozen watermelon creating a naturally sweet, feisty summer cocktail that embraces fruity flavours with a margarita essence and a Himalayan pink salted rim! This spirited frosé, sangria and watermelon margarita love child features a gorgeous Los Azulejos Reposado, which we originally discovered in Huatulco.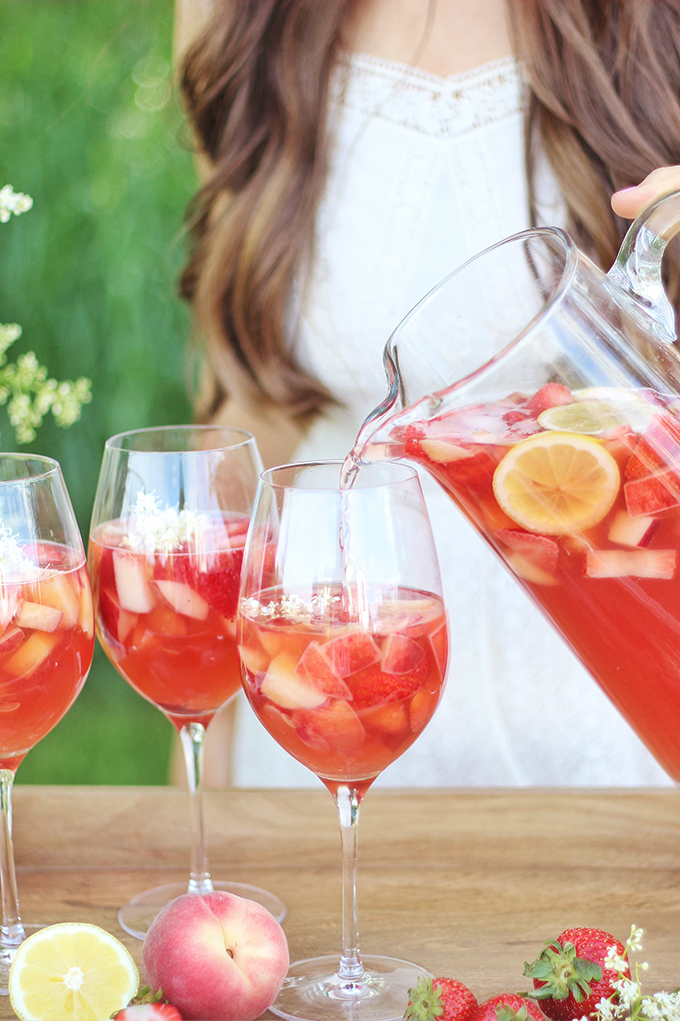 Vegan, Gluten Free, Refined Sugar Free
My Rosé Lychee Elderflower Sangria is a flirty, feminine twist on traditional sangria where an effervescent, dry rosé takes center stage, complimented by flavours of lychee, elderflower, lemon, white peach and strawberry (with lots of bubbles!). These pretty wine cocktails are best enjoyed with friends — whether you're dining al fresco, hosting a summer dinner party, attending a baby shower, or prepping drinks for girls night!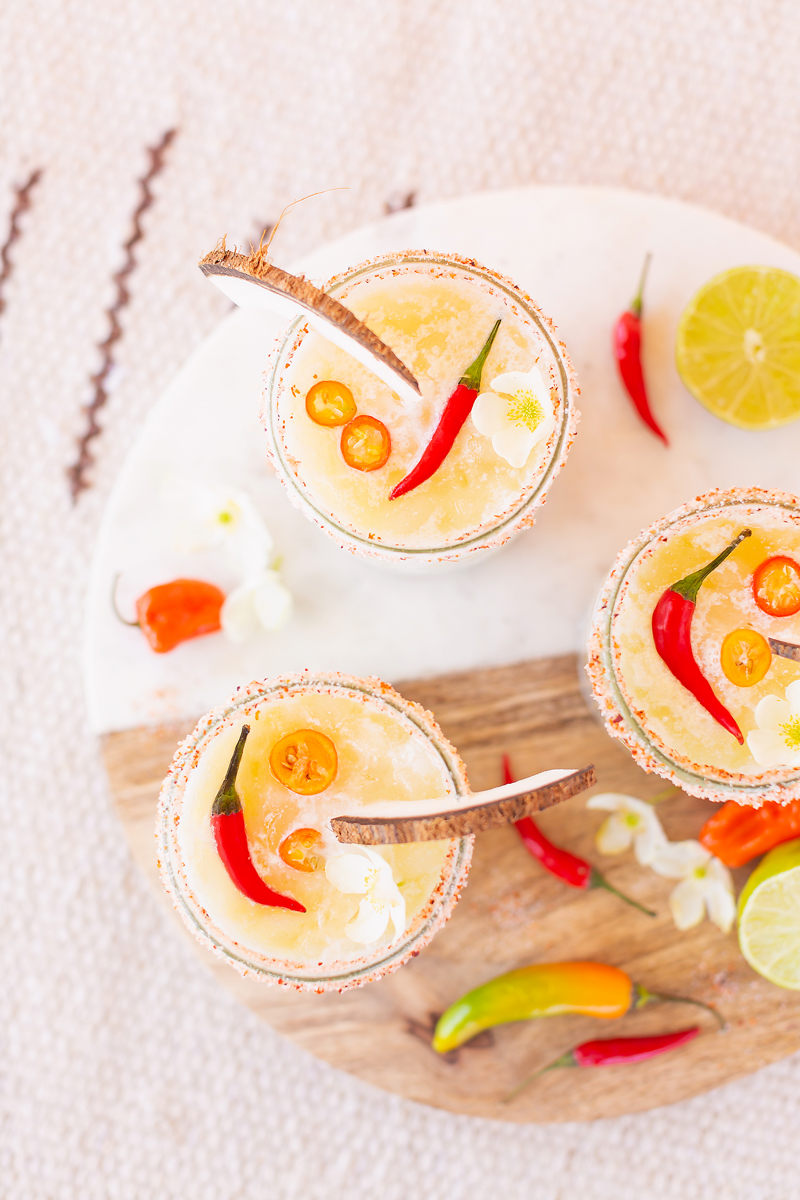 Vegan, Gluten Free, Refined Sugar Free
My Creamy Coconut Mango Mezcalritas are a perfectly balanced libation that are equal parts smoky, citrusy, creamy, spicy and sweet — and are (as always!) free of dairy, gluten and refined sugar. A healthy dose of hand-crafted mezcal and creamy coconut milk combine with fresh mango and lime juices, along with a splash of Cointreau, agave nectar and just a hint of red chilli before they're shaken over ice and strained into a Himalayan pink salt and Tajín rimmed glass.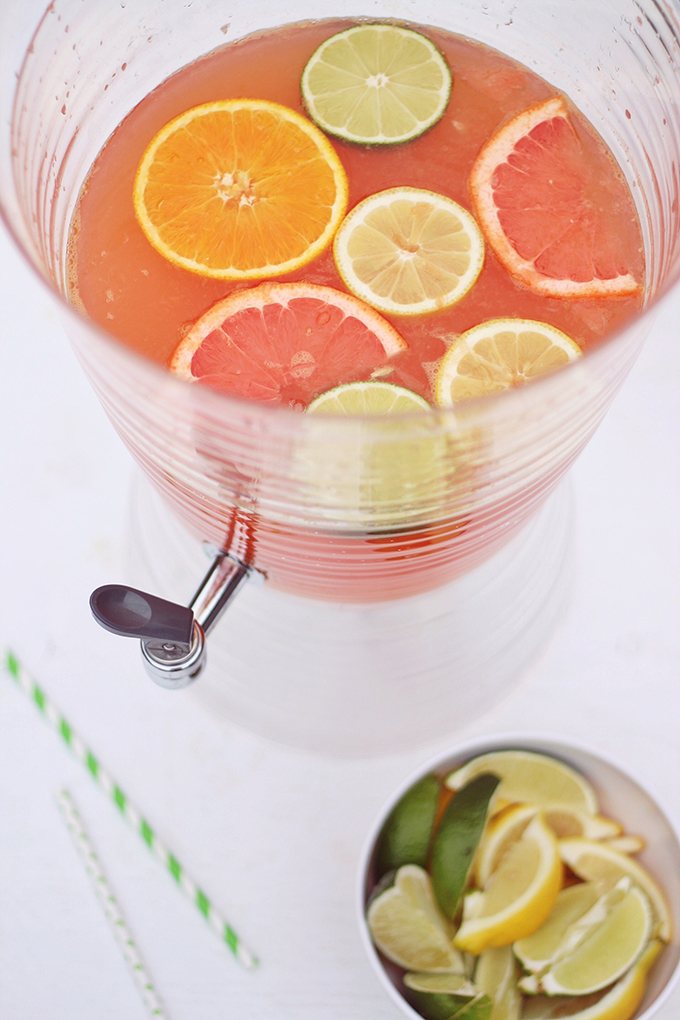 Vegan, Gluten Free, Refined Sugar Free
Sangria has been my summer beverage of choice for as long as I can remember, so over the years my friends and I have perfected the recipe! Our White Citrus Sangria is a crisp and refreshing white wine-based drink that's perfect for summer parties, backyard barbeques, or even camping. This sangria is really easy to drink (maybe a little too easy!) and people who don't drink wine usually like it, too. It's a crowd-pleasing recipe that's fun to make with friends, so next time you're entertaining, try it out — it always gets the party started!
---
PIN MY 20+ HEALTHY PLANT BASED SUMMER RECIPES
---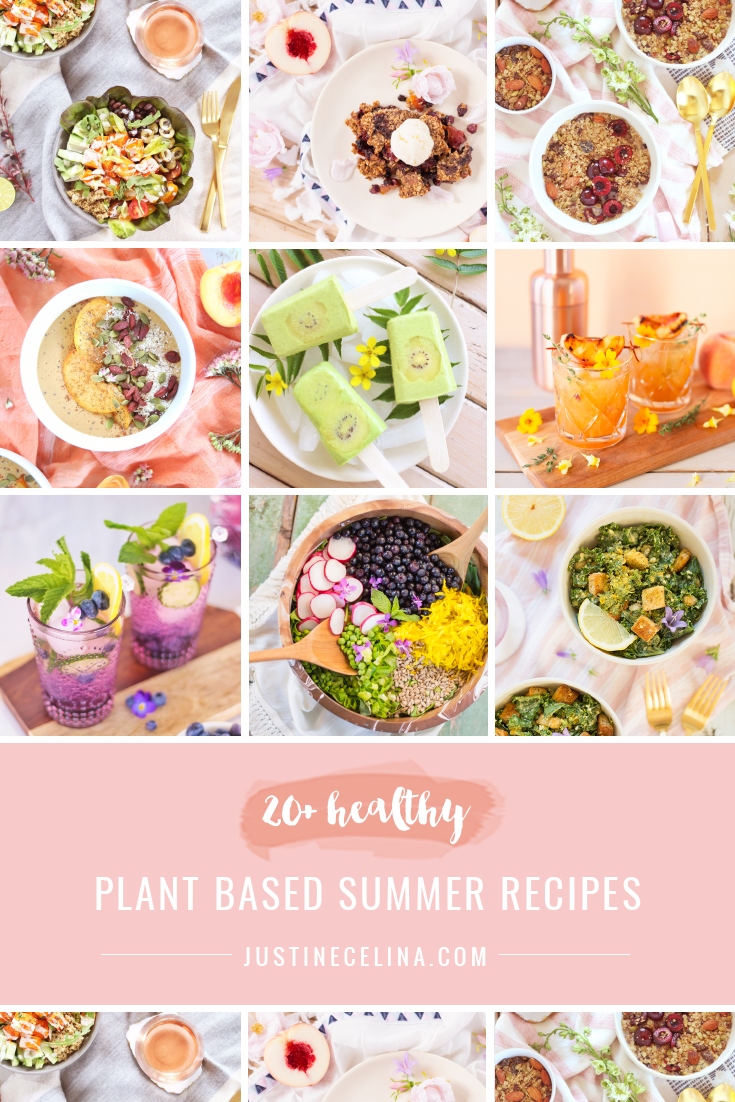 ---
Thanks for stopping by to browse all of my favourite summer recipes, friends! I'm thrilled to finally have all my favourite plant based summer recipes in one spot to ensure you can reference them in one convenient location. I've taken a step back from recipe development for the first half of 2021 to focus my efforts on a few large projects I'm excited to share with you soon, so I hope you've enjoyed this roundup celebrating my favourite summer recipes from years past!
As always, if you try one of my recipes, please let me know how you liked it — I absolutely love your feedback! Leave me a comment, or tag me on Instagram, Twitter or Facebook. I'd love you to hashtag #justinecelinarecipes in your recreations so I can find them — browsing my feed and stumbling on your beautiful recreations is one of my favourite feelings! I also have a Pinterest board for my recipes if you're looking for more healthy, plant based recipes (and you can find all of the recipes in this roundup on my Healthy Plant Based Summer Recipes Board!). Wishing you all a beautiful summer season!
---
Disclaimer: This post is not sponsored, and contains my genuine thoughts, ideas and recommendations. JustineCelina uses affiliate and referral links, which allow me to receive a small commission when you make a purchase through one of my links. Thank you for supporting the brands and businesses that support JustineCelina.com!