---
Music has always been a huge part of my life, no matter what season I find myself in. I relish in discovering new artists, genres and melodies that help me feel inspired, grounded, focused and calm — and I've relied on music to do that more than even over the past month! My March 2020 Soundtrack is my longest of the year, featuring nearly 3 hours of uplifting, mellow, motivational tracks spanning nearly every genre. If you're looking for a musical reprieve amidst the chaos of the world, this soundtrack is available for you anytime, anywhere, day or night! As always, I've embedded a Spotify player in this post — but if you like, you can also come join me over there. I'm constantly listening to new music and contributing to each Monthly Soundtrack as the days go by!
March was the most inspiring month, musically, of 2020 — and it's no surprise, because I had these tunes streaming through my speakers all month long! Specifically, I had Gryffin's Intro, Vandelux's Don't Let Go, pretty much everything from Babygirl's Lovers Fevers EP, Ellie Goulding and Juice WRLD's Hate Me, Lana Del Ray's ultra dreamy, stripped down rendition of Sublime's Doin' Time, Sol Rising's Goodnight, Yumi Zouma's Lonely After, Attom's Shibui, Jai Wolf's Lose My Mind (feat. Mr. Gabriel), Aforest's Higher Ground, PINES's 1990, Smeyul's Hang On, DAO's The View, Frye's Reasons, GARZA's Where The Moon Hides, and Janelle Kroll's STAY on repeat. If you're looking for an inspiring playlist to help guide you through these strange times, I hope my March 2020 Soundtrack provides some comfort and escape for you. We're all in this together, just a little f u r t h e r a p a r t !
---
MARCH 2020 SOUNDTRACK
---
---
NEED MORE FRESH TUNES? CHECK OUT MY LATEST PLAYLISTS
---
February 2020 Soundtrack (or listen on Spotify)
January 2020 Soundtrack (or listen on Spotify)
2019 Soundtrack (or listen on Spotify)
December 2019 Soundtrack (or listen on Spotify)
November 2019 Soundtrack (or listen on Spotify)
Or, browse the MUSIC archives here at JustineCelina for nearly 5 years of monthly playlists!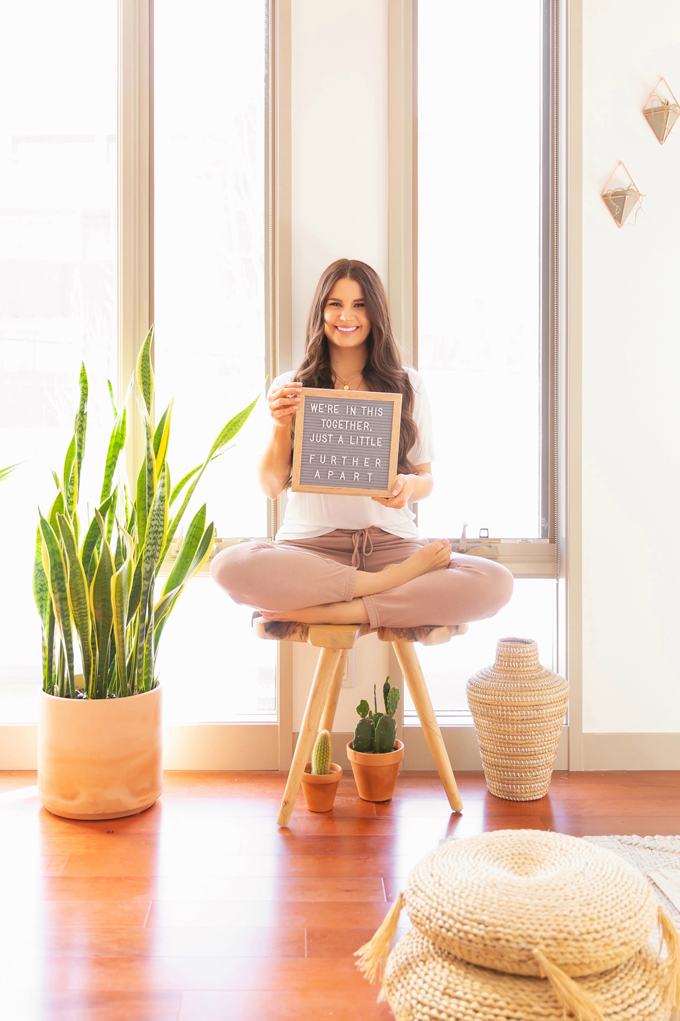 ---
Thanks for listening, friends! As always, I hope you enjoyed this month's soundtrack and discovered some new artists or tracks you enjoy. Last month I mentioned we'd be catching two live shows in April, which have obviously been cancelled or postponed. But I'm making the best of the current situation and finding so much joy and inspiration in music right now — through curating these Monthly Soundtracks and sharing them with you! What have you been listening to lately? If you have a recommendation for me, I'd love for you to drop it in the comments!

I shot this month's album cover earlier this month after I spotted this clever message outside of Bridgeland Market (another local grocer working hard for us!) on my way home from picking up groceries and prescriptions for my 88 year old grandmother. Truthfully, I didn't feel up to shooting much new content this past month, but I set up my tripod, busted out my letter board and created this image to share this message with you. In March, everything else I was working on for JustineCelina seemed substantially less important than using my platform to educate, encourage you to stay at home whenever possible, act responsibly and share stories of community during this challenging time.
That said, after a particularly tough month I'm feeling inspired to continue with business as best I can in April. Although I'm smiling, I feel the weight of the world — just like you. I'm inviting you all to practice extra grace, compassion and kindness as we navigate this unprecedented situation together — with yourselves and in your day-to-day interactions, both in person and online. I'm sending love and light to each and every one of you!
---
What have you guys been listening to lately? Leave me your recommendations in the comments, I'd love to hear from you! Do you use Spotify? If you do, feel free to drop some links to your playlists, or playlists / artists you think I'd enjoy. Thanks for swinging by for my March 2020 Soundtrack!
---
Disclaimer: This post is not sponsored, and contains my genuine thoughts, ideas and recommendations. JustineCelina uses affiliate and referral links, which allow me to receive a small commission when you make a purchase through one of my links. Thank you for supporting the brands and businesses that support JustineCelina!