---
And just like that, the first month of 2018 draws to a close! January was a fantastic, mindful, experimental month for me as I set and began working towards my goals and intentions for the new year (more on that here!) — and I discovered tons of new music along the way. If you're looking for some fresh tunes and an easy listening playlist to help you make the most of 2018, my January 2018 Soundtrack has you covered — featuring 60 tracks from some new and very well loved artists. As always, it's a chill, eclectic mix of genres that's been blasting through my speakers all month as I putter away on various creative projects!
January's standout tracks include tyDi and Dia Frampton's Closing In, Jeremy Loops' Waves, Monster Rally's Sunny Sloth, Yumi Zouma's Depths (Pt. 1), Firstworld's Firstworld and Easy Access, Small Black's Free at Dawn, slenderbodies pink hue, Holiday Mountain's Crawl Back, Laminate Pet Animal's Baer, The Brink's Comatose, Henry Green's Another Light, Bonus Point's Part of Me, Joey Pecorano's Ask For Love and Lilla Vargen's Downtown. Happy listening, friends!
---
JANUARY 2018 SOUNDTRACK
---
---
NEED MORE FRESH TUNES? CHECK OUT MY LATEST PLAYLISTS
---
My Top Songs of 2017 (or listen on Spotify)
December 2017 Soundtrack (or listen on Spotify)
November 2017 Soundtrack (or listen on Spotify)
October 2017 Soundtrack (or listen on Spotify)
September 2017 Soundtrack (or listen on Spotify)
Or, browse the MUSIC archives here at JustineCelina for almost 3 years of monthly playlists!
---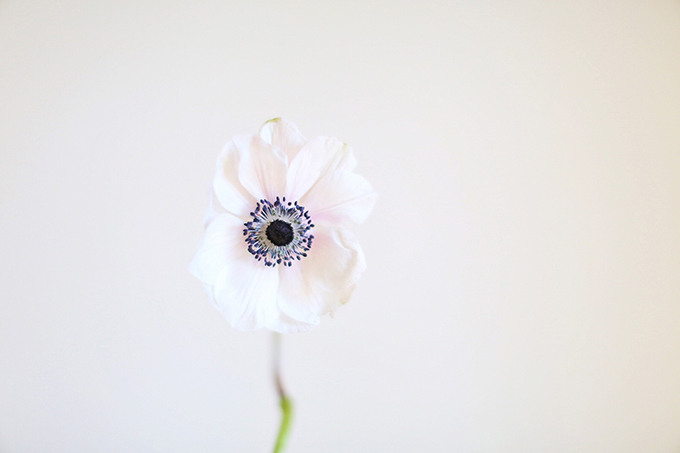 This month's album cover is part of an upcoming FLOWER EDUCATION post, All About Anenomes! Isn't this Panda Anenome absolutely exquisite? They're my all time favourite winter flower — usually white with vivid navy centres. This one had a touch of blush as well, so we just had to capture it! If you'd like to learn more about winter flowers in the meantime and oogle more Anenomes, check out our Pantone 2018 Ultra Violet Inspired Arrangement or our January Digital Blooms (free, floral tech wallpapers inspired by seasonal flowers!).

What have you guys been listening to lately? Leave me your recommendations in the comments, I'd love to hear from you! Do you use Spotify? If you do, feel free to drop some links to your playlists, or playlists / artists you think I'd enjoy. Wishing you all the best in 2018!
---
Disclaimer: This post is not sponsored, and contains my genuine thoughts, ideas and recommendations. JustineCelina uses affiliate and referral links, which allow me to receive a small commission when you make a purchase through one of my links. Thank you for supporting the brands and businesses that support JustineCelina!