---
It's the last day of the decade — and after a very restful, unplugged week in the country celebrating the holidays, I'm back with the final Monthly Soundtrack of 2019! My December 2019 Soundtrack is a short n' sweet, 20 track playlist that's equal parts festive and relaxed — with a few hip-hop curveballs thrown in for good measure! It you're looking for some great tunes to decorate your NYE plans as we get ready to ring in 2020, this playlist is for you!
This month I had a few modern holiday playlists on repeat, including, Indie Christmas 2019 and Modern Holiday — but also discovered a few standout tracks of my own during December! Bien's The Best is yet To Come, Flughand and steichi's fyrsta, lōland's linus, Mtbrd's Those Eyes, Tycho's Stress, Regina Spector's My Dear Acquaintance (A Happy New Year) and LOYAL's Light Up For You were some of my most played tracks. If you're in need of even more fresh tunes, check out my Spotify-generated 2019 Soundtrack, featuring my 100 most played songs from 2019! No matter what your plans are tonight, I hope you all have a fun, safe and happy New Years Eve! Thank you for spending a little bit of the last day of 2019 with me and for your continued support here at JustineCelina — it truly means the world to me. Wishing you all the happiest new year and fabulous decade ahead!
---
DECEMBER 2019 SOUNDTRACK + BONUS 2019 SOUNDTRACK
---
---
NEED MORE FRESH TUNES? CHECK OUT MY LATEST PLAYLISTS
---
November 2019 Soundtrack (or listen on Spotify)
October 2019 Soundtrack (or listen on Spotify)
September 2019 Soundtrack (or listen on Spotify)
August 2019 Soundtrack (or listen on Spotify)
July 2019 Soundtrack (or listen on Spotify)
Or, browse the MUSIC archives here at JustineCelina for 4.5 years of monthly playlists!
---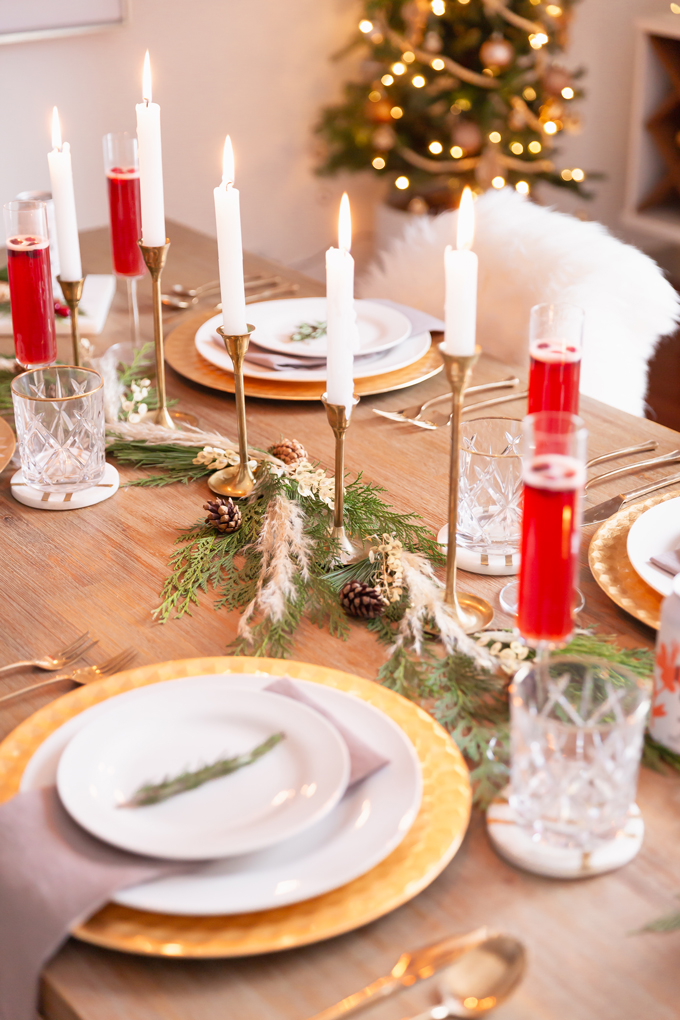 Thanks for listening, friends! I hope this relaxed, easy listening, festive playlist comes in handy on the last day of the year as we bid adieu to 2019 and ring in a fresh, new year. I prescheduled this post and as of right now when I'm typing to you (at noon on December 22nd!) I actually have no idea what we're up to for NYE — Adam planned something earlier this month as a surprise! One thing's for sure, we'll be listening to my December 2019 Soundtrack + Bonus 2019 Soundtrack, dressed in or best and sipping on some bubbly!

This month's album cover is an outtake from my Easy Holiday Entertaining Ideas post — be sure to pop over to that post if you're looking for more festive entertaining inspiration this New Years Eve! If you're looking for even more NYE inspiration, be sure to pop over to my Ultimate Holiday Inspiration Roundup for more ENTERTAINING and COCKTAIL ideas.
---
What have you guys been listening to lately? Leave me your recommendations in the comments, I'd love to hear from you! Do you use Spotify? If you do, feel free to drop some links to your playlists, or playlists / artists you think I'd enjoy. Thank you for taking time to stop by and listen to my December 2019 Soundtrack + Bonus 2019 Soundtrack this holiday season and thank you so much for your continued viewership. Wishing you all a very Happy New Year — and cheers to a beautiful new decade!
---
Disclaimer: This post is not sponsored, and contains my genuine thoughts, ideas and recommendations. JustineCelina uses affiliate and referral links, which allow me to receive a small commission when you make a purchase through one of my links. Thank you for supporting the brands and businesses that support JustineCelina!