---
Happy Friday, friends! I'm back today my first Monthly Soundtrack of the decade — and it's one of my favourites in recent memory. Since we spent so much time traveling over the past month, I had to opportunity to discover tons of new artists and explore many different genres! My January 2020 Soundtrack is a 30 track playlist brimming with nearly 2 hours of relaxed, uplifting, inspirational tunes. From the snow covered Canadian rockies to the sandy beaches of southern Mexico, this new year soundtrack was blasting through my speakers (and headphones) all month long!
A handful of January's stand out tracks include Mike Posner's Slow It Down, Imaginary Future Float On (a dreamy, stripped down rendition of Modest Mouse's original), Quinn XCII's Always Been You, Brock Berringan and Allem Iversom's Sometime, Judah & the Lion and Kacey Musgraves pictures, fantompower's free (at ease), Freedom Fly's Clint Eastwood (another gorgeous, instrumental cover!), Handbook's Sweet Berries, Saib's Aqua, ayokay and Nightly's Sleepless Nights, Kyle McEvoy and Deeb's Habitual Words, East Forest's 10 Laws, Nina Nesbitt's Toxic (apparently I was on an instrumental cover spree this month!), Catching Flies Komorebi and The Band CAMINO's Daphne Blue (although I could go on!). Extend January's motivations into February and beyond with my January 2020 Soundtrack!
---
JANUARY 2020 SOUNDTRACK
---
---
NEED MORE FRESH TUNES? CHECK OUT MY LATEST PLAYLISTS
---
2019 Soundtrack (or listen on Spotify)
December 2019 Soundtrack (or listen on Spotify)
November 2019 Soundtrack (or listen on Spotify)
October 2019 Soundtrack (or listen on Spotify)
September 2019 Soundtrack (or listen on Spotify)
Or, browse the MUSIC archives here at JustineCelina for nearly 5 years of monthly playlists!
---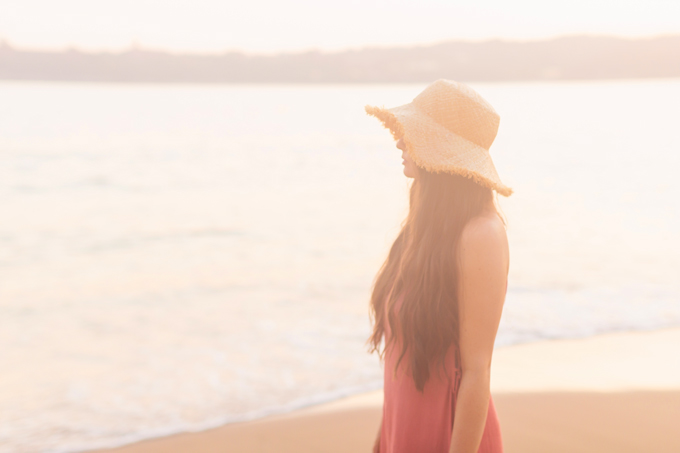 Thanks for listening, friends! As always, I hope you enjoyed this month's soundtrack and discovered some new artists or tracks you enjoy. I find music incredibly motivating and uplifting — which is why I love sharing my discoveries with you each month! What have you been listening to lately? If you have a recommendation for me, I'd love for you to drop it in the comments!

This month's album cover was shot during our recent trip to Huatulco, Mexico. It was the first time my toes touched the sea in way too long — and I'm so happy we captured these moments on camera! If you're interested in seeing more from our trip or curious about what I wore, be sure to check out my Resort 2020 Lookbook.
---
What have you guys been listening to lately? Leave me your recommendations in the comments, I'd love to hear from you! Do you use Spotify? If you do, feel free to drop some links to your playlists, or playlists / artists you think I'd enjoy. Thanks for swinging by for my January 2020 Soundtrack!
---
Disclaimer: This post is not sponsored, and contains my genuine thoughts, ideas and recommendations. JustineCelina uses affiliate and referral links, which allow me to receive a small commission when you make a purchase through one of my links. Thank you for supporting the brands and businesses that support JustineCelina!