---
Friends, welcome back for another Monthly Soundtrack! March was a very full month, brimming with tons of behind-the-scenes work — and my 2.5 hour March 2019 Soundtrack was pumping through the speakers the whole time! As the snow starts to melt, I find myself yearning for upbeat, uplifting, empowering music to ease the winter-to-spring transition — and I found so many incredible tracks this month to help me stay focused and inspired to continue working towards my goals. I also discovered Spotify's Morning Motivation playlist and I'm convinced it made all those 5am starts more productive!
It's difficult to choose favourites this month, but a few of my most played tracks include Golden Daze's Blue Bell, Tove Styrke's Sway, Glades Nervous Energy, Andrew Applepie's Salted Caramel, Dominic Fike's 3 Nights, WEALTHYSELF's Million Dollar Mood, Sensi Sye's Conscious, Blithe Field's RD1, pronoun's temporary tantrum, Shwayze's Rich City, MorMor's Outside, Wun Two's Vio, filous's All My Friends Are Rich, Joey Pecoraro's Novice Juggler, Yumi Youma's In Camera and SŸDE's Above The Clouds. I hope you enjoy this eclectic, easy listening playlist as much as I do!
---
MARCH 2019 SOUNDTRACK
---
---
NEED MORE FRESH TUNES? CHECK OUT MY LATEST PLAYLISTS
---
March 2019 Soundtrack (or listen on Spotify)
February 2019 Soundtrack (or listen on Spotify)
January 2019 Soundtrack (or listen on Spotify)
Best of 2018 Soundtrack (or listen on Spotify)
December 2018 Soundtrack (or listen on Spotify)
Or, browse the MUSIC archives here at JustineCelina for 4 years of monthly playlists!
---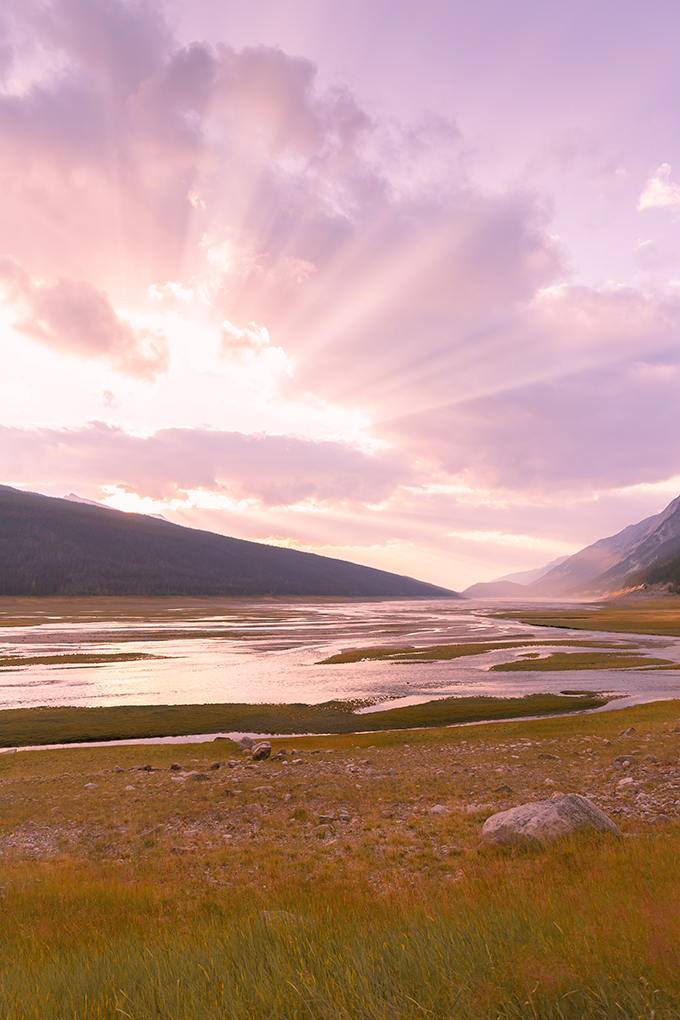 This month's album cover was taken during a weekend getaway to Jasper National Park back in September. Shortly afterwards, my computer crashed and I went through that huge tech catastrophe where I lost 4 months of data — but thankfully I had my raw files backed up. 6 months later I'm just beginning to process the images from this trip — and this one caught my eye! We were driving back from a day trip to Maligne Lake and I saw the sun streaming out from behind the clouds, illuminating the Medicine Lake valley as it drained for winter. Adam pulled over so I could capture it and was even more beautiful in person — it felt almost spiritual!
What have you guys been listening to lately? Leave me your recommendations in the comments, I'd love to hear from you! Do you use Spotify? If you do, feel free to drop some links to your playlists, or playlists / artists you think I'd enjoy. Enjoy the rest of your week, friends!
---
Disclaimer: This post is not sponsored, and contains my genuine thoughts, ideas and recommendations. JustineCelina uses affiliate and referral links, which allow me to receive a small commission when you make a purchase through one of my links. Thank you for supporting the brands and businesses that support JustineCelina!