My personal style is pretty eclectic. I'm all about mixing it up! I get bored easily, and I like to wear a lot of different styles — that applies to both fashion and beauty. I've always been a bit of a chameleon, and I totally channel that into my look! I dress according to my mood, and have a lot of versatile piece in my closet that allow me to keep things fresh without having to buy a new wardrobe each season. I also like to mix high and low, old and new, and sophisticated with casual. That's what today's look is all about — I'm wearing plaid with patent, fringe with faux fur, and berry lips with boyfriend jeans! I think fashion should be fun, and I love combining different styles in unexpected ways.
---
Similar Faux Fur Vest | The Super Soft Plaid Shirt | Ecote Crescent Fringe Bag | Similar Boyfriend Jeans | High Heel Court Shoes | Classic Chronograph Watch | Ring Set | Chevron Charm Necklace | Bite Beauty Matte Crème Lip Crayon in Aubergine
---
I'd consider these items to be staples — so think of this as my Fall / Winter Staples, Part II! Each piece is unique, but also versatile, and worn often. If you're curious about what else has been on heavy rotation in my wardrobe lately, check out my Fall Style Staples, Comfort Zone and How to Style a Poncho posts. And if you're curious about my take on this seasons biggest trends, check out my Fall 2015 Fashion Trends & Tips post. Today I'm chatting a bit more about incorporating trends into your wardrobe in a way that works for you, and how I style my favourite pieces.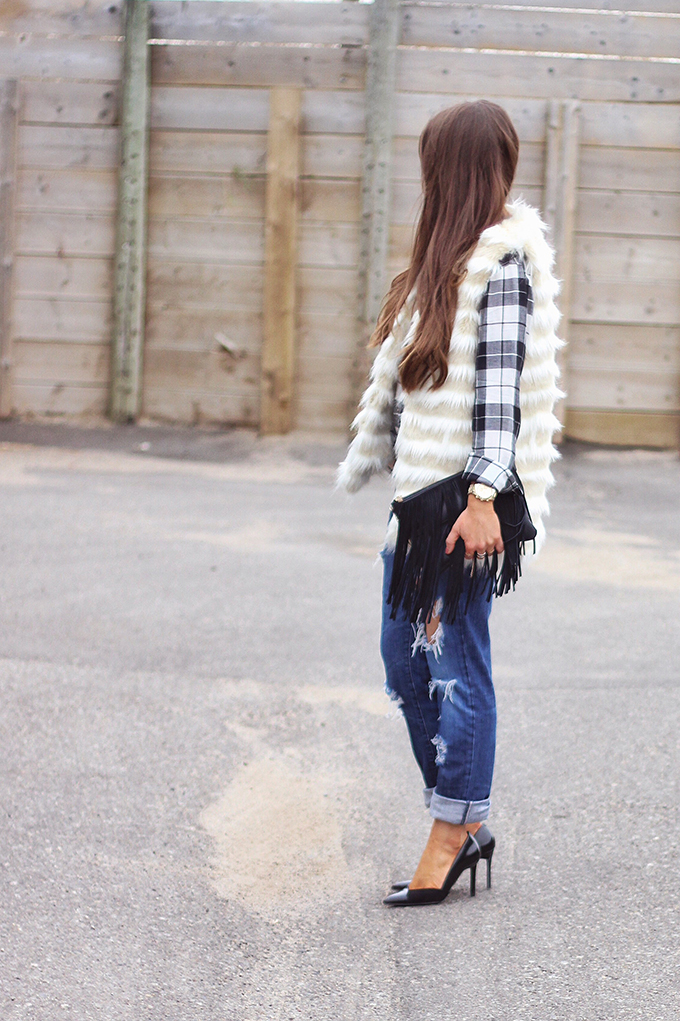 ---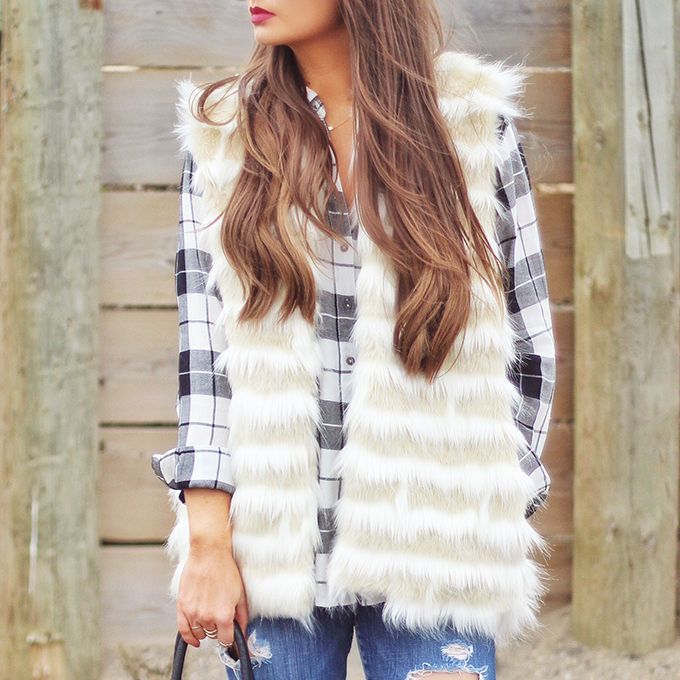 I think every woman should own a faux fur vest! A lot of people say they can't pull them off, but I think they're so easy to wear, and go with just about anything. The one I'm wearing in these photos is from Forever 21 (last season), but I've linked a similar one here. I have 2 other faux fur vests, and I pretty much live in them in the winter — they're so cozy, but they add a lot of style and attitude to an outfit. The first faux fur vest I purchased was at a boutique in Montreal 6 years ago (at the time it was a major splurge — as in, I got a call from the credit card company!), and I've never looked back. It's still one of my favourites!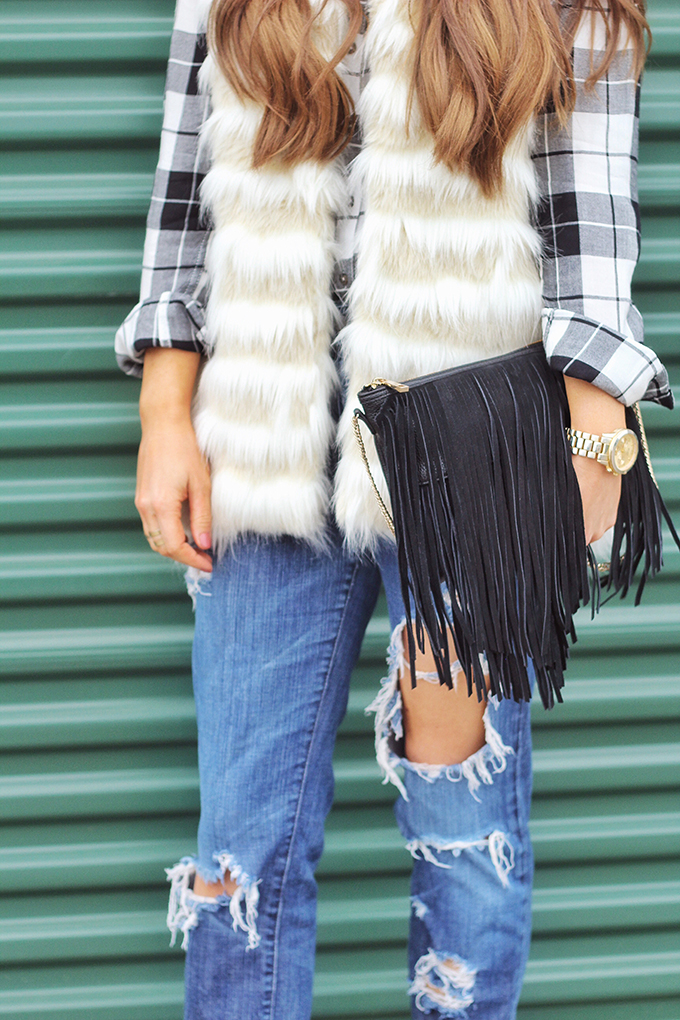 If you don't own a faux fur vest, and want to try one as we transition into winter, I'd suggest an oversized white vest. An important thing to keep in mind is proportion — since I'm tall (and I'm wearing heels), I can get away with wearing a vest that's a bit larger, and longer. For any frame size, the vest should hit you just below the widest part of your hip to be the most flattering. You can wear it over button down shirts, light sweaters, and even dresses — they're cute, fun and really warm!
---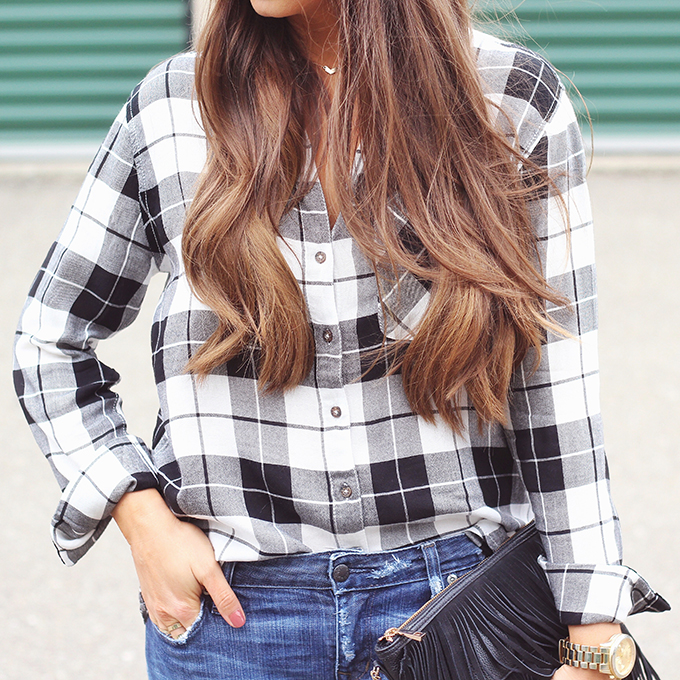 I love these Super Soft Plaid Shirts from Garage Clothing! If you live in Canada, you need one in your life! They're so soft, comfortable and the material hangs really nicely — the shirt is relaxed, but not so big you drown in it. I have a few other colours, too! The colour I'm wearing in these photos just sold out online, but I bet you can still track it down in-store.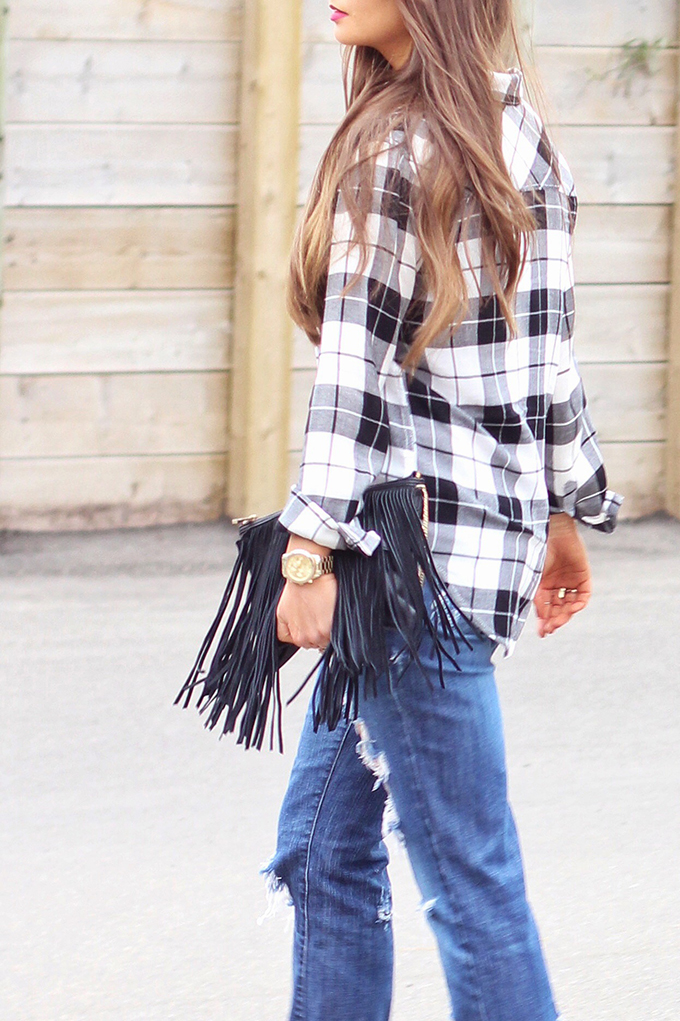 Since there are a lot of different textures happening in this outfit, I wanted to stick with a neutral top and add interest with pattern rather than colour. I like to leave a few buttons open and cuff the sleeves on shirts like these — it makes them a little sexier and more casual at the same time.
---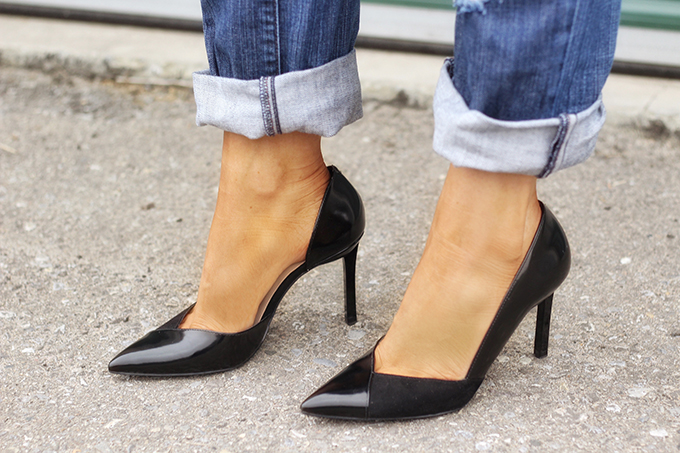 This is as much patent leather (one fall trend I was a little iffy about!) as you'll ever see me wearing. Incorporating trends into your personal style is all about doing it in a way that works for you — and while I would never wear patent over-the-knee boots, I can totally get down with the tasteful amount of patent on these little black pumps. These not-so-basic, pointy toed pumps add polish to this otherwise very casual outfit. These are the most comfortable pair of little black pumps I've ever owned — no surprise that they're from Zara (check out my other favourites here). They're so well made and the quality is amazing — the price is great, too. Find your perfect pair of LBP's and I promise you'll put a lot of miles on them — just imagine how many different outfits you could wear these with!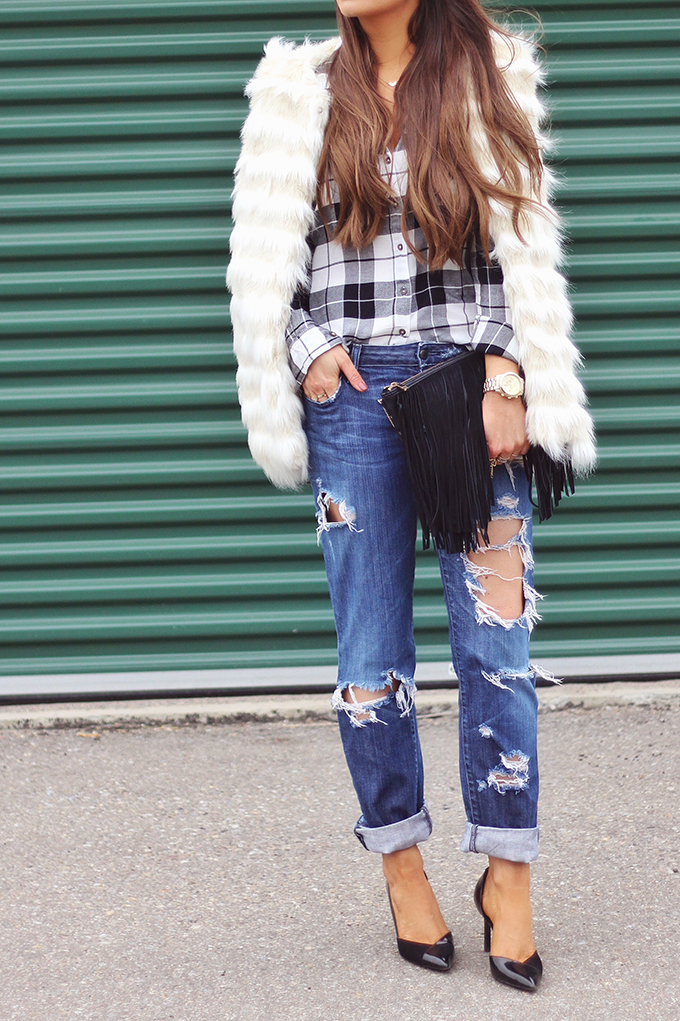 ---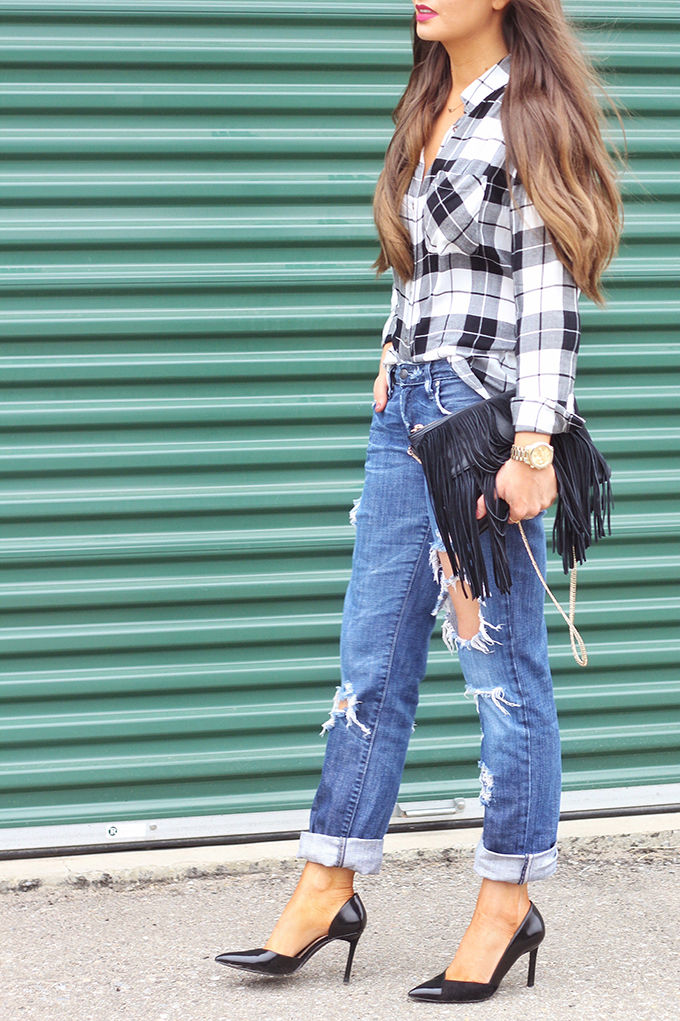 Err… pair of boyfriend jeans, that is. Guess what? I distressed this old pair of jeans myself! The denim is such good quality (they're paper denim & cloth) and I love the wash, so I've held onto them (and worn them!) all these years. I do think that expensive denim is worth the investment sometimes! I decided to give them an update by roughing them up a bit — at the time I couldn't find any distressed boyfriends that I liked. I've linked the most similar pair I could find, but if you don't want to shell out for a pair of denim that's seen better days, try making your own!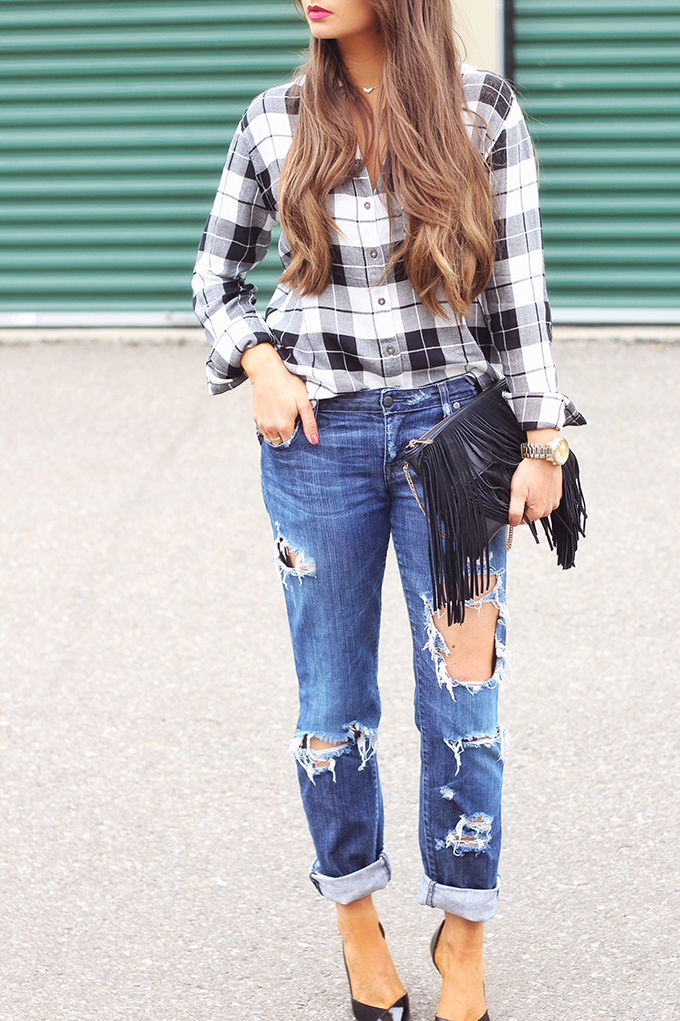 Head to your local a thrift store, and look for a pair of good quality denim in a neutral, dark wash, about 2 – 3 sizes larger than you would usually wear. You want them to be slouchy, while still having structure. Then, take them home and get to work! I started by slicing into the denim horizontally with an exact-o knife, and then dragging the knife across parts where I wanted the largest holes to be. After I was happy with that, I tore into the holes a bit, and frayed the edges by hand. I also took sandpaper to the denim to wear it down in spots. Then, I threw them into a hot machine wash, and a heavy duty dry — this will help the new holes to fray organically, and look more worn-in. Just play around with them — you really can't screw them up! And if you do go too far, you're only out $10, and your time. You can always cut them off into denim shorts! I actually want to make another, lighter wash pair — so when I do, I'll put together a DIY post!
---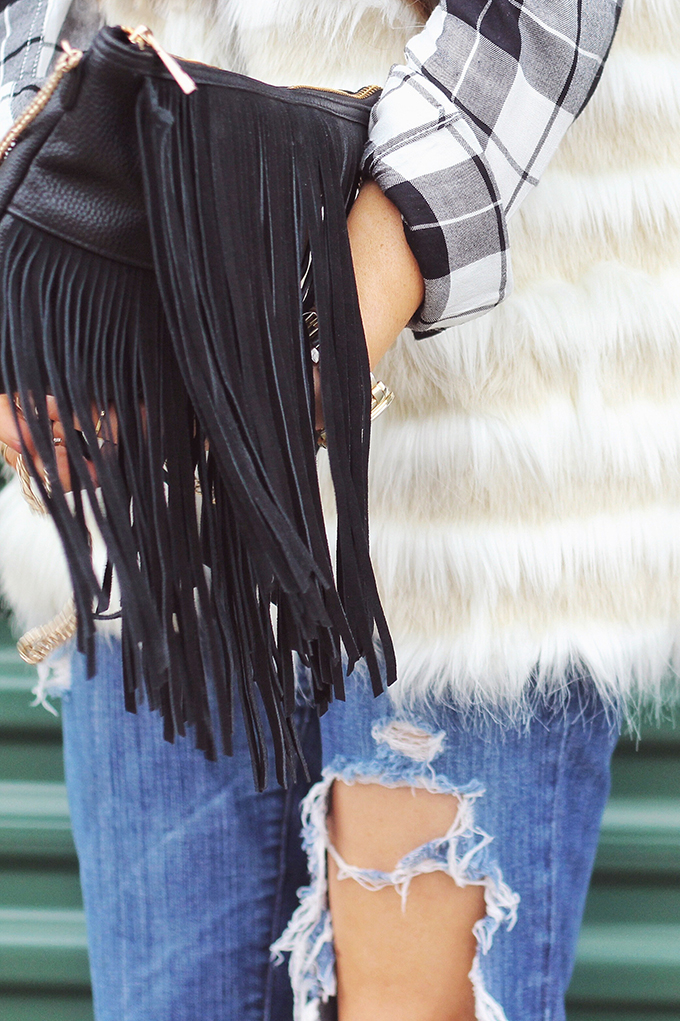 Have I convinced you to buy a fringe bag yet? Haha. Seriously though, I love my fringe bags (case in point here and here) because they they're so versatile. What I love about this style is that you can either wear it as a cross-body bag, or as a clutch, like I'm doing here. I like to pair clutches with more casual outfits sometimes to dress them up. This fringe bag has just enough room for all your stuff, but it's not so big that it overwhelms the outfit.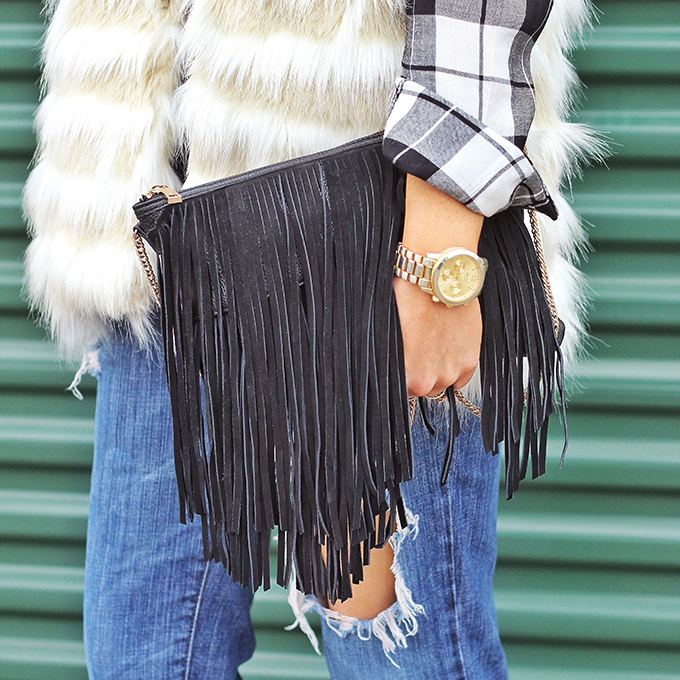 ---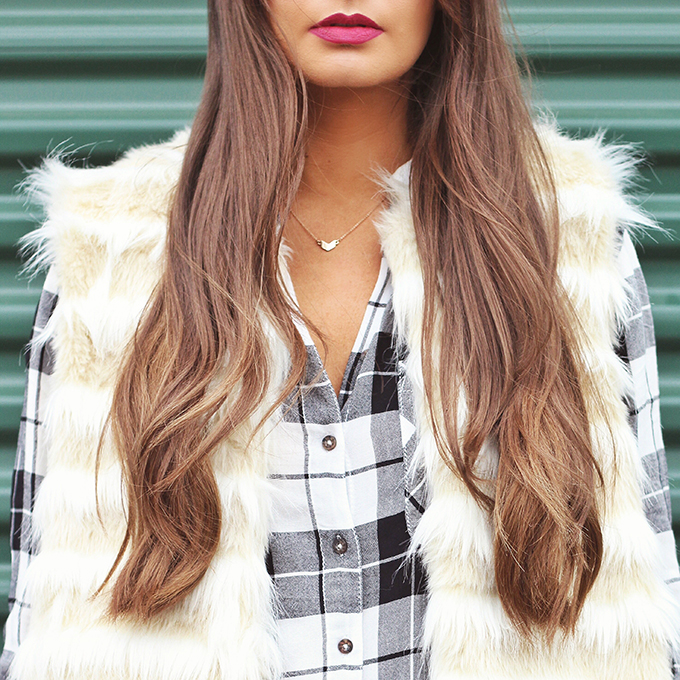 Lipstick can totally change the vibe of an outfit. Lately I've been loving Bite Beauty's Matte Crème Lip Crayon in Aubergine (read more about it in my Best in Beauty | October post). It adds a bit of edge and interest to this neutral look. Green eyed ladies — deep berry and purple lips do something magical for us! Since green and purple are complimentary colours (meaning they're opposite on the colour wheel — art school coming out here!), they create a contrast and make green eyes pop. If you're not sure that you can pull off a purple lip, try Aubergine. It's a very wearable shade in a beautiful satin formula.
---
SIMPLE GOLD JEWELLERY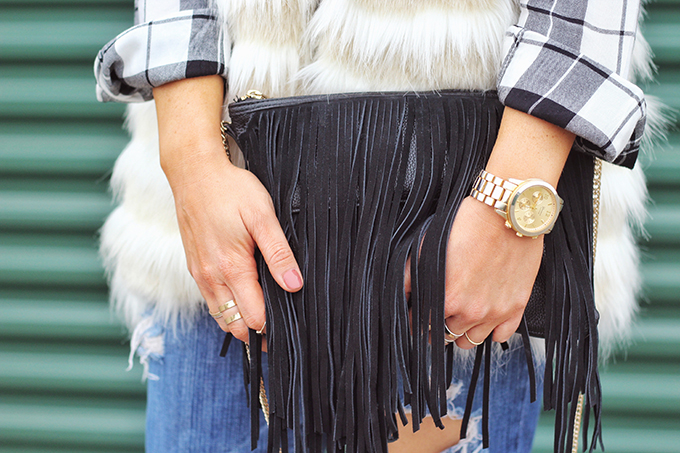 I'm a big fan of fully accessorizing an outfit to make it look polished. For me, that usually means rings, earrings or a necklace, and a watch or a bracelet. For this look, I've added lots of simple gold jewellery to give the look a touch of luxe. I've mentioned before that most of my jewellery is inexpensive (or vintage) — all of this jewellery is super affordable. My watch is from Forever 21 (I always get compliments on it!), my rings are a set from Go Jane (which I also have in silver), and my necklace is also from Forever 21. I wear these items all the time!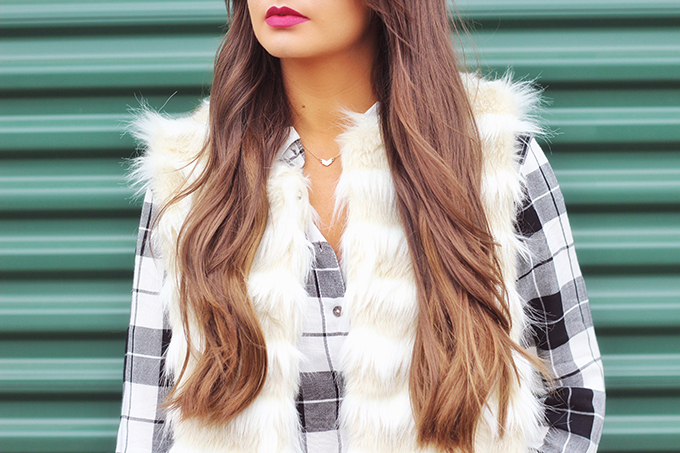 ---
IT'S IN THE DETAILS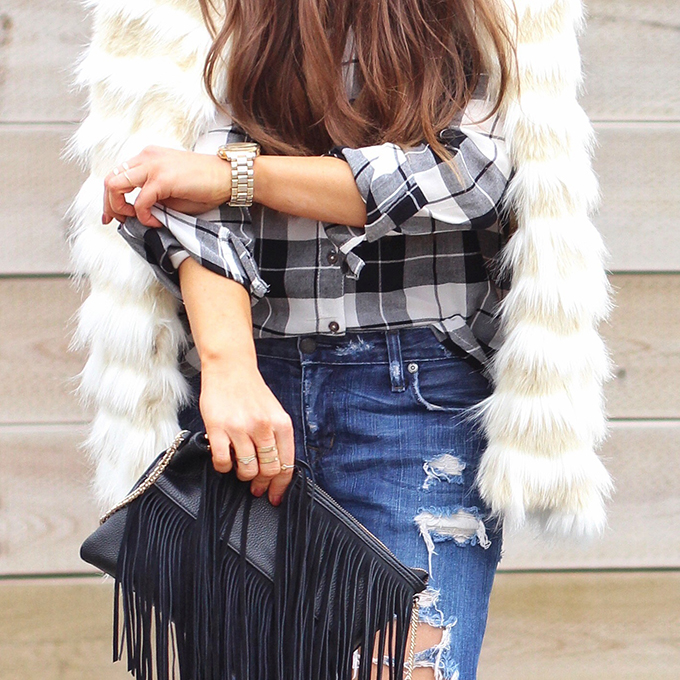 Pay attention to the details when styling your outfit. How you cuff your denim, how you cuff your shirt, and how you tuck your shirt in can all make a big difference in the overall look. It's also a way to put your own spin on an item and make it feel more you. Personally, I never wear a button-down shirt without leaving a few buttons undone, and rolling up or scrunching the arms. I'm also a big fan of the half-tuck (tucking the shirt in, in the front only) to give longer shirts some proportion, especially when I'm wearing more relaxed denim. And I like to cuff my denim, but I don't like the cuffs to be symmetrical.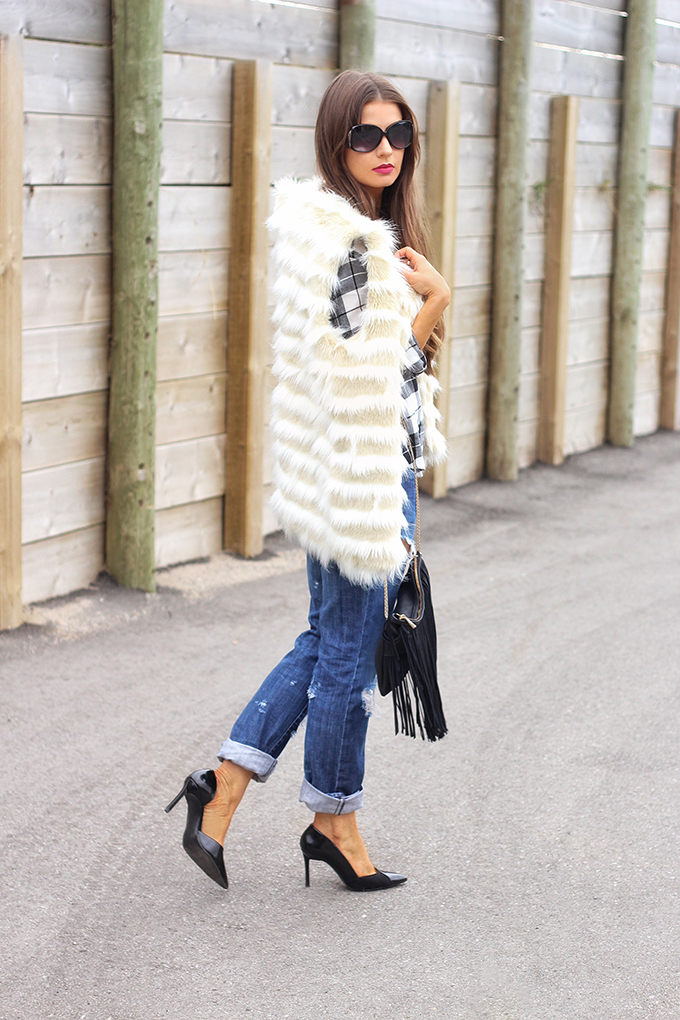 If you want to feel extra glam, try caping your vest or jacket next time (drape it over your shoulders, but don't slide your arms through) like I'm doing in the photo above! It's these personal touches that add an air of sophistication, and some extra style to your outfit.
---
SHOP THE LOOK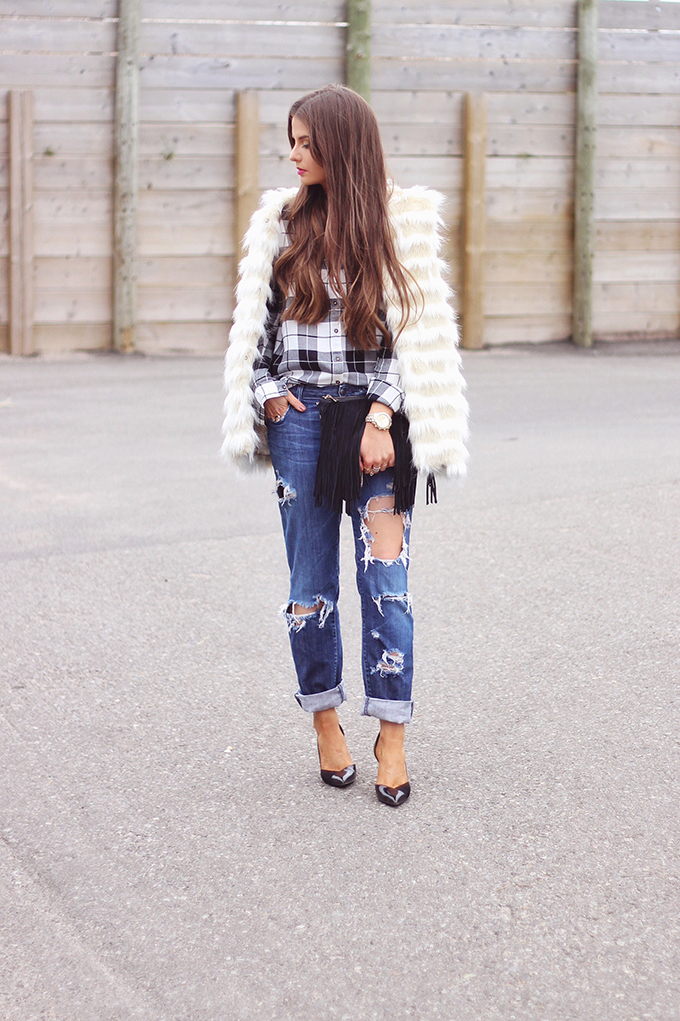 ---
Similar Faux Fur Vest | The Super Soft Plaid Shirt | Ecote Crescent Fringe Bag | Similar Boyfriend Jeans | High Heel Court Shoes | Classic Chronograph Watch | Ring Set | Chevron Charm Necklace | Bite Beauty Matte Crème Lip Crayon in Aubergine
---
What are your favourite ways to wear faux fur and distressed denim? I have another look planned with a different twist on styling faux fur, so keep your eyes peeled for that. And if you create your own distressed denim I'd love it if you tag me on social media, leave me a comment, or send me a photo. Have a great weekend, ladies (and gents)!
---
Disclaimer: This post is not sponsored, and contains my genuine thoughts and recommendations. JustineCelina uses affiliate and referral links, which allow me to receive a small commission when you make a purchase through one of my links. Your purchases help to support JustineCelina.com!