What better thing to do on my first Saturday at home in over a month than curl up with a big cup of tea and shop in my yoga pants?! Today's post is another installment in my OBSESSION series; highlighting a print, colour or texture of the moment, and showing you how to work it into your personal style — whether it be in the form of fashion, beauty, or in the home. This summer, I've been obsessed with all things fringe, so I've rounded up 7 of my favourite fringe pieces for an effortless, bohemian vibe. I've also selected a couple items from the Nordstrom Anniversary Sale that you can pick up at a major discount before August 3rd!
---
1. Steve Madden 'Staarz' Ankle Fringe Sandal (on sale!) | 2. Crystal Dreamcatcher | 3. For the Frill of It Peach Fringe Purse (on sale!) | 4. Sunburst Crochet Fringe Tank | 5. Kimchi Blue Santerine Fringe Dress (on sale!) | 6. Faded Kilim Indoor/Outdoor Woven Rug | 7. Kendra Scott 'Rayne' Stone Tassel Pendant Necklace (on sale!)
---
C $118.23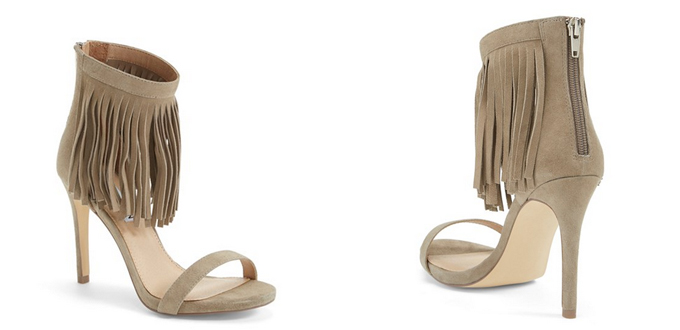 This is my first pick from the Nordstrom Anniversary Sale! I already purchased these shoes (on sale, of course!) and I've been wearing them a lot — they're true to size, comfortable, and so versatile. Steve Madden makes a good quality shoe, and I love the way the fringe moves when I walk. I've received so many compliments on these! If you want to incorporate some fringe into your wardrobe, I highly recommend these neutral suede sandals.
---
C $101.30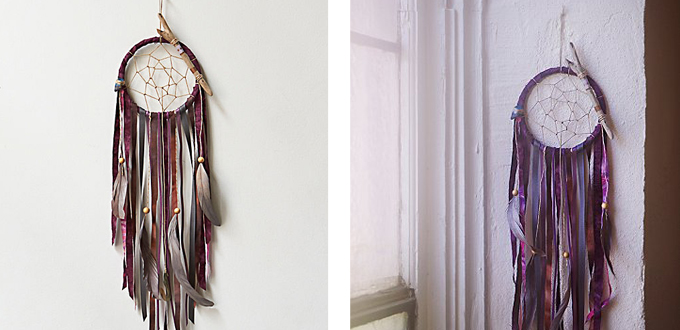 Ever since spending Christmas in the desert, I've been obsessed with dreamcatchers! In Phoenix and surrounding area, they were in every flea market. I'm kicking myself now for not picking one up (guess I was too pre-occupied with hauling our huge marquee light Wine sign home), but I love this gorgeous Crystal Dreamcatcher from Free People. The colours, textures and details are so beautiful and luxe!
---
C $26.00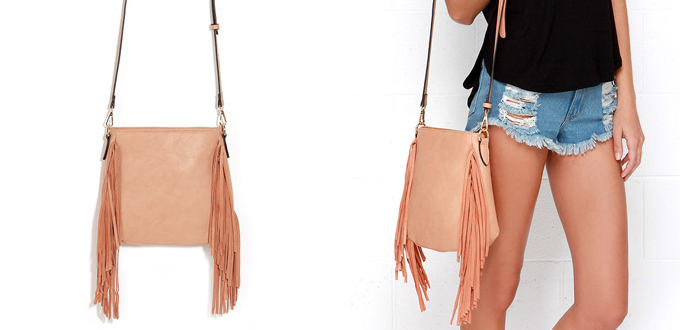 I love the soft peach colour of this purse with the fringe details for a feminine twist on the fringe trend. Plus, it's on sale! I've purchased quite a few bags from Lulu's over the years and they're always super cute. These cross-body styles are perfect to throw on during the day to add a free-spirited, bohemian flair to any summer outfit.
---
C $29.29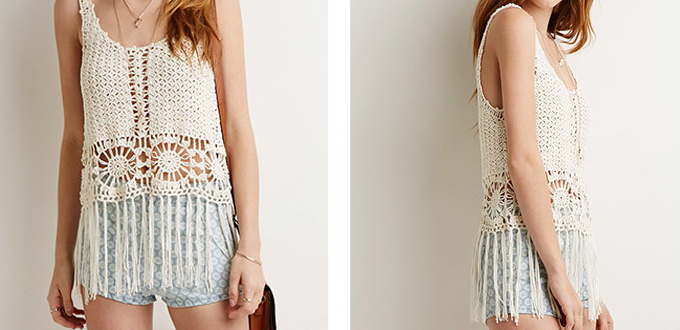 In the summer, I live in flowy, crochet fringe things! This fringe tank from Forever 21 is the perfect bikini cover-up, or wear it alone with a bandeau underneath. This is a perfect easy-to-wear layering piece, and I love the 70's macrame style crochet details (it totally reminds me of something Kate Hudson would have worn in Almost Famous!). Plus, it would look amazing on tanned summer skin.
---
C $99.99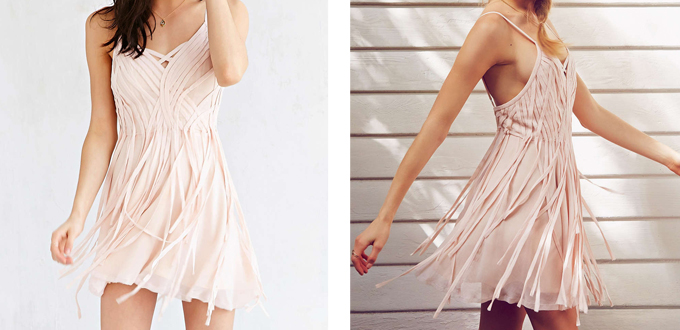 How sweet is this little summer dress? It has so much movement, and I love the colour. If you prefer your fringe on the softer side, opt for this feminine number from Kimichi Blue — of all the designers carried at Urban Outfitters, they're one of my favourites.
---
US $89 – $529
I've been lusting after this rug for a long time — I think it's time to make it mine! If you've never shopped in Urban Outfitters apartment section, definitely check it out! They have some unique items at afforable prices, like this aztec printed, woven rug with just the right amount of fringe.
---
C $71.97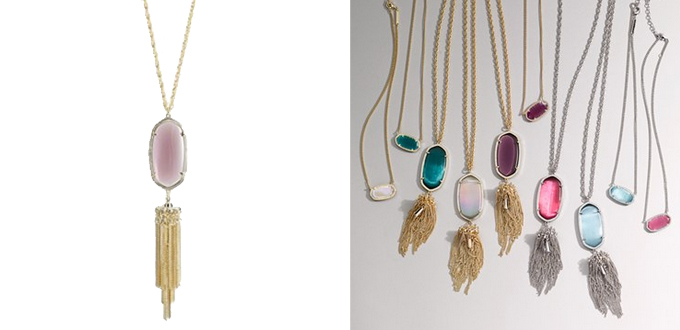 Here's another find from the Nordstrom Anniversary Sale that you can grab until August 3rd at a serious discount! I love the gold fringe details on this large amethyst stone. Long, pendant style necklaces are definitely my thing, and I don't have anything like this one. It's delicate and bohemian at the same time. I love the entire Kendra Scott collection at Nordstrom — she uses a lot of natural stones and her pieces are really high quality.
---
If you guys are interested in any of the items I mentioned in the post, just click the coloured links to shop! Remember, the Nordstrom Anniversary Sale is only on until August 3rd, so if you've been eying anything, just go for it! (I give you permission). 😉 What are your favourite summer trends this year? Are you planning to pick anything up from the #nsale?
---
Disclaimer: This post is not sponsored, and contains my genuine thoughts and recommendations. JustineCelina uses affiliate and referral links, which allow me to receive a small commission when you make a purchase through one of my links. Your purchases help to support JustineCelina.com!