---
With the holidays just around the corner and the height of entertaining season upon us, I'm elated to share my go-to Easy Holiday Entertaining Ideas in my first dedicated ENTERTAIN post in… gulp… 3 years! The absence of entertaining content here at JustineCelina in recent years has happened authentically, as we've scaled back on entertaining in general — simply because life is busy (I'm sure you can relate, especially at this time of year!). Although we love to have an apartment full of company eating, drinking and be merry during the holidays, I'm all about making this festive time of year as fun, stress free and healthy as possible — and that's what this post is all about! Whether you've been with me for years or are new to my cozy little corner of the internet (welcome!), you'll know I also love to incorporate better-for-you food and drink whenever we're hosting or attending a party — because I believe in balance and mindful choices in every season of life.
Earlier this month as I pulled out our festive decor and entertaining essentials I discovered Kombrewcha — a delicious, 4.4% ABV hard kombucha made from organic ingredients. As a plant based eater with a sensitive stomach thanks to numerous food intolerances, I've long enjoyed kombucha as a way to help keep my digestion on track — especially during the holidays! I also love to mix this effervescent, probiotic-rich, fermented tea into my COCKTAILS (if you follow along with my Instagram Stories, you'll know I've been developing kombucha cocktails since last summer!). This holiday season, I was absolutely delighted to find a better-for-you beverage that incorporates all of my libation must-haves (made from incredible ingredients and free of dairy, gluten and refined sugar!) in a convenient, ready-to-enjoy format. Tonight I've partnered with this new to Alberta brand to host a casual holiday dinner party and share my tried and true Easy Holiday Entertaining Ideas — complete with my best decor, styling, hosting, food and drink, fashion and beauty tips to create a festive and memorable evening. Cheers to a happy, healthy and joyous holiday season!
---
EASY HOLIDAY ENTERTAINING IDEAS
---
Friends, I'm overjoyed to team up with Kombrewcha to share my best Easy Holiday Entertaining Ideas with you! Last month, they reached out to discuss partnership opportunities after their recent launch in Alberta — and as I learned more about this inventive hard kombucha and the ethos behind the brand, I was pleasantly surprised. You see, it's extremely rare to find a ready-to-drink beverage that aligns with my clean, whole food, plant based philosophy on alcoholic beverages — as well as my food sensitivities!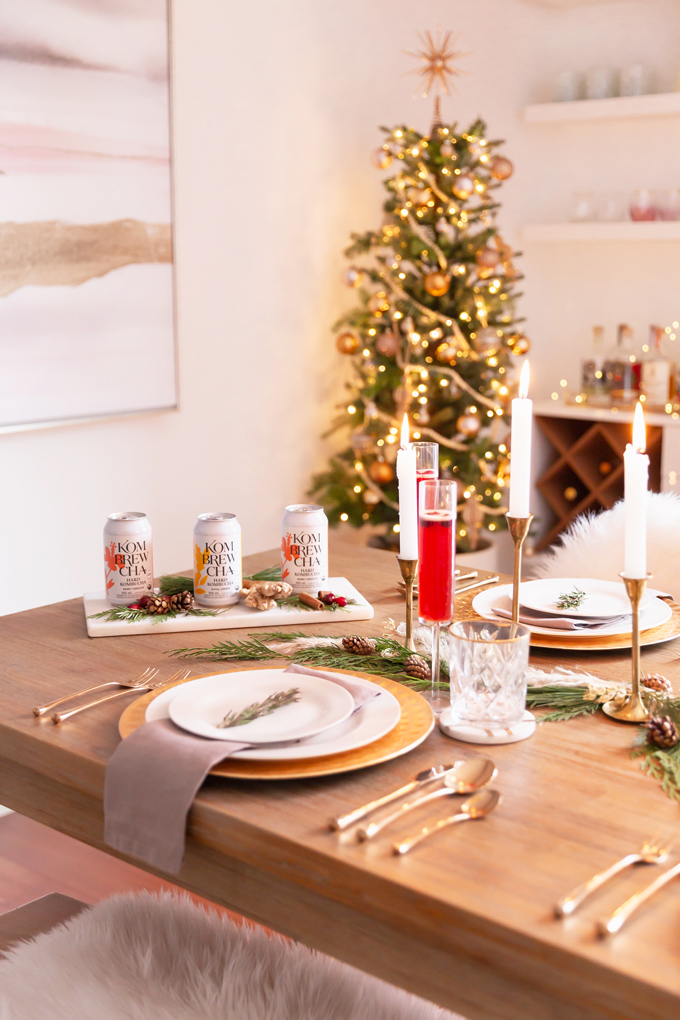 Here at JustineCelina I'm passionate promoting a healthy lifestyle that's attainable — and I've been infusing fresh, organic, from-scratch ingredients into my COCKTAILS for as long as I've been mixing them up! I love to feel good about what I eat and drink year round — and truly believe that you can enjoy yourself and nourish yourself at the same time. This belief is ingrained into each and every one of the RECIPES you'll find on these pages, alcoholic or not.
So, I requested samples of the two Kombrewcha flavours available in Alberta — and it was love at first sip! As someone who's very particular about what they drink, both flavours of Kombrewcha receive my glowing recommendation. My favourite is Berry Hibiscus (it's also what's in our glasses in this post) while Adam adores their Royal Ginger!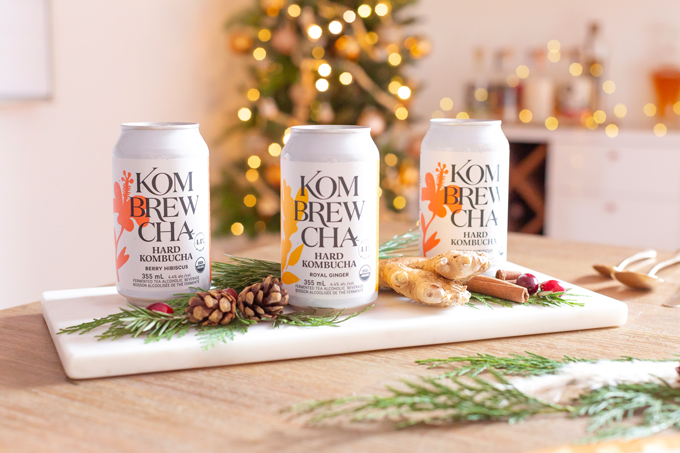 If you love traditional kombucha, I guarantee you'll love these levelled up, low alcohol offerings — they're reminiscent of a cider (but drier!), perfectly effervescent and wonderfully refreshing. I'm so excited to share how we've incorporated Kombrewcha into our Holiday Entertaining this season!
---
DECK THE HALLS
---
After years of being overwhelmed with holiday decorating while living in an apartment with limited storage, I've learned that minimal and fresh is best.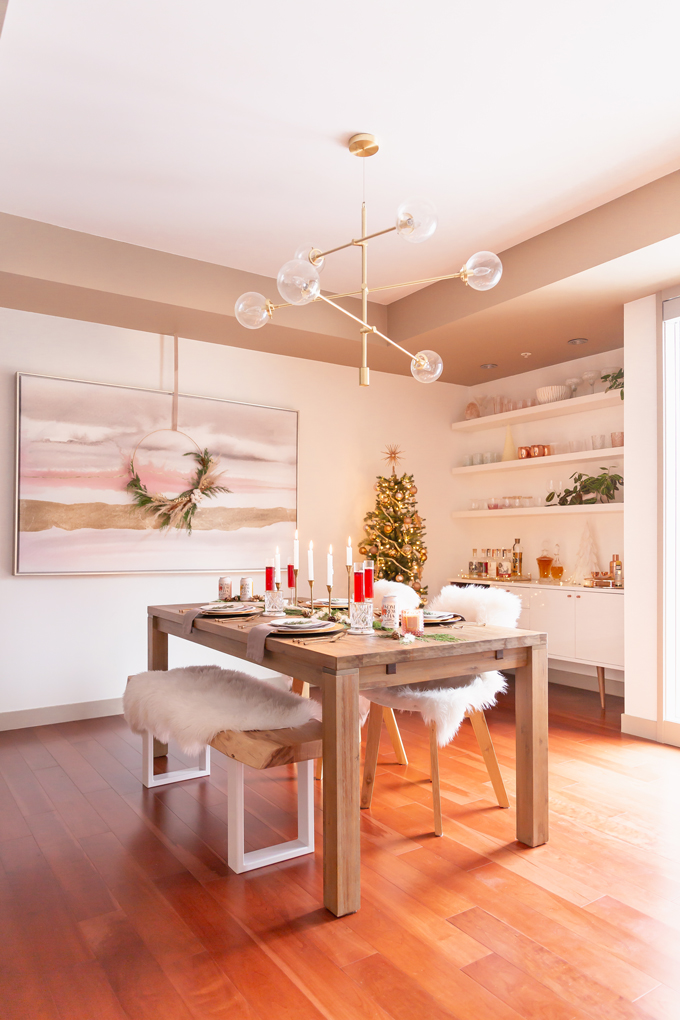 To bring a festive touch to the Dining Room and Bar, we added a small tree to our Mid Century Turned Wood Leg Planter, strung fairy lights along the bar and hung a fresh DIY wreath (made with holiday greens, pampas grass, cotton buds and foraged elements — in less than an hour!) over our existing artwork. These elements infuse just the right amount of holiday cheer into our space without overwhelming the room or disrupting our permanent decor — and allowing company to mix and mingle freely!
---
SET THE MOOD
---
Creating a warm and cozy ambiance is one of my favourite things about holiday entertaining at home! I love to light candles and drape faux sheepskin throws over seating to lend an inviting and luxurious atmosphere to a holiday tablescape.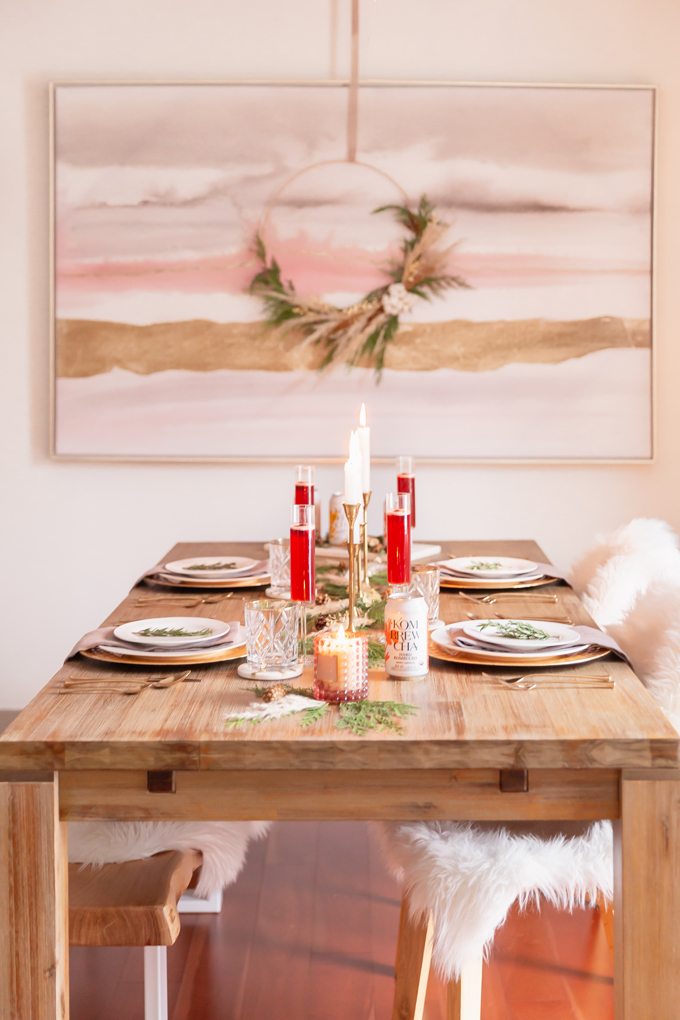 Since this dinner party was quite intimate (we were just hosting another couple), I brought in a wood bench as an alternative to our dining room chairs. Bench seating allows guests to get cozy, but also spotlights table top decor because of its low profile. Having flexible seating options in small spaces is essential for us when we entertain — no matter the size of our party!
---
SET THE TABLE
---
Everything you see on our holiday table from linens to stemware are items we've owned for years! Much like my personal style, this festive tablescape contains a mixture of high, low, old, new(ish!) and vintage — and I love the simple, eclectic mixture of tones, textures and fresh elements.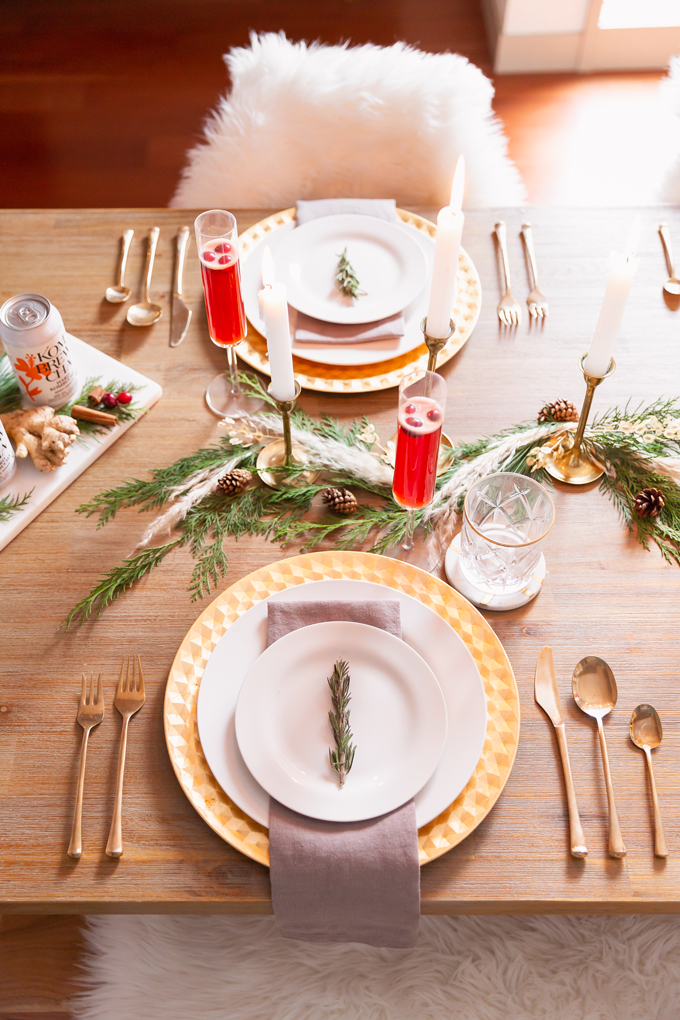 This festive place setting includes a gold charger, a dinner plate, a salad plate, a linen napkin, vintage brass flatware, a champagne flute (brimming with Berry Hibiscus Kombrewcha — isn't the colour gorgeous?!) and a cocktail glass. To elevate the setting, I've pressed our napkins and folded them to drape over the edge of the table, placed a fresh sprig of rosemary on each salad plate and popped a few cranberries into our champagne flutes. I find seemingly small details like these always add polish and elegance to a tablescape!
As much as I love fresh FLOWERS, over the years I've learned that centrepieces simply aren't practical for entertaining. Instead, I created a fresh, elegant table runner with holiday greens, pampas grass, acorns and foraged elements from my childhood home in rural Alberta! These materials are inexpensive and readily available at your local grocer or flower shop (they can also be foraged) — and they're my favourite way to add a festive touch to a holiday tablescape in just a few minutes.
---
STOCK THE BAR
---
Although I love to mix up craft cocktails when we're entertaining, if I'm also cooking (check out my favourite holiday recipes!), it's simply not feasible to do all evening. I find what works best is to have a welcome cocktail ready for each guest when they arrive, then switch to wine with dinner. After dinner, we like to serve a digestif or something more convenient — especially if the party is just getting started!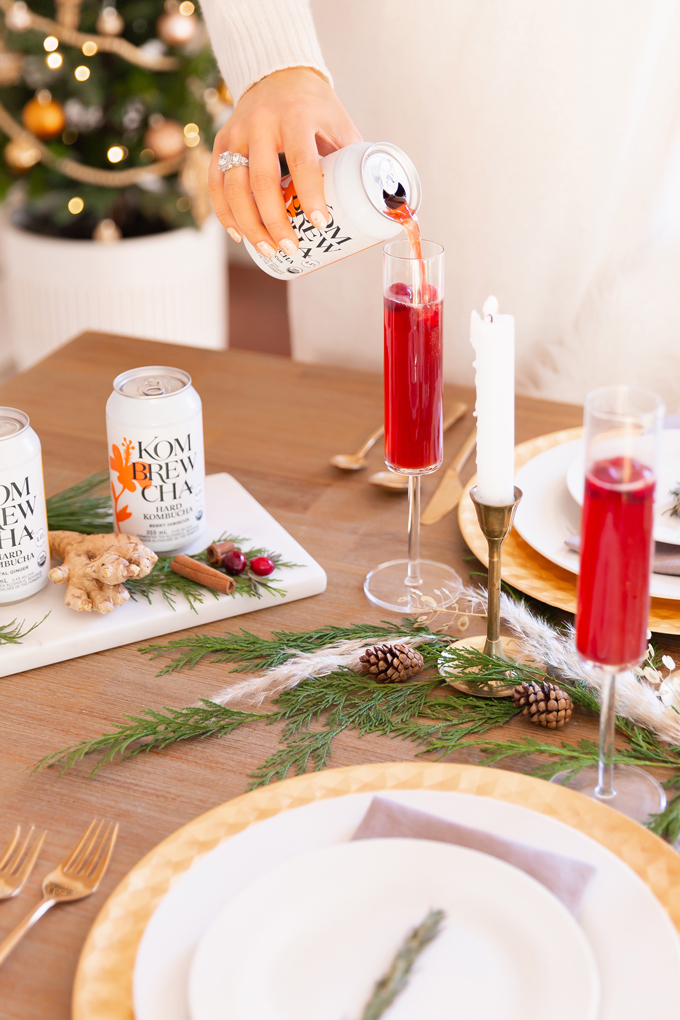 We always keep a well stocked Bar, as beverage options are essential for holiday entertaining! But due my gluten intolerance, I've never been a beer drinker and have struggled to find health conscious, canned beverages — simply because they're typically loaded with less than desirable ingredients and tons of sugar. My rule is that if it doesn't contain similar ingredients to something I'd mix up myself, I don't drink it — and I don't serve it to my guests.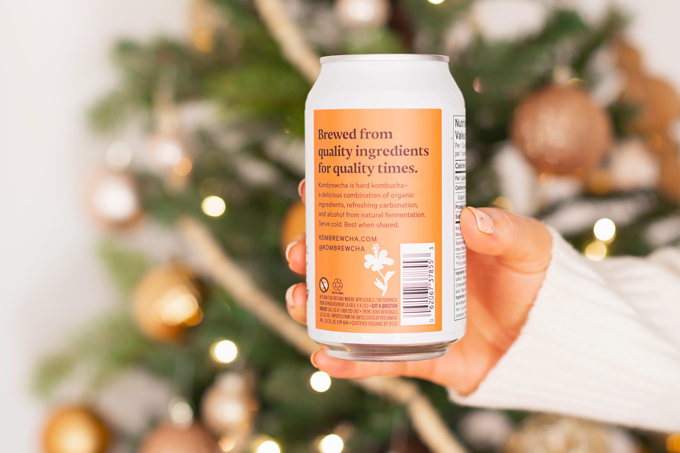 I'm so happy to have Kombrewcha in my entertaining repertoire. This convenient, better-for-you option has been in our glasses all December long — and everyone who we've served it to enjoys it just as much as we do! I love that it offers the health benefits of kombucha tea while being a gluten free, low calorie, low sugar alternative to beer, wine or cider. It's ideal for those looking for a low alcohol, ready-to-enjoy, refreshing libation loaded with incredible ingredients, antioxidants and delicious, natural flavour!
---
MAKE YOURSELF COMFORTABLE
---
When we're hosting company in our home, I like to dress as comfortably as possible — and encourage guests to do the same.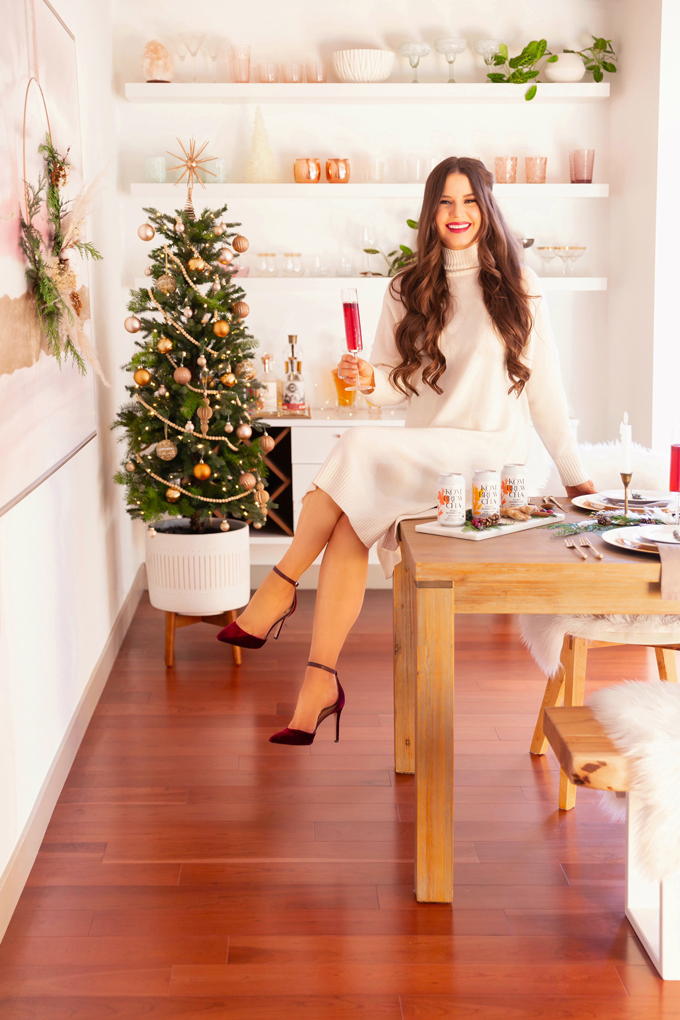 This holiday season, I've opted for a this Wool Blended High Neck Slit Dress (it's currently on sale!) that's equal parts cozy and chic, paired with my favourite pointed toe velvet pumps (which are the most comfortable heels I own!). I've finished this simple festive look with a pearl hair clip and the Lancôme Matte Shaker High Pigment Liquid Lipstick in Kiss Me Chérie for a dose of holiday glamour — one of my Top 5 Red Lipsticks for the Holidays!
---
MORE HOLIDAY INSPIRATION
---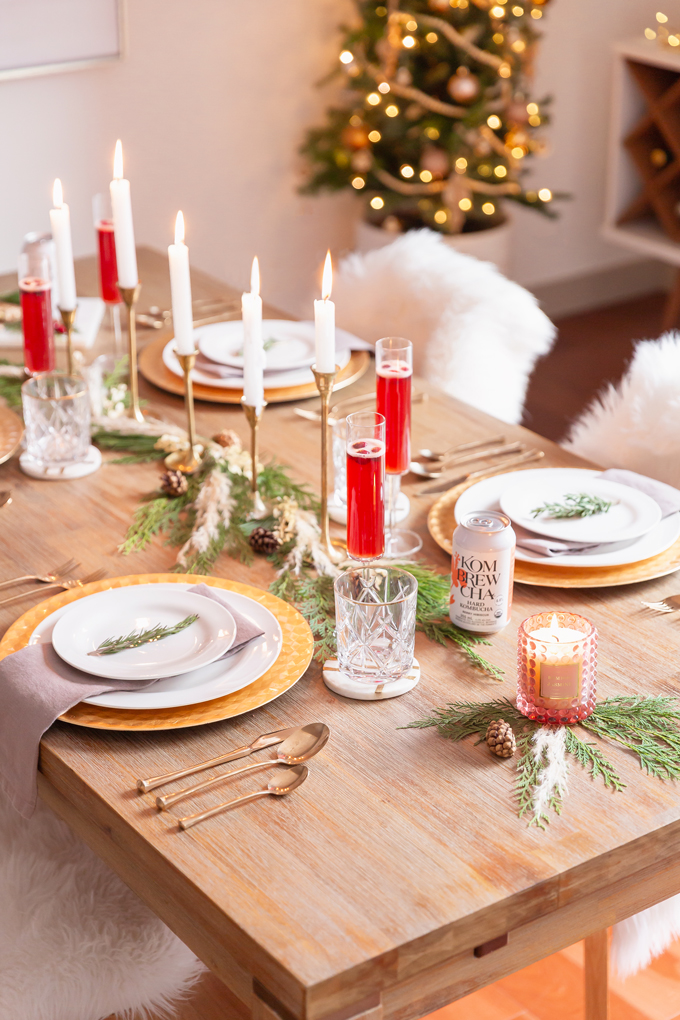 Ultimate Holiday Inspiration Roundup
Apartment Friendly Modern Holiday Decor
A Luxurious New Years Eve Bash
DIY | How to Make an Asymmetrical Holiday Wreath
Luxe Holiday Floral Inspiration
---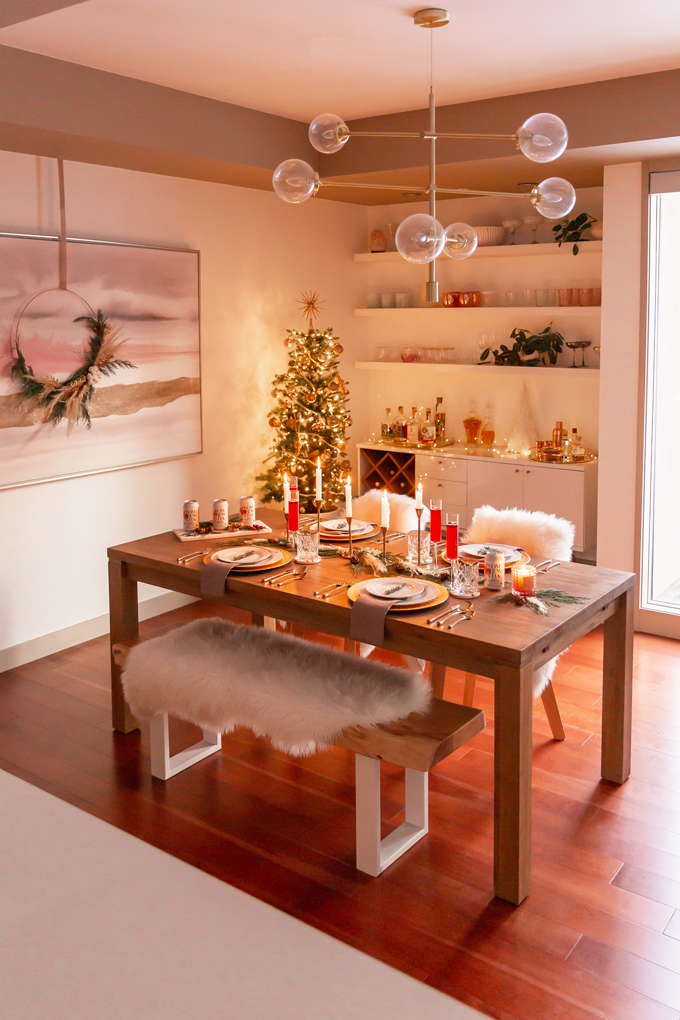 Thanks for stopping by to chat Easy Holiday Entertaining Ideas over a flute of Berry Hibiscus Kombrewcha tonight, friends! I had so much fun pulling out our vintage brass, crystal and linens to create this post — it's actually inspired me to bring ENTERTAIN content back to JustineCelina in a greater capacity in 2020. I hope also its inspired you to incorporate some of my tips (and possibly some Kombrewcha) into your holiday hosting!
As always, if you try one of my Easy Holiday Entertaining Ideas, or pick up some Kombrewcha (find the stockist nearest to you) to enjoy with friends and family this holiday season, I'd love to hear from you! Tag me, send me a photo, leave me a comment or use #justinecelinaholiday on social. And if you're looking for even more holiday inspiration, you can also follow along with my Holiday Pinterest Board, or check out the links above. Wishing you a lovely weekend and the happiest of holidays!
---
Disclaimer: Thank you to Kombrewcha for sponsoring this post. JustineCelina uses affiliate and referral links, which allow me to receive a small commission when you make a purchase through one of my links. Thank you for supporting the brands and businesses that support JustineCelina!