---
Spring is almost in the air… can you feel it?! Join Rebecca Dawn Design and I today in celebrating a new season with our March 2018 DIGITAL BLOOMS — inspired by Spring 2018's vivacious selection of brights and pastels. Never before have I been so inspired by a colour palette (yep, the Pantone Spring 2018 Colour Trend Report is still giving me major heart eyes!) — I cannot wait to start wearing it and continuing to work with it across categories as the weather warms up (currently fantasizing about open toed shoes and dresses with bare legs!). Until then however, I'll eagerly be awaiting spring's arrival with a jubilant array of cheerful spring blooms and herbs — including these incredible, extremely rare lavender Garden Roses, Ranunculus, Lavender (which you'll we learning more about this spring!), Alstroemeria, Matricaria, Asiatic Lilies, Ornithogalum, Double and Parrot Tulips (learn more about them here), Hyacinth, Pom Pom Chrysanthemums and Blue Delphinium. Sartorially, it's all about the combination of brights with pastels as we transition into balmier weather — so why embrace the season's colour trends on your digital devices as well?
Take spring cleaning to the next level this March and freshen up your tech to welcome a new brand new season! Infuse your digital devices with a fun splash of colour and enjoy the whimsy of our March floral selections on the background of your computer, tablet or phone all month long. As we transition into spring, Rebecca and I are particular inspired by Pantone's Meadowlark, Little Boy Blue, Pink Lavender, Blooming Dahlia, Ultra Violet, Almost Mauve and Spring Crocus. We've also included designs on two candy coloured, pastel backgrounds this month to help chase those winter blues away (spring is only a few short weeks away, friends!). Click through to download a free tech wallpaper of your choice — and feel free to change your mind and change it up mid month, or choose a different design for each of your devices — absolutely no strings attached!
---
HOW TO DOWNLOAD
---
Desktop (iOS)
Click on the image you want to download and it will open in a new window. Right click and select 'Save Image As' or 'Set as Desktop Wallpaper'. If you selected the 'Save Image As' option, then just locate the image you saved, right click, and then select 'Set Desktop Picture'.
Phone / Tablet (iOS)
Click on the image you want to download and it will open in a new window. Then, click on the up arrow icon at the bottom of the screen, and select 'Save Image'. Navigate to 'Settings', then 'Wallpaper', then 'Choose a New Wallpaper' and select the image you downloaded from your photos. You'll be able to scroll across the image by dragging your finger across the screen and you can resize or crop it to your liking to display different sections of the design.
---
USAGE
---
These images are for personal use as digital device wallpapers only and cannot be used in any other way (including social media posts) without express permission from JustineCelina. I'm relying on the honour system here, but you guys are good people, right? You can still share the love — if you know someone who would enjoy these wallpapers, please send them our way by sharing the link to this post.
---
DIGITAL BLOOMS MARCH 2018 | FREE DESKTOP WALLPAPERS
---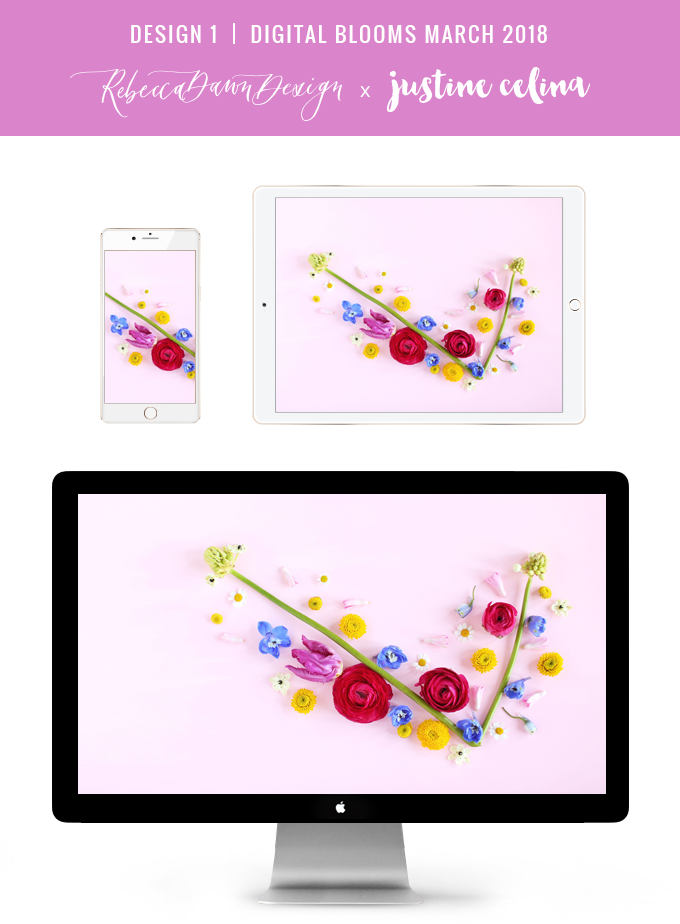 ---
— To download Design 1 simply click the image below and follow the How to Download steps —
---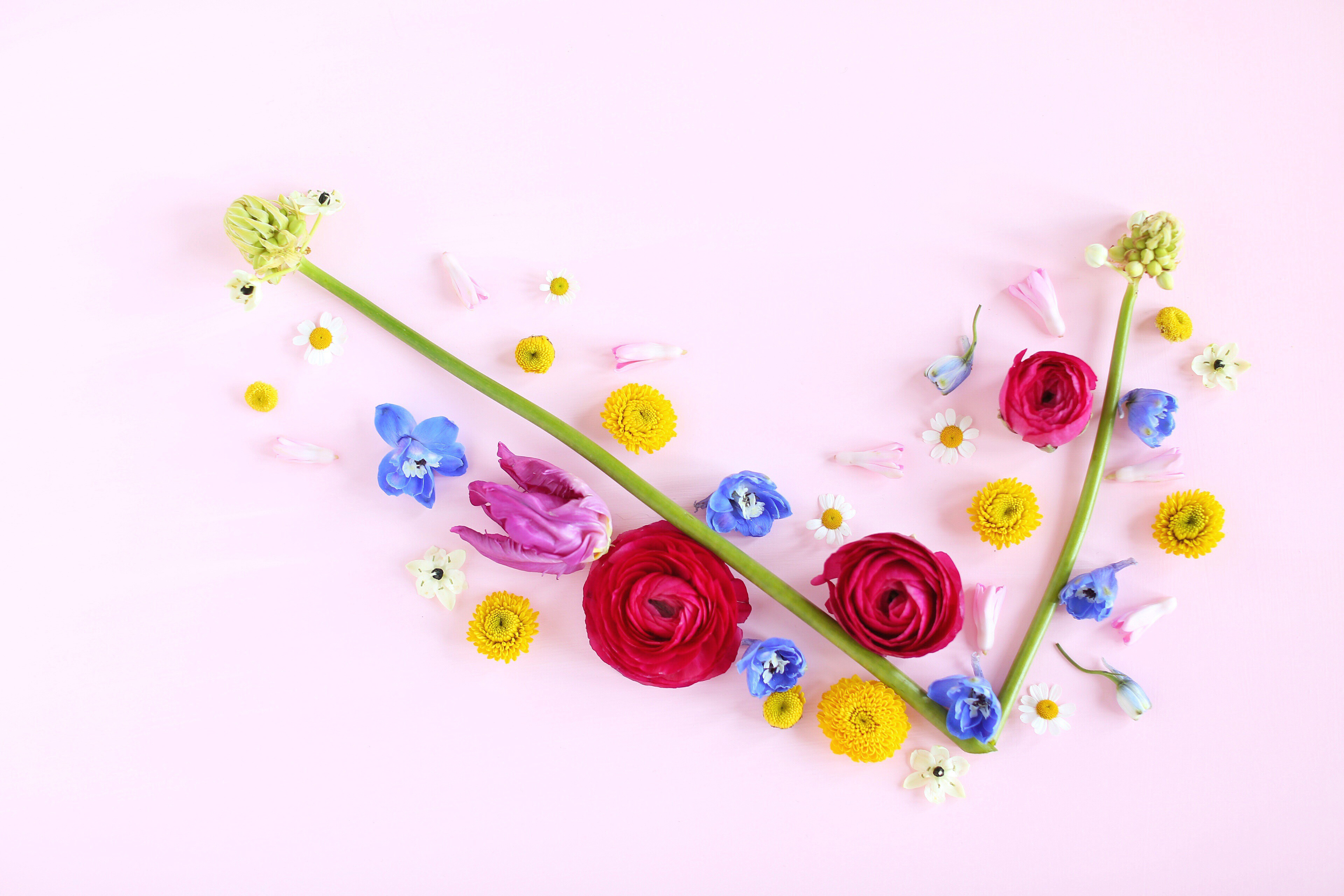 ---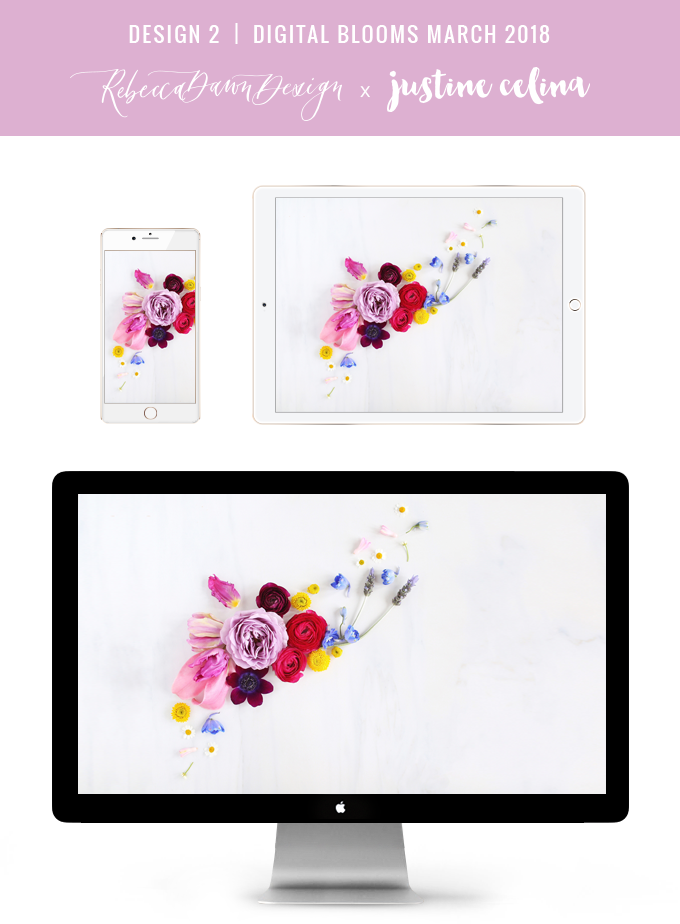 ---
— To download Design 2 simply click the image below and follow the How to Download steps —
---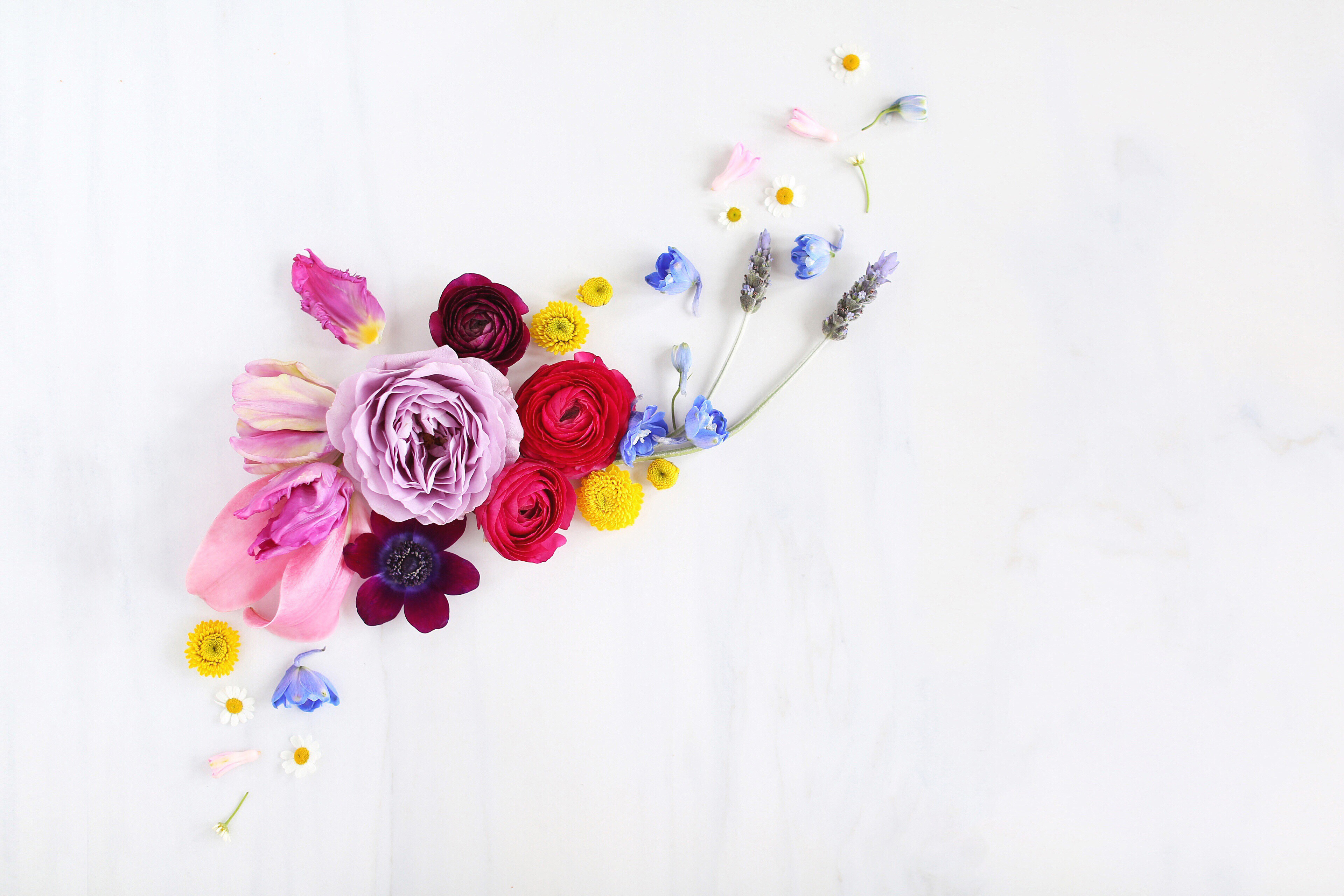 ---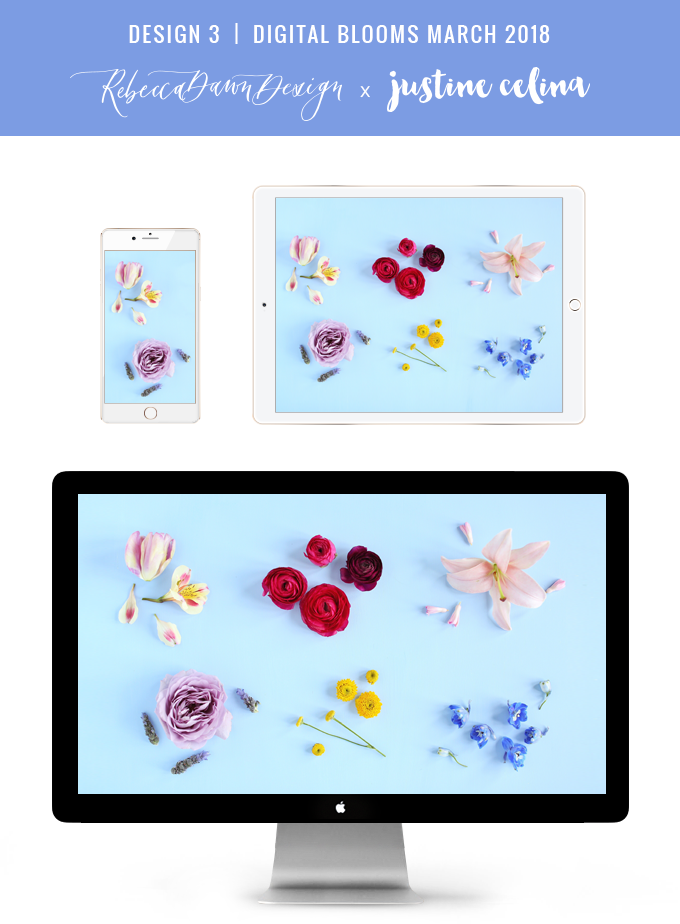 ---
— To download Design 3 simply click the image below and follow the How to Download steps —
---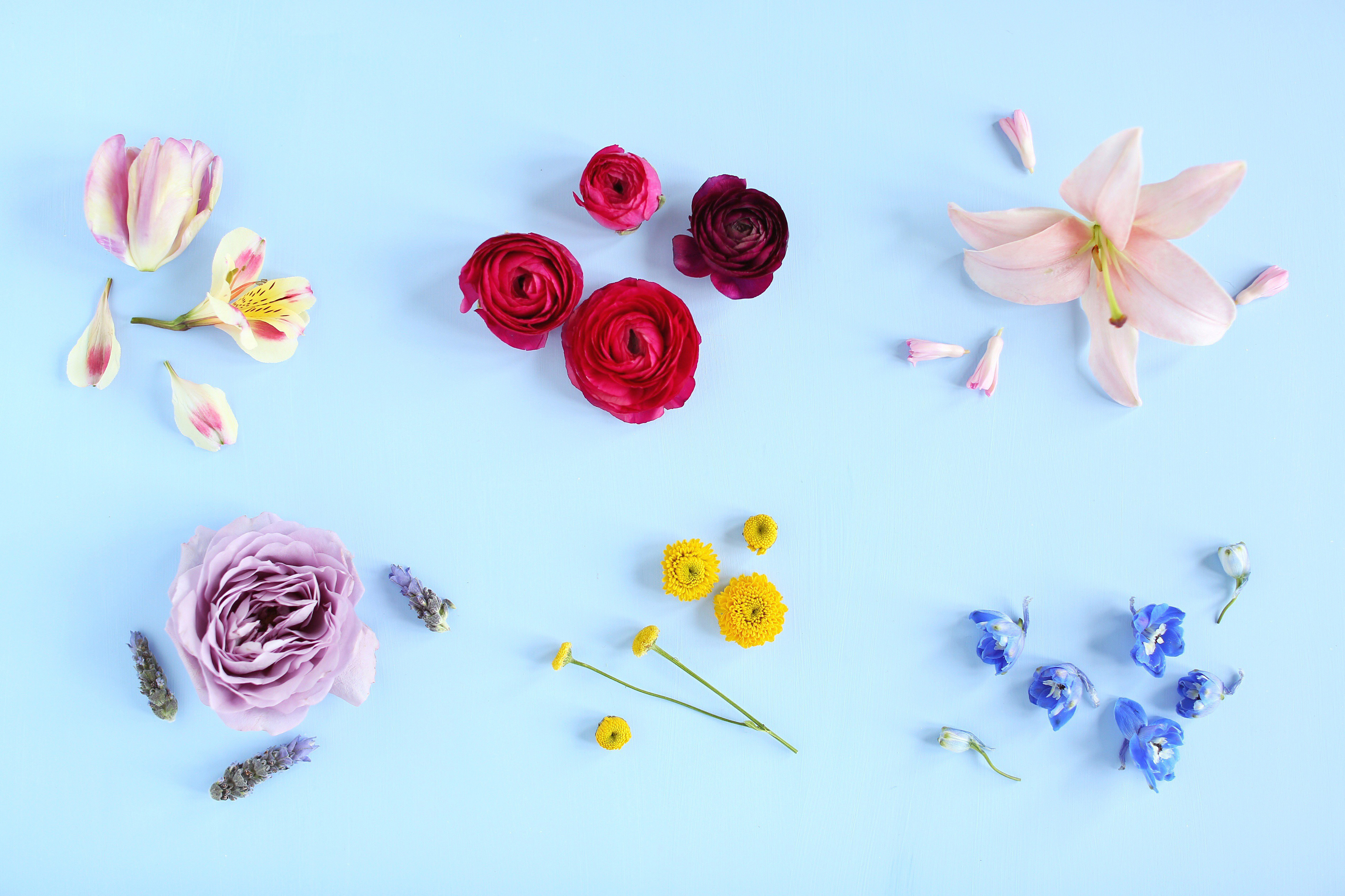 ---
BROWSE THE DIGITAL BLOOMS ARCHIVES
---
Visit our DIGITAL BLOOMS archive page to browse the complete free floral wallpaper archives, featuring over 100 designs!
---
Thanks for stopping by today to download our March 2018 DIGITAL BLOOMS! Which design was your favourite? Rebecca and I can't wait to share tons of dreamy floral inspiration and seasonal colour trends with you this spring. Until soon, flower friends!
---
Disclaimer: This post is not sponsored, and contains our genuine thoughts, ideas and recommendations. All copyright of these images is retained by JustineCelina.com and Rebecca Dawn Design. If you're interested in licensing these images for commercial purposes, please contact me.