---
Music lovers, welcome back for another Monthly Soundtrack! If you can appreciate music from pretty much every genre (except country… for obvious reasons!), you'll love my February 2018 Soundtrack — these 37 song are truly all over the map! This past month, I listened to everything — we're talking hip hop, R&B, electronic, tropical house, chillwave, instrumental, alt pop, indie, folk — and the list goes on. I also rediscovered my love for a band I initially featured here at JustineCelina last September called slenderbodies (they have an alt-J sound, but more chill) and included a handful of my favourite tracks. And I had the New Moon playlist by The Joshua Tree House on repeat — a super chill, folky, feel good mix (also, if you love boho desert vibes and major decor inspo and you're not following them on Instagram… what are you doing with your life?!).
This month, my ears especially enjoyed Surfaces Loving, Half and Orange featuring Bijou's Chuck Taylors, Kendrick Lamar's PRIDE., Sun Glitters It's Ended Before It's Begun, Dreamers Delight's Blazin', Borealism's Magnolia Dream, BluntOne and Sensi's Time, Cherub's Living, LANY's Super Far, slenderbodies gray, blood to gold and amnesia, Vashti Bunyan's Diamond Day, Brett's Roman Candle, Litany's Bedroom and Blake Mills' It'll All Work Out. If you're feeling musically adventurous and looking for some fresh tunes as we transition into spring, my February 2018 Soundtrack is for you!
---
FEBRUARY 2018 SOUNDTRACK
---
---
NEED MORE FRESH TUNES? CHECK OUT MY LATEST PLAYLISTS
---
January 2018 Soundrack (or listen on Spotify)
My Top Songs of 2017 (or listen on Spotify)
December 2017 Soundtrack (or listen on Spotify)
November 2017 Soundtrack (or listen on Spotify)
October 2017 Soundtrack (or listen on Spotify)
Or, browse the MUSIC archives here at JustineCelina for almost 3 years of monthly playlists!
---
This month's album cover is just something fun I actually just shot today — and the tiniest sneak peak of our refreshed living room! We're so excited to share the space in just a couple of weeks to kick off our SPACE REFRESH series! I can't wait to be able to shoot freely in our home and create the type of content I've always wanted to.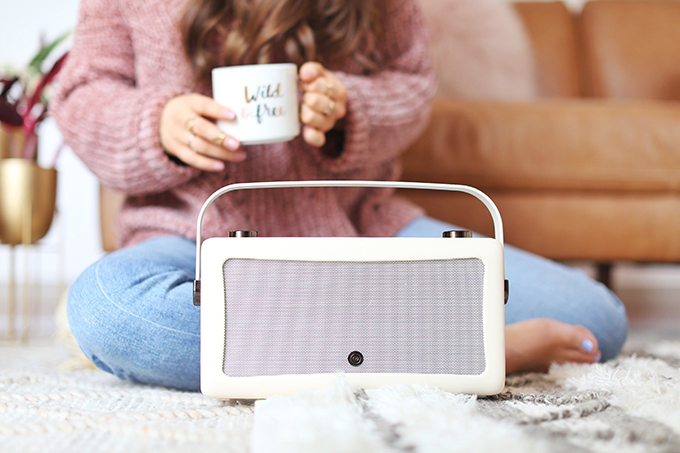 Our beautiful radio was a gift from My VQ, who I worked with a couple of years ago on their Canadian launch (remember this post?). It still sits on our kitchen counter and we move to the living room when we're entertaining, too. I love it just as much as the day I unboxed it!

What have you guys been listening to lately? Leave me your recommendations in the comments, I'd love to hear from you! Do you use Spotify? If you do, feel free to drop some links to your playlists, or playlists / artists you think I'd enjoy. I love to discover new music!
---
Disclaimer: This post is not sponsored, and contains my genuine thoughts, ideas and recommendations. JustineCelina uses affiliate and referral links, which allow me to receive a small commission when you make a purchase through one of my links. Thank you for supporting the brands and businesses that support JustineCelina!