---
Can you believe there are only 8 sleeps until Christmas? The air is crisp, the city is covered in a fluffy, white blanket and adorned with twinkling lights — I'm definitely getting into the holiday spirit! To help share that festive feeling, I've teamed up with the ultra talented Rebecca Dawn Design and Genevieve Renee Photographie to create some Luxe Holiday Floral Inspiration for you in a one-stop resource for your seasonal flower needs. Whether you're creating your own centrepiece for a dinner party, searching for hostess gift ideas or looking for expert care tips to prolong the life of your holiday arrangement, you'll find inspiration here!
Today we're dishing every detail of this stunning, oversized arrangement — combining exquisite holiday blooms and unexpected foliage with a dramatic, jewel toned palette to create an avante garde centrepiece. Flowers posses an innate ability to elevate the ambiance of any celebration — there's no better time to bring the beauty of fresh blooms into your home for family, friends and guests to enjoy! Pour yourself a glass of holiday cheer (Pomegranate Vanilla Mulled Wine, perhaps?) and curl up in front of the fireplace on this frosty Saturday while you gather holiday floral inspiration and learn all about winter's most covered blooms!
---
LUXE HOLIDAY FLORAL INSPIRATION
---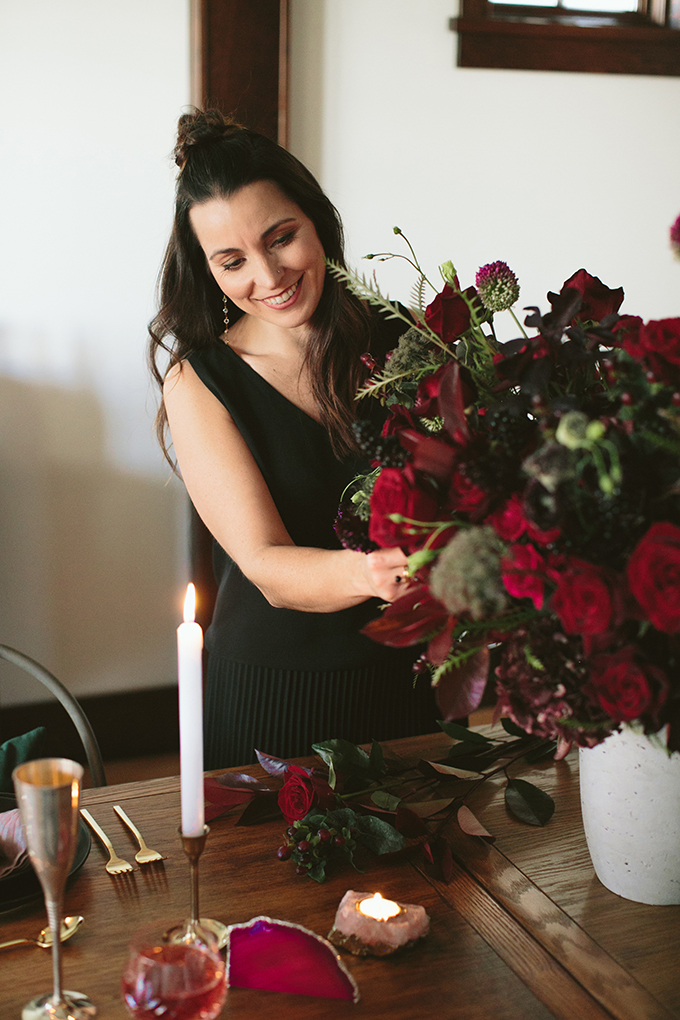 I could not be more excited to share this Luxe Holiday Floral Inspiration with you today! I had the pleasure of working with Rebecca and Genevieve to create some New Years Eve entertaining inspiration and today we're sharing the details of this stunning arrangement Rebecca designed for our party. This holiday season I really wanted to experiment and create something interesting and unique — fantastical, luxurious and a bit avante garde. If you, too, are craving some drama this winter, we invite you learn more about these moody blooms and embrace your dark side this holiday season!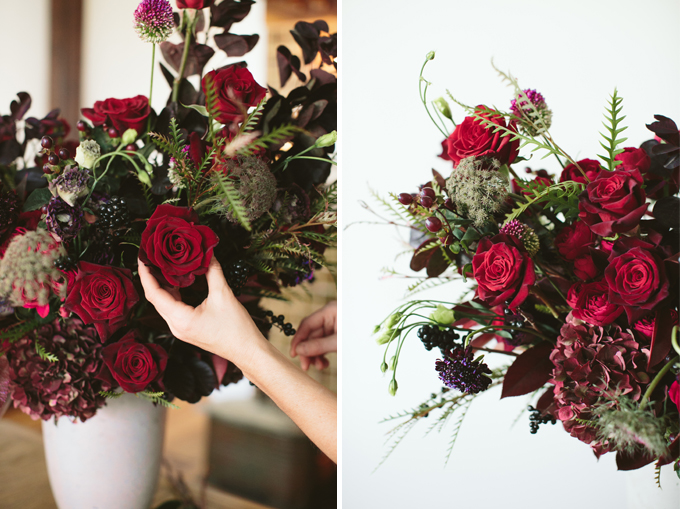 Whenever I'm pulling together inspiration for decor, entertaining or creative work, I always start by determining the colour palette and the overall mood I'm going for. To elevate the drama of our celebration, Rebecca worked with a decadent, jewel toned palette of rich magentas, ruby reds, merlots, deep berries, eggplants and chocolatey hues with subtle pops of fresh greenery for balance and subtle holiday flair. Speaking of greenery, it's the official Pantone Colour of the Year for 2017 — and you're going to be seeing a lot more of it around here over the next few months! Although red and green are a very traditional colour pairing at this time of year, this oversized centrepiece is proof that red and green can feel elegant, luxurious and contemporary this holiday season.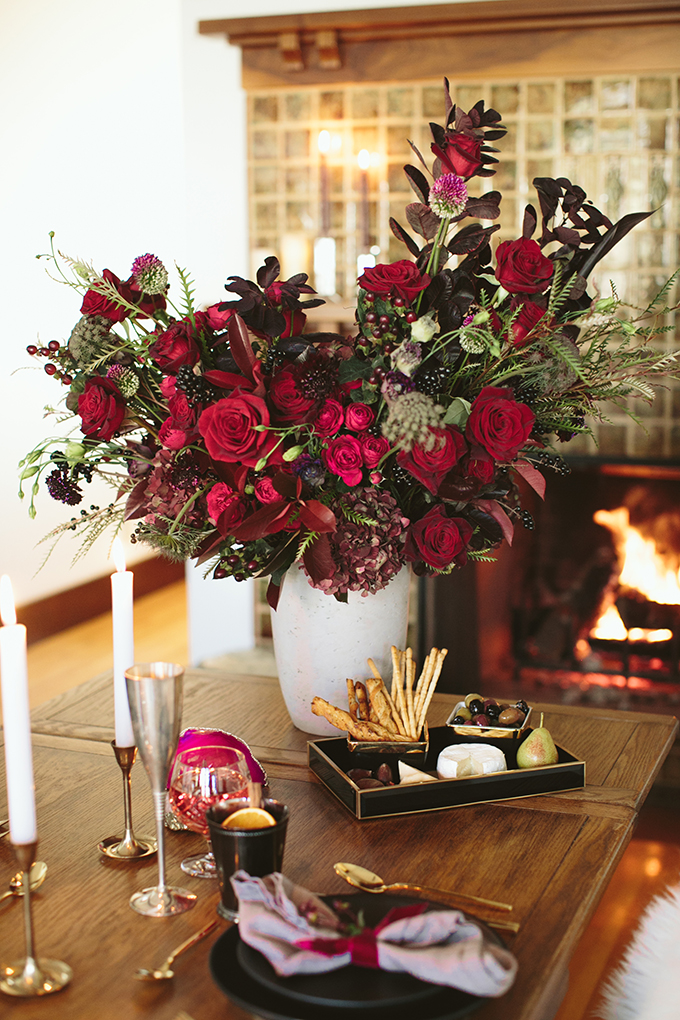 How gorgeous are all these rich, velvety textures? If you've been following along this autumn, you'll know how obsessed I've been with velvet in fashion and beauty recently. It's such a versatile texture with many different interpretations and it also translates beautifully to flowers! Rebecca selected some very unique flowers to elevate this luxe arrangement and infuse a contemporary flair into the traditional holiday centrepiece.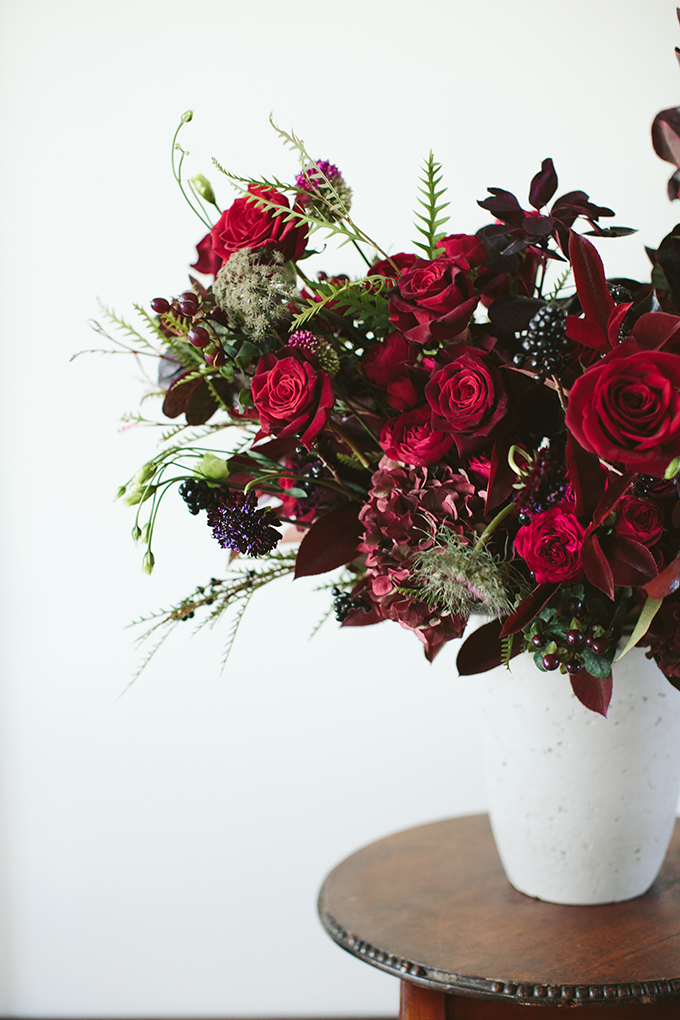 Like your favourite holiday recipe, every arrangement also has a list of ingredients, divided into categories: primary flowers, secondary flowers and foliage. If you're creating a holiday arrangement of your own, each of these blooms are currently in season — the key is sourcing plants with a variety of textures, shapes, heights and colours to keep things interesting! Our primary flowers in this oversized holiday arrangement include wine-hued Hydrangeas and a luxurious trio of jewel toned roses — Black Magic Roses, Black Baccara Roses and Gem and Lace Spray Garden Roses. Our secondary flowers include a deep, moody medley of Hypericum, Allium, Lisianthus, Scabiosa (which are also edible and you can use them to garnish holiday drinks, deserts or salads like I did here). I love Rebecca's use of offbeat greenery and berries to polish things off with her signature, artfully undone aesthetic — here she's chosen Liqustrom, Chocolate Lace, Cotinus, Photina and Grevillea.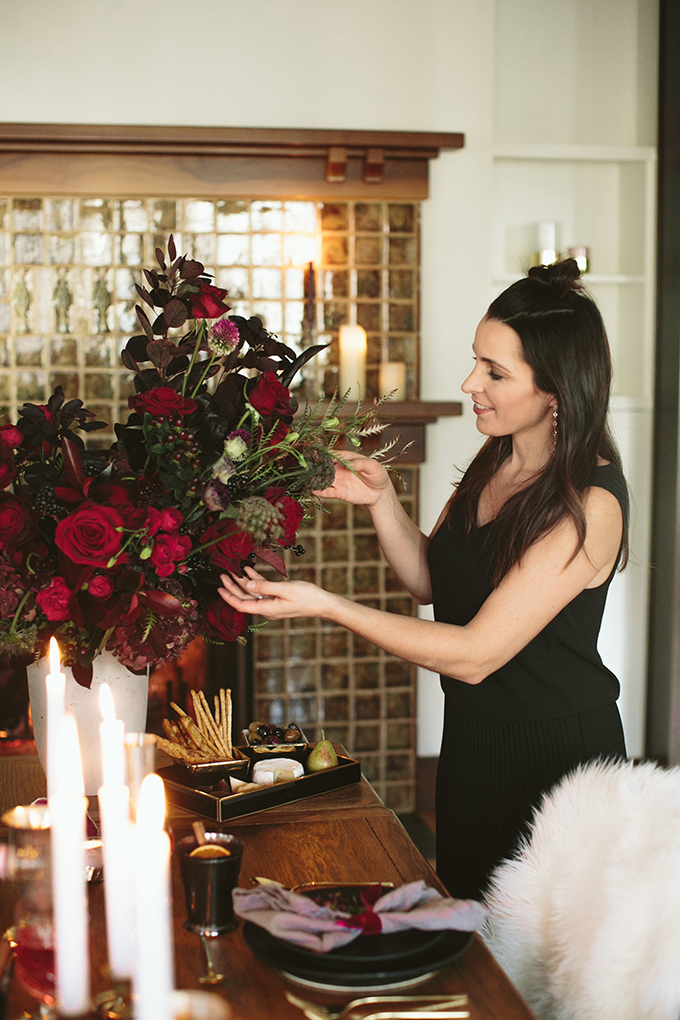 Considering your vase or vessel is an important component in creating an arrangement. Since our centrepiece is oversized, Rebecca selected a sturdy cement vase with clean lines to house our dramatic arrangement and add a modern edge to contrast these traditional blooms. You'll want to choose a vessel that compliments the aesthetic of your blooms in a scale that's appropriate to the size of your arrangement. If you're looking for some general guidelines for flower arranging this winter or more information about vase selection and prep, be sure to hop over to the DIY | How to Make a Flower Arrangement post where Rebecca shares her expert flower arranging tips!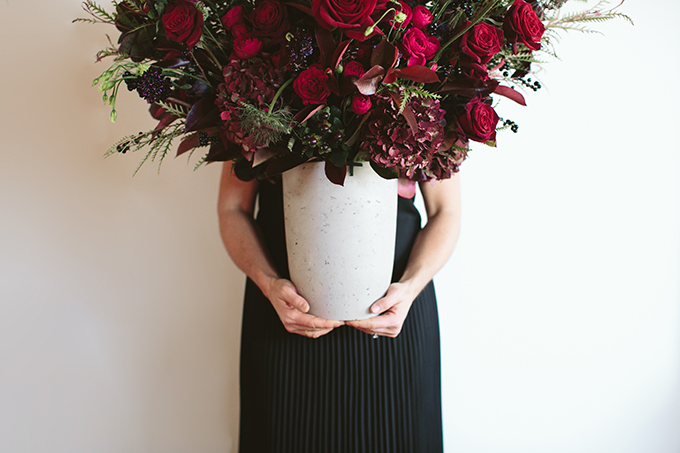 ---
PRIMARY FLOWERS
---
Rebecca chose classic winter blooms with an elevated twist to act as a dramatic focal point in this oversized arrangement. Deep purple hydrangeas and velvety Black Magic Roses, Black Baccara Roses, and Gem and Lace Spray Garden Roses lend a sophisticated edge to our holiday centrepiece.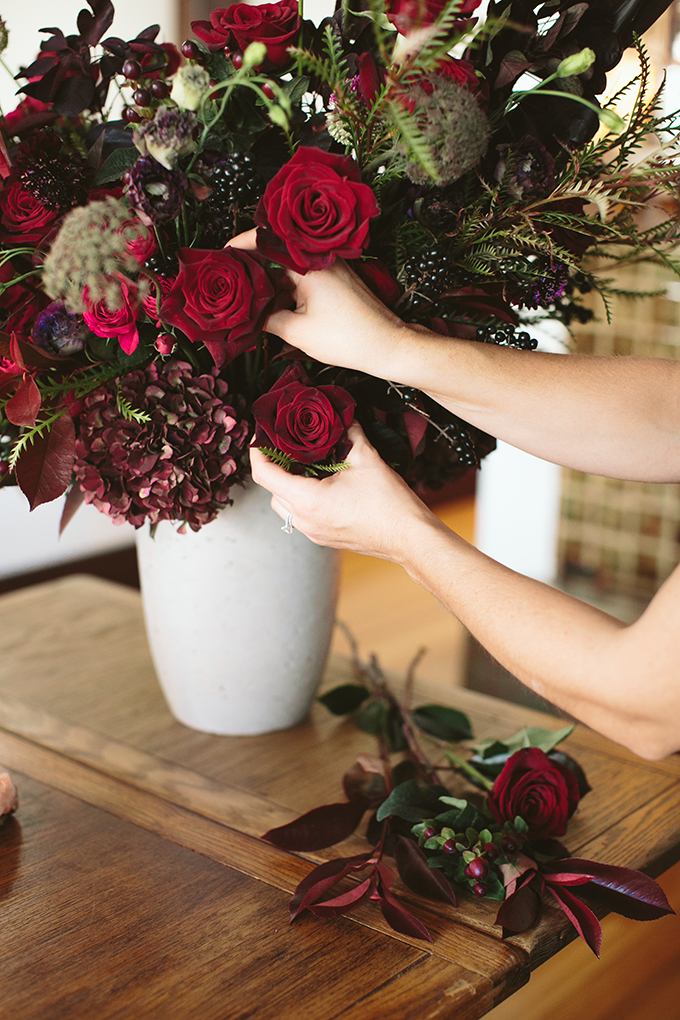 ---
SECONDARY FLOWERS
---
Secondary flowers compliment the primary flowers in an arrangement — they're typically smaller and add more interest and diversity in both colour and texture. Our luxurious centrepiece is brimming with decadent tones and textures provided by Hypericum, Allium, Lisianthus and Scabiosa accents.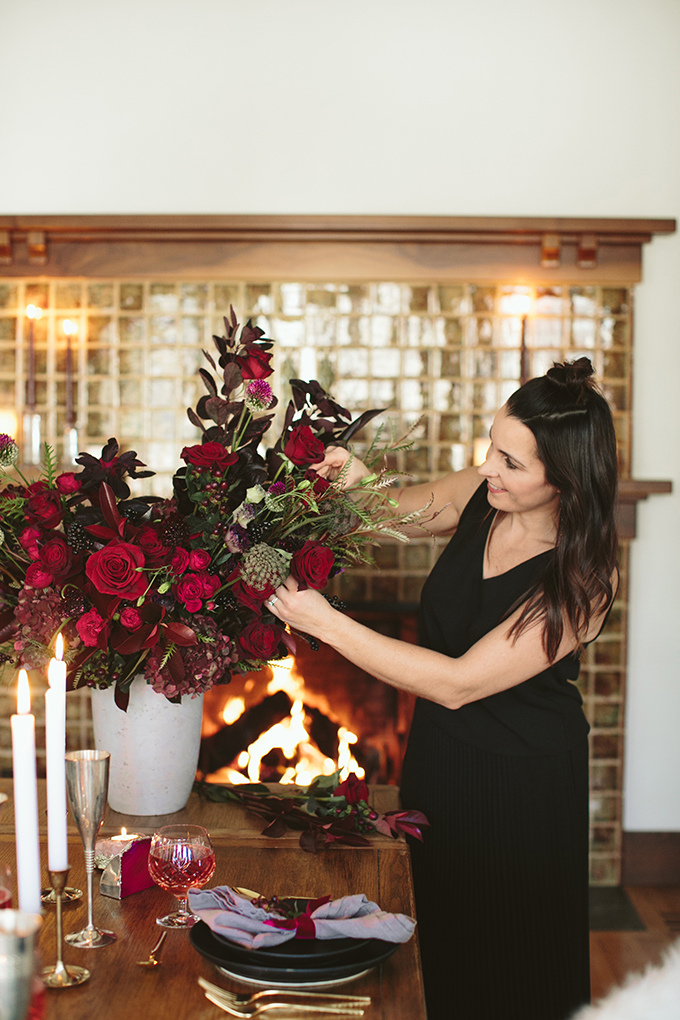 ---
FOLIAGE & BERRIES
---
Foliage and berries work to round out an arrangement and add the finishing touches — think of them as the arrangement's accessories! Rebecca used Liqustrom berries, Chocolate Lace, Cotinus, Photina and Grevillea to add subtle holiday flair to our centrepiece. Fresh greenery is inexpensive and widely available at this time of year (it can be purchased in bundles at your local grocer) and it's a fantastic way to incorporate a festive touch to your decor in  an on-trend hue.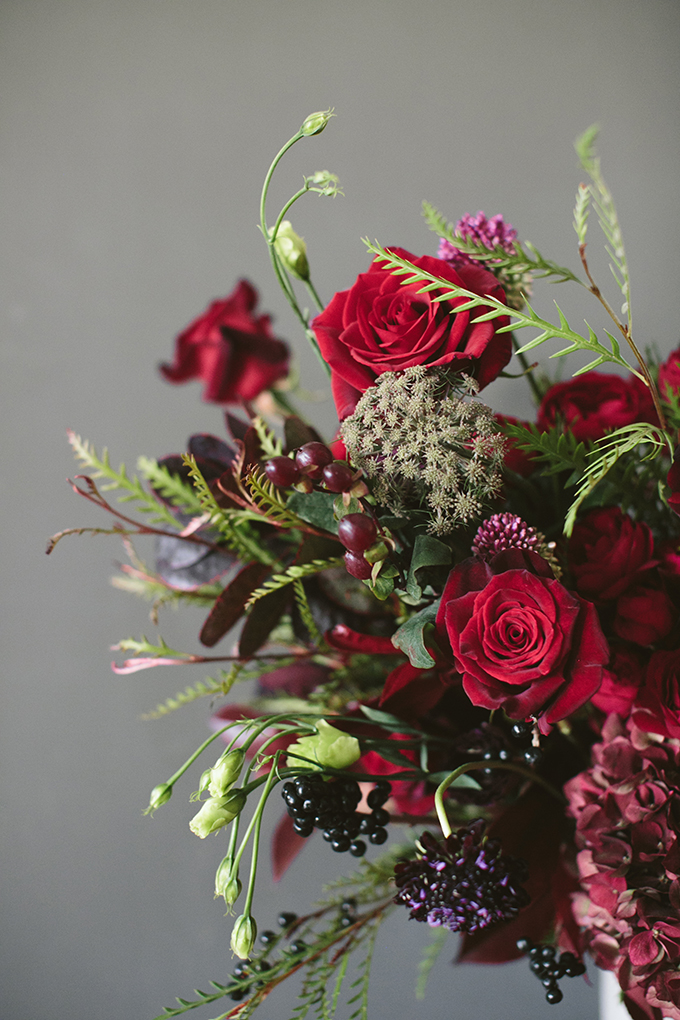 ---
GENERAL WINTER FLOWER CARE & CONDITIONING TIPS
---
Whether you're creating a holiday centerpiece, gifting flowers or caring for a premade arrangement this season, you'll want to ensure your flowers last as long as possible. Utilize Rebecca's expert care tips to preserve the beauty of your holiday blooms!
If you're creating your own holiday arrangement:
1. As soon as you get the flowers home, remove the cellophane wrapping and release them from any bindings. This allows air to circulate freely between blooms.
2. Re-cut the stems at an angle. This enlarges the stem surface area and enables them to take more water up.
3. Remove any foliage from the lower part of the stem before arranging. This will help keep the water clean.
4. Use the flower food sachet that may be provided with your flowers. Flower food will help keep a vase clean and bacteria-free — prolonging the life of your flowers and helping buds and flowers open.
5. Always place freshly cut flowers in lukewarm water. Warm water molecules move faster than cold water molecules, therefore are more easily absorbed. The objective is to get water and nutrients as quickly as possible to the head of the flower.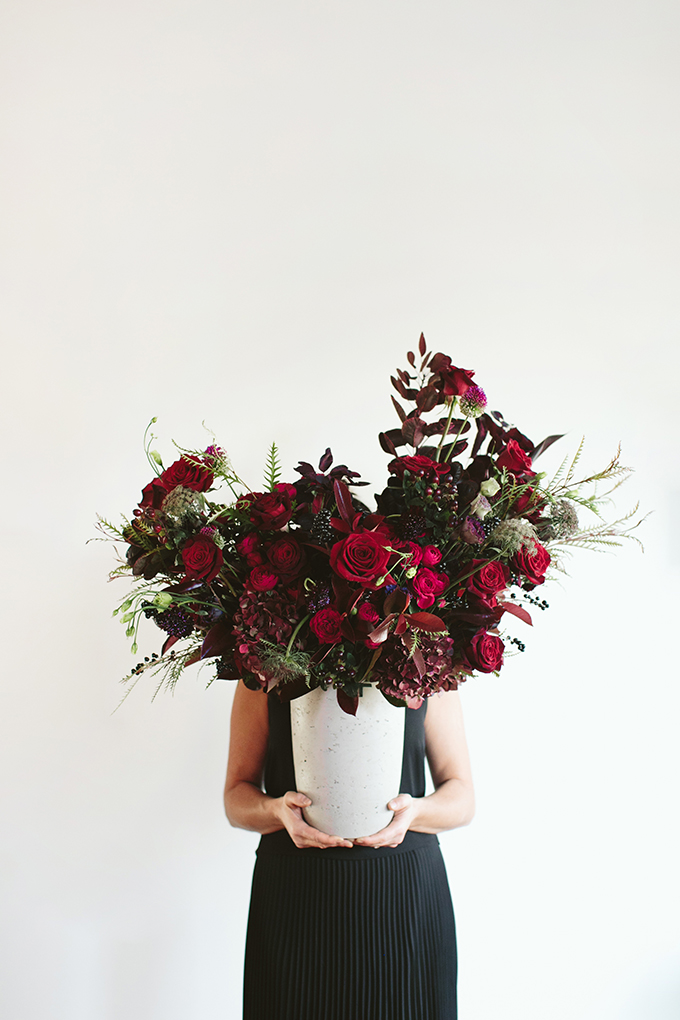 Care tips to maximize the life of a premade arrangement:

Replace the preservative-and-water solution every 1 – 2 days, or whenever the water in the vase appears cloudy, which indicates bacterial activity. Each time you replace the water, trim off at least 1/2″ of stem from the bottom of each flower stem to prolong their life.
---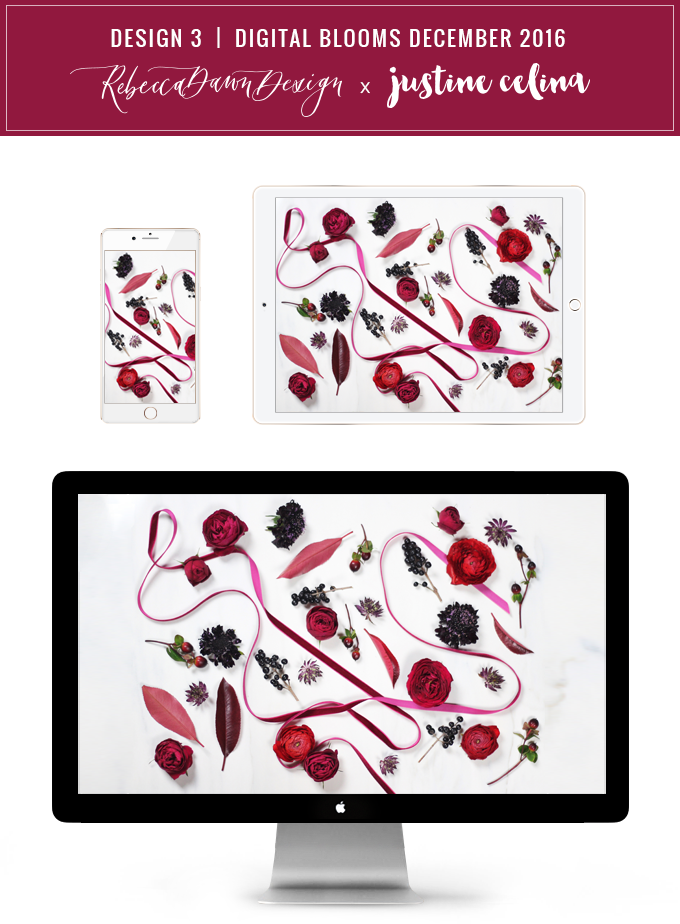 Craving more flowers? Hop over to our December Digital Blooms post where you can download 3 free wallpapers for your digital devices inspired by these luxurious winter blooms and traditional Christmas decor — including wreaths, garlands and ribbon!
---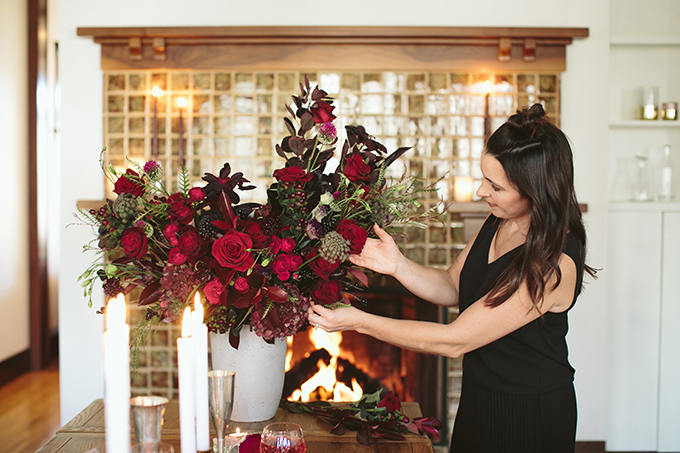 Are you creating a festive centrepiece or gifting fresh flowers this holiday season? We hope you enjoyed this Luxe Holiday Floral Inspiration as part of our flower education series! If you were able to draw inspiration from this post or put some of Rebecca's tips into action, please leave us a comment to let us know! We'd also love it if you tagged us on Instagram so we can see your work. And if you have any winter flower questions or requests, just leave us a comment. Wishing you all a wonderful holiday season!
---
Disclaimer: Thank you to Rebecca and Genevieve for collaborating with me to create this post and to HomeSense for some of the decor — it's part of an upcoming New Years Eve entertaining post I'll be sharing later this month! This post is not sponsored, and contains my genuine thoughts, ideas and recommendations. JustineCelina uses affiliate and referral links, which allow me to receive a small commission when you make a purchase through one of my links. Thank you for supporting the brands and businesses that support JustineCelina.com!