---
Hosting a New Years Eve or holiday party, and need a last minute idea to kick your decor up a notch? Add a thoughtful touch to your soirée with my DIY Mistletoe-Inspired Wine Charms! They're cute, easy and inexpensive to create — all you need is seasonal greenery and berries, hoop earrings and copper wire in various colours. And the best part is that you can make them in less than an hour, for about $20! These wine charms are a fun way to help guests keep track of their drinks at a cocktail party, and they can also take them home as a keepsake and dry them. And if you're hosting a New Years Eve Party, they may also come in handy at midnight!
---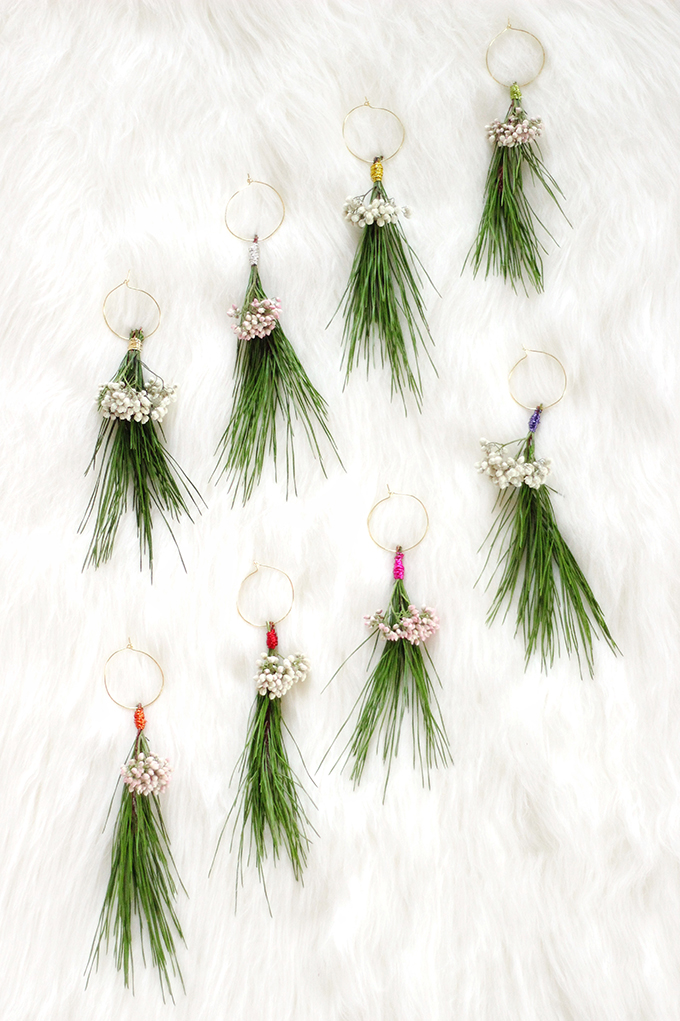 I actually didn't know that real mistletoe is poisonous until trying to track some down for this post! I also learned that it's not very pretty and it doesn't last (it's actually considered a weed), so most florists don't carry it. What they do instead is create what you probably visually recognize as 'mistletoe' from seasonal greenery and berries. This year, I knew I wanted to create a fun wine charm DIY, and I remembered how cute and easy my DIY Wildflower Bundles were to make, so the idea for my DIY Mistletoe-Inspired Wine Charms was born!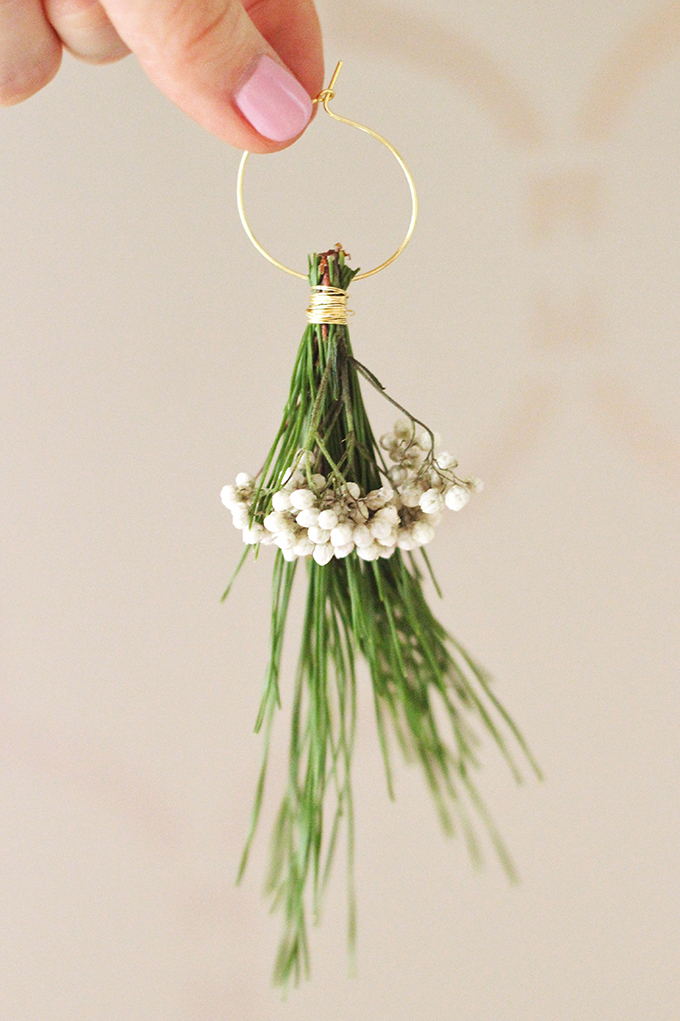 For this party, I wanted to stick to a colour palette of fresh greens, white and metallics. So, I took a trip to my local Safeway and purchased a bunch of greenery for $5.99 — and it was huge! I had tons leftover, which I used elsewhere in my holiday decor. You can pick up greenery, seasonal market bunches and berries from your local grocery store pretty inexpensively at this time of year. Or better yet, you can just trim a few greenery springs from your from your Christmas tree, if you still have it up! I also purchased some seasonal berries in white and soft pink, because I wanted a more muted palette. But, you can always go with variegated Holly if you want a classic holiday look.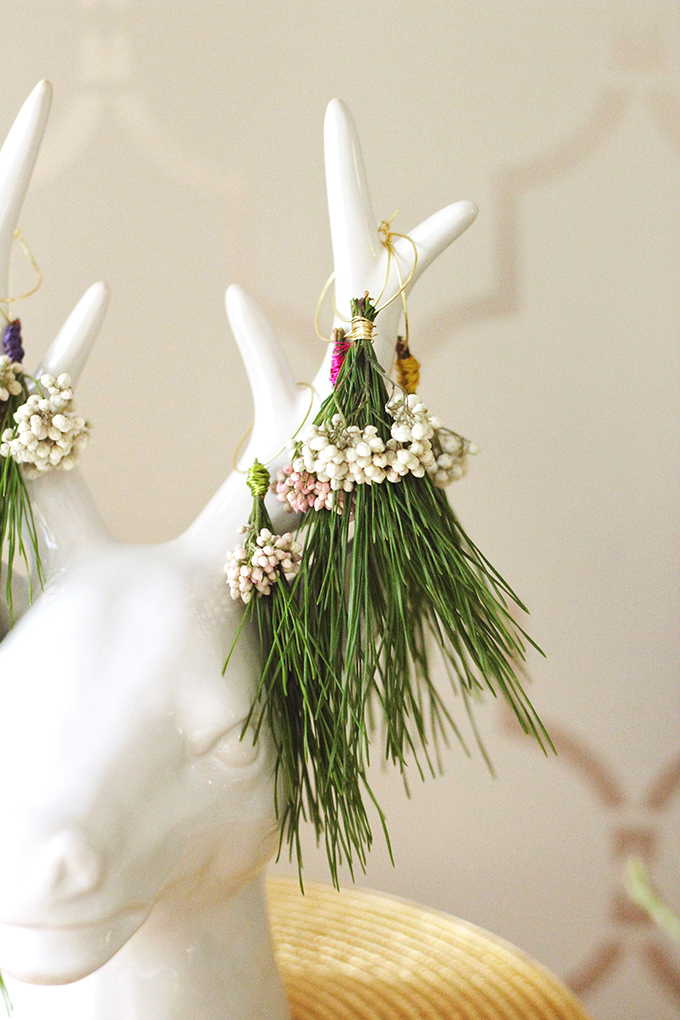 ---
DIY | MISTLETOE-INSPIRED WINE CHARMS
---
Materials
• Seasonal greenery (I purchased mine from Safeway for $5.99)
• Seasonal berries (I purchased mine from Safeway for $6.99)
• Hoop earrings (I purchased a pack of 60 from Michaels for $4.99)
• Coloured copper wire (I purchased a pack of 12 different colours from Michaels for $4.29)
• Scissors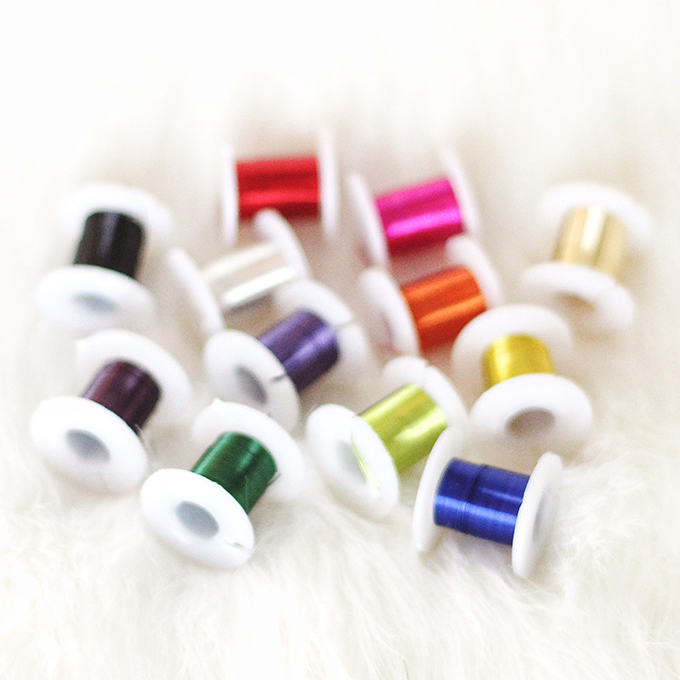 Instructions
1) Trim the greenery to the size you want your wine charm to be. Mine are about 3″ long.
2) Remove the needles from first 1/4″ of the greenery — this is the part you'll be wrapping around the hoop earring.
3) Layer your berries on top, trimming the stem to about 1.5″.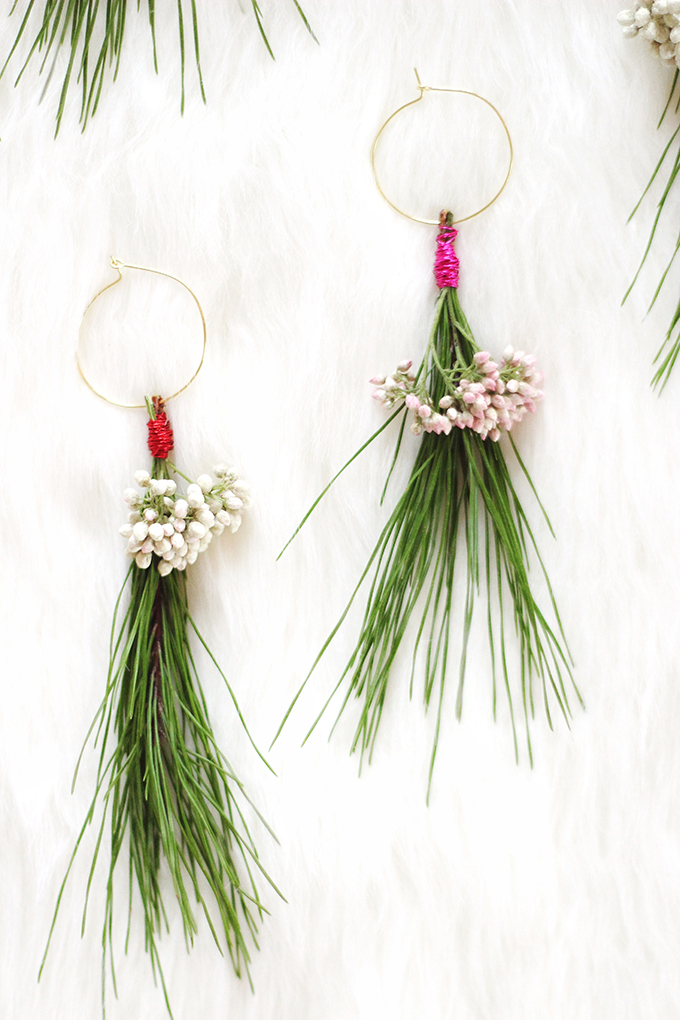 4) Adjust your berries and greenery until you're happy with the way they look, then wrap the greenery and berries together around the centre of hoop earring.
5) Secure the greenery and berries to the hoop earring with the coloured copper wire, making sure to use a different colour for each charm. Remember — they don't have to be perfect, that's part of their… err… charm!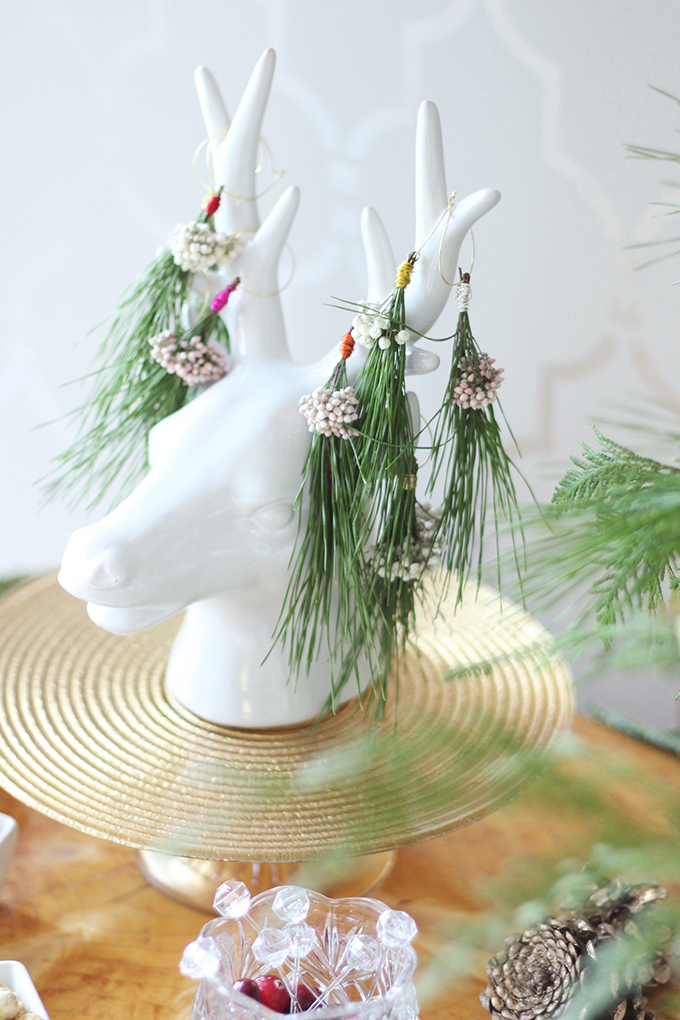 ---
These DIY | Mistletoe-Inspired Wine Charms are featured in a guest post that I wrote for the Food Bloggers of Canada about throwing a New Years Eve Party on a budget. If you're looking for entertaining tips, or curious about how I pulled the decor for this party together for under $100, head over there to read more!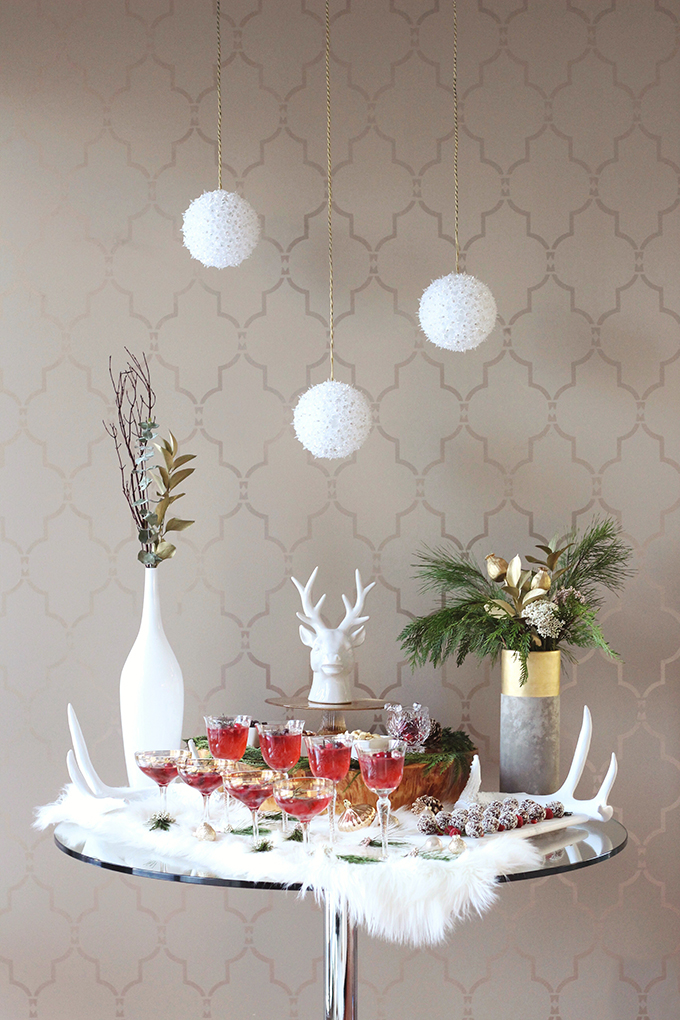 Curious about my paint colour and wallpaper? It's actually a stencil, and I have a blog post all about that, too!
---
FEELING CRAFTY? MORE JUSTINECELINA DIY IDEAS
---
DIY | Natural Tree Stump Side Table
DIY | Personalized Wooden Kitchen Utensil Favour
DIY | Driftwood Sculpture Centerpiece 
DIY | Vintage Bohemian Necklaces
---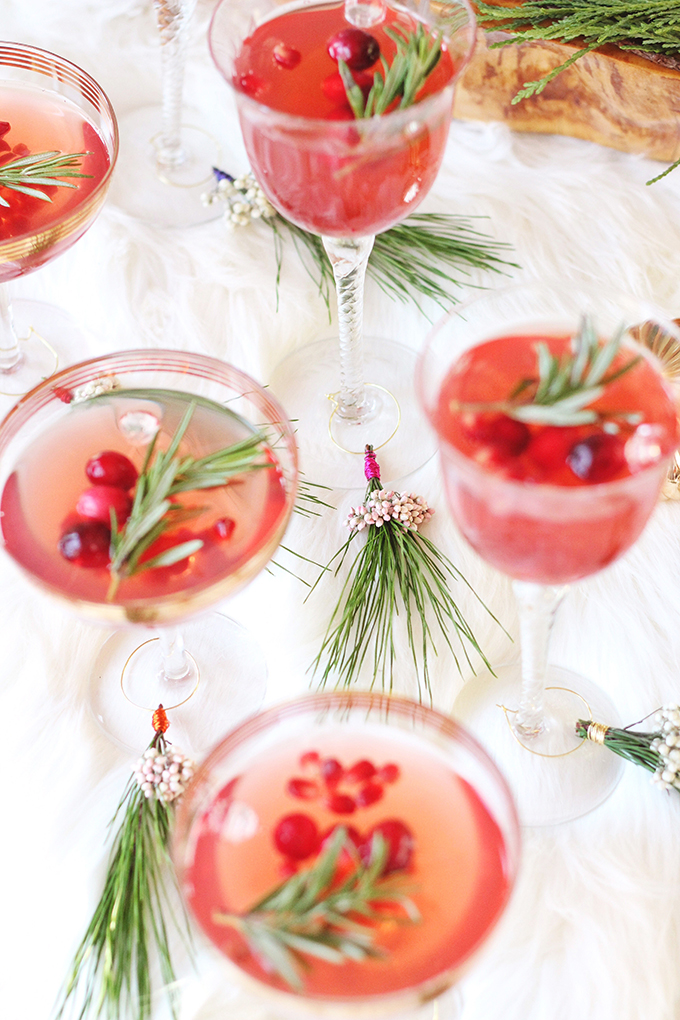 Whether you're hosting or attending a party, heading out, or spending a quiet night in, I hope you all have a wonderful New Years Eve! 2015 has been such an amazing, transformational year for me, and it's only possible because of each and every one of you reading this post! I started JustineCelina on March 2, 2015 as a way to share my passions, interests and inspirations — and could never have never imagined that it would grow and evolve into what it is today. Thank you for coming along on this journey with me! I can't wait to share more of my ideas, my work and everything else I love with you next year. Happy New Year and cheers to 2016!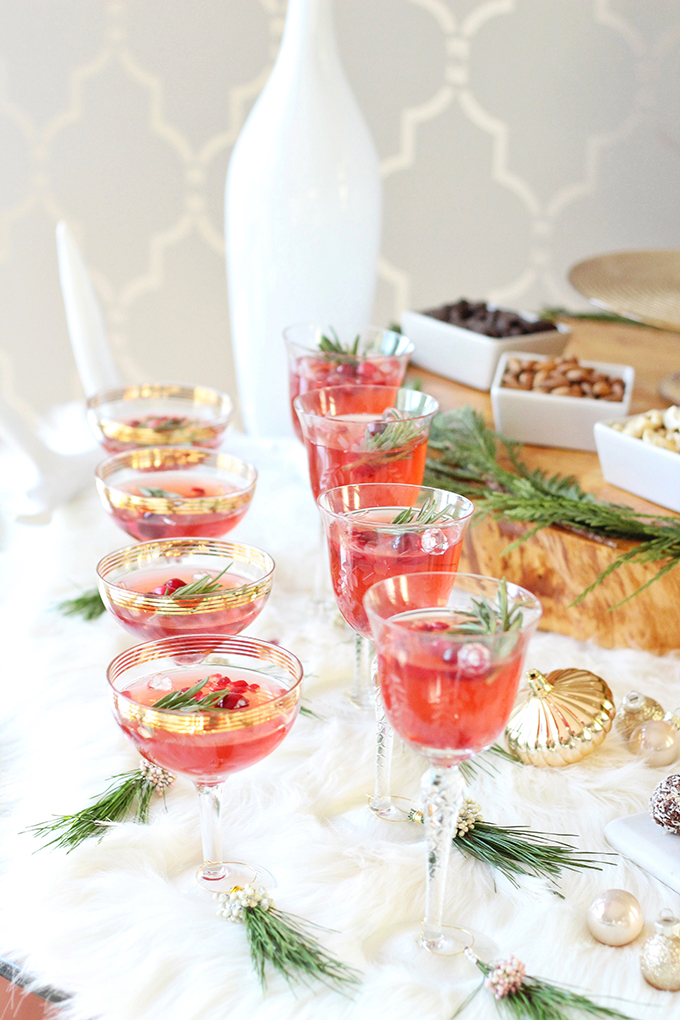 What are we toasting with? It's my Sparkling Pomegranate Cranberry Sangria — inspired by seasonal flavours, Gatsby-glam, and New Years Eve bubbly!
---
Thank you so much to Atsumi at Frilly Lilly Mission for my beautiful Pantone Rose Quartz inspired gel manicure! The shade I'm wearing in this post is Juliet. If you're looking for last minute gift idea, or to treat yourself to some holiday pampering, Frilly Lilly offers the best manis and pedis in the city — hands down.
---
Disclaimer: This post is not sponsored, and contains my genuine thoughts, ideas and recommendations.