---
With my favourite month of the year coming to a close, I bring you my August 2017 Soundtrack! Fear not friends, there are still over 20 days of summer officially left, so let's enjoy them! These 55 tracks were the background music to all my August adventures — and there were many. From embarking on our huge paint-a-thon to spending a couple of weekends out of the city, to lots of exciting projects on the go and the behind the scenes grind (autumn is going to be an exciting time!), this playlist fueled a very productive month. My soundtracks make for great working, thinking and creating music — so if you're looking for a little audible inspiration during the day, give my 3 hour, 46 minute August 2017 Soundtrack a listen! I've also updated the format of these monthly soundtracks to include my 5 most recent playlists (some have never been published here at JustineCelina) — so be sure to check out the bottom of posts if you're looking for even more MUSIC.
Some of my favourite songs this month include Bay Ledges Hearts, Handsome Ghost's beauty / bends, ayokay and Straight Face's Being Honest, courtship's Sail Away, FRND's Substitute, Work Drug's Midnight Emotion, Elohim and Whethan's Sleepy Eyes, Nude's Work Me, Small Black and Keith Sweaty's Personal Best, Lastling's Urges, Anna of the North's Someone, Doombird's Fog Rolls In, No Name, Cam O'Bi and Raury's Diddy Bop, Tennis System's Such a Drag, In The Valley Below's Pink Chateau, The Horrors Something to Remember Me By, Netherfriends Picture Your Favourite Place, Sigrid's and Griffin's Don't Kill My Vibe and absolutely everything from The War on Drugs, who's new album, A Deeper Understanding, has been on repeat this past week (they have sort of a modernized Tom Petty vibe — and I love it! It brings me back to my younger days road tripping to interior BC to see Tom Petty live at Pemberton Music Festival). Have you guys been to any live shows or festivals this summer? I need to get back to doing more of that!
---
AUGUST 2017 SOUNDTRACK
---
---
CRAVING MORE MUSIC? CHECK OUT MY LATEST PLAYLISTS
---
Summer Rewind (a compilation of my favourite tracks from last summer — it's a good one!)
July 2017 Soundtrack (or listen on Spotify)
June 2017 Soundtrack (or listen on Spotify)
May 2017 Soundtrack (or listen on Spotify)
April 2017 Soundtrack (or listen on Spotify)
Or, browse the MUSIC archives here at JustineCelina for 2.5 years of monthly playlists!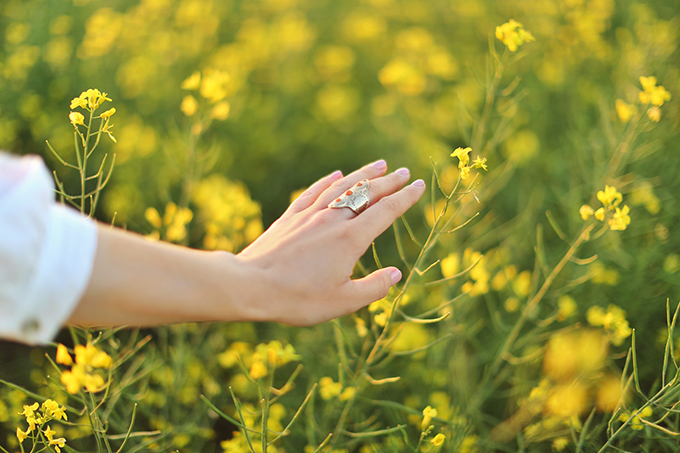 August's album cover comes from this summer's Flowerchild post, where I chat about feeding creativity, finding balance as an entrepreneur and staying inspired. We shot it just up the road from my childhood home in rural Alberta when the canola was in full bloom — one of my absolute favourite places in the whole world to photograph! Oh, and for those wondering, my ring is vintage but I've linked some similar options for you in that post.
---
What have you guys been listening to this month? Leave me your recommendations in the comments, I'd love to hear from you! Do you use Spotify? If you do, feel free to drop some links to your playlists, or playlists / artists you think I'd enjoy.
---
Disclaimer: This post is not sponsored, and contains my genuine thoughts, ideas and recommendations. JustineCelina uses affiliate and referral links, which allow me to receive a small commission when you make a purchase through one of my links. Thank you for supporting the brands and businesses that support JustineCelina!