---
Happy Friday eve, friends! My May 2020 Soundtrack is coming to you early this month — it's been a bit of a grind over here as as deadlines for client work, content and taxes overlap. I've been working around the clock lately to get everything finished in time to head to the prairies this weekend to plant our Country Garden — and this playlist (plus lots of green tea!) have been pulling me through. In fact, it's one of my favourite so far this year — featuring 46 inspiring, uplifting, motivating tracks spanning genres (I also had Spotify's Deep Focus playlist on heavy rotation!). I've been working away on tons of exciting new content BTS that I can't wait to share next month and have really settled into a nice work-from-home workflow lately — things are definitely looking up!
Where do I even begin with my favourite tracks this month? I could actually list every single one — but if I had to choose, Geographer's Slave To The Rhythm Work Drug's Down the Shore, Weathertunes Wait For Me, Dead Horse Beats Never Too Late, Grønhaack's Her Sleepiness, Gryffin x Noah Kahan's Heavenly Father, Handbook's South, Axel Mansoor's The Other Side, Kayoh's Northwind, Alex Baker's Bloom, JR JR's Cops, Presto! and SPEECHLESS's Paradise, Glass Animal's Dreamland, Avery Young's Shifts of Light, Jordan Critz's Eternity, Tom Misch & Tobie Tripp's Day 5: For Carol, Medasin's Slinky Man, Vacation Club's Fire Goes Out, chitchat's San Fransisco, Kid Froopy's Easy Love, Purity Ring's peacefall and Peal's Essential Attitudes sounded especially good to my ears. I hope you enjoy May 2020's musical stylings — and if you're interested in a bit of a life update (plus a link for this dreamy dress!), you'll find them near the end of this post. Have a lovely weekend, beautiful people!
---
MAY 2020 SOUNDTRACK
---
---
NEED MORE FRESH TUNES? CHECK OUT MY LATEST PLAYLISTS
---
April 2020 Soundtrack (or listen on Spotify)
March 2020 Soundtrack (or listen on Spotify)
February 2020 Soundtrack (or listen on Spotify)
January 2020 Soundtrack (or listen on Spotify)
2019 Soundtrack (or listen on Spotify)
Or, browse the MUSIC archives here at JustineCelina for 5 years of monthly playlists!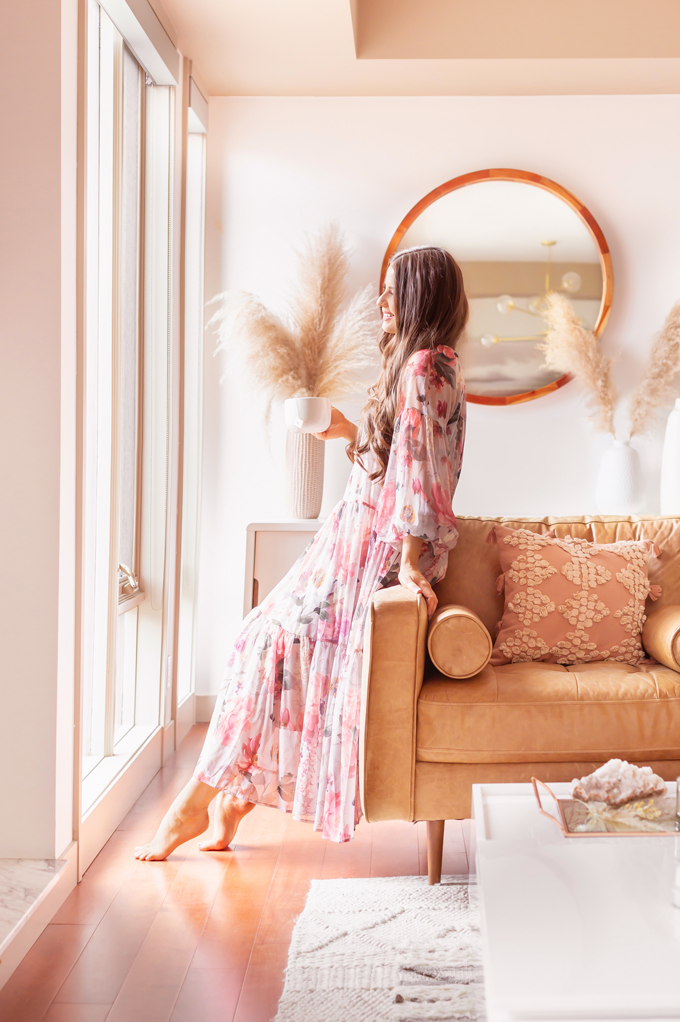 ---
LIFE UPDATE
---
Thanks for listening, friends! As always, I hope you enjoyed this month's soundtrack and discovered some new artists or tracks you enjoy. More importantly, I hope you're all safe and well and things are starting to look up for you, too! Here in Calgary we're now in Phase 1 of our economic reopening — and although it hasn't really changed things much for us, I feel very relieved we appear to have successfully flattened the curve, with the worst behind us. Here's hoping for smooth sailing as we approach Phase 2 of reopening, tentatively slated for mid-June!
I shot this month's album cover earlier this month after shooting a campaign for Physicians Formula's Rosé All Day x Exteriorglam Collection (I've been working with them over the past couple of months over on Instagram — our first post together here at JustineCelina is now live!). As this palette is only available in the US (it's not available to ship to Canada on their website), the content won't be appearing on my platforms (keep an eye for it on their socials!), but I loved the look I created and the dress I was wearing — so I decided to capture this simple moment after I'd finished, sipping my tea. I've really been enjoying pushing the boundaries of my creativity and self portraiture during quarantine, as well as allowing my content creations rhythm to flow more naturally. I posted this photo to Instagram over the long weekend and it ended up on the Explore page, going semi-viral — it's the first time I've been featured there, which was a nice surprise! 
Lately I find myself either living in loungewear or breezy dresses around the apartment — and I had so many compliments on this stunning floral maxi! I'm planning new STYLE posts on both of those topics in June, but I wanted to link the dress for you in the meantime, as it's likely to sell out (I'm wearing a Small as my typical XS at H&M was sold out when I ordered months ago — and it's massive, but I don't actually mind!).
---
What have you guys been listening to lately? Leave me your recommendations in the comments, I'd love to hear from you! Do you use Spotify? If you do, feel free to drop some links to your playlists, or playlists / artists you think I'd enjoy. Thanks for tuning into my May 2020 Soundtrack!
---
Disclaimer: This post is not sponsored, and contains my genuine thoughts, ideas and recommendations. JustineCelina uses affiliate and referral links, which allow me to receive a small commission when you make a purchase through one of my links. Thank you for supporting the brands and businesses that support JustineCelina!