---
It's the height of summer here on the Alberta prairies — which means our saskatoon berries are ripe and ready for picking! Longtime readers will know I have quite an affection for this quintessentially Albertan berry, and every August, my saskatoon recipes become the most viewed pieces of content here at JustineCelina. Today I'm compiling them all for you in one convenient location with this 4 Healthy Saskatoon Berry Recipes roundup, as well as sharing Where to Pick Saskatoons in Alberta! If you've always been intrigued by these antioxidant-packed berries but have never known what to do with them (or where to find them!), you've come to the right place! Consider this post your one-stop resource for everything you've ever wanted to know about saskatoon berries as I share my favourite saskatoon berry picking spots and tips along with 4 plant based saskatoon recipes incorporating them into seasonal breakfast, baking, salad, cocktails and dessert!
Have you ever tried a saskatoon? While they're sometimes called Serviceberries, Juneberries or Prairie Berries and resemble blueberries, they actually taste quite different. Believe it or not, Saskatoons are actually more closely related to roses (hailing from the Rosaceae family) and have a deeper, richer, nuttier flavour that's somehow wilder than blueberries — it's very distinct and difficult to describe! Saskatoon berries also pack a nutritional punch, containing high levels of protein, calcium, iron, and antioxidants — making them a wonderful addition to a balanced diet. If you live in an area where saskatoons grow, I highly recommend getting out to sample them for yourself while crops are at their peak. With the intense heatwave we've been experiencing lately, this year's crop will likely fade before mid August — so there's no time like the present! Since the season is fleeting, I was eager to publish this roundup for those of you looking for extensively tested saskatoon recipes that utilize local, seasonal ingredients and are free of dairy, gluten and refined sugar. If you're picking saskatoons this summer and are looking for some fresh ideas (or details on my favourite saskatoon u-pick locations), I've totally got you covered!

---
4 HEALTHY SASKATOON BERRY RECIPES
---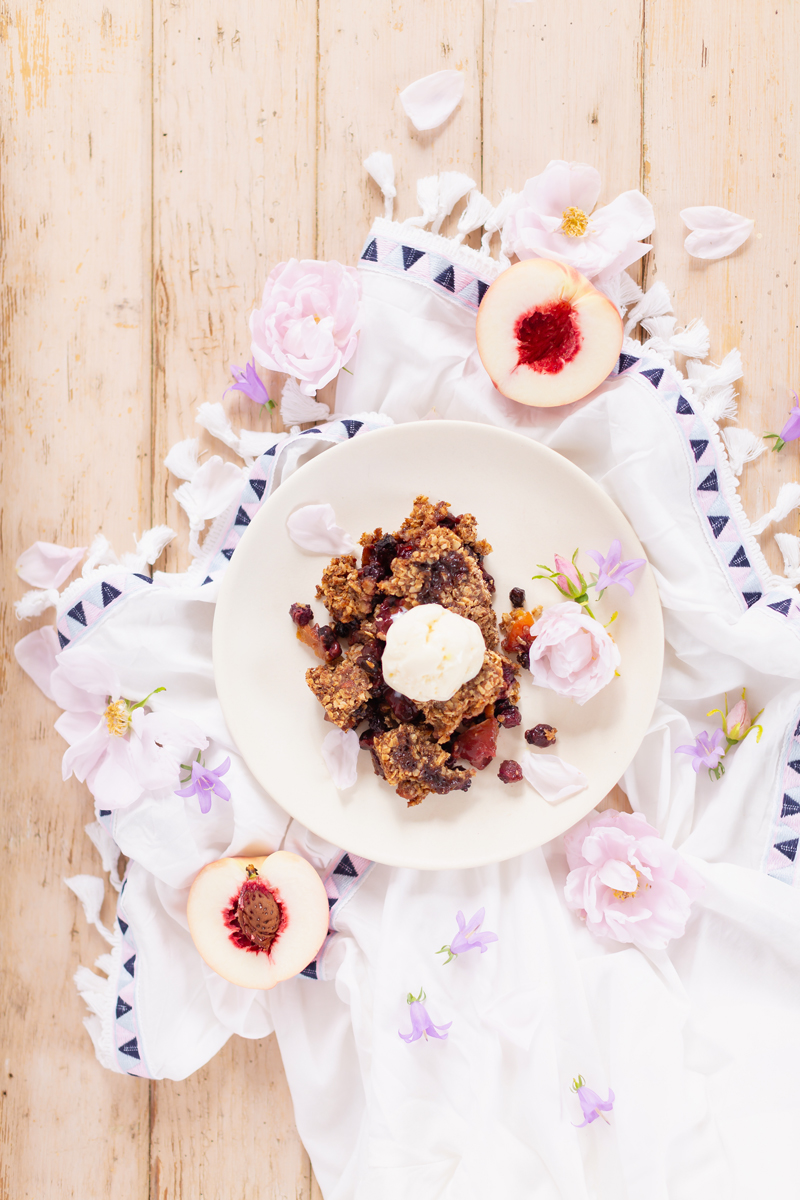 Friends, I have so much saskatoon goodness to share that I'm going to jump right in! You'll find information about where to pick saskatoon berries in Alberta right after this introduction, followed by my favourite saskatoon recipes. I've categorized them by recipe type, where I've included photos, summaries and a link to each individual recipe post — as well as indicated which sub-category each recipe falls into: Vegan, Vegetarian, Gluten Free, Refined Sugar Free and Freezer Friendly. You'll also find a Pinterest friendly graphic at the footer for easy reference if you'd like to bookmark this roundup for later. I hope enjoy my favourite plant based saskatoon recipes and tips about the best spots to pick them in Alberta!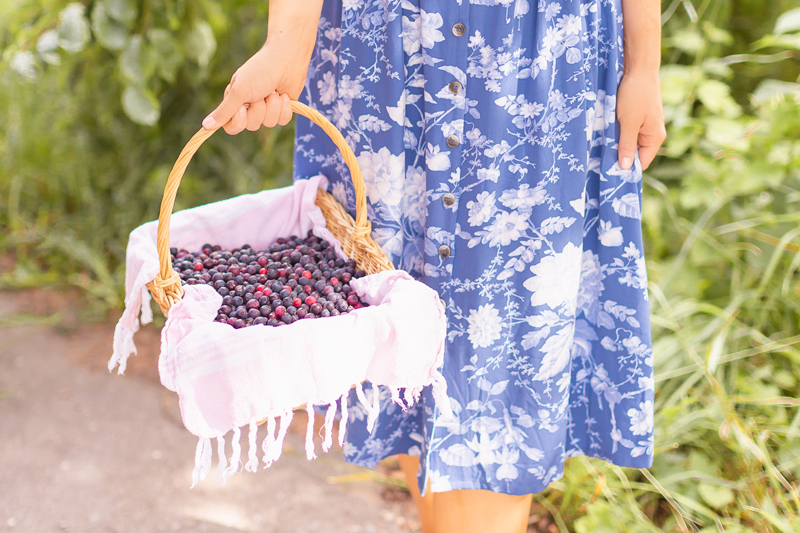 ---
WHERE TO PICK SASKATOONS IN ALBERTA
---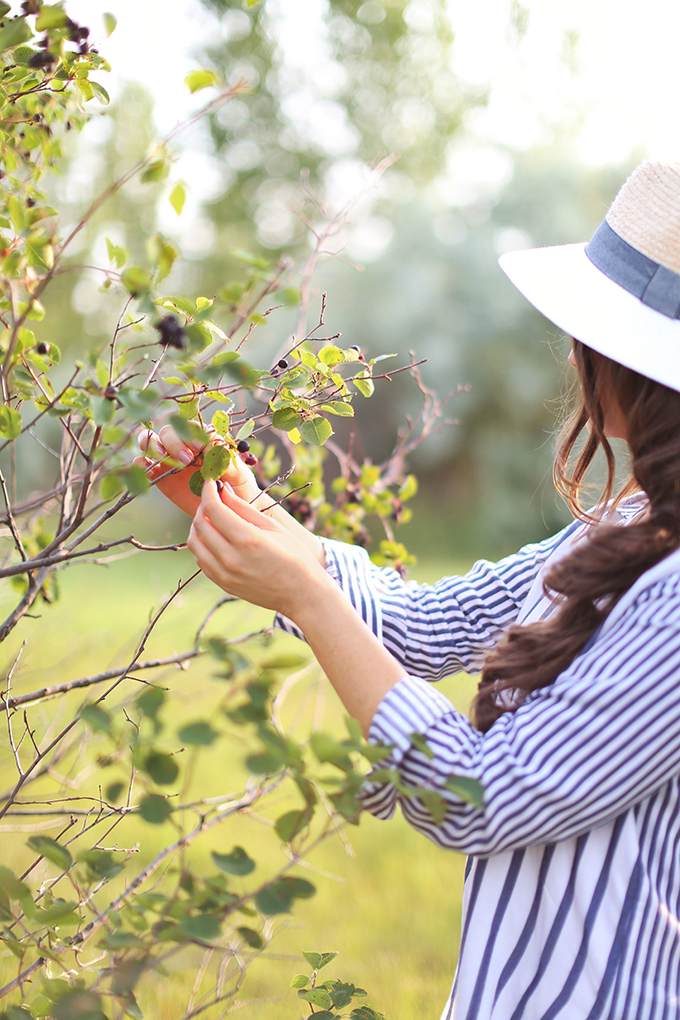 This will be my third summer picking saskatoons in Alberta — and from private picking sessions at friends farms, to literally discovering saskatoon bushes growing wild alongside gravel roads, to stopping in to my favourite u-pick locations and local farms, I've scoured the province in search of these delicious prairie berries!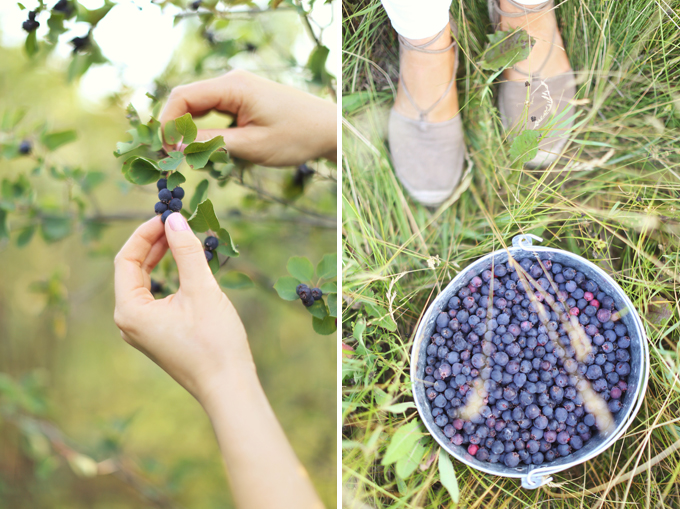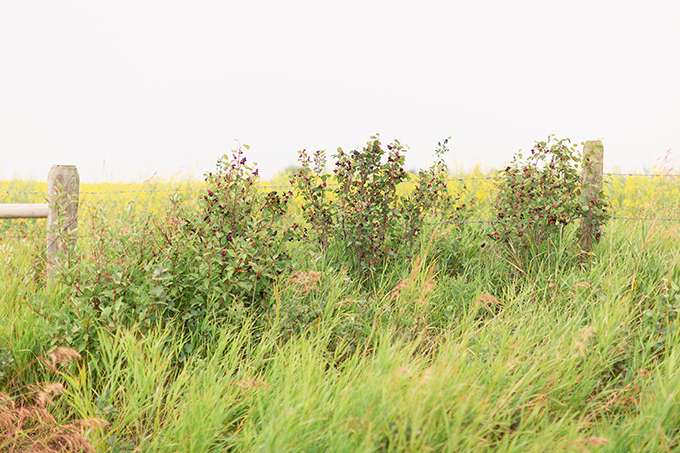 My top recommendation for a fun, family-friendly saskatoon picking adventure is The Saskatoon Farm in Foothills, Alberta. In addition to an abundance of flourishing u-pick saskatoon bushes, they also offer other u-pick produce (call ahead or check their socials for updates), and have lovely selection of farm fresh produce, delicious baking, plants, various prairie-inspired home goods and fashion available for purchase. The farm is about 15 minutes south of Calgary, the drive is beautifully scenic and it's a such a unique destination!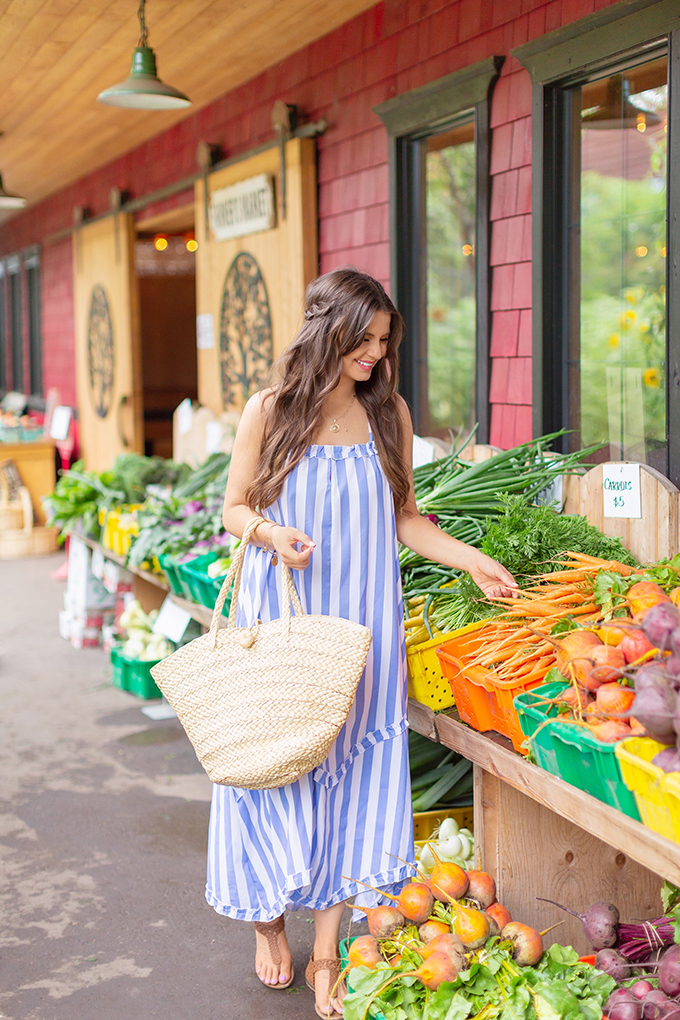 This site provides a comprehensive, continuously updated resource about where to pick saskatoons in Alberta. If you're located too far away to visit the Saskatoon Farm, I highly recommend checking out the page linked above to select your region and learn more about the saskatoon u-pick and saskatoon orchards nearest to you!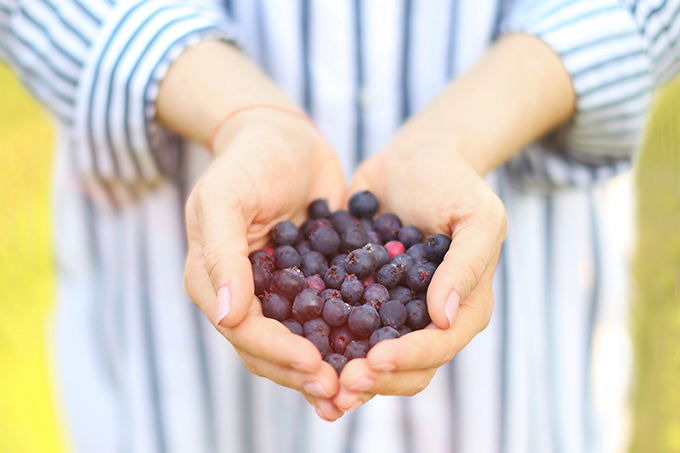 You may also find saskatoon berries available for purchase at various farmers markets in and around the Calgary area during August. As availability tends to vary based on crop abundance, it's best to call ahead and inquire prior to your visit!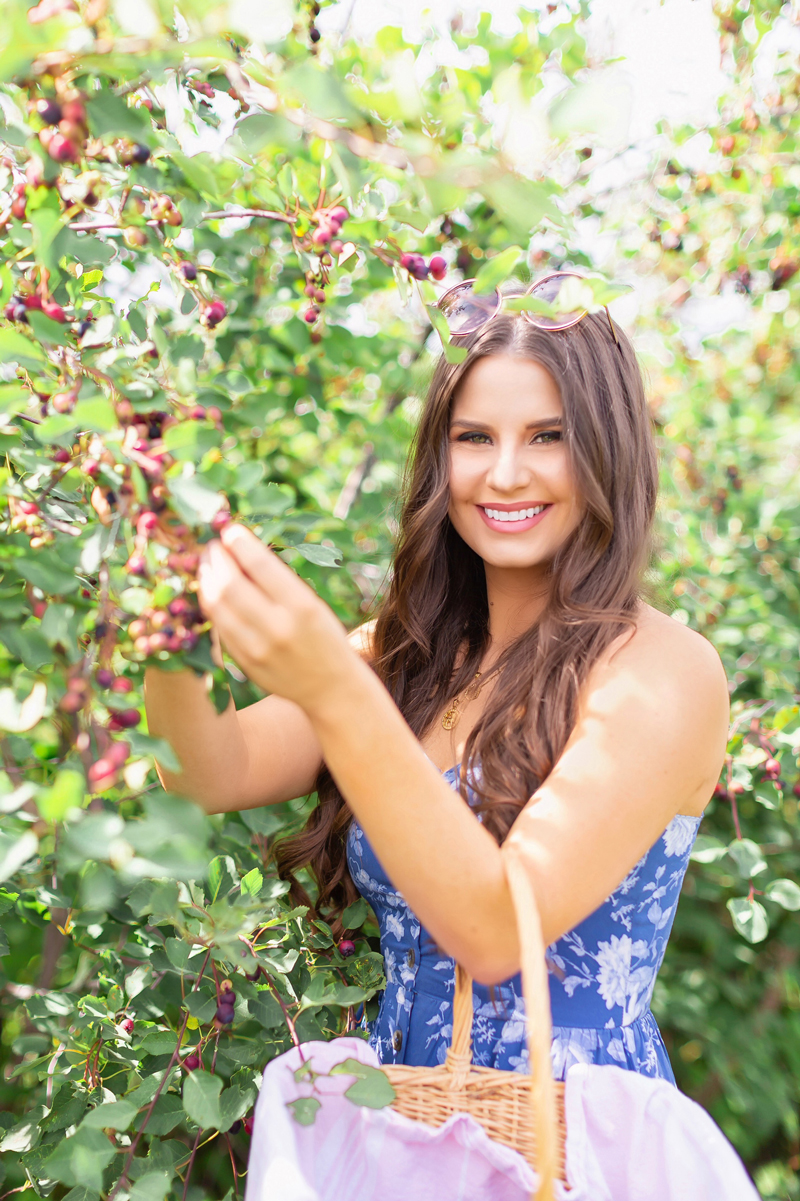 If you already have your saskatoons picked, washed, sorted and ready to go, below you'll find a collection of my favourite healthy, plant-based recipes!
---
BAKING
---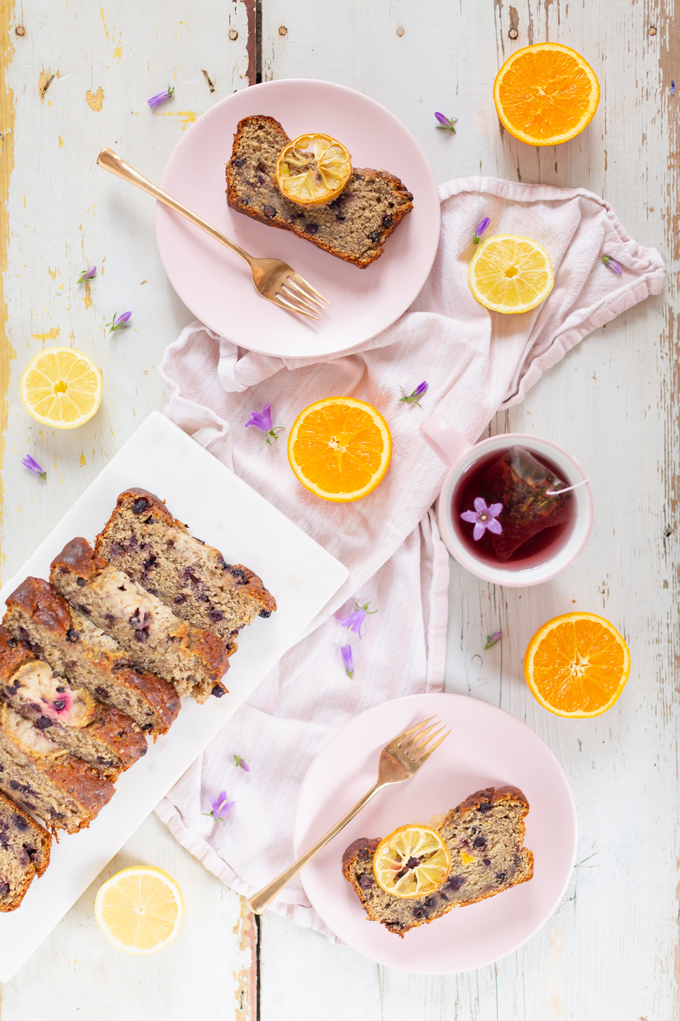 Vegetarian, Dairy Free, Gluten Free, Refined Sugar Free, Freezer Friendly
My Gluten Free Saskatoon Citrus Banana Bread is free of dairy, gluten and refined sugar and full of healthier, natural substitutions — perfect for those of us with food allergies, intolerances or sensitivities. An inspired melange of bananas, saskatoons and fresh orange and lemon juices combine with plant-based baking staples of coconut, maple and just a splash of bourbon (it's my newest baking secret ingredient!) to create a bright, nourishing banana bread combining the best of summer and winter with a cheerful, citrusy twist!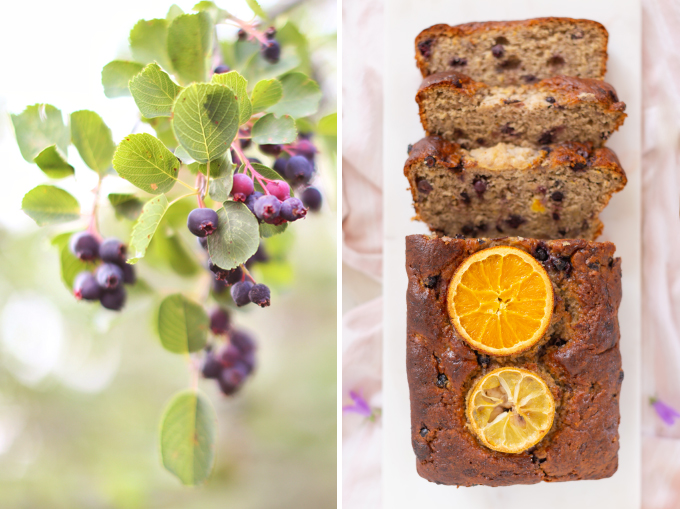 It makes for a fantastic breakfast, snack or clean dessert anytime you're craving a berry-forward banana bread, year round. If you have an abundance of seasonal berries and a freezer full of bananas on hands, it's time get them defrosting, pour yourself a cup of coffee, haul out your mixing bowls and throw on your apron — this recipe is for you! I've also included baking instructions for a muffin variation, if you prefer. Both are totally delicious and freeze very well!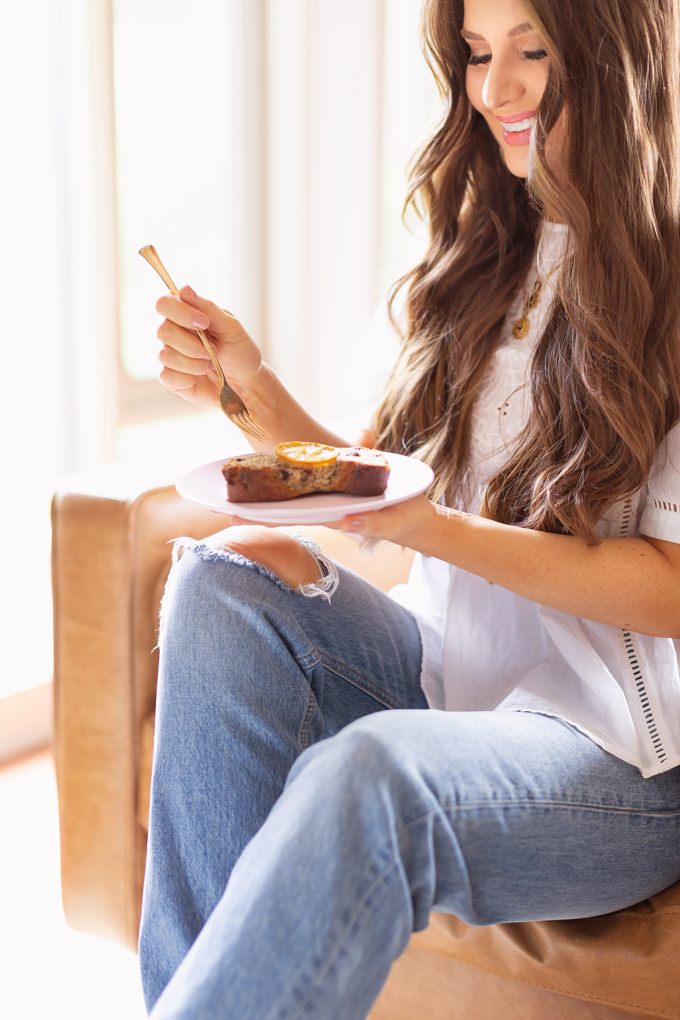 ---
SALADS
---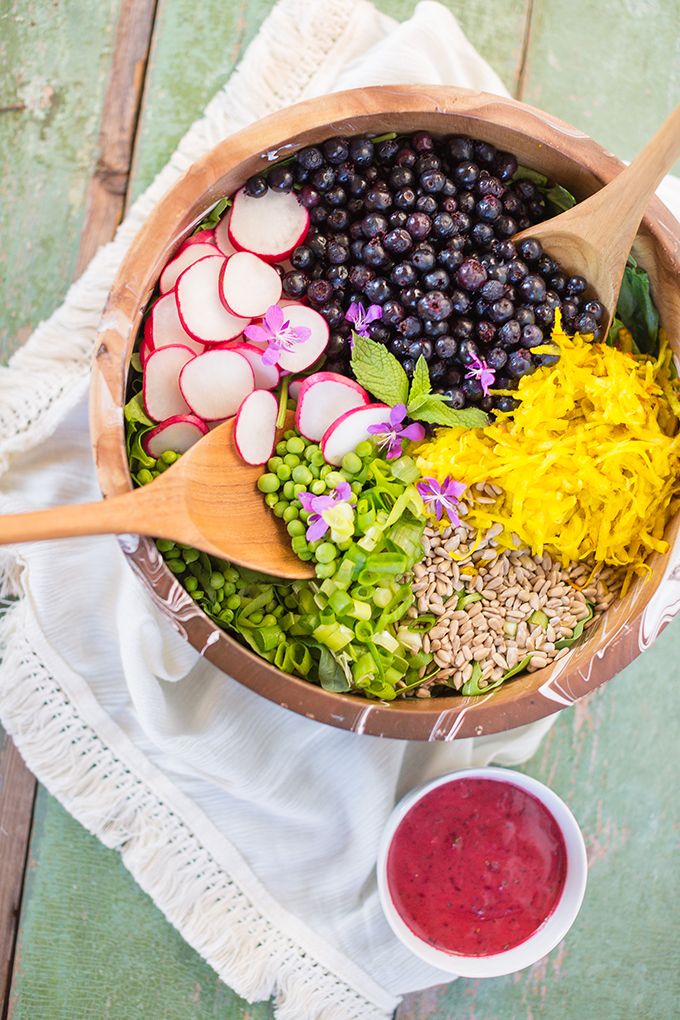 Vegan, Gluten Free, Refined Sugar Free
My Summer Bounty Salad with Saskatoon Cider Vinaigrette is inspired by the abundant seasonal produce and herbs available at our local markets (and in the wild!) at the height of summer! This colourful, local, ultra fresh salad can be on your table in 15 minutes and is brimming with incredible, heart-healthy, antioxidant-rich superfoods and nutrients.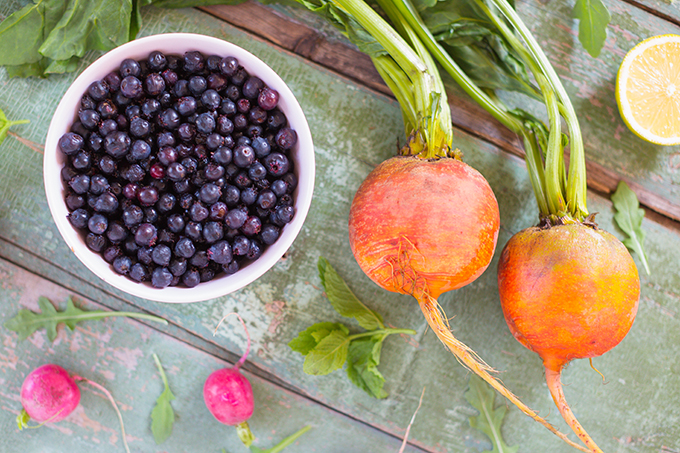 Straight from our Alberta farms to your table, a vitamin-infused bed of baby spinach and arugula showcases a striking mosaic of freshly picked saskatoon berries, garden peas, shredded golden beets, crisp radishes, fresh mint, sunflower seeds and scallions — dressed with a punchy Saskatoon Cider Vinaigrette celebrating Alberta's favorite berry (saskatoons are great in salad dressing!). Enjoy this feel good salad as a light, plant based entrée whenever you're in the mood for something quick and nutritious, or as a beautiful accompaniment to grilled fish (it's great with with trout or salmon), meat or tofu!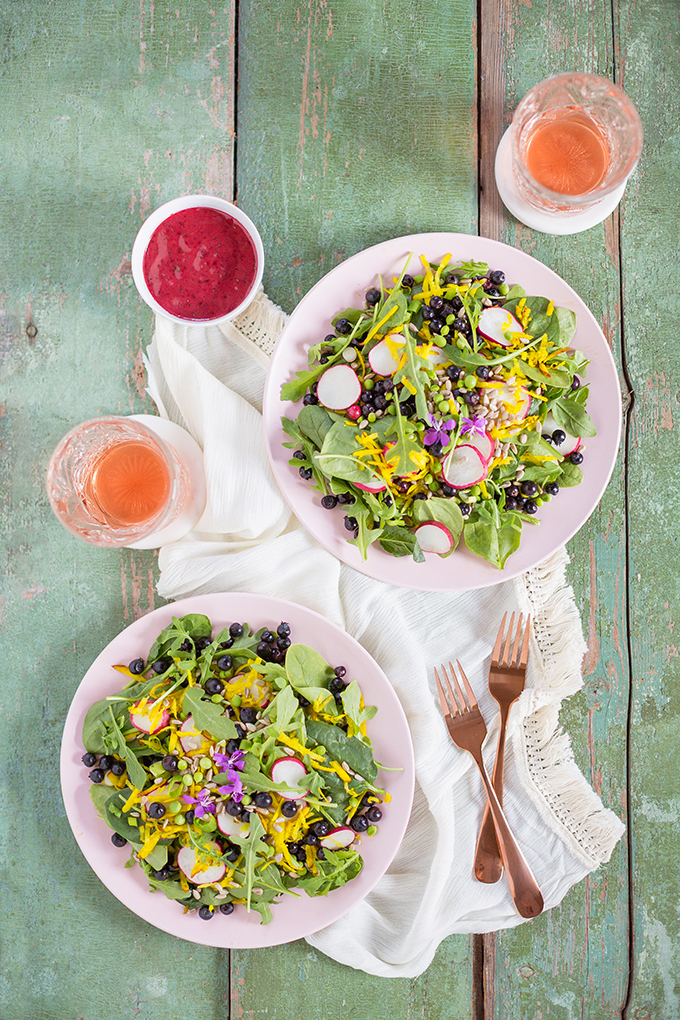 ---
COCKTAILS
---

Vegetarian, Dairy Free, Gluten Free, Refined Sugar Free
My Honeyed Saskatoon Cherry Gimlet is a refreshingly spirited, 4 ingredient spring cocktail inspired by doing the best you can with what you have, where you are. The best part? If you have a well-stocked bar, you likely already have all of the ingredients on hand (and if not, I've tagged local businesses where you can purchase online to show your support during this challenging time!).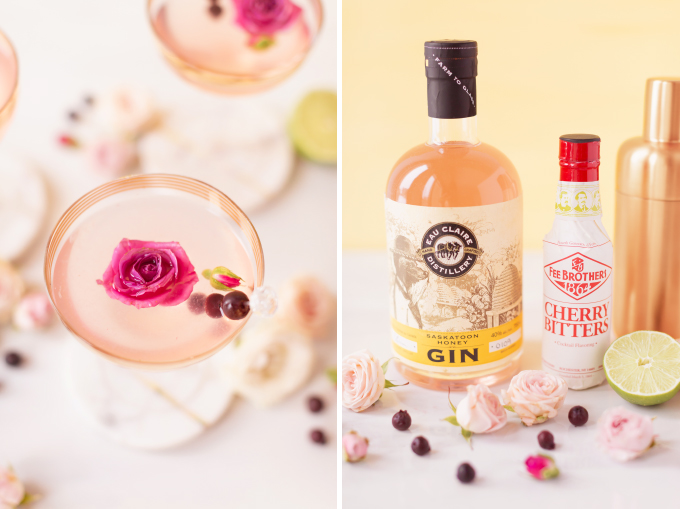 ⠀⠀⠀⠀⠀⠀⠀⠀⠀
This simple but perfectly balanced craft cocktail combines Eau Claire Distillery's Saskatoon Honey Gin with Honey Simple Syrup, cherry bitters and freshly squeezed lime juice shaken over ice — and can be prepared with ease by home bar beginners and skilled mixologists alike. Bring the cocktail bar to your the comfort of your own home this summer with my Honeyed Saskatoon Cherry Gimlet — a quintessentially Albertan twist on a classic gin cocktail!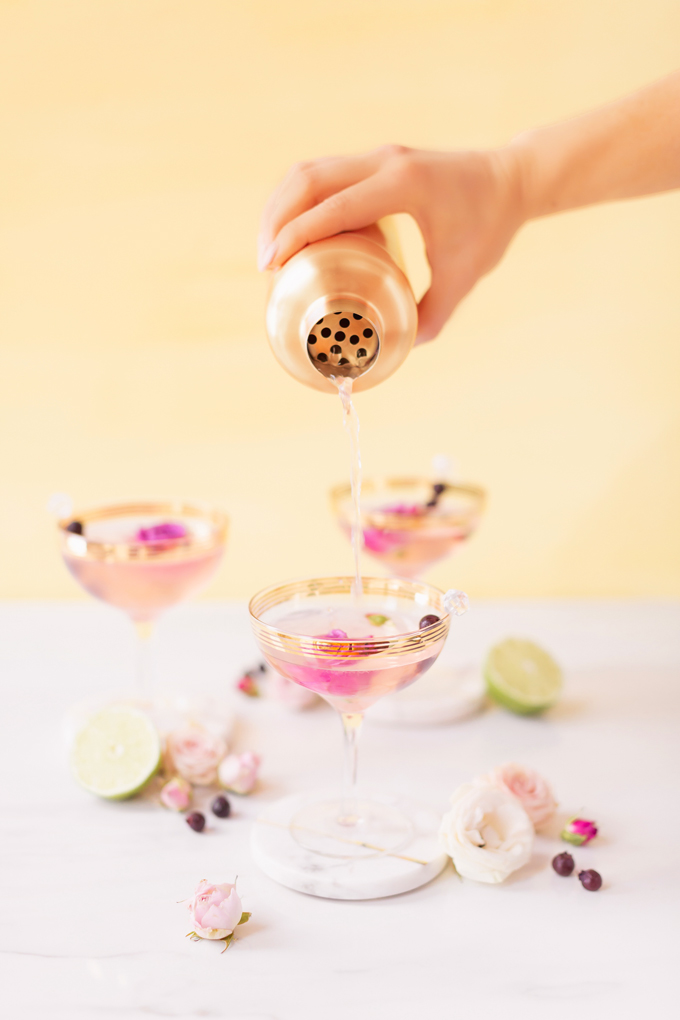 ---
DESSERT
---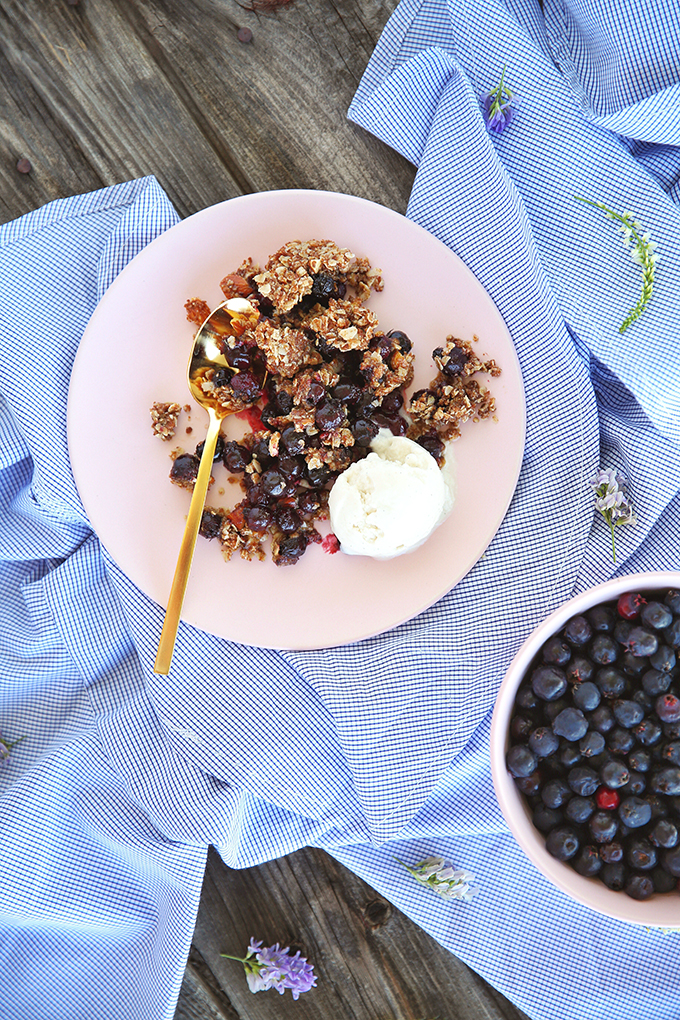 Vegan, Dairy Free, Gluten Free, Refined Sugar Free
Enjoy the bounty of our beautiful Canadian prairies with my Wild Saskatoon Berry Crumble — a simple, 9 ingredient recipe with a wholesome, plant based spin. It's free of dairy, gluten and refined sugar — and bursting with decadent berry flavour! Freshly picked saskatoons are bathed in bright lemon juice then naturally sweetened with rich, caramel laden coconut sugar and sprinkled with a hearty topping including quick oats, homemade oat flour, more coconut sugar, Himalayan pink salt, cinnamon, chopped almonds and coconut oil.
This vibrant, crowd pleasing dessert that accommodates food allergies and sensitivities without compromising those classic crumble characteristics we all know and love (I promise, no one will know it's a 'free from' dessert!). It's a no fuss summer dessert that's ideal for entertaining and can be on your table in 45 minutes!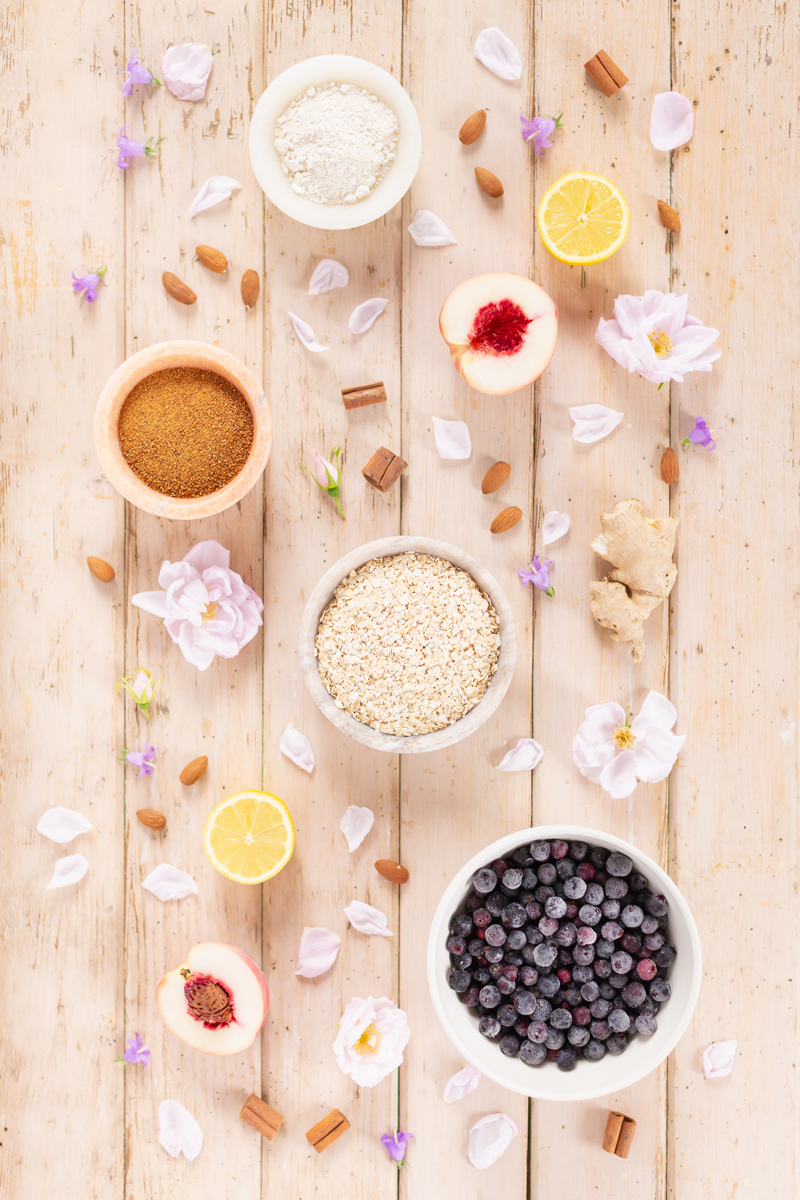 VEGAN GINGERED SASKATOON PEACH CRUMBLE
Vegan, Dairy Free, Gluten Free, Refined Sugar Free
Last year I whipped up this version of my original recipe by substituting half of the saskatoon berries with fresh peaches and also grated in a tablespoon of fresh ginger. While this isn't a combination I likely wouldn't have considered if I hadn't had some fresh peaches and ginger on that that needed to be used up, the results were absolutely delicious — maybe even better than the original!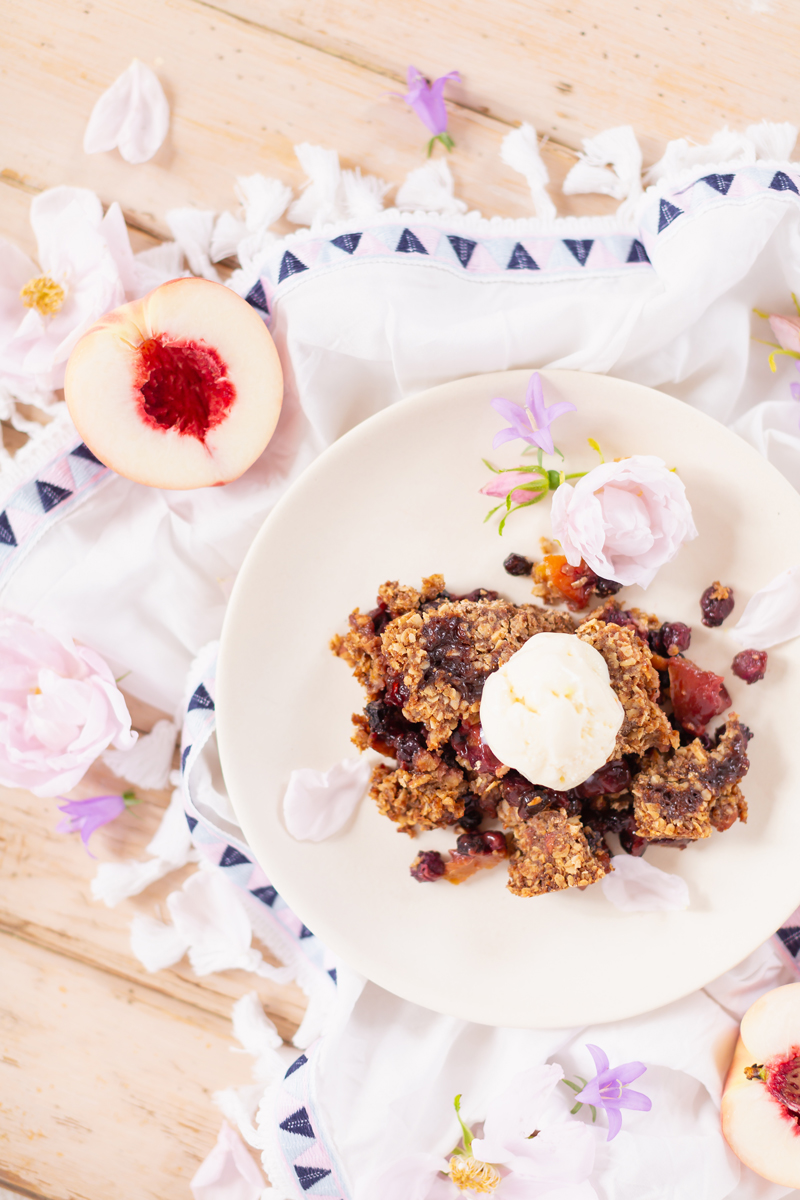 While I haven't shared a dedicated post with these substitutions to my original Wild Saskatoon Berry Crumble recipe, I did snap these photos and wanted to share the results with you in this roundup. This is a very adaptable recipe, so feel free to make it your own, using pretty much whatever other fruit you have on hand if you don't have enough saskatoons, or simply like experimenting. Feel free to comment or email me anytime for substitution advice!
---
PIN MY 4 HEALTHY SASKATOON BERRY RECIPES + ALBERTA SASKATOON U-PICKING GUIDE
---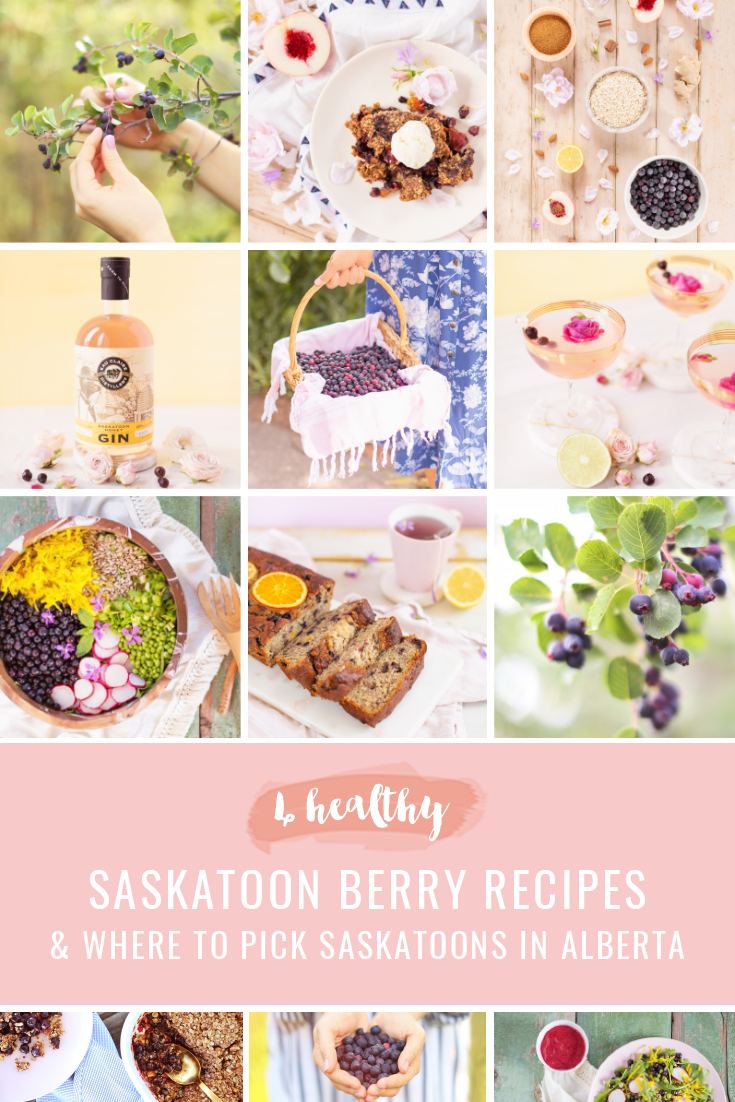 ---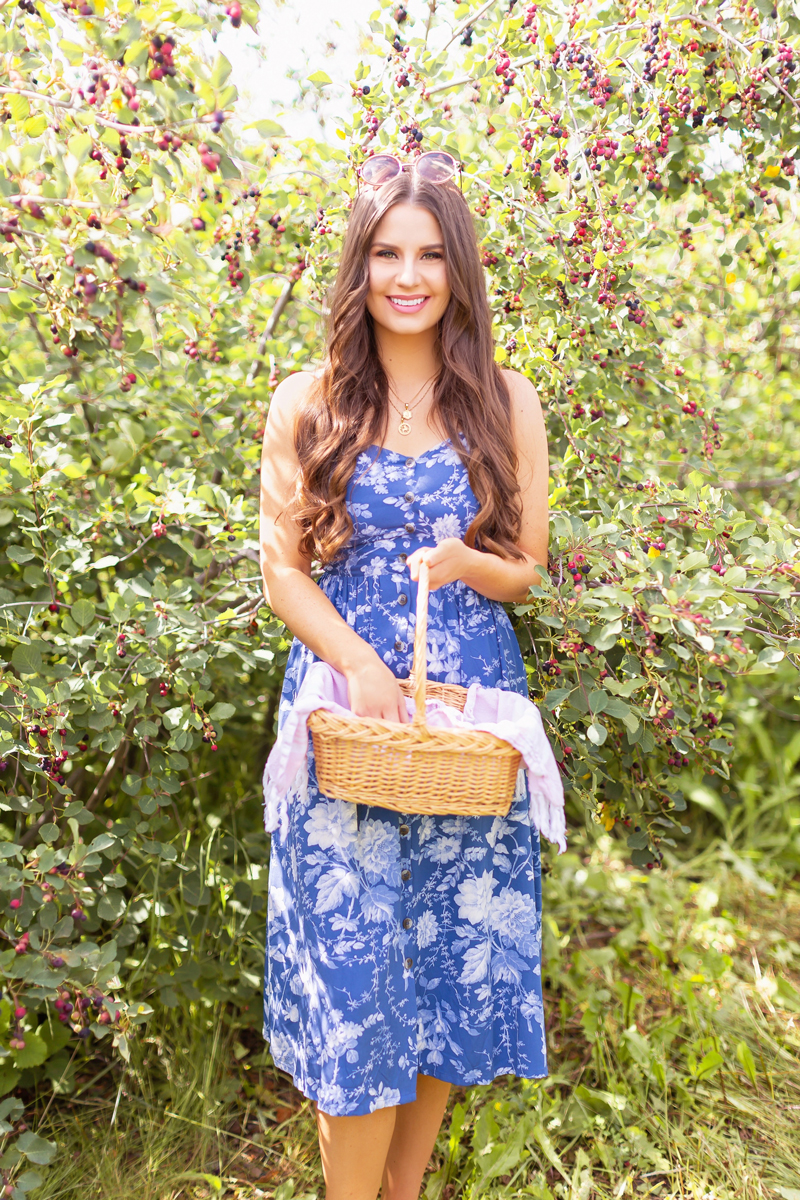 Thanks for stopping by for my 4 Healthy Saskatoon Berry Recipes roundup and my favourite saskatoon picking spots! I'm so looking forward to my annual saskatoon picking adventure this weekend (we're headed to the Saskatoon Farm) and can't wait to experiment with the bounty. What type of saskatoon berry recipes interest you most? I currently have a few in testing stages that I can't wait to share as soon as they're ready, but wanted to give you your annual saskatoon fix by publishing this roundup in the meantime!
As always, if you try one of my recipes, please let me know how you liked it — I absolutely love your feedback! Leave me a comment, or tag me on Instagram, Twitter or Facebook. I'd love you to hashtag #justinecelinarecipes in your recreations so I can find them — browsing my feed and stumbling on your beautiful recreations is one of my favourite feelings! I also have a Pinterest board for my recipes if you're looking for more healthy, plant based meal ideas this summer. Happy saskatoon picking (and eating!), friends!
---
Disclaimer: This post is not sponsored, and contains my genuine thoughts, ideas and recommendations. JustineCelina uses affiliate and referral links, which allow me to receive a small commission when you make a purchase through one of my links. Thank you for supporting the brands and businesses that support JustineCelina.com!