---
My favourite month of the year has flown by, which means it's time for another MONTHLY SOUNTRACK! My September 2020 Soundtrack is short n' sweet, featuring an hour and a half of eclectic, feel good, easy listening tunes spanning genres. I actually spent the majority of the month pouring over my MUSIC archives and listening to my fall soundtracks from years past, rather than new music — and they transported me back to some amazing times! In fact, that's the very reason I began publishing my monthly soundtracks here at JustineCelina 5 and a half years ago. I now have an extensive library of beautiful memories categorized by month — like a musical time machine to any specific season of life I choose. How incredible is that? As always, thank you for coming along on my musical journey as I share what's pumping through my speakers each month to help to keep myself inspired, focused and happy. I hope you've also enjoyed listening to them as much as I have!
That said, my September 2020 Soundtrack is full of some beautiful new tracks I've had on repeat all month long! The Midnight's Dream Away, Wrong For Me's Otherwise Fine, Pretty Light's Only Yesterday, Mon-Day's Fly High, I See Colors Memories of You, Restless Beat's Interest, Goth Babe's Moments / Tides, Arlo Park's Eugene, Jamie Drake's Redwood Tree, Grady's Garden (it seems I've had a track with GARDEN in the title every month this summer — I can't wait to share more about ours later this season!), SUMif's Walking Away, Luna Shadows malibu bb, ford's In My Eyes, Handbook's Careful and Sol Rising's Beauty Everywhere. Wishing you a safe and healthy month ahead, friends!
---
SEPTEMBER 2O2O SOUNDTRACK
---
---
NEED MORE FRESH TUNES? CHECK OUT MY LATEST PLAYLISTS
---
August 2020 Soundtrack (or listen on Spotify)
July 2020 Soundtrack (or listen on Spotify)
June 2020 Soundtrack (or listen on Spotify)
May 2020 Soundtrack (or listen on Spotify)
April 2020 Soundtrack (or listen on Spotify)
Or, browse the MUSIC archives here at JustineCelina for 5 and a half years of monthly playlists!
---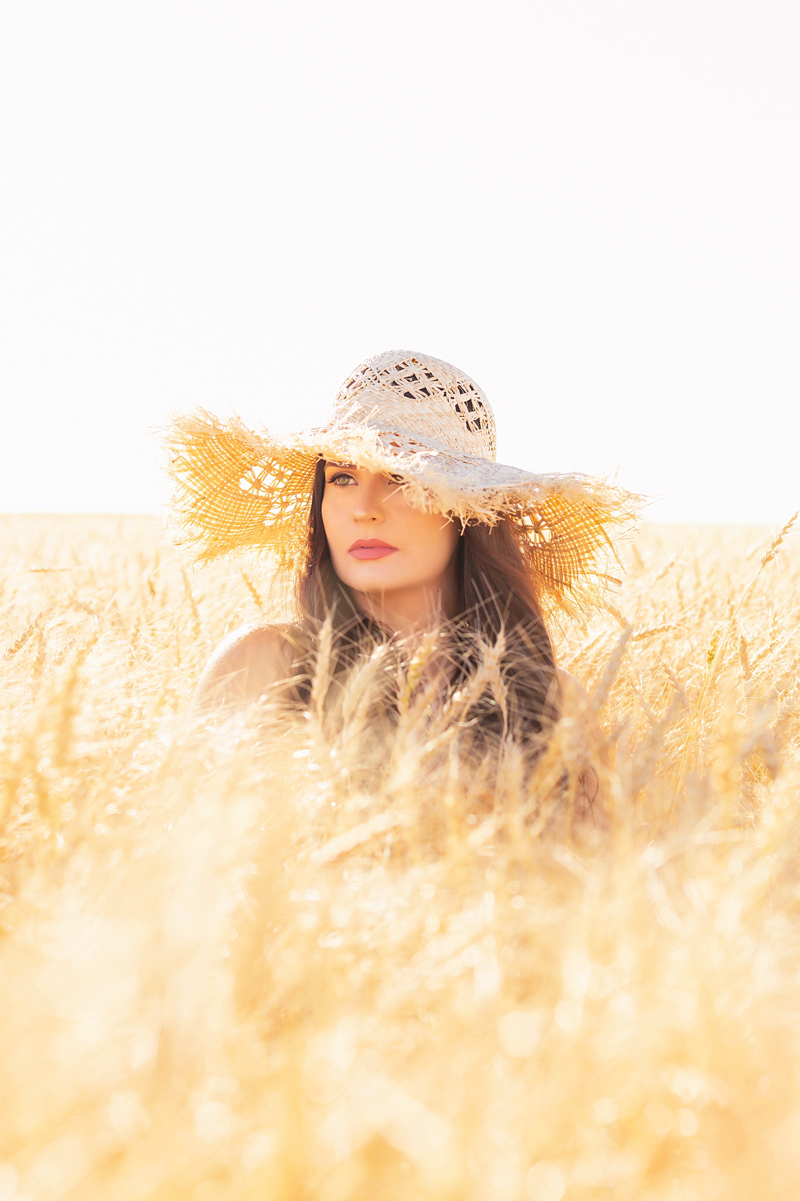 We captured this month's album cover during one of our many prairie photoshoots this summer! We definitely shot more photos in fields (and amongst crops of all kinds!) this season than ever before — this one is wheat. I love the way my straw hat coordinated with the field and the light bouncing off the golden tones in the wheat just prior to harvest. Although it doesn't look like it, I swear I'm wearing a dress! Be sure to pop over to my Summer 2020 Lookbook if you're interested in seeing what else I've wearing beneath the wheat.
---
What have you guys been listening to lately? Leave me your recommendations in the comments, I'd love to hear from you! Do you use Spotify? If you do, feel free to drop some links to your playlists, or playlists / artists you think I'd enjoy. Thanks for tuning into my September 2020 Soundtrack!
---
Disclaimer: This post is not sponsored, and contains my genuine thoughts, ideas and recommendations. JustineCelina uses affiliate and referral links, which allow me to receive a small commission when you make a purchase through one of my links. Thank you for supporting the brands and businesses that support JustineCelina!