---
As the final full month of summer comes to a close, I'm thrilled to bring you another MONTHLY SOUNTRACK! My August 2020 Soundtrack features a mash up of 60 tracks spanning genres from ultra chill instrumental to explicit hip-hop — an eclectic melange of tunes that have been pumping through my speakers all month long. I've been spending my days making the most of all this beautiful season has to offer while working away on lots of exciting projects and upcoming content (including a seasonally inspired SPACE REFRESH, which you can catch a glimpse of in this month's album cover!) that I can't wait to share with you as we transition into autumn. This nearly 4 hours playlist has been integral in keeping my ears (and mind) entertained and inspired this month as I putter away on various creative pursuits and enjoy the great outdoors!
There are so many wonderful artists and tracks to discover in my August 2020 Soundtrack — but a handful of my personal favourites include Croosh's Prosecco, Colouring's Ember, Work Drugs Never Say Die, Jacques Green's remix of Two Hearts, Yoke Lore's Fade Away, MGK & Blackbear's my ex's best friends, Cam Stacey's remix of Free (my most played track of the month!), Teen Daze's Open, Run The Jewels' JU$T, Phoebe Bridger's Garden Song, Lastling's Verona, Alex Lustig's Free Spirit, Petit Biscuit's You, Nieve & Soul Chief's Write This Down, ScHoolboyQ's Crash, LYREE's Collins Ave and BRONSON & ODEZA's  CALL OUT. Happy listening, music lovers!

---
AUGUST 2O2O SOUNDTRACK
---
---
NEED MORE FRESH TUNES? CHECK OUT MY LATEST PLAYLISTS
---
July 2020 Soundtrack (or listen on Spotify)
June 2020 Soundtrack (or listen on Spotify)
May 2020 Soundtrack (or listen on Spotify)
April 2020 Soundtrack (or listen on Spotify)
March 2020 Soundtrack (or listen on Spotify)
Or, browse the MUSIC archives here at JustineCelina for 5+ years of monthly playlists!
---
SHOP THE STORY
---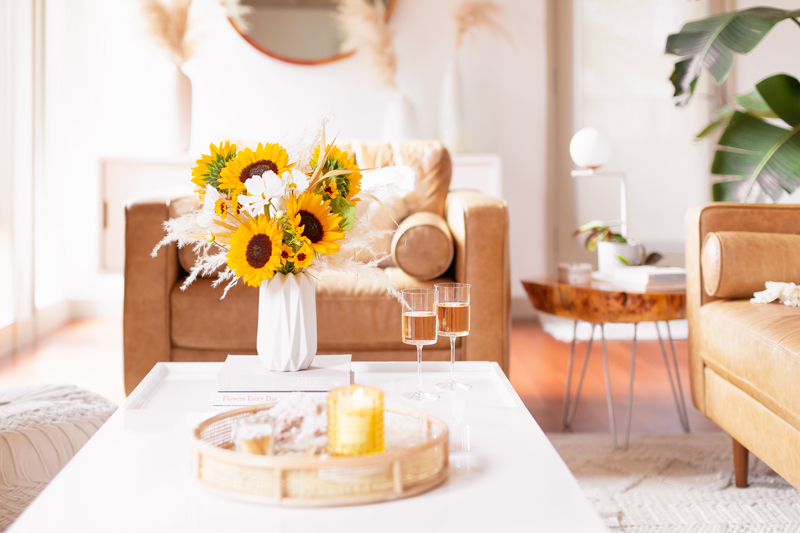 ---
I shot this month's album cover earlier this week after I whipped up this simple sunflower arrangement to adorn our coffee table for my upcoming Transitional Summer Meets Autumn Decor post which I'm so excited to share with you next month (now live!). I can't resist sunflowers at this time of year — they bring such a happy energy to any room. I'll also be sharing a fresh FLOWER ARRANGING post detailing how I created this free spirited sunflower arrangement in September, as well! I'm feeling very inspired by the seasonal shift — and I have so much cross category content coming to JustineCelina as we transition into fall! 
---
What have you guys been listening to lately? Leave me your recommendations in the comments, I'd love to hear from you! Do you use Spotify? If you do, feel free to drop some links to your playlists, or playlists / artists you think I'd enjoy. Thanks for tuning into my August 2020 Soundtrack!
---
Disclaimer: This post is not sponsored, and contains my genuine thoughts, ideas and recommendations. JustineCelina uses affiliate and referral links, which allow me to receive a small commission when you make a purchase through one of my links. Thank you for supporting the brands and businesses that support JustineCelina!