---
It's time for another Monthly Soundtrack — and I truly can't believe the last month of autumn is coming to a close! My November 2018 Soundtrack is a mixture of super chill, upbeat, electronic and instrumental with a sprinkling of hip-hop — making for an easy-listening playlist, no matter what you're in the mood for! This soundtrack is a bit longer than usual, featuring over 3 hours of my favourite fall tunes — I discovered so many new, inspiring artists this past month! I hope you enjoy them, too.
November's standout tracks include Washed Out's Chimes, Total Giovanni's Human Animal (this track gives me major LCD Soundsystem vibes!), Nuages Lost, Mishega's Home, Koan's The Light of Sleeping Star, Blue Wednesday's Sweet Berry Wine, Hiatus's Youth, Social House & Lil Yatchy's Magic in the Hamptons, Ryan Pulford's Better Off Alone, Papadosio's Fanfare for the Rain People, Funkmammoth's Sherwood Stroll, List's Cut to Now, Anderson.Paak's Sweet Chick (warning: very explicit but very catchy!) and Kurt Vile's Life Like This. Wishing you all a happy holiday season as we head into December — I have so much exciting content I can't wait to share!
---
NOVEMBER 2018 SOUNDTRACK
---
---
NEED MORE FRESH TUNES? CHECK OUT MY LATEST PLAYLISTS
---
October 2018 Soundtrack (or listen on Spotify)
September 2018 Soundtrack (or listen on Spotify)
August 2018 Soundtrack (or listen on Spotify)
July 2018 Soundtrack (or listen on Spotify)
June 2018 Soundtrack (or listen on Spotify)
Or, browse the MUSIC archives here at JustineCelina for 3.5 years of monthly playlists!
---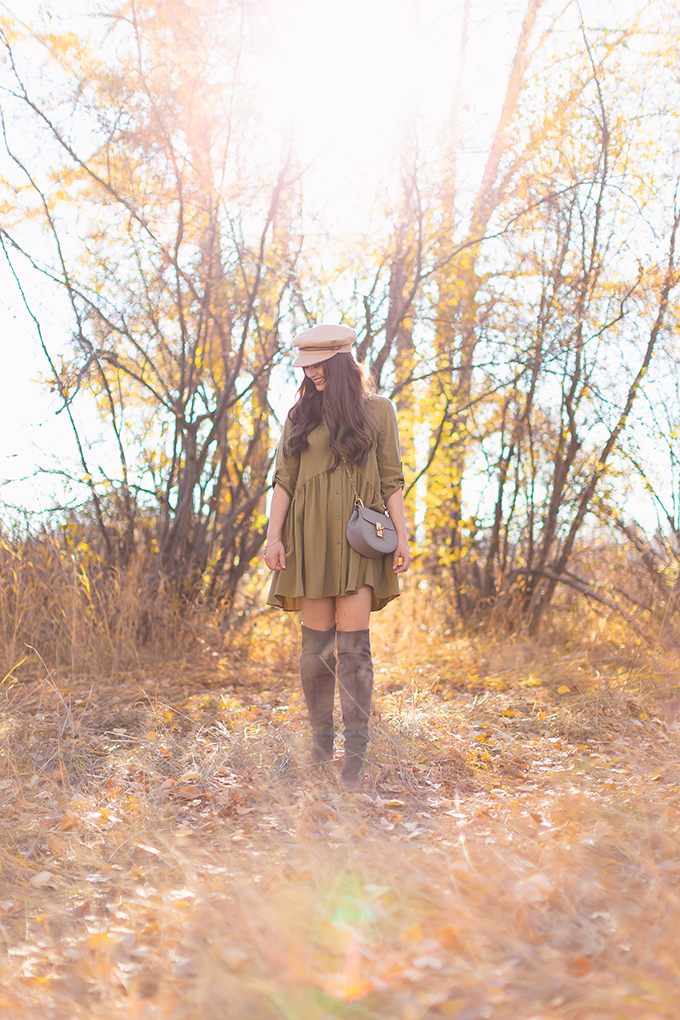 We snapped this month's album cover earlier this autumn over my posting break on a gorgeous afternoon we spent checking out the new St. Patrick's Island Park. This look is featured in my Autumn 2018 Lookbook if you'd like outfit deets!

What have you guys been listening to lately? Leave me your recommendations in the comments, I'd love to hear from you! Do you use Spotify? If you do, feel free to drop some links to your playlists, or playlists / artists you think I'd enjoy. I love to discover new music!
---
Disclaimer: This post is not sponsored, and contains my genuine thoughts, ideas and recommendations. JustineCelina uses affiliate and referral links, which allow me to receive a small commission when you make a purchase through one of my links. Thank you for supporting the brands and businesses that support JustineCelina!