---
April is on her way out — and to say I'm relieved would be an incredible understatement! April was a challenging month as we collectively spent the majority of our time in our homes, adopted new traditions, dodged curveballs (of which there were many!) and attempted to adjust to our new normal. I've definitely experienced extreme waves of motivation (and emotion!) during this pandemic — as someone who's very Type A and a major planner, this has certainly been a lesson in learning not to place worth in productivity, allowing myself to slow down, giving myself some grace and just taking things as they come. Unsurprisingly, I turned to life's simple pleasures to help me pull through — like cheerful blooms, great coffee and uplifting music! My April 2020 Soundtrack features just over 3 hours of everything I've had on heavy rotation lately to help me feel grounded, focused, calm and inspired.
Freedom Fly's Tell Me It'll Be Alright, Luna Shadow's Palm Springs, Oliver Tank's Dreams of Fish and Waterfalls, GHSTWRLD and Metaxas's Everything, Day Waves Potions, Cards & Sitas All Over Me, Jack Larsen's Vanity, Hello Meteor's Kuroshio, NEIL FRANCES Tell Me, Brett's Prom, Bad Snacks Elsewhere, Alle's Islands and Blood Cultures x DJ ST THOMAS's Best For You delighted my ears this month. If you're in need of some fresh quarantunes (ha!), give the latest instalment of my Monthly Soundtracks a listen! Here's to a brighter month ahead, friends.
---
APRIL 2020 SOUNDTRACK
---
---
NEED MORE FRESH TUNES? CHECK OUT MY LATEST PLAYLISTS
---
March 2020 Soundtrack (or listen on Spotify)
February 2020 Soundtrack (or listen on Spotify)
January 2020 Soundtrack (or listen on Spotify)
2019 Soundtrack (or listen on Spotify)
December 2019 Soundtrack (or listen on Spotify)
Or, browse the MUSIC archives here at JustineCelina for nearly 5 years of monthly playlists!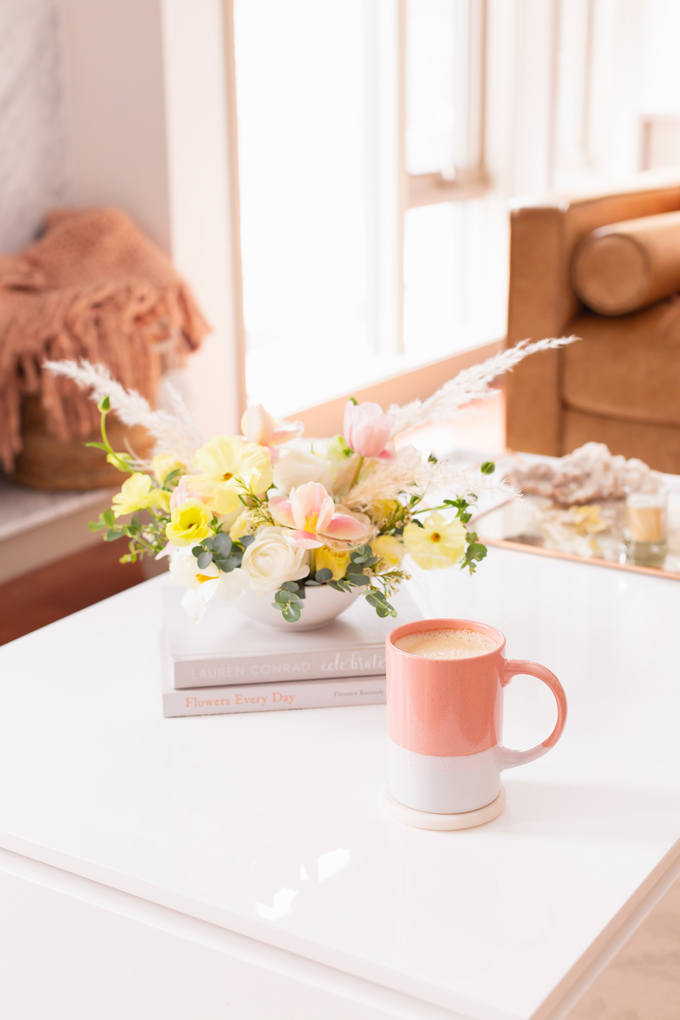 ---
Thanks for listening, friends! As always, I hope you enjoyed this month's soundtrack and discovered some new artists or tracks you enjoy. Despite a challenging month, I'm actually starting to feel like the worst is behind us. Is anyone else starting to feel a little better adjusted to this new normal? We just finished our 5th week of quarantine here in Calgary — and although I know this is far from over, I feel like I have a much better handle on things than last month (thank goodness!). There are still very hard days, but lately there have been more good days than bad — and for that I'm very grateful! 

I shot this month's album cover earlier this month after Easter weekend as I sipped my morning coffee and admired the cheerful spring arrangement Meadow & Vine Floral created for us! I'm not exaggerating when I say I took 1000's of photos of this arrangement. Although ordering a custom arrangement for Easter was a bit of a splurge, it was a treat I felt like we desperately needed — and is brought so much joy into our home during a dark month that I feel it was money well spent. So, I wanted to preserve its beauty and all the wonderful memories it brought us digitally, to share them with you!
---
What have you guys been listening to lately? Leave me your recommendations in the comments, I'd love to hear from you! Do you use Spotify? If you do, feel free to drop some links to your playlists, or playlists / artists you think I'd enjoy. Thanks for tuning into my April 2020 Soundtrack!
---
Disclaimer: This post is not sponsored, and contains my genuine thoughts, ideas and recommendations. JustineCelina uses affiliate and referral links, which allow me to receive a small commission when you make a purchase through one of my links. Thank you for supporting the brands and businesses that support JustineCelina!