---
The first month of summer is drawing to a close — and that means it's time for my June 2020 Soundtrack! June was an intense month as we moved into Phase 2 of our economic reopening in Calgary and also collectively experienced the largest civil rights movement in history. Amidst it all, we also decided to form a cohort with my family in rural Alberta and have been spending as much time enjoying the tranquility of the prairies as possible! We finally planted that Country Garden I've been dreaming about for years (posts to follow!) and it's been quite a reflective, but healing, month. Over the years, these rolling hills and sunlit fields have always been where I come to feel grounded, creative and free. I'm so grateful for this magical, restorative place — now more than ever. Although COVID has brought with it many challenges, it's also brought many gifts. In a time when the whole world feels like it's on pause, I'm making the most of every last second by living and working intentionally, authentically and in alignment with my true self.
My June 2020 Soundtrack features just over 2 hours of ultra chill, easy-listening, instrumental tunes spanning genres — and also, a track from my nephew, DJBThomson, who's foraying into the music world! A handful of my favourite tracks include Random Forests I Don't Trust That Bird of Prey, Vladimir Martynov's The Beautitudes, Headphone Activist's Lazy, Shook & Ian Urbina's Isolation, AK & Liam Thomas's Peace of Mind, Late June's Burning Slow, Dye O's Uprising, iamlex's Aurora, Tōth's Copilot, Tom Kalani's Target, Evin Iris's Collapse Into The Light, Jose Mehlin's Adjustments, Ghost of Summer's Woodland Heart, UTAH's Thirty Two, TOKiMONSTA's Love That Never, Stan Forebee's Skyshades, Wolf's Play It Safe, Teen Daze's Comfort and DJBThomson's N!GHT SK¥ (Bass Version). Happy listening!
---
JUNE 2020 SOUNDTRACK
---
---
NEED MORE FRESH TUNES? CHECK OUT MY LATEST PLAYLISTS
---
May 2020 Soundtrack (or listen on Spotify)
April 2020 Soundtrack (or listen on Spotify)
March 2020 Soundtrack (or listen on Spotify)
February 2020 Soundtrack (or listen on Spotify)
January 2020 Soundtrack (or listen on Spotify)
Or, browse the MUSIC archives here at JustineCelina for 5+ years of monthly playlists!
---
SHOP THE STORY
---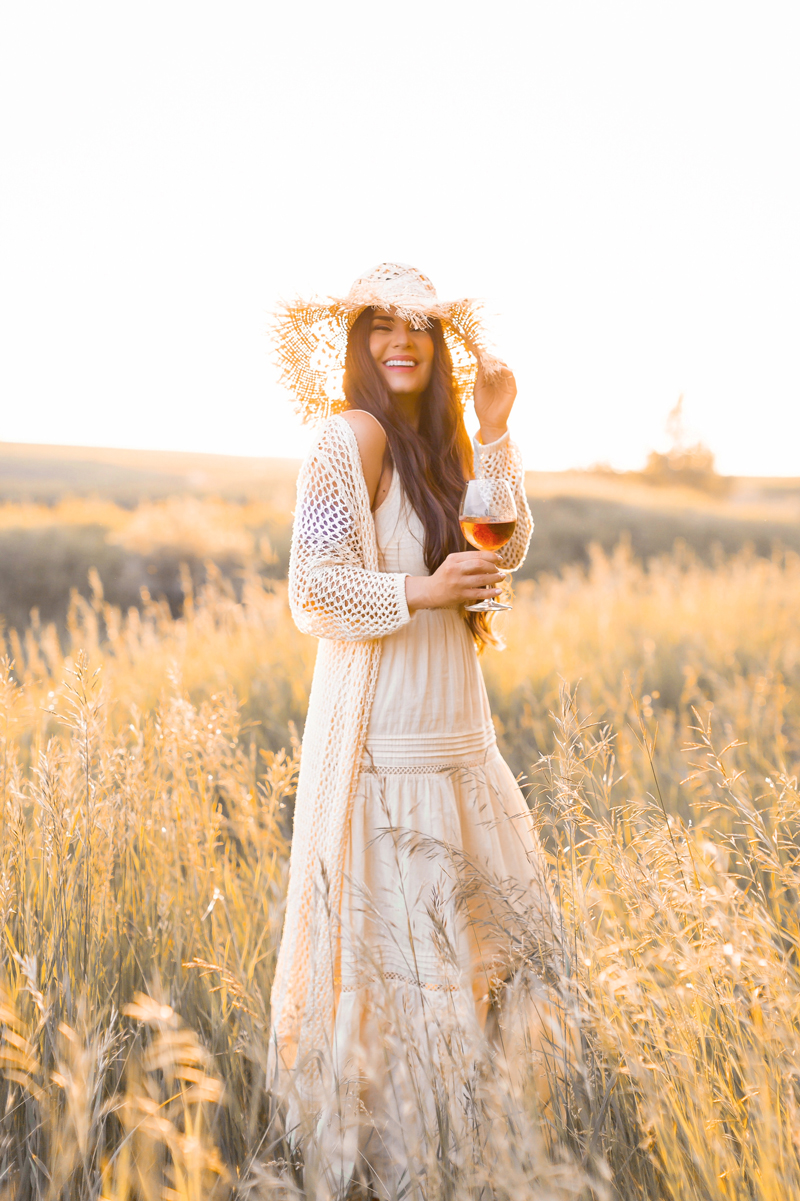 Frayed Floppy Straw Hat | V-neck Cotton Dress in Light Yellow | Crochet Cardigan (Similar)
---
Thanks for listening, friends! As always, I hope you enjoyed this month's soundtrack and discovered some new artists or tracks you enjoy. And I hope you're able to enjoy your summer, despite the circumstances. It's been so therapeutic creating content here over the past week or so after spending months quarantined in my Calgary apartment — and I can't wait to share everything I've been working on!
I'm still living in ultra casual outfits or breezy dresses and have been busy capturing tons of new style content with the beautiful Alberta prairies as my backdrop! Stay tuned for a SUMMER 2020 LOOKBOOK coming soon, but I also wanted to share a couple of details for this outfit with you today. I've had this outfit formula on repeat lately and everything I'm wearing is super affordable (my crochet cardigan is ancient but I've linked a similar one for you above).
---
What have you guys been listening to lately? Leave me your recommendations in the comments, I'd love to hear from you! Do you use Spotify? If you do, feel free to drop some links to your playlists, or playlists / artists you think I'd enjoy. Thanks for tuning into my June 2020 Soundtrack!
---
Disclaimer: This post is not sponsored, and contains my genuine thoughts, ideas and recommendations. JustineCelina uses affiliate and referral links, which allow me to receive a small commission when you make a purchase through one of my links. Thank you for supporting the brands and businesses that support JustineCelina!