---
How is it the end of May?! This month has flown by — and that means it's time for another Monthly Soundtrack! My May 2018 Soundtrack is a long one, featuring nearly 5 hours of my favourite tunes spanning a mosaic of genres with a focus on instrumental, electronic and chillwave. May was another work-behind-the-scenes heavy month as we brought the second installment of our SPACE REFRESH series to life — there were a lot of long hours, construction, DIY projects and photoshoots going down and this soundtrack helped to keep me inspired and focused! This is an eclectic, easy listening playlist perfect for fueling conversation, energizing work days or coming along on weekend adventures.
I discovered so many new artists this month, but I had a handful of tracks on repeat — including il:lo's Vega, Mazde, Rromarin & Dugong Jr's Fading Out, YOSIE & LO's Galaxies, Shibuya Again's Teen Daze, WMD's It Was 9:30 and You Were Beautiful, MUNE's Sad Boy, Ryat's ATTLAS, Kidwaste & Sophie Simmon's Beautiful Life, Shook's Wind on the Water, Handbook's Glow, Rolling Blackouts Coastal Fever's Talking Straight, Alina Baraz & Khalid's Electric, Skinny Atlas's Forest Child, Islandis's Your Lover, Mtbrd's Phone Call, Molife's Dazed Summer, Lights & Motion's Silver Lining, Nym's Light Catcher and Qrion's Hush. Oh, and it's peony season once again! Are you as excited as I am?!
---
MAY 2018 SOUNDTRACK
---
---
NEED MORE FRESH TUNES? CHECK OUT MY LATEST PLAYLISTS
---
April 2017 Soundtrack (or listen on Spotify)
March 2018 Soundtrack (or listen on Spotify)
February 2018 Soundtrack (or listen on Spotify)
January 2018 Soundrack (or listen on Spotify)
My Top Songs of 2017 (or listen on Spotify)
Or, browse the MUSIC archives here at JustineCelina for 3 years of monthly playlists!
---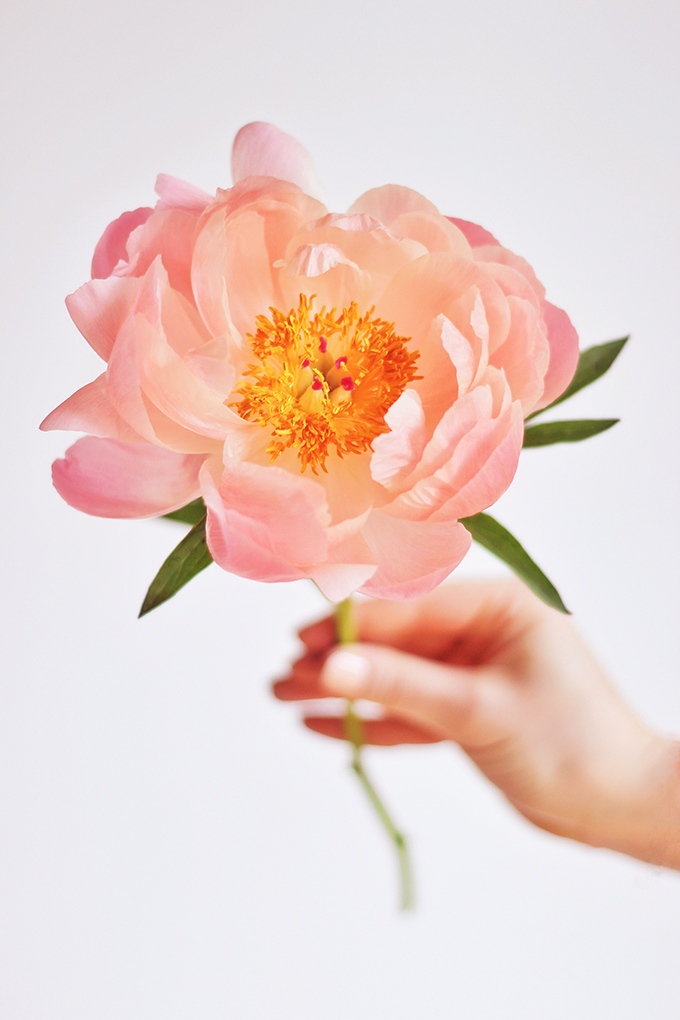 Peonies are back in season — and you can bet that I'm popping out to my local grocer to purchase them weekly! A tip for Calgarians — Mission and Marda Loop Safeway locations have 5 stems for $8.99 currently and they're beautiful! The peony variety pictured here in a Coral Sunset Peony from the All About Peonies post Rebecca Dawn Design and I published last year. If you're crazy about peonies, be sure to check out that post for basic care and conditioning tips to help preserve their beauty for as long as possible!
What have you guys been listening to lately? Leave me your recommendations in the comments, I'd love to hear from you! Do you use Spotify? If you do, feel free to drop some links to your playlists, or playlists / artists you think I'd enjoy. I love to discover new music!
---
Disclaimer: This post is not sponsored, and contains my genuine thoughts, ideas and recommendations. JustineCelina uses affiliate and referral links, which allow me to receive a small commission when you make a purchase through one of my links. Thank you for supporting the brands and businesses that support JustineCelina!