---
Happy Halloween, beautiful people! I'm back on this gorgeous, sunny autumn afternoon with my October 2020 Soundtrack — a soothing, 60 track, fall playlist brimming with instrumental, jazzy undertones. This month, in addition to my usual melange of cross category listening, I gravitated towards blissed out jazz — which seems to be a common theme year after year as we transition into cooler weather. Despite an unseasonably warm early October, we experienced our first snowfall of the season mid-month and enjoyed many a cozy evening infront of the fireplace with Spotify's Jazz Vibes playlist streaming through the speakers. Of course, I added all my favourite tracks to October's MONTHLY SOUNTRACK for your listening pleasure — and I'm elated to share over 3 hours of them with you today!
This month's standout tracks include Kasbo's Show You, Handbook's In Subtle Bloom, Teen Daze's Environments, Attom's Lagoon, Lincoln Jesser's Boba, DRAMA's 7:04 AM, Hilo's Don't Go, David Cutter Music's Float Away, Teeb's Universe, Clubhouse's Haunt You, Clear Blue Skies Golden, Nic Leng's Music To Clean The House To, Antione Dufour's beautifully stripped down rendition of Coldplay's Talk, Bogdan Belyeav's Wisdom 1:11, Mark Kroos's Be Still & Know, Mesita's I'm Considering Quitting Music, DROELOE'S Roadside Flowers, Grooveshine's Pages, ford.'s Fruit&Sun, Sol Rising's Surfin', Brenky's Otonbu, Shoffy's You, filous's Trying Not To Think About You, Petit Biscuit's Midnight Sky, Nicolas Kluzek's Blue as an Orange, Handbook's Temporary, Board-Man's guitar laden, instrumental rendition of Isn't She Lovely and DEEB's Golden Hour. Wishing you all a fun and safe Hallo-weekend, whatever you're up to!
---
OCTOBER 2O2O SOUNDTRACK
---
---
NEED MORE FRESH TUNES? CHECK OUT MY LATEST PLAYLISTS
---
September 2020 Soundtrack (or listen on Spotify)
August 2020 Soundtrack (or listen on Spotify)
July 2020 Soundtrack (or listen on Spotify)
June 2020 Soundtrack (or listen on Spotify)
May 2020 Soundtrack (or listen on Spotify)
Or, browse the MUSIC archives here at JustineCelina for 5 and a half years of monthly playlists!
---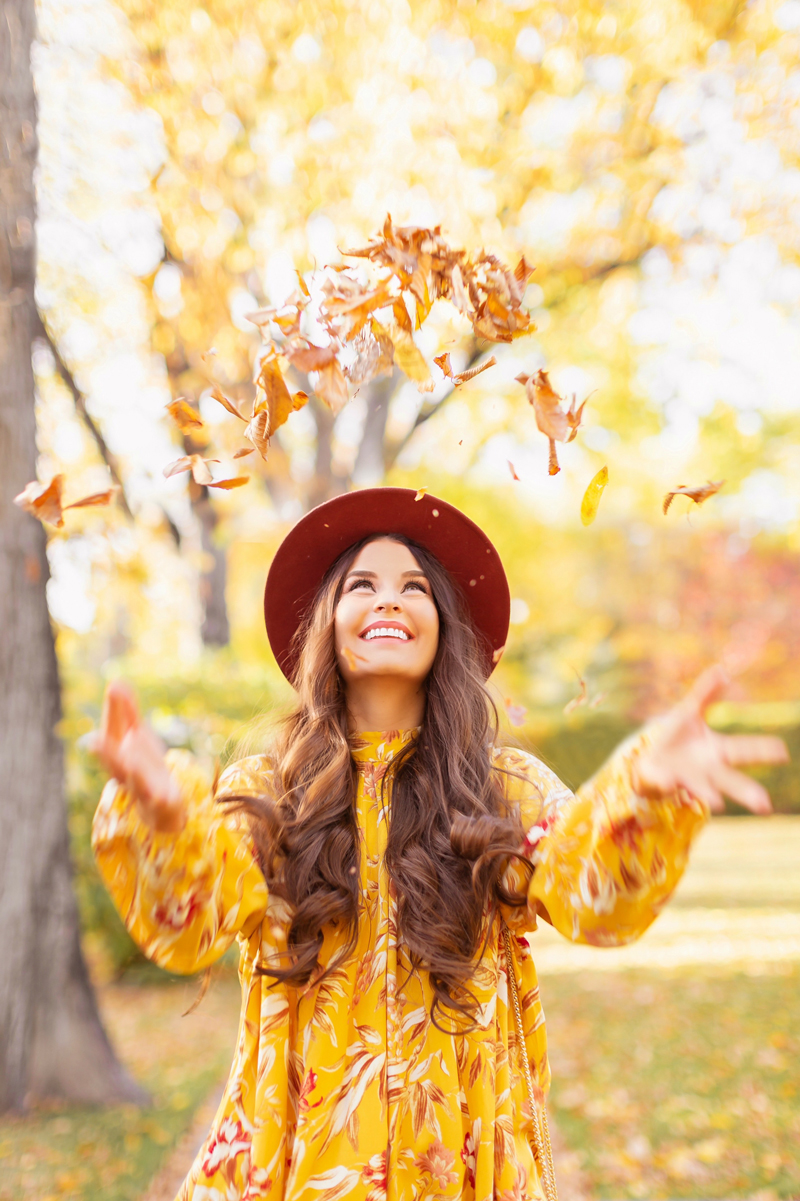 We captured this month's album cover during shoots for my Early Autumn 2020 Lookbook! We were one of my favourite streets in Calgary's upper Mount Royal, enjoying all the gorgeous leaves falling around us as we snapped away. It was literally raining leaves all around us and they were crunching beneath our feet all day — it was definitely an afternoon to remember! After we'd captured my outfit, I had the idea to recreate this image we shot back in September 2016 — on exactly the same street. At the time, it was one of my favourite fall images we've ever captured and it was fun to attempt to recreate it (albeit with a much more sophisticated camera setup than its predecessor!). Who's been with me here at JustineCelina for that long?!
It was such a gorgeous sunny day (and a balmy 20 degrees!) and we were able to capture more style content this month amongst our changing autumn landscape than ever before, preceding our first snowfall mid-month. This year we also captured images in both country and city locations — so get ready for tons of FASHION inspiration for a variety of settings coming your way as we transition deeper into autumn! 
---
What have you guys been listening to lately? Leave me your recommendations in the comments, I'd love to hear from you! Do you use Spotify? If you do, feel free to drop some links to your playlists, or playlists / artists you think I'd enjoy. Thanks for tuning into my October 2020 Soundtrack and have a happy Halloween!
---
Disclaimer: This post is not sponsored, and contains my genuine thoughts, ideas and recommendations. JustineCelina uses affiliate and referral links, which allow me to receive a small commission when you make a purchase through one of my links. Thank you for supporting the brands and businesses that support JustineCelina!