Lately, I've been reviewing my photo archives and lusting after the more carefree, bohemian styles of summer and autumn. My very first fashion post for JustineCelina is still one of my favourites! So today I'm chatting about wearing bohemian styles in cooler temperatures. You'll find me pretty much living in maxi dresses in the summer, so I wanted to show you can style them for winter, too. In Calgary the weather is right around the 10° mark and things are starting to thaw out (see that hint of green on the ground?!) — so wardrobe options begin to open up. It's nice not having to be totally bundled all the time, and start experimenting with layering again! I really love a good faux fur vest, and one of my favourite ways to wear them in the late winter and early fall is to pair them up with maxi dresses. I also give you a simple braided hairstyle idea, and my tips on how to shop for great vintage!
---
Maxi Dress (similar, similar, similar, similar, similar) | Faux Fur Vest (similar) | Tassel Tote (similar) | Faux Suede Booties (similar) | Maybelline Color Sensational Creamy Matte Lipstick in Touch of Spice
---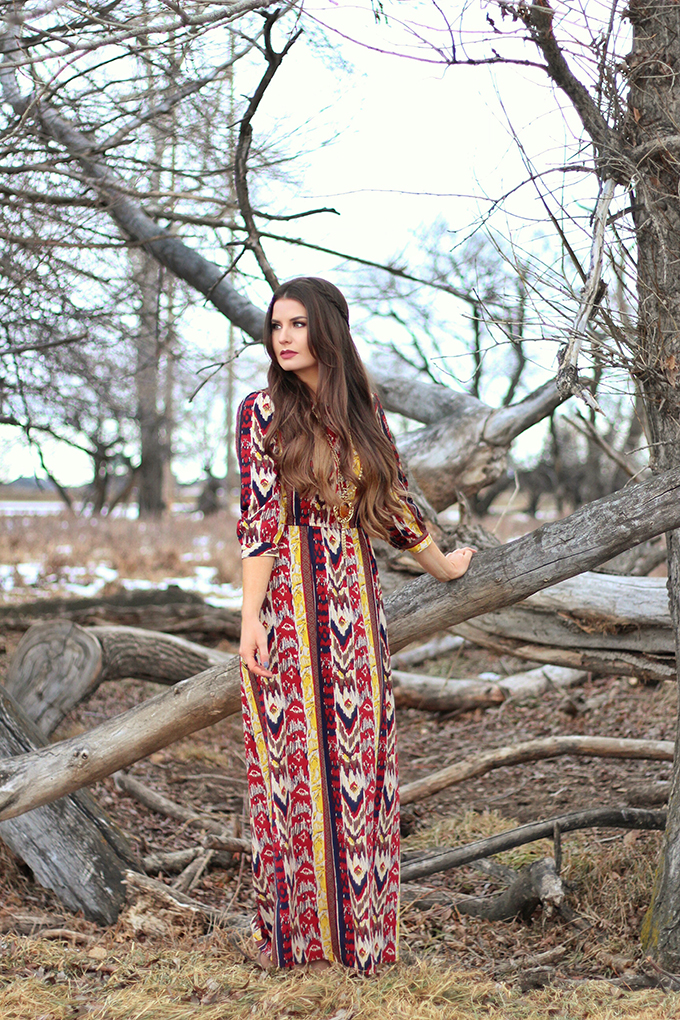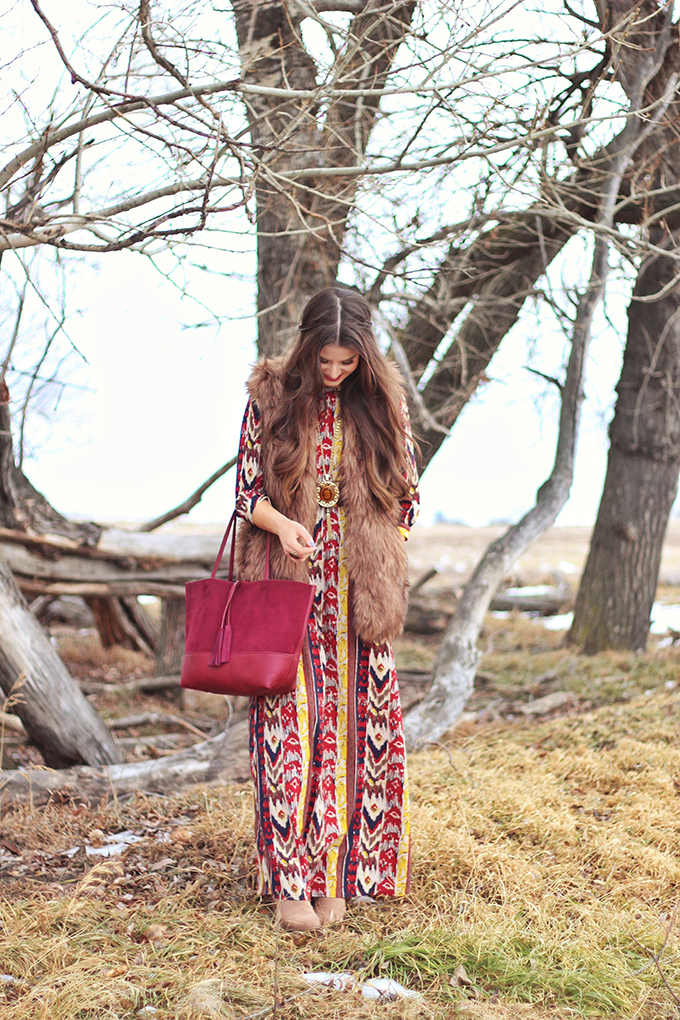 I think a 3/4 sleeve maxi dress can be such a versatile item in your wardrobe. You can wear it in pretty much any season — it's all about how you style it! Plus, they're super light and comfortable, which is a welcome change from all the heavy knits and jackets I've been wearing recently. I love the earthy tones of this aztec print, and the pops of yellow to keep things fresh. The one I'm wearing here is actually from Forever 21 (last season), and I love the 70's vibe it! I've linked similar ones at all pricepoints here, here, here, here, and here.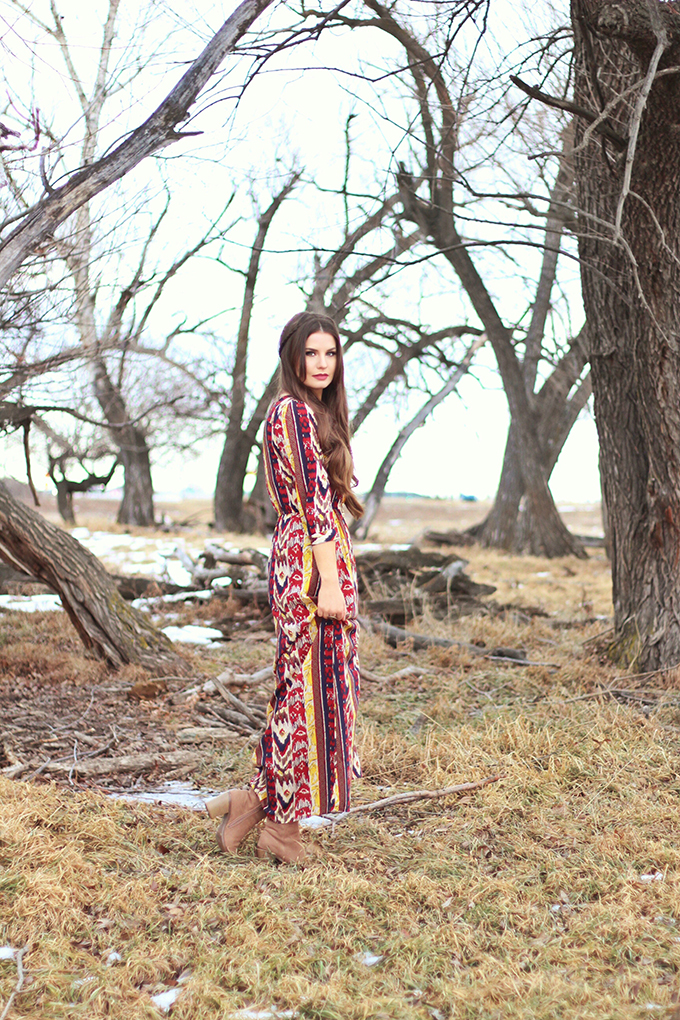 Most of my maxi dresses are really light, bright and summery, but I think it's nice to have a maxi dress in a richer, deeper colour palette because it transitions so well through the seasons. One rule I like to keep in mind when wearing an all over print is to keep the size of the print proportionate to the size of your frame. Since I'm tall, I can pull off a pretty bold print without it overwhelming me. But if you're petite, go for a smaller, more delicate print to keep things in proportion. You don't want your dress to wear you!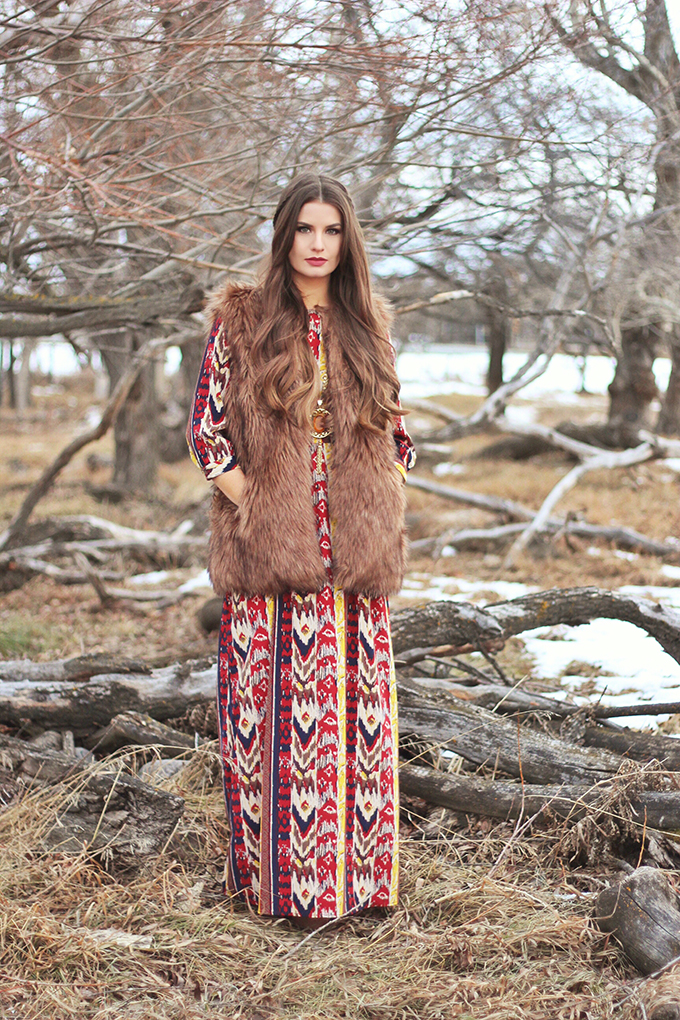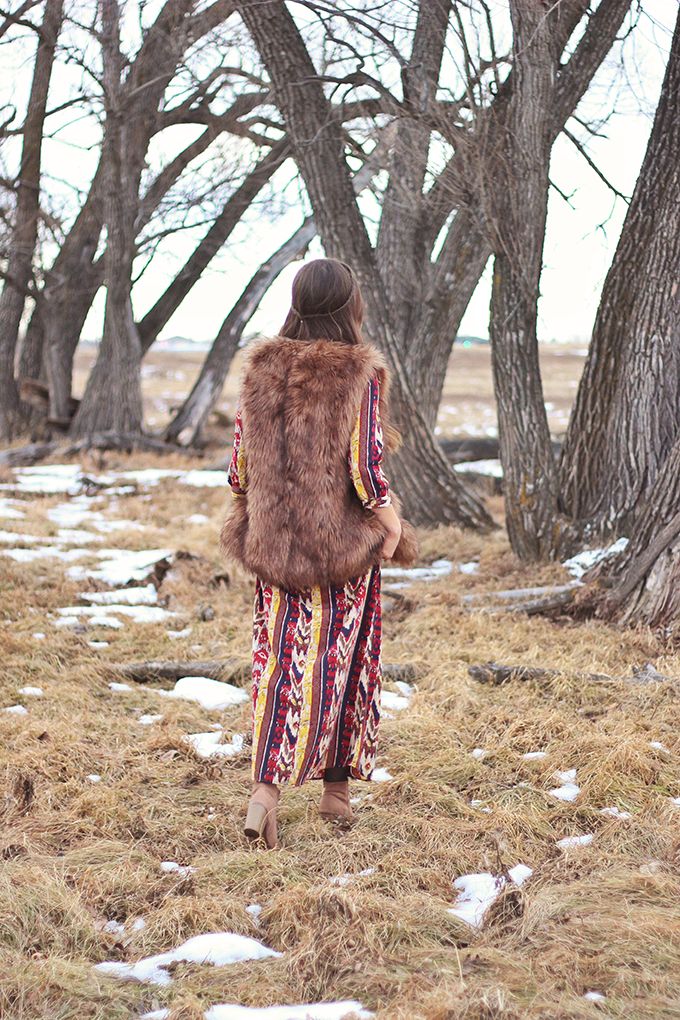 To style this maxi dress for winter, I layered it with a really cozy faux fur vest. I love the way the brown tones of the vest compliment the print of the dress, and break it up at the same time. I truly think every woman can wear a faux fur vest — they're very well loved in my wardrobe! I layer them over so many things. In the late winter, sometimes all you need is a faux fur vest layered over a knit, maxi dress or light jacket to keep you warm during the day. For more faux fur vest styling tips, hop over to my Faux Fur + Distressed Denim post.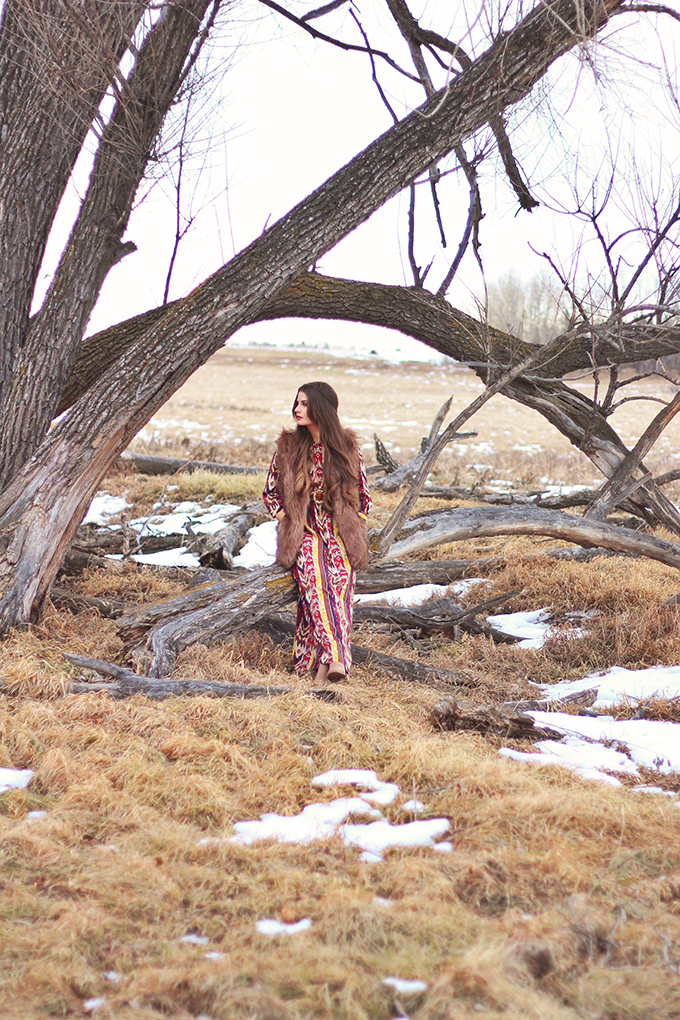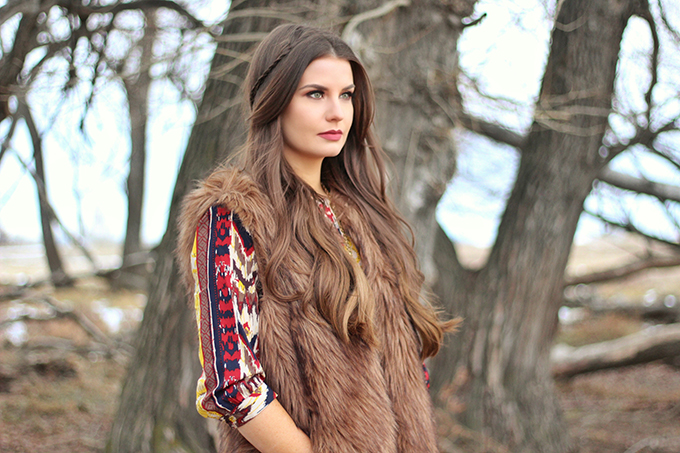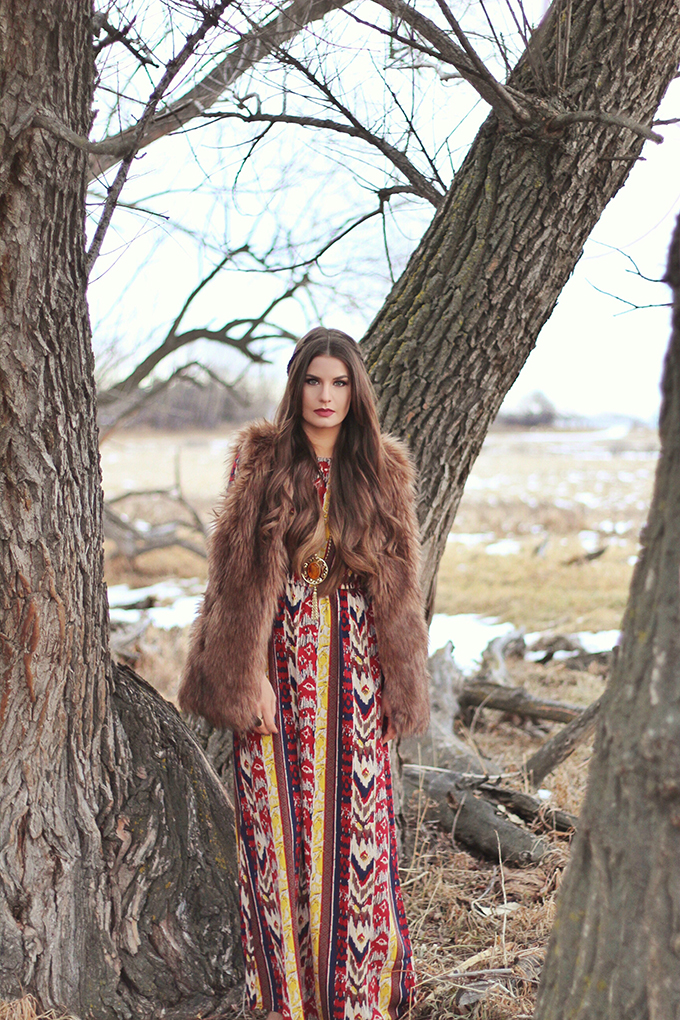 My necklace and ring are both vintage. I adore vintage jewellery — usually it's inexpensive, and it's totally unique. My best piece of advice when shopping for vintage jewellery is to venture off the beaten path! I always find the best stuff in small towns, flea markets, swap meets, or independent antique shops. Roadtrips, vacations, or anytime you're traveling or visiting somewhere new is the perfect time to look for vintage pieces.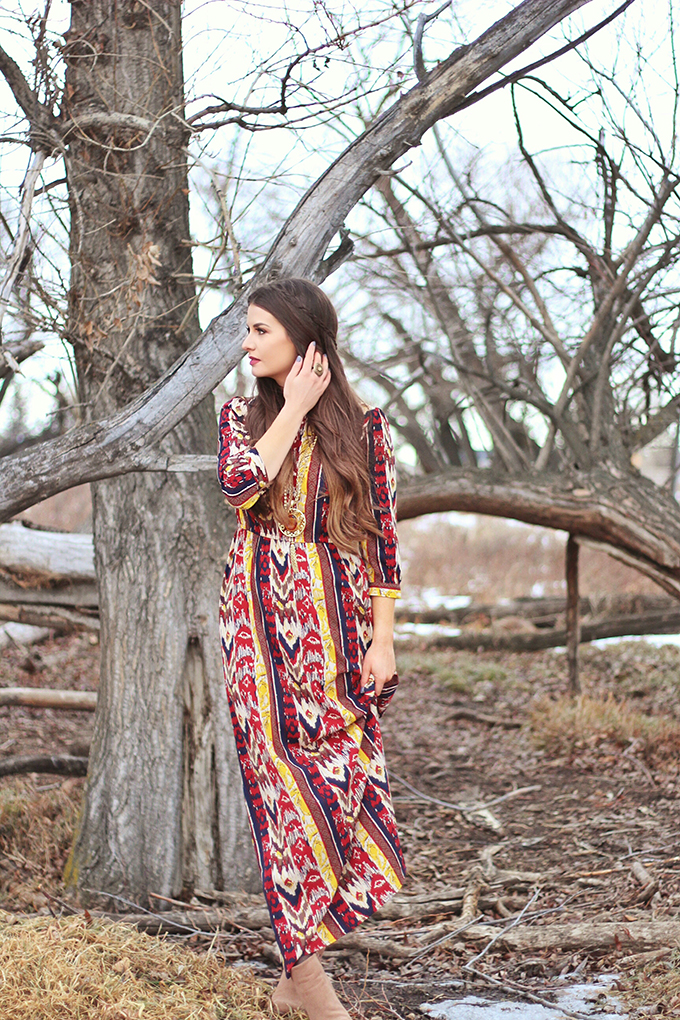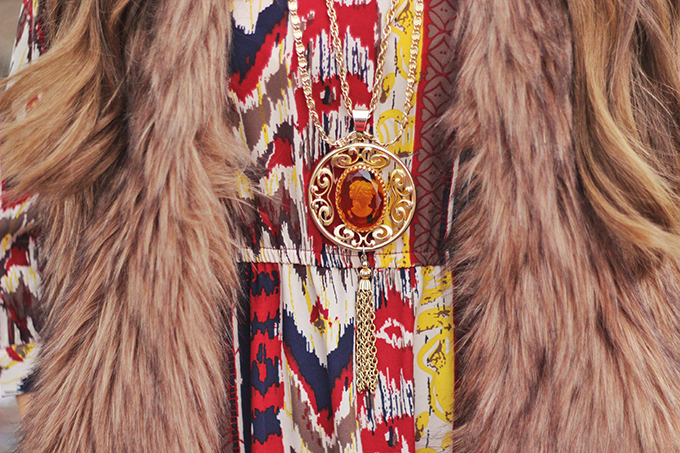 I found my necklace at a roadside flea market in British Columbia on the way to a music festival. I believe it was about $5! I love the cameo portrait (which is actually etched into the back of the amber glass pendant), the intricacy of the filigree, and the fringe detail. It's definitely a statement piece, and I always get so many questions and compliments when I wear it. It's also extremely well constructed, and I'm sure I'll have it for a very long time. My ring is from a flea market / swap meet in Mesa, Arizona — the holy grail for amazing vintage pieces, natural stones, unique artwork and textiles. I cost me $1. It's also where I found our marquee light Wine sign, and a few blankets and textiles for our home.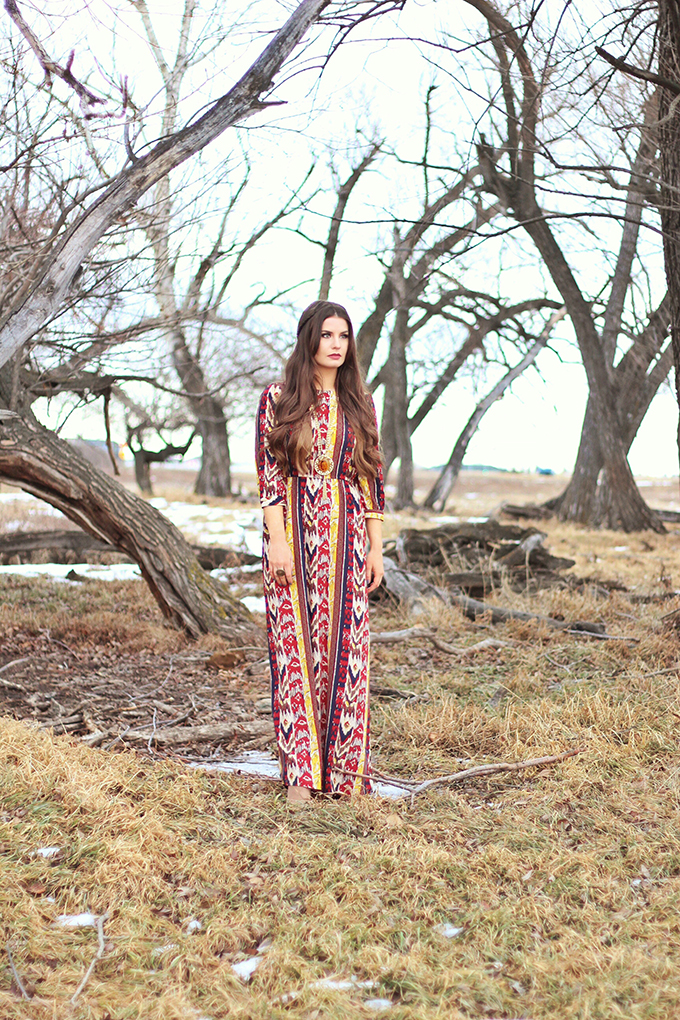 If you ever find yourself in Arizona, definitely check out a flea market / swap meet — they're everywhere, and you could literally spend all day wandering around and exploring! Probably my favourite part about wearing vintage or collecting vintage items for our home is the story that each piece carries with it. I love recalling and sharing the details of how I found each item!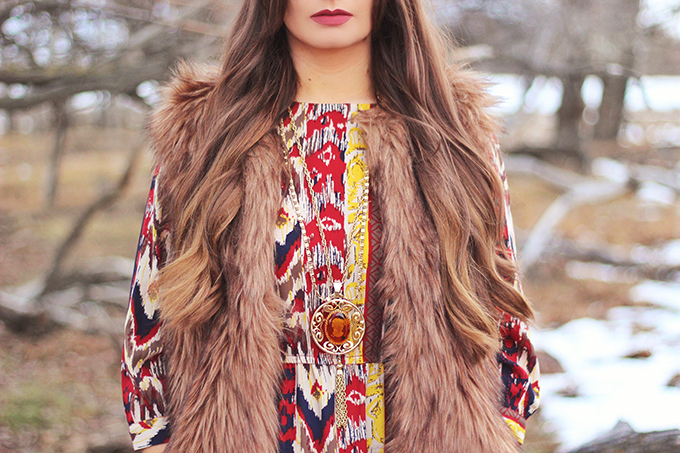 In the late winter, I love a deeper, sultry nude lip. It's a great option when you're looking for a little more drama, but still want to keep things neutral and sophisticated. Sometimes when I'm wearing a bolder print, I like to keep my makeup more subdued in colour. So for this look, I stuck with deeper neutrals overall — a deep nude lip, rich bronzes on the eyes, and a natural flush on the cheeks (I'm wearing Milani's Baked Blush in Rose D'Oro — review and swatches here). The lip I'm wearing is the Maybelline Color Sensational Creamy Matte Lipstick in Touch of Spice — it's a perfect, deep marsala shade that I wear a lot during the fall and winter. This lipstick formula is one of my favourites at the drugstore! You can hop over to my 6 Marsala Lipsticks to try this Fall post for an in-depth review and swatches.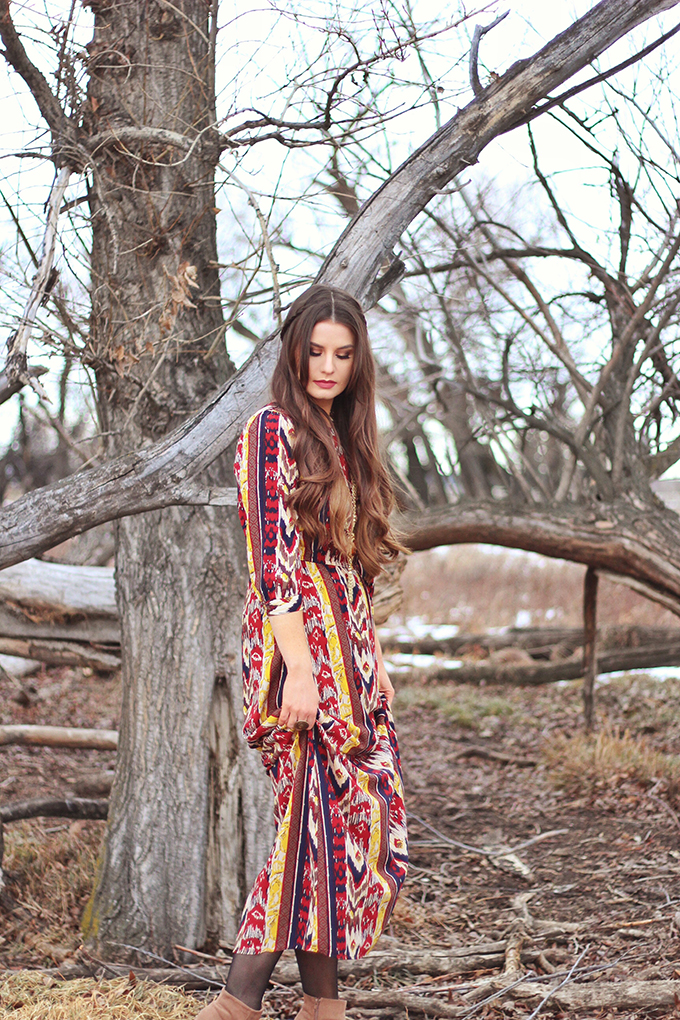 Since maxi dresses are drafty, I love to wear tights underneath at this time of year for extra warmth. These tights are sheer, but if the dress is deeper in colour like this one, you could also go fully opaque. Ankle booties in a neutral colour are the perfect pairing for this bohemian maxi — they're laid back and comfortable.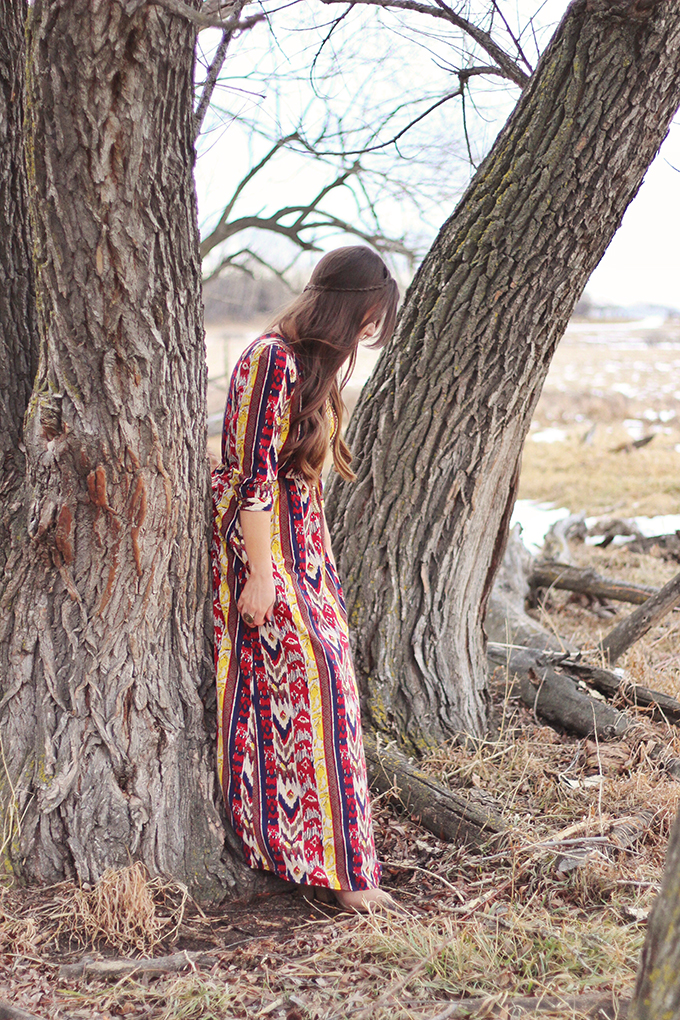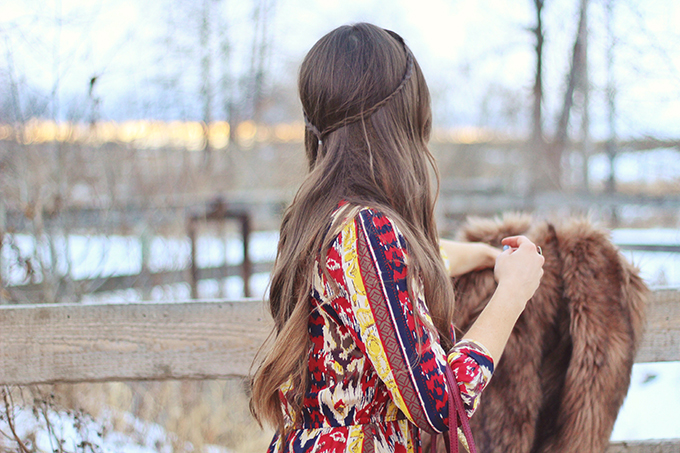 This braided hairstyle is so easy! I find myself wearing it with more bohemian looks — it adds a little bit of interest and takes only a few extra minutes. Plus, it's perfect to conceal roots that aren't freshly washed. To achieve this look, simply part your hair down the centre, and section off a few face-framing pieces in the front. Then, take a 1″ section of hair, 1″ back from your hairline and begin braiding it. Stop the braid where it will fall on the back-middle of your head, and secure it with a clear, no-snag elastic. Then, repeat on the other side. Once both sides of your hair are braided, take the braids and combine them at the back middle of your head, and remove the elastics while keeping the braids secure with your fingers. Once you've united the braids and removed the elastics from each strand, finish the style by wrapping a single elastic around both braid where you want them to fall. Remember — it doesn't have to be perfect. It looks better when it's a bit undone!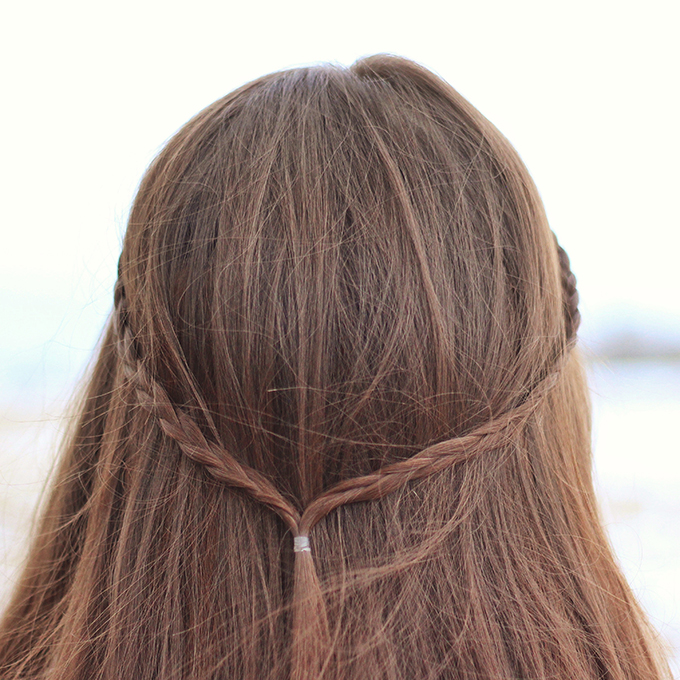 If this bag looks familiar, it's because I have the same one in black! I wore it in my last fashion post. I'll definitely purchase things in multiple colours if I really love them. These reversible tassel tote bags are super versatile — they can look both polished and professional or totally laid back. I can use the them as a briefcase during the week (which I chat more about here), or style them more casually like I did in this post. If you invest in a workhorse tassel tote, I promise you'll find so many ways to wear it!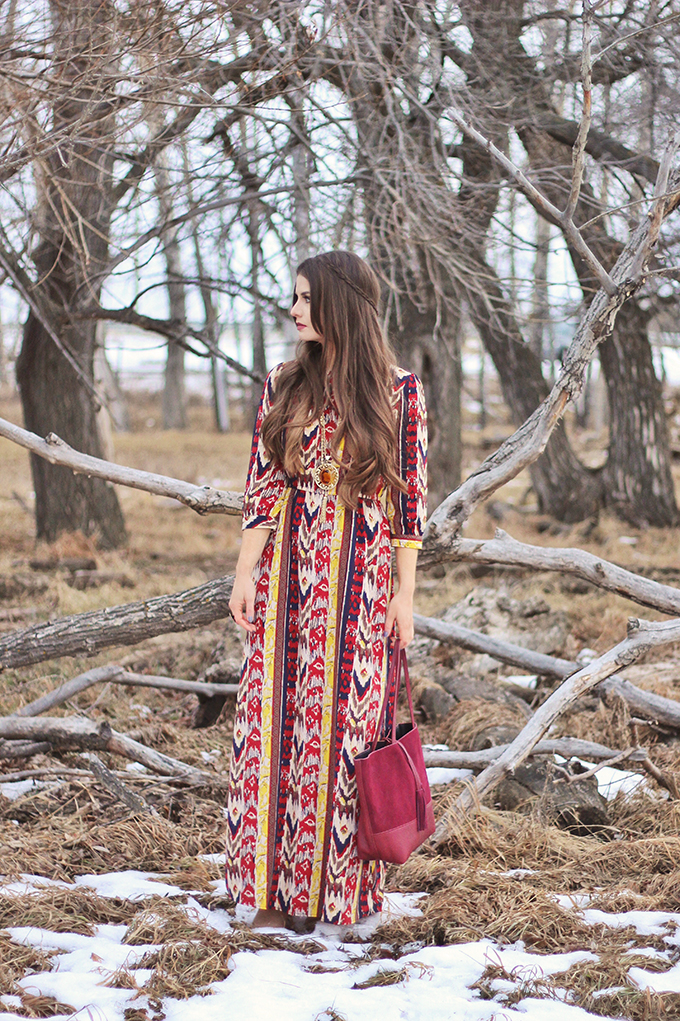 ---
SHOP THE LOOK
---
Maxi Dress (similar, similar, similar, similar, similar) | Faux Fur Vest (similar) | Tassel Tote (similar) | Faux Suede Booties (similar) | Maybelline Color Sensational Creamy Matte Lipstick in Touch of Spice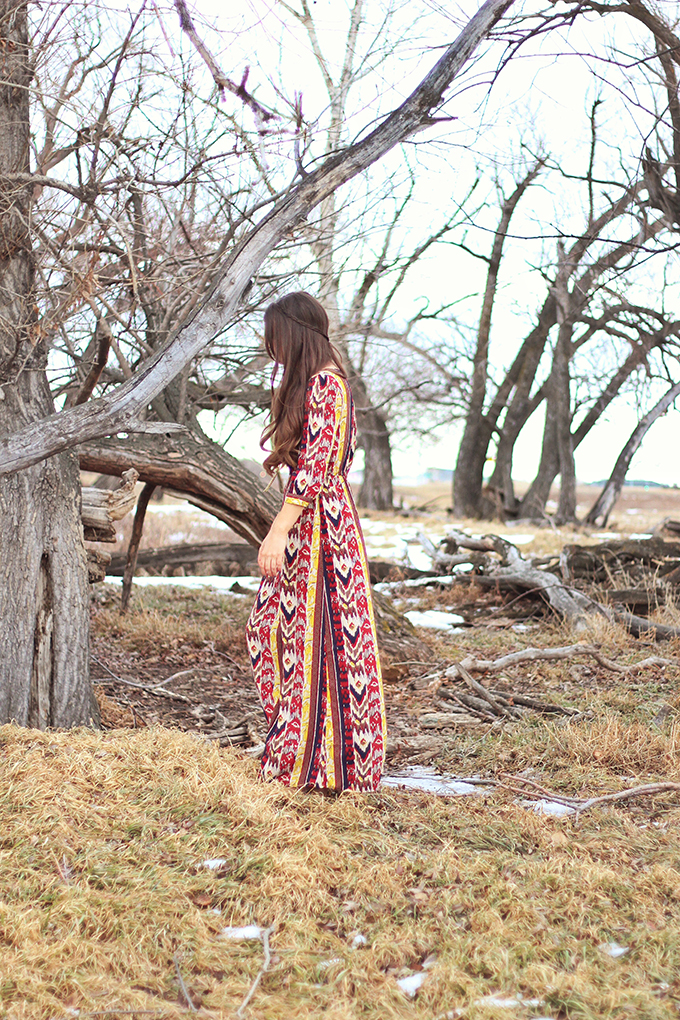 ---
Do you guys wear maxi dresses during the late winter? What are your favourite bohemian styles to wear at this time of year? I hope this post inspires you to dust off your maxi dresses and pair them up with your winter wardrobe staples in different ways — you might come up a new way to wear your favourite summer maxis!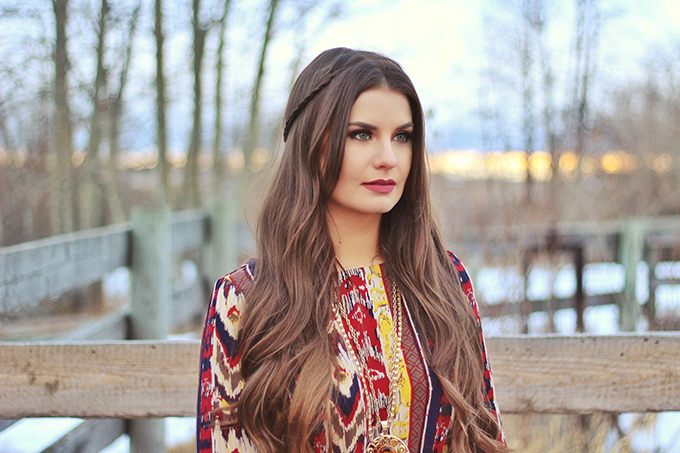 ---
Disclaimer: This post is not sponsored, and contains my genuine thoughts and recommendations. JustineCelina uses affiliate and referral links, which allow me to receive a small commission when you make a purchase through one of my links. Your purchases help to support JustineCelina.com!