---
Imagine a place where you could go to totally unleash your creativity. That's what this blog has been for me for almost exactly 1 year. JustineCelina is my ultimate creative outlet and my happy place. I started my blog 1 year ago with an iPhone and an idea — and never could have imagined that it would grow and evolve into what it is today. Thank you from the bottom of my heart to every single one of you reading this post. Your support in the largest creative endeavor of my life truly means the world to me!
I wasn't going to make it a big deal, but I decided to throw JustineCelina a birthday party to celebrate this milestone! Today's post is a very special 1st Blogiversary Party and collaborative shoot that I've invited some of Calgary's very best makers, artists and creative professionals to be a part of — including Milton Photography, Rebecca Dawn Design, and Crave Cookies & Cupcakes. I'm also sharing ten things I learned during my first year of blogging. This is a very long post — so grab a cupcake and a glass of bubbly (or whatever you're toasting with), get comfy and let's celebrate! Cheers to going your own way and making your own magic!
---
MY 1ST BLOGIVERSARY + 10 THINGS I LEARNED IN MY FIRST YEAR OF BLOGGING
---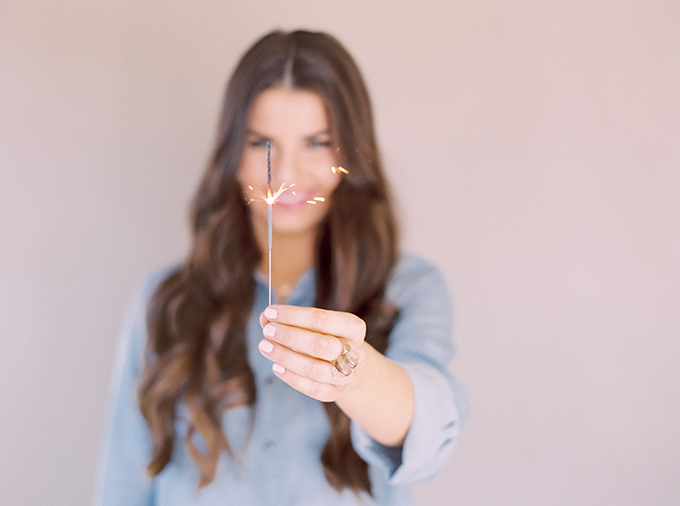 Welcome to what I like to think of as my pretty little corner of the internet. JustineCelina is a place where I can showcase a more personal side of my work alongside my personal brand. If you're familiar with my blog, you know that my content is carefully crafted and highly visual. What you may not know is that I started my first business straight out of college in 2007! I've been an entrepreneur, creative director, designer and stylist for my entire career. I decided to start blogging on March 2nd, 2015 as way to share my interests, passions and inspirations with like-minded people. My content is backed by 9 years of professional experience.
One of my favourite bloggers recently posed the question, "How would you spend your time if you didn't have to worry about earning money?". Well, the truth is, I'd spend my days creating with reckless abandon — constantly producing the type of work that you see here at JustineCelina. Over the past year I've connected with so many like-minded people through this blog, and when we meet in person, almost always the first question I'm asked is "So, when did you start blogging full time?". Usually, people are surprised to learn that I'm not a full time blogger. However, what began purely put of passion 1 year ago as a way to share my interests and inspirations has become a very welcome change to business as usual.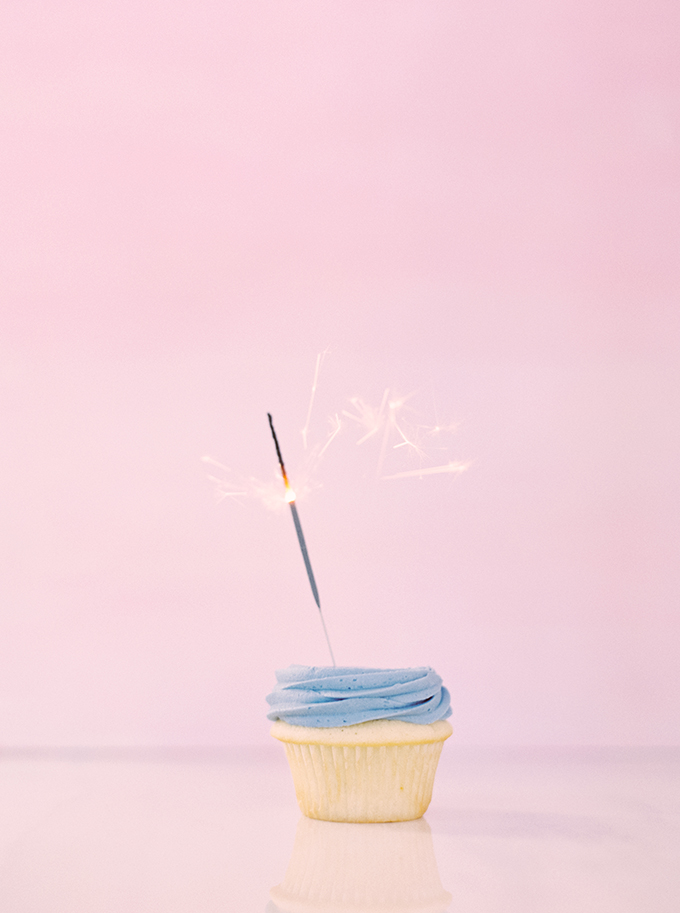 Basically, I grew tired of creating things for other people and feeling like there no magic left over for me. So I started making it here — mostly for myself, and now for all of you, too.
So, how did I get here? Well… here's how it all started. At business meetings, clients would ask about my outfit. Friends would ask me to style them for a special event. Women I'd pass by on the street would ask what lipstick I was wearing (and sometimes insist that I write it down for them!). Someone would ask me about my hair. My girlfriends would come over for dinner and ask for recipes. In the car, someone would ask what song was on. Family would ask for help picking out paint colours when they were renovating. A colleague would be traveling to a place I'd visited and ask for my list of must-sees and dos. Someone would ask how I made something. All of these small, but now serendipitous events led to me starting JustineCelina — which I like to call A Creative Lifestyle Blog.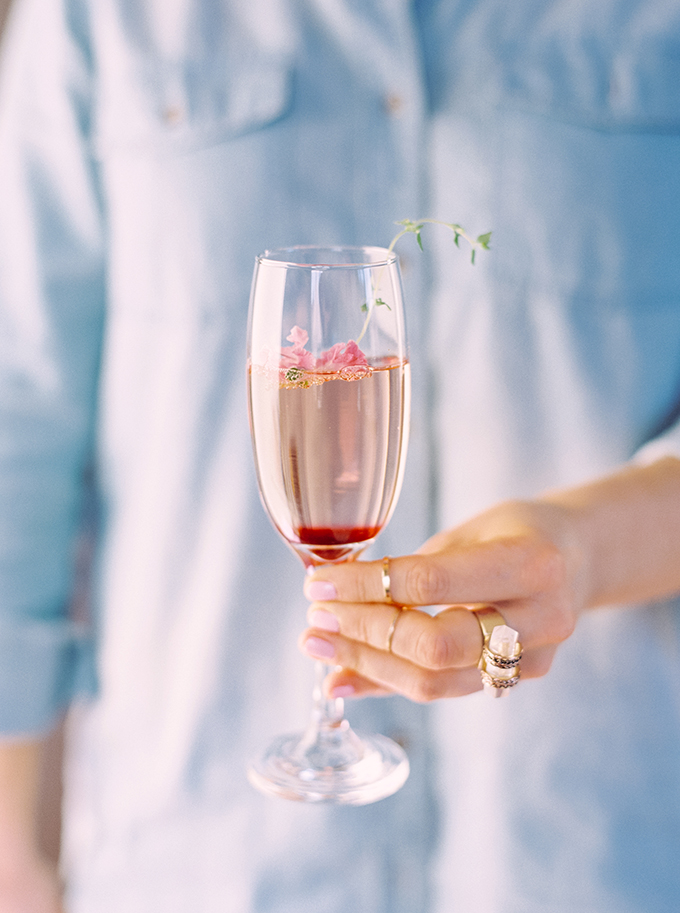 Even though I've always been an entrepreneur, there was still work, and then there was life. One fateful day as I was headed to Chicago in the fall of 2014, I came across a quote in the airport that really resonated with me — so much that I truly believe it changed my life:
"To build a career, the right question is not "What job am I passionate about doing?" but instead "What way of working and living will nurture my passions?" ~ Cal Newport
JustineCelina is my answer to working and living in a way that nurtures my passions. I'm at my happiest (and most inspired) when I'm creating in all areas of my life and sharing it.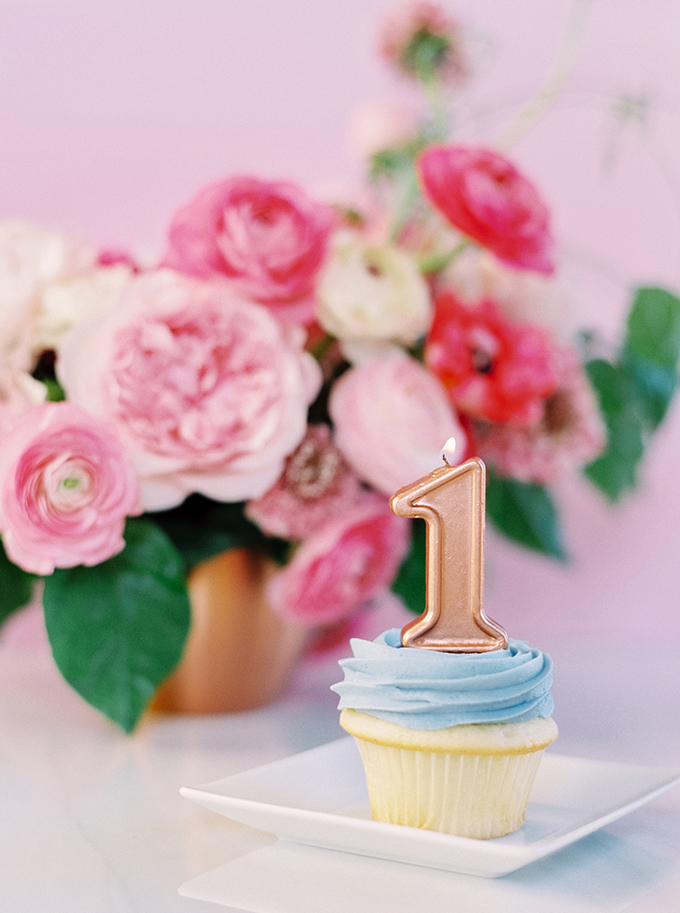 By no means do I consider myself an expert blogger, but I thought I'd share a few things that I've learned along the way. So — after 1 year, 106 blog posts, and tens of thousands of images, here it is!
---
10 THINGS I LEARNED IN MY FIRST YEAR OF BLOGGING
---

1. Blogging is a ton of work
And I love every single minute of it. But, between my blog posts twice a week and other work I'm stretched very thin. To give you an idea, each blog post takes between 10 – 40+ hours to create — which includes planning, conceptualizing, sourcing elements, styling, writing, photographing, editing and promoting. This post has taken 80+ hours to create, including each contributors involvement (which I'm so grateful for!). Currently I'm working 60 – 80 hour weeks to create my content and run my business. But if you know me at all, you know I really pour my heart and soul into everything I do. At least for now, JustineCelina is what makes my heart sing. I spring out of bed at the crack of dawn each morning feeling super inspired to create, share and keep going. And as crazy as it may sound, my life feels pretty balanced right now, because I make the things that I want in my life a priority. Sometimes I receive comments that I make it look so effortless, and I suppose that's a good thing — but I can assure you that it definitely is not. I'm over here grinding it out behind the scenes, just like each one of you. It's a ton of work, and I truly believe that the prize is in the process. You only get out of something what your heart puts into it.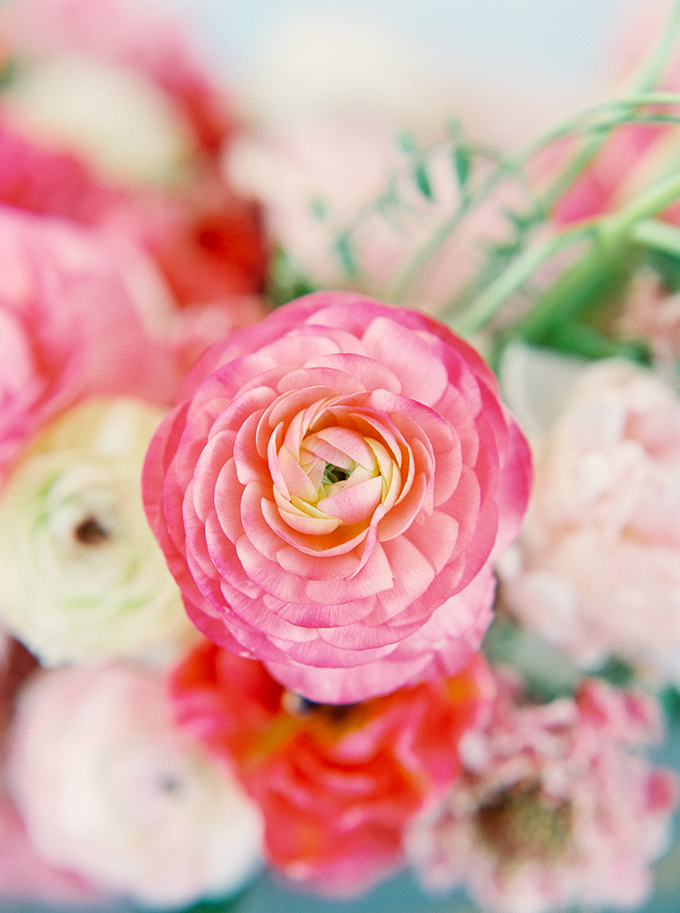 2. Say yes and push yourself
I can't even count how many blogging related situations I've been in or opportunities I've had this year that have intimidated me. But, consistently I pushed myself out of my comfort zone if I knew it was a good fit. I can tell you for sure that each time, it gets less scary. Now, JustineCelina has basically become a series of events where I push myself out of my comfort zone and hope for the best. Before I published my first fashion post, I was terrified. Blogging itself is nerve wracking, let alone putting pictures of yourself on the internet for anyone to see. But now I absolutely love creating fashion content and that first post has become a very fond memory. You have to push yourself to your limits to progress past them! And sometimes other people will push you, too (and it can be a great thing!). I totally understand that it's terrifying to try something new, to reach out to another blogger you admire, or someone you want to work with. But I can definitely say that you don't get opportunities that you don't ask for, and 99% of the time people are delighted to help or so glad that you contacted them. I know you can't see behind the scenes of any blog — but if you could see behind the scenes of mine, you'd see countless notebooks and journals, many sources of inspiration, a whole lot of careful planning and preparation, and a ton of hustle.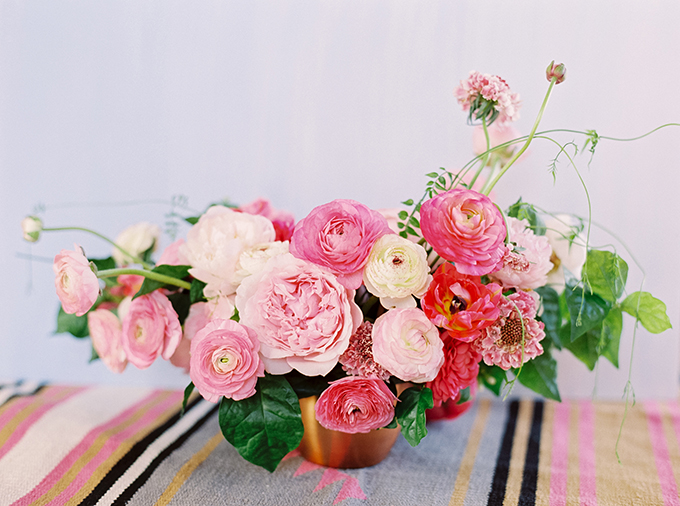 3. And know when to say no, too
"If it's not a hell yes, then it's a no" aren't my words, but they're the only rule I abide by at JustineCelina. Since I'm my own client here, I've prided myself on only saying hell yes for 1 whole year. Meaning, you won't find anything on JustineCelina that I'm not truly passionate about or super excited to share with you. And I can assure you that it will always be this way. If I'm not excited by an idea, I don't think it's a good fit for my blog or audience, or I get bad vibes from a person, business or brand, you can bet that there is absolutely nothing (and no amount of money) that will persuade me. The quality of my content, my integrity, and the trust of you, my readers are my top priorities. I have a business plan and a marketing strategy — and I stick to them. That said, there are also great opportunities that come my way that I have to say no to, because I know my limits and won't commit to something that I can't give 100% of myself to. At times it can be frustrating, but I've become good at trusting my gut and knowing that it won't lead me astray.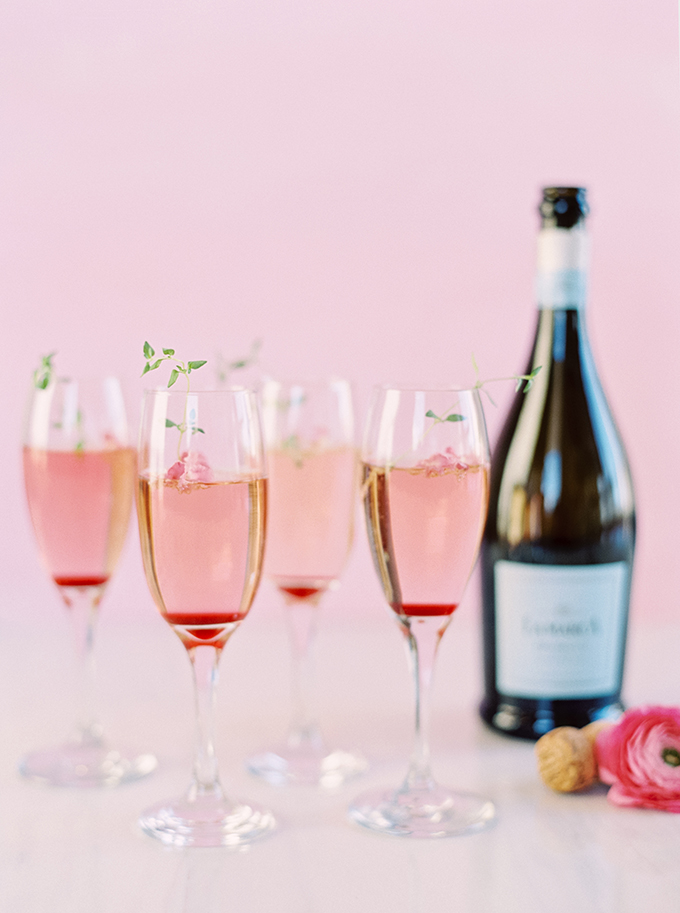 4. Community is king
JustineCelina is a place where I've basically been throwing things at the wall to see what sticks. What I've come away with is more passion than I've ever experienced, lots of new friends, and a community of awesome people who follow along. I can confidently say that if you consistently produce authentic content that's unique to you and what you're passionate about, your 'people' will find you. JustineCelina has never been about numbers (and never will be), but I'm proud to say that I've built an authentic, engaged community through quality content. Nothing makes me feel happier or more fulfilled than when you guys comment, email, message or text me saying that your skin looks amazing, that you feel like a million bucks wearing your new $7 lipstick, or that your faux fur vest got so much love at the office. Or you send me a photo of your dinner and say that I've inspired you in the kitchen, or tried one of my recipes and loved it — so you shared it with you friends over too many bottles of wine. Or you email me to say that you really love my monthly soundtracks and we chat about what you're listening to, because you've never met anyone else who listens to Beach Slang. That's what JustineCelina is all about — it's a place where we can inspire each other. I feel so grateful if you've allowed me to inspire you in any small way, or given me an opportunity to push myself!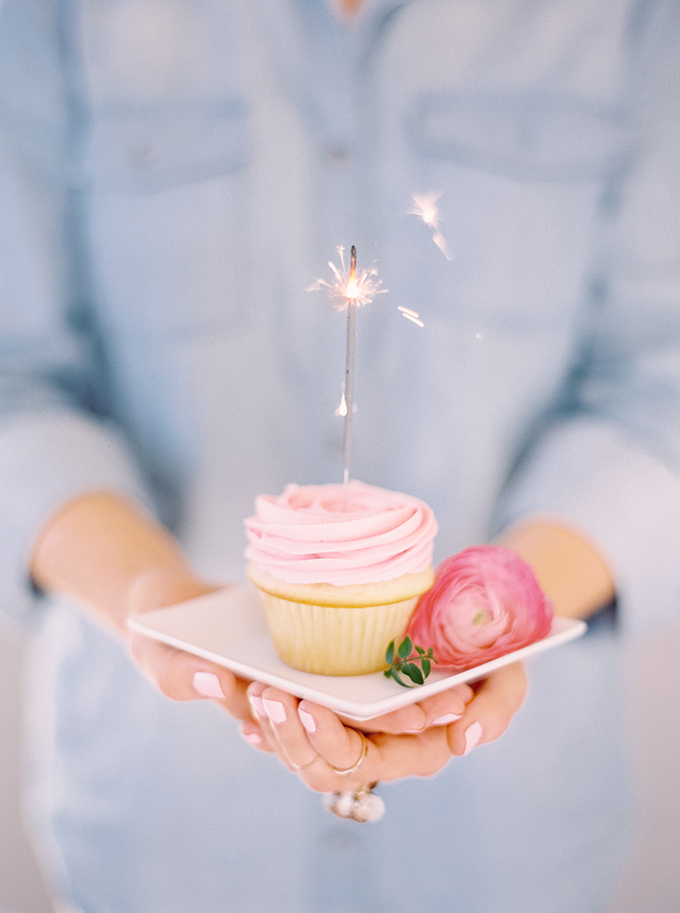 5. Together, we can make magic
If you're an entrepreneur, solopreneur or freelance anything, I know you can relate to the ease of working alone. Truthfully, it's so simple for me to plow through my work (be it blogging or otherwise) solo. I've become really good at it over the years. But, the real magic happens when you work with others. In my experience, life really does begin at the end of your comfort zone.
JustineCelina has become an amazing way for me to meet and network with other like minded creative professionals. I feel so lucky to be able to work with some of Calgary's best and brightest, like Justine Milton, who contacted me a few months ago via Instagram because she liked my style and said she'd love to work together. I was so, so humbled. If you're not familiar with Justine's work, you should check her out — she's incredibly talented. This shoot was a huge collaborative effort between myself and each of the talented makers and artists I asked to contribute, and it's the product of my first time working with Justine while she captured my vision on film.
Expect JustineCelina to become a place where I bring on friends, colleagues and other creative professionals to share their expertise, passions and knowledge. I've been working really hard behind the scenes to bring a lot more collaborative posts to you this year — there's nothing I love more than creating things with awesome people. I want us to all grow together and I make it a priority to surround myself with those who inspire me most!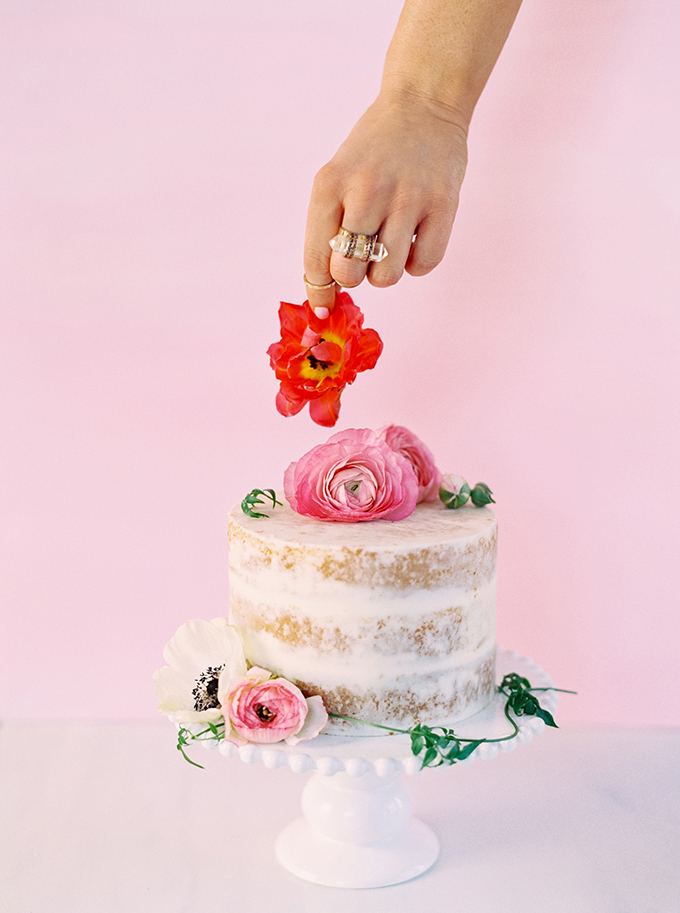 6. It takes a village to run a blog
Yep, this is my blog. I take the photos (unless otherwise noted, like in this post), come up with the concepts, and write the content. What you don't see is the behind-the-scenes and inner working that allow things to flow smoothly. For example, my Mom (who is a very busy lady) generously donates her time to take my fashion photos. Mostly, that consists of me putting a look together, figuring out how I'd like it photographed to highlight the accompanying content I'll be writing, and us driving around (usually in the the prairies, close to my childhood home) chasing the light and finding a spot for these 'photoshoots' to take place. She stands in frame while I adjust the camera settings accordingly, and then we swap and she snaps away while I art direct her. It's not nearly as glamorous as it may seem, but I can tell you that it's so much fun — and I think we've become pretty good at it! If you want to read more about that (or my amazing Mom) hop over to this post.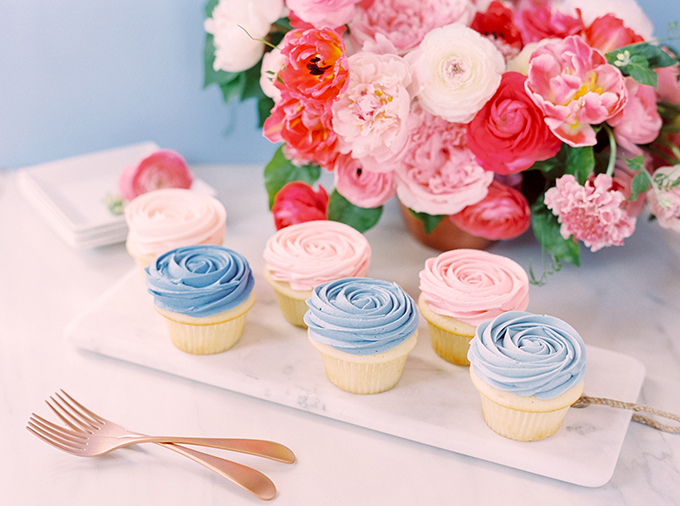 My boyfriend (who's worked very hard to become a CA) is also incredibly supportive and handles my taxes and the financial side of my small business, because that's just not how my brain works. I remember the first time I looked at one of his spreadsheets, I asked why he was using those fonts and colours — and he looked at me like I had 2 heads! He is the left-brained, cool-headed business man of this operation when important decisions need to be made. He's also the most patient person I've ever met — I'm so thankful for his kind heart and his calm, collected demeanor. I also rely on my friends and family for inspiration and to be my constant sounding board. I'm sure sometimes they're probably annoyed with my shenanigans!
I designed the blog and graphics myself, but through my network I'm also connected to a lot of other creative professionals who I ask for help when I need it, like my web developer / technical guru, Graeme (who is currently backpacking through Europe and working from his laptop). And, I've just recently started working with photographers, florists, vendors and other creatives to help enrich my content. You see, most of the time I'm behind the lens or computer — conceptualizing, directing or putting the pieces together. But sometimes, I need to be in front of them, too! That's when I rely on a creative team to help me execute my ideas.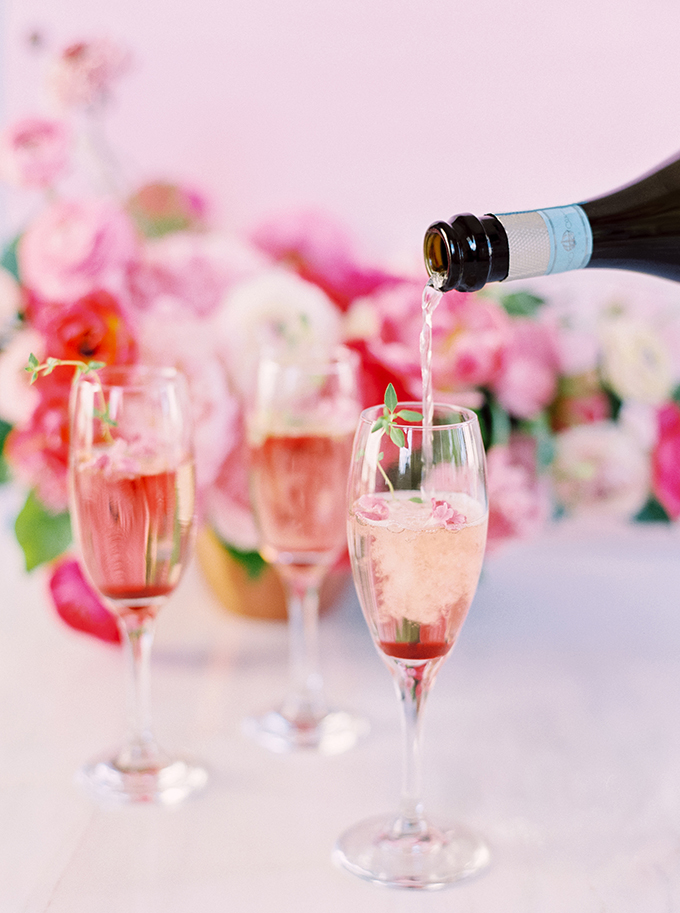 7. Nothing is (or ever will be) perfect
I'm a true perfectionist and it's beyond frustrating. Since I'm my own client at JustineCelina most of the time, I could literally work on a post for forever — I'm not charging hourly, and I'm free to create at will. Ask my friends and family how much work I put into this blog and they'll all tell you that it demands the majority of my time. But, that's why I put myself on a twice weekly publishing schedule and I've stuck to it — with 2 exceptions; one of my best friends got married, and Christmas happened. I've come to accept that it's okay to publish things that are nowhere near my definition of perfect. I realize now that blogging isn't meant to be perfect — for me it's a constant journey of exploration and growth. It's a very important part of my process to churn out blog posts twice a week, no matter what. I make a million excuses in my mind sometimes about why a post isn't ready to publish. But you know what? I push past it and I hit publish anyway. This has helped my creative process immensely and I know it's benefited me far beyond blogging.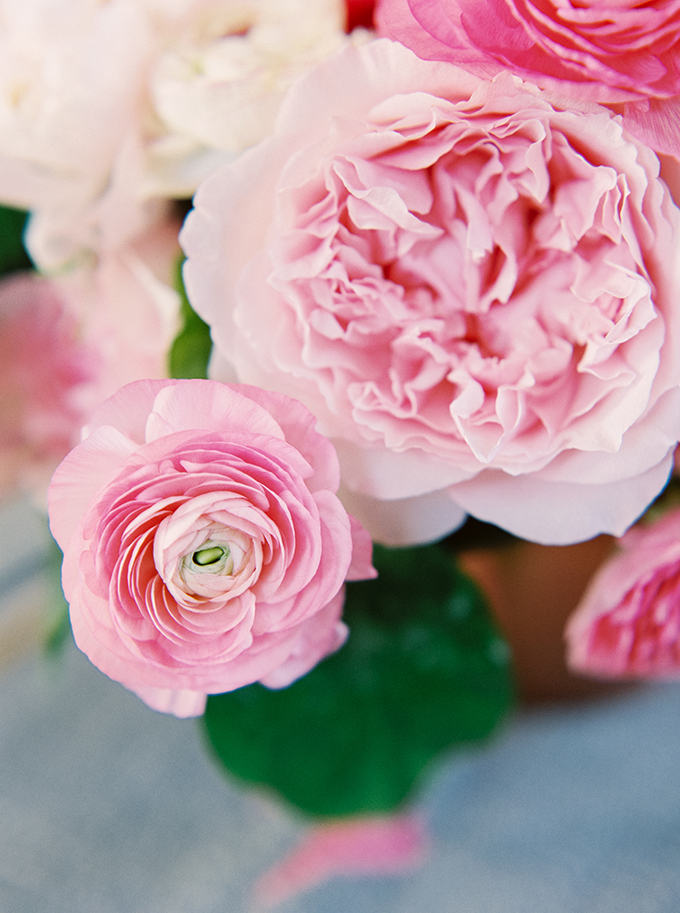 I no longer let the delusion of perfection cripple my creative process. I find that I've able to conceptualize and create at a much quicker pace, trust myself more, and I feel more inspired than ever. Now, I'm able to ride the waves of inspiration as they come. As a busy person that needs to stay organized, I plan my editorial calendar 1 – 3 months in advance. That said, I've found that some of the best magic happens when I just go with the flow and have the confidence to execute totally unplanned, last minutes ideas. Sometimes, those are the best ones. If you want to get good at something, you have to practice and put in the work. Ira Glass had it right when it comes to 'the gap' in storytelling and creative work — I've definitely worked my way through more creative hours in my lifetime than almost anyone I know. When I look back at some of my first blog posts (or on the very first creative projects of my career, completed 9 years ago) I cringe, but hey, we all start somewhere. Now, I feel like the work I'm creating is finally as good (or almost as good) as my ambitions, and I'm beginning to close my own gap. JustineCelina has afforded me that.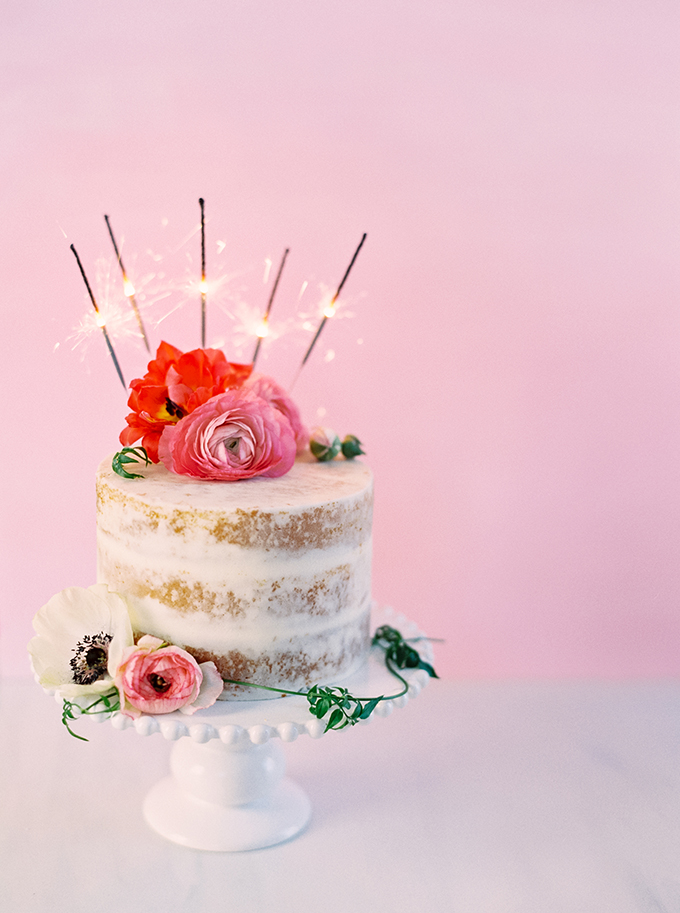 Basically, this blog is a place where I can let my imagination run free. That said, it's also an elaborate advertisement to help me market my creative services and attract the type of clients I'd like to work with. Since I'm a visual storyteller by profession, I make a living from helping people make things look good. Here at JustineCelina that's what I'm able to showcase in whatever way I see fit — it's a place for me to experiment and to even show off a little. What you don't see is all the blood, sweat, and yes, sometimes even the tears.
There are countless frustrations; late nights, early mornings, puffy bloodshot eyes (thank GOD for concealer!), mini meltdowns and everything else that comes with running your own business and blog. Sometimes things don't go as planned, I'm stressed, or I'm stretched too thin — don't think for even one second that it's all smooth sailing. Behind the scenes of any given image, you don't see the mess, chaos or preparation that goes into it. You just see a pretty picture (which most of the time, I still think can be improved!).
For example, the cake shot with sparklers above this paragraph was taken on a small section of my living room / studio floor. Imagine Justine and I perched around our set, laughing and trying to figure out how to light 5 sparklers at once with 2 different lighters, stick them into the cake, then get out of frame in time for her take the shot before they burnt out — on the first time we worked together. 20+ sparklers, a little bit of smoke, 1 burnt fingernail (sorry, Justine!) and about 15 minutes later, we got it. Did I mention she's awesome?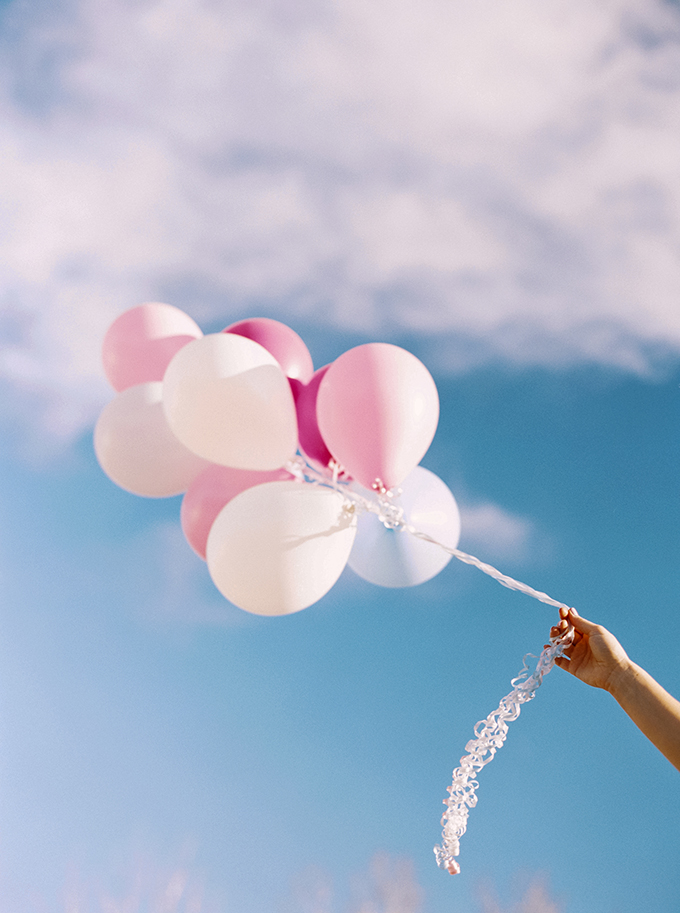 8. Do you
If you don't like the path you're headed down (be it in life, a relationship, your career, your blog, or otherwise), change it. You're the only person responsible for your happiness, so make decisions that will consistently put you closer to where you want to be. I found such immense freedom in my life when I truly let go of caring what anyone else thinks about what I'm doing. I do not let anyone's opinions of me personally, professionally or otherwise hold me back. Imagine the reactions I received when told people that I was scaling back on my primary business to go in a totally new, unknown (and unpaid) direction — because I knew following my passions was what I needed to do.
Try things. Fail. Try other things. Fail. Try something else and like it, and you might just be onto something. There's no better way to discover what you're passionate about than to try a whole bunch of things and see what you like. For me, what I like and want to be doing changes all the time. I'm a person that's constantly growing, changing and reinventing myself — and I make a point of checking in with myself often to ensure I'm heading closer to where I want to be.
Now that I've found blogging and have started to use it as my ultimate creative outlet, I seriously consider sleeping a waste of time — I feel like blogging is truly what I'm meant to be doing. You know when you're on the right path, so do what makes you happy! Have the courage to follow your instincts, and trust yourself.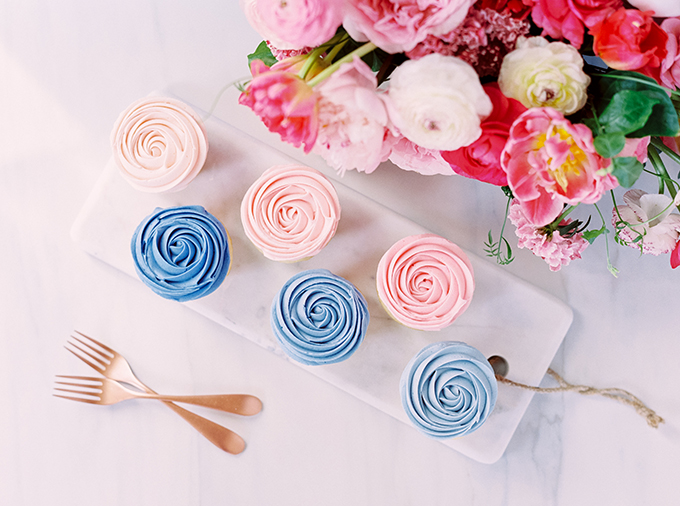 9. Wait, how do you make money?
I'm not an expert (or veteran) blogger. But I have run a business for 9 years — so I have a good understanding of business and how things work. I did a ton of research about the underpinnings of blogs, affiliate networks and other sources of passive revenue available to bloggers before starting JustineCelina. I can tell you right now that if you're just starting and your primary motivation is making money, you're in the wrong game.
Yes, I do make money from my blog. It's nice to have some passive revenue coming in from ads, affiliate programs and the like. But if you're a business owner using your blog as a marketing tool, it should be just that. Keep trying, working at it and progressing — eventually the right people will start to take notice. Since blogging isn't my only source of revenue, I'm very selective about the opportunities, brands and business I say yes to working with.
Of course, it's great to be able to work with brands I love if the opportunity presents itself (or I chase it down!), but my blog will never become one huge billboard for brands to advertise to you through my keyboard and camera. The opportunities I seek out and accept are ones that allow me to produce exactly the type of content I love, with the quiet backing of a brand or business. I'm 100% transparent when it comes to disclosures about products, partnerships and sponsorships.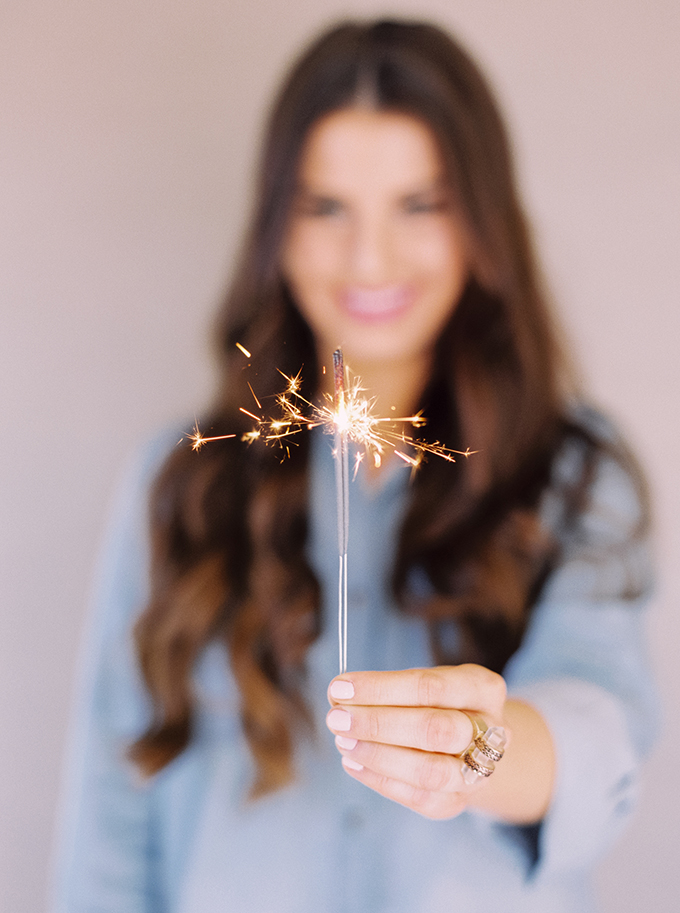 10. Start now and never look back
I didn't crawl when all the other toddlers started crawling. Instead, a little while later, I got up and walked (and I'm sure fell promptly afterwards). I skipped crawling completely! When my Mom told me that story as an adult I couldn't help but laugh because I'm still very much that way.
I quietly soak up information like a sponge behind the scenes, and when I think I have a pretty good idea of how I'd like to execute something, I attack it in full force with every ounce of enthusiasm and passion that I have. I wish I'd started JustineCelina sooner, but now I'm just glad that I started at all! There is no shortcut, there is no magic formula, and there are no easy answers. What has worked for me may not work for you. What has worked for others certainly hasn't worked for me. But that's the whole purpose of the journey and a very integral part of each unique creative process!
If you're thinking of starting any type of new endeavor, I encourage you to start right now — before you think you're ready. You probably won't be that good at it when you first start, but practice makes perfect. I truly pour my heart and soul into everything I do, so I knew once I committed to starting JustineCelina I had to throw myself in with wild abandon and just go for it. After a year of going at it with everything I have and never looking back, I'm happy with where I'm at — and excited by the possibilities the future holds.
---
LET'S CELEBRATE!
---
Who's ready for this 1st Blogiversary Party?! I know I am. The palette was inspired by the Pantone Colours of the Year rose quartz and serenity — if you've been with me for awhile you've probably read a bit about them. While I don't jump on every trend bandwagon, I love being inspired by Pantone's colour choices and allowing them to challenge me in my creative process. Believe it or not, I wasn't a huge pink fan before this year! But I love the duality and versatility of this colour palette — I'm really enjoying working with it in different ways. I also thought it was very fitting for this post because it represents you so well. Did you know my audience here at JustineCelina is almost exactly half male, and half female?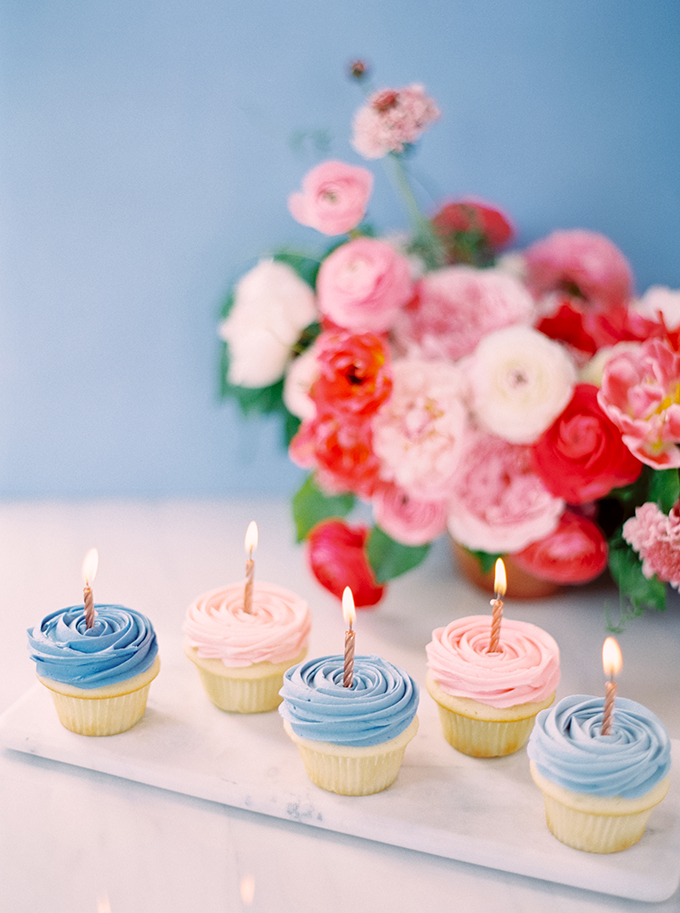 Like any photoshoot or creative project I'm working on, I always start with a moodboard (if you're interested, you can read more about my creative process and what a moodboard is here). Once I had my vision set, I reached out to Justine and the other vendors I had in mind to see if they'd like to contribute — and I was so pleased they all said yes. I'm obsessed with all things copper right now, especially combined with these soft, springy shades, sleek marble surfaces and natural greens — so I've used copper accents to round out the palette. I created the backdrops (they're just foamcore painted with acrylic to mimic the Pantone swatches) and spray painted the candles and the cutlery copper. If I can't find exactly what I'm looking for for a photoshoot, I DIY it! The copper forks are from a set of IKEA cutlery — I always get questions about them when I feature the gold set I spray painted in photos! Lastly, a custom helium balloon bouquet in shades of pastel pink, blue and white completed my 1st Blogiversary Party vision.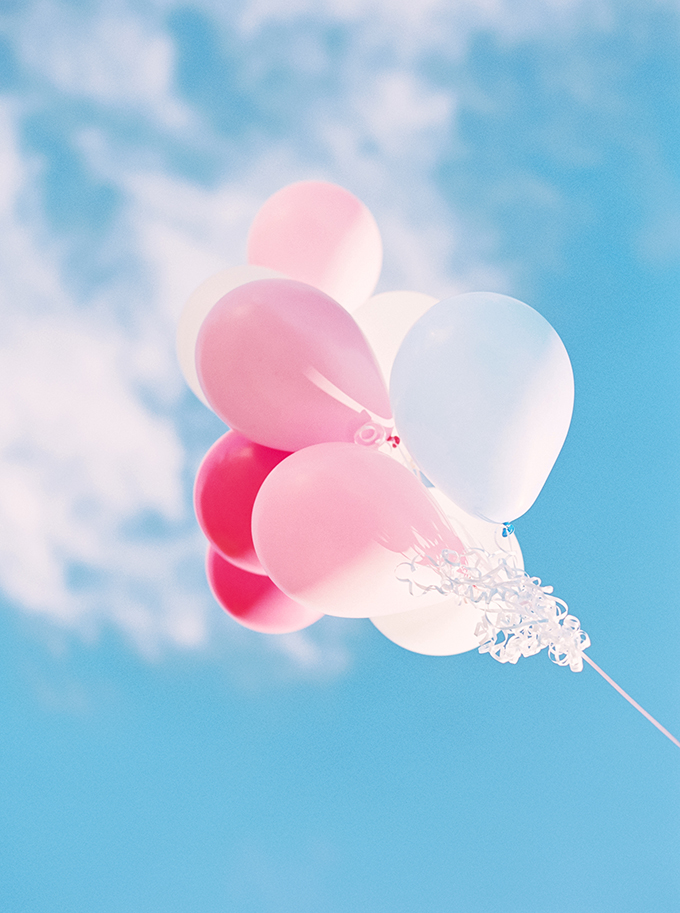 Photography
Let's start with photography. Justine shoots on film, exclusively. I can't begin to tell you how different and totally outside of my comfort zone that is. I take 100 photos of everything and analyze them to death, and Justine is more of a one and done type of girl (which I totally admire!). She's also one of the most chill, up for anything people I've met — which pairs pretty well with my type A personality. I'm so excited to continue to learn from her, and I have a feeling that you'll be seeing a lot more of her gorgeous images around here!
Interested in the specifics? Justine shoots with the Contax 645 and the 80mm f/2.0 Zeiss lens. She uses Fuji 400H film and processes with PhotoVision Prints.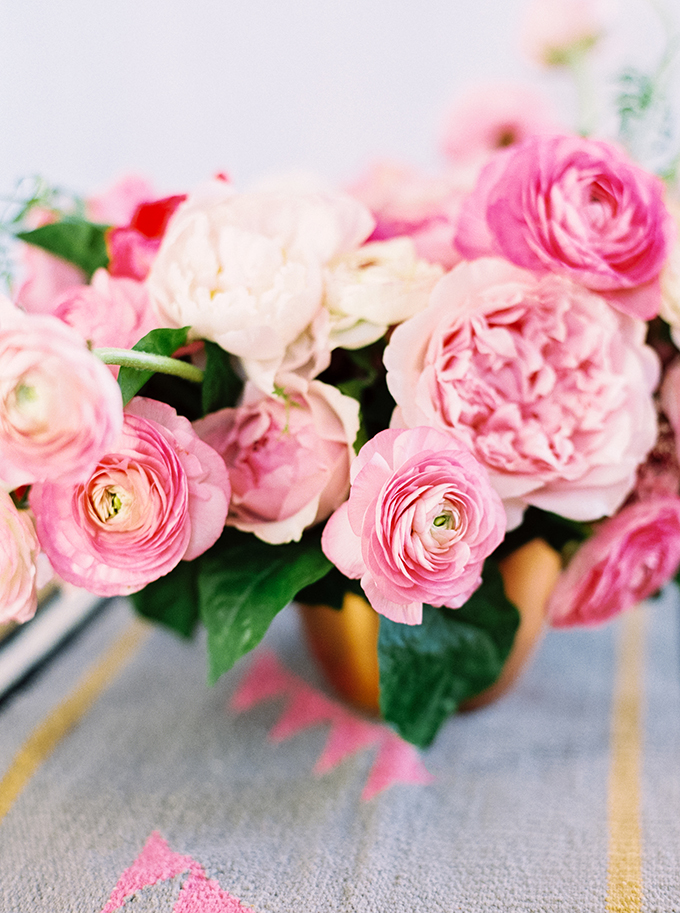 Flowers
Now, for the beautiful blooms. There is no one I'd rather have worked on this milestone photoshoot with than Rebecca. Rebecca and I have known each other for what seems like an eternity! We were introduced through my colleague, and Rebecca's friend, about 6 years ago. Rebecca was just starting her business (she left her corporate job to pursue her dream of starting her own flower business) and she was referred to me to help her with branding, advertising, and marketing. Our mutual friend and colleague thought we would hit it off, and boy did we ever! I can truly credit my love of flowers to Rebecca. We've both changed directions quite a few times over the years, but we've always kept in touch. I now consider her a friend and I'm sure you'll agree when I say that her work is truly inspired. We're currently planning a few collaborations for the blog this year, so stay tuned for lots more flowery goodness!
Curious as to what blooms she used? This fun and free flowing arrangement combined Sarah Bernhardt peonies, miranda garden roses, ranunculus, double tulips and scabiosa in shades of pink with jasmine foliage. I also used these various flowers along with anemones and the foliage to style the cake and the other shots in this post.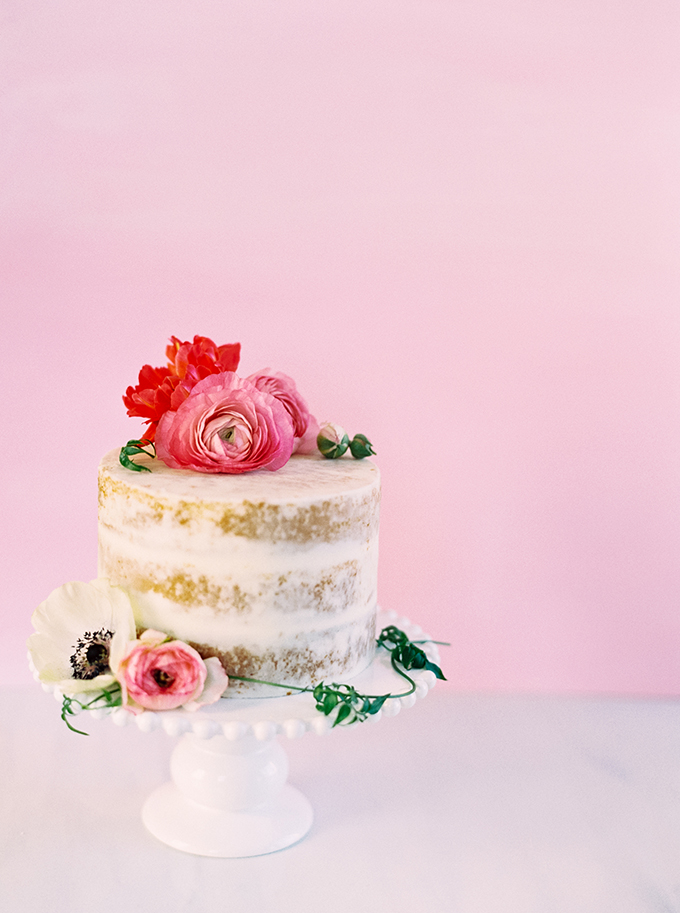 Sweets
You can't have a birthday party without a some delicious treats, am I right? I've worked alongside Crave Cookie & Cupcakes a few times over the years, so I was thrilled when they agreed to provide the sweets for this celebration.
I love the raw, natural look of nearly nude style cakes because you can dress them up however you like — and I wanted to accessorize mine with lots of pink blooms and sparklers! This is a classic 6″ vanilla cake iced with white vanilla buttercream. The adorable vanilla rosette cupcakes are swirled with Crave's signature vanilla buttercream icing — they matched the icing colours to the Pantone Colours of the Year for me and added white to create an ombre effect in rose quartz and serenity shades. A huge thank you to the team at Crave including Cynthia Blindenbach, Head Cake Designer and Ashley Snell, Crave Kensington Lead Baker for creating these lovely sweets.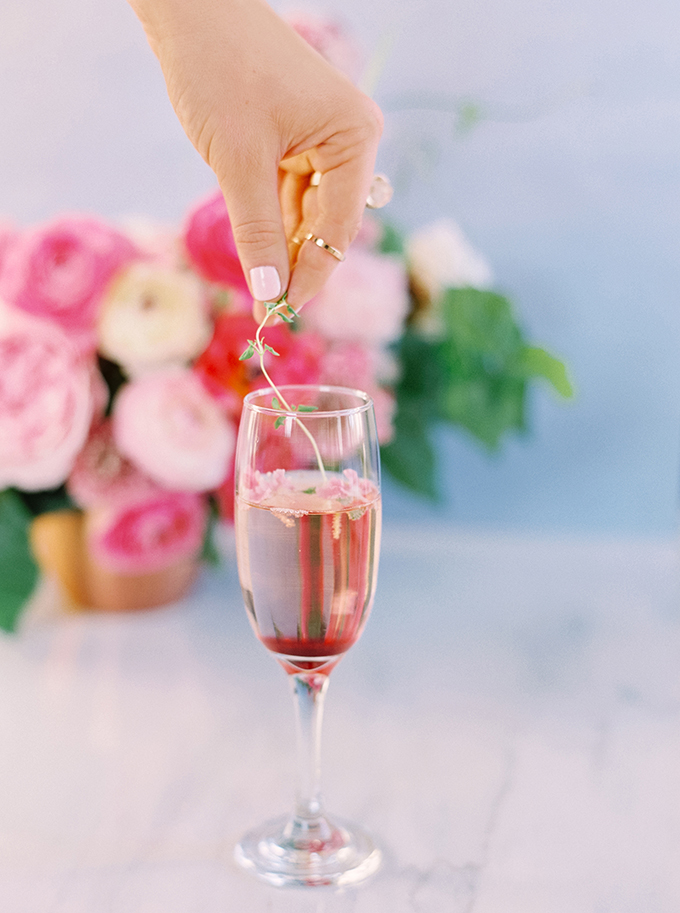 Cheers
These signature cocktails are a simple concoction of my favourite La Marca processo, a drop of organic cherry topping in the bottom for colour, a sprig of fresh thyme and a few scabiosa petals (which are edible!). Aren't they pretty? I definitely kicked back with a couple after we wrapped this shoot!
---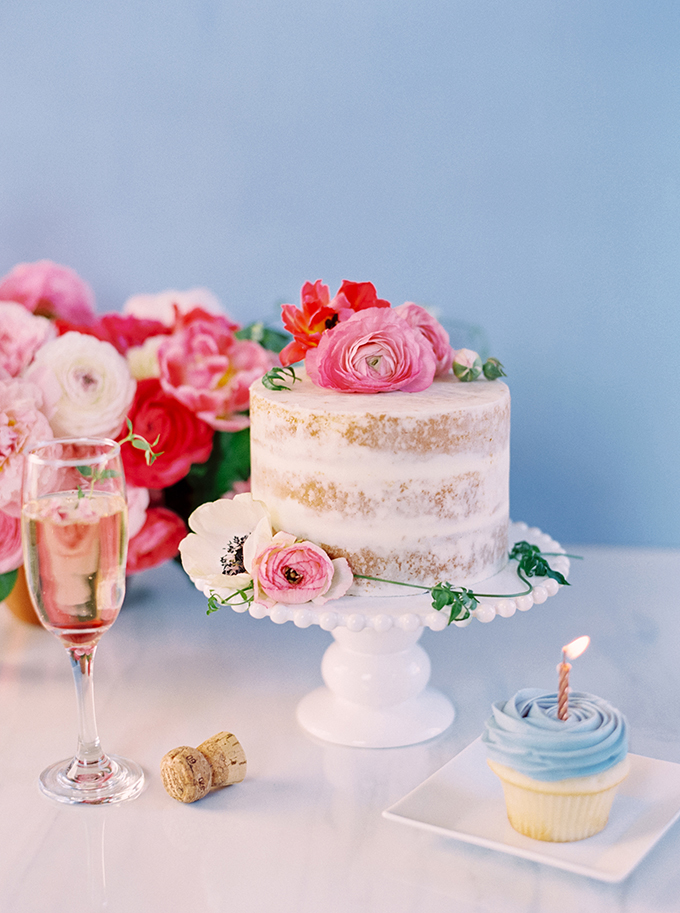 Thank you to these talented creative professionals and businesses for their contributions

Creative Direction & Styling | Justine Celina Maguire
Photography | Milton Photography
Flowers | Rebecca Dawn Design
Cake & Cupcakes | Crave Cookies & Cupcakes
---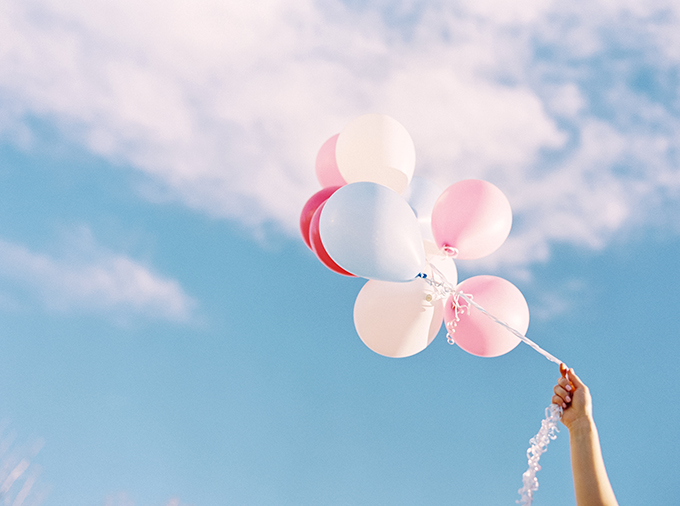 Well, there it is. If you're still here, thank you for taking the time to read this post. I hope it brought you a healthy dose of pretty along with a bit of insight into my creative journey as a blogger! And again, thank you so much for being here. It truly means the world to me!
---
Disclaimer: This post is not sponsored, and contains my genuine thoughts, ideas and recommendations.