---
Have you ever wanted to learn about Flower Arranging? Well friends, you've come to the right place! Today Rebecca Dawn Design is sharing her expert flower arranging tips and showing us how to create this colourful summer arrangement in a step-by-step, illustrated tutorial!
I'm so fortune to be able to work with Rebecca to bring flower content to JustineCelina and I want to take a moment to acknowledge just how lucky we really are to be able to learn from her. In addition to being my friend, she's also one of the industry's most talented flower designers and a fantastic teacher. I've learned so much being able to work alongside her and I couldn't be happier or more excited to be able to share it with all of you! Today Rebecca is spilling her flower design tips and insider tricks as Milton Photography captures it all on film — so grab a notepad and a glass of wine and let's learn how to arrange flowers together!
---
DIY | HOW TO MAKE A SUMMER FLOWER ARRANGEMENT
---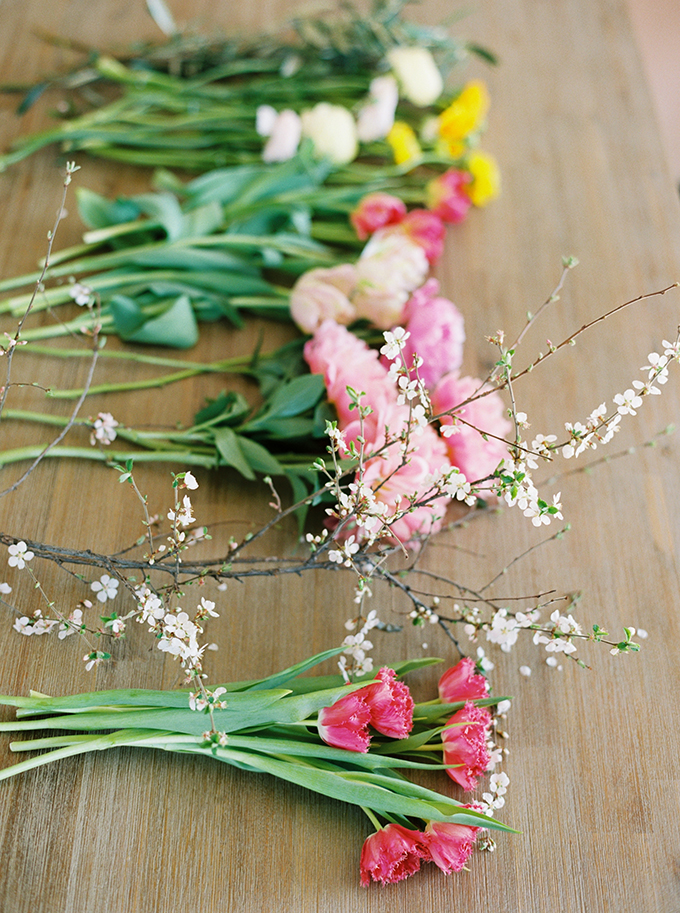 When I'm dreaming up ideas for flower content or collaborative work here at JustineCelina, I always start with an overarching concept and a mood board. For this project, I requested something cheerful, colourful and organic for my In the Kitchen With feature where this arrangement originally appeared. I love being able to work with Rebecca on blog content because she's very skilled in taking my ideas and bringing them to life with her signature, artfully undone aesthetic. I always leave the specifics totally in Rebecca's hands and am constantly amazed by how she's able to take concepts and enrich them with her creativity — our work together always comes out even more beautiful than I envision it! Here are a few words from Rebecca about her inspiration for today's arrangement:
"To me, the definition of summer is fresh, bountiful blooms. The markets are filled with endless options of flowers in every colour and texture imaginable. Peonies, tulips and ranunculus are always on my summer necessities list. This DIY arrangement was inspired by the colourful blooms themselves. Their uplifting scents, vibrant hues and frilly textures are just as enchanting as a warm breeze on a sunny day."
---
INGREDIENTS
---
Here's a list of the blooms and branches in this colourful summer flower arrangement!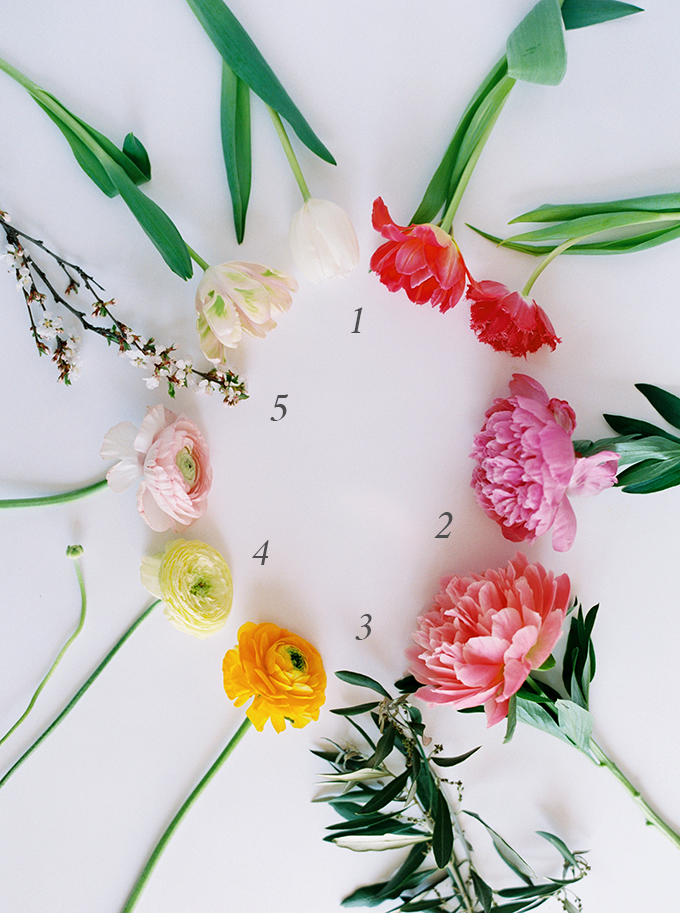 1. Tulip Varieties
2. Peonies
3. Olive Branch
4. Ranunculus
5. Nanking Cherry Branch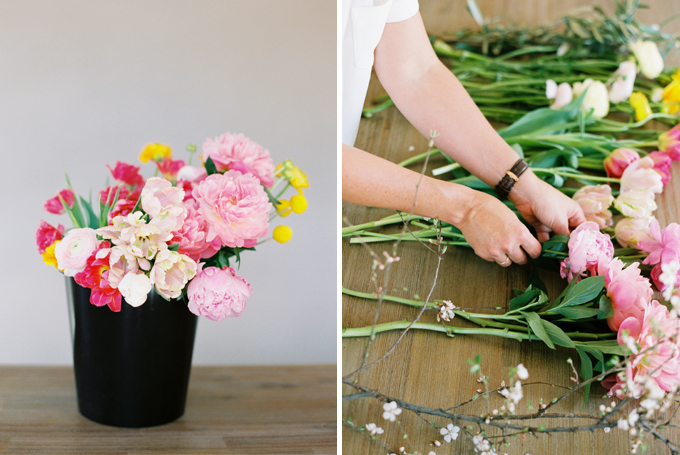 Just like your favourite recipe, an arrangement also has a list of ingredients. Typically there are primary flowers and secondary flowers — and sometimes tertiary flowers and foliage depending on the complexity of the arrangement. Our DIY Summer Arrangement features primary flowers, secondary flowers and foliage. Here's a breakdown of all the ingredients and tools used we used!
---
Primary Flowers
---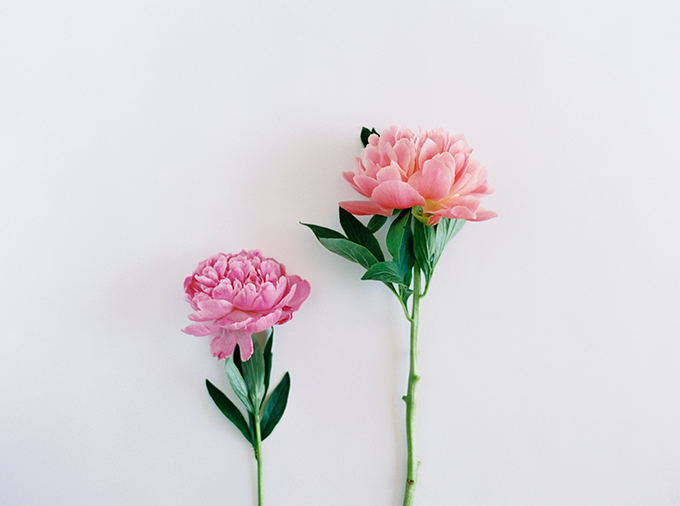 In this colourful summer arrangement, these gorgeous pink Peonies are the star of the show. Typically, the largest flower is considered the primary flower in an arrangement and acts as the focal point. We're obsessed with pink peonies this month at JustineCelina, so if you're looking for some free downloadable tech wallpapers with a pink peony theme — you're in luck! Hop over to our July edition of Digital Blooms to choose from 3 designs. You can also learn All About Peonies in this educational post!
---
Secondary Flowers
---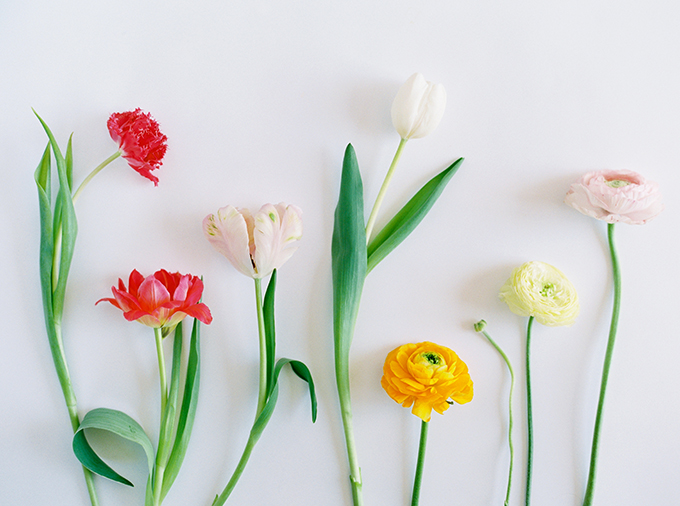 Secondary flowers compliment the primary flowers in an arrangement. They're typically smaller and add more interest and diversity in both colour and texture. Our secondary flowers include more of my favourites — Tulips, Rananculus and Craspedia (the little yellow balls, which are also called billy balls!). The Tulips in our arrangement aren't just any tulips — there are a mixture of Fringe Tulips, Double Tulips and Parrot Tulips. If you'd like to learn more about all the different tulip varieties in this arrangement, hop over to our All About Tulips post.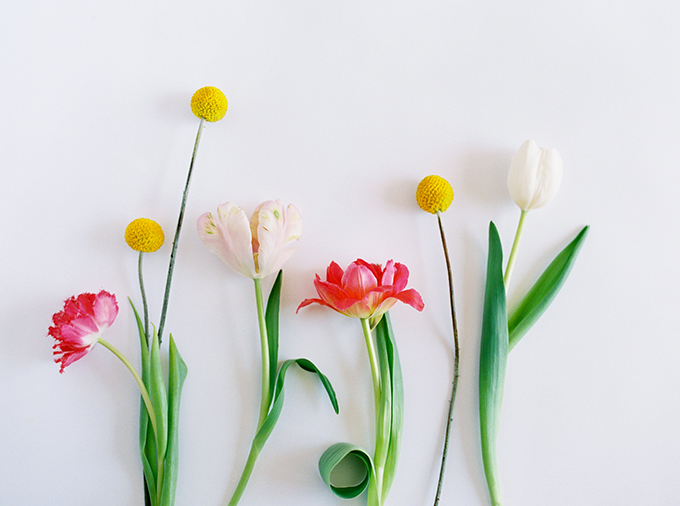 ---
Foliage
---

Foliage works to round out an arrangement and add the finishing touches — think of it like the arrangement's accessories! The blossoming branches are actually from a Nanking Cherry Tree in Rebecca's Mom's yard. We both like to bring the outside in (learn more about urban foraging or how we used these blossoming branches for a Summer Solstice Dinner Party) and I love the organic look they give the arrangement! Lastly, Rebecca also used some olive branches to tie everything together with a natural, leafy note.
---
Tools
---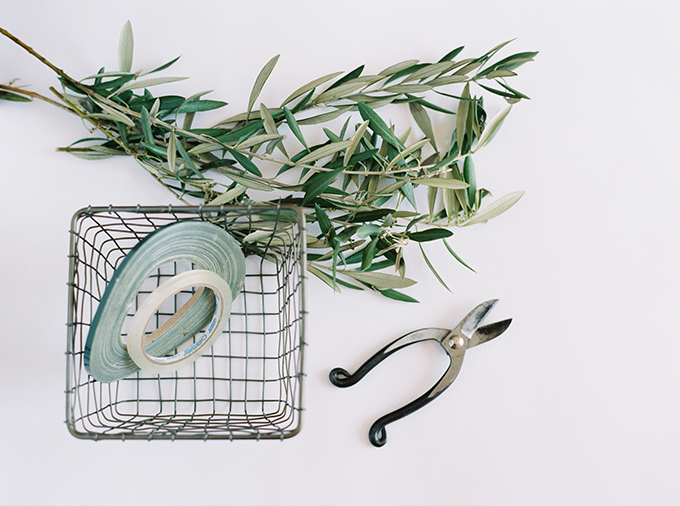 You'll always find Rebecca with her trusty clippers and floral tape — both of which are flower arranging essentials. Now that we have our ingredients ready, let's get to arranging!
---
INSTRUCTIONS
---
1. Prep Your Flowers
---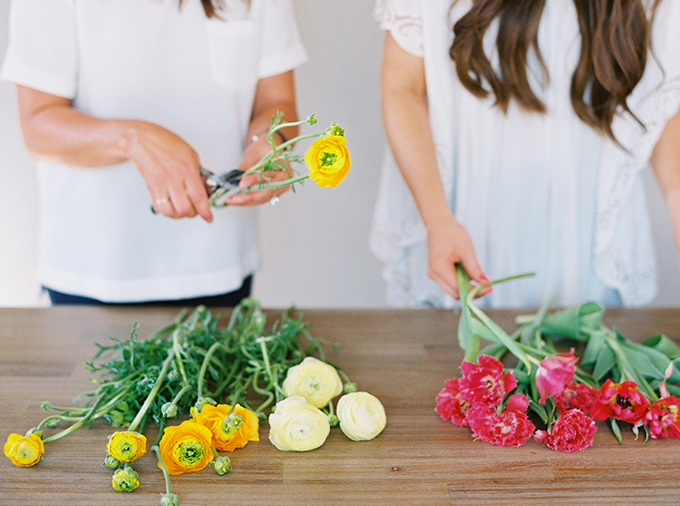 In terms of prolonging the life of your arrangement, conditioning your flowers before arranging them is the most important step! Prep your flowers by giving them a fresh cut at a 45 degree angle and removing any foliage that may fall below the water line — any leaves in the water will create bacteria that will shorten the life of your flowers. Learn more about flower care and conditioning.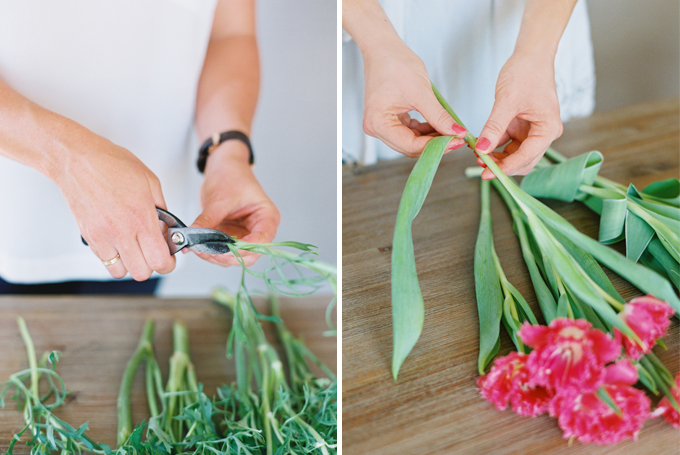 ---
2. Prep Your Vase
---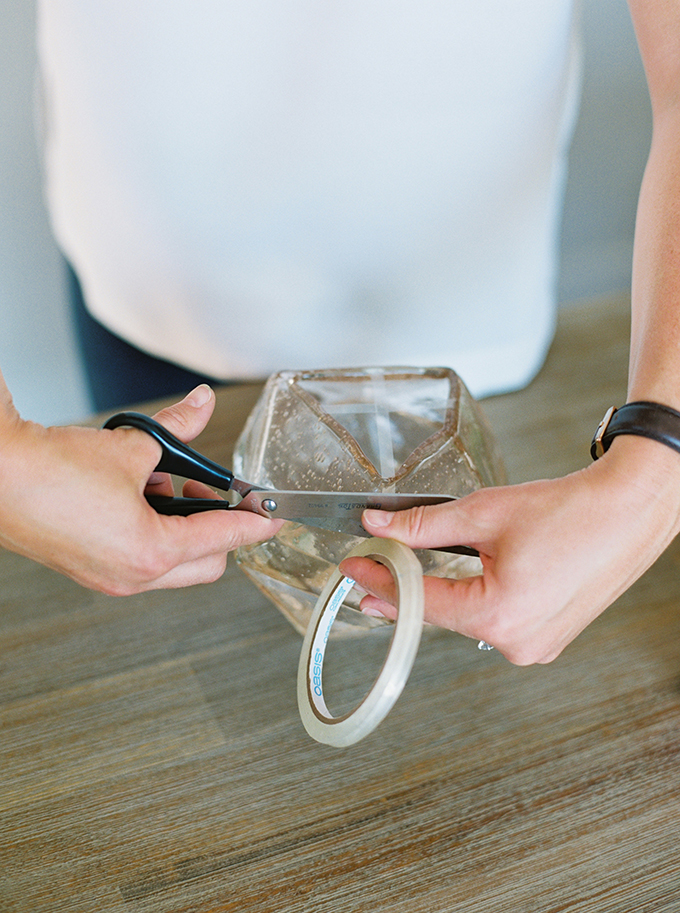 Then, choose your vessel (the vase or whatever item you're going to use to contain your arrangement). Fill your clean vase with warm water and a floral preservative, preparing the mixture according to instructions on the floral preservative label. You can also tape off the vase with floral tape to create additional structure for your arrangement.
---
3. Measure Twice, Cut Once
---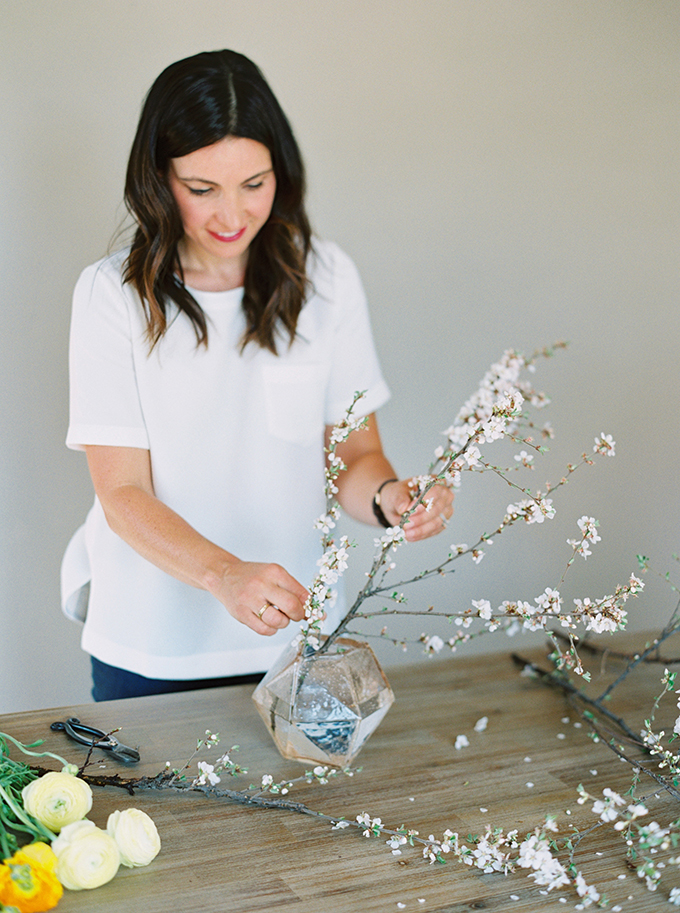 You've probably heard this one before, but it applies to flowers, too! Hold flowers and foliage up to your vessel to measure them — gauging height, size and testing out how you would like individual stems in your base layer to lie. Use their natural forms as guides for placement in the vase.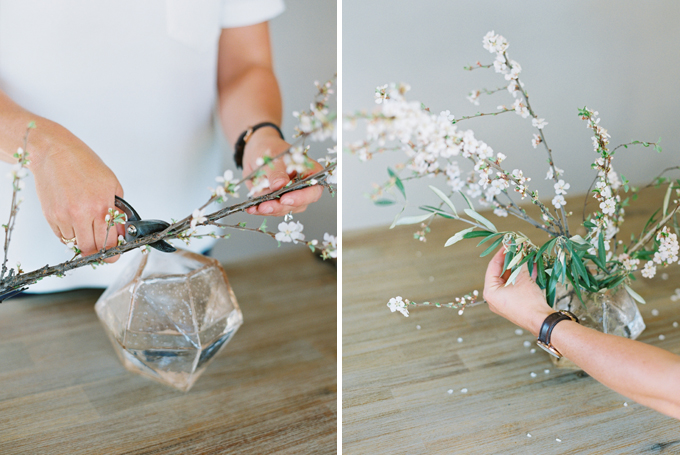 ---
4. Build Your Foundation with Foliage
---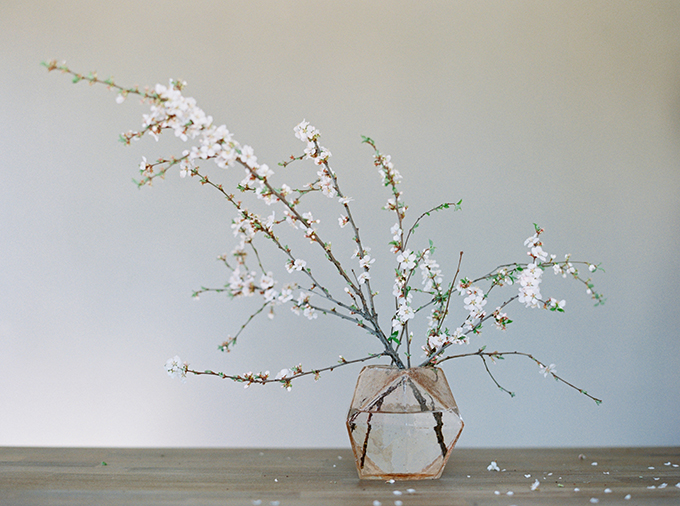 Begin mapping the shape of you arrangement by placing your foliage around the edges of the vase and crossing the stems — almost like you're constructing a nest. When you've finished, the base should be sturdy and able to withstand the impact of many additional flower stems. To keep your arrangement feeling natural, it's helpful to establish a singular high point and a few low points to balance out the shape.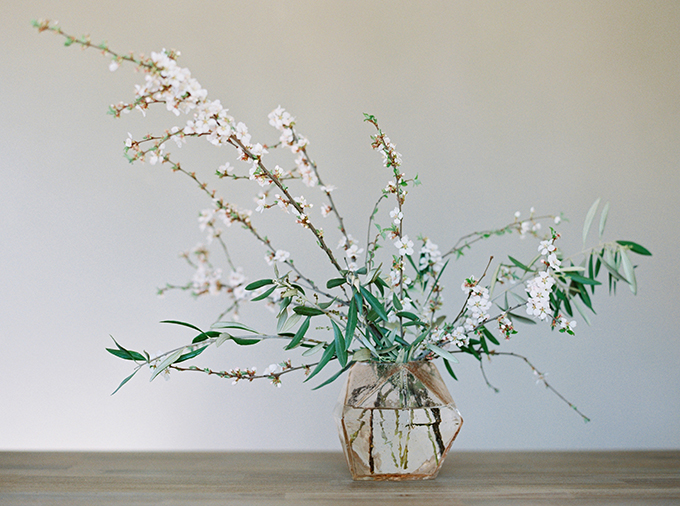 ---
5. Add Primary Flowers
---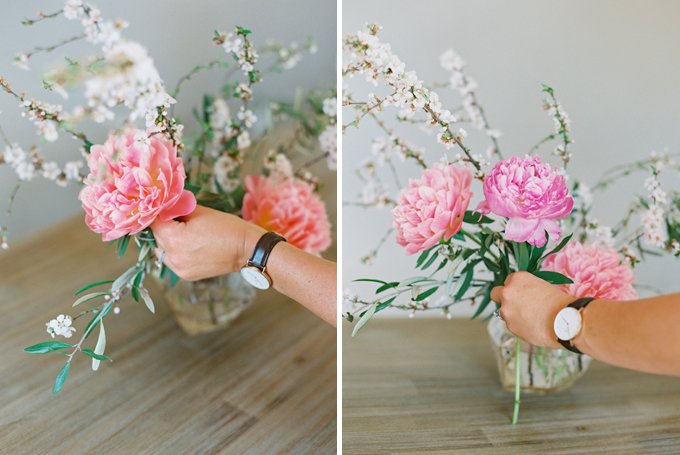 Begin adding the largest and sturdiest flowers that you have chosen as your primary flowers — in this arrangement they're pink Peonies. You can keep it low and compact or really angle the stems outward for a large, arching arrangement. Choose 3-5 primary flowers and scatter or cluster them in the arrangement. Keep the arrangement interesting by selecting plants that bloom at different angles and different heights — perfect uniformity is not something you should feel you need to strive for.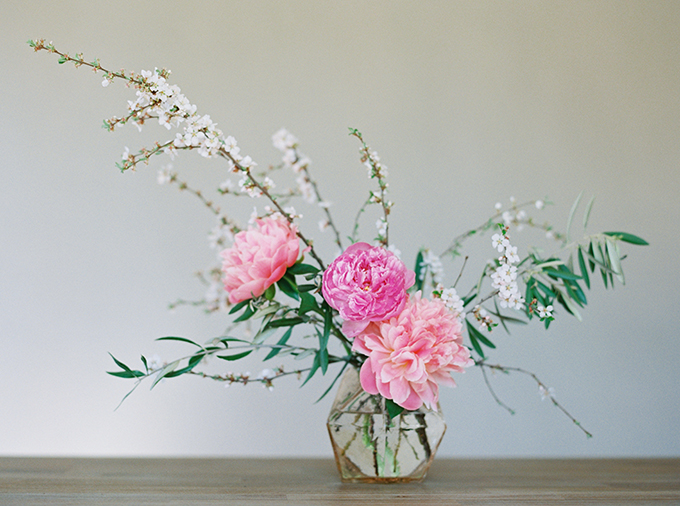 ---
6. Add Secondary Flowers
---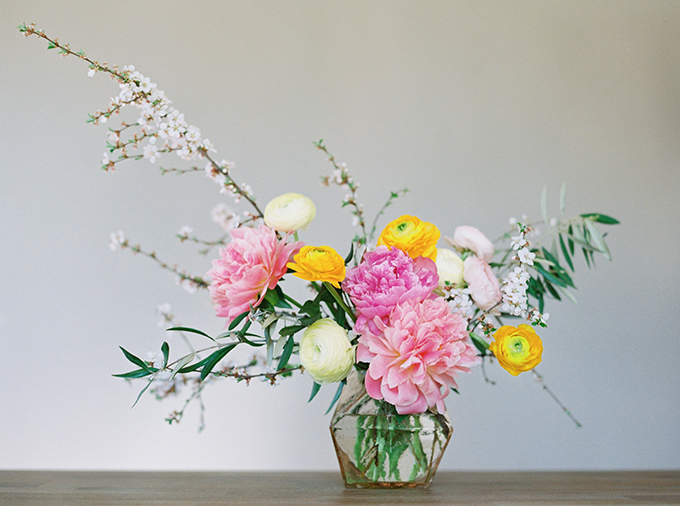 Next, add your secondary flowers to begin filling in any holes in your arrangement. Rebecca always adds the most delicate flowers last, so the heavier blooms don't squish or damage them. First, Rebecca added the Ranunculus in yellow, blush and cream.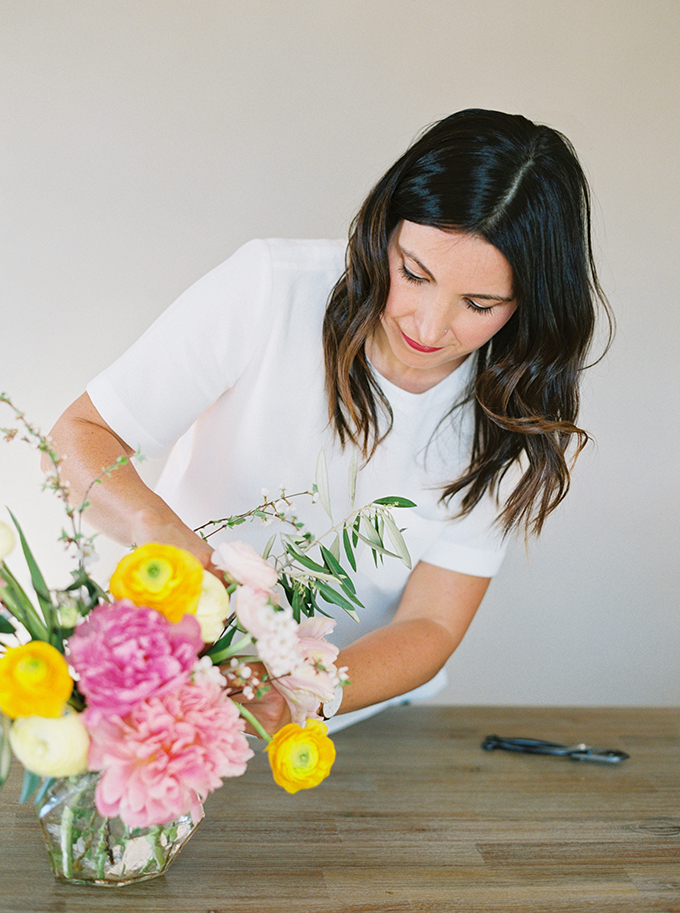 Then, she added the some hot pink fringe tulips and some lavender parrot tulips.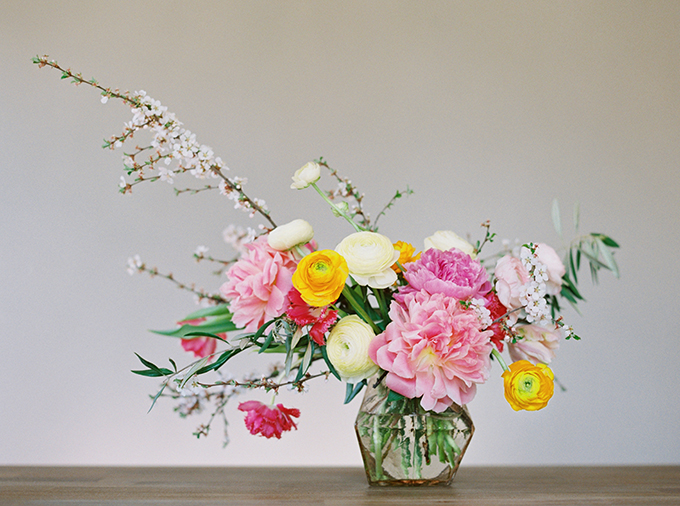 To finish things off, she added Craspedia (the yellow balls). They're so cheerful, aren't they?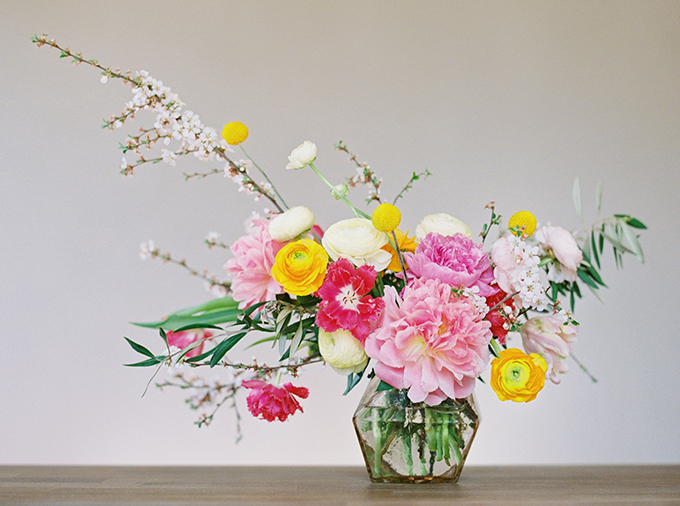 ---
7. Give it a Once Over
---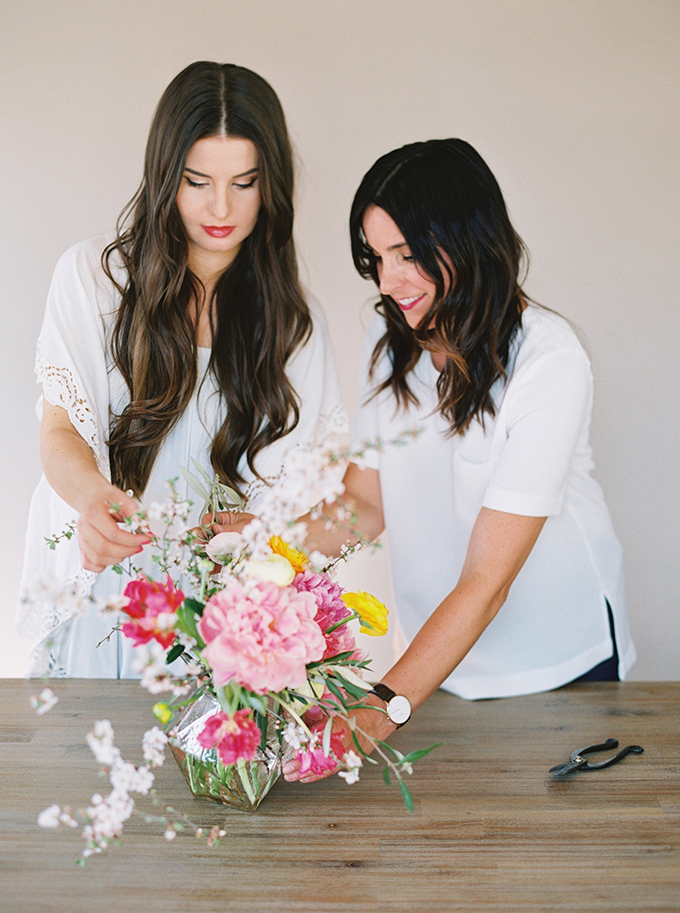 Once you believe you have a successful arrangement, do a final check for stems that may not be securely placed or need another trim.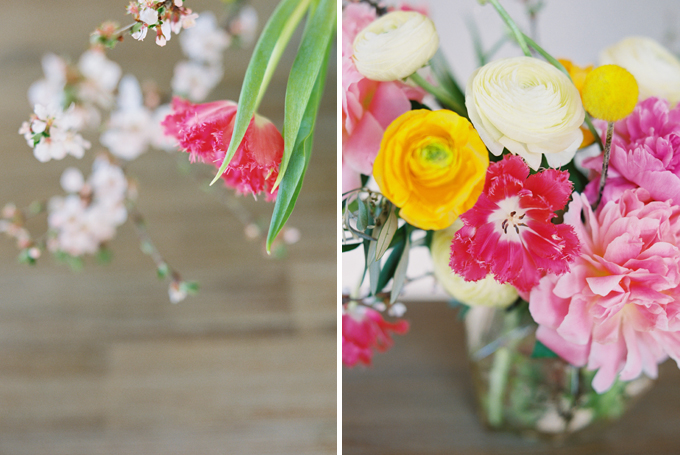 Congrats, you've made your very own summer flower arrangement — now place it in your home and enjoy it! If you want to learn how to maximize the life of your arrangement we have a post full of Rebecca's expert tips.
---
MORE FROM OUR FLOWER ARRANGING SERIES
---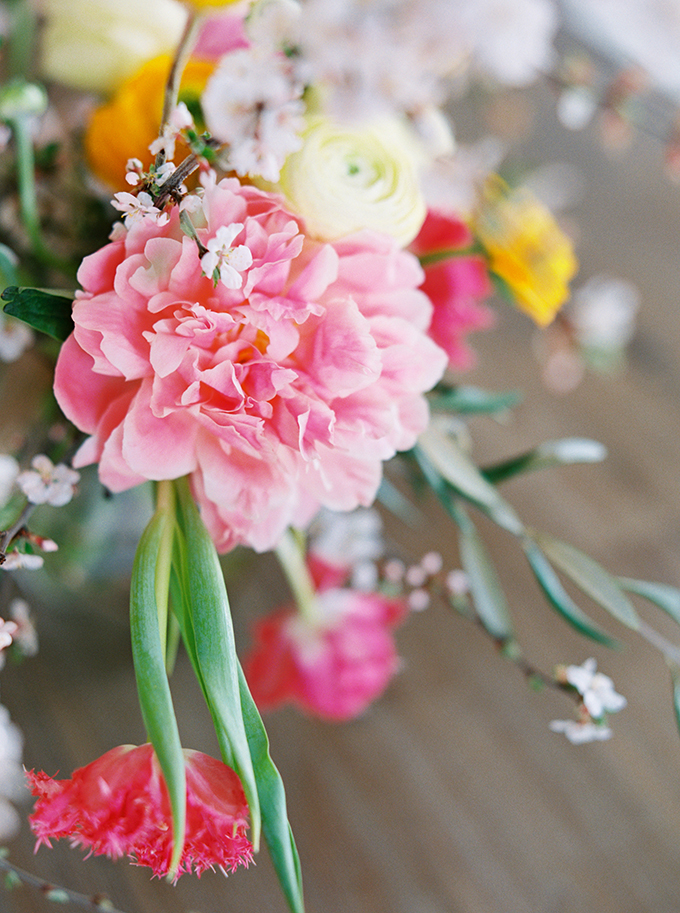 How to Make An Asymmetrical Holiday Wreath
DIY Floating Spring Centrepiece
An Eclectic Globally Inspired Arrangement
---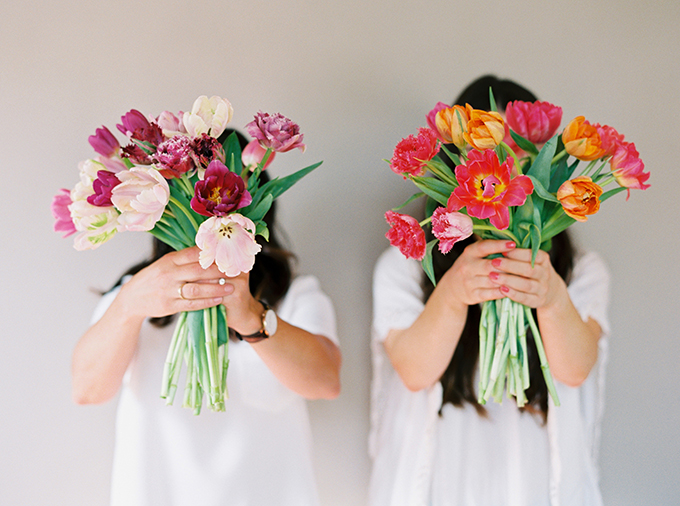 We hope you enjoyed today's post and it's given you the confidence to try arranging your own flowers at home! If you do make your own arrangement, be sure to tag us on Instagram, send us a photo or leave a comment below so we can see your beautiful creations! And, as always if you have any flower questions or requests for upcoming content just leave us a comment below.
---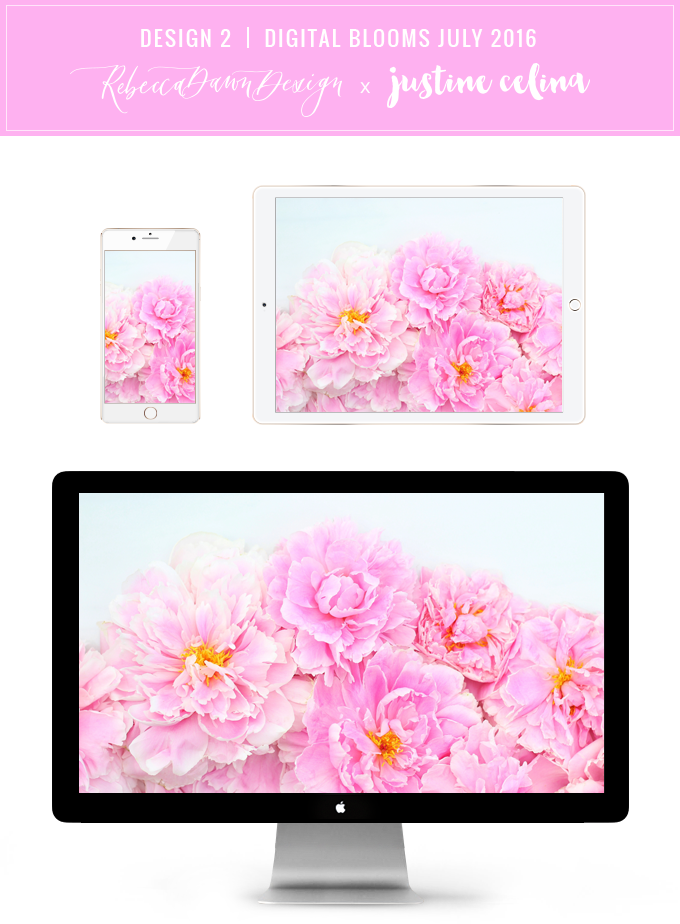 Craving even more flowers? Check out our free monthly downloadable wallpapers inspired by what's in season — DIGITAL BLOOMS! We also have a FLOWER EDUCATION series where you can learn more about these blooms and how to care for them.
---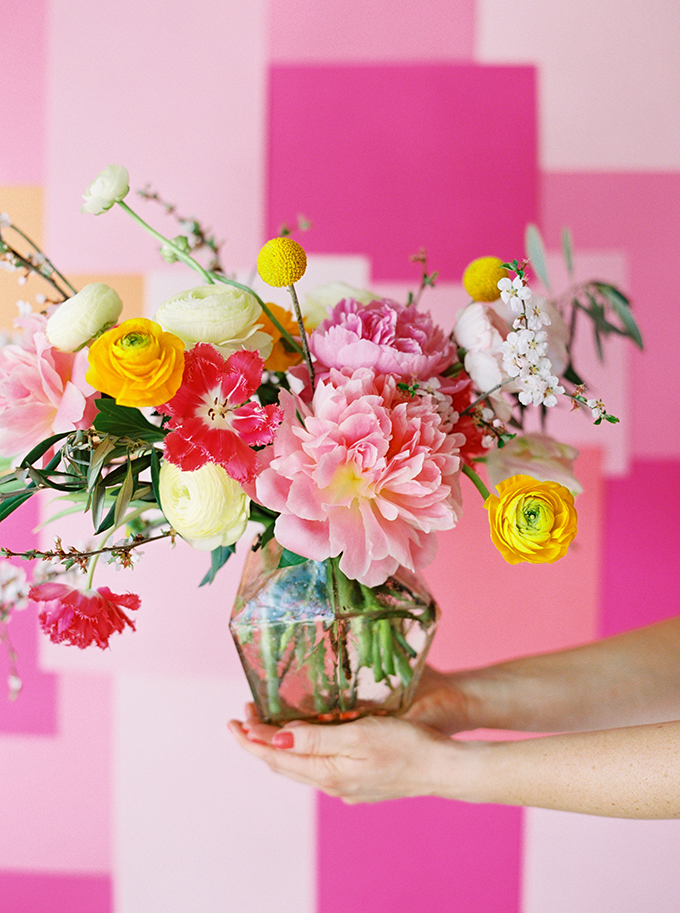 Concept & Creative Direction | Justine Celina Maguire
Flower Design & Styling | Rebecca Dawn Design
Photography | Milton Photography
---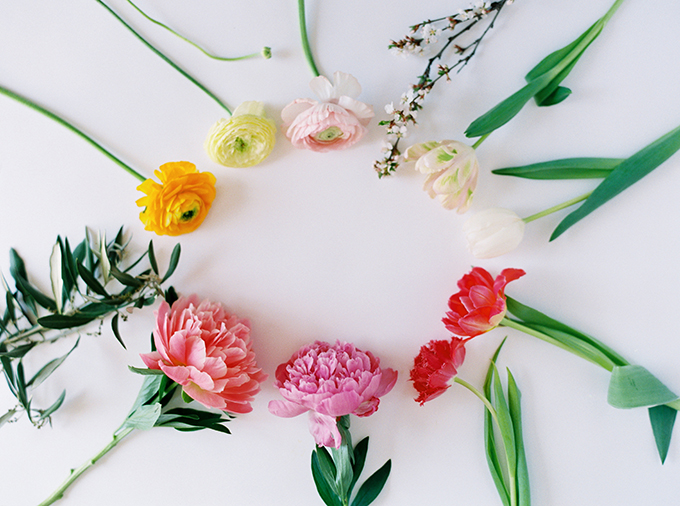 Disclaimer: Thank you to Rebecca Dawn Design for partnering with me to create this post and to Milton Photography for capturing it on film. This post is not sponsored, and contains our genuine thoughts, ideas and recommendations.

Save
Save
Save