---
You guys, this is my favourite FLOWER content Rebecca and I have ever created together — and it has some pretty stiff competition, if I do say so myself! We shoot our flower content quarterly — so I've been sitting on these images for over a month now and the anticipation has been killing me (if you follow along over on Insta Stories you'll have seen sneak peeks of this arrangement almost every week since I captured it!). I had so many ideas for this post name, but I finally decided to just call it what it is — The Most Beautiful Autumn Arrangement Ever! Rebecca really outdid herself today and I couldn't be more excited to share this truly stunning, unique autumn arrangement with you in a fresh installment of our FLOWER EDUCATION series.
When you think of flowers, you probably automatically think of spring and summer, right? Well, Rebecca Dawn Design and I happen to think some of natures most beautiful blooms, berries and foliage are actually available right now — and tonight we're showing them off! Embrace the rich, velvety tones and textures of the season with this charismatic, artfully undone arrangement featuring an eclectic medley of Bittersweet, Agonis, Echinacea Pods, Celosia, Crocosmia Pods, Crocosmia, Chrysanthemum Poms, Commercial Mums, Liqustrom, Knifeblade Acacia, Eryngium, Echinacea Pods, Ruby Silk Grass, Astrantia, Astilbe, Cotinus, Hanging Amaranthus and Peach Avalanche Roses set in a warm, autumnal palette inspired by the Pantone Fall 2017 Fashion Trend Report. If you're planning an autumn event, hosting a party, or perhaps browsing for inspiration for a fall wedding, you've come to the right place!
---
THE MOST BEAUTIFUL AUTUMN ARRANGEMENT EVER
---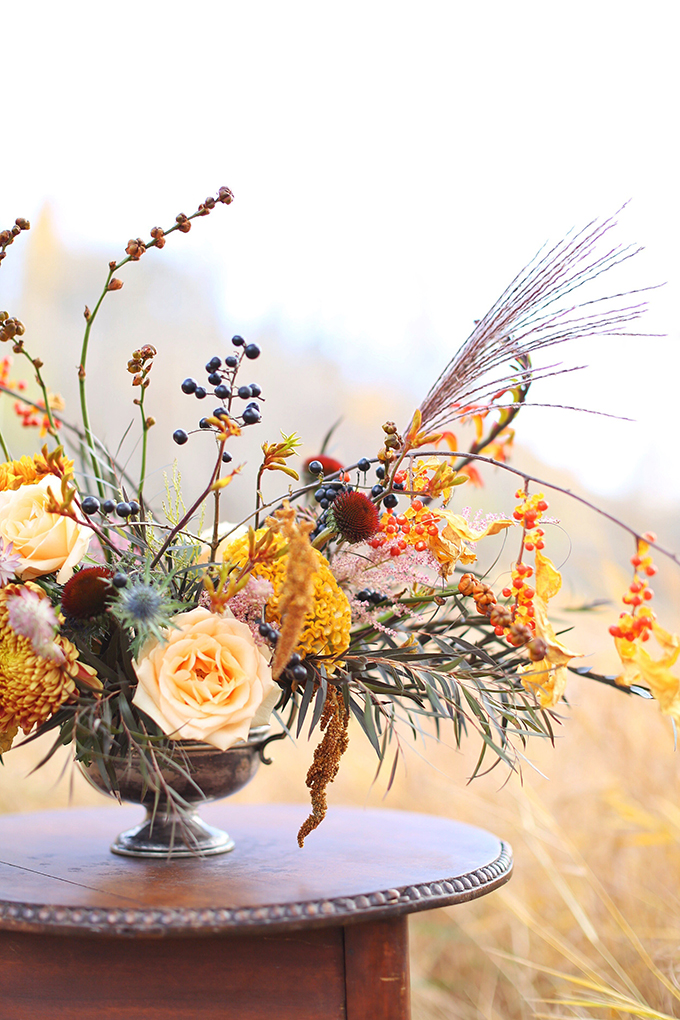 I seriously took about 400 images for this post and wanted to include every single one! I mean honestly, how gorgeous is this arrangement?! If you're new around here (hello and welcome!), you may not know this — but Rebecca and I have been working together for about 8 years (since long before I started JustineCelina!). In the time I've known her, I've obviously learnt a lot about flowers. Since partnering to make flower education accessible here on the blog for the last year and a half, my flower knowledge has increased exponentially! Having said that, I like to think I have a pretty good grasp on seasonal blooms and what's available — well, it turns out I was wrong!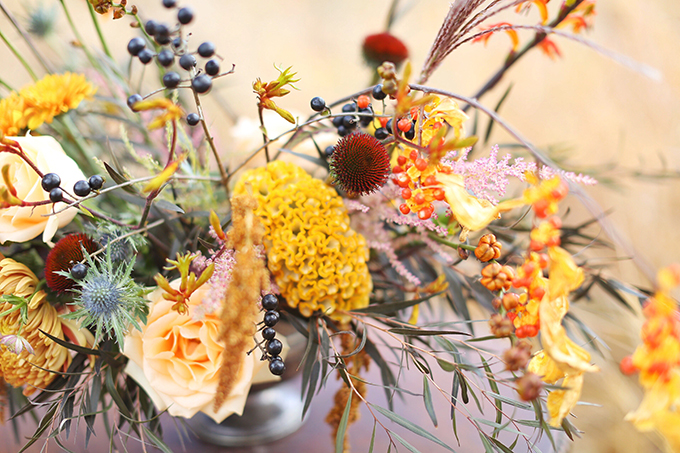 I was absolutely in awe of all the different flowers, foliage and berries that Rebecca sourced for our AW17 flower content this year. There are so many rich, sumptuous tones and textures at play here — and also some very unique varieties. It was my first time working with a lot of these different blooms, which Rebecca selected to represent the Pantone Fall 2017 Fashion Trend Report (along with a healthy dose of warm yellow inspired by autumn foliage).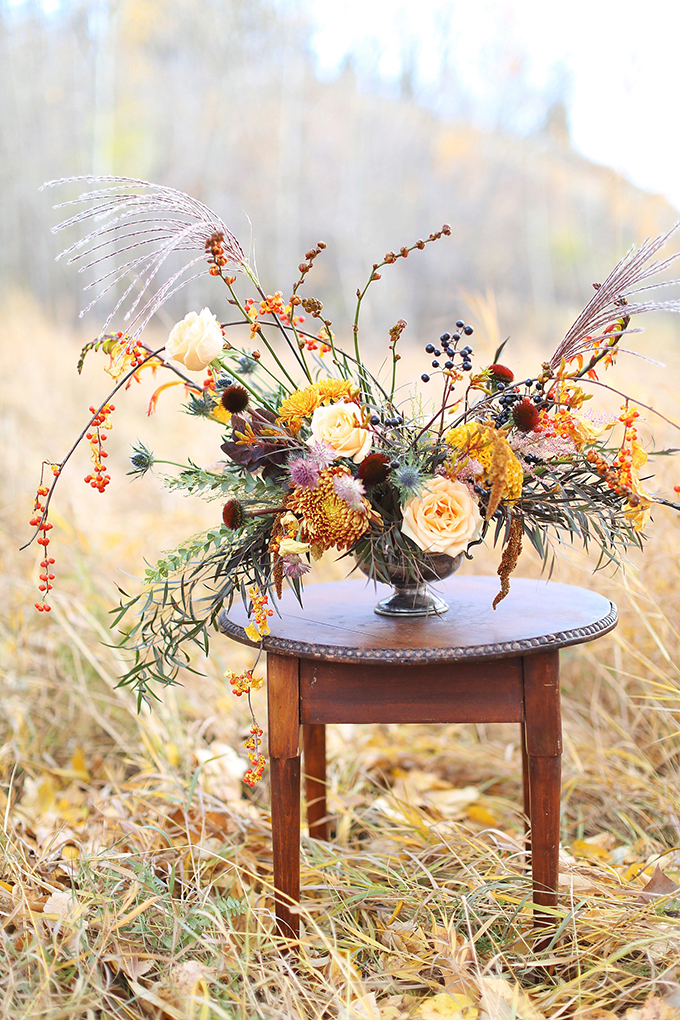 When we work together, we typically pull inspiration from Pantone's forecasted colour trends, as well as what's happening in seasonal fashion, beauty and decor. Often, we even pull the same inspiration images and similar themes! My work is very inspired by colour, especially here at JustineCelina where I theme my content seasonally — it's one of the main ways I'm able to bring cohesion and harmony to content across categories. So after we finished discussing our inspiration for AW17, Rebecca set out to source our ingredients — and they're the most exquisite batch of autumn flowers I've ever laid eyes on!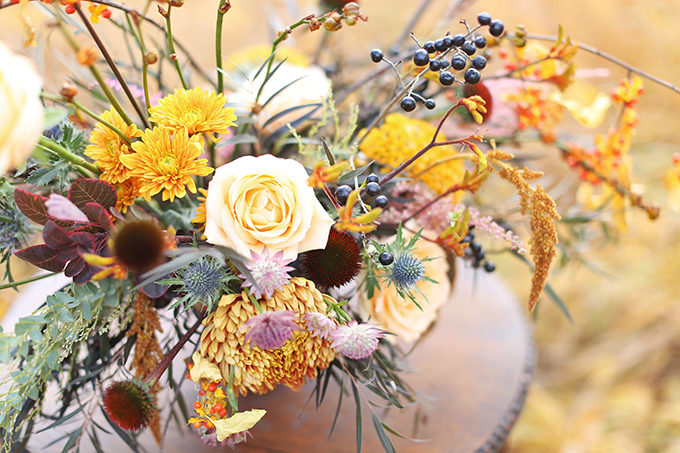 ---
AUTUMN ARRANGEMENT INGREDIENTS
---
Like your favourite recipe, every arrangement or bouquet also has a list of ingredients, divided into categories: primary flowers, secondary flowers and foliage.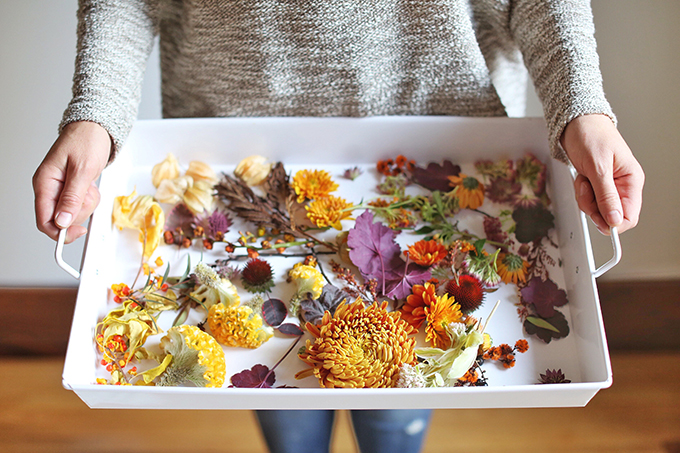 If you're creating an autumn arrangement of your own or working with a florist to execute your vision, each of these blooms are currently in season — the key is sourcing plants with a variety of textures, shapes, heights and colours to keep things interesting!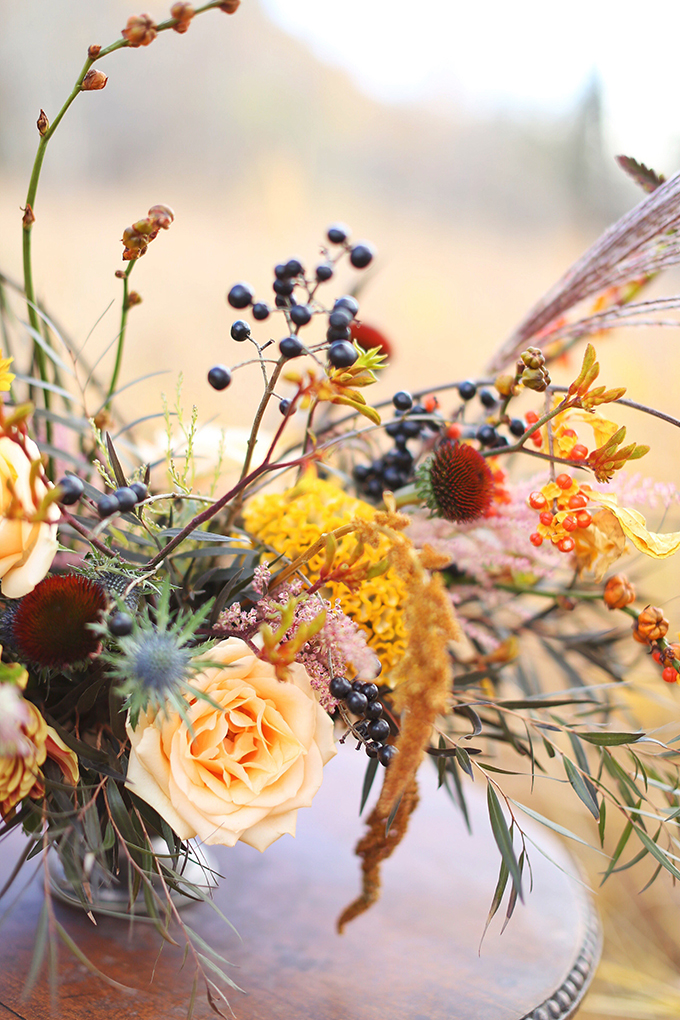 ---
Primary & Secondary Flowers
---
Rebecca chose some really unique blooms in a warm, autumnal palette to act as the focal point in this fall arrangement. Today, our primary flowers include cheerful Peach Avalanche Roses, Pantone Butterum inspired Commercial Mums and velvety, mustard Celosia.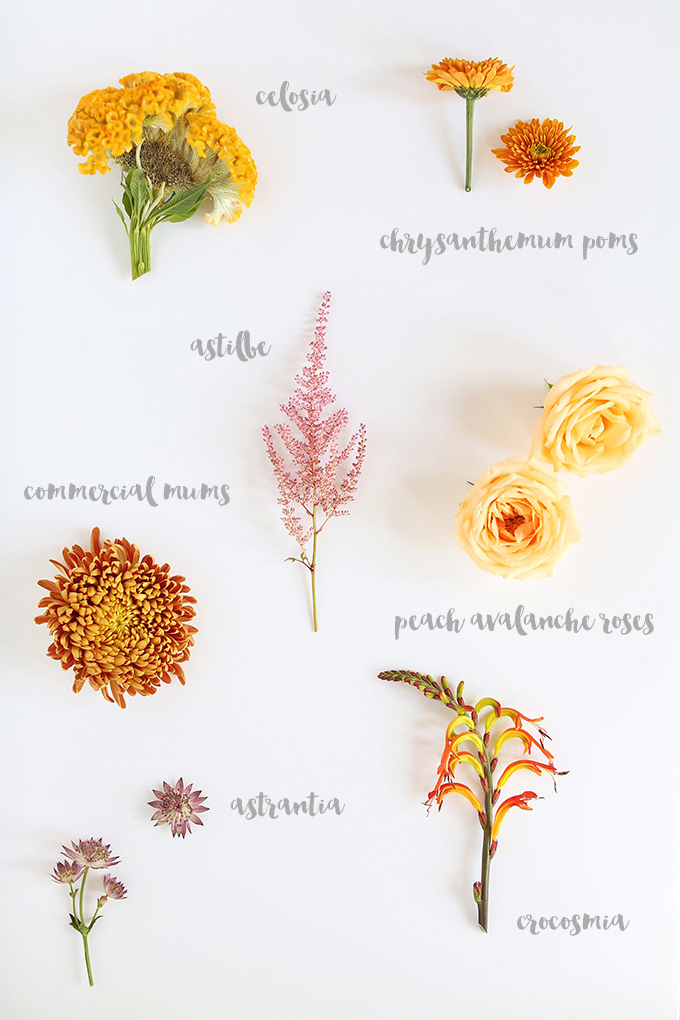 Our secondary flowers include Pantone Tawny Port inspired Echinacea Pods, Pantone Autumn Maple inspired Chrysanthemum Poms, jubilant Crocosmia, cheerful Astrantia and blush Astilbe as a nod to Pantone's Ballet Slipper.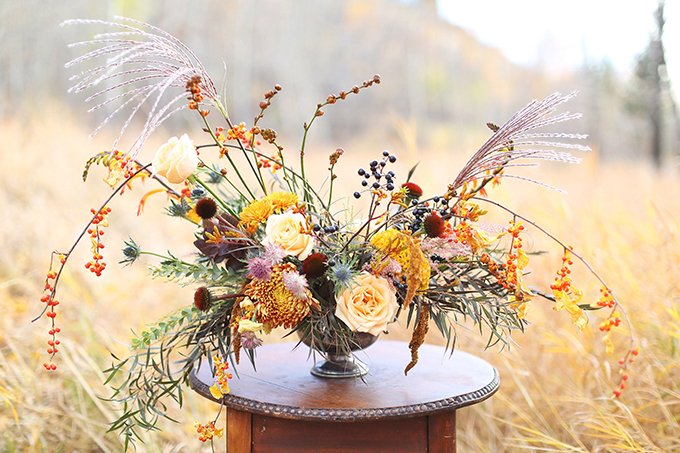 ---
Foliage & Berries
---
Rebecca's use of greenery and berries to add her signature, artfully undone aesthetic is one of my favourite things about her arrangements. Foliage and berries work to round out an arrangement and add the finishing touches — think of them as the arrangement's accessories!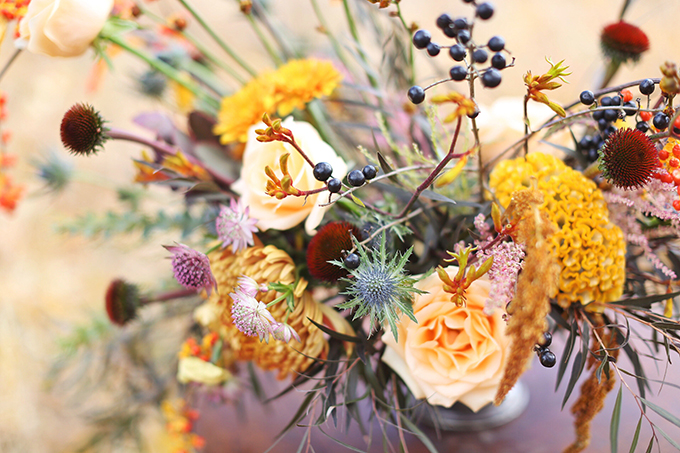 Today she's chosen Bittersweet, Agonis, Crocosmia Pods, Liqustrom, Knifeblade Acacia, Eryngium, Echinacea Pods, Ruby Silk Grass, Cotinus and Hanging Amaranthus.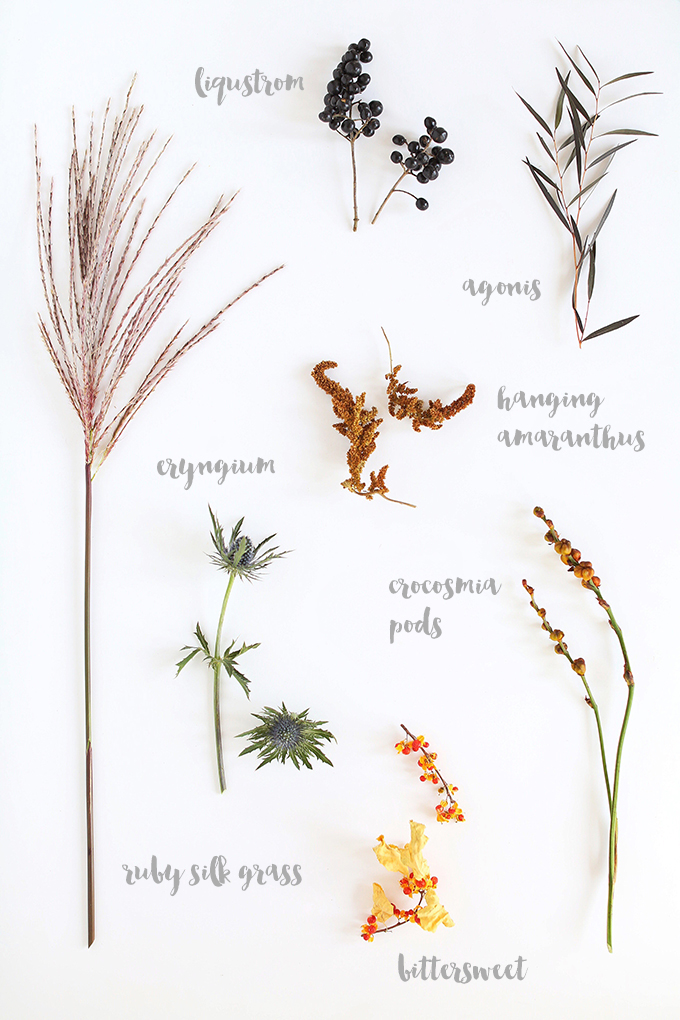 Fresh greenery and berries are inexpensive and widely available during the fall months — in fact, they can often be purchased in bundles at your local grocer, or foraged from trees and shrubs! Incorporating natural foliage and berries is fantastic way to give your arrangement some extra texture, bring the outside in and appreciate the beauty of your surroundings.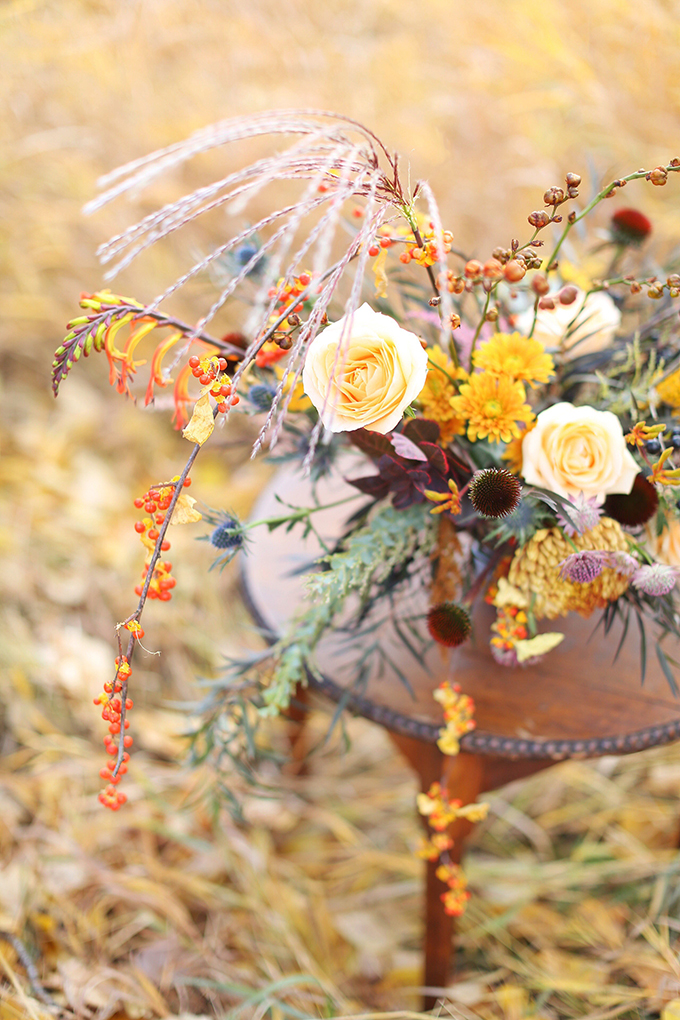 ---
Tips on Selecting Your Vase or Vessel
---
Considering your vase or vessel is an important component in creating an arrangement. Since our arrangement is low and arching, Rebecca selected a heavy metal vase with a rounded shape to continue the dynamic lines of the arrangement and add an antique touch.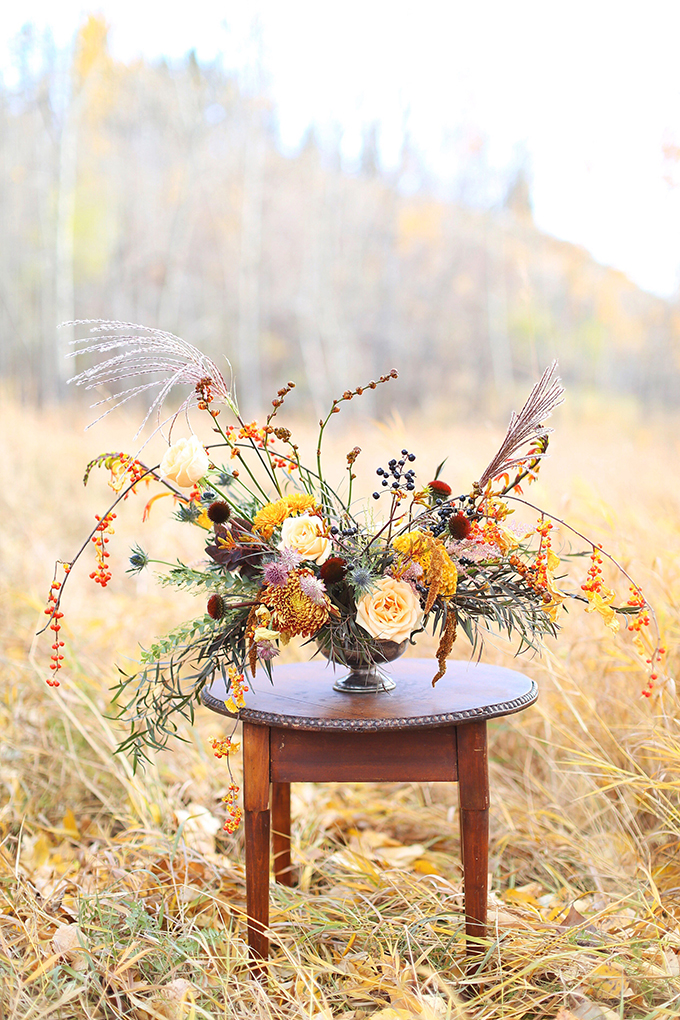 You'll want to choose work with your florist to select a vessel to that compliments the aesthetic of your blooms in a scale that's appropriate to the size of your arrangement. If you're looking for some general guidelines for flower arranging this autumn or more information about vase selection and prep, be sure to hop over to the DIY | How to Make a Flower Arrangement post where Rebecca shares her expert flower arranging tips!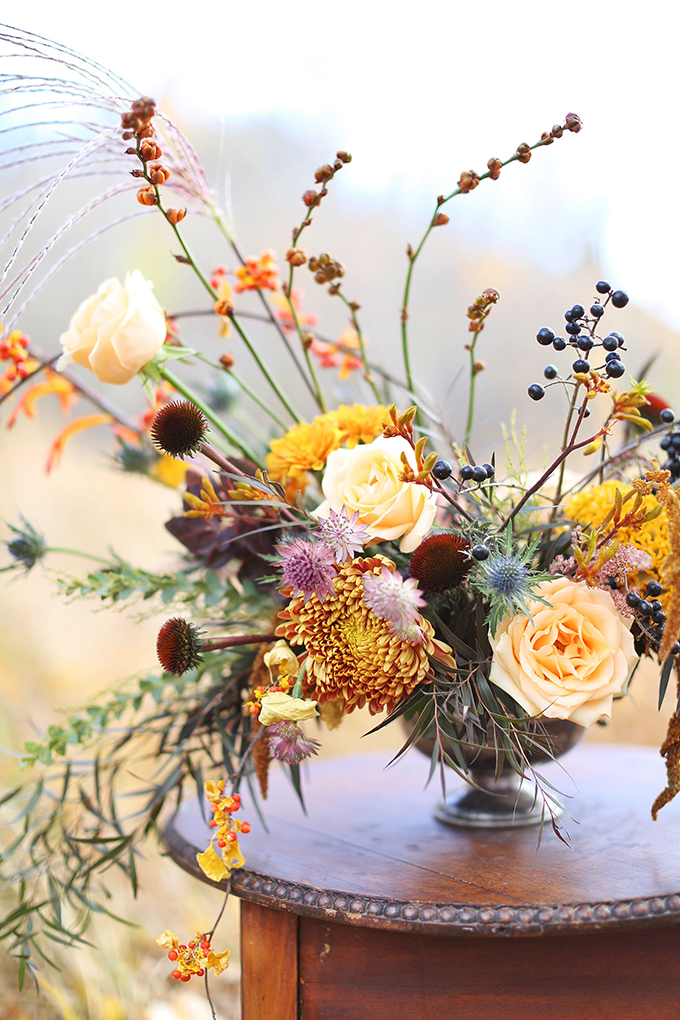 ---
CARING FOR YOUR AUTUMN ARRANGEMENT
---
Proper flower care is integral in maximizing the longevity of your arrangement. And it's easy! These two simple steps will ensure your arrangement is healthy, happy and thriving: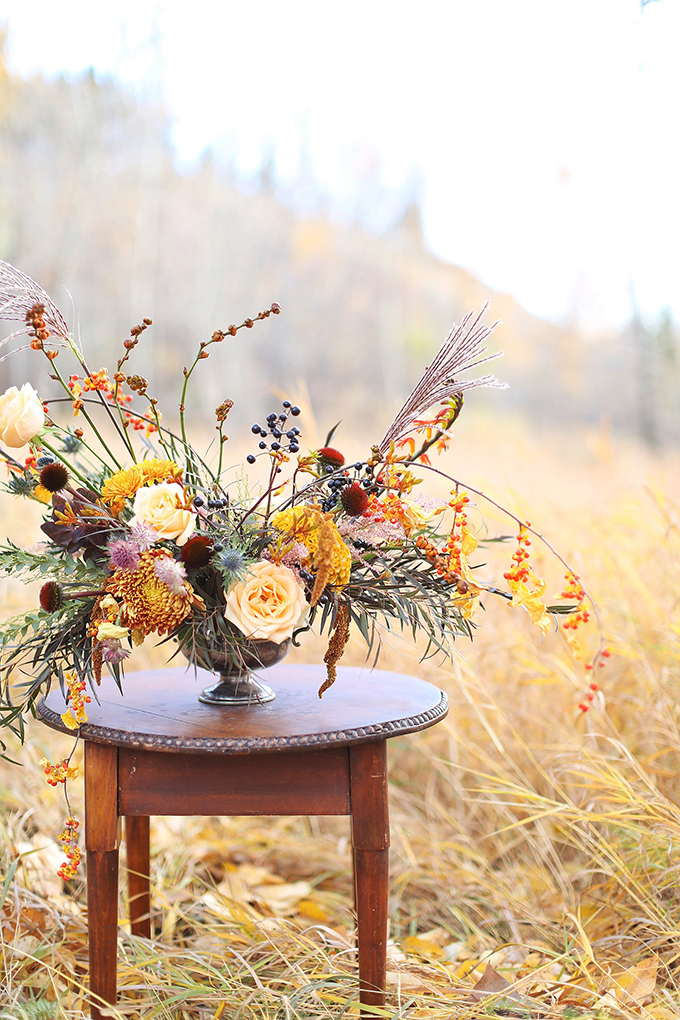 1. Replace the preservative-and-water solution every 1 – 2 days, or whenever the water in the vase appears cloudy, which indicates bacterial activity.
2. Each time you replace the water, trim off at least 1/2″ of stem from the bottom of each flower stem to prolong their life.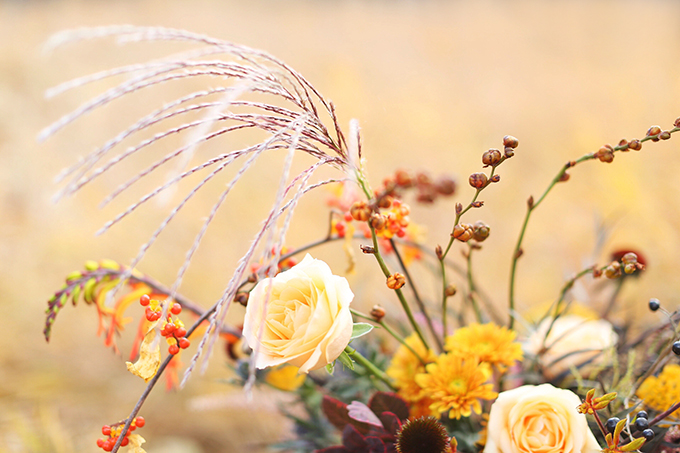 ---
Craving even more colourful autumn flowers? Hop over to our November 2017 Digital Blooms post where you can download 3 free wallpapers for your digital devices inspired by warm autumnal tones and textures! And be sure to check out our Guide for Bringing Autumn Flowers Into Your Home if you'd like to brush up on your flower care and conditioning skills.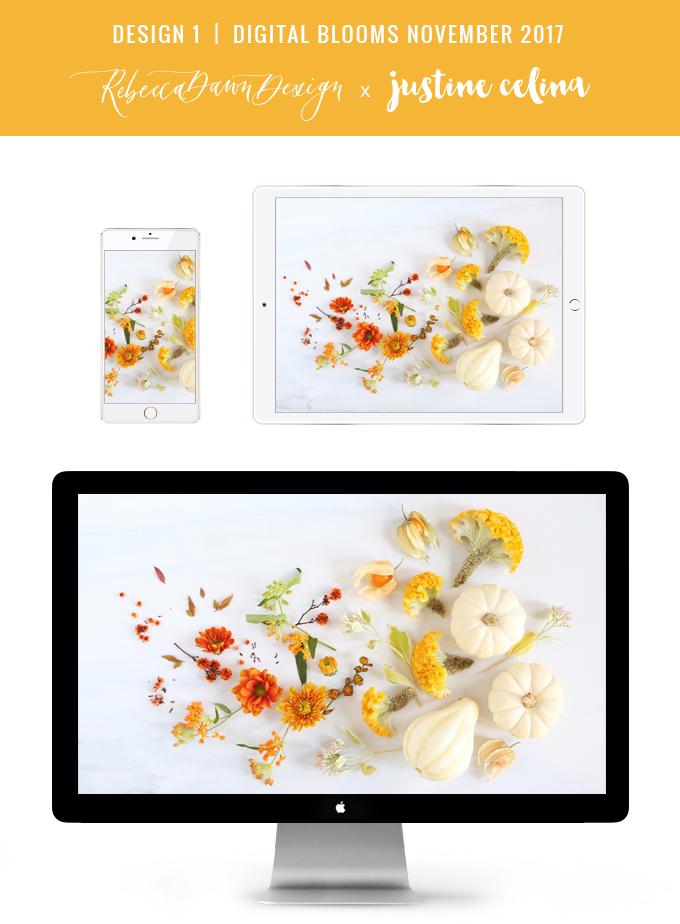 ---
MORE FROM OUR FLOWER EDUCATION SERIES
---
How to Unite a Room with Flowers
An Introduction to Spring Flowers
A Guide to Bringing Flowers Into Your Home
Luxe Holiday Floral Inspiration
---
What are your favourite autumn flowers, berries or foliage? We hope you enjoyed learning more about these unique seasonal offerings today! If you end up picking anything up based on our recommendations or this arrangement inspires your autumn event or party, please tag Rebecca and I on social media or leave us a comment below. We love to hear from you and see what you create!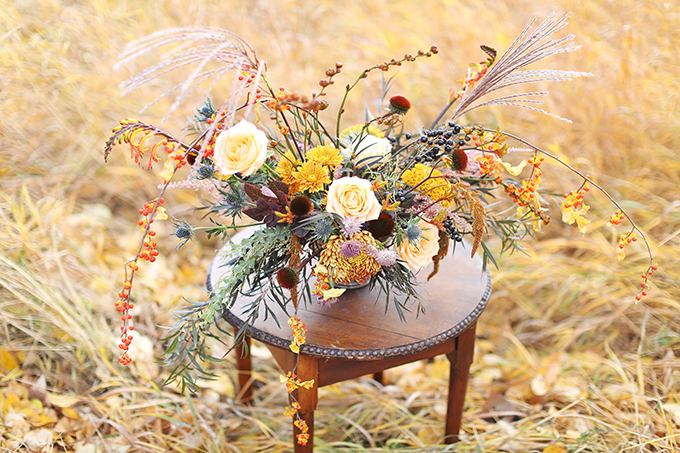 ---
Disclaimer: Thank you to Rebecca Dawn Design for partnering with me to create this post. This post is not sponsored and contains our genuine thoughts, ideas and recommendations. JustineCelina uses affiliate and referral links, which allow me to receive a small commission when you make a purchase through one of my links. Thank you for supporting the brands and businesses that support JustineCelina.com!